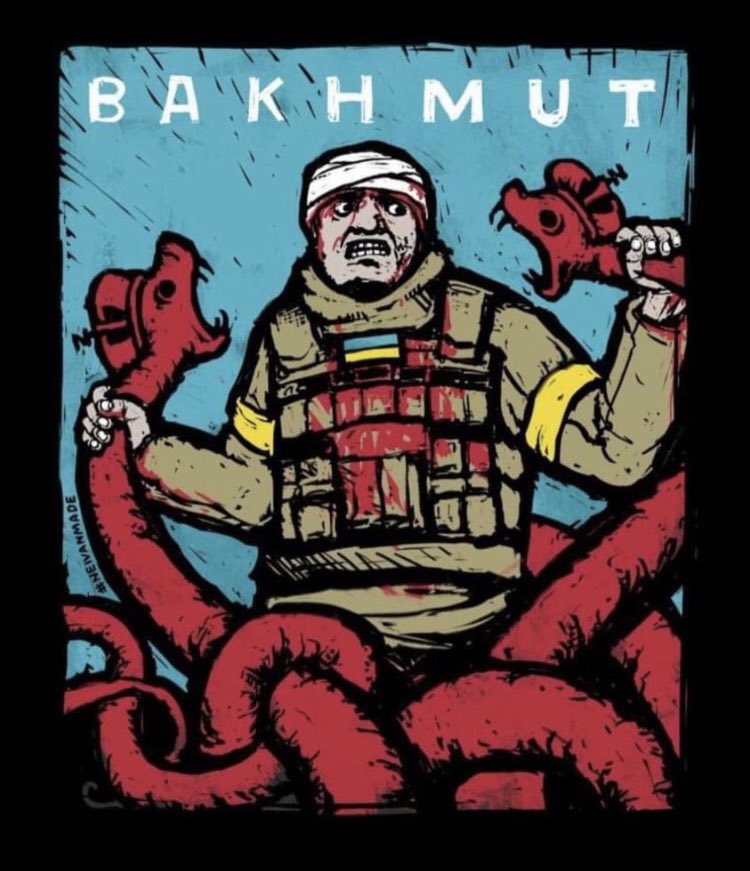 (Image by NEIVANMADE)
I've got a particularly busy and mental energy consuming week this week. So this week's updates are likely to be more bare boned than usual.
Ukrainians have taken to referring to the frontline city of Bakhmut as "Fortress Bakhmut" because it has remained standing after relentless Russian attacks. Now it has its own anthem, thanks to the band Antytila. https://t.co/Lh8CSQRAXD

— Christopher Miller (@ChristopherJM) February 14, 2023
Here's the whole video:
Here is President Zelenskyy's address from earlier today. Video below and English transcript after the jump:
Good health to you, fellow Ukrainians!

Today is the day of another Ramstein, a meeting of the group of military support for Ukraine. 54 partner countries. This is the ninth such meeting. We have got regular strong decisions on protecting our country and strengthening our warriors.

Our partners have confirmed more air defense systems, more tanks, more artillery and shells, and more training for our military. As we heard today, Ukraine must be successful. And here we agree: there must be success.

Of course, not everything about Ramstein can be reported in public. Much of the agreements and discussions should be kept behind closed doors of the Contact Group. But I can say for sure that the basic trends remain unchanged. Ukraine and its partners are doing everything together to make the terrorist state lose. And to make it happen as soon as possible.

We can see now that the Kremlin is trying to squeeze all possible aggression potential out of Russia. They are in a hurry. Because they know that the world is still stronger, but it takes time to accumulate its strength.

Therefore, speed is very important. Speed in everything. In decision-making. In the implementation of decisions. In delivery. In training. Speed saves lives, speed brings back safety.

And I thank all our partners who realize that speed is important. I thank all of our American friends for their leadership and systematic coordination of the Ramstein meetings, as well as for the personal participation of Mr. Lloyd Austin, Secretary of Defense of the United States, and Mr. Mark Milley, Chairman of the Joint Chiefs of Staff, in the meetings.

Today I met with the Minister of Foreign Affairs of Canada, who was on a visit to Ukraine. The topic of our conversation was also, so to speak, "Ramstein-based". First of all, defense support, new weapons for Ukraine, and new sanctions against Russia. I thanked Canada for the support it has already provided. And we discussed in detail with the Minister what is needed now to continue to oust the occupier from the Ukrainian land.

We are actively preparing for the foreign policy events of the second half of this week. We have to go through the week in the tone set by Ramstein for it. Accumulating results for Ukraine.

Today we have very good news from a group of our rescuers working in Türkiye. On the ninth day after the devastating earthquake, they managed to rescue a woman. Our SES rescuers pulled her out of the rubble and handed her over to doctors.

It is very important not to lose hope under any circumstances and continue to fight for life. I am thankful to our entire rescue team!

And, of course, today, just as every day, I stay in touch with our military, with the commanders. I had several meetings. The situation on the frontline, especially in the Donetsk and Luhansk regions, remains extremely difficult. It is literally a battle for every meter of Ukrainian land.

We must understand the significance of these battles. Every meter won there is a defense of our entire country. Every day that our heroes endure in Bakhmut, Vuhledar, Maryinka and other cities and communities in Donbas means the reduction of Russian aggression for weeks. That is where the unprecedented destruction of Russian potential is taking place now. Everything that the enemy loses in our Donbas, it will not be able to restore. And this is exactly the potential of Russian aggression that the leadership of the terrorist state expected to destroy our entire Ukraine.

Glory to everyone who is now fighting for Ukraine!

We are doing everything to give our warriors more weapons, longer-range weapons and greater might for the offensive we are preparing.

And… today is Valentine's Day. I sincerely congratulate everyone who is in love on this holiday, on this day. And I congratulate all those in love with Ukraine!

Together we will win!

Glory to Ukraine!
Happy Valentine's Day from our pilots pic.twitter.com/kdIlAw8S1J

— Ukrainian Air Force (@KpsZSU) February 14, 2023
Here is former NAVDEVGRU Squadron Leader Chuck Pfarrer's most recent assessments of the situations in Bakhmut and Kreminna:
BAKHMUT AXIS /1520 UTC 14 FEB/ Despite heavy losses & minimal gains near Krasna Hora, RU press & sympathetic social media continue to issue daily claims of victory. UKR forces remain in strong defensive positions in the urban center. 2 Su-24Ms, 1 Su 25 downed by UKR air defense. pic.twitter.com/l8Y5x72CPG

— Chuck Pfarrer | Indications & Warnings | (@ChuckPfarrer) February 14, 2023
KREMINNA /1615 UTC 14 FEB/ RU forces have extended a salient west of the city. UKR forces report breaking up a RU assault east of Nevske. RU forces are reported in contact at Kuzmyne, near Shypylivka, and N of Bilohorivka as RU attempts to push SW out of the Kreminna AO. pic.twitter.com/SmkhcAYhtk

— Chuck Pfarrer | Indications & Warnings | (@ChuckPfarrer) February 14, 2023
Bakhmut:
The U.S. aid worker, Pete Reed, was killed by a guided missile that requires the shooter to see and select their target. It was almost certainly fired by Russian troops. 🧵 w/ @Tmgneff. https://t.co/CrOeLg2tlF

— Malachy Browne (@malachybrowne) February 14, 2023
Weapons expert @johnismay identified the missile as a Kornet, which has a 3.4 mile range, within the distance to the frontline. The shooter sees and selects their target, then fires. In this case, it was the white van beside the group of aid workers. pic.twitter.com/Wjh6CK502t

— Malachy Browne (@malachybrowne) February 14, 2023
The injured medic is Norwegian volunteer, Sander Sørsveen Trelvik, who was lucky to survive. https://t.co/CODEjBu0MU

— Malachy Browne (@malachybrowne) February 14, 2023
Another witness, Erko Laidinen, said a second missile strike was aimed at another vehicle but missed its target.

The video we obtained records a second strike: 20 minutes after the first strike one can hear the whistle and thud typical of an incoming missile.

— Malachy Browne (@malachybrowne) February 14, 2023
Here's further details from The New York Times: (emphasis mine)
A Times analysis suggests that an intentional strike, not an indiscriminate attack, most likely killed Pete Reed. It is unclear whether the attackers knew he was with a group of aid workers.

Roughly a minute after an American paramedic, Pete Reed, and a team of aid workers began tending to a wounded civilian in the Ukrainian city of Bakhmut on Feb. 2, they were attacked. Mr. Reed, a former U.S. Marine volunteering on the war's front lines, was killed, and several of his colleagues were wounded.

Volunteers at the scene initially attributed the strike to indiscriminate Russian shelling. But a frame-by-frame analysis of a video taken at the location — and shared with The New York Times — shows that Mr. Reed, who was unarmed, died in a targeted strike by a guided missile almost certainly fired by Russian troops.

It is unclear if the Russians knew the group was made up of aid workers. But its convoy had markings that should have signaled to the Russians the type of vehicles they were hitting. One of the vehicles was clearly marked with a red cross, and the type of weapon used in the attack — a laser-guided antitank missile — is usually fired when a gunman sees and selects a target.

Still, the target in this case, a white Mercedes-Benz van, did not have any clearly visible medical markings, and while the aid workers were unarmed at least one medic was wearing military-style camouflage.

The footage appears to show that the strike involved a Kornet antitank guided missile, which has a range of around three miles. Mr. Reed and the aid workers were at a slightly elevated position along a street that led toward the Russian front line, around two miles away.

Mr. Laidinen said that his vehicle's dash camera had also recorded the episode, and that the footage showed a second missile strike, which was aimed at another vehicle but missed its target. The footage has yet to be made public.

A volunteer named Roma, who was standing near Mr. Reed when the missile struck and who was wounded in the blast, told The Times in an interview that there had been no military units nearby. One of the vehicles at the scene was clearly marked as an ambulance, he said.

He provided only his given name because of safety concerns.

A photograph published by The Wall Street Journal shows an injured Norwegian medic running from the scene of the attack. It also shows the ambulance marked with a red cross on a white background across the street from where Mr. Reed and other volunteers were attacked.

Experts said the type of weapon used should have enabled the attacker to identify the nature of the target. With weapons such as these, "you have an expectation that the firer is going to have the ability to differentiate between a medical worker and a combatant," said Marc Garlasco, a war crimes investigator who is in Poland training Ukrainian teams investigating war crimes.

Mr. Garlasco added that the episode required further investigation, but that on its face it was a "potential war crime."

A video of the aftermath shows the aid workers' white van destroyed by the attack. Debris is strewn around the area, and a body is lying lifeless on the ground.
Much more at the link!
Also, they've posted the video of this war crime in the article at the link. It has a warning on it and doesn't autoplay on my computer, but just keep that in mind before you click through.
Kharkiv to Bakhmut:
From the defense of the Kharkiv ring road to Bakhmut. The officer of the National Guard "Tourist" talks about the combat path of his battalion and the specifics of the tactics used by the Russian invaders in various directions of hostilities, including Bakhmut. pic.twitter.com/IxALyjyHbw

— Dmitri (@wartranslated) February 13, 2023
Speaking of, Kharkiv:
From Kharkiv with ❤️ pic.twitter.com/OV66EsBKWL

— Maria Avdeeva (@maria_avdv) February 14, 2023
Finally, The Washington Post has reporting on the Russians fleeing Russia:
YEREVAN, Armenia — As Russian troops stormed into Ukraine last February, sending millions of Ukrainians fleeing for their lives, thousands of Russians also raced to pack their bags and leave home, fearing the Kremlin would shut the borders and impose martial law.

Some had long opposed rising authoritarianism, and the invasion was a last straw. Others were driven by economic interest, to preserve livelihoods or escape the bite of sanctions. Then, last autumn, a military mobilization spurred hundreds of thousands of men to run.

Russian President Vladimir Putin's war has set off a historic exodus of his own people. Initial data shows that at least 500,000, and perhaps nearly 1 million, have left in the year since the invasion began — a tidal wave on scale with emigration following the 1917 Bolshevik Revolution and the Soviet Union's collapse in 1991.

Now, as then, the departures stand to redefine the country for generations. And the flood may still be in its early stages. The war seems nowhere near finished. Any new conscription effort by the Kremlin will spark new departures, as will worsening economic conditions, which are expected as the conflict drags on.

The huge outflow has swelled existing Russian expatriate communities across the world, and created new ones.

Some fled nearby to countries like Armenia and Kazakhstan, across borders open to Russians. Some with visas escaped to Finland, the Baltic states or elsewhere in Europe. Others ventured farther, to the United Arab Emirates, Israel, Thailand, Argentina. Two men from Russia's Far East even sailed a small boat to Alaska.

The financial cost, while vast, is impossible to calculate. In late December, Russia's Communications Ministry reported that 10 percent of the country's IT workers had left in 2022 and not returned. Russia's parliament is now debating a package of incentives to bring them back.

But there has also been talk in parliament of punishing Russians who left by stripping them of their assets at home. Putin has referred to these people as "scum" and said their exit would "cleanse" the country — even though some who left did not oppose him, or the war.

With the government severely restricting dissent, and implementing punishment for criticism of the war, those remaining in the depleted political opposition also faced a choice this year: prison or exile. Most chose exile. Activists and journalists are now clustered in cities such as Berlin and the capitals of Lithuania, Latvia and Georgia.

"This exodus is a terrible blow for Russia," said Tamara Eidelman, a Russian historian who moved to Portugal after the invasion. "The layer that could have changed something in the country has now been washed away."

While Ukrainian refugees were embraced in the West, many countries shunned the Russians, uncertain whether they were friends or foes, and whether, on some level, the entire country was culpable. Some nations have blocked arrivals by imposing entry restrictions or denying new visas, at times spreading panic among Russians already abroad, especially students.

Meanwhile, the influx of Russians into countries such as Kazakhstan and Kyrgyzstan, which have long sent immigrants to Russia, set off political tremors, straining ties between Moscow and the other former Soviet states. Real estate prices in those countries have shot up, causing tensions with local populations.

Nearly a year after the start of the invasion — and the new outflow of Russians — Washington Post journalists traveled to Yerevan and to Dubai for a close look at how the emigres are faring, and to ask if they ever plan to return. Yerevan, the capital of Armenia, a former Soviet republic, is a destination for Russians with lower financial mobility — an Orthodox Christian country where Russian is the second language. By contrast, pricey Dubai, in the Persian Gulf, is predominantly Muslim and Arabic-speaking, and attracts wealthier Russians seeking either glitz or business opportunity.
Much more at the link!
I want to make two quick points. The first is that Professor Eidelman is wrong. There is no evidence whatsoever that the Russians who have fled fled because they'd like to see a change in the way Russia is governed. Rather all of the evidence we do have, largely from Levada Center polling, is they fled because they didn't want to serve in the war and, most likely, get killed or wounded. Secondly, there has not been one anti-war protest organized by any of these Russians who have fled to safety in the stans, the Arab gulf states, or anywhere else that it might be safe to do so.
That's enough for tonight.
Your daily Patron!
I wrote the song about… of course, love and licks 👅😄 . And I collect all the licks back for the fundraising for the animals with @UAnimalsENG . Please join https://t.co/SZTJhEhMiw pic.twitter.com/vh1Jzd5wxf

— Patron (@PatronDsns) February 14, 2023
Here's the TikTok version if you prefer:
The caption machine translates as:
I wrote a song about love! A love Valentine's lick for everyone 👅💘 #песпатрон
Open thread!