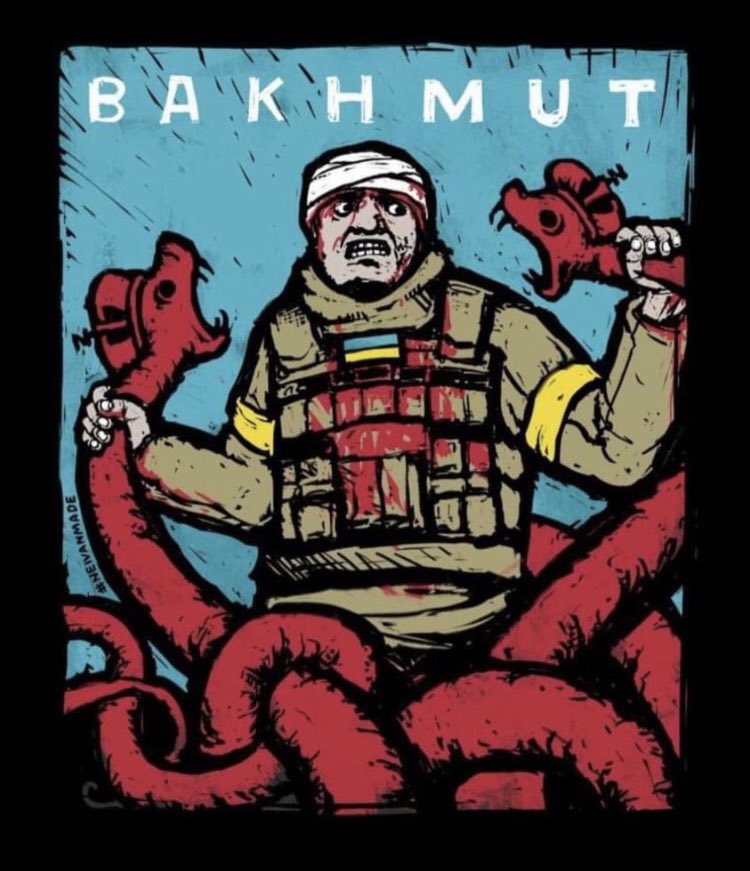 (Image byNEIVANMADE)
At the beginning of last week several of you asked me what I thought about the reporting – I believe it was from WaPo – regarding issues with the Ukrainian military. I read it when it was published, but the week was just a slog, but I want to make sure I take a couple of minutes to answer your questions. I think there are three things going on. The first is that while Ukraine's national command authority clearly has a theater strategy and a campaign plan with all the sequels and contingency plans, that plan is opaque. It is opaque to us observing the war. US officials have repeatedly said they are not given all the details. And most certainly, as is the case in every war, the Soldiers at the tactical end of things also are not provided all the details. While General Zaluzhny and Colonel General Syrskyi clearly know what they're doing in regard to the theater strategy, why, and what has to happen for one sequel to the campaign plan to be implemented versus another, a battalion commander does not. The second thing I think is going on is that this is the first war fought with a fully mature social media ecosystem in place. And with Soldiers who have grown up on and using social media. So while it might not be surprising that a battalion commander or a company commander or just a random Soldier would take to social media to complain, where in past wars they might just do it to their buddies or by letter home or by phone call or, even, email, you just cannot have battalion commanders mouthing off to WaPo. Because, keeping the first thing I described in mind, that battalion commander most likely does not know everything that the senior leaders do. That doesn't make him wrong, but it is something to keep in mind. Finally, the third thing is there is a divide among Ukraine's forces that is related to the generational divide between senior leaders and average Soldier. The most senior members of Ukraine's military began there service in the wake of the Soviet Union falling. The Soldiers leading the platoons, companies, battalions, and in some cases brigades did not. For a very long period of time Ukraine's military, like the militaries of all the former Soviet states, was organized along the model of the Soviet military. Ukraine has made great strides moving away from this Soviet military legacy, but that transition is not complete. As a result, younger Ukrainian military leaders who have spent far more time training with the US and/or our NATO allies have a much different understanding of how a military should work than some of the most senior leaders. What we're seeing is growing pains and, unfortunately, in the middle of a war. I'm not too worried that Ukraine won't be able to work through this.
Here is President Zelenskyy's address from earlier today. Video below, English transcript after the jump:
Expelling the occupier, clearing our land of traces of the evil state, punishing terrorists are our tasks that we will fulfill – address by the President of Ukraine

19 March 2023 – 20:57

Good health to you, fellow Ukrainians!

Another week of our defense against the evil state is coming to an end. Another week when every day, every night, the Russian army shelled Ukrainian cities, villages, and killed our people.

Kamyanske in Zaporizhzhia region, Beryslav in Kherson region, Marhanets in Dnipropetrovsk region, Avdiivka, Kramatorsk and Kostiantynivka in Donetsk region, Kostiantynivka in Sumy region… And dozens and dozens of other Ukrainian towns and villages that have been hit by Russian terrorists this week alone. My condolences to all those who have lost their relatives, their loved ones…

The evil state will be held accountable for every act of terror against Ukrainians. This week has finally brought a truly significant international legal result for Ukraine, for justice. There is a warrant of the International Criminal Court for the arrest of the Russian leader, and this is a turning point.

The moment after which it becomes undeniable that the end of this aggression for Russia will be the full range of its responsibility.

Responsibility for every strike on Ukraine, for every destroyed life, for every deported Ukrainian child… And, of course, for every manifestation of destabilization of the world caused by Russian aggression.

These days, our United24 charity platform has crossed the $300 million mark in donations. From people all over the world – more than a hundred countries, thousands and thousands of donors. Ordinary people, private companies that help buy drones for our military, buy ambulances, rebuild hospitals and infrastructure.

And this is one Ukrainian charity platform. One of the various initiatives that bring the world together.

The world understands what is happening. The world sees how bravely and nobly our people are fighting.

And that is why we manage to mobilize the support of both the leading powers and billions of human hearts around the world. I am grateful to each and every one who believes in Ukraine and who helps us restore security!

I would like to praise our people who are clearing Russian mines and unexploded ordnance left by the occupier. This is a daily painstaking and very dangerous job.

Since the beginning of the full-scale war, our pyrotechnics and explosives specialists have already inspected more than 100 thousand hectares of territory.

Over 400 thousand enemy shells have been neutralized. More than 200 thousand explosive items have already been removed.

I am thankful to everyone involved in this!

And I would like to commend the pyrotechnics of the State Emergency Service. Oleksandr Dvoretsky from Ternopil and Roman Shutylo from Luhansk region, who have been working in Kherson region for almost six months in a row, returning security to Ukrainians. Thank you!

I am grateful to Roman Radavchuk from Kyiv region, who works in Mykolaiv region, demining energy facilities. I thank Vasyl Popovych from Chernivtsi for demining in Donetsk region. I thank Yevhen Zakharov from Kyiv for demining in Kharkiv region.

I wish a speedy recovery to Yevhen Melnyk, Andriy Makoviychuk, Vitaliy Rudenko, Volodymyr Klyapchuk, Vladyslav Bak… These are pyrotechnics of the State Emergency Service who were clearing the territory of Kherson region and were injured.

I am grateful to the explosives specialists of our police. Andriy Ilkiv and Taras Sal, who worked in the de-occupied areas of Kyiv and Kharkiv regions.

I am grateful to Anatoliy Chechelnytsky for demining in Mykolaiv region.

I am grateful to Ihor Zabolotnyi, Tetiana Kuzubova, Valeriy Onul, Maryna Ostrovska and Vyacheslav Iarovyi for demining in Kharkiv, Donetsk, Chernihiv, Kherson and Kyiv regions.

I am grateful to the sappers of the National Guard of Ukraine and our Armed Forces!

Expelling the occupier, clearing our land of all traces of the evil state, and punishing terrorists are our tasks. Tasks that we will fulfill.

We Ukrainians are united. And the world is united.

Glory to all those who are fighting for Ukraine! Those who are fighting in Donetsk and Luhansk regions, those who are defending our south, those who are holding our border. Glory to all who are preparing the de-occupation of our lands!

Eternal memory to all those whose lives were taken by Russian terror, Russian bombs, and Russian mines.

Glory to Ukraine!
The war in 🇺🇦 is one of the largest armed conflicts since WW2. The active frontline is 1,500 km. Battles are in fields, forests, on water, in the sky & cities. We continue fighting for our native land. The liberation of all occupied territories is ahead. 🇺🇦 will definitely do it. pic.twitter.com/oLDHquScjw

— Володимир Зеленський (@ZelenskyyUa) March 18, 2023
Here is the machine translation of today's operational update from the Ukrainian MOD's Telegram channel:
Here is former NAVDEVGRU Squadron Leader Chuck Pfarrer's most recent assessment of the situations in Avdiivka and Bakhmut:
NOTE: Map updated with recent quantification of RU losses in the last 24 hrs. Replaces 1500 UTC TACAP.

— Chuck Pfarrer | Indications & Warnings | (@ChuckPfarrer) March 19, 2023
BAKHMUT CITY /1600 UTC 19 MAR/ Positional fighting continues in urban area. RU forces have advanced NE from the Korsunskogo Street salient and are now in contact near the city center. UKR repelled RU attacks at Dubovo-Vasylivka, Hyrhorivka & Ivanivske. #BakhmutDefenders pic.twitter.com/VLjmDwuXNw

— Chuck Pfarrer | Indications & Warnings | (@ChuckPfarrer) March 19, 2023
BAKHMUT AXIS /1545 UTC 19 MAR/ Heavy urban combat continues in Bakhmut. The 0600 (Kyiv) briefing of the UKR Gen'l Staff reports that RU forces staged attacks on UKR positions in the N sector of the city. UKR repelled RU attacks at Orikhovo-Vasylivka, Hyrhorivka & Ivanivske. pic.twitter.com/2OZkVRFQau

— Chuck Pfarrer | Indications & Warnings | (@ChuckPfarrer) March 19, 2023
Bakhmut:
Intense fighting continues in and around Bakhmut. Video here shared by Ukrainian troops at the People's House. It sits at the east end of Rose Alley, which used to be lined with vibrant and fragrant roses, on the bank of the city's north pond. It was a popular place for families. pic.twitter.com/urneJYKUlx

— Christopher Miller (@ChristopherJM) March 19, 2023
Mariupol:
A CITY WITHIN A BUILDING: The Russian airstrike on the #Mariupol theater.

Please watch this important piece by @CST_echo @counterinv @ForensicArchi telling the untold story of weeks of self-organization, solidarity, & resistance: a city within a building.https://t.co/KYVQRkyYQa

— Lotte Leicht (@LotteLeicht1) March 19, 2023
Chasiv Yar:
Chasiv Yar is now a town without children. All have been evacuated, according to the local military administration. https://t.co/JXpmdZeYyU

— Christopher Miller (@ChristopherJM) March 19, 2023
Hromadske's tweet machine translates as:
On March 16, all children were evacuated from Chasovyi Yar in Donetsk Oblast. This town is constantly shelled by Russians
The Ukrainian officer who tweets as Tatarigami shared this interesting bit about Russian tech:
2/ I didn't have a chance to take a look at it personally but according to the information provided by the fighters on the ground, the dropped beacon is believed to be an ACR RLB-37 (or 35) "GlobalFix" emergency radio beacon. pic.twitter.com/yIBHNyFLal

— Tatarigami_UA (@Tatarigami_UA) March 19, 2023
4/ The device has a certificate of approval from the russian Maritime Register of Shipping.

It appears that the emergency radio beacons are available for sale. The link in the image description is included. pic.twitter.com/ijZYj70d4Q

— Tatarigami_UA (@Tatarigami_UA) March 19, 2023
Norway:
From the Norwegian Defense Material Agency:
Signed letter of intent with the Ukrainian Defense Procurement Agency

NDMA has signed a letter of intent that describes the support the Ukrainian Defense Procurement Agency (DPA) will receive from Norwegian Defense Materiel Agency to establish a procurement organization for defense material. The agreement has a duration of three years.

– This letter of intent is the start of a long and fruitful collaboration between our agencies. I am impressed that Ukraine is able to prioritize the creation of a new agency in such a difficult time of war. I think it says something about the commitment and professionalism you show in the defense of your country, said Gro Jære, director of Norwegian Defense Materiel Agency, during the signing of the agreement at Grev Wedels Plass in Oslo on Monday this week.

Visited Norway

The signing took place in connection with a four-day visit by the Ukrainian Defense Procurement Agency to Defense Materiel this week. Delegates from the young agency established last July were here to learn more about how to establish a defense procurement organization in Ukraine. In addition, a representative from the Ukrainian Ministry of Defense and from the Logistics Command of the Ukrainian Armed Forces participated.

– The delegation has had a packed program the past days. They have received an introduction to how we have organized the investment activities in the sector, the organization of the Norwegian Defense Materiel Agency (NDMA) and how the agency is managed and led. They have also learned about how NDMA conducts project management and mercantile processes, says Tore Kvalvik, deputy head of the Investment Department at NDMA.

Ukrainian DPA asked Norwegian Defense Materiel Agency for support to develop its agency according to Western standards and working methods in December last year. Therefore, the collaboration will also contain information about NATO standards and how other NATO countries carry out their procurement. FMA will initially cover the costs incurred by the collaboration.

Challenges with corruption

The Defense Procurement Agency was established in July last year under the Ukrainian Ministry of Defense to deal with defense procurement and establish guidelines for these. Defense procurement in Ukraine has had challenges with corruption and other fraud, and Transparency International has assessed that defense procurement in this country has a high risk of corruption.

– That is why it is a consistent theme in our support for Ukrainian DPA to build integrity into their procurement procedures, so that they reduce the risk of corruption or other unwanted incidents, Tore Kvalvik explains.

– I am proud that Ukrainian DPA has come here to learn from us. At the same time, the delegation has given us lessons that we will take with us into our development work, says Gro Jære, Director of Norwegian Defense Materiel Agency.
For those of you who like discussing whether Putin has several body doubles:
With all recent Putin's appearances in public, here's a reminder from Girkin on how to distinguish real Putin from his double. pic.twitter.com/pj4KBSZgiK

— Dmitri (@wartranslated) March 19, 2023
That's enough for tonight.
Your daily Patron!
My first magazine cover. What it means to me — please read on my IG (enable the translate button under the text left). https://t.co/bgikqg6wZe pic.twitter.com/xgtcs636jp

— Patron (@PatronDsns) March 19, 2023
Here's the machine translation from Patron's Instagram:
My first cover.

A week ago, I saw a funny post titled "The Day the Patron appeared to the people." It was my first photo on social media a year ago, and it started it all.

My parents always predicted fame for me. And not for the quality of my outstanding talents, but only for my dog-like beauty: I was so cute with my face. 😄

But even more than my pretty face, I was lucky to get into a family that didn't need millions of likes. When my nose was already everywhere, Mykhailo was upset at first. Hundreds of cameras and journalists were very embarrassing for his modest personality. Mykhailo was embarrassed by questions that were not related to demining. But later, about a year ago, this profile was created, and we started receiving the first comments from you. "I cried all day, no, a week or two. And then I saw Patron. He is so small, but so brave. I smiled for the first time in all this time."

And then we realized: fame is not just about attention and likes. Fame can be converted into thousands of good deeds. It is like a portal to millions of kind hearts that are ready to help Ukrainians survive. And also… that I can give a smile and comfort to many people not only in Ukraine but also around the world.🥹

My most important job is to help the SES sappers. Not only through my sense of smell in the fields or forests, but also through our fundraising.

Unfortunately, over the past few weeks, the foundation has been sending money only for treatment and assistance to the families of the victims. 😔

Although I hoped that the funds would be accumulated there to buy demining machines. My dream is to buy hundreds of these machines so that my guys can operate them remotely. So that they don't have to go into the field, so that they don't endanger themselves.

Scroll through the carousel. Spring and the sowing season are starting. This tractor was on its way to work. And it hit a mine. Two units of my team went on a rotation. Every day they find dozens and sometimes hundreds of explosive devices.

Many of you are planning to return to your homes. I am asking you to be very careful and cautious. Do not approach, do not touch and call 101 immediately!

If you have the desire and ability to help my efforts, I will be very grateful 🫶🏻

I leave a link to the bank account of the Patron Dog Foundation in my stories.

PayPal

[email protected]

Have a nice lick, everyone!!!! 👅
And a new video of Patron and his stuffed fren from Patron's official TikTok!
@patron__dsns

Відео для того, щоб відправити його тій самій людині з підписом «ми»💓😊
Here is the machine translation of the caption:
Video to send to the same person with the signature "we" 💓😊
Open thread!