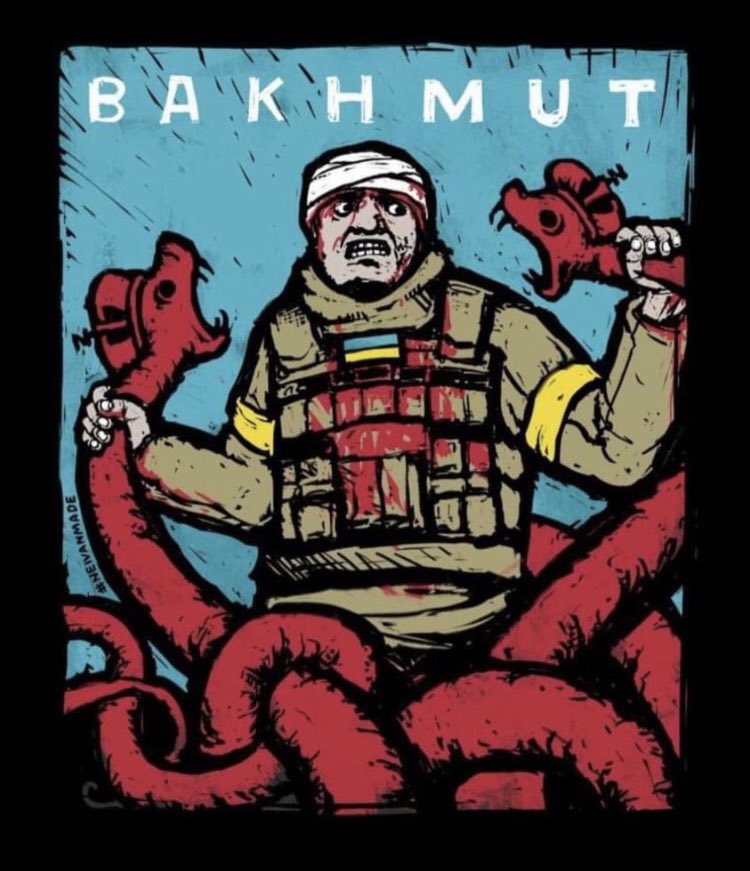 (Image by NEIVANMADE)
Here is President Zelenskyy's address from earlier today. Video below, English transcript after the jump:
I held an away meeting of the Staff – in Dnipro, a strategic city in the center of Ukraine – address by President Volodymyr Zelenskyy

27 March 2023 – 22:39

Good health to you, fellow Ukrainians!

I have just held a meeting of the Staff – for the first time away, in Dnipro. Right here – in the strategic city of the center of our country, after visiting Marhanets and Nikopol, Zaporizhzhia, the frontline positions of our warriors in the Zaporizhzhia region.

The commanders of the operational areas reported the actual situation. General Syrskyi, General Tarnavskyi – they were there in person. Those who lead the defense in the Donetsk region, in the hottest areas. There were also online reports by commanders of the operational and strategic groups of troops covering the south and the north. There was a report by the Commander-in-Chief and others.

By the way, I want to thank the warriors of our intelligence for the powerful work today in Bakhmut, the "Kraken" unit, as always – top level. Well done, guys!

At the Staff's meeting, we discussed the overall situation in the frontline areas, the reinforcement and protection of our borders along the entire length of the front – from the Kherson region to the Kharkiv region.

Every commander understands that the enemy must be held accountable for every attack on our cities and villages, on our people. For Slovyansk, for Kostiantynivka and Druzhkivka, for Avdiivka and Toretsk, for all the pain of Ukrainians – and not only during the full-scale war, but also since 2014.

Dnipro has been our fortress for more than 9 years, all this time supporting the front and warriors. It is here, in Dnipro, that since 2014, thousands of our soldiers have been saved after being wounded. Dnipro concentrated the work of volunteers – from the first weeks of aggression in 2014.

I thank you, Dnipro, I thank everyone here in the city who helps Ukraine stand, stand strong and beat the occupier.

Today in Zaporizhzhia, I visited the site where Russian rockets hit residential buildings. Ordinary houses… Burnt, partially destroyed, unfortunately.

Dozens of people were injured by this insane Russian strike. The terrorists knew exactly where they were aiming their missiles. High-explosive "Smerch". At the houses. 37 people were injured, 2 died. My condolences to those who have lost loved ones…

More than 400 people applied for help.

Of course, Russia will be held accountable for this strike as well. It is for this that we cooperate to the maximum with international justice, mobilize the world to create a Special Tribunal for Russia's aggression. All this will happen. Terrorists will be sentenced.

Of course, we help those who lost their homes as a result of this and similar strikes. Local authorities and partners have the resources to provide people with first aid. And I thank everyone who implements the relevant programs quickly and without excessive bureaucracy.

It was painful to look at what Russia did to our Marhanets, to our Nikopol. But our warriors, each and every one of them, who are now in the frontline positions, whom we visited today in Zaporizhzhia, know exactly what they need to drive the enemy out of our land. And it will happen.

Today I paid a visit to our soldiers in the hospital, where they are recovering from injuries. Thank you to every doctor, every nurse, and all the volunteers who help save the soldiers.

I met with IAEA head Rafael Grossi. The topic is clear: the security of our energy industry, our nuclear plants. First of all, the Zaporizhzhia NPP, which Russia still uses for radiation blackmail of the world. No other terrorist has reached such depths in his cynicism, in which Russia constantly seeks and finds a new bottom.

Holding a nuclear power plant hostage for more than a year is the worst thing that could happen in the history of the European and in general global nuclear energy sector. The longer the Russian occupation of the ZNPP continues, the greater will be the threat to the security of Ukraine, the whole of Europe and the world. I am grateful to our partners, grateful to Grossi for understanding this and for supporting Ukraine in the relevant issues.

And one more thing.

We are already preparing for an important international event that will take place this week at the initiative of President Biden and the United States. Summit for Democracy. Ukraine will participate. Our position in support of freedom will sound strong, as always.

I am thankful to everyone who helps our country protect freedom!

Glory to all who fight for Ukraine!

I am thankful to all our people in Zaporizhzhia, in Marhanets, in Nikopol, in Dnipro, in all the cities that Russia wants to destroy so badly and that stand so firmly!

Together we will win.

Glory to Ukraine!
The Ukrainian MOD's Telegram channel posted an update from Ukrainian Land Force Component Commander Colonel General Syrskyi. Here is a machine translation: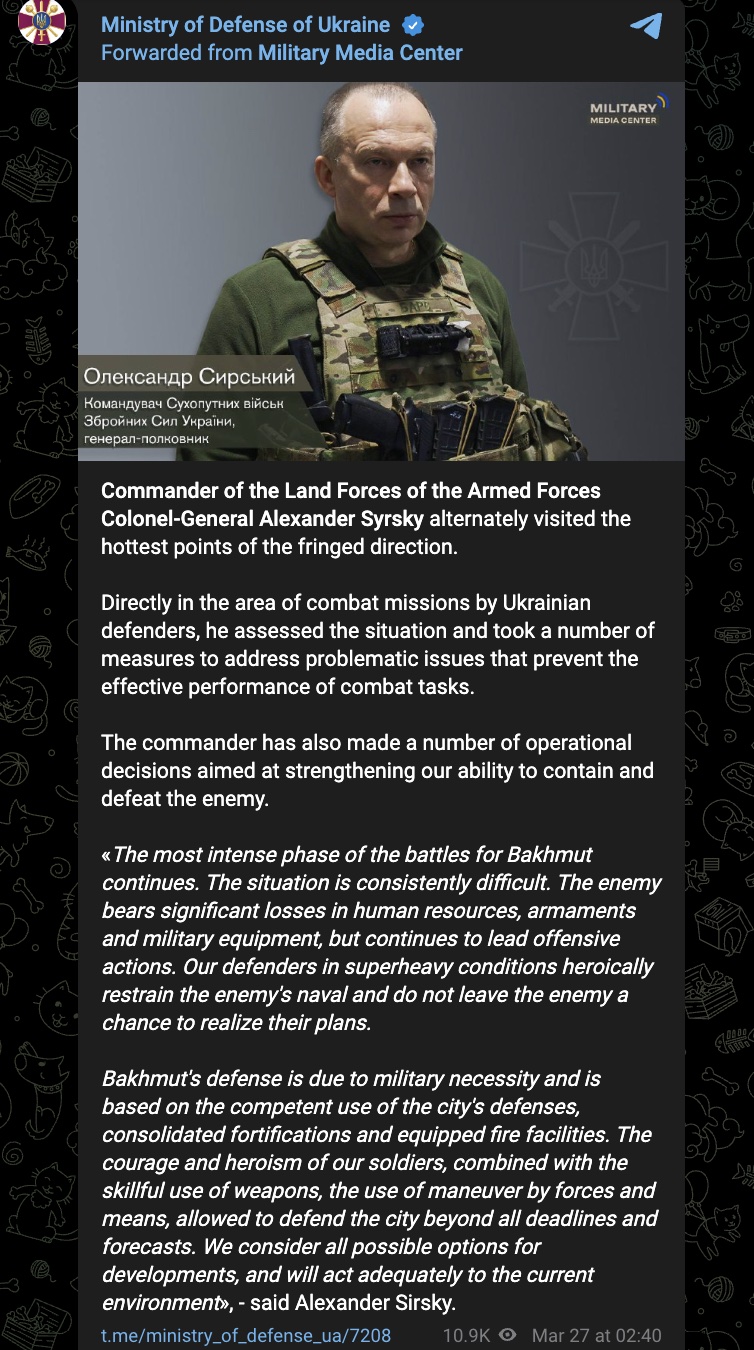 The Ukrainian MOD informs us that Ukrainian SOF and partisans are still hunting and haunting the Russian reinvaders in Russian occupied Mariupol: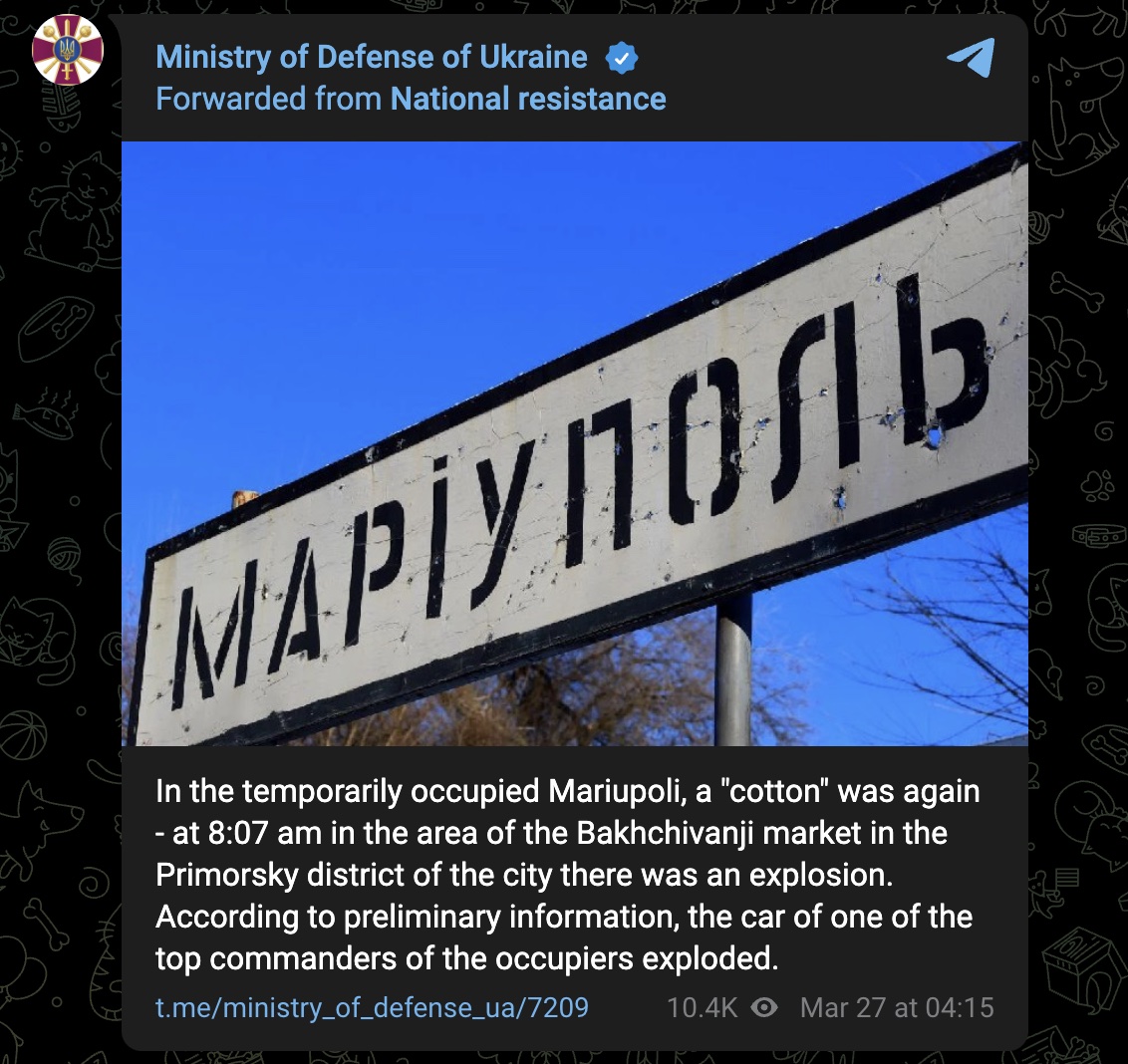 Here is former NAVDEVGRU squadron leader Chuck Pfarrer's most recent assessment of the situations in Avdiivka and Bakhmut:
ANDVIIKA AXIS /2250 UTC 27 MAR/ It is reported that RU troops deployed K-51 chemical grenades [CS/tear gas] to support failed attacks several locations. UKR conducted 9 aviation strike missions. Russian losses for the period includemore than 600 troops KIA. pic.twitter.com/yqlnGf2Vfk

— Chuck Pfarrer | Indications & Warnings | (@ChuckPfarrer) March 27, 2023
AVDIIVKA AXIS /1540 UTC 27 MAR/ 0600 report of UKR Gen'l Staff reports defenders drove back RU units at Novobakhmutivka, Sieverne, Pervomaiske and Nevelske. Avdiivka holds. pic.twitter.com/JBYZZtTcOE

— Chuck Pfarrer | Indications & Warnings | (@ChuckPfarrer) March 27, 2023
BAKHMUT CITY /1450 UTC 27 MAR/ Assaults on the village of Bohdanivka & Ivanivske were repelled, as were a series of RU efforts to improve tactical positions in urban fighting. Russian losses for the period include 6 Infantry Fighting Vehicles (IFVs) & 7 artillery systems. pic.twitter.com/UP4WrFD15F

— Chuck Pfarrer | Indications & Warnings | (@ChuckPfarrer) March 27, 2023
Bakhmut:
Bakhmut holds.

🎥93rd Mechanized Brigade pic.twitter.com/phFjUM5S7e

— Defense of Ukraine (@DefenceU) March 27, 2023
Melitopol:
According to preliminary data, in temporarily occupied Melitopol, someone decided to smoke in the area of the building used as barracks of the RF Armed Forces. pic.twitter.com/OQulBUqiJx

— NOËL 🇪🇺 🇺🇦 (@NOELreports) March 27, 2023
As a result of a strike on the city, a building near a former technical school now used as a military barracks was mostly destroyed. Russian military is seen swarming around the site 👊🔥 pic.twitter.com/xGibGUfQPS

— NOËL 🇪🇺 🇺🇦 (@NOELreports) March 27, 2023
Solviansk:
2 people killed and 29 injured in Russian attack on Sloviansk. Two S-300 hit the city center.

Sloviansk was the first Ukrainian city captured by Russia in 2014, it was liberated after three months and has been on the radar of Russian assault ever since. pic.twitter.com/uZmVSet2ij

— Maria Avdeeva (@maria_avdv) March 27, 2023
Here's an interesting thread from the Ukrainian officer who tweets as Tatarigami, which exposes a Russian disinformation campaign against Ukraine. First tweet in the thread followed by the rest from the Thread Reader App:
1/ Various russian Telegram channels share a video that allegedly shows Ukrainians stopping a car with a woman and a child (the child is not seen), engaging in a verbal alteration, and then shooting at the car. This looks like a staged video, for the following reasons: pic.twitter.com/r5jA1aDXO0

— Tatarigami_UA (@Tatarigami_UA) March 27, 2023
2/ 

The location where the video was filmed has reportedly been identified by the Telegram channel "Moscow Calling" as 47.9769473, 37.9534718. Source: 

t.me/m0sc0wcalling/…

3/ 

The identified location, 47.9769473, 37.9534718, is situated deep within the occupied territory of Donetsk, as can be seen on the DeepState map.

4/ 

The soldiers in the video are wearing yellow armbands, which is an uncommon practice among Ukrainian soldiers who currently wear green armbands. This raises suspicions about the authenticity of the soldiers depicted in the video.

5/ 

The fact that the woman was driving with a dashcam is another cause for suspicion. It is illegal to film the movement of Ukrainian troops, and one would not be able to pass a checkpoint with a dashcam. Thus, the presence of a dashcam raises huge questions 

6/ 

The car depicted in the video appears to be very clean, which is an unlikely condition for a vehicle traveling in a war zone. This gives the impression that the car was recently washed for the purpose of filming the video. 

7/ 

The soldiers in the video appear to assault the woman because she speaks Russian, which is a trope that is often utilized in propaganda. The portrayal of the soldiers as two masked Ukrainian nationalists stopping a car with a woman and a child and then 

8/ 

abusing them because they speak russian appears to be a manufactured narrative from russian propaganda playbook. Additionally, the woman's name appears to have a Muslim origin, which aligns with recent fake propaganda videos circulated by Russians, 

9/ 

showing fake Ukrainian soldiers burning the Quran. It is worth noting that the location of the incident is deliberately obscure, making it difficult to determine where it took place. Additionally, all soldiers are conveniently wearing masks, obscuring their identity 

10/ 

Furthermore, there is additional evidence suggesting that the video is staged. However, I will withhold further analysis until it is completed. The full video can be accessed via this link:

Additional: As the user 

@MrClarkyofAxel

 pointed out, the cross on back of the car is not a regular one, which is used by Ukrainian troops, but stylized Balkenkreuz, that resembled German troops during WW-2 period. Another clear indications of a staged propaganda piece. 

Further analysis by 

@EjShahid

 provides independent confirmation of the location
fdsfd
Just in time delivery!
They have arrived!
Strykers and Cougars from 🇺🇲, Challengers from 🇬🇧, Marders from 🇩🇪 have officially joined the Air Assault Forces of the #UAarmy!
The greatest vehicles for the best soldiers.
Onward! pic.twitter.com/xZnjtdnwfq

— Defense of Ukraine (@DefenceU) March 27, 2023
In case you were wondering what the inside of an Iranian drone looks like:
Ukrainian "drone hunters" showed what the Iranian UAvs look like inside. According to them, although Iran denied the supply of drones to Russia, many of the boards are inscribed in Farsi. And many electronic components of drones are made in the West, including the USA and Japan.… pic.twitter.com/gpTEgjnHrZ

— Dmitri (@wartranslated) March 27, 2023
And another bit of evidence as to why the Russians will not break Ukrainian resilience:
A report about Ukrainian civilians sewing tactical clothes for the military.

(this translation was a request from someone specific but I thought why not put it here anyway). pic.twitter.com/oppy02Y4Yy

— Dmitri (@wartranslated) March 27, 2023
Politico is reporting that US and allied officials are asserting that Putin's talk of putting nuclear weapons in Belarus is an attempt to distract everyone.
U.S. and European officials do not believe Vladimir Putin intends to transfer tactical nuclear weapons to Belarus anytime soon, according to three senior officials involved in diplomatic conversations about Moscow's recent threat.

Putin announced on Saturday that he planned to send the battlefield weapons across the border to store in a facility that is under construction and would be ready in July. If such a shipment happened, it would mark the first time Russia's nuclear weapons have existed outside of the country since the 1990s.

Putin did not clarify when he intended to send the weapons, but the Western officials said they do not have any evidence to suggest Putin is going to move forward with the shipments in the near future. The Russian president appears to have made the threat to try to rattle the Ukrainians and distract from the Kremlin's losses on the battlefield, the officials said.

The officials said they have not seen any indication — such as satellite imagery or other intelligence — that shows Russia is moving forward with an immediate plan to deploy nuclear weapons. The officials represent both U.S. and European governments and were granted anonymity to speak freely about a sensitive national security issue.

National Security Council spokesperson John Kirby made similar comments to reporters on Monday.

"We haven't seen any movement of any tactical nuclear weapons or anything of that kind since this announcement, and we certainly haven't seen any indication that Mr. Putin has made some sort of decision to use weapons of mass destruction, let alone nuclear weapons inside Ukraine," he said.

The assessment and comments by U.S. and European officials underscore the degree to which Western governments are batting down Putin's messaging despite previously warning about the Russian president's potential use of nuclear weapons earlier on in the conflict.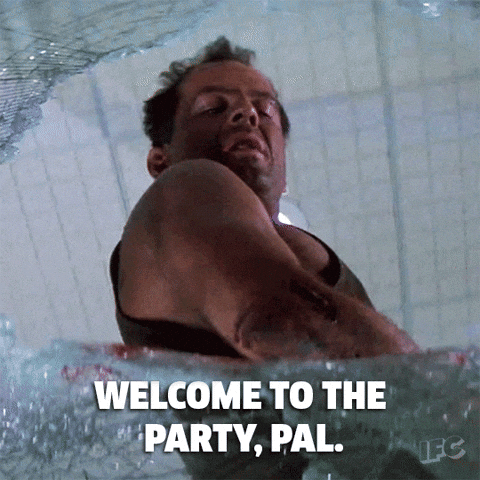 Another country heard from:
Belarusian propagandist boasts on state TV that Belarus is now a nuclear state and threatens to annihilate Poland and Lithuania. pic.twitter.com/t6DUZi3XRg

— Dmitri (@wartranslated) March 27, 2023
Good luck with that!
That's enough for tonight.
Your daily Patron!
Met Orlando Bloom 🙌🏻 https://t.co/xkJkkgM90C

— Patron (@PatronDsns) March 27, 2023
Will Orlando Bloom play @PatronDsns in the newest Hollywood franchise centered on the exploits of the world's most famous Ukrainian dog? These are merely rumors. In the meantime, Patron shared his vision of a modern-cinema Hero with the popular British actor.

📸 Unicef Ukraine pic.twitter.com/ztGqjWZ6kq

— Defense of Ukraine (@DefenceU) March 27, 2023
And a new video from Patron's official TikTok!
Whatever is going on with TikTok, it's still not letting me highlight the caption for machine translation and then copy and paste it.
And some Patron adjacent material to finish the update!
The story of a military kitten Shaibik growing up beside his Defender human.

📹: alexandrliashuk/TikTok pic.twitter.com/s1TSRv6Kuc

— Anton Gerashchenko (@Gerashchenko_en) March 27, 2023
Touch not the cat bot a glove!
Open thread!