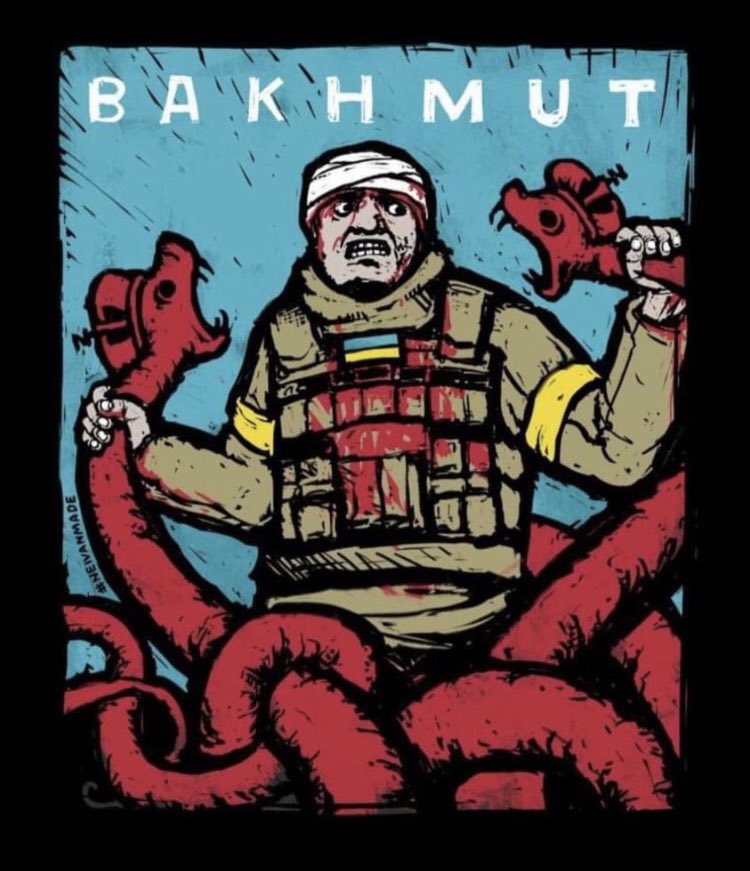 (Image by NEIVANMADE)
Here is President Zelenskyy's address from earlier today. Video below, English transcript after the jump:
It is important that, as long as the aggression continues, Russia does not have any access to sports, Olympic venues – address by the President of Ukraine

20 April 2023 – 23:09

Good health to you, fellow Ukrainians!

I've just addressed the Mexican parliament, and this is already the second such address to the Latin American region. I am grateful to Mexico for the attention to Ukraine and for supporting our view on international security, on the need for the broadest possible unity of the world to protect international law.

Because if the law does not work, the threat to life will only grow… Bandits and aggressors will become even more insolent. We have to prevent this.

In fact, the talks with NATO Secretary General Jens Stoltenberg were devoted to the same thing today in Kyiv. Defense of Ukraine. Protection of the entire rules-based international order. Protection of life.

We are preparing for the Ramstein meeting, and Mr. Stoltenberg's position is important. We are preparing for our active actions at the front – they are inevitable.

We are also preparing for the NATO Summit in Vilnius, which is scheduled for the summer of this year, but its content is already being worked out. Exactly at such meetings, in contacts of various levels that we conduct with partners.

Neither the majority of Ukrainians, nor the majority of Europeans, nor the majority of the inhabitants of the entire NATO space will understand the leaders of the Alliance, if a well-deserved political invitation to the Alliance is not sounded for Ukraine at this Summit in Vilnius.

Ukraine did everything to ensure that our application was approved.

It is difficult to even say whose contribution to European and Euro-Atlantic security is greater than that of our warriors… Ukrainian men and women who defend freedom with their lives. I am grateful to all partners who support us in this.

The International Summit of Cities and Regions was held today in Kyiv. A new format of cooperation between our state and partners.

The Congress of Local and Regional Authorities of Ukraine, which unites the central government and local leaders, is now gaining an international level. To more actively involve foreign partners in the reconstruction of our state, in the development of the economy and infrastructure in our communities.

I am grateful to everyone who took part in the Summit… Representatives of different countries, cities, municipalities. European institutions, the Council of Europe, the President of the European Committee of the Regions… More than a hundred participants from almost forty countries. I am grateful to everyone for supporting Ukraine!

Today I met with the Mayor of Paris, Mrs. Anne Hidalgo. I had the honor to present her with a special award of Ukraine for the capital of France, the award of the rescuer city.

Paris has become one of the biggest centers of power for Ukraine in Europe – in every sense.

I would like to especially note the help in protecting our energy sector. It was in the capital of France that a conference of the so-called "Energy Ramstein" format was held. Paris has accumulated significant support for Ukraine with energy equipment, provides social and humanitarian support.

I thank all French people, all Parisians, French President Macron for constant attention to Ukraine, for leadership. And I especially want to note the absolutely principled position – and so congruent with Ukrainian – of the Mayor of Paris regarding the protection of the Olympic Movement from Russian ideologization and propaganda.

It is obvious that a terrorist state will do everything to justify itself through sports or to use the international Olympic Movement to support its aggression.

That is why it is important that, as long as the aggression continues, the Russian state does not have any access to sports, Olympic venues. In particular, to the Paris venue – it is this city that will host the 2024 Olympics.

Today, the Mayor of Paris once again confirmed that she sees no place for representatives of the aggressor state in Paris as long as the aggression continues. This is a clear and important signal, thank you for it.

It would be great if exactly such signals were heard in the International Olympic Committee, where, unfortunately, the personal benefit of individual bureaucrats dominates the Olympic principles.

And one more thing. Today, the holy month of Ramadan for Muslims ends… And it ends for the second time during the full-scale aggression of the evil state against Ukraine, against all our people, all communities. The bright holiday of Ramazan-Bayramı deserves completely different conditions. Deserves peace we so long for, deserves victory to which we are all heading. I believe that the Lord will bless Ukraine with freedom for all our territories and all our people.

I wish our entire Muslim community and all Muslims of the world a peaceful holiday!

Ramazan bayramıñız hayırlı ve mubarek olsun!

Glory to all our warriors who are now fighting for Ukraine! Thanks to everyone who helps!

Glory to Ukraine!
There is not only no operational update from the Ukrainian MOD today, there's nothing new at all posted on their Telegram channel since yesterday.
Here is a message from the Ukrainian Minister of Defense Oleksii Reznikov:
In situations like this, I am reminded of FDR's words: "We must be the great arsenal of democracy." That was 80 years ago, and it is still the case today.
Ukraine adheres to the principle that democracy should defend itself.
Thank you to @SecDef and the American people for… pic.twitter.com/SMY5CRT0Ok

— Oleksii Reznikov (@oleksiireznikov) April 19, 2023
Here's the full text of his tweet:
In situations like this, I am reminded of FDR's words: "We must be the great arsenal of democracy." That was 80 years ago, and it is still the case today. Ukraine adheres to the principle that democracy should defend itself. Thank you to @SecDef and the American people for another package of security assistance!
A message from the British MOD:
Russia's campaign to degrade Ukraine's energy grid has likely failed.

Ukraine is rebuilding its network with help from international allies. Sourcing replacement transformers, generators and other critical components. Ukraine remains resilient.

🇺🇦#StandWithUkraine 🇺🇦 pic.twitter.com/LLWqUhP7BZ

— Ministry of Defence 🇬🇧 (@DefenceHQ) April 20, 2023
And one from the Ukrainian Air Force:
The flight of our pilot on the MiG-29 pic.twitter.com/2GRo01MkeO

— Ukrainian Air Force (@KpsZSU) April 19, 2023
Everywhere in Ukraine:
Air alarms in all of Ukraine. Most likely due to Mig-31K fighter jets that went airborne in Belarus. Be cautious. pic.twitter.com/sfsrPlXG26

— NOËL 🇪🇺 🇺🇦 (@NOELreports) April 20, 2023
Chernihiv:
All alarms repulsed, except for Chernihiv.

— NOËL 🇪🇺 🇺🇦 (@NOELreports) April 20, 2023
Bakhmut:
This was Bakhmut before the terrorists decided to "liberate" it.
This beautiful city is now in ruins.
russia must be defeated so that the cancer of the "russian world" does not spread further. pic.twitter.com/iV3OCA8CoG

— Defense of Ukraine (@DefenceU) April 20, 2023
The 1st Mechanized Battalion of the 3rd Separate Assault Brigade operating in Bakhmut area. These men and women have been fighting in the front line for many months. A class brigade. pic.twitter.com/Maenug7Dc2

— NOËL 🇪🇺 🇺🇦 (@NOELreports) April 20, 2023
Fighting in Bakhmut continues. pic.twitter.com/sknUHtv1Sa

— NOËL 🇪🇺 🇺🇦 (@NOELreports) April 20, 2023
Commenter Humboldt Blue sent this video of DaVinci's Wolves operating in Bakhmut:
This is in the caption below the video:
The battle of Honor Company, Da Vinci's Wolves battalion, for the last road to Bakhmut.

Instagram: https://www.instagram.com/gonor.group/
Telegram: https://t.me/FilimonovGonor

Support the unit:

Privatbank: 5457 0822 2054 1184

Monobank: 4441114452087438

Dollars: 5168752012978790

Euros: 5168752012978899

Airtime.

0xAf1c4E6436ED684a83c479630bf8aBE2aF995ac2

Bitstream.

bc1qw4l8qgudv8rzfyfe5v5zzx08kxcfegxjh96ecz

All funds will go to support our unit, which is currently performing combat missions to defend Ukraine from the Russian invaders.
You'll recall that the leader of the Wolves, Dmytro Kotsiubailo whose call sign was DaVinci, was killed in action about a month back.
Сьогодні 40 днів з дня загибелі командира Вовків, Героя України — Дмитра Коцюбайла, друга «Да Вінчі».

Ми, «Вовки Да Вінчі» з честю продовжуємо справу життя нашого командира — виборюємо незалежність України! pic.twitter.com/qzJSXWxcAo

— Вовки Да Вінчі (@VovkyDaVinchi) April 15, 2023
The text machine translates as:
Today is 40 days since the death of the commander of the Wolves, the Hero of Ukraine – Dmytro Kotsyubail, friend of "Da Vinci". We, "Da Vinci Wolves" proudly continue the life's work of our commander – we fight for the independence of Ukraine!
His fiance, a medic in the Wolves, as well as a Kyivan city official:
В цю суботу, 15 квітня, буде 40 днів у Да Вінчі

Приходьте о 12:00 на Аскольдову могилу

— Alina Mykhailova (@Mykhailova_A) April 12, 2023
And the translation:
This Saturday, April 15, will be 40 days in Da Vinci Come at 12:00 to Askold's grave
дітки які сьогодні мене обіймали на Аскольдовій могилі та їх слова – в саме сердечко 💔

Варвара 5 років з Маріуполя передала лист і подарунок для Х'ю pic.twitter.com/kM10ZihefV

— Alina Mykhailova (@Mykhailova_A) April 15, 2023
Here's the translation of her tweet:
the children who hugged me today at the Askold grave and their words – in my heart

Varvara, 5 years old, from Mariupol, handed over a letter and a gift for Hugh
Kyrylivka:
/2. Unconfirmed version of what could have happened – In Kyrylivka, Russian helicopter crashed today. As said, 2 helicopters were circling over the sea. The weather was foggy, the pilot lost control. One helicopter crashed about 500m away from the shore. https://t.co/OfyTmpIRUO pic.twitter.com/qeNDwCZ9lh

— Special Kherson Cat 🐈🇺🇦 (@bayraktar_1love) April 20, 2023
Belgorod:
/2. Russian Ministry of Defense confirms that it was a failed Russian bomb 🤷‍♂️. – "On April 20, during the flight of the Su-34 aircraft over the city of Belgorod, an abnormal descent of aviation ammunition occurred" pic.twitter.com/OEDixKj5Ad

— Special Kherson Cat 🐈🇺🇦 (@bayraktar_1love) April 20, 2023
Apparently the Starlink Snowflake is the Chief of Russian Air Forces.
St. Petersburg:
The machine-building and metallurgical 'Kirovsky Plant' in St. Petersburg is on fire. It is one of the biggest ones in Russia. pic.twitter.com/tFXOP76JUc

— NOËL 🇪🇺 🇺🇦 (@NOELreports) April 20, 2023
Here's a thread on Russian oligarch-siloviki sanction evasion. First tweet in the thread followed by the rest from the Thread Reader App:
1/22 This is Svetlana Maniovich. She is your guide to the world of extreme Russian glamour. She radiates richness. Diamonds, furs, Rolls Royces – she has it all and more. In summer you can find her in St Tropez where she rents a villa for €150k/month, or on a yacht in Naples🧵 pic.twitter.com/ABQRMx1bGB

— Maria Pevchikh (@pevchikh) April 19, 2023
2/22 She loves shopping. Sadly, Moscow doesn't satisfy her fashion needs, so she has to travel to Paris. She gets personal appointments at one of the most expensive and discrete fine jewellery stores. This is where she gets €150K earrings and €104K rings made for her.

3/22 Isn't it lovely? Well, not quite. Svetlana Maniovich is the wife of the Russian Deputy Minister of Defence. The person responsible for invading Ukraine and killing thousands of innocent people. His name is Timur Ivanov. And yes, that's actually them together. Quite a lad.

4/22 Ivanov is the head of construction for the MoD. His job is to build everything from army barracks to this seriously weird military church dearly beloved by Putin. Now he's responsible for 'rebuilding' Mariupol, the city Putin has wiped off the face of the earth and occupied.

5/22 And now have a look at this video please. It's our Svetlana Maniovich (aka Ivanova) partying in Courchevel 3 weeks ago.13 months into the war. She is in the heart of Europe, wearing her diamonds and furs. How did the wife of a war criminal sneak into France? Let me tell you. 

6/22 There wasn't much sneaking involved. As insane as it sounds, she is totally allowed to come to the EU and walk up and down the Champs-Élysées spending the money her husband made by bombing apartment blocks, killing children and beheading soldiers in Ukraine.

7/22 She doesn't have any other money. She is a woman of leisure and requires sponsorship. Her ex-husband who she left for Ivanov warned him that he won't be able to afford her. 'Svetlana demands at least $50k a month'. How do I know this? The divorce was covered by Tatler. Fun!

8/22 But despite being a government official Ivanov managed to scrape together a few pennies to make his wife happy. Svetlana can have all the budget she wants for the things she loves. Like this Dolce&Gabbana dress for €59,500, or this set of XIX century furniture for €85,000.

9/22 They have enough cash to even buy a 'holiday Rolls-Royce'. They have one in Moscow, but since they spend so much time at the French Riviera, they bought another one there too. It's a retro Rolls-Royce Corniche. It just sits in a garage and waits for them all year round.

10/22 Where does the money come from? Corruption. Ivanov receives kickbacks from whoever he assigns MoD construction contracts to. Some of you may have seen these pictures from Mariupol. These are the few 'display' houses built for propaganda purposes. Putin visited them too.

11/22 In our recent investigation we found out that the construction company that built this compound in Mariupol pays bribes to Timur Ivanov. They are actually also building his own dacha. Does your Deputy Minister of Defence have a house like this? Why not?

12/22 Anyways. You would think that the war has prevented this family of crooks and war criminals from spending their time in Europe. But it hasn't.

13/22 On March 17, 2022, the day Putin's army ravaged Mariupol, Svetlana went, by invitation, to Joel Arthur Rosenthal's jewellery store in Paris to pick up some diamonds. On March 23, the day Kyiv got shelled at night, Svetlana took a Eurostar trip to visit her son in London.

14/22 Her life in Europe wasn't hindered by the war her husband started. This was made possible by two simple tricks. 1) Svetlana illegally obtained an Israeli passport (there is a court ruling) 2) She has preemptively divorced Ivanov in August 2022, 5 months into the war.

15/22 So the sanctions don't affect her. She can keep her bank accounts, her assets and her shopping holidays. Despite the fact that every euro she spends at Hermes and Cartier in Paris is a blood soaked euro. She can even keep the Parisian apartment she rents for her family.

16/22 See? No false identities. No sneaking through the border. The family of a war criminal is living in Paris as if nothing happened. Have I broken some major news with this thread? No. Our investigation has been out for 2 months. We have filed numerous complaints and reports.

17/22 And we have never heard back from the French authorities. Nothing from the EU either. Are they all ok with it? Cause I'm really not. So why don't we all work together to fix this? If you live in France, please write to your MPs, to your local media, and share this thread. 

18/22 We at the Anti-Corruption Foundation are willing to resubmit piles of documents and proofs. I am willing to speak, meet or testify in court – whatever is needed to get the legal process going. 

19/22 We also ask all of our supporters in Paris to come and protest near Maniovich's property, demanding to sanction their family, freeze their assets and kick them out of Europe.

This Sunday, April 23
14:00, 51 Rue de Babylone Paris 

20/22 We already did it once in London with Lavrov's stepdaughter, who was sanctioned by the UK after a similar thread of mine and thanks to your vast support. We can do it again. This is about justice that we all need right now.

21/22 You can find a much more detailed version of this story in our video. It has got English, French and German subtitles. 

22/22 Over the past 12 years, we've published hundreds of stories like this one. And we're going to publish more. If you like our work, please donate to our cause. Your money will be spent towards putting an end to Putin's crimes. It's a good investment.
Finally for tonight, Franz-Stefan Gady of the International Institute for Strategic Studies has written a really interesting essay at Foreign Policy. Here's a bit of it:
The first 24 hours of Ukraine's much anticipated counteroffensive may be the longest day for the Ukrainian Armed Forces. As German Field Marshal Erwin Rommel said to an aide before the expected Allied invasion of Normandy in 1944: "The first 24 hours of the invasion will be decisive. … For the Allies, as well as Germany, it will be the longest day"—a statement immortalized by the blockbuster Hollywood film about the Normandy landings, The Longest Day. Rommel knew that the initial phase of an attack often shapes the character of the subsequent fight, decides victory or defeat, and determines the strategic impact of an offensive.

Most of the speculation and debate is about when and where Ukrainian forces will strike, how big an attacking force Ukraine has assembled, and how much of an impact newly supplied Western weapons will have. It's unlikely that anyone outside Ukraine's high command knows whether Ukraine now has a decisive advantage in firepower, munitions, troop numbers, and battlefield logistics. What we do know is that in recent months, the war has increasingly been defined by attrition—neither side appears to have a decisive advantage, and each is trying to wear the other down. Whatever happens on Ukraine's D-Day, it will not be easy for Ukrainian forces to avoid the war's character as one of attrition, even if they are large, well-prepared, and well-equipped.

There is perhaps only one way for Ukraine to escape the scourge of attrition in the opening hours of the upcoming offensive: set off paralysis in the Russian military leadership and panic across the Russian rank and file. Ukraine's greatest chance of success will come if Russian soldiers skedaddle from advancing Ukrainian forces without putting up much of a fight. Even if the correlation of forces were advantageous for Ukraine, that alone would not be sufficient to attain these effects. Rather, intangible factors such as tactical surprise, battlefield leadership, and fighting morale will likely be decisive in the first 24 hours of an attack. These intangible factors—not weapons alone—will help define whether the Ukrainians succeed in panicking the Russians, paralyzing the Russian military leadership, and causing a temporary breakdown of command and control. In this scenario, Ukrainian armored columns punch through layered Russian defenses, quickly advance into the Russian rear, and threaten command and control nodes like military headquarters and supply centers, compounding the panic and paralysis.

This kind of breakdown on the Russian side is exactly what took place during Ukraine's lightning counteroffensive in September 2022 in Kharkiv oblast. The Ukrainians had set the conditions for the attack with a campaign of artillery attacks. Then, even though the Russians had observed the Ukrainian buildup, the attackers achieved tactical surprise, committed superior numbers, caused temporary panic, and set off a breakdown in Russian command and control. All of this delayed the speedy dispatch of Russian reserves that might have steadied the front line. As a result, Ukraine liberated more than 6,000 square kilometers of Russian-occupied territory in 10 days. The first 24 hours of that offensive were decisive, as the initial Ukrainian advance and exploitation of the breach in the front line triggered chaos and panic on the Russian side. In the upcoming spring offensive, Ukraine will likely attempt to replicate the Kharkiv offensive's lightning character.

Achieving tactical surprise in the opening hours of the offensive will be crucial, since it increases the chance of local fire superiority and an advantageous correlation of forces, at least for a short period of time. This does not require Ukraine's assembling of forces to remain secret—an unlikely proposition in any case, given satellite imagery as well as cheap and pervasive drones on the battlefield. Rather, to stretch out Russian forces and prevent a concentration of defenders, Ukraine will need to leave Russia in the dark about where and when those assembled forces will strike. At the same time, Ukraine will need to make sure that the location chosen for the breakthrough attempt can be quickly expanded to enable deep penetration—for example, by swiftly seizing important roads, intersections, or railroad junctions.

The first 24 hours of the upcoming spring offensive may indeed be the longest day for Ukraine. In the long run, Ukraine's armed forces will have a tough time escaping the crucible of attrition of this artillery-focused land war. The Ukrainians could achieve tactical success if they are able to cause paralysis in the Russian military leadership and panic among troops, triggering a rout in the opening phase of the counteroffensive. Whether this will be sufficient for Ukraine to achieve long-term strategic gains—let alone win the war—is another question entirely.
Much more at the link!
That's enough for tonight.
Your daily Patron!
I washed all the items from my official merch😂 All profits go to my fundraiser to help sappers and animals. There is also a "gift" option: we make gifts from you to children from low-income families or orphans😍 Check it here, please: https://t.co/JQGDcWj57W pic.twitter.com/Y8IBmH8LEE

— Patron (@PatronDsns) April 20, 2023
You all know what to do!
And a new video from Patron's official TikTok:
Here's the machine translation of the caption:
I hug you all and wish you a good day 🤗👅 #песпатрон
Open thread!