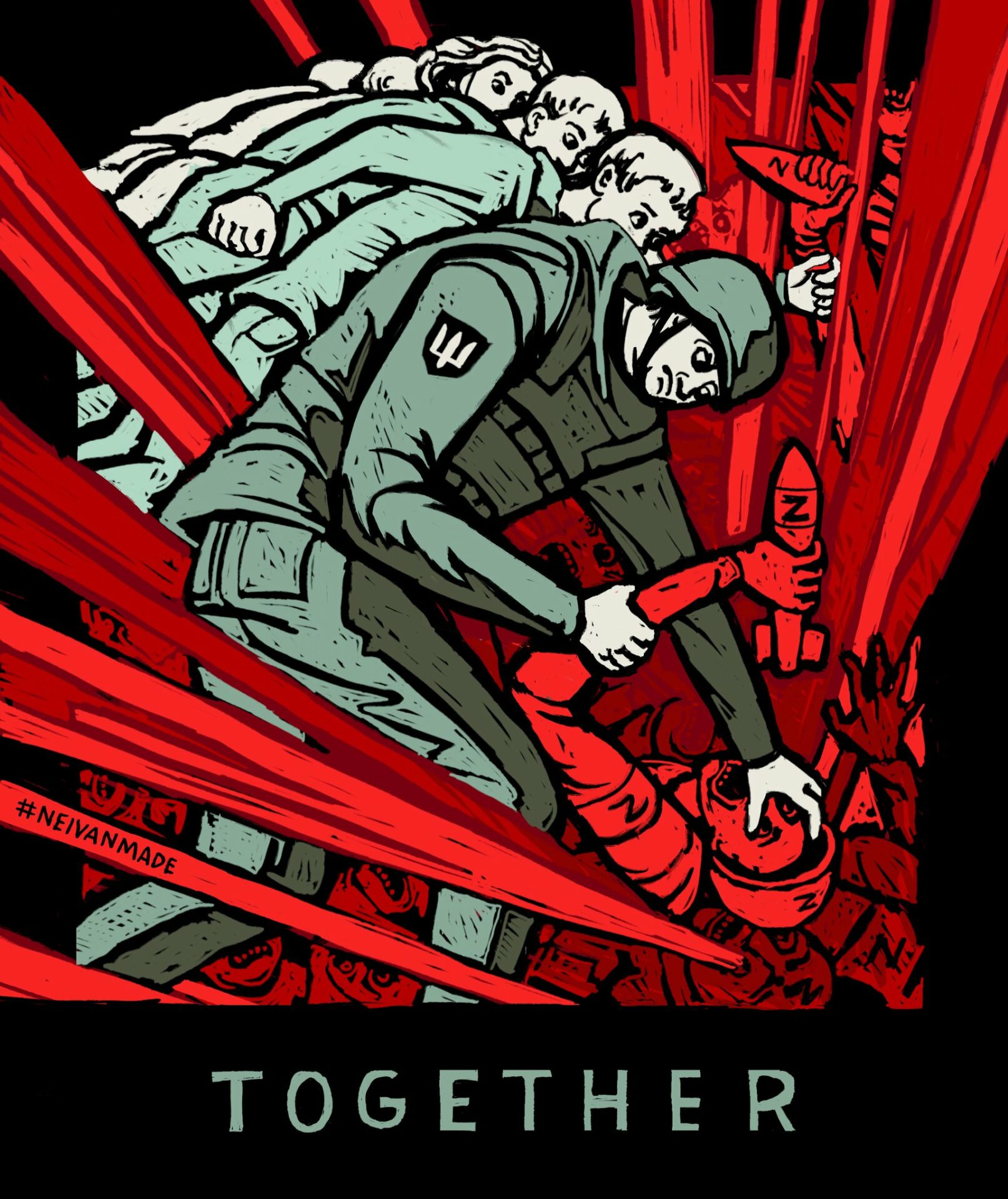 (Image by NEIVANMADE)
I've seen the social media posts, basically RUMINT at this point, about Ukrainian maneuver elements in Operational Command South. I haven't seen anything that I'm comfortable with that confirms what's being posted. And that's all I've got to say about that.
Here is President Zelenskyy's address from earlier today. Video below, English transcript after the jump:
Our victory in this war will be shared by everyone who was bringing it closer – address by the President of Ukraine

23 April 2023 – 21:10

Good health to you, fellow Ukrainians!

Today I want to focus on words of gratitude.

First of all, to the warriors. To everyone who is currently in battle, in positions, on combat missions. Avdiivka, Maryinka, Bakhmut, Lyman direction, Siversk…

The 35th separate marine brigade named after Rear Admiral Ostrohradsky, the 55th separate artillery brigade "Zaporizka Sich", the paratroopers of our "Seventy-ninth" – thank you, soldiers! Always brave and strong!

The 80th brigade of the airborne assault troops – thank you for the exemplary destruction of the enemy near Bakhmut. Well done, guys!

The 54th separate mechanized brigade named after Hetman Mazepa – thank you for your resilience, for defending the positions, and therefore for the defense of Ukraine!

It is important to understand that in each of our cities, in each village, wherever it is now more or less quiet. Everywhere where today was just a calm spring sunny day… Every day of such calmness in the rear areas is gained by our warriors in brutal battles on the frontline. In daily battles! Please, respect this. And always help our soldiers when needed, always support the state and defense as much as possible.

Second – gratitude to the rescuers, all our employees of the State Emergency Service, who are involved in eliminating the consequences of enemy strikes. Thanks to the entire team of the State Emergency Service! And our firefighters-rescuers should be singled out for their work this week – sergeant Roman Svitlychnyi, sergeant Petro Bondarenko, senior sergeant Oleksiy Inhulskyi, commander of the 5th state fire and rescue post, senior ensign Oleksandr Ivanenko, chief of the 13th fire and rescue unit of the city of Nemyriv major Vasyl Melnyk and Lieutenant Colonel Viktor Kuzmenko from the Main Directorate of the State Emergency Service in the Poltava region. Thank you!

Third – our psychologists. Today is the professional day of psychologists in our country, and I thank each and every one who chose this particular profession and dedicates their life and their time to the health and peace of mind of others. No matter where you work, no matter when you work, no matter under what conditions it happens, the purpose of a psychologist's work is always noble – to help. I am thankful to those who help our people!

The fourth point. Since the 90s, the World Book and Copyright Day has been celebrated annually on April 23. Now, when millions of our people are in different countries, when Ukrainian children live and study in other linguistic and cultural environments, it seems to me that it is especially important that, through a Ukrainian book, the Ukrainian vision of the world unites our people, maintains a connection with home.

And I thank everyone who helps spread our book around the world. Who implements such projects as, for example, "Books without Borders". In the difficult past year, more than 280,000 books were distributed in the framework of this project. 20 countries joined. Or our other project – Ukrainian bookshelves in almost 40 countries of the world. Thanks to everyone who helps! Thanks to all our Ukrainian publishers who continue their work. And, of course, I thank everyone who writes in Ukrainian and about Ukraine.

And, finally, the fifth. We continue to prepare several important international events that can give our state more strength and provide our soldiers with more weapons. Almost every day relevant communication with partners, relevant tasks for our diplomacy take place. Discussions, conversations, meetings.

And I thank everyone involved in such preparatory work. In the absolute majority of cases, this work is invisible to the general public. And rightly so. That's how it works. The result is based on preparation. Thanks to everyone who prepares the results for Ukraine! The Office, the government, our diplomatic missions – thank you to everyone involved!

Our victory in this war will be shared by everyone who was bringing it closer. All those who fought and worked for victory. Glory to every Ukrainian hero! Glory to our beautiful people!

Glory to Ukraine!
When the theater commander shows up to hand out awards!
Picture of the day pic.twitter.com/zTDmlVxZ8m

— Illia Ponomarenko 🇺🇦 (@IAPonomarenko) April 23, 2023
Bakhmut:
This was prior to it pic.twitter.com/KPektnxOlH

— NOËL 🇪🇺 🇺🇦 (@NOELreports) April 23, 2023
Destruction of Russian electronic warfare system Strizh, by the 128 Ukrainian Territorial Defense Battalion and Adam tactful group https://t.co/hhcFPsm66f pic.twitter.com/BCi37XDq6g

— Special Kherson Cat 🐈🇺🇦 (@bayraktar_1love) April 23, 2023
I'm pretty sure that was supposed to be tactical, not tactful.
Kharkiv:
The cost of Ukrainian bread. Sappers barely have time to demine populated areas and main communications routes after the russian occupation.
Oleksandr Kryvtsun, a farmer from the Kharkiv region village of Hrakove, had to build his own tractor to demine his fields. pic.twitter.com/N6aZcXbUYV

— Defense of Ukraine (@DefenceU) April 23, 2023
5 missile strikes from Bedgorod on Kharkiv. All at industrial sites. We must not be mistaken – Russia will not abandon its goal to kill the Ukrainian economy. pic.twitter.com/fs45qMMu3b

— Maria Avdeeva (@maria_avdv) April 23, 2023
Zaporizhzhia:
For anyone that is asking when the counter offensive will start.

Trenches in Zaporizhzia oblast. pic.twitter.com/RBa2o5qcbg

— NOËL 🇪🇺 🇺🇦 (@NOELreports) April 23, 2023
Kyiv:
A Ukrainian serviceman sits by the fallen comrade's grave in the Alley of Heroes, Kyiv, 23 April 2023.

📸: EPA-EFE/OLEG PETRASYUK pic.twitter.com/ev1IfPyawJ

— UkraineWorld (@ukraine_world) April 23, 2023
I see that the PRC's attempt to improve relations with EU member states is going well…
European governments have reacted with anger and dismay to comments by a Chinese diplomat questioning the legal status of former Soviet states and Ukraine's sovereignty over Crimea.

Estonia, Latvia and Lithuania, who regained their independence from the Soviet Union in the early 1990s, have said they will summon Chinese diplomats on Monday to complain about the remarks by Lu Shaye, Beijing's ambassador in Paris.

"These ex-Soviet Union countries do not have effective status under international law because there is no international accord to concretise their status as a sovereign country," Lu Shaye said during an interview with French news channel LCI.

When asked whether Crimea was part of Ukraine, Lu said the question was "not simple to answer with a few words" and pointed out that Crimea used to belong to Russia, while neglecting to mention that Russia illegally annexed the peninsula in 2014.

Ukrainian officials dismissed the Chinese comments. "All post-Soviet Union countries have a clear sovereign status enshrined in international law," tweeted Ukrainian presidential adviser Mykhailo Podolyak. "It is strange to hear an absurd version of the 'history of Crimea' from a representative of a country that is scrupulous about its thousand-year history."

The French foreign ministry also expressed "dismay" over Lu's comments.

"It is up to China to say whether these remarks reflect its position, which we hope they do not," the French foreign ministry said. "We stand in solidarity with our allies and affected partners, who won long-awaited independence after decades of oppression." It also added that the "annexation of Crimea . . . was illegal under international law".

Gabrielius Landsbergis, Lithuania's foreign minister, said: "If anyone is still wondering why the Baltic states don't trust China to 'broker peace in Ukraine', here's a Chinese ambassador arguing that Crimea is Russian and our countries' borders have no legal basis."

Lu's comments contradict China's stated policy towards the former Soviet nations. China entered into diplomatic relations with these independent republics in September 1991.

"Lu Shaye has a radical, non-mainstream opinion which deviates from Beijing's official position and practice," said Moritz Rudolf, fellow at Yale Law School's Paul Tsai China Center.

Edgars Rinkēvičs, Latvia's foreign minister, called the comments "completely unacceptable", and added: "We expect explanation from the Chinese side and complete retraction of this statement."

Beijing's foreign ministry has not yet commented on Lu's remarks. Lu, who is in the fourth year of his posting in Paris, has typified Beijing's recent fashion of "wolf warrior" diplomacy — named after a set of films in which Chinese special-operations fighters defeat western-led mercenaries — with his previous outspoken remarks.

Vadym Omelchenko, Ukraine's ambassador to France, quipped that Lu should be asked "who owns Vladivostok?", referring to the port city that Russia annexed from China in the mid-19th century.

Margus Tsahkna, Estonia's foreign minister, called the ambassador's comments "false and a misinterpretation of history". He added: "Baltic states under international law have been sovereign since 1918 but were occupied for 50 years."
He seems nice…
This is what they're fighting for:
Daddy! pic.twitter.com/RMbNaiK8yY

— Defense of Ukraine (@DefenceU) April 23, 2023
And this:
I just want to let you know that there is a TikTok channel of a 🇺🇦 soldier dedicated entirely to a bull named Martyn. Martyn lost his owners due to the war and more than a year lived next to the positions of 🇺🇦 military. Recently, soldier decided to adopt Martyn and took him home pic.twitter.com/ikqLrEPpL0

— Special Kherson Cat 🐈🇺🇦 (@bayraktar_1love) April 23, 2023
That's enough for tonight.
Your daily Patron!
I have been living for about three days without a blue check. And I don't feel anything😅 I was glad to earn it, but I won't buy it. My people's wages are too hard to spend on verification. What do you think about this? pic.twitter.com/Bf0SScBxce

— Patron (@PatronDsns) April 23, 2023
Open thread!