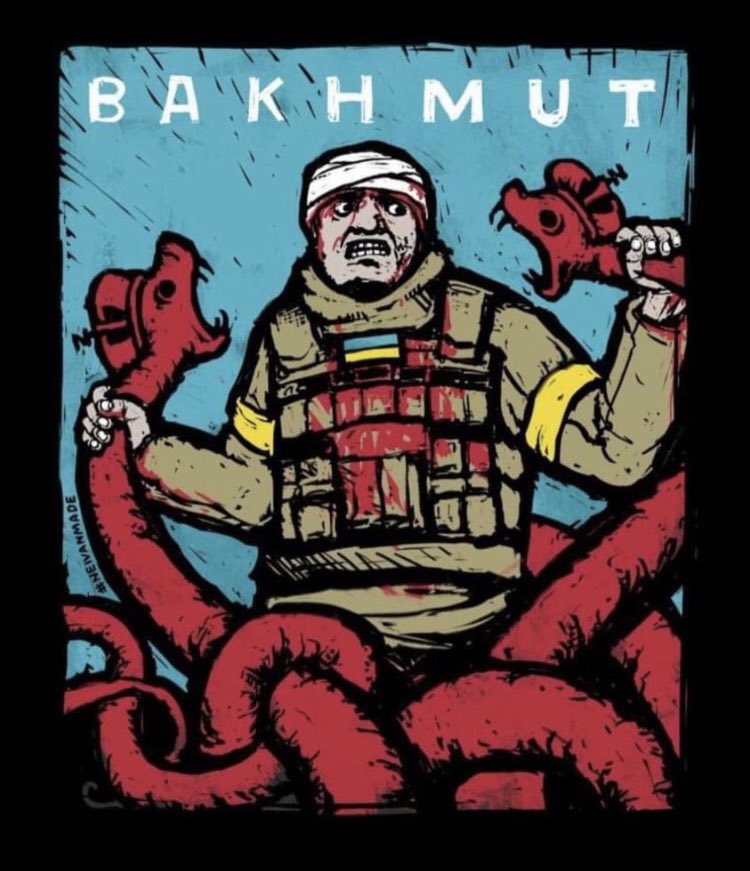 (Image by NEIVANMADE)
It's been a long day, part of a long week, that has been part of a long and exhausting month. So just a brief update tonight.
Before we get to President Zelenskyy's daily address, I want to highlight this NY Times' video reporting. Their reporters – Masha Froliak and Yousur Al-Hlou – embedded with this Ukrainian Soldier in Dontesk. I WILL WARN YOU, WHILE NOT OVERLY GRAPHIC, THIS IS NOT THE MOST EMOTIONALLY PLEASANT SUBJECT!!!!
Here is their – the reporters – description of the video reporting from the summary description that would be below the video on YouTube's own site:
I Cry Quietly': A Soldier Describes the Toll of Russia's War

For Valentyn, a Ukrainian soldier in the Donetsk region, the war's death toll is more than a statistic. He is tasked with moving wounded troops — and dead bodies — away from the front lines, often under Russian fire.
And here's the video:
And an excerpt from their reporting:
NEAR KREMINNA, Ukraine — The sound of artillery launching and landing along the front line punctures the stillness of the forest just a few miles away, where combat medics are waiting to receive the wounded.

On the horizon, a military vehicle moves along a dusty road and screeches to a halt when it reaches the trees. A soldier named Valentyn parks it there for natural camouflage from Russian drones scouting for Ukrainian military positions.

A group of soldiers, visibly shaken, quickly unloads three bodies that have just been recovered from the front line, placing each one into a plastic body bag and zipping it closed. Their position was shelled and then attacked by a drone, they say.

"They're shooting at you from all sides. You turn, you run, they hit you, and it's impossible to get away," said Maksym, who survived the attack. "This is a big tragedy for us."

"One more body is left behind with the Russian soldiers," he added.

While much of the world's attention has fixated on the bloody urban battle taking place in Bakhmut, Russia's campaign in eastern Ukraine is also raging in forests and fields about 50 miles north of the city, near Kreminna. Here, soldiers take positions in trenches surrounded by tall, slim trees, crouching to avoid the direct line of sight of their Russian enemies.

"People say it's harsh in Bakhmut," said Valentyn, who joined the army seven months ago. "But it's harsh here, too."

For the past month, Valentyn has been stationed at this evacuation point, traveling back and forth to the front line almost daily to rescue wounded soldiers and recover the dead. His job requires him to drive directly toward Russian forces, and he has come under fire at times.

"There is nothing good about it," Valentyn said. "What is this war for?"

Ukrainian and Russian military officials have been reluctant to release data on casualties within their ranks, though the U.S. government and military experts estimate that both sides have suffered significant losses in the tens or hundreds of thousands.

For Valentyn, the work of responding to the casualties has been both grim and relentless.

"There is blood everywhere," he said, while cleaning it from his vehicle. "It has a smell. Especially fresh blood."

Bright red liquid trickled through his fingers as he rinsed out a bloodied cloth. He drained the cloth and used it again to wipe off the back seat.

"It's difficult to see young boys die," Valentyn said. "Sometimes I cry quietly."
There is, sadly, more at the link.
Here is President Zelenskyy's address from earlier today. Video below, English transcript after the jump:
We will keep working for the return of all deported Ukrainian children and for the punishment of Russia – address by the President of Ukraine

27 April 2023 – 21:51

Good health to you, fellow Ukrainians!

Today, there was an important political result in Strasbourg at the session of the Parliamentary Assembly of the Council of Europe. A resolution was adopted recognizing that Russia's deportation of Ukrainian children has evidence of genocide. This is the first recognition of this fact at the level of such a high international organization uniting the states of our continent.

Practically speaking, this decision will significantly help our global efforts to bring Russia and its officials, including the head of the terrorist state, to justice for genocide and genocidal policies against Ukraine.

The deportation of Ukrainian children is one of the fully premeditated elements of Russia's attempt to erase the identity of our people, to destroy the very essence of Ukrainians. This is a deliberate crime of genocide committed by Russian officials. This is how it should be qualified both politically and legally.

Today, the First Lady of Ukraine addressed PACE – specifically on the issue of children and families… Our parliamentarians and our diplomats have done a good job. And at all levels – formal and informal, with leaders of states, at the parliamentary, governmental, law enforcement levels, in the legal community and in international and inter-parliamentary organizations – we will keep working for the return of all deported Ukrainian children and for the punishment of Russia. We know for sure the data of almost 20 thousand children who were taken away and dispersed to different regions of the evil state. But it is obvious that this is only a part of much larger criminal actions. There may be many more such children.

Europe and the world have already seen various deportations and attempts to exterminate peoples. It is through the Russian example – the accountability of this state and its officials guilty of genocide – that we must show all other potential sources of the same evil that there will never be impunity. There will be sentences for genocide. Just as for all other crimes committed by Russia against Ukraine and our people.

In Mykolaiv, the debris has been cleared from the site of a rocket attack that took place last night. More than 20 people were wounded, one person was killed… My condolences to the families and friends.

The rockets damaged dozens of ordinary houses and two educational institutions. "Kalibrs" against a school and a college, against residential buildings.

In the evening, another rocket attack was launched at Kostiantynivka, Donetsk region. A school, hospital and residential buildings were damaged. Unfortunately, there are people injured.

Unfortunately, the world's legal machine is taking a long time to gain momentum. But it is gaining momentum. Unfortunately, the world's political pressure on the terrorist state, the sanctions pressure, has not yet reached its full force. But it is reaching…

But our warriors have been doing absolutely everything possible to protect people and humanity since the first day of this battle! And even more than possible.

Avdiivka – the 35th separate marine brigade. Maryinka – our famous "Seventy-ninth"… The entire Donetsk sector – the 55th separate artillery brigade… Thank you, warriors, for your consistent efficiency!

Zaporizhzhia direction – today, as always, we have a lot to thank the warriors of our 44th separate artillery brigade for. Well done!

Today, I conveyed written gratitude to the warriors and the commander of the 95th separate airborne assault brigade who are fighting vigorously near Kreminna, Luhansk region.

I would also like to thank absolutely everyone who is defending Bakhmut and destroying the enemy there on a scale that the occupier deserves.

Glory to all our warriors who are now in combat, at combat posts, on combat missions!

Thank you to everyone in the world who helps us!

Eternal memory to all those whose lives were taken by Russian terror!

Glory to Ukraine!
There is still no operational update from the Ukrainian MOD.
Bakhmut:
Bakhmut today.
This city was peaceful and vibrant until recently.
The "russian world" is equivalent to death. The "russian world" turns everything into a wasteland.

🎥 @Liberov pic.twitter.com/zclYl1J5z8

— Defense of Ukraine (@DefenceU) April 27, 2023
(What's left of) Bakhmut now pic.twitter.com/jG98rdETIg

— Illia Ponomarenko 🇺🇦 (@IAPonomarenko) April 27, 2023
The first letter is due this Friday… it's going to be one about the epic Battle of Bakhmut.

— Illia Ponomarenko 🇺🇦 (@IAPonomarenko) April 27, 2023
Commander of the Special Operations Forces (SOF), Brigadier General of the Armed Forces of Ukraine Viktor Khorenko during a recent visit to Bakhmut. pic.twitter.com/9y9gnu4zya

— NOËL 🇪🇺 🇺🇦 (@NOELreports) April 27, 2023
Russian forces have pulverized Bakhmut. Ukrainian forces have fought hard & bravely for the "fortress city" in a battle that's lasted almost a year. Video of mother & daughter building being blown up below. Unclear who did it. Ukraine's blown some buildings for tactical reasons. pic.twitter.com/Dp3bCJw8IK

— Christopher Miller (@ChristopherJM) April 27, 2023
Photos from Bakhmut show it as a brutal battleground, thanks to Russia's invasion. But it was once a charming place with 70,000 residents, families. I celebrated birthdays of friends in the demolished building below. The one with fire in the window, home of my friend's parents. https://t.co/j0LQcaAFN2

— Christopher Miller (@ChristopherJM) April 27, 2023
Mykolaiv:
Another war crime of the invaders: russian cruise missiles "Kalibr" hit residential areas in #Mykolaiv.
A civilian was killed, and 23 others were injured.#russiaisaterroriststate pic.twitter.com/VX0GciE332

— Defense of Ukraine (@DefenceU) April 27, 2023
After relative calm in Mykolaiv Russia attacked the city with four Kalibr cruise missiles from the Black Sea killing at least one, injuring 23, including 1 child.

One of the missiles hit the historic building of the Admiralty. pic.twitter.com/LZ3UzBG5GJ

— Maria Avdeeva (@maria_avdv) April 27, 2023
Kharkiv:
Russian S-300 reaches Kharkiv in 40 seconds. Until this threat persists, all public events are allowed only underground – head of the regional administration.

📷 missile launches from Belgorod pic.twitter.com/Sknx9pfTPY

— Maria Avdeeva (@maria_avdv) April 27, 2023
The left bank of the Dnipro:
Destruction of Russian 2S1 Gvozdika 122mm self-propelled howitzer on the left bank of the Kherson region.
(By the way, this is the work of the unit that was provided with a NAFO pickup truck for which a fundraising campaign was conducted on this channel) https://t.co/8uLbADnXNb pic.twitter.com/dtMnmvNXpS

— Special Kherson Cat 🐈🇺🇦 (@bayraktar_1love) April 27, 2023
Zaporizhzhia:
Zaporizhzhya Nuclear Power Plant: Russian defensive positions constructed from sandbags on reactor buildings pic.twitter.com/bBdjzdKq2s

— Ministry of Defence 🇬🇧 (@DefenceHQ) April 27, 2023
At approximately 5:15 a.m. in Melitopol, 42-year-old Aleksandr Myshchenko, appointed by Russians as deputy head of the Department of Internal Affairs in the Zaporizhia region for personnel issues, was blown up near the entrance of his house. https://t.co/zJTStWO7Ea pic.twitter.com/zBB5hZxdtU

— Special Kherson Cat 🐈🇺🇦 (@bayraktar_1love) April 27, 2023
That's enough for tonight.
Your daily Patron!
Some say dogs can't fly😀
What a lie! We can, but only in F16.

Ukraine needs modern Western jets to protect Ukrainian citizens and return our territories – https://t.co/ukFBik0bjm#skyneedsF16

Please share this with the world ❤️
Slava Ukraini🇺🇦 pic.twitter.com/PNAkiiVwuR

— Patron (@PatronDsns) April 27, 2023
And a new video from Patron's official TikTok!
And the machine translation of the caption:
I can't use that filter, but you get the idea 😅 #песпатрон
Open thread!