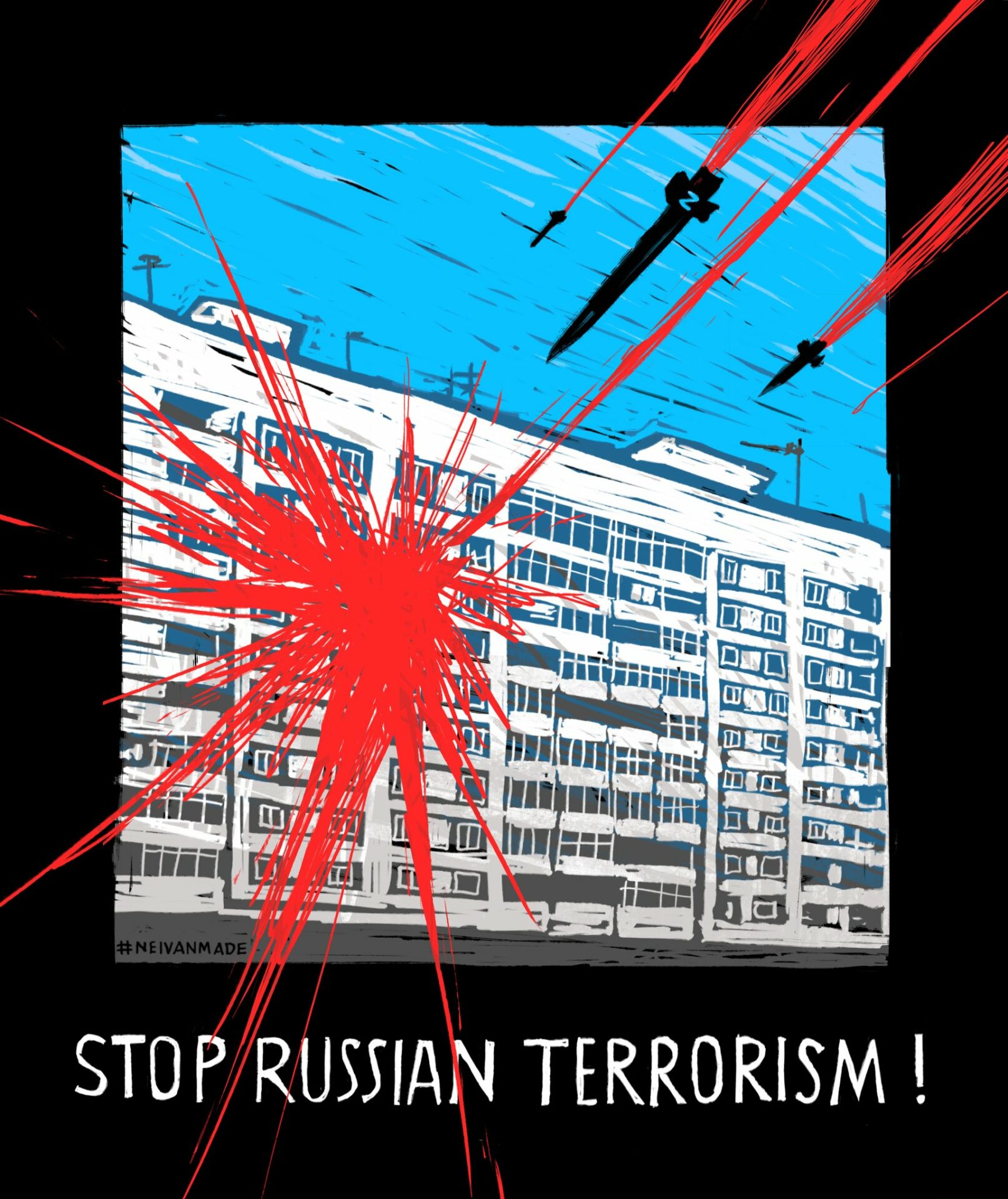 (Image by NEIVANMADE)
If you're going to spend hours arguing about average incomes in Russia, just do us all a favor and click through to ROSSTAT, which is the Federal State Statistics Service of Russia. Make sure you use a VPN and a secure browser. Here's the link to the English language site. If you scroll down under Indicators you'll see the "Average monthly accrued wage of employees for the Russian Federation, October 2021" is 54649 roubles.  You can also just scroll down this page and download the XLSX files if you want to have the data for whatever. Though if you do, please note the average real income is presented as a percentage of the previous year. Which is why for 2021 all of Russia is listed as 103.1. As in the 2021 average real income was 103.1% of 2020's. I don't cook Russia's books, I just tell you about it. Enjoy!
Here is President Zelenskyy's address from earlier today. Video below, English transcript after the jump:
The world is aware of a fundamental role of our maritime grain exports for food security – address by the President Volodymyr Zelenskyy

31 May 2023 – 22:53

Good health to you, fellow Ukrainians!

Today I am on a working trip to our Odesa.

Here I thanked our warriors for defending the region and the whole of Ukraine. In particular, I visited a hospital and our wounded defenders. I wished them a speedy recovery. I was honored to present state awards. I thanked our doctors.

I held a special and lengthy meeting in Odesa on the security and social situation in the region. The regional leadership, military, law enforcers.

The region is a priority from all points of view. It is Odesa region that is one of the pillars of security for our entire south, and therefore for the state.

The Security Service of Ukraine has achieved very important results in Odesa region in countering Russian saboteurs.

General Moskalov delivered a report on the situation in the areas of responsibility of the Odesa operational and strategic groups of troops. We analyzed in detail how to strengthen the defense.

We also discussed economic issues, jobs, and social security in detail.

I also held an offsite meeting of the Staff. Constant attention to the front. Reports from the commanders of Khortytsia, Tavria, and the Commander-in-Chief. Special reports from the heads of the Main Intelligence Directorate and the Security Service. Details will follow later. Special attention is paid to our grain corridor and security in the Black Sea.

The world knows the fundamental role of our maritime grain exports for food security. In general, security in the Black Sea, the effectiveness of international law on navigation is a globally important security factor. All the maritime countries of the world see now what could threaten their ports and their water areas if Russia gets away with blocking navigation in the Black Sea.

Let me give you just one example. Currently, out of the 3 ports that have been agreed upon as part of the Black Sea Grain Initiative, the Pivdennyi port is actually blocked. More than 1.5 million tons of agricultural products have been accumulated in Pivdennyi alone. And this grain is expected by at least ten countries, including Türkiye, Egypt, Bangladesh and China. Obviously, the less food is supplied to these countries, to these regions, the higher the food prices are, the more people in these countries lose from their family budgets.

That is, the blockade of one port in Ukraine creates extremely severe risks for different nations. In particular, for those countries relations with which Russia is also trying to speculate on.

I thank everyone in the world who helps us increase the security space in the Black Sea, who puts pressure on Russia to unblock food supplies.

Today in Odesa, I also held a meeting on the development of our port infrastructure.

And one more thing.

We are working to make the second half of this week meaningful for our relations with partners. Our international team is doing everything to ensure that this week ends with the news Ukraine needs.

And now I thank the United States of America, President Biden personally, both parties of Congress and every American – everyone who values freedom – for a new defense package for our warriors. Missiles for Patriots, rockets for HIMARS, artillery and other strongly needed weapons. Needed right now!

Glory to all our warriors who are now in combat for the sake of Ukraine, who are at combat posts, on combat missions. I thank everyone who works for our country!

Thank you, Odesa, for this day!    

Glory to Ukraine!
The war for Ukraine is finally coming home for the Russians. The Financial Times published a deep dive today. Here's an excerpt:
Elena Yurgeneva awoke at home on Tuesday in Rublyovka, a gated community for Moscow's elite, to a loud bang from a drone attack, shaking walls, and a big shift in client demand.

"A lot of people seem anxious and are asking about properties with a bunker or at least a basement," said Yurgeneva, an estate agent who specialises in luxury property.

It is a sign of the times for Muscovites that one of the houses on Yurgeneva's books has a 200 square metre ferroconcrete bunker, allowing its owners "to get through any unforeseen events safely and even quite comfortably".

Tuesday's drone strikes, among the largest in Moscow since Russia's full-scale invasion of Ukraine, have underlined how vulnerable the country has become to blowback from the war.

More than a year since the assault began, Russia is further away from a battlefield victory than ever and making plans to beef up Moscow's air defences instead of triumphantly taking Kyiv as President Vladimir Putin had planned.

The mounting attacks deep inside Russian territory pale in comparison to Russia's assaults on Ukrainian cities. But they have spooked even Moscow's beau monde hitherto insulated from most of the war's consequences, despite the prominent recruitment posters on Rublyovka.

Tatiana Stanovaya, a senior fellow at the Carnegie Russia Eurasia Center, said a defensive Kremlin had been forced to "act like this is routine". "The goal is not to inflame the situation," she said. "Nobody in the Kremlin wants the people to wake up."

In Moscow, most locals continued to go about their business in the hours after Tuesday's attack. "We haven't heard anything, and the city appears unchanged today: restaurant terraces are open, and people are enjoying Aperol Spritz," said one resident who lives three kilometres from a building on Leninsky Prospekt in southern Moscow where one of the drones crashed.

But Ukraine's apparently growing capacity to strike deep within Russia has rattled nerves.

Last week, 52 per cent of respondents to a survey by Kremlin-friendly pollster FOM said their friends and family were "anxious" rather than "calm" — the highest result in January and the first shift since Russia wound down a mobilisation drive at the end of last year.

Tuesday's attacks were the latest in a series of drone strikes, cross-border raids, and sabotage behind enemy lines that have increased in recent weeks ahead of an expected Ukrainian counteroffensive.

Ukraine has not claimed responsibility for any of the attacks. But they appear targeted at sapping Russian morale and redirecting resources away from the frontline — moves that help Ukraine roll back Russia's advances.
Much more at the link!
Here's some analysis by the Center for New American Security's (CNAS) Samuel Bendett on the same topic. First tweet from the actual thread with the remainder from the Thread Reader App.
1/ As the Russian government and its president try to downplay the significance of this drone attack on Moscow, a new realty is emerging where the drone mission success is measured by its ability to actually strike intended targets while the constant appearance of such UAVs over… https://t.co/G1w9rflG50

— Samuel Bendett (@sambendett) May 31, 2023
2/ 

In other words, the Russian government and many Telegram-based commentators are discussing adversarial drone presence overhead as something to be expected, without resorting to panic, and to worry only if such drone attacks cause significant – not minor – damage.

3/ 

That's not to say that there isn't a concern – there is a lot of concern, but also a nearly fatalistic recognition that Ukrainian drone presence over Russia can become so commonplace as to cause concern only in specific cases where they cause significant destruction.

4/ 

The May 30 attack is spurring a lot of debate about Russia's air defense, EW and CUAS abilities in general, and around Moscow in particular. Many Telegram-based commentators are pointing out their "I told you so" arguments that Ukraine will start retaliating with UAVs starting… 

twitter.com/i/web/status/1…

5/ 

This "acceptance" is a product of Ukraine's sustained drone counter-attacks against Russia's numerous targets. Some commentators are saying Russia is not ready psychologically, hinting that at some point the country must accept this new reality.

6/ 

What's to be expected? A lot of public activity, followed by an attempt to invest heavily in domestic CUAS technologies, and to purchase even more of those already on the market. In this case, Rostec emerges as one of the beneficiaries of this regality, given its CUAS/EW… 

twitter.com/i/web/status/1…

7/ 

This may be matched by heavier legislative measures aimed at controlling drone activity in the country, while making exceptions for some drone manufacturers/testers over others. Again, some clear winners may be those companies closer to the Kremlin (i.e. Rostec).

8/ The Russian government is currently pledging support for the domestic drone industry, aiming to build it into a powerful economic force. This is certainly an area to watch if drone attacks become more common across Russia the longer Moscow is staying in Ukraine.
Those who criticize UAV attacks in Moscow often fail to grasp one point. Russian elites are willing to sacrifice millions of voiceless and voteless NPCs to preserve their lifestyle. The more war comes knocking on their doorstep, the more they'll start reconsidering their choices

— Tatarigami_UA (@Tatarigami_UA) May 31, 2023
The Economist published an analysis of the effects of the war on Russians by RAND's Dara Massicot. Unfortunately it is paywalled. So here's the tweet thread version. First tweet from her thread with the rest from the Thread Reader App.
The Russian military's problems go beyond casualties and equipment losses. It faces two looming crises in retention and veteran PTSD and other disorders, when its soldiers are allowed to leave Ukraine. I explore this topic in my piece for @TheEconomist, linked in tweet below. /1 pic.twitter.com/K36UTsyG55

— Dara Massicot (@MassDara) May 31, 2023
In my newest piece for @TheEconomist I explore the Russian military's looming twin crises of retention and veteran mental health problems. 2/

Russia's wartime personnel policies mask the war's impact on retention. Since September, *all* Russian forces (except PMCs, perhaps Rosgvardia) in Ukraine are serving in a compulsory status once mobilization began, according to decree. 

/3

 

..Officers, professional enlisted, and mobilized have had their contracts extended indefinitely until presidential decree ends mobilization. /4

Currently, the only ways out of military service (apart from being killed in combat) are reaching mandatory retirement age, receiving a medical discharge, or imprisonment. Or refusals and desertions, which are also on the rise. /5

Soldiers are not rotated out regularly and do not always receive proper rest. They face prolonged exposure to combat stress and intensifying feelings of helplessness and anger at their situation. Anecdotes from the front suggest some want to resign when restrictions are lifted./6 

Not all soldiers will want to leave the military when they are able, of course. Some may want to remain in service. Some may need to stay due to the money or housing benefits for themselves and their dependents. 

/7

 

Then there is the matter of PTSD. Just as there was "Afghan syndrome" and "Chechen Syndrome" to describe veterans with severe PTSD who struggled to adapt to civilian life, it is a matter of time before "Ukraine syndrome" emerges in Russia. Most soldiers are not home yet. 

/8

 

Even now, Russia's medical system is straining to care for those with physical and mental wounds. Russia doesn't have enough veteran psychiatric care facilities. Some are discharged without care for severe PTSD or sent to other facilities with inadequate staffing or care. 

/9

 

Like this facility, not designed to receive combat trauma, with little ability to care for physical or mental combat wounds. Some mothers come to care for their sons. Other soldiers buy alcohol off site and drink alone to sleep or numb themselves. /10

The 2020s are different from the 1990s, so veteran care may not be as shabby as before. The Russian government can spend more on veterans, Russian society is more stable than in the 1990s, and there is institutional knowledge about PTSD (a term they now use in Russia). 

/11

 

Some Russian medical professionals estimate 20-25% of returning veterans will have PTSD, and 100,000 will need professional help. While soldiers are deployed the Kremlin set up a "Defenders of the Fatherland Fund" to create regional centers for veteran care. It's very new 

/12

 

But there are problems: the scale of the problem is different (97% of Ground Forces/Airborne units) are in Ukraine which makes it different from Afghanistan and Chechnya. Secondly, the environment in Russia criminalizes anything seen as "discrediting" the military. 

/13

 

When veterans of Afghanistan and Chechnya returned home, those with severe and untreated PTSD struggled with employment, family life, were more prone to criminal activity, and had health issues. The Russian population avoided them, making their isolation worse. 

/13

 

I lived in Russia during the second campaign in Chechnya. I saw a soldier of that war standing on the street once. He was a few years older than me, but I'll never forgot how old his eyes looked. No Russians looked at him…. /14 

washingtonpost.com/archive/politi…

… yet, not long before that, I had seen an entire bus leap up at one time to help a WWII veteran stand. What I understood was that pride was only for some wars and some veterans, and shame was for others. 

/15

 

Currently, Russia is grafting the iconography of WWII onto soldiers of this war, calling them 'liberators' , curating an image of these personnel as defenders. In some ways, this might differentiate veterans experiences when they return home from 'Afghantsy' or Chechnya vets/16 

I want to note that, Ukraine is also facing severe challenges with PTSD, not only in its armed forces but their civilian population too. They were invaded, and they urgently need support. /17

Russia's war in Ukraine, and the way they mistreat their own personnel, will likely cause lasting problems with military retention and a ticking time bomb of veteran mental health disorders. For now these issues loom on the horizon (no one can resign), but the fuse is lit. /end 
dsfafa
From Russian TV, more on the struggle to define what victory actually means. https://t.co/H8NUwRA1Uq

— The Lookout (@The_Lookout_N) May 31, 2023
There seems to be movement in France regarding the future of Ukraine:
If…Macron were to take the lead on the question of 🇺🇦's membership of NATO, he would not only transform his reputation in Central and Eastern Europe but also strengthen his case for European defence more credibly framed as a pillar of NATO

— Sophie Pedder (@PedderSophie) May 31, 2023
Here's more from The Guardian:
He said that in the meantime evidence against Russia and its leaders should be assembled.

Pressing his case for greater European defence spending and coordination, he said "our security and stability should not be delegated and left at the discretion of US voters".

Referring back to his claim three years ago that Nato was in the throes of "brain death", he said Putin's invasion of Ukraine had been a wake-up call to which Nato had responded well. But he pointed out that some Nato members – without directly mentioning Turkey – were not imposing sanctions on Russia.

He acknowledged that in the past western Europe had not been sensitive to the requests of the east. "Some said you had missed an opportunity to stay quiet. I think we also lost an opportunity to listen to you. This time is over," Macron said, to applause in the audience.

He was alluding to a remark in 2003 by former French president Jacques Chirac, who said eastern European nations which sided with the US and Britain in their decision to invade Iraq that year, opposed by some major western allies including France and Germany, had missed a "good opportunity to stay quiet".

Referring to the division of Europe enforced in the east in the wake of the second world war, Macron said Europe must not allow eastern Europe to be kidnapped by Russia a second time, adding that the enforced estrangement had weakened the whole European family.

Macron predicted that the coming Nato summit in Vilnius in July would not be able to reach a consensus on Ukraine's future membership of Nato, but said "we need to build something between security guarantees provided to Israel and full-fledged Nato membership. We need something tangible, clear and concrete. We need a path to membership".

He added that Ukraine must be given sufficient means to stop further aggression and "we must be able to guarantee they are tangible and sustainable", because it was protecting Europe.

Each country, he said, should have a right to pick its allies. Russia's invasion had been a geopolitical failure that had aggravated mistrust all its neighbours. "There is no space in Europe any more for imperialistic delirium," he said.

But he also made an appeal to central and eastern European countries not to see greater European defence cooperation, spending and partnerships as a way of reducing Nato's influence, insisting a strong European pillar in Nato was of benefit to everyone.
The Biden administration has announced another tranche of security assistance to Ukraine:
IMMEDIATE RELEASE
Biden Administration Announces Additional Security Assistance for Ukraine
May 31, 2023

Today, the Department of Defense (DoD) announced additional security assistance to meet Ukraine's critical security and defense needs. This authorization is the Biden Administration's thirty-ninth drawdown of equipment from DoD inventories for Ukraine since August 2021. It includes key capabilities to support Ukraine's air defenders as they bravely protect Ukraine's soldiers, civilians, and critical infrastructure amid Russia's continuing air strikes killing civilians across Ukraine. This security assistance package also contains artillery, anti-armor capabilities, and ammunition, including tens of millions of rounds of small arms ammunition, valued at up to $300 million to help Ukraine continue to defend its sovereign territory.

The capabilities in this package include:

•            Additional munitions for Patriot air defense systems;

•            AIM-7 missiles for air defense;

•            Avenger air defense systems;

•            Stinger anti-aircraft systems;

•            Additional ammunition for High Mobility Artillery Rocket Systems (HIMARS);

•            155mm and 105mm artillery rounds;

•            105mm tank ammunition;

•            Precision aerial munitions;

•            Zuni aircraft rockets;

•            Munitions for Unmanned Aerial Systems;

•            AT-4 anti-armor systems;

•            Over 30 million rounds of small arms ammunition;

•            Mine clearing equipment and systems;

•            Demolition munitions for obstacle clearing;

•            Night vision devices;

•            Spare parts, generators, and other field equipment.

The United States will continue to work with its Allies and partners to provide Ukraine with capabilities to meet its immediate battlefield needs and longer-term security assistance requirements.
Krasnodar Krai, Russia:
At night, drones attacked the Afipsky Oil Refinery in the Krasnodar Territory. The attack took place around 4-3 am, after which a strong fire started at the site. One of the fuel oil distillation units caught fire. pic.twitter.com/EueQJRGUK2

— Special Kherson Cat 🐈🇺🇦 (@bayraktar_1love) May 31, 2023
That's enough for tonight.
Your daily Patron!
A new video from Patron's official TikTok!
Open thread!