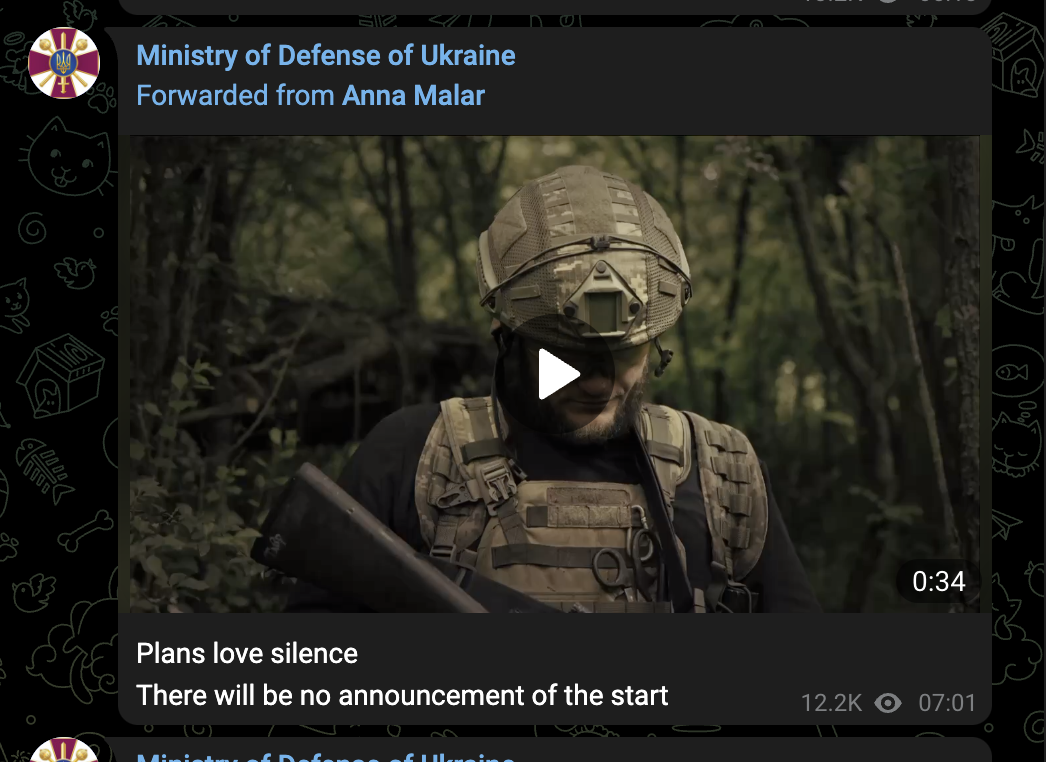 (Image from UA MOD Telegram)
"Words are very unnecessary
They can only do harm"

(c) Depeche Mode pic.twitter.com/0Ul78wSv9q

— Oleksii Reznikov (@oleksiireznikov) June 4, 2023
Here is President Zelenskyy's address from earlier today. Video below, English transcript after the jump.
The time will come when children on Earth, including those in Ukraine, will be protected from such evil as Russian – address by President Volodymyr Zelenskyy

4 June 2023 – 20:02

Dear Ukrainians!

The rescue operation in the town of Pidhorodne, Dnipro region, where a Russian missile destroyed houses, has already been completed.

25 people were injured, five of them children. Davyd, who is 6 years old, is in serious condition and hospitalized. Denys, 11, is also in serious condition and hospitalized. Oleksandr, 15, is also in serious condition. Liza, 17 years old, is undergoing outpatient treatment. Kira, 10 years old, has a mine-blast injury, she is undergoing outpatient treatment. It is painful to see such reports.

Liza, a 2-year-old girl, was killed by this Russian missile. Probably an Iskander missile. My condolences to the family and friends…

The Russian terror has claimed the lives of hundreds of our children, and only since February 24, during the full-scale war, we know for sure that 485 children have been killed. This is a number that we can officially confirm, knowing the data of each child.

Unfortunately, the real number is higher. Every time we liberate our land from the Russian occupiers, we learn the terrible truth about the occupation. About how many people, how many children are buried in the occupied territory – in the graves of this war, this aggression. And how many more are still under the ruins in Ukrainian cities and villages burned by Russia.

So far, unfortunately, we do not have complete information about the hundreds of thousands of children who were deported to Russia. As of today, thanks to various efforts, 371 children have been returned to Ukraine from deportation. At the same time, we know for sure about at least 19,505 deported Ukrainian children, and this is only a part of all our little Ukrainians who are still in the hands of the enemy. We must return them all.

Today in our country is the day of remembrance for children who died as a result of Russian aggression. Since 2014. Children who would have been alive if a bunch of thugs in the Kremlin, in Moscow, hadn't considered themselves chieftains who allegedly had the right to decide the fate of nations.

Each of these bandits will be convicted. I have no doubt about it. All the necessary legal institutions are working for this result.

And today, on this day of remembrance, I want to thank everyone in the world who supports our efforts for justice. For the sake of punishing everyone who brought terror to our land, everyone who kills and deports children and adults.

I am grateful to everyone in the world who helps the work of the International Criminal Court and its team in investigating Russian crimes on Ukrainian soil. And who helps us organize a special tribunal for the crime of Russian aggression against Ukraine – for the original crime that gave rise to all the other terrible crimes of this war.

Let the verdicts against the ruscists that they will one day hear in the dock – lawful and just verdicts – be evidence that the world will still protect life, protect civilization. And that the time will come when children on Earth – in Ukraine and elsewhere – will be protected from such evil as Russian evil and from such aggressions.

That is why it is so important that the power of justice, the power of accountability, be a powerful reminder of every life that was taken by evil, by Russia.

And today part of this accountability – a mandatory part – is sanctions. Sanctions from the world that make Russia pay the price for what it is doing. Sanctions that should limit Russia's capacity for terror to the maximum.

Today I held a special meeting on sanctions. The Main Intelligence Directorate, the Foreign Intelligence Service, the Government, the Office. We analyzed in great detail how Russia circumvents sanctions and who helps it. Different countries, different companies, without which Russia would not be able to produce terrorist weapons, including missiles. Unfortunately, the terrorist state manages to use the technologies of the world through a network of suppliers, and manages to circumvent international sanctions regimes.

We see every direction of circumvention of existing sanctions, every country whose territory or jurisdiction, whose citizens are used by Russia to continue terror. And we must close all such areas – together with our partners – to ensure that Russian missiles and weapons do not contain products of the free world. The necessary steps will be taken.

Thank you to everyone who helps us fight the evil of aggression!

Glory to all our warriors! And thank you for this day on the frontline.

Glory to Ukraine!
It was a good hunt.

🎥 @ServiceSsu pic.twitter.com/5yD6aUqZmi

— Defense of Ukraine (@DefenceU) June 4, 2023
The Ukrainian MOD has posted a new message from Colonel-General Syrskyi on its Telegram channel.

Bakhmut:
Footage of an intense close-contact tank battle near Bakhmut. Published today by Ukraine's 3rd Assault Brigade (but dated May 31). (source: https://t.co/7wvQaDvALQ) pic.twitter.com/efHn2h1YC5

— Mike Eckel (@Mike_Eckel) June 4, 2023
/2. Consequences of a Ukrainian air strike on a Russian positions in Bakhmut. Some Russians continue to roam the ruins. https://t.co/d3dlPU1exz pic.twitter.com/8WEZDLq2jj

— Special Kherson Cat 🐈🇺🇦 (@bayraktar_1love) June 4, 2023
Kyiv:
Pretty embaressed with the 1st day interim results of Kyiv shelters checkup. So far half of Kyiv shelters checked are not ready. pic.twitter.com/MpZ0L4g0ff

— Alexander Kamyshin (@AKamyshin) June 4, 2023
Not quite sure where in Ukraine this is, but honestly, the geolocation really doesn't matter for this:
A friend of mine from the 25th air assault brigade wants to thank 🇺🇸 American people for standing with 🇺🇦Ukraine in these challenging times. Please listen to the message.

Thank you very much, friends! We value your support! pic.twitter.com/IM70ygQZTD

— ✙🍒 Constantine 🍒✙ (@Teoyaomiquu) June 3, 2023
Marinka:
Footage from the battles in Mar'inka. pic.twitter.com/CD632tE8TF

— NOELREPORTS 🇪🇺 🇺🇦 (@NOELreports) June 4, 2023
Zaporizhzhia Oblast:
In that area, footage appeared from a destroyed Russian T-80BV. pic.twitter.com/EjuyIirel5

— NOELREPORTS 🇪🇺 🇺🇦 (@NOELreports) June 4, 2023
More of the butcher's bill from Dnipro:
At night, body of a girl found under the rubble in Dnipro. She has just turned two. Five more children wounded, three are in serious condition.

One more reason for Russia to be proud of its Iskander missiles. pic.twitter.com/bnEwJ1UXWX

— Maria Avdeeva (@maria_avdv) June 4, 2023
Belgorod Oblast, Russia:
One of the Ukraine-backed Russian militias behind the recent incursions into Russia claims it and Russian Volunteer Corps have moved into the suburb of Shebekino, Belgorod oblast.

Background here: https://t.co/ioOXrqvHzA
And here: https://t.co/lNHTxU57FV https://t.co/waMICeBElZ

— Christopher Miller (@ChristopherJM) June 4, 2023
There is active fighting near Novaya Tavolzhanka. Putin's troops continue to cover houses with civilians with heavy artillery.

We urge the locals not to come out of their shelters.

Soon we will bring peace to the whole of Russia together with our brothers from the RVC! In the… pic.twitter.com/WYpMeNW6Zs

— "Liberty of Russia" Legion (@legion_svoboda) June 4, 2023
There is active fighting near Novaya Tavolzhanka. Putin's troops continue to cover houses with civilians with heavy artillery.

We urge the locals not to come out of their shelters.

Soon we will bring peace to the whole of Russia together with our brothers from the RVC! In the meantime, let's keep fighting.
It seems that Russians don't really mind what to loot, whether Ukrainian towns and villages, or their own city of Shebekino, as long as they have an opportunity to not get caught. pic.twitter.com/JESA1wohh9

— Dmitri (@wartranslated) June 4, 2023
Terrorist reporter Voenkor Kotenok claims out of 40k pop, only 500 people remaining Shebekino. He calls it a genocide of the Russian people in a separate post. Well, what goes around comes back around. The time for little green men to return to Russia has come.

"One small… pic.twitter.com/L6vn6kEW5k

— Dmitri (@wartranslated) June 4, 2023
Here's the full text of Dmitri's translation by tweet:
Terrorist reporter Voenkor Kotenok claims out of 40k pop, only 500 people remaining Shebekino. He calls it a genocide of the Russian people in a separate post. Well, what goes around comes back around. The time for little green men to return to Russia has come.

"One small indication is the fact that a real war has been unleashed against Russia, no matter how the phrase about the "Special Military Operation" reassures other citizens, no matter what pictures the zombie box [TV] offers to the mind of the layman.

Shebekino is a long-suffering worker-city on the border of the Belgorod region. The regional center with a population of 40 thousand people is regularly shelled by the enemy, where at the moment, 500 people remain. The city has been evacuated. Patrols of the military and the National Guard operate in city blocks in order to prevent looting."
This is quite remarkable indeed. Hugely embarrassing for the Kremlin and the latest in a new paradigm of cross-border attacks that is getting worse for Moscow all the time. https://t.co/B2GlMsHckz

— Neil Hauer (@NeilPHauer) June 4, 2023
The governor didn't show up. In a new video, the Russian anti-Putin fighters showed 12 POWs taken in Belgorod, some of them injured, and said they will be transferred to Ukraine for future exchanges. And they also praised Prigozhin 👀 https://t.co/6pMXojL8Fd

— Yaroslav Trofimov (@yarotrof) June 4, 2023
The cross border incursion at the end of May was definitely a raid. Both the Liberty of Russia Legion/Legion Svoboda and the Russian Volunteer Corps (that's the one founded and led by the white supremacist) got in, created fear, chaos, and confusion, and got out. This time, however, I'm not sure. Perhaps they realized during the end of May raid that there was not only no real resistance, but that the Russians couldn't actually mount any real resistance. And, as a result, they changed their planning under the belief they can actually take and hold significant portions of Belgorod Oblast. To a certain extent, to paraphrase Lenin, they probed with bayonets, found mush, and correctly decided to advance. It may also be that their plan has multiple sequels to it. For instance, if they find only minimal resistance keep going. Once they find significant resistance, unass the battlespace as quickly as possible back across the border with Ukraine. If the planning is good it will include both of these sequels, as well as sequels for other contingencies. At this point all we can do is watch, wait, and see what happens.
Russians appear helpless in the current situation in Bilhorod. I don't know what their options are, but it is almost as if they have no clue what to do.

— Dmitri (@wartranslated) June 4, 2023
The reasons they have no clue what to do is that everything in terms of governance, law enforcement, criminal justice, the military, what we'd call national security has all been top down. The people in charge in Bilhorod – the mayor and city officials and law enforcement – are in a situation they have not previously experienced. What they're now living through is no one who has the authority and the responsibility to respond actually responding. They're out of their depth. This isn't about providing essential services to a small town or policing it. This is about needing a response from the equivalent of Russia's national command authority. My guess is there's a pretty solid news reporting blackout in the rest of Russia on what is happening in Belgorod, especially in Moscow and St. Petersburg. And the situation is going to get worse before it gets better. Chris Owens with a translation from Astra's Telegram channel. First tweet in the thread followed by the rest from the Thread Reader App:
1/ Men evacuated from Shebekino are causing havoc at Belgorod State University, where they've been relocated. Students are complaining of sexual harassment, drunkenness and rowdy behaviour. "Get together as a group, find those men and smash their faces in," one student says. ⬇️ pic.twitter.com/igHptufg67

— ChrisO_wiki (@ChrisO_wiki) June 4, 2023
2/ 

The ongoing fighting at Shebekino, on the border with Ukraine, has meant that many of its inhabitants have been evacuated to temporary shelters elsewhere in Belgorod and the neighbouring regions. However, the behaviour of some of the evacuees is evidently causing problems.

3/ 

Numerous complaints have been posted in Belgorod State University student chat rooms and on WhatsApp. "It turns out, at the moment, everything is allowed in the dormitory! Drinking, smoking and partying," says one student. 

4/ 

Another student says: "The corridors in the dormitory smell of alcohol, yesterday there was an incident in the smoking room when drunken men harassed foreign female students, security guards came up, said something to them – and left without informing anyone. 

5/ 

"When we approached the guards and asked what was going on, they replied that, if you want, you can make it public yourself, we would not do anything. This is how students are being guarded. 

6/ 

"Anyone can enter the campus now by typing something resembling a pass and saying that he is from Shebekino. Students are in danger from refugees in an inadequate state, the security of the whole campus is in great doubt." 

7/ 

A student says it is "gnawing" them that "female students have been deprived of basic security with these drunken men. Why they don't talk about it, I don't understand." 

8/ 

"Is the sale of alcohol allowed on the campus? Get together as a group, find those men and smash their faces in," one student commented. "Let's assemble a squad of tough guys from the university," suggested another. 

9/ 

The students were also incensed by being moved out of their rooms and into dormitory accomodation, with their belongings being packed into trash bags and left in a separate room. /end
That's enough for today.
Your daily Patron!
No new tweets, so I'm going to repost the Patron Box appeal tweets:
We have already given half of your gifts to the children. I went to the Okhmatdyt hospital, and the children were so happy! Thank you❤️ pic.twitter.com/kvUkx06KA1

— Patron (@PatronDsns) June 3, 2023
🙁made a typo: PatronBox will be given to orphans or children in hospitals (depending on how many boxes can be collected)

— Patron (@PatronDsns) May 25, 2023
For those of you who have expressed some concerns or issues regarding ordering these, I ordered five of these, one in each age group/size group, earlier today to send to Ukrainian children. Here's what you need to know and do. First, unless you read Ukrainian, make sure you've got the English language page and make sure you've got it showing the prices in US dollars, not Ukrainian hryvnia. Select the sizes and colors you want and the amount. Then check the box indicating they are for Ukrainian orphans and/or children in hospital. When you start doing your personal information for billing you will need to translate your first and last names into Ukrainian Cyrillic or the order will not process. Just use Google translate. Don't do this with your email address – unless you have an email address in Ukrainian – as it will just mess things up. I included a note in the note box, which I also machine translated into Ukrainian. Then select Monobank as the option and hit proceed. It will then bring up the option to pay with VISA or MasterCard. you'll also have the option of paying with Apple Pay or the Google equivalent or a couple of other electronic payment options. Enter your payment info, it'll prompt to send a confirmation code, follow those instructions and enter the code, and you should be good to go.
Everything should go smoothly unless your VISA card is from an institution with such a high FraudX setting that every time you try to order something from a non-US vendor it triggers a fraud alert and shuts down your card. Which is what happened with me. I got the autogenerated popup from Patron's shop indicating the VISA charge didn't go through, then an automated call from my VISA card's fraud department that allowed me to verify my card wasn't stolen or the purchase wasn't being made without my knowledge, then I pressed the button through to speak to a person who reverified everything, asked if I was being forced under physical duress to make the purchase – NO! – and then confirmed that I would have to replace the order since they stopped it the first time. So I went back through and did that. Took about five minutes. So other than the FraudX stuff, which I was expecting, not particularly difficult.
There are no new videos at Patron's official TikTok today.
Open thread!