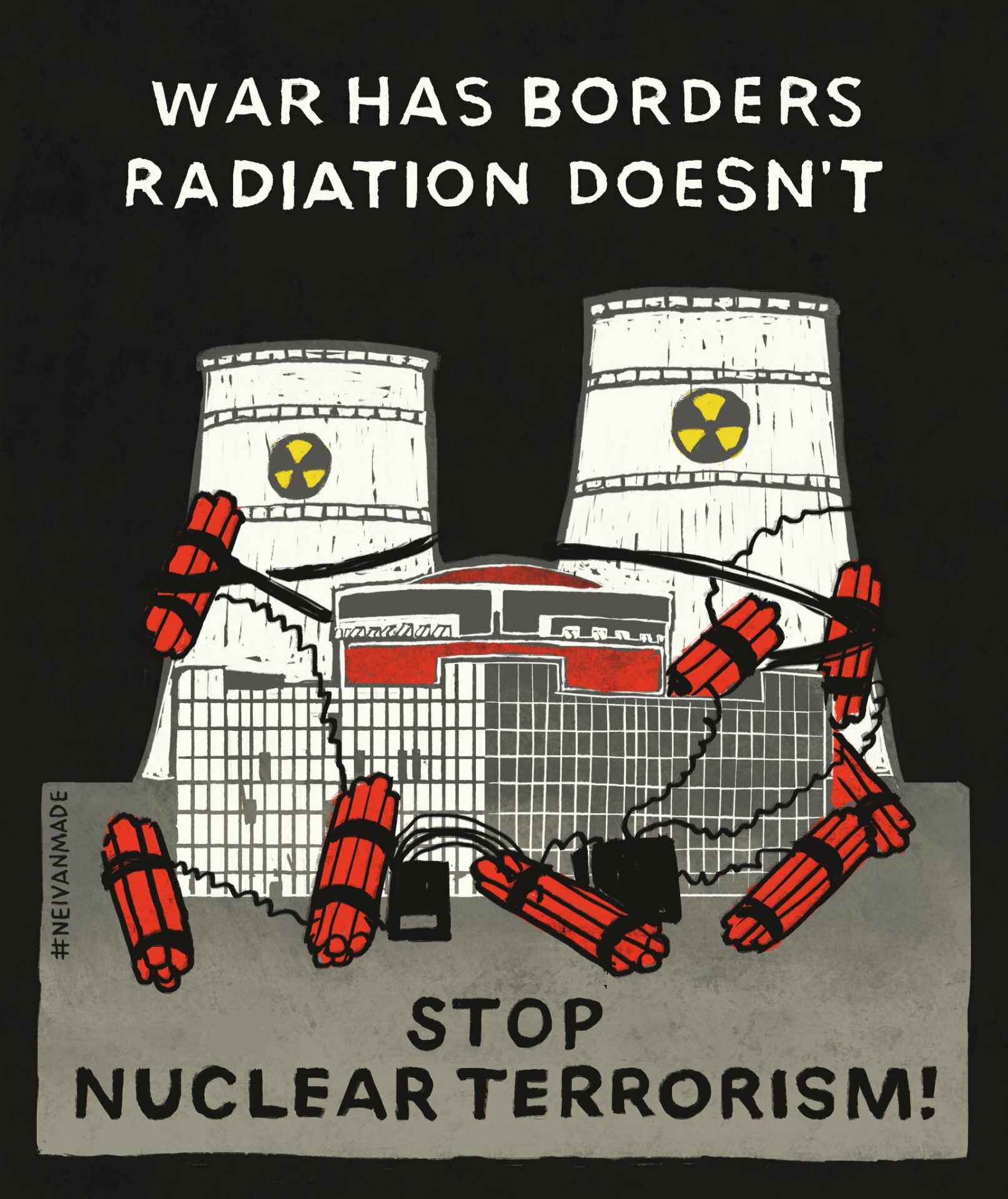 (Image by NEIVANMADE)
Long day, so a brief(er) update tonight.
The Ukrainian Main Directorate of Intelligence – the HUR – has issued a warning regarding Russian objectives for the Zaporizhzhia Nuclear Power Plant:
⚠️☢️@ZelenskyyUa:
UA intelligence has received information that Russia is considering a scenario of a terrorist attack on the Zaporizhzhia NPP. A terrorist attack with radiation leakage. They have prepared everything for this.

The radiation has no state borders, and who it will… pic.twitter.com/e7sELS8Iyu

— Defense of Ukraine (@DefenceU) June 22, 2023
Here's the full text of the MOD's tweet:
⚠️☢️

@ZelenskyyUa:
UA intelligence has received information that Russia is considering a scenario of a terrorist attack on the Zaporizhzhia NPP. A terrorist attack with radiation leakage. They have prepared everything for this.

The radiation has no state borders, and who it will hit is determined only by the wind direction!

There should never be any terrorist attacks on nuclear power plants anywhere. This time it should not be like with Kakhovka HPP – the world has been warned, so the world can and must act.
And here's NEIVANMADE's tweet with his new piece of art:
kindly reminding#neivanmade pic.twitter.com/VxHOIRj32H

— NEIVANMADE (@neivanmade) June 22, 2023
Here is President Zelenskyy's address from earlier today. Video below, English transcript after the jump:
Full de-occupation of the Zaporizhzhia NPP is a must, and anyone who turned a blind eye to its occupation by Russia is actually contributing to terror – address by the President of Ukraine

22 June 2023 – 22:30

Dear Ukrainians!

Today was a very busy day.

First, we held a briefing for our partner countries on the situation at the Zaporizhzhia nuclear power plant. There were representatives of the G7 and G20 countries, as well as representatives of international organizations. Here, in the Office. The MID, the Office's team, our diplomats provided the available information.

Our principle is simple: the world must know what the occupier is preparing. Everyone who knows must act. Of course, after the Russian act of terrorism at the Kakhovka hydroelectric power plant and deliberate terrorist attacks on other dams and energy facilities, no one in the world should have any illusions about Russia anymore. It is Russia that is now the global center of cynicism, and any order for any evil that they hope to disguise as a disaster can come from there. The world has enough power to prevent any radiation incidents, let alone a radiation catastrophe. Everyone understands that the intelligence services of different countries can give appropriate signals and exert pressure. This is necessary.

We will continue to inform our partners. We will also provide information to those countries that are pretending to be neutral even now. Obviously, radiation does not ask who is neutral and can reach anyone in the world. Accordingly, anyone in the world can help now, and it is quite clear what to do.

Full de-occupation of the Zaporizhzhia NPP is a must. And anyone who turns a blind eye to Russia's occupation of such a facility, to Russia's mining of the territory and facilities of the nuclear power plant, is actually contributing not only to this Russian evil, but also to terror in general. And today I have instructed Minister of Internal Affairs of Ukraine Ihor Klymenko to take all the necessary measures, to conduct all the necessary explanatory work with our people about all the existing risks. And this will be done in the near future.

Today, we discussed relevant security issues with the intelligence service, the Security Service of Ukraine and the Ministry of Internal Affairs – both those related to the Zaporizhzhia plant and those related to the consequences of the Russian terrorist attack at the Kakhovka hydroelectric power plant. We are doing our best to engage as many forces and means as possible to put pressure and influence on the terrorist state. There was also a separate report by the Minister of Internal Affairs on support for people and life in Kherson region and other areas of our South that suffered from the destruction of the Kakhovka reservoir.

Of course, we also have information about what is happening in the occupied part of Kherson region. For this, even the word "catastrophe" is not enough. The Russian evil has formed special groups there to remove and, obviously, hide the bodies of the dead. This is not the first time Russia has done this – it is trying to destroy evidence and traces of its crimes in the occupied territory. They did this in Mariupol and other places. But this is a truth that cannot be hidden. And I thank everyone who helps our intelligence, our special services to get the necessary information!

I also held a meeting on the spiritual independence of Ukraine – we continue to work on this, and we will take new steps. Obviously, there can be no true spiritual ties with a terrorist state and those who justify the murder of Ukrainians and cover up evil. Every day and every night of Russian terror proves this. And we will reach the point where all dependencies on Russia, which someone somewhere is trying to manipulate, will be destroyed.

One more thing.

Today I would like to express my special gratitude to all those who, even in such times and circumstances, are investing their efforts to ensure that our people and our country have their own cultural strength. Today, another Book Arsenal has begun its work in Kyiv. "Arsenal" is the word that best characterizes the meaning of culture. It is what makes people human, what makes humanity stronger. It is what protects and spreads our experience through time – of each and every one of us, of our entire nation, of our entire Ukraine, of our entire Europe, of our entire humanity. Please, if you have the opportunity, visit the Book Arsenal these days and always support the cultural power.

I thank everyone who is fighting and working for Ukraine! I thank everyone who is now in combat – in the South, in the East, in Zaporizhzhia, in Donetsk and Luhansk regions. Thank you!

Thank you to everyone who helps Ukraine and defends life and humanity with us!

Glory to Ukraine!
The butcher's bill:
russia says it doesn't target civilians in Ukraine. As always, russia is lying. pic.twitter.com/LL52jaTizJ

— Defense of Ukraine (@DefenceU) June 22, 2023
Estonia steps up to the plate:
Dear @oleksiireznikov. 🇪🇪 new military aid package to 🇺🇦@DefenceU will be delivered ASAP. It consists:
✔️ Military hospital in collaboration with 🇮🇸 #Iceland
✔️ Medical equipment
✔️ Demining equipment
✔️ Counter-drone equipment

— Hanno Pevkur (@HPevkur) June 22, 2023
Kyiv:
Zelenskiy is visiting Kyiv Book Fair (yes, Russians are bombing us daily, and we have a book fair) pic.twitter.com/wNEuA5bXb8

— Sergiy Koshman (@Koshman) June 22, 2023
Arsenal Book Festival in Kyiv, canceled last year, now attracts hundreds of people, including President and his wife. In times of war, Ukrainians still strive for culture. pic.twitter.com/mK9tz7SRf5

— Maria Avdeeva (@maria_avdv) June 22, 2023
South of Melitopol and north of Crimea:
The medium-resolution satellite imagery obtained today serves as compelling additional evidence, confirming the precise and successful impact on both bridges located across the Chonhar strait. pic.twitter.com/Xzfd3z8E6I

— Tatarigami_UA (@Tatarigami_UA) June 22, 2023
🌉/1.1. The moment of todays strike on Chongar bridges. pic.twitter.com/LjGQdkpgP3

— Special Kherson Cat 🐈🇺🇦 (@bayraktar_1love) June 22, 2023
It appears that one of the missiles hit the bridge's pillar after going through the surface. Potentially major structural damage. https://t.co/2LW3Puc1N6 pic.twitter.com/QNwFgaHKaH

— Yaroslav Trofimov (@yarotrof) June 22, 2023
The video circulating with the cars flipping is old footage.
Video of what looks like the Storm Shadow bridge attack from this morning. Can't see any cars flipping over though. pic.twitter.com/0AViYRa4MD

— Dmitri (@wartranslated) June 22, 2023
Road through Chongar is the shortest route of supply to Zaporizhzhia. Well, not any more. pic.twitter.com/gOhgYEQPid

— Maria Avdeeva (@maria_avdv) June 22, 2023
The Zaporizhzhia front:
A strike on the Russian Zemledelie engineering system of remote mining. By the 128th brigade of Ukraine. Zaporizhzhia front. https://t.co/BKstRa5wLV

— Special Kherson Cat 🐈🇺🇦 (@bayraktar_1love) June 22, 2023
Unlucky day for Russian D-30 howitzers on the Zaporizhzhia front.
1)- Destruction of three D-30 with the help of AS-90. Air reconnaissance- "Balu Team".https://t.co/PuJu6otOpl
2)- Destruction of three D-30 by the 47th brigade and 108 TD brigade. https://t.co/FMzTtDfNeQ pic.twitter.com/isyTrgYmcU

— Special Kherson Cat 🐈🇺🇦 (@bayraktar_1love) June 22, 2023
Someone's quarterly review isn't going well:
It's an open secret among the Russian elite that, even by Kremlin propaganda standards, the MOD's reports are completely divorced from reality.

Wagner's Evgeny Prigozhin accused Shoigu of "deceiving the commander-in chief and the Russian people" yesterdayhttps://t.co/LUbXdQARZq

— max seddon (@maxseddon) June 22, 2023
Radio Free Europe/Radio Liberty takes a a deep dive into how Kyrgyz and Qazaq companies are helping Russia evade sanctions and achieve western material critical to Russia's reinvasion of Ukraine. Here are some excerpts:
BISHKEK — Kyrgyz and Kazakh companies have exported sanctioned dual-use technology to Russian suppliers of the Kremlin's war machine amid Western efforts to stymie such transfers through the Central Asian nations, an investigation by RFE/RL has found.

In response to the Kremlin's full-scale invasion of Ukraine in February 2022, the United States and the European Union have tightened controls on exports to Russia of technology that can be used both for civilian and military purposes.

But Moscow has used a supply network within countries not bound by these sanctions — including Kazakhstan and Kyrgyzstan — to keep Western technology flowing into Russia. Both countries are members of the Moscow-led Eurasian Economic Union.

Russian imports of a range of dual-use goods from Kazakhstan and Kyrgyzstan have skyrocketed since the start of the war, including electronics produced by Western technology giants such as U.S. firms Texas Instruments and Analog Devices, whose components have been recovered from Russian weapons operating in Ukraine.

The issue has raised the specter of so-called secondary sanctions targeting the two Central Asian countries in an effort to halt this technology flow, with both U.S. and EU officials tasked with enforcing sanctions raising the issue during official visits to Kyrgyzstan and Kazakhstan in recent months.

In its investigation, RFE/RL found that Russian firms receiving Kazakh and Kyrgyz exports of dual-use technology have previously supplied electronics to the Russian defense industry, including state entities hit by Western or Ukrainian sanctions in response to Russian aggression.

Reporters from RFE/RL's Kazakh and Kyrgyz Services — together with Schemes, the investigative unit of RFE/RL's Ukrainian Service — analyzed customs, procurement, and corporate records for companies involved in these dual-use transfers, as well as Ukrainian intelligence data on Western electronics recovered in Russian weapons.

One Russian importer identified by reporters was incorporated in the defense-industry city of Izhevsk less than two months after Russia's full-scale invasion of Ukraine. While RFE/RL was unable to locate records showing the firm is a Russian military supplier, its director is a karate coach who has worked for a factory — also based in Izhevsk — that the U.S. government says "develops items and technologies for Russia's military."

A top trading partner of the Russian firm, customs records show, has been a Kyrgyz firm that was founded less than a month after the February 2022 invasion that exports advanced electronics to Russia.

In other cases, established Russian electronics suppliers have used Kazakh affiliates to export dual-use electronics to themselves following the invasion.

One of the Russian firms, a large electronics company called ITC, has supplied technology to multiple Russian defense-industry entities sanctioned by the United States — and itself was hit by Ukrainian sanctions last month. Customs records show ITC used an affiliated Latvian-based logistics firm to send dual-use technology via a Kazakh company that ITC founded several years earlier.

In many cases, dual-use goods that Kyrgyz and Kazakh firms send to Russia from the United States or Europe are delivered directly to Russian clients without going through Central Asia, multiple industry sources told RFE/RL.

"The money and the contract go through Bishkek," a man who identified himself as Andrei said when RFE/RL's Kyrgyz Service contacted him through a Kyrgyz import-export company's website offering import services from the United States and the EU.

"The goods go straight to Russia," he added.

Customs records for the dual-use goods shipped to Russia by Kyrgyz and Kazakh companies include the kinds of microchips, telecommunications equipment, and other electronics the Ukrainian military has recovered from Russian missiles, tanks, helicopters, drones, and radio systems.

Precisely what happens to these components after they reach their Russian buyer is difficult to ascertain given that information about Russia's military-procurement system is not made public.

But on a single day in December 2022, a Kazakh firm called EltexAlatau exported to Russia more than 100 shipments of dual-use electronics of the kind that Kyiv says are being used by the Russian military in Ukraine.

Among those shipments — whose Russian consignee was not listed in customs records — was the type of Analog Devices chip that Ukrainian forces recovered from a thermal gunner's sight that provides night vision in Russia's main battle tank. And a Russian affiliate of the Kazakh exporter openly states that its "regular" clients include the Russian Defense Ministry and Federal Security Service.

RFE/RL sought comment from the presidential administrations in Kyrgyzstan and Kazakhstan but did not receive a response prior to publication.

But speaking alongside German President Frank-Walter Steinmeier following bilateral talks in Astana this week, Kazakh President Qasym-Zhomart Toqaev said his government follows "all the rules that have been adopted in the international market."

"As for the so-called export of dual-use goods to Russia, this is absolutely not true," Toqaev said, though he did not specify what he considers to be untrue.

Steinmeier, for his part, said after the June 20 talks that Brussels and Astana are coordinating closely on preventing Russian from avoiding Western sanctions.

"We need to beef up all possible efforts to prevent the evasion of sanctions. And we heard during our talks that there are close contacts between Kazakh agencies and the EU agencies about these issues," Steinmeier said.

A day after Steinmeier's talks in Astana, EU governments agreed on an 11th package of sanctions targeting Russia that includes what the EU's Swedish presidency said are "measures aimed at countering sanctions circumvention."

European Commission President Ursula von der Leyen said on June 21 that the new sanctions would "deal a further blow to Putin's war machine with tightened export restrictions, targeting entities supporting the Kremlin."

"Our anti-circumvention tool will prevent Russia from getting its hands on sanctioned goods," Leyen said on Twitter.
Much, much, much more, including a description of the journalistic research methodology and a whole lot of imagery at the link!
That's enough for tonight.
Your daily Patron!
There are no new Patron tweets or videos tonight, so here's some adjacent material from the UA Animals Twitter feed:
Residents of Pegas shelter anticipate savouring the food we provided them with💙
4 tons of nutritious pet food for them to tuck in 🐱🐶🐰 pic.twitter.com/iGQ84GwfCy

— UAnimals.ENG 🇺🇦 (@UAnimalsENG) June 22, 2023
To support @SESU_UA rescuers in Kherson, UAnimals bought equipment for them.
We provided the Service with 12 diving suits, helmets, masks, cylinders, etc., spending over $54,500. This contribution will help them continue rescuing people and animals from the flood-affected areas🙏 pic.twitter.com/xQt3ZDJFYH

— UAnimals.ENG 🇺🇦 (@UAnimalsENG) June 22, 2023
The cat was saved from the multi-storey building in Kyiv which suffered an explosion. The owner couldn't hold her tears as she reunited with her beloved pet. @SESU_UA are true heroes since they value every life❤️
📸: State Emergency Service of Ukraine pic.twitter.com/FgMt8q9Cjy

— UAnimals.ENG 🇺🇦 (@UAnimalsENG) June 22, 2023
Residents of the "Kramatorskyi" Regional Landscape Park🐑
It is a sanctuary for many rescued animals, such as rabbits, peacocks, foxes, swans, deer, sheep, etc.
Because of the war, the park was struggling with food for animals, so we helped them with hay, wheat, oats💙 pic.twitter.com/uUS0mBMkeT

— UAnimals.ENG 🇺🇦 (@UAnimalsENG) June 21, 2023
A military man asked us to evacuate 4 puppies from the frontline🐶 They are going not to a shelter but to his family in Vinnytsia oblast 🙏
Our colleagues didn't stop and evacuated 77 more animals from Donetsk region! Fighting for every life💙 pic.twitter.com/ai8qWxsQj5

— UAnimals.ENG 🇺🇦 (@UAnimalsENG) June 20, 2023
During June 12-18, we helped over 5500 animals🙏 All thanks to your support! Apart from your donation, I cannot thank you enough for writing kind words in the comments💙It inspires.
Thank you for everything 💛
PayPal 👉🏻 [email protected]
Patreon 👉🏻 https://t.co/cBwIwIgZ7K pic.twitter.com/swlW2utTDH

— UAnimals.ENG 🇺🇦 (@UAnimalsENG) June 20, 2023
Open thread!