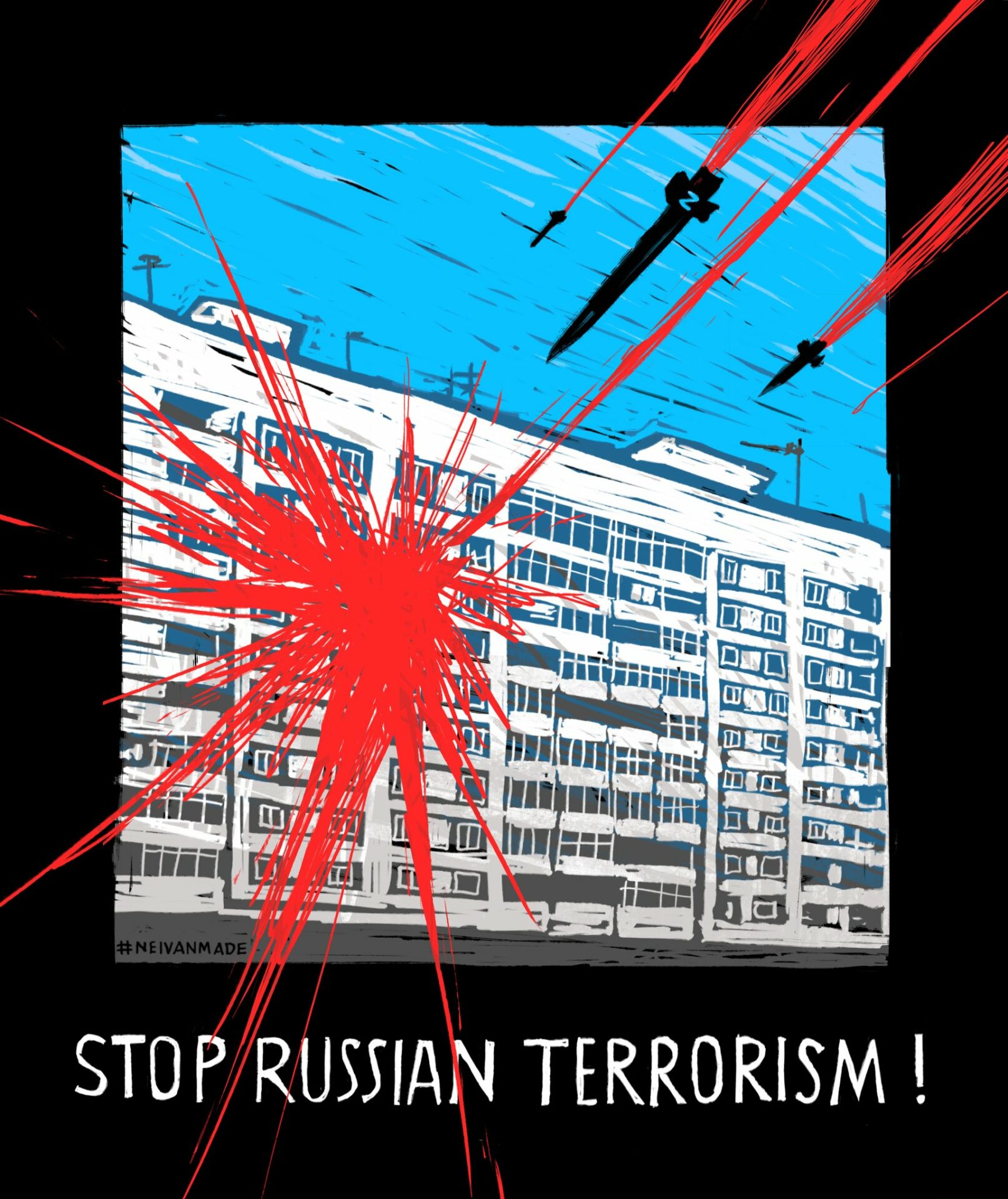 (Image by NEIVANMADE)
Russia has once again returned to bombarding Ukrainian civilian targets.
Today, russian terrorists hit a cafe in Kramatorsk, Donetsk region.
UPD. UPD. At least 3 civilians have been killed, and 25 have been injured. Currently, a search and rescue operation is underway.#russiaisaterroriststate

📷 @APUkraine @ukrpravda_news pic.twitter.com/hVolnSjJfV

— Defense of Ukraine (@DefenceU) June 27, 2023
Here is President Zelenskyy's address from earlier today. Video below, English transcript after the jump.
Every manifestation of terror proves to the whole world that Russia deserves only defeat and a tribunal – address by the President of Ukraine

27 June 2023 – 23:11

Fellow Ukrainians!

Exactly on the anniversary of the Russian terrorists' attack on Kremenchuk, on the shopping mall, when 22 people were killed, Russian savages again fired missiles at the Kremenchuk district.

Today, Russian terrorists also brutally shelled Kramatorsk. S-300 missiles. Three people were killed, including a child. My condolences to the families and friends. As of this hour, more than 40 people are wounded. Assistance is being provided to all. The rubble is being cleared.

Each such manifestation of terror proves over and over again to us and to the whole world that Russia deserves only one thing as a result of everything it has done – defeat and a tribunal, fair and legal trials against all Russian murderers and terrorists.

And I thank again and again everyone in the world who supports Ukraine and helps protect our people!

Today we have a new defense package from the United States for our warriors. Armored vehicles and ammunition for Patriots, Stingers and HIMARS. Additional shells for our artillery. I thank Mr. President Biden, the Congress, both parties, and all Americans!

I spoke with Mr. Prime Minister of Norway. I thanked him for the support provided – defense, economic, and political. It is very significant! I informed him about my trip yesterday to the frontline, to our warriors, about our current defense capabilities. I voiced some of our military needs. We also discussed the creation of a fighter jet coalition. A separate topic in the conversation was the upcoming NATO Summit in Vilnius. I am grateful to Norway for its understanding!

Today, I also held a special meeting with our international experts – the Office and the government – to discuss preparations for the Vilnius Summit. I am confident that the decisions of the summit can be positive for Ukraine! We are doing everything possible for this and have engaged all of Ukraine's international capabilities.

And, of course, the frontline. Our heroes, our active actions. Today, we also have advancement! In all directions where we are conducting offensive operations. Thank you, warriors! Today we have important results in repelling Russian assaults. I am very grateful to you!

Today, I would like to pay special tribute to the glorious 3rd separate assault brigade, the strong 28th separate mechanized brigade, the heroic 54th separate mechanized brigade and the tough 57th separate motorized infantry brigade. I thank all of you, warriors! Well done!

Thank you for every occupier destroyed and every Ukrainian life saved!

Glory to our heroes! Thank you to everyone in the world who is not afraid of Russian terrorists and is restoring security in the world together with us!

Glory to Ukraine!
Here's video from the attack on Kramatorsk.
Another video of the Russian missile strike on central Kramatorsk from local Telegram channel. pic.twitter.com/fmf8zLsKdY

— Christopher Miller (@ChristopherJM) June 27, 2023
WARNING!! WARNING!! GRAPHIC!! WARNING!! WARNING!!
TW: Graphic imagery.

Video via @HromadskeUA of the immediate aftermath of the Russian missile attack on central Kramatorsk. Seeing the wounded infant is absolutely sickening and infuriating. pic.twitter.com/2ISA3z0xNT

— Christopher Miller (@ChristopherJM) June 27, 2023
ALL CLEAR!!
Here's the announcement of the new US military aid package to Ukraine.
The security assistance for Ukraine 🇺🇦 continues.

Today, we've announced additional support, valued at up to $500 million, to bolster Ukraine's battlefield abilities against Russia's war of unprovoked aggression.https://t.co/ldMJK910cF

— Secretary of Defense Lloyd J. Austin III (@SecDef) June 27, 2023
From the DOD:
RELEASE
IMMEDIATE RELEASE
Biden Administration Announces Additional Security Assistance for Ukraine
June 27, 2023

Today, the Department of Defense (DoD) announced additional security assistance to meet Ukraine's critical security and defense needs. This authorization is the Biden Administration's forty-first drawdown of equipment from DoD inventories for Ukraine since August 2021. This package, valued at up to $500 million, includes key capabilities to support Ukraine's counteroffensive operations, strengthen its air defenses to help Ukraine protect its people, as well as additional armored vehicles, anti-armor systems, critical munitions, and other equipment to help Ukraine push back on Russia's war of aggression.

The capabilities in this package include:

Additional munitions for Patriot air defense systems;
Stinger anti-aircraft systems;
Additional ammunition for High Mobility Artillery Rocket Systems (HIMARS);
Demolitions munitions and systems for obstacle clearing;
Mine clearing equipment;
155mm and 105mm artillery rounds;
30 Bradley Infantry Fighting Vehicles;
25 Stryker Armored Personnel Carriers;
Tube-Launched, Optically-Tracked, Wire-Guided (TOW) missiles;
Javelin anti-armor systems;
AT-4 anti-armor systems;
Anti-armor rockets;
High-speed Anti-radiation missiles (HARMs);
Precision aerial munitions;
Small arms and over 22 million rounds of small arms ammunition and grenades;
Thermal imagery systems and night vision devices;
Testing and diagnostic equipment to support vehicle maintenance and repair;
Spare parts, generators, and other field equipment.

The United States will continue to work with its Allies and partners to provide Ukraine with capabilities to meet its immediate battlefield needs and longer-term security assistance requirements.
That's really all I have the bandwidth for tonight. So we'll pick it back up tomorrow.
Your daily Patron!
A new video from Patron's official TikTok!
@patron__dsns

Увага! Відео минулорічне. Сьогодні я вкотре хочу закликати вас в жодному разі НЕ купатися на територіях, що розташовані поблизу проведення бойових дій або на деокупованих територіях. Там можуть залишатися боєприпаси, і ці ділянки можуть бути ще не розмінованими. Також нагадаю, що наразі офіційно заборонено купатися на територіях Херсонської, Одеської та Миколаївської областей. Купання та вилов риби в цих регіонах можуть загрожувати здоров'ю через ризик високої концентрації шкідливих речовин у воді. Бережіть себе! Усім безпечний літній лизь💛
Here's the machine translation of the caption:
Attention: the video is from last year. Today, I would like to urge you once again NOT to swim in the areas located in the vicinity of hostilities or in the de-occupied territories. There may still be ammunition there, and these areas may not yet be demined. I would also like to remind you that swimming is currently officially prohibited in Kherson, Odesa and Mykolaiv regions. Swimming and fishing in these regions can pose a health risk due to the risk of high concentrations of harmful substances in the water. Take care of yourself! Safe lick for everyone 💛
Open thread!