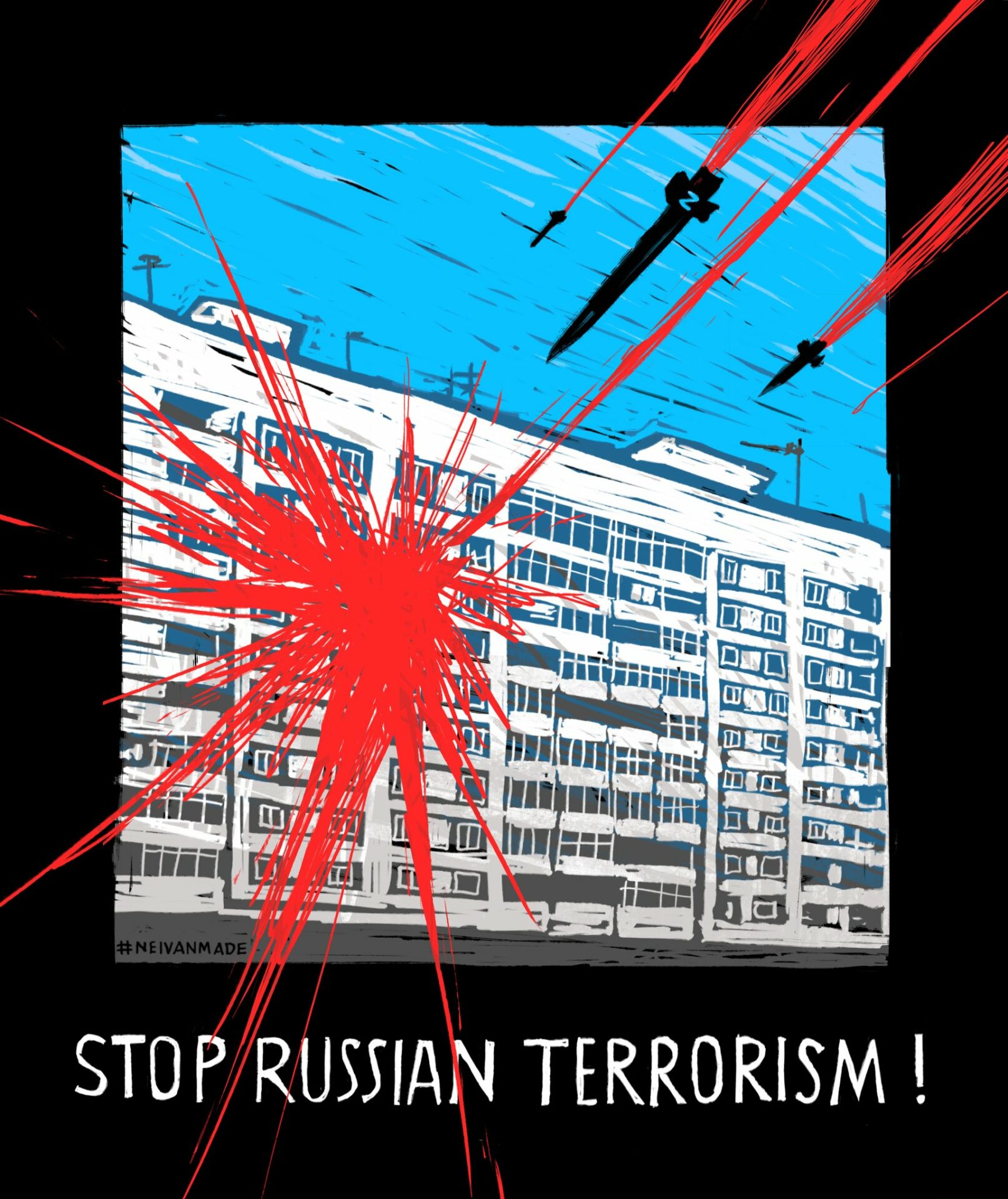 (Image by NEIVANMADE)
I'm fried. It's been a long week. So just a very brief update tonight.
Here is President Zelenskyy's address from earlier today. Video below, English transcript after the jump.
Combating ecocide is one of the points of the Ukrainian Peace Formula, and we must implement each of its points – address by President Volodymyr Zelenskyy

29 June 2023 – 22:25

I wish you health, dear Ukrainians!

I am finishing the day in the Verkhovna Rada with a meeting with our Speaker Ruslan Stefanchuk. We are working.

And now the report on this day, a busy day. A very long one.

The European Council meeting – it is already a tradition for Ukraine to be among the members of the European Union. The agenda is obvious: our defense in this war, our path to victory, support from our partners, our security support for them, for our entire Europe. Ukraine influences the strength of Europe. This is a fact. And this year, it is time to use this and other similar facts to strengthen unity in Europe, including by starting negotiations on Ukraine's membership in the European Union.

The meeting with Mike Pence, the 48th Vice President of the United States, Senator… American support for Ukraine is vital – from all Americans, every American family, all U.S. civil society, all political leaders, Congress – both parties, of course, from President Biden. Thank you for this support!

I discussed with Mr. Pence our defense, our cooperation – from the very beginning, from the very first days between the Ukrainian and American nations. We talked about weapons, about the capabilities of our soldiers, about our common values.

The meeting with the members of the International Working Group on the Environmental Consequences of War – Greta Thunberg, Margot Wallström and others. We talked primarily about the Russian terrorist attack and ecocide at the Kakhovka hydroelectric power plant and the work of our group, which will deal with issues directly related to the destructive impact of Russian aggression on nature. Combating ecocide is one of the points of the Ukrainian Peace Formula, and we must implement each of its points, all aspects of peace.

The conversation with the President of Guatemala. The Peace Formula, our cooperation with Latin America, assistance in demining, and most importantly, in establishing a Tribunal for Russian aggression.

The meeting with our business representatives – very important, very meaningful. I am grateful to them. We discussed how to stimulate economic activity now, in times of war. We talked about how to provide more protection for business, more interaction between the state and business. The first priority now is defense, and this is obvious. But the economy is also important.

I am grateful to everyone who works for Ukraine, for Ukrainians, who preserves and creates new jobs, who pays taxes and who is already preparing for our recovery, for the large-scale transformation program of Ukraine that we will definitely implement after our victory.

And, of course, our warriors, our defense. Today, in my address to the Chatham House community – one of the world's leading British intellectual centers – I told that three more very important decrees have been prepared to award our warriors – 419 warriors. In total, over 49,000 Ukrainians have already been awarded state awards during the full-scale war!

I am grateful to each and every one who defends our country! I thank all those who are in combat now, who also gave us the best news today – the advancement of Ukrainian positions. Glory to you, our heroes! I thank everyone in the world who really helps us!

Glory to Ukraine!
Velyka Novslika-Vuhledar:
VELYKA NOVOSLIKA-VUHLEDAR /1645 UTC 29 JUN/ UKR air defense downed a Russian Su-25 strike aircraft west of Vuhledar. RU airstrikes and artillery fire missions target T-05-18 HWY axis. UKR forces in contact at Starornnaiorske and Urozhaine. pic.twitter.com/kK4akd57wx

— Chuck Pfarrer | Indications & Warnings | (@ChuckPfarrer) June 29, 2023
Kreminna:
KREMINNA AXIS /1745 UTC 29 JUN/ During the reporting period 28-29 JUN, RU forces reduced offensive operations on the Kreminna axis. In lieu of offensive activity, RU conducted air strikes against Bila Hora, and fire missions against Zarichne, Nevske and Bilohorivka. pic.twitter.com/VaUpahwVqE

— Chuck Pfarrer | Indications & Warnings | (@ChuckPfarrer) June 29, 2023
Bakhmut:
BAKHMUT AXIS /1720 UTC 29 JUN/ In the last 48 hours, a series of RU offensive operations in the vicinity of the M-03 HWY were broken up. UKR pressed forward as RI units retreated, and then remained in contact at Blahodante, Dubovo-Vasylivka, Berkhivka, Yahidne and Khromove. pic.twitter.com/TD3Noy1XBq

— Chuck Pfarrer | Indications & Warnings | (@ChuckPfarrer) June 29, 2023
Ukrainska Pravda is reporting details from the paywalled Wall Street Journal article that the US is moving closer to sending ATACMS to Ukraine.
The United States came close to making a decision to provide Ukraine with ATACMS long-range tactical missile systems.

Source: The Wall Street Journal, referring to US and European officials, as European Pravda reported

Details: According to European and US officials, providing ATACMS to Ukraine still needs to be approved "at the highest level".

But they have seen signs that the previously reluctant White House changed its position and came to understand "the urgent need to support Ukraine in its struggle in the coming weeks".

As a senior Ukrainian defence official told The Wall Street Journal, in recent weeks "Kyiv has received positive signs that the US has changed its position on the ATACMS system".

The army's ATACMS tactical missile systems are surface-to-surface missiles with a range of about 300 kilometres, roughly four times the range of the missiles used by the mobile HIMARS systems that the US began sending to Ukraine last year.
I'm in complete agreement with The Kyiv Indepent's Illia Ponomarenko in regard to this news:
Well, yeah… the United States is drawing closer to providing Ukraine with ATACMS.
Just like with so many weapons in this war, the transfer of which was always necessary, justified, and reasonable.
But it always had to take way too much time bought with the blood of soldiers…

— Illia Ponomarenko 🇺🇦 (@IAPonomarenko) June 29, 2023
Here's some more analysis regarding the fallout from the Prigozhin revolt from Tatiana Stanovaya, Senior Fellow at the Carnegie Russia Eurasia Center.
There's a lot of speculation around the situation with Prigozhin and Wagner, so let's clarify what we know so far:

1️⃣ Prigozhin has been exiled to Belarus. The specifics of his future are currently under Putin's consideration. Lukashenko has hinted at the temporary nature of…

— Tatiana Stanovaya (@Stanovaya) June 29, 2023
Here's the full text of her tweet:
There's a lot of speculation around the situation with Prigozhin and Wagner, so let's clarify what we know so far:

1️⃣ Prigozhin has been exiled to Belarus. The specifics of his future are currently under Putin's consideration. Lukashenko has hinted at the temporary nature of Prigozhin's stay, indicating a lack of interest to permanently host such individuals, but it's likely that there will be no choice and he will have to. Without diving into speculation about the exact arrangements, the apparent aim is to neutralise Prigozhin, 'lock him up' outside of Russia, and the next steps will unfold with time.

2️⃣ Wagner is being separated from Prigozhin, signaling an end to Wagner as it was previously known. There will be a dissection of the organisation: some parts will be removed, some taken, and others dismantled. This concerns Africa and Syria too. The Foreign Ministry is already actively participating in this. Wagner's involvement varied widely, so the Kremlin (read MFA, SVR and GRU) will vet Wagner's operatives, their resources, and audit their presence, seeking whether a presence is necessary at all. We won't see a Wagner 2.0, at least the way it was.

3️⃣ I don't expect a purge in the style of Stalin; that's not Putin's approach. His perspective splits individuals into heroes, traitors (who face severe consequences), or lost souls who may be pardoned if they repent in time. Arrests are possible within this framework, but figures like Surovikin are less likely to be targeted. The challenge here is that Putin isn't the same as before, and there are influential figures with their own agendas, like Sergei Shoigu, who may be interested in eliminating internal opposition. So final fate of Surovikin is unclear.

4️⃣ Prigozhin's mutiny has underscored a potentially newer quality of the regime, which is not entirely new but is now more apparent. If Putin used to control the players, the power dynamics are now shifting. Given Putin's detachment and distorted view of reality, the players are starting to manipulate Putin. While I was always very reluctant to perceive Putin as being manipulated, the effects of his 23-year reign, his ageing, and the pressures of war could be leading to this shift. Prigozhin's struggle to reach the president and Shoigu's attempt to tackle the Wagner issue are the outcomes of Putin's inaction. This mutiny was so shocking that the regime appeared to many as near to collapse, which significantly undermines Putin's ability to secure control in the eyes of the political class.

5️⃣ Lastly, we're now witnessing the initial signs of an anti-elite trend in society. This shouldn't be confused with anti-Putin or anti-war sentiments. People are becoming increasingly frustrated with an inefficient and bloated elite, either scoffing at them or expressing silent indignation. Although this trend may not have immediate political implications, it may pose potentially a significant challenge later.
Let's that these one at a time.
I do not disagree that the intention is to get Prigozhin out of Russia and keep him out, but that isn't going to resolve the Prigozhin problem. As long as he and his supporters have access to their Telegram channels and are able to post new material and then others can boost it, amplify it, and push it onto other social media platforms, Prigozhin will be able to remain both in the public eye and relevant.
It is still not really clear which parts of Wagner are being separated. What is clear is this was a fight between the GRU, which we know from Bellingcat reporting in 2020 combined with Putin's admission by video earlier this week established Wagner PMC with Prigozhin as its head as a deniable front group – and the MOD and, most likely, the FSB. Stanovaya suggests that this includes Wagner's activities in Africa and Syria as well as Ukraine and Russia. The problem is that there is no indication from the past 16 months that the MOD and the FSB is able to actually run any forms of operation at scale. If Stanovaya's suggestion is correct, business may go on as usual with just a new chain of command. But it may also cause huge chunks of Russia's geostrategic regional campaigns to collapse. If you – Shoigu, Gerasimov, the FSB – cannot actually effective manage an invasion in a neighboring country, that may not be an indicator of potential success in countries on continents thousands of miles away.
My expectation is that if a move is made to actually eliminate Prigozhin and, perhaps, other senior Wagner PMC and Concord Management Services officials and personnel, that it will be through the freelancing of competing elements with the SVR and FSB. Buzzfeed News did a great job delineating and explaining all of this in its seven part series on Russia's wetwork program.
As we've covered a number of times since the genocidal re-invasion began, it is clear that Putin is not being provided with timely, accurate information he needs to know. Rather he is being provided what various officials think he wants to hear or what they think will advance their own agendas. So in that respect I agree with Stanovaya's conclusion that this is now going on. Where we differ is that I've thought it has been going on for a very long time.
I can't speak to her fifth point other than to say its interesting and something to pay attention to.
Speaking of Bellingcat, they working with Scripps News Service have published a visual investigation into the battle damage from Prigozhin's revolt:
Samual Bendett of the Center for Naval Analysis and the Center for a New American Security has posted an interesting thread on logistics problems in Russia's drone production sector. First tweet from the thread, then a copied and pasted machine translation of the actual Russian language Telegram post, and then the rest from the Thread Reader App.
1/ THREAD on the bureaucratic and logistical issues encountered by Russian drone developers, especially those who wish to build their UAVs for the military – from a Russian-language Telegram channel. Main points below. https://t.co/H7Wq2irBAG pic.twitter.com/fS1q20kz2A

— Samuel Bendett (@sambendett) June 28, 2023
Telegram

Explaining everything with apathy is easier than digging a little deeper. There is just "us" and "they". They have squabbles there. What's the matter with us? We take seats in the auditorium, buy popcorn. Complete alienation of the people from power. Rallies on orders and for money. Nothing real…

2/ 

"If a Russian official comes running to a team of drone developers or assemblers with a promise of support and a "green light" at all levels, the team get very concerned and asks that official not to interfere with its work. Because…" 

3/ 

…"the team knows that this official does not understand what to do next. He basically does not know how to organize drone production and what the "green light" should mean in practice." 

4/ 

"As soon as this team starts working with the official, he begins to demand strict deadlines, but he cannot arrange payment for the work and to decide who will pay for work and how. If the official is truly brilliant and was able to solve the previous (payment) issue…" 

5/ 

"…everything will still hinge on some (older woman) in accounting, who will ask for an agreement with the Chinese (for parts) and payment to Sber (Savings Bank). And if these payment arrangements don't exist yet, she doesn't know what to do and its not her problem." 

6/ 

"And even if you find an intermediary who will issue Chinese purchases in accordance with all the rules, you will run into the issue with the building for work, which will be a dilapidated wreck on the (city/town) outskirts, with rats in the basement." 

7/ 

"This is a true story, by the way. And that's why those who really do something, refuse the help. They organize themselves, make their own products, find testing areas and raw materials. Volunteers collect money and take products to the front on their own." 

8/ 

"The system is organized and operates in parallel with the state and beyond it. Sure, there are some flaws and theft, but still… More than half of ISR across the entire front is provided by private volunteers via DJI Mavics." 

9/ 

"Not thanks to, but in spite of the state with its customs and prohibitions at all levels! And those who work in this parallel system avoid contact with the state, which sees and understands this. It sees this as a threat (demonstration of someone else's effectiveness) and a… 

twitter.com/i/web/status/1…

10/ 

"Therefore, for the past few months, the state (and MOD) has been diligently and methodically crushing such (small-scale) private enterprises, where drone/UAV developments are dying in the web of bureaucracy, and the developers are leaving this rotten business in the end." 

12/ 

Sometimes its not the "heavy hand of the state" that interferes with these volunteers – sometimes its the private sector that does that, such as this story by "Project Archangel" talking about their drone center outside of Moscow. Key points below : https://t.co/JXGwURXqy7

t.me/projectArchang…

13/ 

"In May, the Archangel volunteer project, which assembles FPV drones and trains pilots, approached the management of the Myachkovo airfield with a proposal to rent a two-story house on the territory of the airfield to train volunteer UAV pilots for Ukraine combat."

14/ 

"Project "Archangel" is a non-commercial project, it exists with sponsor support and with the help of caring people, the volunteers are trained free of charge. Volunteers agreed in advance with airport manager to rent the building for 250,000 rubles a month." 

15/ 

"Unexpectedly, a couple of days before the volunteers arrived, they volunteers were told the rent was cancelled without explanation. Through lengthy negotiations (thanks to the efforts of the Lyubertsy administration, and even representatives of the Ministry of Defense), the… 

twitter.com/i/web/status/1…

16/ 

"Because of this, the volunteers had to urgently rent a mini-hotel for 60 beds and pay daily for the services of a transport company to and from the airport. It would seem thats the end of the story: the UAV school operators got into the building, volunteers bought equipment,… 

twitter.com/i/web/status/1…

17/ 

"But a few days after their arrival, the airfield authorities forbade the trainees to wear military camouflage and practice drone operation on the field that is on the airport territory. Volunteers also complied with this requirement." 

18/ 

"But the sabotage by the Myachkovo airport administration did not end there: despite the official permission from the Federal Air Transport Agency for UAV flights the director's order actually blocked the work of the FPV pilot school." 

19/ 

Each of the trainees knows where he will serve (in Ukraine) after training. And in Ukraine combat, FPV drone operators are very welcome. It is extremely difficult to explain the behavior of the airfield management – perhaps Russian counterintelligence can look into this.
That's enough for tonight!
Your daily Patron!
There's no new Patron tweets or videos, nor are there any new Ukrainian Army Cats & Dogs tweets. So here is some adjacent material from UAnimals:
Evacuating farm animals is such a challenge 🐴🐑🐐🐄 We've already showed you how we transported horses, but we also evacuated other animals from the same farm. The owner asked us to evacuate animals because the town is under constant fire😢 Wishing the animals peace in Poltava🙏 pic.twitter.com/zDJ7RWHMsq

— UAnimals.ENG 🇺🇦 (@UAnimalsENG) June 29, 2023
A sanctuary for many horses evacuated from Kharkiv region 🐴
Now the horses enjoy the quiet rural area of Poltava region.
Yesterday, we supported the horse farm by fulfilling their request for a brushcutter so that they can save money on hay in summer 💚 pic.twitter.com/Mr8etLYaxu

— UAnimals.ENG 🇺🇦 (@UAnimalsENG) June 28, 2023
The baby squirrel was rescued by concerned people. The little one barely moved, and vets put a lot of effort to reanimate it. Then, they passed it to our Wild Animals Rescue Centre, where Natalia Popova is to take care of it. Now we have 1 grown and 3 baby squirrels🐿🐿🐿️🐿️ pic.twitter.com/t7SJ8Ru7Uq

— UAnimals.ENG 🇺🇦 (@UAnimalsENG) June 27, 2023
This is how Natalia Popova feeds baby squirrels at the Wild Animals Rescue Centre 🐿🐿🐿
All 3 of them are recovering and growing stronger with each day💚 pic.twitter.com/aapjZHaEEZ

— UAnimals.ENG 🇺🇦 (@UAnimalsENG) June 28, 2023
Have you ever adopted a pet? Share your stories!
Sasha and Sonik adopted "the wildest" dog from Hostomel's shelter, and it turned out to be the best decision. At first, Lima the dog would only leave the room to eat and didn't allow anyone to pet her. The new owners were patient,… pic.twitter.com/rfU712AsQw

— UAnimals.ENG 🇺🇦 (@UAnimalsENG) June 27, 2023
Here's the full text of the tweet above:
Have you ever adopted a pet? Share your stories!
Sasha and Sonik adopted "the wildest" dog from Hostomel's shelter, and it turned out to be the best decision. At first, Lima the dog would only leave the room to eat and didn't allow anyone to pet her. The new owners were patient, and now, after a couple of months, Lima is the happiest and smartest little dog they could wish for❤️
Reunion with the dog which lost after the explosion of Kakhovka's HPP ❤️‍🩹
Our volunteer has recently evacuated animals from a village in Kherson to our Rescue Centre. Then Olha, desperate to find her dog, called us, and her description matched the dog we evacuated! ♥️ pic.twitter.com/9AGIa87zVf

— UAnimals.ENG 🇺🇦 (@UAnimalsENG) June 26, 2023
Open thread!