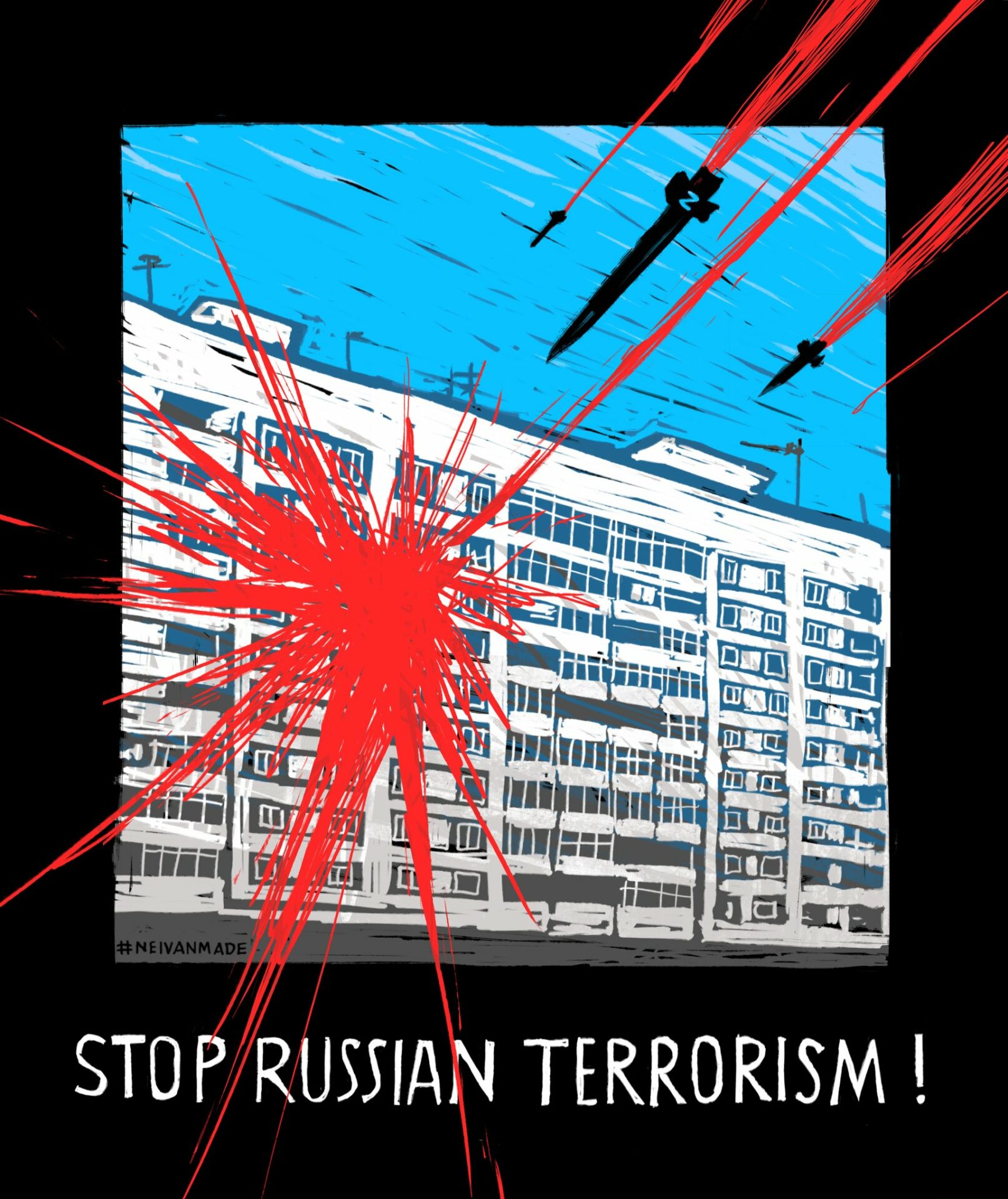 (Image by NEIVANMADE)
It was a very long week for me. And to top it all off, Twitter is still all fuqed up. I've got a workaround, but I'm going to keep this brief(ish).
Here is President Zelenskyy's address from earlier today. Video below, English transcript after the jump.
Ukraine and Ukrainians are much stronger than anyone thinks about us – address of President Volodymyr Zelenskyy

30 June 2023 – 19:45

Dear Ukrainians, good health to you!

I held a Supreme Commander-in-Chief's Staff meeting today – a long and very detailed one devoted to several issues. The commanders reported both on the general defense situation, and the specific directions of our defense and our offensive actions.

During this day, we also have made progress in all directions of our active actions.

We considered the supply of rounds for artillery – for the east, for the south – at the Staff meeting. And although our work with partners to receive rounds for Ukrainian soldiers is already at our best capacity, we will make it even more active. Strengthening our artillery is an obvious priority, and all foreign affairs specialists received additional tasks today.

The situation in the north, in particular, on the territory of Belarus, was considered separately. Our intelligence reported today – Defense Intelligence, foreign intelligence, border guards intelligence. The SSU chief reported. We very carefully analyze every fact and any prospects in all directions.

By the decision of the Staff, Commander-in-Chief Zaluzhny and General Naev were instructed to strengthen the northern direction – to guarantee peace. Appropriate deadlines are set.

Today, I thank Denmark and personally Prime Minister Mette Frederiksen for the new defense package for Ukraine. Artillery rounds, air defense missiles, demining equipment… Thank you!

I also held several meaningful preparatory meetings today regarding the internal context in our state, relevant internal measures, and international measures – an extremely important period of foreign policy is beginning. The work in order to expand peace through expanding our security capabilities, our alliances and cooperation. The following weeks will be extremely active, and the positions of our state are clearly defined, all our officials know what to do.

And one more.

Today is the first anniversary of the liberation of Snake Island from the Russian invaders. It is one of our major victories. Remember, last year, in the spring, no one expected from Ukraine that we would be able to implement, in particular, this fundamental defense task – to provide security to Snake Island, and therefore to a significant part of the Black Sea water area. But our soldiers did it. Russian terrorists needed Snake Island to destroy the entire south of our country, our beautiful Odesa and other cities. Our soldiers stopped them and drove them out of Snake Island.

Ukraine and Ukrainians are much stronger than anyone thinks about us. Sometimes, stronger than we are used to thinking about ourselves. Thanks to all that our people manage to do in the confrontation with Russian terrorists, we are revealing to the whole world and to ourselves a new Ukrainian strength – a real Ukrainian strength. The strength that we will never lose and that will always be a pillar of the security of the free world.

I am grateful to everyone who freed Snake Island! Defense Intelligence, together with other elements of the Defense and Security Forces of our country, conducted this operation. Defense Intelligence and the SSU Alpha special unit, the Naval Forces and the army aviation of the Ground Forces Command, the Air Force aviation and our strong border guards. Thank you!

And we will always remember our heroes, our soldiers, who gave their lives for the sake of this Ukrainian victory. Among those whose names can now be mentioned… Defense Intelligence fighters – Ruslan Popov, Hero of Ukraine, captain of the 1st rank; Oleh Zaitsev, Hero of Ukraine, junior lieutenant; Vitaliy Ihnatenko, Hero of Ukraine, soldier. SSU Alpha fighters – Volodymyr Kyseliov, Hero of Ukraine, captain; Oleksandr Krykunenko, Hero of Ukraine, major. Soldiers of the Navy – Ihor Bedzai, Hero of Ukraine, colonel; as well as Mykhailo Zaremba, major; Serhiy Muschytsky, captain; Yuriy Pyroh, staff sergeant. Eternal memory!

Eternal memory and glory to all those who gave their lives so that our beautiful Ukraine would live!

Glory to Ukraine!
General Zaluzhny gave an interview to The Washington Post. Here are some excerpts:
KYIV, Ukraine — For Ukraine's counteroffensive to progress faster, Gen. Valery Zaluzhny, the top officer in Ukraine's armed forces, says he needs more — of every weapon. And he is telling anyone who will listen, including his American counterpart Gen. Mark A. Milley as recently as Wednesday, that he needs those resources now.

In a rare, wide-ranging interview with The Washington Post, Zaluzhny expressed frustration that while his biggest Western backers would never launch an offensive without air superiority, Ukraine still has not received modern fighter jets but is expected to rapidly take back territory from the occupying Russians. American-made F-16s, promised only recently, are not likely to arrive until the fall — in a best-case scenario.

His troops also should be firing at least as many artillery shells as their enemy, Zaluzhny said, but have been outshot tenfold at times because of limited resources.

So it "pisses me off," Zaluzhny said, when he hears that Ukraine's long-awaited counteroffensive in the country's east and south has started slower than expected — an opinion publicly expressed by Western officials and military analysts and also by President Volodymyr Zelensky, though Zaluzhny was not referring to Zelensky. His troops have gained some ground — even if it's just 500 meters — every day, he said.

"This is not a show," Zaluzhny said Wednesday in his office at Ukraine's General Staff headquarters. "It's not a show the whole world is watching and betting on or anything. Every day, every meter is given by blood."

"Without being fully supplied, these plans are not feasible at all," he added. "But they are being carried out. Yes, maybe not as fast as the participants in the show, the observers, would like, but that is their problem."

The questions that weigh on him daily: When will Ukraine's Western partners provide the arms he needs, particularly more ammunition and the F-16s? And how can he be expected to get the job done without them?

Zaluzhny said he relays his concerns to Milley, whom he has grown to deeply admire and considers a friend, several times per week in conversations that can last hours. "He shares them absolutely. And I think he can help me get rid of those worries," Zaluzhny said, adding that he told Milley on Wednesday how many more artillery shells he needs per month.

In these conversations, Zaluzhny is frank about the consequences: "We have an agreement: 24/7, we're in touch. So, sometimes I can call up and say, 'If I don't get 100,000 shells in a week, 1,000 people will die. Step into my shoes,'" he said.

But "it's not Milley who decides whether we get planes or not," Zaluzhny said. "It's just that while that decision is being made, in the obvious situation, a lot of people die every day — a lot. Just because no decision has been made yet."

While F-16s will eventually arrive, following President Biden's decision in May to back an international plan to train Ukrainian pilots and send the planes, Ukraine's strained ammunition resources pose a different challenge. In February, NATO Secretary General Jens Stoltenberg warned that the "current rate of Ukraine's ammunition expenditure is many times higher than our current rate of production." That means the shells Zaluzhny said he needs could become even scarcer the longer the war lasts.

But Zaluzhny also pointed to NATO forces' own doctrine — which parallels Russia's, he said — that calls for air superiority before launching ground-based deep-reaching operations.

"And Ukraine, moving to offensive operations, should follow which doctrine?" Zaluzhny said. "NATO's? The Russian Federation's? Or is that none of your business? 'You have your own doctrine. You have tanks, you have some cannons, you have some [fighting vehicles]. You can do it.' What is that?"

In his command post, Zaluzhny has a screen that shows him everything in the air at any given moment — the aviation from NATO countries at Ukraine's western border, his own planes in the sky over Ukraine, and Russia's on the eastern edges. "Let's just say the number of aircraft that are on duty near our western borders is twice as much as the number of Russian aircraft devastating our positions. Why can't we take at least a third of it from there and move it here?" Zaluzhny asked.

Because Russia's more modern fleet of Su-35s have a far superior radar and missile range, Ukraine's older jets cannot compete. Troops on the ground are easily targeted as a result.

"Nobody is saying that tomorrow we should rearm and get 120 planes," Zaluzhny said. "Why? I do not need 120 planes. I'm not going to threaten the whole world. A very limited number would be enough. But they are needed. Because there is no other way. Because the enemy is using a different generation of aviation. It's like we'd go on the offensive with bows and arrows now, and everyone would say, 'Are you crazy?' But with this question, 'No, no.'"

If anyone thinks that Ukraine's counteroffensive got a lucky boost last weekend when Wagner chief Yevgeniy Prigozhin led a mutiny of mercenary forces on an assault toward Moscow before halting the advance, Zaluzhny is not so sure. Prigozhin's Wagner forces had already exited the front line, after claiming the eastern city of Bakhmut a month ago, Zaluzhny said, so there was no noticeable change on the battlefield as the rebellion took place.

"We didn't feel that their defense got weaker somewhere or anything," he said.

One worst-case scenario Zaluzhny must consider is the threat that Putin might deploy a nuclear weapon. And Zelensky warned last week that Ukrainian intelligence received information that Russian forces were preparing a "terrorist act with the release of radiation" at the occupied Zaporizhzhia nuclear plant, Europe's largest atomic power station.

Does that give Zaluzhny pause from trying to retake control of the plant as part of Ukraine's counteroffensive?

"It doesn't stop me at all," Zaluzhny said. "We are doing our job. All these signals come from outside for some reason: 'Be afraid of a nuclear strike.' Well, should we give up?"
More at the link!
. @ZelenskyyUa
With Ukrainian pilots flying F-16s, freedom will become irresistible, and the terrorist state will not have a chance in our skies.

🎥@United24media pic.twitter.com/xL3gXBVpvI

— Defense of Ukraine (@DefenceU) June 30, 2023
Donetsk:
Another school destroyed by russians in Donetsk region
Two women – a bookkeeper and a teacher – were killed. Six civilians were injured.

📷 @GP_ pic.twitter.com/HIQW9UHn6C

— Defense of Ukraine (@DefenceU) June 30, 2023
Berdyansk:
/2. "As a result of a successful strike
By the Defense Forces in the morning of 06/30/2023 the headquarters/base and warehouse with fuel and lubricants of the occupiers were targeted, in the suburbs of the temporarily occupied Berdyansk."https://t.co/qJTKzgGXAl pic.twitter.com/gOTNgdqWuR

— Special Kherson Cat 🐈🇺🇦 (@bayraktar_1love) June 30, 2023
/4. The first fragments of the Storm Shadow missile shown by Russians, which really look like the wreckage of a downed/fallen missile. As claimed somewhere near Berdyansk after today's morning strikes. pic.twitter.com/oMIFhqljLz

— Special Kherson Cat 🐈🇺🇦 (@bayraktar_1love) June 30, 2023
With additional imagery of the remains and some informed insights (h/t @blueboy1969) it appears that the missile functioned properly, in the follow through bomb mode.

However, whether it hit the target is unclear. pic.twitter.com/6sxHQtFnPX

— 🇺🇦 Ukraine Weapons Tracker (@UAWeapons) June 30, 2023
Here's a bit of update on the Prigozhin situation.
Prigozhin's media empire is shutting down.

Director Evgeny Zubarev says the infamous troll farm had existed since 2009 and confirms the many investigations into it were correct:

"It was important to discredit opposition journalists. They were trying to destroy the country!" pic.twitter.com/taOhZIxYRW

— max seddon (@maxseddon) June 30, 2023
Notice the date? 2009! How many times have I written here that Russia began this largely non-lethal and non-kinetic World War at least sometime between 2011 and 2014 and possible even before?
We now return you to your regularly scheduled update analysis:
Given the central role of the troll farms, as well as the rest of the media properties that Prigozhin owns through his Patriot Media Group and that he uses on behalf of Putin's influence strategy all over the world, I find it hard to believe that they're shutting down. I think it is far more likely that they'll either have all their names changed and keep operating or that the MOD and/or FSB will scarf them up and try to run them. Given that nothing the MOD or FSB has run since the start of Russia's genocidal re-invasion of Ukraine has gone properly, if it's the latter then Russia's foreign and national security policy and strategy are going to go through some things.
Here's a bit more from Tatiana Stanovaya, the founder of R.Politik and a senior fellow at the Carnegie Russia Eurasia Center.
What distinguishes the current situation is Putin's progressive loss of initiative in dealing with domestic issues. His heightened emotional state makes him more susceptible to manipulation. We appear to be observing a new phase in Putin's regime, where his entourage is becoming… https://t.co/GrlTQDDJj5

— Tatiana Stanovaya (@Stanovaya) June 30, 2023
Here's the full text of Stanovaya's tweet (that she was quote tweeting):
The Reasons Why I Believe a Major Purge Over #Prigozhin's Mutiny is Unlikely to Occur:

1️⃣ Consider #Putin's Emotional State: Recently, his public appearances have depicted an inexplicable joy bordering on euphoria, a stark departure from his usual demeanor. This could be connected to the narrative his entourage has crafted, emphasizing the universal support he receives from the elites and the immense love he enjoys from the people. An illustrative case in point is his "march to the people" in Derbent. Therefore, given the perceived atmosphere of universal affection, why would there be a need for repression? Yes, a traitor emerged and was exiled to Belarus, but the remaining issues will be investigated accordingly, perhaps without the expected crackdown.

2️⃣ Putin's View of #Surovikin: Regardless of his relationship with Prigozhin, Surovikin has always been regarded highly by Putin. Despite some cooling of their relationship and curtailed access to Putin since last December, he is not viewed as a traitor, even if he made mistakes or misstepped. It would require incontrovertible evidence to warrant an arrest, thereby diminishing the likelihood of severe reprisals.

3️⃣ Divergent Views of Putin and #Shoigu: It's important to separate Putin's sentiment (his belief that he controls the situation) from Shoigu's agenda. For Shoigu, the current circumstances offer an opportunity to deal with the internal "opposition," but this does not necessarily imply purges and arrests. Despite the ridicule and critics he has been receiving throughout the war, Shoigu is one of Russia's most seasoned and adept politicians, having risen to prominence when Putin was just beginning his political career. Consequently, he may tread more carefully than anticipated.

Nonetheless, what distinguishes the current situation is Putin's progressive loss of initiative in dealing with domestic issues. His heightened emotional state makes him more susceptible to manipulation. We appear to be observing a new phase in Putin's regime, where his entourage is becoming more actively involved in shaping its trajectory.
Politico has the explanation for why the US's, NATO's, the EU and many of the EU member states policies towards Russia consistently fail and leave us all vulnerable!
The recent attempted mutiny in Russia proved that no matter how much many world leaders hate Vladimir Putin, they don't want the Russian president suddenly ousted.

The instability that could follow isn't worth the risk.

The possibility of post-Putin chaos in Russia is one key factor many countries — from adversaries such as the United States to Russia partners such as China — considered as they calibrated their reactions to mercenary leader Yevgeny Prigozhin's armed rebellion against Moscow.

It's a tricky calculation, especially for the United States.

The Biden administration has taken many steps, including imposing economic sanctions, that arguably are weakening Putin in the wake of his war on Ukraine. But Washington has repeatedly insisted it does not back regime change in Russia, a fellow nuclear power.

At the moment, the lack of a clear successor, or the possibility of a violent warlord such as Prigozhin taking charge, leaves too many uncomfortable variables to openly root for a Putin overthrow, according to two current U.S. officials, two foreign officials and one former U.S. official.

"The United States has no interest in instability inside Russia that has the potential to spill over into Europe," said Andrea Kendall-Taylor, a former U.S. intelligence official who specializes in Russia and autocracies. "Regime change that occurs through a chaotic and violent process is also the most likely to produce another authoritarian leader, which could possibly be worse than Putin."

Two U.S. officials who deal with Russia policy said the Biden administration considered questions about the stability of the Russian state as it crafted its response to last weekend's brief mutiny.

While it's rare for the United States to call for regime change in another country, the Biden administration also wants to be extra careful not to feed Putin's long-standing narrative that America is behind efforts to oust him or, for that matter, spur a disorderly downfall.

"Instability anywhere has costs — costs to the citizens of that country, to the region. In a place like Russia, it could have global implications," said one of the U.S. officials, who, like others, was granted anonymity to discuss sensitive diplomatic decisions. "Would Russian institutions be resilient if Putin were to be gone from the picture? Maybe. Probably. But it's not a sure thing."
More at the link!
The sun would never rise again, yes. https://t.co/x4Dr53XfOn

— Illia Ponomarenko 🇺🇦 (@IAPonomarenko) June 30, 2023
There are ways to plan to manage and mitigate this problem set rather than letting the fear of it turn it into a wicked problem that one is so terrified of that it forces an artificial limitation of our strategic options. There are strategies that could be devised to turn threat into challenge and challenge into opportunity. We came up with the Marshall Plan for Germany, which allowed us to manage the chaos that would have otherwise followed the fall of Hitler.  Which means that we could do it again. If only we had the will. But we don't. Instead we use fear as an excuse. Unfortunately, the Ukrainians do not have the luxury of our fear! Neither do the occupied Georgians. Nor the Syrians. Nor the citizens of the states in the Sahel. Etc, etc, etc.
I'm going to leave it there before I say something that hurts someone's feelings.
That's enough for tonight.
Your daily Patron!
First, some Patron adjacent material:
The most important thing you understand about war is to treasure every moment. pic.twitter.com/ewowYXHhBV

— Maria Avdeeva (@maria_avdv) June 30, 2023
And a new video from Patron's official TikTok:
The caption machine translates as:
There are so many new things there! Link in the profile header ✨
Open thread!