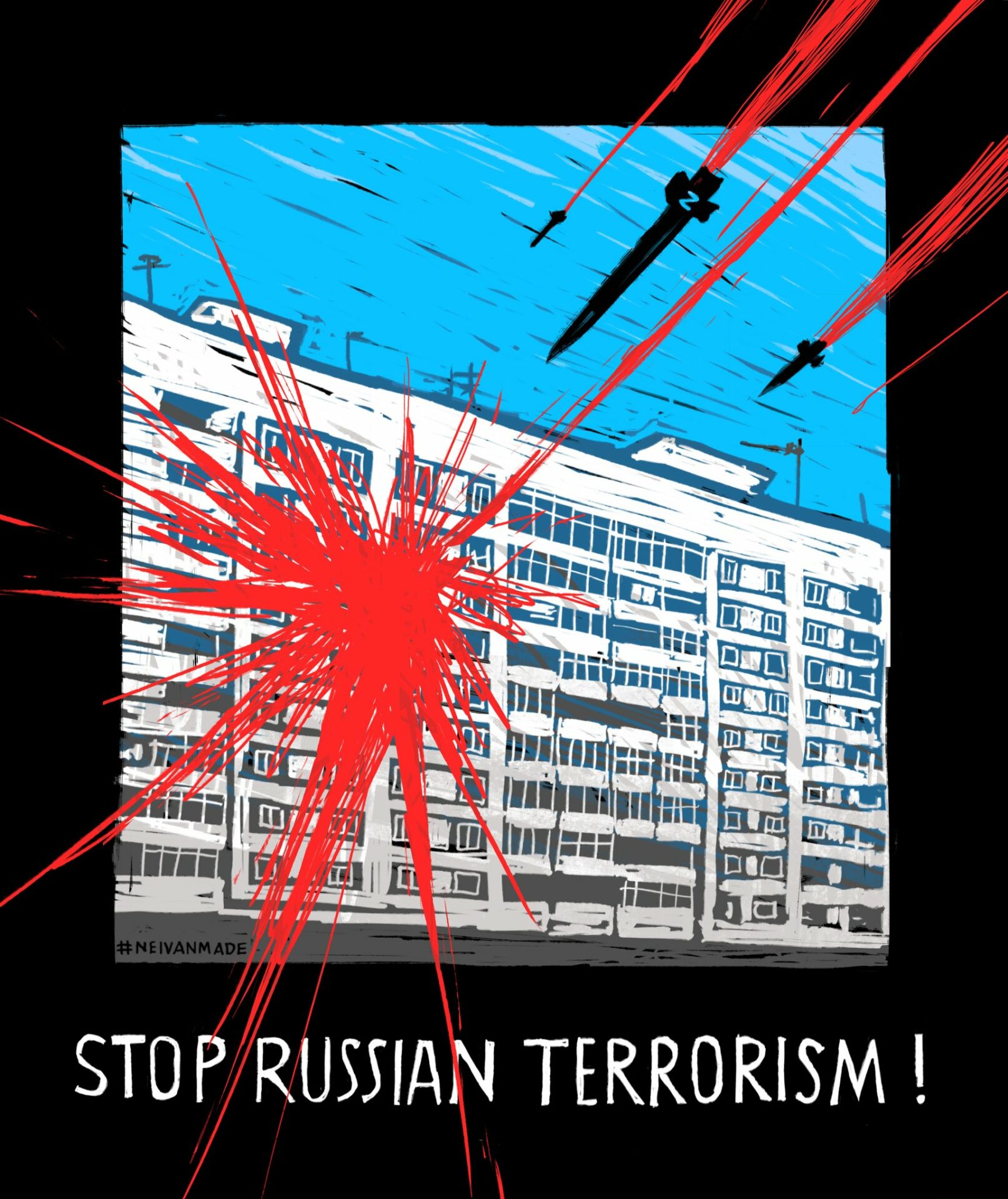 (Image by NEIVANMADE)
Here is President Zelenskyy's address from earlier today. Video below, English transcript after the jump.
Every thousand meters of advancement, every success of each of our combat brigades deserves gratitude – address by the President of Ukraine

14 July 2023 – 19:53

I wish you health, fellow Ukrainians!

Today's key points.

I held a very detailed meeting of the Staff, focused primarily on the frontline. The situation in all key areas of action – both defense against Russian assaults and our active steps forward. Plus everything that is important for this. Shells, weapons, equipment. The rational use of shells, supplies from partners and our own Ukrainian production. Logistics.

As always at the Staff, there were reports from our commanders: The Commander-in-Chief, the commanders of operational directions… Zaluzhny, Syrsky, Tarnavsky… Commanders from specific areas of the frontline. And also Minister of Internal Affairs Klymenko. Head of the Border Guard Service Deyneko. There was an important report by Chief of the Main Intelligence Directorate Budanov on the situation in Belarus – we are closely monitoring what is happening there in terms of security. As of today, there are no large-scale threats. Our full focus is on the frontline.

We must all understand very clearly – as clearly as possible – that the Russian forces on our southern and eastern lands are investing everything they can to stop our warriors. And every thousand meters of advance, every success of each of our combat brigades deserves gratitude. Everyone who goes on the offensive, everyone who repels enemy attacks, are doing a great job, and I am grateful to each of our warriors!

This week we have not yet finished the planned international work. There will be important negotiations for Ukraine. And we are already preparing for the coming weeks. We will not reduce our international activity for a single day, in particular with regard to the Peace Formula, security guarantees for Ukraine on its way to NATO, and agreements with partners on weapons for Ukraine and sanctions against Russia. We are also preparing new NSDC decisions on sanctions.

I continue meetings on the transformation of Ukraine. Today it concerned military education. All the experience of our warriors, all the competencies acquired by Ukrainians in the war, our new defense experience shared with our partners – all this must be integrated into the updated Ukrainian military education.

It is clear that this industry at the state level deserves a significant upgrade. And it is very important that those who are actually defending our country and are already training our country's defenders be involved in the discussion of such an upgrade.

And one more thing.

Today, I took part in a conversation in America – at a conference with the heads of the largest and most promising global companies and major philanthropists. Investments, jobs in Ukraine, support for our country and people… Ukrainians have now realized the enormous potential of our country. All of it is aimed at our defense. But when we end the war, Ukrainian potential must be invested in Ukrainian development. The world is waiting with great interest to see what this development will be like, what the victorious Ukraine will bring to the world. And this is a question for everyone in Ukraine who works for the state, who plans to work for the state… everyone should ask themselves this question now. And find answers.

Ukraine has become a global force. And it should become a force for global development. I am confident that it will.

Glory to all those who are fighting for Ukraine! I thank everyone who defends our country!

Glory to Ukraine!
Best wishes to our French friends on this French National Day!
Freedom. Equality. Brotherhood.
🇺🇦🤝🇨🇵 pic.twitter.com/osQcxoweuC

— Defense of Ukraine (@DefenceU) July 14, 2023
My best wishes to our French friends and to my dear colleague @SebLecornu on this special day! Joyeux Quatorze Juillet!
May this day be full of joy and celebration, and may France prosper!
Ukraine will always remember your friendship and support. Vive la France!
🇺🇦🤝🇫🇷 pic.twitter.com/Zb1mPVE8w5

— Oleksii Reznikov (@oleksiireznikov) July 14, 2023
The Ministry of Defense of Denmark has provided 6 drones for mine scanning as part of their aid package for Ukraine.
These drones are used for non-technical inspection of territories, including water bodies, for explosive ordnance. It is the latest innovative approach to… pic.twitter.com/aKhS50nQDr

— Oleksii Reznikov (@oleksiireznikov) July 14, 2023
The Ministry of Defense of Denmark has provided 6 drones for mine scanning as part of their aid package for Ukraine.
These drones are used for non-technical inspection of territories, including water bodies, for explosive ordnance. It is the latest innovative approach to inspecting territories.
I'm grateful to our Danish friends and especially to my colleagues @mfMorten and @troelslundp!
🇺🇦🤝🇩🇰
Commenter Suzanne emailed me her question from the other night:
I had posed a question in the Ukraine thread last night for you, and I'd appreciate your insight. I had asked what the scenario looked like for Ukraine joining NATO if the war doesn't really definitely end with a treaty or a ceasefire. You have made the point that low-level war has been the status quo since 2014. Conceivably, this could continue indefinitely…. yes? If there's a guarantee for Ukraine to join NATO, does that incentivize Putin to drag this out?
Most wars – large (interstate) or small – end in a negotiated settlement. That's just the reality. That said, it is very clear that the Ukrainians are not going to be willing to pursue a negotiated strategy until they have achieved their objective, which is the removal of the genocidal Russian occupation from Ukraine. Since the failure of Putin to take Kyiv within 72 hours, his strategy has been to draw thinks out as long as possible. To create a frozen conflict that turns his genocidal re-invasion and Ukraine's defense against it into a perpetual low intensity war and occupation. Part of his strategy is to seek time. Specifically for the 2024 election in the US to take place, return Trump to the White House, for the GOP to expand their House majority, and for the GOP to retake the Senate majority. But what he really wants is Trump back in office. Because in his mind his frozen conflict turns into a Russian rout of Ukraine when Trump stops all US aid and pulls the US out of NATO. So guarantee or no guarantee, Putin is incentivized to drag this out.
Last night in comments Sister Inspired Revolver of Freedom asked:
Since this is, kind of, an open thread, I have to ask here. Adam, what do you think of this whole Tuberville situation? Even I know that this is a disaster for the US military. Who/what can be done to get this arsehole to STFU already?
Senator Tuberville is mule stupid. He really has no idea what the ramifications are of his actions in holding up not just the military promotions, but also placing a hold on all senior DOD civilian nominations. And this is going to have serious repercussions. It will ripple out across the Services and it will make it impossible for acting senior civilian appointees to adjust policies.
I am going to write something, however, that is going to be very unpopular here. While Tuberville is responsible for engaging in this stupidity, this is happening because the Senate Democratic leadership is allowing it. We keep watching the same thing play out over and over and over and over again since the Clinton administration. In the majority or in the minority, Senate Republicans bend a rule as far as possible or break a longstanding norm and the Democrats do nothing. Senate Republicans weaponize the rules to hamstring and trip up the Democrats when the latter are in the majority and to brutalize them when in the minority. And the Democrats do nothing. As such, the Senate Republicans have been taught by the Democrats that breaking the rules and the norms and the traditions gets them what they want rather than results in a punishment. What Tuberville is doing is based on a procedural rule. The Democratic leadership could just ignore him and push on. What the Senate Democrats have failed to learn over the past 30 years is that it is not possible to restore the Senate's norms and reestablish its rules by following them while the Senate Republicans do not. Senate Republicans turned off the blue slip procedure for judicial nominations during the Trump administration. They refused to honor Democratic blue slips on nominations. What have the Democrats been doing for the past two and a 1/2 years? Honoring Republican blue slips in the mistaken belief if they model following the rules/good behavior, then when the Senate Republicans retake the majority they will then have learned to do the same. It doesn't actually work that way. This isn't rocket science, but it is the most powerful empirical social science theory: social learning. Among its components, social learning theory posits that people and groups will continue to engage in behaviors, including deviant ones, as long as they are receiving positive rewards. The Senate Democrats always ensure that Senate Republicans are positively rewarded. And, as a result, we get what we have here with Senator Tuberville. His hold will continue, just as Rand Paul's on DOJ/FBI nominations, and other senators' holds will continue because they are being rewarded. The behavior will change only when they begin to be punished. There is absolutely no evidence that that is ever going to happen, just like the Federal judge in south Florida is NOT going to recuse herself. The lesson we all should have learned from Robert Mueller's tenure as Special Counsel is to stop relying on people conning you with false hope.
The Dnipro:
Battle for the islands on the Dnipro.
Here is a short film about a special operation carried out by the Ukrainian "Navy Seals" of the @SOF_UKR. pic.twitter.com/QplmALJArV

— Defense of Ukraine (@DefenceU) July 14, 2023
Previously at Azovstal:
Redis. Azovstal, 2022.

— Kateryna Prokopenko (@KatProkopenkoUa) July 14, 2023
And yes, he is one of the Azovstal commanders that was returned safely from Turkey.
Russia, Florida, who can really tell these days:
Russia's parliament has banned gender transitions, hormonal therapy, and legal gender changes.

MPs called gender transitions "Satanism" and "fornication," explicitly linking the ban to Russia's war effort in Ukraine.https://t.co/01mjwNIXQz

— max seddon (@maxseddon) July 14, 2023
Here's an interesting thread, transcribed by The Economist's Shashank Joshi, of a podcast featuring Dmitri Alperovitch. First tweet from the thread, the rest from the Thread Reader App:
Informative podcast with @DAlperovitch reflecting on his recent trip to Ukraine. " They certainly had hopes that the Russians would not be as deeply as entrenched as they are…It's really, really tough going, they're taking enormous casualties." https://t.co/LRy2OcGX23

— Shashank Joshi (@shashj) July 14, 2023
"the debate in western capitals…is often framed in the context of lands, how much land is Ukraine going to take back…debate in Ukraine is actually very different. The fundamental issue they're focused on…is how do we end this war in a way where we have durable security?" 

Alperovitch: "We're meeting with someone very senior in [Ukraine's] MoD. And we asked them what are your needs. And this person said: I have just five needs and they're shells, shells, shells, shells and shells." 

Alperovitch: "part of their [Ukraine] pitch to Sweden is to say…we can show you combat experience, we can do the marketing for your Gripens. Just give them to us and we'll show you how they do against Russian Air Force. They'll be great for future marketing of your aircraft." 

Alperovitch: "one of the things that they [Ukraine] are very insistent on is that they want detailed manuals…for those systems so that they can maintain them to large extent themselves… we'll figure it out, we can resolve the IP issues, just help us help ourselves." 

Alperovitch: "The Ukrainians…don't think that Wagner is in Belarus. They think that maybe a few dozen people have gone into Belarus. Some of them have come out since then. They don't think that Prigozhin is based in Belarus." Ukraine thinks not many Wagner signing MoD contracts 

Alperovitch: "the other thing that the Ukrainians told me is that they don't think that MoD is paying salaries for Wagner anymore … the Ukrainians believe that those payments have now stopped." Ukrainians also "don't believe that Surovikin is in jail." 

Alperovitch: "the Ukrainians believe that there were some Russian pilots that ignored orders to strike the Wagner column as it was on its way to Moscow, that many in the Russian military and Rosgvardiya did not want to shoot at Wagner. And that's clearly a problem for Putin…" 

Alperovitch: Ukrainians assess that operational leadership in general staff were not in favour of war. Nor was SVR. "FSB, right in the lead-up to the war, was quite luke-warm….at one point, they say that in their [FSB] briefings to Putin, Putin unloaded on them." 

Alperovitch: Ukraine believes Russia "want to cause, at some point, some sort of explosion, potentially in the cooling pool [of ZNPP] where nuclear fuel rods is stored, in order not to necessarily spread radiation [but] use it as nuclear blackmail, to threaten Europe…" 

Alperovitch: "Ukrainians believe that about 20,000 new [Russian] recruits are being pulled every single month. So that's providing replacement troops, after training, to be used in Ukraine…that may give them some options to delay the more general mobilisation wave" 

Alperovitch: "the other thing we've learned is that [Russian] production capacity is increasing…they're believed to be producing at least a million artillery shells a year and targeting significantly more—targeting over 2mn, but the Ukrainians don't believe they'll get there." 

Rob Lee:" Ukraine has not made as much territorial gains as they would want. But the thing that is quite significant & we can't really measure v. well is attrition. And there's clearly a lot of attrition going on, it's not very clear how the relative attrition is playing out…" 

Rob Lee: "Russia can stand attrition in convict units pretty easily because they can replace them. If the naval infantry units or if spetsnatz brigades take heavy casualties, that could be a problem for the ability to defend going forward..here's a lot of things we can't see." 
And here's one from Dara Massicot regarding Russian military leadership. First tweet from the thread, the rest from the Thread Reader App:
Dysfunction is reaching peak levels in the Russian military command as another general is sacked for speaking truth to power and others are detained, or under suspicion. Where incompetence meets betrayal: a thread of the Russian high command and implications for the front /1 pic.twitter.com/V5TS44agFo

— Dara Massicot (@MassDara) July 13, 2023
Rumors are still swirling that a house cleaning may or may not be underway inside the military in the aftermath of the Prigozhin rebellion. Thoughts on how bad it has become in the Russian high command to get to this point, in the middle of the UAF offensive. 

2/

 

Gerasimov and Shoigu have a history of privately and publicly kicking around their subordinate for various infractions: understanding the tactical situation better (Surovikin), perhaps too popular with the men or trusted by Putin (Teplinskiy) or flag urgent problems (Popov) /3

Last year Surovikin as commander put Russian forces on the defensive and ordered the construction of the defensive networks which bear his name (Surovikin lines). But Putin wanted an offensive and so he was out. Here's a thread about that tension/ 4

Teplinsky, the other deputy commander and popular within the VDV, is another. He disappeared for a few months, with rumors he disagreed with the high command, only to remerge with Putin. Teplinskiy is responsible for overseeing/improving many of the defensive positions. /5




Here's an overview of the Teplinskiy / Gerasimov issues from @KatStepanenko @TheStudyofWar /6.

Now that Surovikin is MIA for 3 weeks, my working theory is that there is no one in Rostov HQ to absorb Gerasimov's moods and bad ideas. Teplinskiy is in the field most likely, and Alexei Kim is silent. So now the operational group commanders experience Gerasimov more directly/7 

Enter Popov. His command, 58th Army, (Southern MD) has been engaged for over a month in the Zaporizhzhia where the fighting is the most intense (Rabotine, Orikhiv etc, 42nd GMRD, other regiments like 70th, 291st, and the 1430th). /8

Popov is sacked, in his words, for speaking truthfully about his units difficult situation. They have defended against the offensive for a month with no rotation, and have problems with logistics, counterbattery and recon. /9

They do have mounting problems with rotations and reserve units which that are conducted very inconsistently across the front. @ISW can see it and noted it here: /10

Popov's command 58th Army also had its deputy commander killed this week by Storm Shadow strike in Berdyansk, and presumably other HQ staff killed this week too, adding to the chaos. /11

As a commander it is his responsibility to voice these concerns given the strain to his units. Not many of his colleagues do. Popov claims that Shoigu drew up orders to relieve him within 1 day and that they are betrayed by their senior commanders. this is very rare to hear. 

/12

 

Russian channels claim that Gerasimov was angry that Popov's report was "spreading alarmism," or blackmail, i.e., pointing out real problems observable to all. Perhaps he tried to jump the command chain but we don't know. 

/13

 

What's different about this event to me is that there is a recording, promoted by a former deputy commander of the Southern MD. And Popov says what a lot of his colleagues know to be true: the incompetence of the Russian high command at this point is a betrayal of the army 

/14

 

To recap: exactly where on the front that Russian forces need relief, Shoigu/Gerasimov sack their commander for saying so in direct terms. Popov has enough and posts a message. In doing do, he could either inspire others to speak out, or keep their heads down. 

/15

 

Kartapolov, who yesterday said Surovikin is on 'vacation', said this: "the important skill of any boss is to see problems and hear subordinates […] I think those who are supposed to have heard seen and will take action." They did indeed take action – by shooting the messenger. 

Making waves or demandsgets you in trouble. Compare to how incompetent generals are treated who don't push back and get their units killed. they get posted to other commands or Syria, like Lapin or Chaiko. Or perform on camera. /17

The Russians have one of their most combat experienced and notorious 4-star generals with roots inside the army and air force, last seen with no ranks on, MIA for 3 weeks post rebellion, while no one speaks of it. Of course it impacts the rank and file in the military. /18

But here is the issue. Minefields do not care about Russian command dysfunction. Dense minefields laid months ago are hard for Ukrainian forces to get through while being shelled. If they cannot get to Russian lines, they cannot exploit any disarray. 

/19

 

This story from @olliecarroll explains the difficulties and extreme conditions for UAF sappers. /20

As Popov said, senior commanders stab them in the back "treacherously & vilely decapitating the army at the most tense and difficult moment." Gerasimov smiles publicly when the boss comes around; he's Putin's choice. So кто виноват/who is guilty? How is this worth fighting for?/x
The split between the Moscow dacha generals and those in the field has been deepening for over a year. Regular sackings of field generals helps prevent any risk of Bonapartism

— John Foreman CBE (@exexpat19) July 14, 2023
And one more long thread, this time from Samuel Bendett of CNA and CNAS. First tweet from the thread, followed by the rest from the Thread Reader App:
1/ This is an interesting thread from a Ukrainian soldiers going through Western military training in Germany. Key points that stand out: "They do not rely on electronic devices at all, and the fact that we go on missions with Chinese smartphones and tablets was wild for them." https://t.co/y9DocbYQAU

— Samuel Bendett (@sambendett) July 13, 2023
2/ 

"But after "Kropyva", I don't want to go back to paper docs at all. The same for quadcopters – the concept of DJI Mavics and the use of civilian copters is simply not even in their plans. Of course, they study our war, but they are still surprised that we use it (quadcopters)… 

twitter.com/i/web/status/1…

3/ 

(For the record, "Kropyva" is a Ukrainian proprietary intelligence mapping software developed for planning, calculations, and orientation that is used by hundreds of units throughout Ukraine).

4/ 

More from the Ukrainian soldier: "For a week, we were taught to read maps, take the azimuth, transfer the azimuth from the compass to the map and vice versa. When we told them that we use electronic cards on tablets and phones, they did not take us seriously." 

5/ 

"They have different drone types, but this is purely brigade level. This shows that in addition to the war with the aborigines in Iraq, Afghanistan, Syria, the Americans have not participated in a serious war for a long time. Their army does not have an analogue of the Chinese… 

twitter.com/i/web/status/1…

6/ 

The points about Western militaries not having the equivalents of cheap, commercial-type drones for tactical ISR is a major topic of deliberation in the US military today.
The Financial Times reports on Finland's view of providing aid to Ukraine.
Finland has hit back at claims aired at a Nato summit that Ukraine has failed to show gratitude for western support, saying aid should not be regarded as charity.

Finnish foreign minister Elina Valtonen said in an interview that "we in the west need to understand that obviously, this is not charity because Ukraine is fighting for us. They are fighting for our liberty and the European security architecture."

Over the course of the two-day Nato summit in Vilnius earlier this week, tensions surfaced between Kyiv and some western officials, undermining a show of unity among allies in the face of Russian aggression.

Ukraine's president Volodymyr Zelenskyy blasted Nato for its "absurd" lack of a clear timeline for his country's membership of the military alliance.

Senior officials from the US and the UK retorted that Ukraine should be grateful for the assistance and not jump immediately to the next item on its weapons wish list. "We are not Amazon," said UK defence secretary Ben Wallace, in reference to the online shopping platform. Zelenskyy later responded that he did not know he had to express gratitude "personally" to the minister.

Valtonen said the west remains committed to Ukraine and that it's in its interest to do so. "I wouldn't say there's any fatigue and I hope there never will be," she said.

Even if Nato would have met Ukraine's demands for a clearer path to membership, that "wouldn't be a 100 per cent guarantee" it would be joining soon, she said. And once a member, Nato's mutual defence clause "is always still a political decision — what to send, how much to send, on which terms to assist," she said.

Ukraine's allies made long-term pledges to its security and backed the country's eventual Nato membership — though that support fell short of Kyiv's expectations, as well as those of some Nato members such as the Baltic states and Poland.

Zelenskyy later took pains to emphasise Ukraine's appreciation for the sustained assistance and described long-term security commitments from the G7 and other powers as a "significant security victory" that would eventually help the country on its path to Nato.

Valtonen said the most important thing was for the US and its partners to "keep on solidifying their support."

Asked whether the US could be counted on to do so should a Ukraine-sceptic such as Donald Trump win the US election in 2024, she said the US Congress had played an important role in sustaining assistance but that the war has also made clear Europe has more to do.

"I'm very hopeful that the US will continue its unwavering support, there seems to be very, very widespread support across Congress, both sides, so I really rely on that" she said.

But, she added: "There's a truth to the fact that Europe also needs to do more. And I think, as sad as the war is, the key takeaway has been that there is suddenly also the awareness in Europe that we need to invest into our defence, much, much more than we have done before." She said the war in Ukraine was also useful in exposing "the weakness of Russia". Finland, for decades a neutral country bordering Russia, joined Nato in April after a fast accession process prompted by the war.
The Washington Post has a long profile of GEN Zaluzhnyi:
A career military man, Gen. Valery Zaluzhny long ago confronted three questions: Am I ready to die? Am I ready to kill? Am I willing to send people to die and kill?

Now, Ukraine's top commander in a war with a Russian force larger and better-equipped than his own is asking himself a new question: How can I reduce the loss of life? He starts each morning by learning how many soldiers were killed or wounded following his orders the day before. Sometimes he stumbles across a contact in his cellphone who is dead. He refuses to delete them.

Zaluzhny said he's saving the grieving for later. Mourning now would distract him from his important work as the man Ukrainians trust to keep them safe and Western partners trust with billions in security assistance. Both expect him to re-create Ukraine's earlier underdog success on the battlefield.

But if it were up to Zaluzhny alone, this is not how he would get the job done. He would fight with air superiority. He would fire back at least as many shells as the Russians are firing at his troops. And he would have cruise missiles that could match Moscow's. Instead, modern fighter jets, such as the U.S.-made F-16, are not expected on the battlefield until next year. Ukraine's ammunition supply is constrained, with the Russians often shooting three times as much in a day.

And Western allies, citing fears of escalating the war with Russia, have placed a condition on the longer-range missiles and other materiel they've so far provided: They can't be used to strike Russian soil.

So, Zaluzhny said, he uses weapons made in Ukraine for the frequent strikes across the border that Kyiv never officially acknowledges as its own.

"To save my people, why do I have to ask someone for permission what to do on enemy territory?" Zaluzhny recently told The Washington Post in a rare interview. "For some reason, I have to think that I'm not allowed to do anything there. Why? Because [Russian President Vladimir] Putin will … use nuclear weapons? The kids who are dying don't care.

"This is our problem, and it is up to us to decide how to kill this enemy. It is possible and necessary to kill on his territory in a war. If our partners are afraid to use their weapons, we will kill with our own. But only as much as is necessary."

The challenges facing Zaluzhny and his forces are significant. Even after he orchestrated a series of military feats — a defensive stand that forced the Russians to retreat from around Kyiv and counteroffensives that expelled the invading troops from the northeast Kharkiv region and the southern regional capital of Kherson last year — large swaths of Ukraine's east and south, about a fifth of the country, remain occupied.

Carrying out a counteroffensive to reclaim that territory, defeat Russia and minimize Ukraine's casualties requires resources that Zaluzhny said he's still lacking. Western officials have said Ukraine has enough to succeed, but Zaluzhny was sharply critical of counterparts who have argued that Kyiv doesn't need F-16s. Their own militaries would never fight like this, he said in the interview.

Zaluzhny's attempt at culture change can be seen on the battlefield, too. Years of training and deepening ties with NATO forces have made Ukraine's forces more nimble than Russia's in this war. Lower-level commanders on the ground often feel empowered to make decisions quickly rather than run each call up the chain of command — a Soviet mind-set.

"The assumption that this would be a war between a big Soviet army and a small Soviet army was wrong in many countries," Defense Minister Oleksii Reznikov said. "That's why they told us that Kyiv would fall in three days and Ukraine in three weeks. But this is no longer a Soviet army."

After Reznikov learned that Russia had launched a full-scale attack on Feb. 24, 2022, he arrived at Zaluzhny's office to find the general standing over large maps and answering multiple phones. Zaluzhny was receiving information from the battlefield and then responding with curt orders, Reznikov said. But Zaluzhny would also add a small term of endearment each time, calling his subordinate a "beauty" or telling him "good job."

"This is humanity," Reznikov said. "The guy is in a general's uniform, but his humanity is what makes him special."

The military still demands strict order and discipline, Zaluzhny said. He can be stern and demanding, but "I do not mock people, I do not oppress them, I do not humiliate them."

The turn away from the Ukrainian military's Soviet legacy is far from complete. More offices must be changed, Zaluzhny said. And more change will come with the new generation — soldiers Zaluzhny proudly described as knowing English and being well-read. "It's a pity we're losing them," he said.

After fighting an internal Soviet ideological enemy, he now faces an external one that lauds the very heritage Zaluzhny wanted eradicated. But he still has respect for his adversary's doctrine. He eagerly read everything Gen. Valery Gerasimov, Russia's military chief, has ever written, describing it as "very, very interesting" and lamenting that he hasn't published anything lately.

"He is an enemy — an enemy who is very smart," Zaluzhny said. "Smart and therefore devious. He is still strong. So you have to respect him as such and look for ways to kill him. Because that is the only way to win."

Zaluzhny, however, isn't shy about his intent to reclaim Crimea, the peninsula Russia illegally annexed in 2014, even as some Western officials privately worry about what Putin's response would be if Ukrainian troops ever reached the territory. "As soon as I have the means, I'll do something. I don't give a damn — nobody will stop me," Zaluzhny said.

The figurative Western handcuffs on his military operations have prompted Zaluzhny to think more about Ukraine's future — beyond this counteroffensive and this war — and how to make the country so strong that no one will dare attack it again. To accomplish that means producing weapons for defense rather than being reliant on others to provide them.

He lamented that Ukraine is dependent on other countries for ammunition as partners struggle to meet the demand. The more Ukraine can fire, pinning down Russian forces, the fewer casualties it will suffer, Zaluzhny said. But what happens if the precious resource becomes scarcer the longer the war lasts?

"I've been asking myself that since last March — and not just myself; I ask it everywhere I can ask it," Zaluzhny said.

His vision for a formidable Ukraine is why he struggles to consider his own future after the war. Maybe he'll take some time off. "But as my wife says: 'Okay, three days. What's next?'" he said with a laugh. He might write a book, he said. He'd like to travel, though his Brussels airport experience left him wary.

But Zaluzhny expects that even after the war, he'll be busy. His concept of victory is more than just Ukraine restoring its full territorial integrity.

"Victory will be when we will have an army — maybe even a not-insignificant one — that will guarantee the safety of children who are now riding in baby carriages, so that they grow up knowing that this won't happen again," Zaluzhny said. "And that's a tremendous amount of work. It has to start now."
More at the link!
NATO leaders invite you to the Crimea Beach Party 🍹 pic.twitter.com/uaZjzCxvVz

— Saint Javelin (@saintjavelin) July 10, 2023
That's enough for tonight.
Your daily Patron.
There is a new video at Patron's official TikTok, but it is the type that won't embed here. So click through to see it.
Open thread!