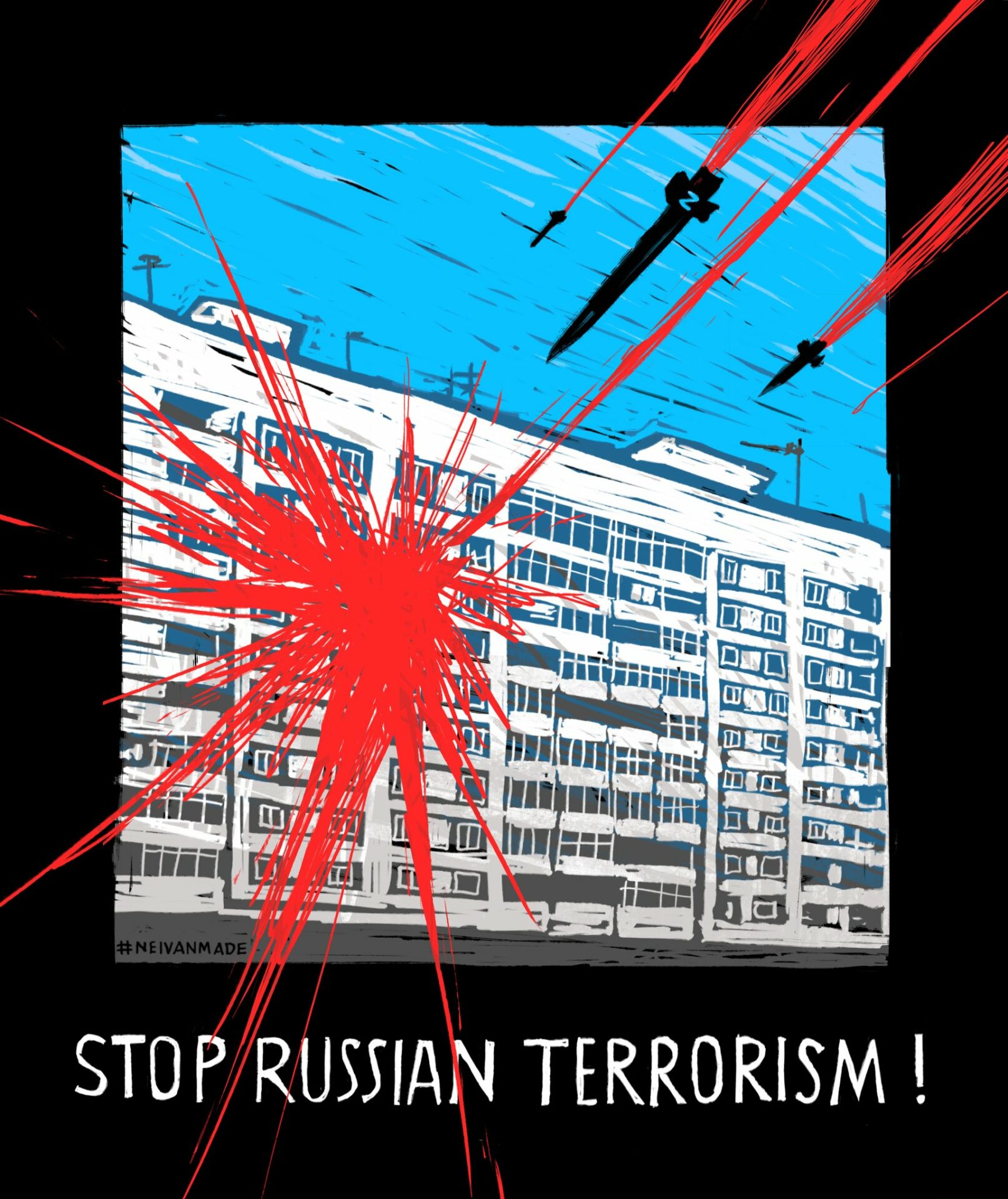 (Image by NEIVANMADE)
Here is President Zelenskyy's address from earlier today. Video below, English transcript after the jump.
Good health to you, fellow Ukrainians!

A report on this day.

I held a meeting of the Staff. The main issues are the protection of our ports and the continuation of food exports by sea. This is a strategically important issue, and not only for our country.

Last year, thanks to our Black Sea Grain Initiative, we managed to prevent a price crisis on the global food market. A price spike would inevitably have been followed by political and migrant crises, particularly in African and Asian countries. Obviously, the Russian leadership is now trying to provoke these crises. Without our exports, the deficit in the global market will, unfortunately, be very tangible. And not only for the poorest countries. Different countries will feel it: from Libya and Egypt to Bangladesh and China. We are working with our partners to prevent this.

For our part, we are developing options for action and agreements to preserve Ukraine's global role as a guarantor of food security, our maritime access to the global market, and jobs for Ukrainians in ports and in the agricultural industry. We are fighting for both global security and our Ukrainian farmers.

By the way, recently, I met with representatives of African media – newspapers, radio, television – from South Africa, Nigeria, Kenya, Uganda, Ghana, Benin, Côte d'Ivoire. They were not only in Kyiv, but also in Kherson region and Bucha, where they talked to the families of the victims of this war. Every time journalists from other countries come to Ukraine and see the consequences of Russian aggression with their own eyes, they return home with the truth about this war. And we speak with them during interviews not in English or French, we speak the language of truth, and this helps us a lot to keep and increase the world's attention to Ukraine, to our struggle for freedom. We talked to African media, among other things, about the situation with grain exports and Russian aggression against global food stability. And I am grateful to everyone in the world media who honestly tells their audience what they see in our region, in our country.

Of course, there were reports from the military, intelligence, the Security Service, and the Interior Ministry. The issues are clear – the situation on the frontline, all the hot areas – from Kupyansk to Kherson region, Donetsk region, southern areas of Zaporizhzhia region. We discussed the supply of ammunition and protection from Russian missile and drone strikes.

I would like to thank our Air Force and all the defenders of the sky from other branches and types of military forces. I am grateful for every downed Russian missile, for every downed Shahed, for saving the lives of our people and infrastructure, particularly in Odesa and the region. I am especially grateful to the 160th Odesa and 208th Kherson anti-aircraft missile brigades, the 302nd Kharkiv anti-aircraft missile regiment and the warriors of the 14th Bohdan Khmelnytskyi radio engineering brigade for timely target detection. Thank you!

And every fact of using components from the countries of the free world to produce weapons for Russian terrorists, in particular, missiles and Shaheds… Every such fact will be our argument that the existing sanctions and pressure against Russia are not enough. The world must limit trade relations with a terrorist state to such an extent that no component from the free world can be used for terror.

Today I held an important meeting on the spiritual independence of Ukraine, our further steps to protect the rights and legitimate interests of Ukrainian citizens in the field of religious relations. There will be news soon.

We continue working on the preparation of the Doctrine of Ukraine, on our post-war transformation and on today's decisions to help our people. The Minister of Health and the Minister of Social Policy presented the concept of creating a network of rehabilitation centers in Ukraine to me. Different levels and functionality, but absolutely necessary rehabilitation services. The implementation has already begun. The ministers will present all the details.

I met with the President of the Japan International Cooperation Agency. This is one of the world's largest institutions supporting economic and social development. Its work is similar to that of, for example, USAID, which is already known in Ukraine. The Japanese agency is currently implementing an emergency recovery program in Ukraine, and the program is worth half a billion dollars. In general, since the beginning of the full-scale aggression, this Japanese agency has already provided more than a billion dollars in support to Ukraine. And we have the potential to increase cooperation – this is exactly what we talked about: demining, energy, infrastructure projects, education. Importantly, the construction of rehabilitation centers to overcome the consequences of the war.

And one more thing.

I signed decrees on awarding our warriors. Seven decrees. A total of 1255 warriors. Combat brigades and units. Different parts of the front. The same supreme bravery! Since February 24, almost 51 thousand Ukrainian warriors have received state awards.

I thank everyone who fights for Ukraine! Glory to all our heroes! To everyone who fights for Ukraine, who trains our warriors, who heals and helps them recover after wounds!

Thank you to everyone in the world who helps! And thank you to all our partners for today's Ramstein, and especially to U.S. Secretary of Defense Austin for his very clear, unambiguous and powerful statements. Overcoming Russian aggression and punishing Russia for terror is a historic task for the current generation of world leaders. And the world will fulfill this task. Ukraine will win!

Glory to Ukraine!
Yesterday Russia pulled out of the grain deal. The Financial Times has details:
Russia has formally withdrawn from a UN-brokered deal to export Ukrainian grain across the Black Sea, potentially imperilling tens of millions of tonnes of food exports around the world.

President Vladimir Putin's spokesman, Dmitry Peskov, told reporters on Monday that the agreement had "essentially stopped" and Russia would no longer co-operate with the deal.

Russia has complained since the UN and Turkey first brokered the deal a year ago that western sanctions were holding up a parallel agreement to allow payments, insurance and shipping for Moscow's own agricultural exports.

Peskov said Russia would resume participation "as soon as the relevant agreements are fulfilled". A western diplomat and a UN official confirmed that Moscow had said it would withdraw from the deal.

Carlos Mera, head of agricultural commodities markets at Rabobank, said that without a Black Sea deal, Ukraine would have to reroute exports via its land borders and smaller ports on the river Danube. This would increase costs and reduce farmers' profits, which could lead them "to plant less next season, placing further pressure on supplies going forward".

Monday's move is the second time that Russia has withdrawn from the grain deal. It exited briefly in November before rejoining a day later under pressure from Turkish president Recep Tayyip Erdoğan.

Yet people involved in the grain talks said Russia had appeared more set on derailing the deal in the run-up to Monday's deadline.

Erdoğan said on Monday that he believed Putin wanted the grain deal to continue and that Ankara had "intensified" its diplomatic efforts. The Turkish and Russian foreign ministers were due to discuss the pact later on Monday, although Erdoğan's recent embrace of the west in a bid to end Turkey's economic troubles could limit his ability to broker an extension.

European Commission chief Ursula von der Leyen on Monday condemned "Russia's cynical move" to quit the grain initiative, although an EU official said Moscow was "still leaving the door open" to continue negotiations.

"It looks like a suspension," the official added.

US secretary of state Antony Blinken called for the deal to be restored "as quickly as possible".

"The result of Russia's action today weaponising food, using it as a tool, as a weapon, in its war against Ukraine, will be to make food harder to come by in places that desperately need it," he said.

John Kirby, spokesperson for the US National Security Council, told reporters at the White House on Monday the US would continue to work with allies to "enable both Russian and Ukrainian grain to reach the rest of the world, including by ensuring that our sanctions do not target . . . Russian food or fertiliser".

He added: "There is no possible way, just mathematically, we're going to get as much grain out now as we were going to be able to get out through the grain deal if it had been extended."

Russia lost interest in the deal after efforts to ease pathways for its own food and fertiliser exports ran afoul of western sanctions. Though the US and EU introduced carve-outs for Russia's agricultural exporters and back doors to facilitate payments to a large Russian state bank, Moscow complained not enough had been done to allow its exports back on the market.

"Absolutely nothing has been done — I want to stress that. It's one-way traffic. Not a single point linked to the fact Russia has its own interests has been fulfilled," Putin said last week.

David Harland, director of the Geneva-based Centre for Humanitarian Dialogue, which helped broker the grain talks, said Russia "felt it wasn't getting much in return, and might as well continue to squeeze Ukraine", while adding that Erdoğan could still persuade Russia to return.

Russia's complaints over the sanctions have been a critical element in rallying sympathy for its position on the war from countries in the global south, particularly in Africa, which has been hit hard by the war's impact on food and fertiliser prices.

The new threat to the grain deal comes ahead of next week's Russia-African summit in St Petersburg, which a host of African leaders are set to attend. An African delegation led by South Africa's Cyril Ramaphosa visited Kyiv and St Petersburg last month in an effort to mediate an end to the war and help secure agricultural supplies.

But, speaking to Ramaphosa over the weekend, Putin said barriers to Russia's agricultural exports had not been lifted and complained that "the main goal of the deal, which is grain supplies to countries that need it, including in Africa, has not been realised", according to a Kremlin readout of the call.

Mera at Rabobank said the Kremlin move would force countries in Africa and the Middle East to buy Russian wheat.
This is purely being done to, as The Financial Times report, force African and Middle Eastern states to buy Russian wheat. But only after it reignites the food crisis that Russia created when it genocidally re-invaded Ukraine in February 2022. It is also intended to drive up negative attitudes towards Ukraine and those supporting it – the US, the EU and EU member states, NATO, in Africa and the Middle East, as well as other portions of the global south.
On @ZelenskyyUa's instruction, I am holding urgent consultations with partners at the UN in New York on our next steps following Russia's withdrawal from the Grain Initiative. Russia puts global food security in jeopardy. We do our utmost to preserve the Black Sea grain corridor.

— Dmytro Kuleba (@DmytroKuleba) July 17, 2023
Essentially, nothing prevents Erdogan from keeping the grain shipment running without Russia's concept.
If he needs Ukrainian bread to uphold his status as the biggest D'Artagnan of all Africa and the Middle East and sends his warships to convoy Ukrainia freighters — who's going…

— Illia Ponomarenko 🇺🇦 (@IAPonomarenko) July 17, 2023
Essentially, nothing prevents Erdogan from keeping the grain shipment running without Russia's concept. If he needs Ukrainian bread to uphold his status as the biggest D'Artagnan of all Africa and the Middle East and sends his warships to convoy Ukrainia freighters — who's going to stop him in the Black Sea?
This is correct. Whether Erdogan decides to do this or not is another story.
Torske-Kupyansk Axis:
The recent counteroffensive in the Torske-Kupyansk axis has come as a surprise to many. However, I had previously written about their preparations for this counteroffensive almost a month ago.

Currently, the Russians are conducting extensive training of new motorized units in… https://t.co/YGgo48DW8e

— Tatarigami_UA (@Tatarigami_UA) July 17, 2023
The recent counteroffensive in the Torske-Kupyansk axis has come as a surprise to many. However, I had previously written about their preparations for this counteroffensive almost a month ago. Currently, the Russians are conducting extensive training of new motorized units in the Soutern military district. In order to strengthen our troops, we will need additional weaponry and improve training conditions I don't mean to doom, but it is important for analysts, politicians and military observers to take these warnings seriously. By doing so, we can effectively prioritize obtaining the necessary armament for Ukraine, as well as exert pressure on our own MoD to address internal issues.
Vuhledar:
From the Ukrainian officer who tweets as Tataragami. First tweet from the thread, the rest from the Thread Reader App:
🧵With new satellite imagery from Vuhledar revealing the extent of the catastrophe experienced by the Russian army during the winter, as well as the ongoing counter-offensive, it is crucial to explore the role of minefields and operational planning in shaping assault operations. pic.twitter.com/0vAy0OB7X5

— Tatarigami_UA (@Tatarigami_UA) July 15, 2023
2/ 

The objective of a minefield extends beyond causing harm; it also aims to impose a specific mindset and tactical approach on the opponent, compelling them to act in a manner most advantageous for the party laying the minefield. Minefields limit the enemy's maneuvering options

3/ 

Mechanized units are used for maneuvering, executing assaults, bypassing enemy positions, and launching flanking maneuvers. Their firepower and off-road speed make them ideal for such operations. However, minefields restrict maneuvering space, hampering the assault's tempo.

4/ 

When encountering minefields, the enemy must allocate extra resources for mine clearance, including engineering vehicles. Yet, even after clearance, the available path remains narrow, compelling large forces to move predictably along a confined route

5/ 

It is often mistakenly assumed by observers that russians and Ukrainians are not utilizing tank plows to clear paths. However, this is inaccurate as both sides employ tank plows. It's important to note, though, that tank plows are not a universal solution to all the challenges

6/ 

While not a widely adopted tactic, the utilization of off-route mines, such as the TM-83, is not uncommon. It enables the engagement of tanks from the flank once they are detected by mine sensors, rather than relying on the pressure exerted by the tank's weight itself.

7/ 

Another alternative is the use of modified mine setups that are designed to resist mine plows. In this specific case, the mine is configured to detonate approximately 1.5 to 2 meters after encountering the plow.

8/ 

As troops follow the narrow-cleared path, if the clearing tank is immobilized, it significantly hampers or even blocks the movement of the column. This situation presents a perfect opportunity for artillery to target and inflict damage on the immobilized or slowed-down forces.

9/ 

Reinstalling mines after their detonation or removal by the enemy is a critical factor. This introduces an additional layer of complexity that the assaulting side must plan for, prepare, and counteract. 

10/ 

Insufficient preparation results in a reduction of mechanized firepower advantage in assaulting forces, shifting the battlefield dynamics to artillery duels and infantry assaults. This restricts and challenges maneuverability for the assaulting side.

11/ 

In summary, the critical role of minefields and AT measures in limiting enemy maneuverability and impeding their mechanized forces from achieving a breakthrough is evident. However, the root cause of this failure lies in the absence of proper planning and bad intelligence. 

12/ 

Minefields add complexity, but with effective planning, they are not detrimental. If planners on the assaulting side fail to allocate resources properly, make incorrect decisions based on bad intel, or order assault despite insufficient resources, they are bound to fail.

If you found this content valuable, please support by liking, retweeting or following. Your engagement enables me to provide more and better materials.
Lithuania has issued its 2023 national threat assessment. You can find the pdf at this link. Here's an interesting tidbit highlighted by The Economist's Shashank Joshi:
Missed this from Lithuania's annual intel report: "We assess it is highly likely that China's top political echelon had been notified that Russia would be resorting to military action against Ukraine…they could have predicted neither scale nor…course" https://t.co/1zY4wjAIP0 pic.twitter.com/Y97etemhhd

— Shashank Joshi (@shashj) July 17, 2023
I want to draw everyone's attention to the series he was the editor for and a primary author of at The Economist on the future of war. It was published about ten days or so ago and every time I want to highlight it in an update something more pressing needs to be covered.
🧵 This week's @TheEconomist cover story is my ten-page special report on lessons from Ukraine. The cover evokes a key theme: the various technologies of precision warfare are likely to co-exist with—rather than supplant—legacy weapons, mass & attrition. https://t.co/PI2UmhvH7c pic.twitter.com/8bb6qQVBzO

— Shashank Joshi (@shashj) July 6, 2023
Here's the link to the special report, I highly recommend taking the time to read some or all of it.
The Center for Strategic and International Studies has published a new assessment of Russian cyber operations during Russia's genocidal re-invasion of Ukraine. Here's the landing page, which describes the project as:
This installment of On Future War analyzes Russian cyber operations linked to the war in Ukraine. This study uses the publicly attributed record of Russian cyber operations in Ukraine to extrapolate insights about the character of cyber operations as instruments of warfighting and coercion in the twenty-first century. The empirical evidence demonstrates that while there has been an uptick in cyberattacks during the conflict, these attacks did not demonstrate an increase in severity, a shift in targets, or a shift in methods. Despite proclamations of doom, gloom, and a revolution in warfare, Russia behaved in a manner contrary to most popular expectations during the conflict. While cyber-enabled targeting at the tactical level is almost certain to occur alongside signals intelligence—a practice first documented in Ukraine in 2016—the prevailing trends suggest cyber operations have yet to make a material impact on the battlefield.[5] Where Russian cyber operations have made a difference is in their support to information operations and propaganda in the Global South, where Moscow has successfully spread disinformation to undermine support to Ukraine. Similar to earlier academic treatments that find cyber operations play a key role in shaping intelligence, deception, and political warfare, the Ukrainian case illustrates that the digital domain plays a shaping rather than decisive role even during extensive and existential combat.[6]

In addition to casting doubt on the cyber thunder run, the empirical record, especially when compared to previous Russian cyber operations, offers a baseline prediction about the future and how states will integrate cyber operations into a spectrum of conflict ranging from crises to major wars.[7] While the system could evolve and cyber operations might prove to be decisive instruments of war in the future, the record to date suggests alternatives for how this technology will be leveraged on the battlefield. Specifically, integrating the empirical record of cyber operations in Ukraine alongside well-established findings from the quantitative study of war suggests three scenarios.

Cyber Stalemate: Russia struggles to integrate cyber and conventional effects on the battlefield and beyond due to the resilience of cyber defense as well as the power of public-private partnerships.
War Comes Home: Russia regroups and launches a wave of cyberattacks against critical U.S. infrastructure.
Digital Lies: Russian cyber-enabled influence operations and computational propaganda degrade support for the United States and the war in Ukraine.

Looking across these scenarios suggests key policy options—each consistent with active campaigning and integrated deterrence—the Biden administration could take over the next two years to shape what will likely be a long-term competition with Russia that extends deeper into the twenty-first century. Over time it has become clear that resilience and a focus on defensive operations can forestall the potential impact of offensive cyber operations. Defense in cyberspace requires expanding public-private partnerships and collaboration alongside pooled data to identify attack patterns and trends. Last, the United States and its partners will need to develop better ways and means for countering how malign actors such as Russia use cyberspace to distort global public opinion. For every failed network intrusion, there are thousands of successful social media posts skewing how the world looks at the war in Ukraine.
And here's the links to the full report and the statistical appendix.
That's enough for tonight.
Your daily Patron!
A new tweet!
Met @PatronDsns, a dog with a very important job – sniffing out bombs and saving lives. He's become a symbol of bravery and resilience for Chernihiv @SESU_UA, and his animated series "Adventures of Patron" teaches mine safety to children. pic.twitter.com/6xMHVqS052

— Samantha Power (@PowerUSAID) July 17, 2023
Open thread!