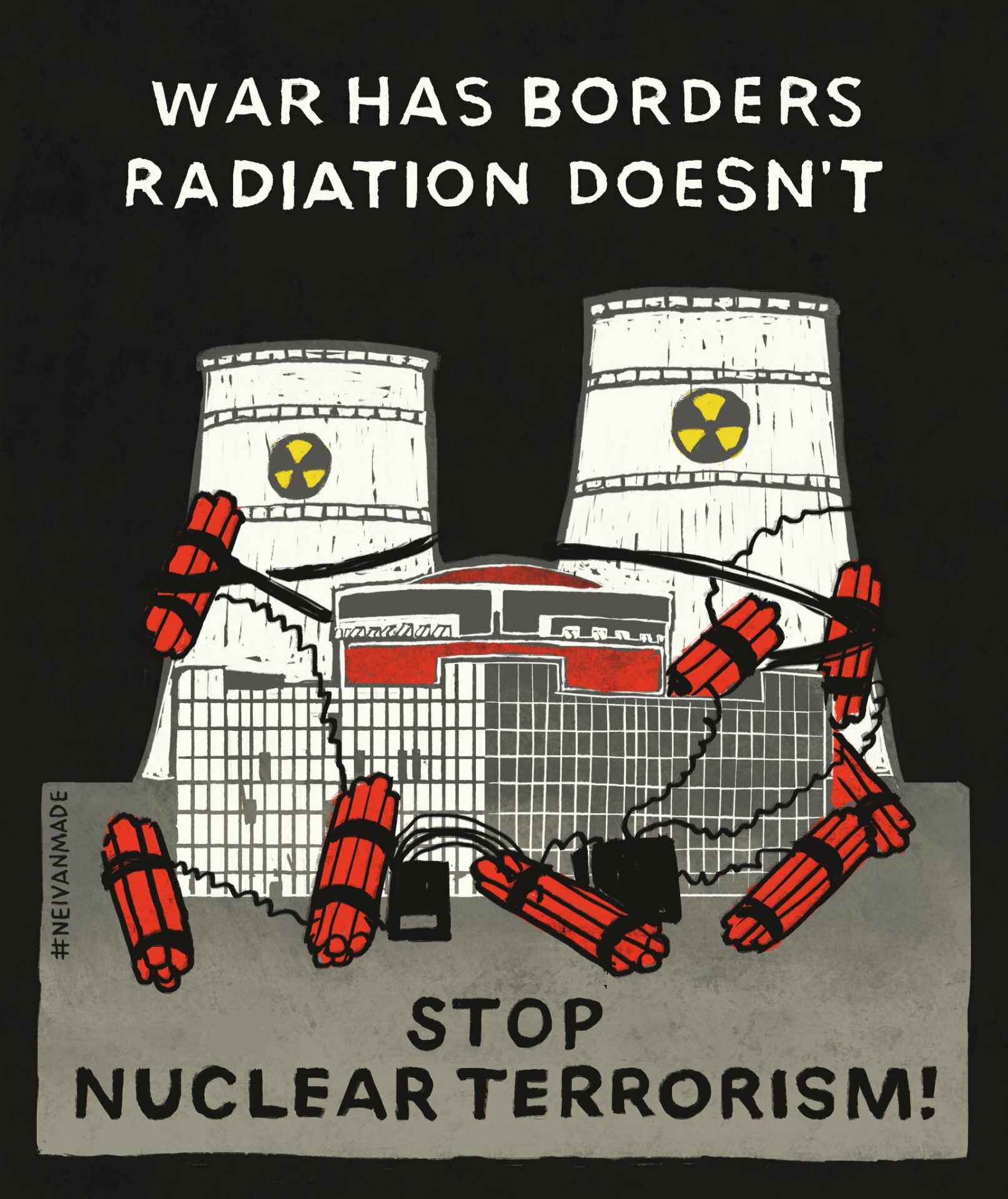 (Image by NEIVANMADE)
During a walkdown on 23 July, IAEA experts have observed directional anti-personnel mines on the periphery of the site of #Ukraine's #Zaporizhzhya Nuclear Power Plant, Director General @rafaelmgrossi said today. https://t.co/NPTr5apDCP pic.twitter.com/99U8Yvem9J

— IAEA – International Atomic Energy Agency ⚛️ (@iaeaorg) July 24, 2023
International Atomic Energy Agency (IAEA) experts have observed directional anti-personnel mines on the periphery of the site of Ukraine's Zaporizhzhya Nuclear Power Plant (ZNPP), Director General Rafael Mariano Grossi said today.

During a walkdown on 23 July, the IAEA team saw some mines located in a buffer zone between the site's internal and external perimeter barriers. The experts reported that they were situated in a restricted area that operating plant personnel cannot access and were facing away from the site. The team did not observe any within the inner site perimeter during the walkdown.

"As I have reported earlier, the IAEA has been aware of the previous placement of mines outside the site perimeter and also at particular places inside. Our team has raised this specific finding with the plant and they have been told that it is a military decision, and in an area controlled by military," Director General Grossi said.

"But having such explosives on the site is inconsistent with the IAEA safety standards and nuclear security guidance and creates additional psychological pressure on plant staff – even if the IAEA's initial assessment based on its own observations and the plant's clarifications is that any detonation of these mines should not affect the site's nuclear safety and security systems. The team will continue its interactions with the plant," he added.

In recent days and weeks, the IAEA experts present at the ZNPP have carried out inspections and regular walkdowns across the site, without seeing any heavy military equipment. The IAEA is also continuing to request access to the roofs of the ZNPP's reactors and their turbine halls, including units 3 and 4 which are of particular interest.

Earlier today, the experts visited the reactor unit 6 main control room, emergency control room, the rooms where electrical cabinets of the safety systems are located, and parts of the turbine hall where they saw the main feedwater pumps, main turbine oil tank and main condenser. While the team was not able to visit all areas in the turbine hall, they did not observe any mines or explosives.

In the evening of 22 July, the IAEA team heard several detonations some distance away from the plant.
Much more at the link!
Here is President Zelenskyy's address from earlier today. Video below, English transcript after the jump.
When our people are doing everything possible and impossible for the victory, any internal betrayal triggers fury – address by the President of Ukraine

25 July 2023 – 22:23

Good health to you, fellow Ukrainians!

Today was a long and eventful day.

This day started early. With our usual work on receiving weapons, new defense support packages, including American ones. And I am grateful for today's package: artillery, missiles for HIMARS, Patriots, NASAMS, drones and much more. Thank you, America!

I spoke with Prime Minister of the United Kingdom Rishi Sunak. As always, it was a very practical and straightforward conversation. First and foremost, we talked about protecting our southern regions, in particular Odesa, the normal life of people and the work of our ports.

Rishi and I discussed possible steps and the possible number of air defense batteries. The United Kingdom can become the leader whose assistance with air defense systems will guarantee real security.

The world knows that the security of our Black Sea ports is the key to peace and stability in the global food market.

Now is the time when it is important to reap the harvest of determination, security determination, so that no one will have to end up as a harvester of chaos later on neither in the countries of Africa nor anywhere on other continents.

Food security is a globally important priority and part of the Ukrainian Peace Formula.

Today I held a preparatory meeting before the first meeting of the NATO-Ukraine Council, which will take place tomorrow. The consultations are specifically about security in the Black Sea – our ports and our grain exports. We have also begun preparing an interoperability plan together with the Alliance.

The second meeting with government officials and representatives of the Verkhovna Rada of Ukraine was about European integration, the necessary steps and the decisions that need to be made to launch negotiations on Ukraine's membership in the European Union.

We are working on preparations for the negotiations on a daily basis.

Today, a non-public but still strategically important event took place: government officials presented the results of the first year of the drone army. Not a project already, but a real Ukrainian drone army. There was a presentation of different types of Ukrainian drones used for defense, as well as a meeting with manufacturers, designers, and donors. Journalists and representatives of civil society had the opportunity to see the potential achieved by the drone army in the first year and the way the army will grow. The defense absolutely needs all drones – from fairly simple Mavic drones to maritime drones and attack drones that can operate at a great distance. By the way, we often discuss this topic at the meeting of the Staff, and often in a raised voice. But there are results, and this can be seen in the news.

There will be more good news involving Ukrainian drones. And this is crucial.

One more crucial point.

Millions of Ukrainians are focused on one thing day after day. Not on themselves, not on their own desires, but on defending the state and their lives.

But unfortunately, some people think that the war is somewhere far away from them.

As if the dome of the Verkhovna Rada, or the walls of some offices, or a list of some powers can shield from reality.

No one will forgive MPs, judges, "military commissars" or any other officials for putting themselves in opposition to the state. For some, it's about islands and resorts during the war, for others it's about lining one's pockets in the military enlistment office, for others it's about bribes in the courts. For any public official, this is a betrayal of state principles, a betrayal of the interests of society.

I want to warn all MPs, officials, and everyone else in public office. When everyday you search for weapons for the state, when all the attention is on providing artillery, missiles, drones, when you constantly see and feel the moral strength gained for Ukraine by our warriors, our people, who are doing everything possible and impossible for the victory and preservation of freedom, any internal betrayal, any "beach" or any personal enrichment instead of Ukraine's interests triggers fury at the very least.

Fury. Remember that. Imagine how many millions of hearts in Ukraine felt the same fury.

I want all MPs and officials to hear me now. You must work. In Ukraine and for the sake of the Ukrainian people. I am grateful to those MPs who are truly working for the interests of the state. And those who think about spending more time abroad and look for "profitable" trips so that they can combine them with business, friends or "beaches" – there will not be any of you.

Also, there will not be those who are reluctant to make decisions necessary for our defense or European integration because of some personal benefits. Every law that is needed to strengthen the position of our troops must be adopted. Every law that is necessary for Ukraine to start negotiations with the EU on accession must be adopted. And I don't want to hear any more excuses. And no one else does. Ukraine does not give you any more time. If you are working for Ukraine, you are needed by Ukraine, if not, you are not.

One more thing.

Today, I was presented with some preliminary results of the inspection of other "military commissars", besides the former one from Odesa. And the results are disappointing. Of course, law enforcement officers will implement them in a legal manner, and society will see everything.

But I want to say to all such "military commissars" and any other officials who for some reason think that society will just wait, that they can get brazen somewhere in the rear. We will win this war that Russia started. And we will win for Ukraine the kind of state life that will be worthy of our heroic defenders, of everyone who is now giving all their strength to defense. There is no place for the unworthy in such a life.

And lastly.

Today I have signed two decrees on awarding our warriors. 649 defenders of Ukraine have been honored with state awards. Unfortunately, 218 of them were awarded posthumously.

Everyone should remember the cost of statehood, freedom and dignity.

Glory to Ukraine!
Here's the Pentagon press release announcing the next tranche of military aid to Ukraine:
RELEASE
IMMEDIATE RELEASE
Biden Administration Announces Additional Security Assistance for Ukraine
July 25, 2023

Today, the Department of Defense (DoD) announced additional security assistance to meet Ukraine's critical security and defense needs. This authorization is the Biden Administration's forty-third drawdown of equipment from DoD inventories for Ukraine since August 2021 as the U.S. government has continuously provided Ukraine with the weapons and equipment it needs for the battlefield. Today's commitment in security assistance, valued at up to $400 million, includes additional air defense munitions, artillery and other ammunition, armored vehicles, anti-armor weapons, and other equipment to help Ukraine counter Russia's ongoing war of aggression.

The capabilities in this package include:

1.           Additional munitions for Patriot air defense systems and National Advanced Surface-to-Air Missile Systems (NASAMS);
2.           Stinger anti-aircraft systems;
3.           Additional ammunition for High Mobility Artillery Rocket Systems (HIMARS);
4.           155mm and 105mm artillery rounds;
5.           120mm and 60mm mortar rounds;
6.           32 Stryker Armored Personnel Carriers;
7.           Tube-Launched, Optically-Tracked, Wire-Guided (TOW) missiles;
8.           Javelin and other anti-armor systems and rockets;
9.           Hornet Unmanned Aerial Systems;
10.         Hydra-70 aircraft rockets;
11.         Tactical air navigation systems;
12.         Demolitions munitions for obstacle clearing;
13.         Over 28 million rounds of small arms ammunition and grenades;
14.         Night vision devices and thermal imagery systems; and
15.         Spare parts, training munitions, and other field equipment.

The United States will continue to work with its Allies and partners to provide Ukraine with capabilities to meet its immediate battlefield needs and longer-term security assistance requirements.
Odesa:
According to updated reports, as a result of russia's July 23 air strikes on Odesa, 61 buildings and 146 residences were damaged. Within the Historic Center of Odesa, a UNESCO World Heritage Site, 28 historic buildings were also impacted. pic.twitter.com/IfnpVjfa8y

— Defense of Ukraine (@DefenceU) July 24, 2023
.@ZelenskyyUa
We must defend Odesa. Ukraine urgently needs to strengthen its air defense to protect its historical heritage and continue the Black Sea Grain Initiative. pic.twitter.com/JURqT3FHmp

— Defense of Ukraine (@DefenceU) July 25, 2023
Konstyantynivka, Donetsk:
russian terrorists fired the Smerch missiles at a recreation area in Kostyantynivka, Donetsk region.
At the height of the heat, families rested here on the banks of the reservoir. 7 local residents were injured, including 4 children. Unfortunately, doctors could not save one…

— Defense of Ukraine (@DefenceU) July 24, 2023
russian terrorists fired the Smerch missiles at a recreation area in Kostyantynivka, Donetsk region. At the height of the heat, families rested here on the banks of the reservoir. 7 local residents were injured, including 4 children. Unfortunately, doctors could not save one child, a 10-year-old boy.
Bakhmut:
BAKHMUT UPDATE /2100 UTC 25 JUL/ UKR is pressing RU forces back from Klischiivka. RU units are reported to be withdrawing across the rail right of way at Andriivka. At Soledar, a precision strike targeted a building believed to house command elements of the VDV's 217th Regiment. pic.twitter.com/u9gZWKVxTU

— Chuck Pfarrer | Indications & Warnings | (@ChuckPfarrer) July 25, 2023
UPDATE: Reports state that UKR forces have liberated Andriivka, S of Bakhmut. It's also reported that UKR units have entered the village of Klishchiivka and its liberation may be imminent. Frontline sources state that Russian forces are abandoning positions.

— Chuck Pfarrer | Indications & Warnings | (@ChuckPfarrer) July 25, 2023
Kreminna Axis:
KREMINNA AXIS /2015 UTC 25 JUL/ A RU offensive operation along the 0-131306 Road axis was broken up east of Torske. RU air and artillery strikes indicate that UKR forces remain in positions on the east banks of the Zherebets Reservoir. pic.twitter.com/15EWVpHtwp

— Chuck Pfarrer | Indications & Warnings | (@ChuckPfarrer) July 25, 2023
Velyka Novosilka:
UPDATE: Valeriy Shershen, a spokesman of the Joint Press Center of the Defense Forces of UKR states that UKR forces have advanced 750 meters in the vicinity of ​​Staromaiyorske. This follows the defeat of RU probes W of T-05-18 HWY axis.

— Chuck Pfarrer | Indications & Warnings | (@ChuckPfarrer) July 25, 2023
Kharkiv:
A dance studio in Kharkiv is giving free lessons to children who have fled from the horrors of occupation and shelling. The strength and resilience of these kids, finding solace and joy through dance, is truly inspiring. Would love to see them performing on stage. pic.twitter.com/M5Cmtmh4PP

— Maria Avdeeva (@maria_avdv) July 25, 2023
Salisbury Plain, Wiltshire England:
Very wholesome video of Ukrainian soldiers seeing Stonehenge for the first time. pic.twitter.com/Axws0RbExm

— Kyle Glen (@KyleJGlen) July 24, 2023
Britain's Foreign Minister has lain down a marker on Russia's threats to attack Ukrainian grain shipments on the Black Sea:
The UK believes that Russia may escalate its campaign to destroy Ukraine's food exports by targeting civilian ships in the Black Sea.

We will highlight this unconscionable behaviour at the UNSC. Russia should stop holding global food supplies hostage and return to the deal.

— James Cleverly🇬🇧 (@JamesCleverly) July 25, 2023
The Financial Times is reporting that the EU is working on an alternative plan to move Ukrainian grain and other agricultural products through EU ports.
The EU could provide alternative routes for almost all of Ukraine's grain exports following Russia's decision to stop their passage through the Black Sea, the bloc's agriculture commissioner said.

Janusz Wojciechowski said on Tuesday that the EU should expand its "solidarity lanes" — road, river and rail links first established in 2022 after Russia's full-scale invasion of Ukraine — to enable more food from Ukraine and Moldova to transit to EU ports for onward shipment to Africa and Asia.

"We are ready to export by solidarity lanes almost everything Ukraine needs [to send] . . . about 4mn tonnes a month. We achieved this volume in November 2022," he told a press conference in Brussels after a meeting of agriculture ministers.

The EU solidarity lanes currently carry about 60 per cent of Ukraine's grain exports, with the remaining 40 per cent going via the Black Sea.

Russia's decision earlier this month to withdraw from the UN-backed Black Sea Grain Initiative, which guaranteed safe passage for ships using the route, has sent prices rising.

Wojciechowski said transit costs, such as those for hiring trains and trucks, for Ukrainian grain were too high and that the EU should subsidise them, otherwise customers would buy cheaper Russian products instead.

He also backed a Ukrainian demand to move customs and health checks for food cargoes from the EU border to its ports to reduce queues and costs.

"Work is intensifying to increase the capacity of solidarity lanes and also to make sure we can streamline the procedures and facilitate trade flows," said Miriam Garcia Ferrer, European Commission trade spokeswoman.

Lithuania has suggested opening a northern route from Poland to Baltic ports. Vilnius has asked the commission in a letter to invest in the route, which it said could ship 25mn tonnes of grain annually.

Kęstutis Navickas, the Lithuanian agriculture minister, told reporters that European rail companies should pay to upgrade the necessary infrastructure. The railway gauge in Ukraine is different to Poland's, so cargo has to be moved from one train to another at the border.

Kyiv has also written to Brussels asking for financial support and the transfer of the customs and health checks.

Since the war began in February 2022, 41mn tonnes of grain, oilseeds and related products have left Ukraine through the solidarity lanes, compared with 33mn through the Black Sea.

Wojciechowski also said the commission would next month discuss a request by Poland, Bulgaria, Hungary, Romania and Slovakia to extend trade curbs on Ukrainian grain imports. The five frontline states say a glut of the crop has depressed prices for their own farmers and exhausted storage space — although the Polish farm commissioner said much had now been moved on.

They lifted an import ban after the commission agreed that Ukrainian shipments of five types of grain would only transit through the countries en route to other destinations.
Much more at the link!
That's enough for tonight.
Your daily Patron!
@patron__dsns

Морозиво – моя друга слабкість після качечок, напевно 🤭🍦
Here's the machine translation of the caption:
Ice cream is my second weakness after ducks, I guess 🤭🍦
Open thread!