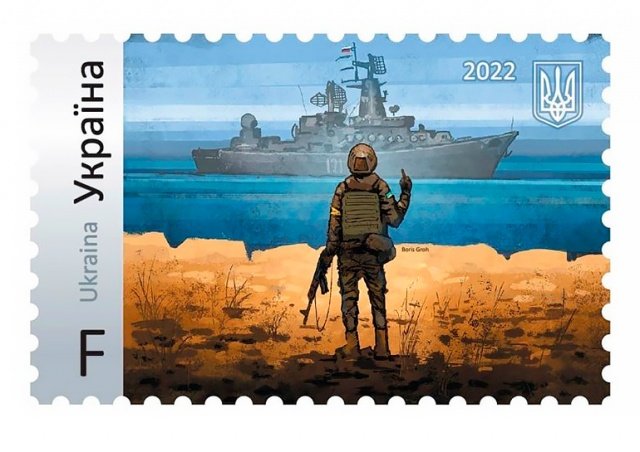 Early this morning, the Ukrainians attacked the Russian naval base in Novorossiysk:
Initial footage!
BOOP! pic.twitter.com/1b1Ai5HBaY

— Giant Military Cats (@giantcat9) August 4, 2023
⛴️/2. The moment of the attack on the Russian "Olenegorski Gornjak" from the point of view of Ukrainian sea drone pic.twitter.com/RZEI592nyX

— Special Kherson Cat 🐈🇺🇦 (@bayraktar_1love) August 4, 2023
This afternoon they went after the Crimean bridge.
/2. Presumably a sea drones attack in the area of ​​the Crimean bridge, according to Russian sources. Some Russian sources also claime that air defence was also active.
In any case, it is yet too early to draw any conclusions.

— Special Kherson Cat 🐈🇺🇦 (@bayraktar_1love) August 4, 2023
More on both of these after the jump.
Here is President Zelenskyy's address from earlier today. Video below, English transcript after the jump:
Fair and honest end to Russian aggression will benefit everyone in the world – address of President of Ukraine

4 August 2023 – 18:47

Dear Ukrainians, I wish you good health!

A brief report for the day.

The first is a meeting of the Supreme Commander-in-Chief's Staff. The meeting was long, much longer than planned.

The situation on the front line was analyzed in detail, all areas – those where we are holding the line, and those where we are moving forward step by step.

The commanders reported: Commander-in-Chief Zaluzhny, General Syrsky, General Tarnavsky. We discussed in detail how and in what terms, what kind of support, what kind of logistics would be the best result for Ukraine.

Manufacturing of ammunition and weapons in Ukraine, by our defense industry. We simplify all procedures as much as possible, remove all red tape still hindering manufacturers. Minister for Strategic Industries Kamyshin reported. The result will be.

The Black Sea and food exports, the security of our ports – the commander of the Navy, government officials, intelligence chiefs reported. Let not the Russian terrorists even hope they would manage to provoke a global food crisis or create another price calamity.

Ukrainian food exports are a key factor in the stability of food markets. And we work with all our partners both in the region and in the world in general to guarantee food security.

By the way, Tomorrow in Jeddah – in Saudi Arabia – a meeting of advisors to heads of state and representatives of the Ministry of Foreign Affairs regarding the Peace Formula will begin. Many countries will be represented, different continents, including the countries of the Global South.

It is very important because in such matters as food security, the fate of millions of people in Africa, Asia, and other parts of the world directly depends on how fast the world will be in implementing the Peace Formula.

I am grateful to Saudi Arabia for this platform for negotiations. A meeting in the same format was recently held in Copenhagen. We are moving step by step towards the Global Peace Summit.

It is very important that the world sees: a fair and honest end to Russian aggression will benefit everyone in the world. Everyone! Liberating Ukrainian land from the occupiers means restoring full respect for international law and the UN Charter. Eliminating all threats created by Russia to Ukrainian and global security means returning peace to international relations and stability to global life. I am grateful to everyone who supports the Peace Formula and has already joined the joint efforts for the full implementation of the Formula.

Today, I had the opportunity to once again thank everyone who in the United States is helping Ukraine to defend its freedom: both parties, Congress, President Biden, every American family and community. American leadership is indeed vital. And not only for freedom in our region – these are global things. And at a meeting with Christopher Christie, one of the influential figures in American politics, a member of the Republican Party, we talked about exactly how important it is to strengthen support for freedom, support for democracy. And I am grateful that Mr. Christie is one of those people who wants to see the situation with his own eyes. He began his visit to Ukraine with a visit to Bucha. There one can fully see what Russian aggression brings to Ukraine and all of Europe, the entire free world.

Today, there was also a report by SSU Chief Maliuk. I will not voice the content. I will only say that we are all grateful to the Security Service of Ukraine for returning the war to the aggressor state. What you bring to the world, you end up with it yourself.

Thankful to all our heroes! Thankful to everyone in the world who supports Ukraine! Thankful to everyone who brings the implementation of the Peace Formula closer!

We must win. And we will win!

Glory to Ukraine!
Notice this part:
Today, there was also a report by SSU Chief Maliuk. I will not voice the content. I will only say that we are all grateful to the Security Service of Ukraine for returning the war to the aggressor state. What you bring to the world, you end up with it yourself.
That's all the official acknowledgement President Zelenskyy is going to provide right now on this morning's strike.
Novorossiysk:
⛴️/4. As said the operation was carried out by the Security Service of Ukraine. The sea drone carried 450kg of explosives. https://t.co/Z6xDtigxwI

— Special Kherson Cat 🐈🇺🇦 (@bayraktar_1love) August 4, 2023
⛴️/6. Some information on Russian "Olenegorsky gornjak" large landing ship:
– Displacement: ~2,768 tons standard (4,012 tons full load)
– Length: 112.5 m
– Crew: ~98 people
– In service from: 30 June 1976 pic.twitter.com/ll88mmT3wy

— Special Kherson Cat 🐈🇺🇦 (@bayraktar_1love) August 4, 2023
And the result that never happened according to Russia pic.twitter.com/m6bxsHMqNK

— Illia Ponomarenko 🇺🇦 (@IAPonomarenko) August 4, 2023
And the Crimean bridge:
/3. According to some claims, a Russian tanker «Sig» was damaged as a result of a sea drone hit. Engine room flooded. The crew was not injured. Also as claimed: the tanker was empty, the tanker cannot move on its own pic.twitter.com/1M3PXCeS2g

— Special Kherson Cat 🐈🇺🇦 (@bayraktar_1love) August 4, 2023
/5. Also, Sig continued to deliver fuel to Syria, despite sanctions, even as of August 2022. https://t.co/3qPmNVij0F

— Special Kherson Cat 🐈🇺🇦 (@bayraktar_1love) August 4, 2023
So, slow news day.
The Azovstal garrison leader Denys Prokopenko is back in action pic.twitter.com/NjSPRbL7Fi

— Illia Ponomarenko 🇺🇦 (@IAPonomarenko) August 4, 2023
Reuters is reporting that Russia has doubled its defense spending.
LONDON, Aug 4 (Reuters) – Russia has doubled its 2023 defence spending target to more than $100 billion – a third of all public expenditure – a government document reviewed by Reuters showed, as the costs of the war in Ukraine spiral and place growing strain on Moscow's finances.

The figures shed light on Russia's spending on the conflict at a time when sector-specific budget expenditure data is no longer published.

They show that in the first half of 2023 alone, Russia spent 12%, or 600 billion roubles, more on defence than the 4.98 trillion roubles ($54 billion) it had originally targeted for 2023.

Defence spending in the first six months of 2023 amounted to 5.59 trillion roubles, 37.3% of a total 14.97 trillion roubles spent in the period, the document showed. Russia's budget plan envisages 17.1% of total funds spent on "National Defence".

Russia's government and finance ministry did not respond to requests for comment on the numbers.

Rising war costs are supporting Russia's modest economic recovery this year with higher industrial production, but have already pushed budget finances to a deficit of around $28 billion – a figure compounded by falling export revenues.

Higher spending on defence, as Moscow prosecutes what it calls a "special military operation" in Ukraine, could widen the deficit further, while the boost in output could cannibalise other sectors and crowd out private investment.

Reuters calculations based on the document showed that Russia had spent 19.2% on defence in the first six months of all initially planned budget expenditure for 2023 as a whole.

The last publicly available data showed Moscow had spent 2 trillion roubles on the military in January and February. In the first half of this year, budget expenditure was 2.44 trillion roubles higher than the same period of 2022. Based on the document, 97.1% of that extra sum was directed to the defence sector.

The document provided a new estimate for annual defence spending of 9.7 trillion roubles, one third of the total spending target of 29.05 trillion roubles, which would be the highest share in at least the last decade.

Between 2011 and 2022, Russia spent a minimum of 13.9% and a maximum 23% of its budget on defence.

Russia has already spent 57.4% of its new annual defence budget, the document showed.

Military production has driven a strong recovery in industrial output, and analysts say that state defence contracts have been a key driver in Russia's economic recovery to GDP growth so far this year from a 2.1% contraction in 2022.

Specific defence funding falls under closed expenditures, but some data, though no longer public, is circulated. For example, the document shows that Russia spent almost 1 trillion roubles on military salaries in the first half, 543 billion roubles more than in the same period last year.

Deputy Prime Minister Denis Manturov said in July that the defence industry was now producing more munitions each month than it did in the whole of 2022.

Funding for schools, hospitals and roads was already being squeezed this year in favour of defence and security, but as the share of defence spending grows, other areas could face cuts.

"The military industrial complex is enabling industrial growth, 'civilian' industries are slowing down again," said Dmitry Polevoy, head of investment at Locko-Invest, after last week's industrial output data for June.

That showed a 6.5% year-on-year increase, largely thanks to last year's low base effect. When excluding seasonal production, growth stopped altogether.

CentroCreditBank economist Yevgeny Suvorov said the military industry was running at full capacity.

"We don't know what the potential for a further increase in the output of tanks and missiles is," Suvorov said on his MMI Telegram channel. "But we know that increasing this output even further is possible only at the expense of haemorrhaging more staff from other sectors of the economy."

Net exporter Russia typically posts budget surpluses, but will post a deficit for the second year running, with the value of energy exports down 47% year-on-year in the first half.
More at the link.
Jack Watling, the Senior Fellow for Land Warfare at the Royal United Studies Institute (RUSI) has had a column on Ukraine's progress published by The Financial Times. Here are some excerpts:
For two months, Ukrainian forces have been on the offensive, trying to break through Russian defence lines to begin the liberation of the occupied territories. The fighting has been difficult and progress has been incremental. But over time, the Ukrainians have been securing the advantage. The question now is whether they can push Russian forces to breaking point.

After wasting thousands of troops in a failed spring offensive, the Russian military fell back to around 45km of defensive positions, stretching across the southern front from Zaporizhzhia through Donetsk, to prevent Ukrainian troops advancing towards the strategic, Russian-held city of Melitopol. The so-called Surovikin Line, named after a Russian general, comprises three lines of hardened trenches, each screened by dense minefields, anti-tank ditches, tank traps and wire entanglements. In front of these, Russian fighting positions are bolstered by anti-tank and anti-personnel mines.

Since the start of the offensive in early June, Moscow has adopted new tactics. Russian forces allow Ukrainians to enter the minefields and then aggressively counterattack, often with tanks and anti-tank guided weapons on the flanks. Once Ukrainian vehicles are knocked out, the Russians deploy mortars and artillery against the infantry. If Kyiv's forces get across the minefields and into the trenches, the Russians often abandon their fighting positions and detonate prepositioned charges to kill the first wave of attackers.

After attempts to breach the minefields using explosives led to heavy Ukrainian casualties, Kyiv has adapted its tactics, infiltrating Russian positions to confuse the defenders and strike from the flanks, before attempting breaches. These methods have reduced Ukrainian losses, but the necessary planning and reconnaissance makes this a slow process, in which the Ukrainians fight for 700m at a time. This gives their opponents the chance to reset. But accelerating the process leads to an unacceptable rate of equipment loss. For the Ukrainians, the key is to manage their equipment, such as vehicles, to exploit a breach once it has been made.

As well as assaulting Russian positions, since early June Kyiv has also used precision missiles provided by its partners to destroy counter-battery radar. Without them, Moscow has found itself outranged and unable to locate Ukrainian artillery. Kyiv's forces, by contrast, have become adept at locating Russian guns and destroying them with precision shells.

This systematic erosion of Russian artillery has been a turning point: for the first time in the war, Ukrainian howitzers can deliver sustained fire on to Russian positions. It also means that Moscow — while still destroying Ukrainian vehicles in the minefields — has less artillery power to kill the infantry that emerge from them. As a result, Ukrainian troops are succeeding in taking Russian positions, even when their vehicles are caught in the open.

In response, Moscow has had to be more aggressive with its own armoured vehicles. This has inflicted heavy casualties on Ukrainians, but deploying such vehicles close to the front has left them vulnerable. During the day, dozens of Ukrainian drones surveil the battlespace, filming and identifying targets. At night, these units send repurposed agricultural drones carrying rocket-propelled grenades to hunt for Russian armour.

The attrition of critical equipment is important for Kyiv both tactically and operationally. Ukraine has been using Storm Shadow cruise missiles supplied by the UK to hit command posts, ammunition depots and bridges behind Russian lines. Together, the destruction of artillery, armour, radars and the loss of supplies are leaving Moscow's infantry with diminishing support. However, Russian units continue to fight hard and Ukraine's own equipment losses remain high. Kyiv's forces are struggling with persistent Russian attack helicopters, which sit 8km to 10km from the front at low altitude, safe from air defences, and fire anti-tank missiles at Ukrainian vehicles.
More at the link!
On Wednesday night, Ms. D Ranged in AZ asked:
Adam, I have questions and I apologize if this is something you've addressed in previous posts but I haven't been able to read them all….My questions are regarding the drone attacks inside of Russia (IF they are being perpetrated by Ukrainian forces, which I believe is true, correct me if I'm wrong).    It seems like most of the drone attacks in Russia have tried to target legit governmental and/or militarily sites.  However, they are risking civilian casualties.   I mean it's easy to see that Russia is targeting civilians by hitting apartment buildings and train stations full of refugees, etc.  But the Ukrainian drones hits are not as clear.  For example there was a video on CNN the other day of a strike in a swanky shopping district in Moscow.  The building(s) hit did produce evidence of some government purpose having been targeted.  It was done at night, when the area was not as busy as it might have been during the day.  I guess my question is a political one….do you think these attacks undermine the Ukrainian argument that Russia is acting like a terrorist by targeting civilians when Ukraine is risking similar results by their own drone strikes?  Are these drone strikes by unofficial Ukrainian actors?  Or are they something that Ukraine won't claim but are perfectly willing to take advantage of (wink, wink, nudge, nudge, so to speak)?  What are the military value of these strikes do you think (other than forcing the consequences of the war into the news within Russia) because so far Russians seem very detached from what is going on.  What are your thoughts on these strikes?
Let's start with the answer of one of our resident lawyers, who is a former artillerist in the US Army, Omnes Omnibus provided on Wednesday night:
Civilian casualties are a fact of life in warfare.  The laws of war require that you not deliberately target civilians and that you take reasonable precautions to prevent civilians from being harmed.  One side is following the rules, and the other is deliberately violating them.
I've got no problems with what the Ukrainians are doing in their targeting of legitimate Russian military, security services, and/or governmental targets. Whether in Moscow or elsewhere in Russia. There is, however, an additional consideration. Or there is, at least, for some. And that is whether targeting like this is covered under just war theory. The answer to this is yes. Just War Theory is broken down into two parts. The first is Jus ad Bellum. The second is Jus ad Bello. Depending on who is racking and stacking these you either get four conditions in each or six in the first and two in the second. Some actually have a third set of conditions – Jus Post Bello – for the ethical requirements post conflict termination. Two of the Jus ad Bello requirements are:
The condition of proportionality must be fulfilled. That is, the violence used in the war must be proportional to the injury suffered. States are prohibited from using force not necessary to attain the limited objective of addressing the injury suffered. (One is not to bomb a country 'into the Stone Age' if victory may also be had less destructively.)
The principle of non-combatant immunity must be observed, that is, some distinction must be made between combatants and non-combatants or, respectively, between legitimate and illegitimate human targets of a direct attack. That is, civilians are never permissible targets of war, and every effort must be taken to avoid killing them. The deaths of civilians are justified only if they are unavoidable victims of a deliberate attack on a military target.
The second of these conditions deals with what Omnes was referring to in his response on Wednesday and is in line with, and influenced, the laws of war. The first one, proportionality, is also important. In regard to Ukraine, the violence that they could inflict on Russia must be proportional to the injury suffered by Russia's attacks on Ukraine. Given Russia's repeated targeting of Ukrainian civilians and civilian infrastructure, commitment of crimes against humanity and war crimes, the Ukrainian strikes on Russian targets are most definitely proportional. Moreover, they fall well short of breaching the proportionality threshold because the targeting has been precise; the targets themselves have been legitimate military, security services, and/or governmental targets; and the harm or damage to civilians has been minimal and limited.
As far as I'm concerned what Ukraine is doing is both legal and ethical.
That's enough for tonight.
Your daily Patron!
There is a new Patron slide show on his official TikTok page. As this is a slide show and not a video it won't embed here. So click through to see it.
Open thread!