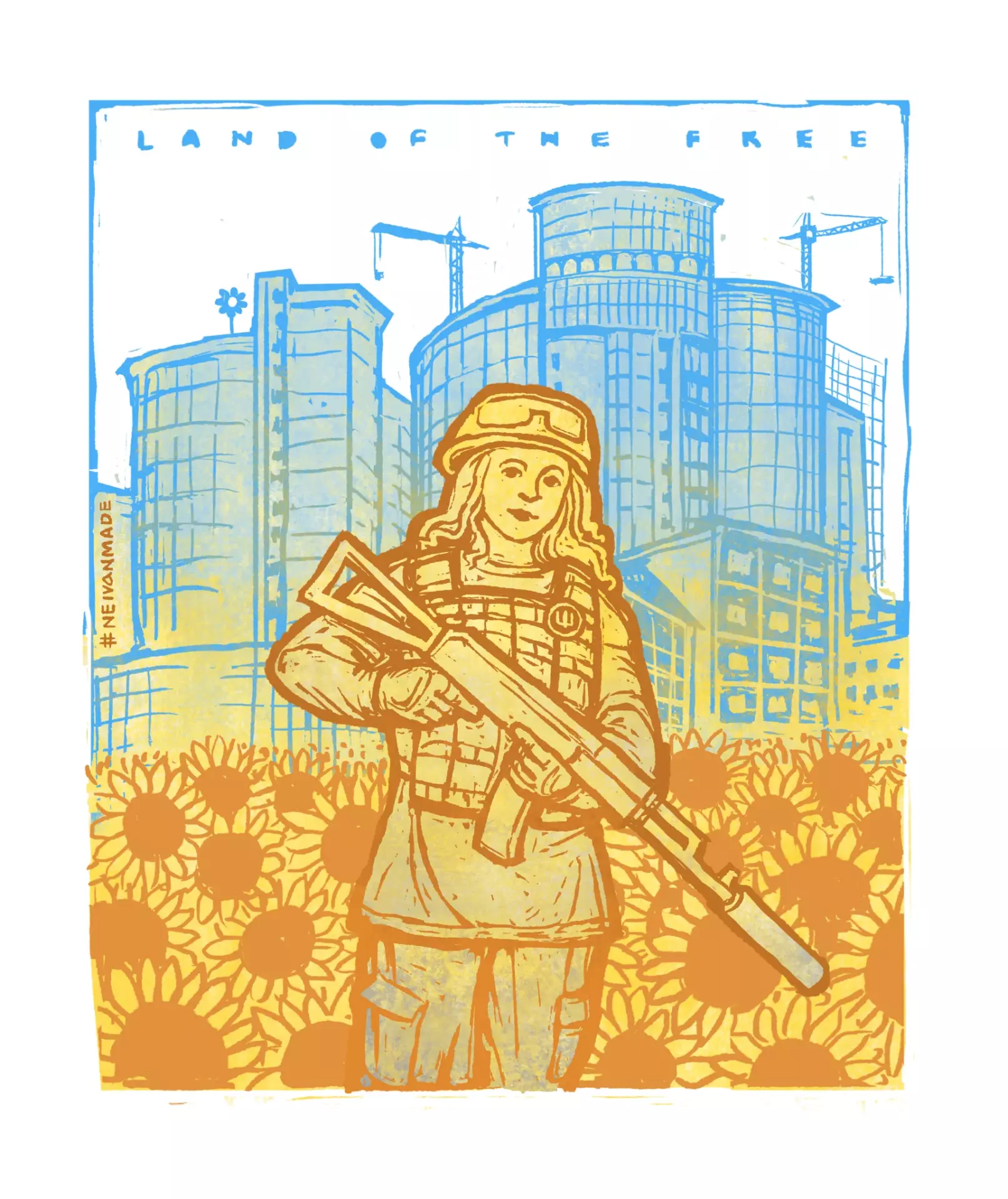 (Image by NEIVANMADE)
Brief housekeeping note: 1) Everything brought inside as part of the hurricane prep, which was everything outside that was not rooted to the ground, is now back outside where it belongs. 2) There will be no rant tonight.
The Ukrainian MOD would like to remind everyone not Ukrainian that the Ukrainians actually do know what they're doing:
Everyone is now an expert on how we should fight. A gentle reminder that no one understands this war better than we do. pic.twitter.com/TIwssQjiFh

— Defense of Ukraine (@DefenceU) August 31, 2023
We've got to addresses from President Zelenskyy today. Here is his usual address from earlier today. Video below, English transcript after the jump. The second will be after the jump.
An agreement has been reached on the supply of a large batch of armored medevac vehicles to Ukraine – address by President Volodymyr Zelenskyy

31 August 2023 – 21:48

Good health to you, fellow Ukrainians!

Today was an eventful day.

A conference call with military and government officials. The frontline. Our offensive actions. The result of our weapons, new Ukrainian weapons, is 700 kilometers. The task is farther.

The important news for the frontline is that we have agreed on the supply of armored medevac vehicles to Ukraine, a large batch. This is what the warriors told me about when we visited combat brigades. The Ministry of Defense has reported on this today.

As always on the conference calls, there were intelligence reports from the Main Intelligence Directorate and the Foreign Intelligence Service on the plans of the occupiers. Their plans are hopeless.

I held a meeting about next week's international events. There will be significant things. Important negotiations for Ukraine.

Another meeting concerned tomorrow. It will be September 1, the beginning of the new school year. Deputy Prime Minister Fedorov and Minister Lisovyi, together with their teams, are preparing a very positive innovation for our schoolchildren, parents, and teachers. Something that will really help. Tomorrow we will present the first details.

Today I congratulated Kyiv Polytechnic on the 125th anniversary of the university. It was extremely pleasant and useful to communicate with students and lecturers. Education will always remain the element that gives strength to people and the state, that enables us to develop and become stronger no matter what. And I would like to thank today our students and lecturers, our educators who not only receive or help receive education, but also make the educational process as practical as it is needed right now, when the bright minds of our people help the Ukrainian defense, in particular. Our students have good projects, powerful projects. The Ministry of Strategic Industry has something to implement.

And one more thing.

I had a meeting with representatives of BAE Systems. The world knows this company very well. And our warriors are already very familiar with the weapons produced by this company. In particular, artillery – L119 and M777, armored vehicles – CV90, which are very powerful. The company is starting to work in Ukraine. Our goal is to have all the most useful weapons for defense produced in Ukraine. And it will happen. We already produce certain items, and we will produce all the necessary ones. I thank everyone in the world who helps!

I thank everyone who fights and works for Ukraine! I would especially like to mention the 47th separate mechanized brigade – thank you guys for your advancement; the warriors of our 44th artillery brigade – thank you for your accuracy!

Glory to Ukraine!
In addition to his regular daily address, President Zelenskyy also spoke to the Igor Sikorsky Kyiv Polytechnic Institute on the 125th anniversary of its founding. Video below, followed by the English transcript.
Every result of Ukraine is the education of a particular Ukrainian – Volodymyr Zelenskyy's speech on the occasion of the 125th anniversary of Igor Sikorsky Kyiv Polytechnic Institute

31 August 2023 – 20:06

Glory to Ukraine!

Well, these are Ukrainians.

I am really glad to be here today. First, a few words – they are probably more formal, but with the relevant content that I would like to convey. And then we will talk in this format – your format.

I am glad to see you and congratulate you on a very important day in my opinion – the 125th anniversary of Kyiv Polytechnic.

125 years is a young age for a university. But even though your university is young, the National Technical University is well known in the world and is famous in different countries whose people have studied here, and most importantly, the university has gained what is so important for all Ukrainians now – trust. The university has gained trust. And it is a well-deserved trust. Because the university is really strong. I thank you for maintaining the strength and glory of Kyiv Polytechnic!

The university went through different times. As well as Ukraine in general did. Now – in the time of such a war – it is especially difficult. But no matter how difficult it is and no matter what the times are, the fact that education matters remains unchanged. Knowledge, education, real competence of a person – in good times it is almost impossible to win in competition with others without it, and in difficult times there are no victories without it.

I'll give you a couple of examples.

Every day there is news about another "cotton" somewhere on the aggressor's territory. There are different cases. Sometimes they are very loud, sometimes less loud. But they all give a little more sense of justice. Because the war with its consequences comes back to the aggressor. Our people appreciate the sense of justice. They appreciate that the aggressor does not go unpunished. And when cotton branches stand here in Kyiv, in Crimean Tatar cafes, it symbolizes just such a satisfying sense of justice.

But what is the basis for this?

For justice to be served, someone's knowledge, knowledge itself, must work. And the knowledge must work for the result. The Moskva cruiser went down because the competencies of thousands of Ukrainians, from designers and manufacturers of the relevant weapons and missiles to the specific soldiers who carried out this operation, worked. Each combat use of our naval drones is a fact that the education of many people who created the drones, the people who control them, who ensure the existence of this modern new force of ours, worked. We now have artillery production, which we did not have before in the country. The production of the necessary shells.

Each such result of Ukraine is the education of a particular Ukrainian. And, by the way, many of them were educated here, at Kyiv Polytechnic, and in other Ukrainian technical universities.

Here is another example. It may seem completely different, but it is also about education.

Putin used to love foreign visits. Now he is afraid to go anywhere further than Gelendzhik. And he's really afraid to go even to places where they are still willing to host him. Unfortunately, there are still such countries, but nonetheless. Why is he afraid, what is the reason?

Among other things, the reason is an arrest warrant for him from the International Criminal Court. Which can be implemented at different times, quite rightly, in different countries… What is the basis of this warrant? This is the integrity of the International Criminal Court team. This is also the work of many people in Ukraine, in the ICC, and in partner countries – all those who record Russian war crimes, who have been engaged in legal and communication elements so that the world recognizes the Russian deportation of Ukrainian children as a crime.

Without proper professional education, there would be neither such institutions working to protect against Russian evil, nor such principled approach as this warrant, nor such clear work to record what Russia has done. And this is a fact.

A third example.

We are now defending ourselves in a fundamentally new war. It is the Ukrainian defense and the Ukrainian victory in the war that will be a lesson for other nations on how to defend themselves and how to save lives. This also applies to the drone war – everyone in the world is already drawing conclusions. Tactics on the battlefield. Cyber defense. Hybrid warfare – information warfare. The world sees what equipment works. What solutions help. What really strengthens the defense. And the way the world hears Ukraine, perceives the truth about this war, supports us… These are many thousands of technical, managerial, technological, and other solutions that have worked for Ukraine.

If Ukrainians were not an educated nation, if the social competence of our people was not so high, if we, you, were not committed to innovation and open to the most open dialogue with the world for the sake of our country, for the sake of defense, Ukraine's fate could be similar to what other nations are experiencing whose independence has been lost. It is very difficult to regain independence, there are many historical examples. It is almost impossible.

And Ukraine withstood. And Ukraine continues to live. Ukraine is defending itself. Ukraine is regaining what belongs to it. Thanks to this modern knowledge. Thanks to courage. Thanks to unity. Thanks to weapons. This is a fact. Thanks to the support of the world. But also because each of these elements works on the basis of education. And let Ukraine become stronger together with our Ukrainian education. With your Polytechnic, with all the universities, I wish you all this, with the ideas and competencies.

Education matters a lot. And when it matters to us, Ukraine will matter a lot. To everyone in the world.

I wish the new academic year to be very fruitful and victorious for all of us!
I would contrast President Zelenskyy's description of the Igor Sikorsky Kyiv Polytechnic Institute with what we know is going on at at the Alabuga Polytechnic Institute in Tatarstan, Russia. From Chris Owens' Thread Reader App page:
1/ 

Parents of teenagers at Alabuga Polytechnic in Tatarstan say their children are being exploited to work long hours building Shahed kamikaze drones in dangerous conditions. Some parents are rescuing their children from the facility, despite facing large fines for doing so. ⬇️

2/ As described in the thread below, Alabuga Polytechnic is a STEM college that has been repurposed as a military drone factory. As well as recruiting Russian children, it's reportedly catfished African girls via dating apps to perform menial work.

3/ 

Hundreds of children aged 15-17 are reported to be assembling Shahed drones from parts provided by Iran. Ostensibly, they are undertaking a "dual programme" of study and work with a 70,000 ruble monthly salary ($719). In reality, their studies have reportedly been abandoned.

4/ 

Recent adverts published by Alabuga offer a 90,000 ruble salary to 16-21 year-olds for "mass assembly work". This is consistent with Alabuga's reported plans to greatly increase production of Shaheds and double the size of the facility.




5/ 

Parents of students at Alabuga describe the conditions as akin to "bondage" and say their children have begged to be rescued. Idel.Realii (part of Radio Free Europe/Radio Liberty) has spoken to some of the parents. 

6/ 

One parent, Zhanna, says that her son begged to be brought home only two and a half months after going to Alabuga. "Take me away or I'll die," he told her. She considers Alabuga's adverts to be just "attractive bait" and says that students there "fall into bondage". 

7/ 

Other parents have been unable to afford to remove their children and have had to leave them to endure the conditions at Alabuga. Marina, one of the parents, says that children endure humiliation and do not inform their parents about it because they are from poor families. 

8/ 

Zhanna says that she considers it to be "100 per cent [exploitation]. Two hundred, a thousand [per cent]. I have an acquaintance from Nizhny Novgorod who took her child in June – she also has no patience and strength, the child just can't do it anymore. 

9/ 

"Two hundred thousand [rubles] were charged [for the cancellation of the training contract]. She is now suing, because it is a blatant violation of everything. 

10/ 

"When she came to pick up her child, the [other] children looked at her with such eyes, because, apparently, they do not have the opportunity to pay such money to pick them up – and they can only endure. The children's psyche is so broken there, it's quite something." 

11/ 

Children are supposed to only do eight hours' work a week, as stipulated in their contracts. In reality, they are doing far more. Another parent, Marina, says: "My child was silent for a very long time." 

12/ 

"When I asked her in June why you kept silent for so long, she just didn't want to be weak, so to speak. In fact, it turned out that the children worked five days a week. My daughter came to work at 7:45 and I think they were released at 15:00." 

13/ 

The children were put under psychological pressure, including being called at 22:00 for a "meeting". Non-attendance would result in collective punishment: "if you don't come, then everyone will sit all night and wait." Some had to work past midnight to meet production goals. 

14/ 

The goals, and the salaries, are reportedly handled rather arbitrarily. A parent called Zhanna says the targets were only given two days before the end of the month "to avoid paying money". 

15/ 

She recalls: "I saw that my child was online at two in the morning. I write to him, asking why he's online. He says he has goals to hand in. I ask him why he has to do it on the last night. He says, "We just got them the night before yesterday." 

16/ 

"The kid doesn't make it, then he achieves 65% of his goals, they owe him some pennies, but since the last month they started randomly distributing bonuses – apparently, they've allocated their favourites, and my son has been on zero randomly for two months." 

17/ 

The cost of dormitory accommodation is deducted from the children's salaries. Zhanna says that the contract initially specified a cost of 500 rubles ($5.14) per month for accommodation, but it was tripled in practice. 

18/ 

"All this was deducted from the salary of 3,500 ($36). Only a few people are lucky there. Out of 600 people, maybe 100 will get somewhere, the rest are just [left out]. 

19/ 

"It's as if they recruit them, use them for their own purposes, and then create such conditions that the children drop out and pay penalties." 

20/ 

The parents say that the children have been divided into different groups, each with their own roles. Composite assembly seems to be a particularly unpleasant task used as a punishment for those labelled as "delinquents." 

21/ 

Marina says that her daughter was given the task "to glue composites for drones … Well, in general, in a chemical production where underage children work in respirators for 15 hours a day." 

22/ 

She says "the children are exhausted there. It is a dangerous production, they glue something with chemicals, which are also dangerous, not every adult will go to work there. They forbid children to tell their parents everything. 

23/ 

"It's just such a taboo, I don't know how parents find out information, but if someone finds out and writes in the chat room, parents are just shocked." 

24/ 

The parents say that the children are put under psychological pressure to get them to work on drone production, including depriving them of rest and accusing them of a lack of patriotism. They are also subjected to 'patriotic education'. 

25/ 

Alabuga's general director Timur Shagivaleev was recorded speaking to them on 16 June 2023. In the speech, Shagivaleev says: "Alabuga has the best technology in the world. We are creating the most modern production facilities in the world. 

26/ 

"And more than ever, the future fate of our country and our people depends on very few people: people like you, people like us. This is the moment when we can all contribute to the further development of our country and the development of our people. 

27/ 

"This summer, it will be possible to help our country and Alabuga. The work is tough – as operators at a chemical composite manufacturing facility. Work in respirators, gloves, shifts of 12 hours, two days you work, two days you rest." 

28/ 

He urges them to give up their holidays, "even if it's mum's birthday". At the end, he says: "Long live our great country!" The children respond with three shouts of "Hurrah!" 

29/ 

Following earlier exposés, Alabuga has published videos of students taking about "how they voluntarily work 12 hours for the good of the Motherland." Its Telegram channel now advertises it as "Russia's largest centre for training specialists in the production of drones."

30/ 

A recent advertisement offers opportunities in "air navigation and UAV programming". It claims to provide "Autel Dragonfish [UAV] assembly training" but shows a student in front of a partly assembled Shahed drone, viewed from the rear. It does not mention Shaheds.




31/ 

Idel.Realii reports that the local prosecutor's office has found violations of labour law requirements, "expressed in the absence of "information about the working hours and rest regime of the employee" in the concluded employment contract" with one of the Alabuga students. 

32/ 

It also reportedly found violations of sanitary and epidemiological legislation, education and licensing legislation, as well as violations of the rights of students, and has opened two cases against Alabuga in relation to these violations. 

33/ 

It remains to be seen whether any action will be taken in practice. Given the importance of the Shahed programme to the Russian military, it's more likely that the drone production will be given a higher priority than the children's welfare. /end 
Nothing like a little forced labor on behalf of the motherland.
Pskov Airfield, Russia:
Pskov airbase Vol. 2 out live now 😳

— Illia Ponomarenko 🇺🇦 (@IAPonomarenko) August 31, 2023
I haven't found anyone posting video yet, so I'll follow up on this one tomorrow.
Bryansk, Russia:
Drones in Russian air space again. According to Russian TG channels around 5 of those are in the skies above Bryansk. The drones look like UJ-22 from company "Ukrjet". (the guy in the video speaks of 3)

Source: https://t.co/TwyXE7lafV#Ukraine #Russia #Bryansk pic.twitter.com/V0deCdSSnT

— (((Tendar))) (@Tendar) August 31, 2023
Zaporizhzhia:
Ukrainian sappers who accompanied the @iaeaorg mission on its way to another rotation at Zaporizhzhia NPP, found Russian mines along the confirmed corridor for the delegation.

No mines were found on the Russian-controlled part of the corridor, confirming that Ukraine adheres to… pic.twitter.com/NkMGGYh065

— Anton Gerashchenko (@Gerashchenko_en) August 31, 2023
Orkhiv:
ORKHIV AXIS /1640 UTC 31 AUG/ UKR forces continue to press south on T-04-08 HWY axis. RU attack broken up at Verbove. RU units retreat to southern end of village. Heavy fighting continues. pic.twitter.com/mXqzjXSAE1

— Chuck Pfarrer | Indications & Warnings | (@ChuckPfarrer) August 31, 2023
Bakhmut:
BAKHMUT /2100 UTC 31 AUG? U KR reports intense fighting north of Bakhmut at Yahidne. At Andriivka & Klischiivka, Ukrainian forces are attempting to force their way through the Russian defensive line. RU claims [Unconfirmed] to have pushed UKR back at north of Kurdiumivka. pic.twitter.com/lthhpzMBMP

— Chuck Pfarrer | Indications & Warnings | (@ChuckPfarrer) August 31, 2023
Velyka Novosilka:
VELYKA NOVOSILKA /2040 UTC 3 AUG/ Ukrainian forces remain in contact south of Urozhaine. RU conducts multiple air and artillery strikes against T-05-18 HWY / Mokri Valley axis. pic.twitter.com/56XUJGiMqI

— Chuck Pfarrer | Indications & Warnings | (@ChuckPfarrer) August 31, 2023
Kreminna:
KREMINNA AXIS /1915 UTX 31 AUG/ UKR holds defensive lines east of Torske. Ukrainian forces break up Russian attacks at Serebryansk Forestry and Bilohorvika. pic.twitter.com/KUSlP126dQ

— Chuck Pfarrer | Indications & Warnings | (@ChuckPfarrer) August 31, 2023
For you cardboard drone afficionados:
ON TARGET: PStyleOne1 @PStyle0ne1 posts this impressive footage of the SBU conducting test flights of the cardboard drones that attacked the Kursk airfield. Invisible to radar, the drones can be maneuvered over target to achieve variable blast patterns. https://t.co/PDSu3cg1lA pic.twitter.com/bsZ9RC1Pcv

— Chuck Pfarrer | Indications & Warnings | (@ChuckPfarrer) August 31, 2023
For some reason the original tweet with the video, found at this link, will NOT embed in WP. It doesn't even show up in Pfarrer's quote tweet above. Not sure what the problem is.
And for you missile enthusiasts:
Ракетна програма Президента України в дії. Випробування успішні, застосування ефективне.
«Ждёт Севастополь, ждёт Камчатка, ждёт Кронштадт…».

P. S. Тиха і співоча українська ніч… pic.twitter.com/DzpK4IezCv

— Oleksiy Danilov (@OleksiyDanilov) August 31, 2023
Oleksiy Danilov is the Secretary of the National Security Council and Defense Council of Ukraine. Here's the machine translation of his tweet:
The missile program of the President of Ukraine in action. The tests are successful, the application is effective.
"Sevastopol is waiting, Kamchatka is waiting, Kronstadt is waiting…".

PS A quiet and singing Ukrainian night…
Here's more on the Ukrainian made long range missiles:
Zelensky has officially confirmed successful deployment of Ukrainian made long-range weaponry: hitting a target 700 kilometers (434 miles) away. Russia, it's time to feel alarmed.

— Maria Avdeeva (@maria_avdv) August 31, 2023
This is what the launch of a Ukrainian-made missile looks like. pic.twitter.com/7mH2kLvWRm

— Maria Avdeeva (@maria_avdv) August 31, 2023
That's enough for tonight.
Your daily Patron!
A new video from Patron's official TikTok:
@patron__dsns

Зізнавайтесь, хто теж не хоче, щоб літо закінчувалось?🥺
The caption machine translates as:
Admit it, who doesn't want summer to end either? 🥺
Open thread!