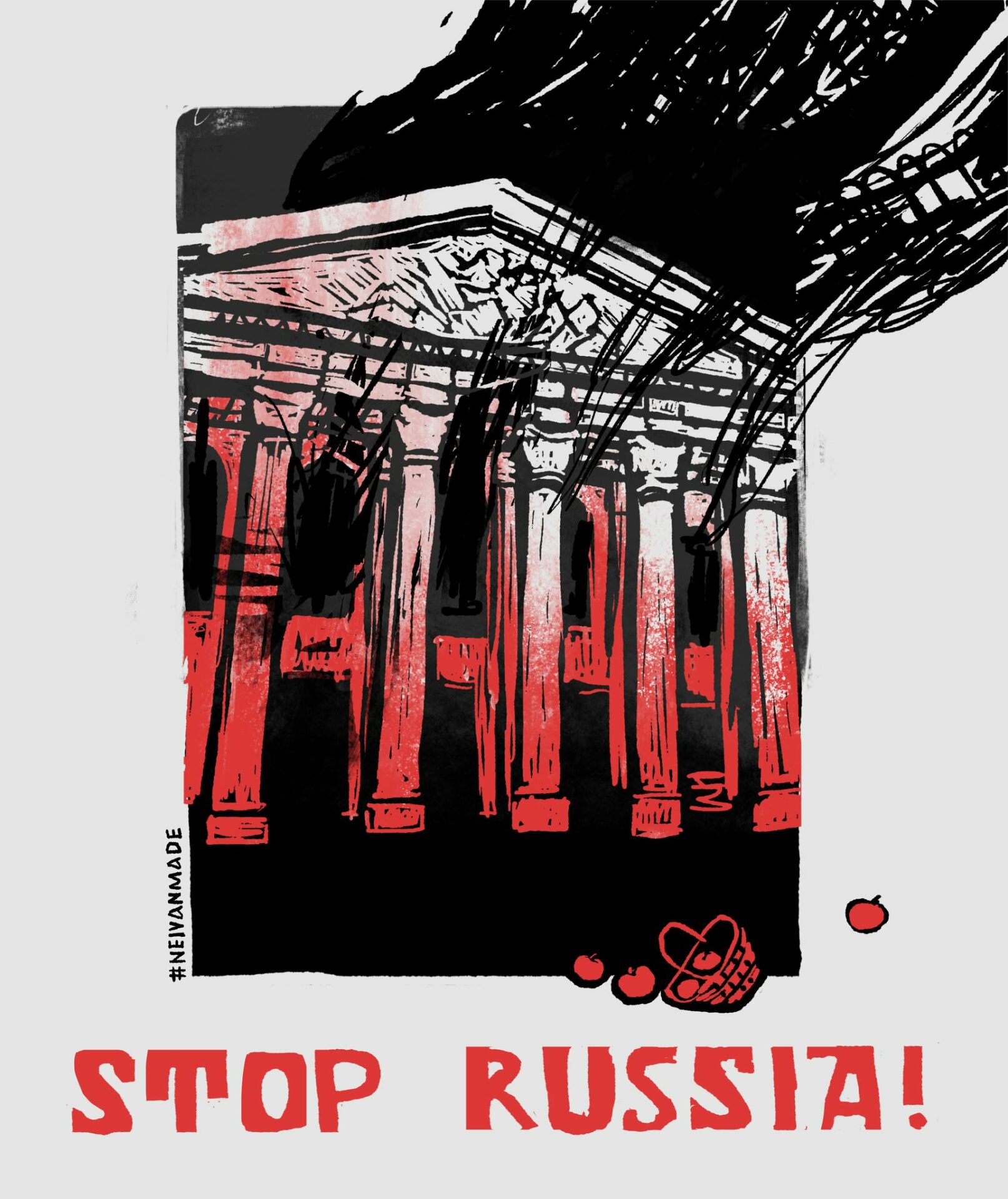 (Image by NEIVANMADE)
Overnight Russia opened up on Kharkiv:
According to official reports, Russia attacked Kharkiv with five S-300 missiles. Deadly ballistic missiles that cannot be intercepted due to the short distance from Belgorod. pic.twitter.com/yg7dAAFny0

— Maria Avdeeva (@maria_avdv) September 16, 2023
I haven't seen anything with a battle damage report so have no idea what was struck in Kharkiv or how many were wounded or killed.
Here is President Zelenskyy's address from earlier today. Video below, English transcript after the jump.
Our task is to provide Ukraine with all the opportunities to produce weapons and ammunition to have reliable protection against aggression – address of the President

16 September 2023 – 18:50

I wish you good health, dear Ukrainian men and women!

Today is a meaningful day – we are preparing for a strong second half of September. Strong in terms of our international work with partners and the decisions we are implementing here in Ukraine.

Dozens of negotiations have already been planned, and there is a clear schedule of meetings.

There will also be clear and specific results.

Another important point to mention.

We are continuing to prepare for the Defense Industries Forum, the first event of its kind to take place in Ukraine. It will happen this autumn.

Interest in the Forum is very high. This fully reflects Ukraine's strength and potential – our ability to defend ourselves and help other countries preserve freedom and international order… Already, 86 leading defense companies from around the world – representing 21 countries – have confirmed their participation in the Forum.

Our task is absolutely clear – to provide Ukraine with all the opportunities to produce weapons and ammunition, to provide modern technology to have reliable protection against any form of aggression. Moreover, of course, to share our defense experience among allies and partners. The world must be stronger than any threat to life from aggressors or terrorists.

This week, we have made significant progress in implementing existing defense agreements and other support packages.

Denmark – thank you for the new defense package, which is already the 12th package. Equipment, ammunition, and missiles for our air defense. Germany – thank you for the new batch of military aid. Belgium – your participation in our pilot training is approved. Thank you! Norway – your decision to provide additional funding for Ukraine's recovery. It's crucial. Thank you! South Korea – thank you for the new financial support agreement! The United States – the new sanctions decision to limit Russia's ability to engage in terror. Thank you!

And, of course, our warriors. All brigades and units currently in combat.

Kharkiv, Donetsk, Luhansk, Zaporizhzhia, Kherson regions. And those who have already achieved important results for Ukraine this week, and those who, I am confident, are preparing to contribute to Ukraine's success.

Thank you! We are all proud of our warriors and are committed to strengthening our defense and security forces!

Glory to Ukraine!
Under the protection of the #UAarmy.

Art by @ShapovalYura pic.twitter.com/vyPukvRcae

— Defense of Ukraine (@DefenceU) September 16, 2023
Andriivka:
The liberation of Andriivka.

🎥 3rd Assault Brigade pic.twitter.com/SGp6cljOlw

— Defense of Ukraine (@DefenceU) September 16, 2023
The unwelcome «guests» in Andriivka are being removed by the 3rd Assault Brigade. pic.twitter.com/pk5kGvrGWu

— Defense of Ukraine (@DefenceU) September 16, 2023
Svitlodarsk:
/2. Geolocations of the strikes.
🟥First strike – (48.4372420, 38.2261096)
🟦Second strike – (48.4372287, 38.2248181)
P.S: IMHO, looks like it could be JDAM pic.twitter.com/cqQFF79cY0

— Special Kherson Cat 🐈🇺🇦 (@bayraktar_1love) September 16, 2023
/3. Buk-M2 and Buk-M3 Geolocation
~26km from the front line https://t.co/zmMd02qiWn pic.twitter.com/25RGUSdRTD

— Special Kherson Cat 🐈🇺🇦 (@bayraktar_1love) September 16, 2023
In addition to the previous post, Russian-occupied Svitlodarsk was hit as well. It is not mentioned what kind of missiles were used but the explosions look similar to JDAM strikes.

Coordinates:

48°26'14"N 38°13'30"E

Source: https://t.co/54NFqyDHeH#Ukraine #Donetsk pic.twitter.com/A4spGoXAzb

— (((Tendar))) (@Tendar) September 16, 2023
Russian occupied Sevastopol:
2/When comparing @BlackSky_Inc 's imagery from September 13th with Planet's from September 15th, I've noticed a green tarp on the submarine's rear section. While its exact purpose is unclear, its presence is unusual, hinting at alleged efforts to conceal something. pic.twitter.com/n1JFOA9uZq

— Tatarigami_UA (@Tatarigami_UA) September 16, 2023
4/ Considering that none of these objects are visible in the imagery from the 13th, and it appears that the russians are taking measures to conceal something, it could suggest that not everything is as well as they are trying to portray. pic.twitter.com/ZXSRYLCuOo

— Tatarigami_UA (@Tatarigami_UA) September 16, 2023
6/ Your contributions via Buy Me A Coffee have enabled the availability of this satellite imagery and others. If you found this thread valuable, please support it by liking and retweeting the first message of the thread. Your engagement enables me to provide better materials

— Tatarigami_UA (@Tatarigami_UA) September 16, 2023
For you logistics and acquisitions fans:
Some disturbing news from @PaperMissiles. ⬇️

Last November the Biden Admin pledged 250 M1117 Armored Security Vehicles for Ukraine. They were to be refurbished with USAI funds, then donated via the Excess Defense Articles program.

They won't be ready for another 18 months. https://t.co/18jJl8H1YA pic.twitter.com/4piEb1quzw

— Colby Badhwar 🇨🇦🇬🇧 (@ColbyBadhwar) September 15, 2023
To which I would add that, since Abrams only just arrived, we can anticipate a fairly long fall and winter in Ukraine. Shutting off the spigots or belt-tightening might seem acceptable as weather slows the war, but we've not seen war like this, there, in winter, since WWII.

— Tom Moore, Nuclear-Capable Wonk (@PaperMissiles) September 15, 2023
See no beneficial political or military reason to keep our unilateral restraint on ATACMS in place. Winter is coming, and so is an election.

— Tom Moore, Nuclear-Capable Wonk (@PaperMissiles) September 15, 2023
Understand there's much to accelerate this to shorter than a year and a half, but the foot-dragging is pretty amazing on something that Colombia and Kosovo have, now. I mean, the damn war may be over by the time any of the 250 ASVs we pledged arrive.

— Tom Moore, Nuclear-Capable Wonk (@PaperMissiles) September 15, 2023
The drawdown authorization that the Biden administration has been using is only authorized for FY2023. It expires in two weeks. As of now the Biden administration has not asked for either a renewal or a new authorization for FY2024. This is going to be a major problem. And it rolls into something I did a thread on at Bluesky today.
This past week Putin promoted Andrei Mordvichev to colonel-general. Mordvichev is the commander of the Central Military District and Russian Central Grouping of Forces in Ukraine. In a July interview he had this to say:
💬 This war will last for a long time, because we still need to liberate Eastern Europe, says Russian general and war criminal Andrei Mordvichev.

The interview was recorded at the end of July this year and Mordvichev assumed that the Ukrainian counteroffensive would slow down by… pic.twitter.com/MB9m1YYcLV

— TheKremlinYap (@TheKremlinYap) September 9, 2023
Here's the quote from The Daily Beast:
When asked about the length of the war in Ukraine, Mordvichev responded that he has an understanding that Russia has to attack Eastern Europe. "If we're talking about Eastern Europe, which we'll have to attack, it will be longer and longer," Mordvichev said. When asked if Ukraine is "only an intermediate stage," Mordvichev replied that Ukraine is just a stepping stone to other attacks.
Mordvichev isn't freelancing here. He's communicating the actual policy position of Putin and Russia for both the genocidal war against Ukraine and the intentions for eastern Europe. While the Ukrainians resolve has demonstrated that Russia does not have the capability, the ways and means, to achieve these ends at this time, one of the ways in Russia's strategy is to play for time. Putin is counting on changes via elections in the US over the next year. He is counting on a new refugee crisis created by the food scarcity crisis he is creating with his embargo of Ukrainian grain and other foodstuffs and attacks on Ukraine's granaries and food production & storage facilities. He is counting on those refugees showing up in Europe during the winter and that it will be a cold winter this year, not like the past one. As such he's playing for time for the crises he's creating to set the conditions for his proxies in various EU states to take political advantage. He's also counting on the food crisis he's creating to drive global food prices back up, reigniting inflation in the US, which is currently on the way back down, to further increase the chances that the GOP will win the presidency and retain at least one chamber of Congress in 2024.
Whether this actually works, whether he can create enough food scarcity in the global south to recreate the refugee crisis his strategy facilitated as part of Russia's theater strategy in the Syrian Civil War remains to be seen. But the play for time portion of his Ukraine theater strategy is a key component of it. If Russia's forces can hold on to enough of the Ukrainian territory they are occupying, to make the conflict seem frozen, that creates the strategic space for the other lines of effort to play out. Putin is counting on the US and the EU states eventually having political turnover as a result of fatigue from their support for Ukraine. Political turnover that will either greatly reduce or end that support. This would then create even further strategic space for Russia to extend their control over the portions of Ukraine under occupation, while rebuilding its military capability for a third attempt to take Ukraine. This would then be used for eventual future operations to reclaim what Putin perceives as the other wayward states in Europe that are supposed to be in Russia's sphere of influence, near abroad, and the Russian world.
Putin's strategy ties into the expiring drawdown authority because 1) the Biden administration hasn't asked for an extension, 2) most likely because they know they can't get it through the GOP controlled House, and 3) even if they could it might now survive a GOP filibuster in the Senate. Several of you sent me Senator Cotton's letter to President Biden asking him to speed up and increase the amount of munitions we're sending to Ukraine.
I wrote to President Biden with my colleagues and urged him to provide Ukraine with the missiles its military needs to win. Not doing so will only prolong the war and cost lives. pic.twitter.com/MBhG2H7Oa7

— Tom Cotton (@SenTomCotton) September 16, 2023
That's not enough Republican senator co-signers to break a filibuster. And while there are more GOP senators that support Ukraine, if the Biden administration doesn't ask for a renewal of the drawdown authorization we will never know how they may or may not vote.
Here's some Ukrainian acquisitions news for you all:
KYIV, Sept 16 (Reuters) – Ukraine will be able to conduct more drone attacks on Russian warships, a Ukrainian minister who has played a key role in building the country's drone industry told Reuters after a recent series of sea raids.

"There will be more drones, more attacks, and fewer Russian ships. That's for sure," Digital Transformation minister Mykhailo Fedorov said in an interview on Friday, answering a question about recent attacks near Crimea.

This week, Ukraine has made several attacks using sea drones and missiles on Russia's Black Sea naval fleet in and around the Crimean peninsula, which was annexed from Ukraine by Russia in 2014.

In a sign of growing confidence, Ukraine has recently claimed responsibility for attacks on Crimea, having previously not directly confirmed involvement in blasts at military targets there.

Russia has acknowledged a Ukrainian missile attack that damaged a warship and a submarine this week, but says it has repelled all sea drone attacks.

On Thursday, Fedorov posted a grainy video on social media that appeared to be filmed from a vessel heading towards a much larger warship, followed by an explosion.

He said at the time that attack was the work of Ukrainian systems paid for by funds from a government-run crowdfunding platform that raises money for equipment including drones.

Fedorov also said Ukraine's aerial drone production had increased by over 100 times in 2023 from last year.

"I think it'll be an increase of around 120 to 140 times by the end of this year, if you compare it to the previous one."

According to the minister, Ukraine is testing AI systems that can locate targets several kilometres away and guide drones to them even if external communications are disrupted by electronic warfare measures.

"We need AI, for instance the technology for finding targets, just like how the Lancet (a Russian drone) operates, so that a target can be located under electronic warfare and destroyed."

"At the moment it's all at the testing stage, but some drones we are buying use AI to recognise targets. In a forest, it can detect a target and recognise whether it's a person, tank, or a certain vehicle. These technologies are being used actively."
The London Ukraine Review has published an excerpt from Victoria Amelina's unfinished final book.
'The Shell Hole in the Fairy Tale' is a previously unpublished excerpt from the book Looking At Women Looking At War: A War & Justice Diary which Victoria Amelina was working on when a Russian missile took her life. Read in the London Ukrainian Review:https://t.co/lh3UeP8Kx7

— London Ukrainian Review (@ukrlondonreview) September 16, 2023
This is a previously unpublished excerpt from the book Looking At Women Looking At War: A War & Justice Diary which Victoria Amelina was working on when a Russian missile took her life. This entry reminds us of the days just before the full-scale invasion when Russia had already escalated attacks on the eastern regions of Ukraine.

I just bought my first gun in downtown Lviv. I've heard that everyone is capable of killing, and those who say they aren't just haven't met the right person yet. An armed stranger entering my country might be just the 'right person'.

My new gun lies black and hazardous, on the bed, among all my swimming suits and bright summer dresses. I might need it later when I come back. But not yet. Now we are going on vacation to Egypt.

'We'll come back to Ukraine on 24 February, and I'll start going to shooting practice', I explain to my son, who has been watching too much news for his age in the past few months but isn't afraid of the invasion at all.

I put the gun into a safe and our swimming suits into a suitcase.

The invasion didn't happen yesterday, on 16 February 2022. So I head out the door, full of hope that it will not happen at all. After all, the full-scale Russian invasions have been rescheduled for the past eight years since 2014.

'Mom, when's the next time we get invaded?' my ten-year-old jokes, like many adults in Ukraine.

At the last moment, I turn around and run to the bedroom. I use a chair to reach the jewellery box on the higher shelf. What if Kharkiv, Kyiv, and even Lviv will soon look like ruined Aleppo or Grozny? What do I take now if I am not coming home? Ever.

'Mom, we're going to miss the flight!'

I take one pendant, gold-plated silver with little rubies. I have it from my grandma, the only jewellery her mother had left her, and thus the oldest family relic I have. The great-grandmother who left it to us was born in Russia, somewhere on the Volga river. My Ukrainian grandmother and two Ukrainian grandfathers didn't have such old things; for them, everything was gone with the wind in the turmoil of the last century in Ukraine, the heart of the bloodlands.

I put the pendant with rubies on as if it were my soldier's badge.

In line for a security check at the airport, I cannot stop staring at the news on my smartphone. Around 9 am, an artillery shell hit the 'Fairy Tale' kindergarten in Stanytsia Luhanska, making a hole in the wall of the children's gym. The photo of the kindergarten is difficult to comprehend: a shell hole in one of the walls, a painted magical island with palm trees and animals on another, yellow ornamented wallpaper, which still makes the kindergarten room look cosy, and numerous footballs in the pile of broken bricks.

I visited Stanytsia Luhanska near the contact line a couple of years ago to meet with the community in the local history museum. I was met by its kind deputy director and its bizarre exhibition: the damaged bust of Lenin hit by a Russian shell, the older shells from the Second World War, and the new ones, including those that conveniently got to the museum right through its roof. Through the small window, I looked to 'the other side', the territory occupied by Russia or, according to the occupiers, 'Luhansk People's Republic', a place from where all the shells, except those from the Second World War, have come. Back then, the deputy director took my books to add to the museum collection, as if contemporary Ukrainian literature was a wonder under the circumstances.

Staring at the picture of the ruined kindergarten gym long enough, I realize what the magic island with palm trees represents: a scene from a Soviet cartoon. Alas, the beloved characters from my post-Soviet childhood, the elephant, the monkey, and the boa, stare from behind the palm trees at the pile of broken bricks, just like I do. This pile is between the Russified little girl I used to be and me.

'No children were killed or injured in Stanytsia Luhanska as no one was in the gym at the time of the shelling', I read in the news. So, we're all lucky.

I often tell myself how lucky we all are, as if arguing with the last line of the famous Serhiy Zhadan poem, which tells the story of refugees from a city that 'was built of stone and steel' but doesn't exist anymore. Serhiy wrote it in 2015 after Russia occupied the cities of Donetsk and Luhansk and the Crimea peninsula. I only paid attention to the poem in 2018 when I saw it written on a wall on Peace Avenue in Mariupol.
Much, much more at the link!
One final note for tonight. I want to make it clear that I'm not disillusioned regarding doing these daily updates. Rather, as a national security professional I am not longer sure that the type of work I was doing while on the full time assignment last year or would do if I were to take another one is useful. As in I'm not sure what positive difference I'm making these days. It isn't burn out per se. I just don't know what, nor am I able to see what the point is anymore. As such I'm looking for opportunities that allow me to use my education, experience, and expertise to make a positive impact outside the defense enterprise. I feel like it is time for a change.
Relatedly, if I write that I'm required to do something because of the rules of my profession, you can trust me that I am honestly explaining it to you. You don't have to ask people in comments who are not in my profession whether I'm being honest with you all. I know the rules I have to follow and I follow them because if I don't it can cost me my career. Even if it is a career I'm no longer sure I want.
That's enough for tonight.
Your daily Patron!
There isn't a new Patron tweet today, but this is Patron adjacent.
Emergency services do an amazing job in building trust. Therapy dog Banana is a total star and a favorite of mine pic.twitter.com/fGIkohdUTa

— Maria Avdeeva (@maria_avdv) September 16, 2023
And here's a new video from Patron's official TikTok!
Open thread.