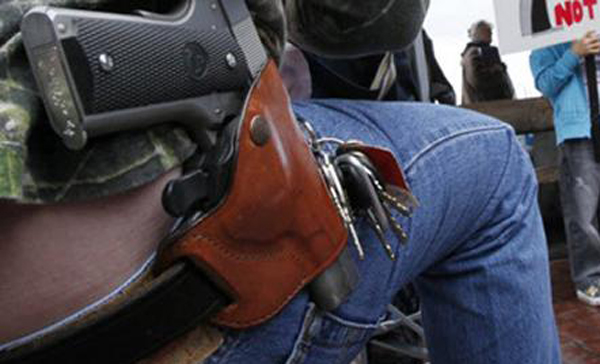 So, the GOP is holding its convention in Tampa, Florida — the Lap Dance Capital of the Universe — during the height of hurricane season, when the heat and humidity are enough to prompt Satan himself to prance under the scalding sprinklers for momentary relief.
Tampa Mayor Bob Buckhorn and the other city bigwigs are coming up with all sorts of rules to try to contain the mayhem, including my personal favorite, which is to limit parades to 60 minutes so the riot cops can take a break from their humidity-retaining Imperial Stormtrooper suits.
They've banned all sorts of items, including super-soaker squirt guns and string, from the "protest zone." But guess what they can't ban outside the Secret Service perimeter? Actual guns:
Conspicuously absent from the list of potential weapons: Firearms.

That's because state law bans local governments from placing any restrictions on the carrying of guns in public spaces.
And that's because the brilliant Rick Scott administration allowed the NRA to run its wish list through the GOP super-majority state legislature. Is it possible for an entire state to perish from terminal stupidity? We may be about to find out.
[X-posted at
Rumproast
]