Everyone's favorite flair aficionado, plagiarist, former Milwaukee County Sheriff, and useless idiot in Vladimir Putin's active measures campaign against the United States, has once again decided to share his deep and profound thoughts promoting American sedition.
What's happening in France will look like childs play if the deep state tries to undo the 2016 election by MANUFACTURING a way to remove @realDonaldTrump before 2020.
They are underestimating the resolve of Trump's supporters. Like in France, people will only put up with so much. pic.twitter.com/6begUZacJm

— David A. Clarke, Jr. (@SheriffClarke) December 8, 2018
You all may remember Sheriff Clarke from his paid for by Russia visit to Russia to meet with a number of Russian government officials as part of an NRA junket that was cover for Russia's penetration of the NRA as part of its active measures campaign against the US. Here's some pics to jog the memory: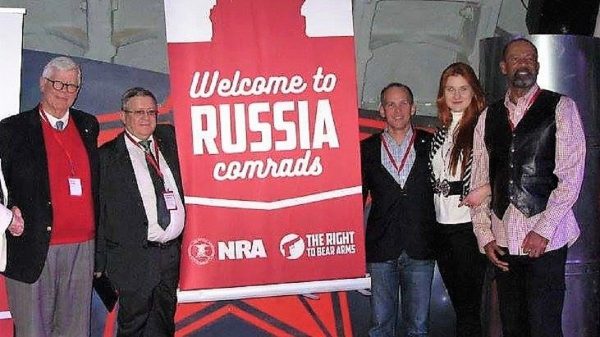 (David Clarke arm in arm with Mariia Butina. Also pictured on the left former NRA President David Keene and Russian oligarch and organized crime leader Alexander Torshin)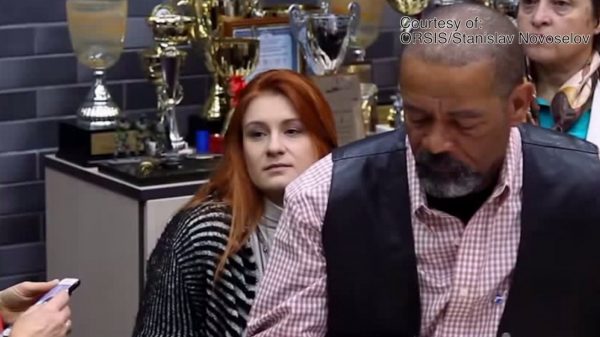 (David Clarke sitting with Mariia Butina)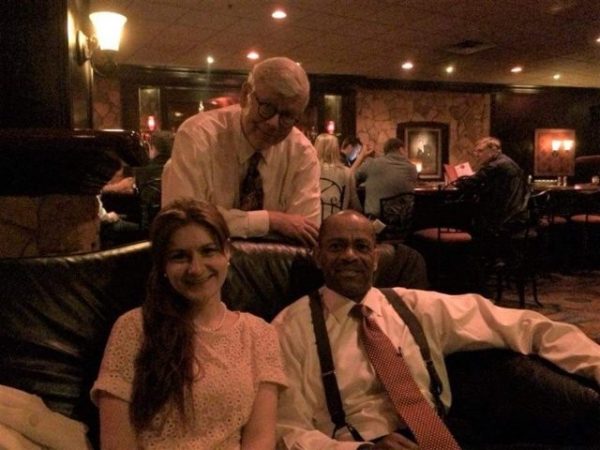 (David Clarke, Mariia Butina, and David Keene)
And exactly who was it that David Clarke and that NRA delegation was meeting with in addition to Torshin and Butina?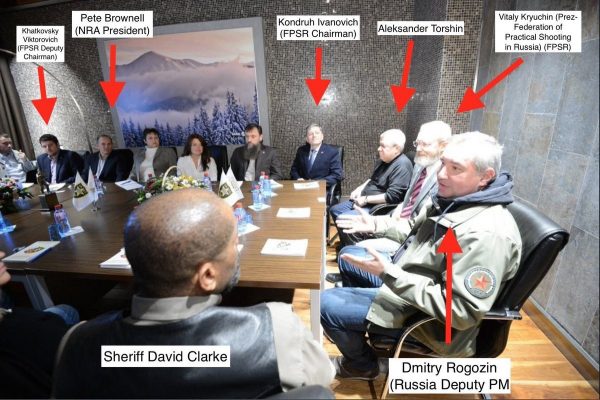 (David Clarke and NRA officials meeting with Russian officials)
December 8th is not the first time that Clarke called for armed rebellion to achieve the political objectives he supports.
It's incredible that our institutions of gov, WH, Congress, DOJ, and big media are corrupt & all we do is bitch. Pitchforks and torches time pic.twitter.com/8G5G0daGVN

— David A. Clarke, Jr. (@SheriffClarke) October 15, 2016
You remember Sheriff Clark, the (sheriffs aren't actualyl mentioned in the) Constitutional Sheriff and Peace Officers Association Law Enforcer of the Year Award Winner? You know, the tough guy that tried to call in the Wisconsin National Guard about six weeks ago even though he was not the law enforcement officer in charge of what was happening in Milwaukee with demonstrations, protests, and riots? The actual officer in charge would be Milwaukee Chief of Police Edward A Flynn. And he had this to say about Sheriff Clarke:

"Nobody has got more to say about law enforcement and less to do with it," Flynn said of Clarke, calling him a self-serving man who seeks "celebrity."

Sheriff Clarke would be the tough guy that had an inmate die of thirst in the jail*, the oversight of which is one of his few actual primary responsibilities, because his subordinates specifically and purposely cut off water to the inmate's cell – an inmate who was mentally ill.

So what is it that Sheriff Clarke actually does/is actually supposed to be doing? His actual jurisdictionis running the jail, providing security at municipal facilities, and patrolling a part of the interstate as it runs through Milwaukee County.

"By statute and by practice, the sheriff plays only a limited role as a traditional law enforcement agency," Abele said in his budget remarks to the County Board on Sept. 29, 2011.

"For example, in 2009 the sheriff reported only 12 crimes to the FBI, compared to 41,000 for the City of Milwaukee and 3,200 for West Allis, and even 242 for the UWM Police Department."

There are no unincorporated areas in Milwaukee County and each of these incorporated municipalities have their own police departments.

Last year, the administration of Milwaukee County Executive Chris Abele released some eyebrow-raising statistics on the Sheriff's Department, noting that:

Milwaukee is the state's only county with no unincorporated area, meaning there are municipal police patrolling every part of the county. Besides Milwaukee, there are 18 suburban police forces in action.
In 2009, the sheriff reported only 19 crimes to the FBI, compared to 41,375 for the Milwaukee police, 3,288 for West Allis police, 1,908 for Wauwatosa and even 242 for the UW-Milwaukee police. That's right, the UWM campus police handled 12 times more criminals than the Sheriff's Department.
Just 10 percent of Sheriff David Clarke's requested property tax levy was for police services. As Abele put it, "the sheriff plays only a limited role as a traditional law enforcement agency."

The deputy sheriffs staff the Milwaukee County Jail and County Correctional Facility South (formerly House of Correction), handle the courthouse's system of bailiffs, and patrol the freeways.

Earlier in the day he was complaining about how long it took his NICS check to go through so he could buy a new AR pattern rifle. Insinuating that this is not how law enforcement should be treated (because, you know, they're not just citizens too or something).

Had INSTANT background check today to pick up new AR-15. ATF delayed 6 days for a cop. Third check this year. Last 2 took 3 days. Nice.

— David A. Clarke, Jr. (@SheriffClarke) October 15, 2016

In case anyone was wondering, NICS checks for gun purchases are done by the FBI – law enforcement genius!
It remains to be seen whether Butina's plea agreement to fully cooperate will ensnare Clarke, but one can hope.
The documents describe Butina's efforts to build ties with a "gun rights organization," which has been identified as the NRA, and "Political Party 1," which the document makes clear is the Republicans.

The documents confirms previous reporting that Butina helped orchestrate a trip by NRA members to Moscow in December 2015.

During the Moscow trip, she helped set up a meeting between prominent NRA members and Russian Foreign Minister Sergey Lavrov.

After that meeting, the agreement said, Butina sent Torshin a message, which was translated as saying, "We should let them express their gratitude now, we will put pressure on them quietly later."
Clarke may want to spend a little less time spouting off on twitter and a little more time consulting with a high calibre attorney who specializes in national security matters.
Open thread!