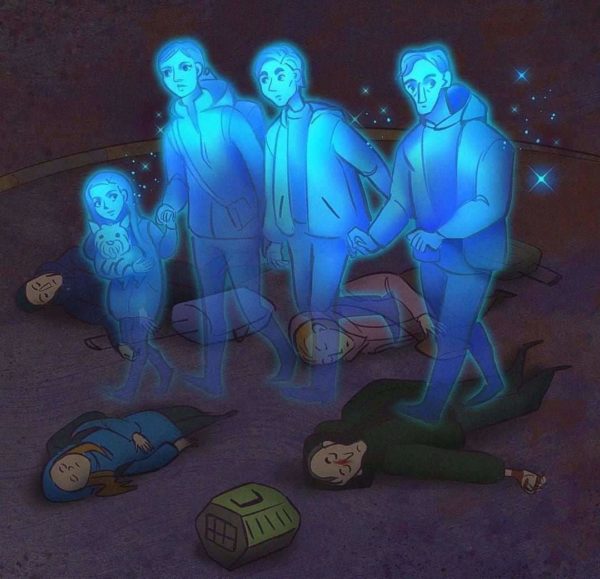 (Image by Olga Wilson; found here)
The US military defines center of gravity (COG) as:
The source of power that provides moral or physical strength, freedom
of action, or will to act. Also called COG. See also decisive point. (JP 5-0)
Well that certainly clears things up! So let's go to Joint Publication 5-0, Joint Planning for clarification:
(1) One of the most important tasks confronting the JFC's staff during planning
is identifying and analyzing the COGs of friendly, enemy, and adversary forces. The COG
is the source of power or strength that enables a military force to achieve its objective
and is what an opposing force can orient its actions against that will lead to enemy
failure. COGs are determined by their impact on the military end state. Success requires
protecting the friendly COG while defeating the enemy COG.

(a) COGs can exist at different levels. At the strategic level, a COG could
be a military force, an alliance, political or military leaders, a set of critical capabilities or
functions, or national will. At the operational level, a COG is often associated with the
threat's military capabilities such as a powerful element of the armed forces but could
include other capabilities in the OE.

(b) COGs may change in time as the strategic environment or OE changes
due to shifts in friendly, neutral, or threat, diplomatic, information, military and/or
economic/commercial conditions or objectives. A force's will to fight, for example, may
increase or decrease throughout the course of an operation with dramatic impact on the
joint force's success. Similarly, victories or defeats may cause adversaries or enemies to
reassess objectives or strategies that can alter the COG.

(2) COGs exist in an adversarial context involving a clash of moral wills and/or
physical strengths. COGs do not exist in a strategic or operational vacuum; they are formed
out of the relationships between adversaries and enemies. They define COGs through their
unique view of the threats in the strategic environment and OE as well the requirements to
develop and maintain power relative to their own objectives. Commanders, therefore, must
not only consider their threat's COGs but they must also identify and protect their own.
Everything clear and everyone tracking now? Good!
In the battle for Kyiv, as it is being referred to, Kyiv was the center of gravity that Russia needed to take. As we've discussed in previous posts, Putin needed to take Kyiv for two reasons. He had to take Kyiv because the alternate history and BS mythology about Russia's origins and place in the world that he's bought into and promotes required it. And he had to take it to install his quislings who would immediately capitulate to him on live TV. So Kyiv became the center of gravity rather than the Ukrainian military in the central part of Ukraine.
In the south and east he's got the same problem. He's currently got the Ukrainian military in the east, the Joint Force Operation (JFO), exposed in a salient (please see last night's post for the map indicating this) and right now its a race between the Ukrainians and the Russians. The Ukrainians need to get their reinforcements to and resupply the JFO and get their lines fixed so they can't be easily encircled. The Russians need to get the personnel and equipment they pulled out of Kyiv Oblast, as well as new personnel and equipment coming from Russia and other places within Russia's sphere of influence, through Belarus and Russia to their new positions.
The JFO should be the focus of the Russian attack in the east; the center of gravity that needs to be destroyed. However, because Putin wants a land bridge and to close Ukraine off from accessing both the Black Sea and Sea of Azov, he has to take Mariupol and Odesa. He also has to take Mariupol because that's where the Azov Battalion is and he hates those guys and needs to capture them and parade them around to prove the Ukrainians are NAZIs. He has to take Odesa in order to establish his land bridge and cut Ukraine off from both the Black Sea and the Sea of Azov. And this means he also has to take Mariupol for solely geographic strategy reasons, as well as Mykolaiv. So as was the case in regard to Kyiv, he's created two additional centers of gravity for his military to focus on. Both of which make less sense as theater strategic military targets as long as the Ukrainian JFO is still intact and operating. They are, however, of huge importance in the socio-political and socio-cultural narrative Putin's created regarding Russia, Ukraine, their relationship to each other, and the war.
Now we wait to see who wins the race.
Here's the British MOD's assessment from earlier today: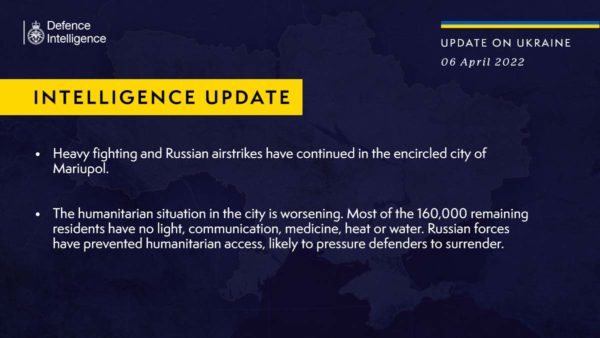 And here's the British MOD's latest mapping based on their GEOINT: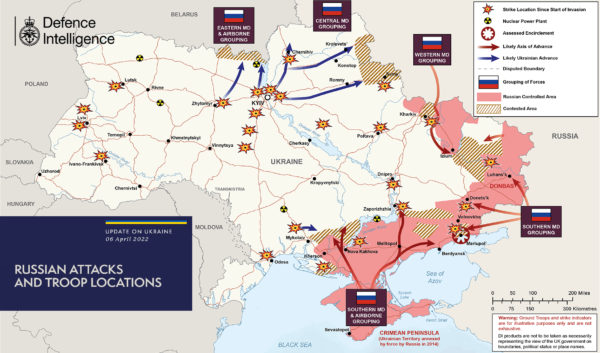 As you can see, the Russian movement in the east is towards attacking the contested area between Luhansk and Izium. Because that's where the JFO is exposed in a salient. At the same time, they're also moving towards Mariupol, Melitipol, Mykolaiv, and Kherson. Rather than focusing their landpower on one center of gravity, the Russians have divided it to pursue multiple ones.
Much more after the jump.
Belarus:
One of the partisans was injured and is in a hospital. Others received medical care on site.
Belarusians are not silent. They fight with any possible means, despite the risks to their health and life.
2/2

— Belarusian Hajun project (@MotolkoHelp) April 6, 2022
Borodyanka:
Our reporters spent the last two days on assignment in Borodyanka, a town in Kyiv Oblast that Russia attacked with bombs in early March.

They witnessed the tragic aftermath of that attack.

This is our Oleksiy Sorokin @mrsorokaa speaking from the site: pic.twitter.com/62c4IsMrVW

— The Kyiv Independent (@KyivIndependent) April 6, 2022
Borodyanka. A cozy town 50 km from Kyiv. April 2022. View from above. Right after the expulsion of the "Russian world" & "Russian butchers on tanks". Ruins, blood, tears. Hundreds of missing people under the rubble. And the price of the world's continued patience (to avoid "WW3") pic.twitter.com/2cEvJKF226

— Михайло Подоляк (@Podolyak_M) April 6, 2022
Mariupol:
In an intercepted call, a Russian soldier tells his wife about a "safari" hunt for children in Mariupol. The soldier shares stories of invasion forces chasing a little Ukrainian girl, shooting her in the legs – just for fun.https://t.co/Bh5UN050Sz

— ArianaGic/Аріянॳць (@GicAriana) April 6, 2022
"The scale of the tragedy in Mariupol the world has not seen since the times of Nazi concentration camps," mayor Vadym Boychenko said. Russians, he added, "turned our whole city into a death camp."

— The Kyiv Independent (@KyivIndependent) April 6, 2022
Ivankiv:
Warning: Contains distressing images

The relief of those who had endured 35 days of Russian occupation was obvious in Ivankiv – but it is only when you hear what they have gone through that you can understand their trauma, @danriversitv reportshttps://t.co/6loFbbBwiB pic.twitter.com/OoNc9JWH7e

— ITV News (@itvnews) April 6, 2022
Bucha:
The woman from Bucha told how Russian "liberators" with george's ribbons burned her house and killed her unarmed husband.
"They took him out, put him on his knees and shot him in the head" – she said.
Video from Докази воєнних злочинів#RussianWarCrimes pic.twitter.com/35RtkcCMNX

— Oleksandra Matviichuk (@avalaina) April 5, 2022
The school of realpolitik has thoughts!
Peace talks must be prioritised. Neither Ukraine nor Russia are likely to win this war. But dangers of escalation remain, and so does the potential for ever greater bloodbath. Peace talks do not preclude ongoing investigation of Russia's war crimes.

— Sergey Radchenko (@DrRadchenko) April 6, 2022
I never had much use for International Relations theory. I thought it was far too normative and what it was describing quickly fell apart when it made contact with actual reality. As an experienced national security professional, I find the realists and realpolitik to be even more useless based on experience. Professor Radchenko has looked at what Russia is doing to Ukraine, which is genocide, and decided that the real tragedy of Putin's attempting to wipe Ukraine, Ukrainians, and Ukrainianness off the map and out of existence is not any of that, but that negotiations have stopped! That the result will mean more death and destruction and that negotiations must be restarted and a deal made. Doesn't matter what the deal is. Doesn't matter that at this point any deal that isn't "Russia has lost, it is out of all occupied Ukrainian land, Russia is paying to rebuild everything and paying out a whole bunch of reparations for war dead, and a whole bunch of Russian civilian and military leaders are going to The Hague ASAP" gives Putin a win. Professor Radchenko, who is also a Kissinger Fellow, is pushing the realpolitik.
Those of us paying attention to reality know something that realpolitik and Professor Radchenko don't. That as I type this Putin, his spokesman, his Ministry of Foreign Affairs, his ambassador to the UN, and every other part of the Russian government and Russian state owned media are all claiming that none of these atrocities happened. That if they did happen they're a hoax undertaken by actors paid by the Ukrainian government. That if it they are not a hoax, then the Ukraininan military did it to make the Russians look bad. That it is all of these things at once. Professor Radchenko is interested in negotiations for the sake of negotiation, which is just silly. Those of us paying attention to reality know that until/unless the Ukrainians are able to inflict enough pain on the Russians to both achieve a successful termination on the battlefield and do so in a way that establishes the conditions to secure/win the post war peace, there is nothing to negotiate. Because all negotiations are is a way for Putin to weaponize diplomacy, drag things out, and continue to obliterate Ukraine.
This is a far better description of reality in regard to Russian's reinvasion of Ukraine and attempted genocide:
1/7 While everyone is upset and outraged by the graphic images from Bucha, we should not lose sight of the big picture. Bucha is a mere detail thereof.

— Jussi Halla-aho (@Halla_aho) April 6, 2022
2/7 The big picture is Putin's invasion. In Nuremberg, political and military leaders were tried, convicted, and hanged for planning and waging wars of aggression. While there can be debate about details, there can be no debate on whether Putin is guilty of a war of aggression.

3/7 Also, civilians have been killed by the thousands in Ukrainian cities. They are buried under rubble and we cannot see them, but they are no less dead than the corpses on the streets of Bucha. Putin must be condemned for his crimes, not for making us feel bad.

4/7 Russian state-controlled media has made it explicit that Russians had planned an ethnocide and genocide in Ukraine. This is not just a war of conquest but a war of annihilation. The aim was a cultural and physical destruction of Ukrainians.

5/7 If Ukraine had surrendered, we would be looking at an industrial-scale massacre right now. This is what Russians had been planning for. I hope all appeasers and peace doves gradually understand this. Русский мир, peace with Putin, would mean more – not less – dead people.

6/7 Russia must be defeated militarily also in the east and south of Ukraine. The alternative is not something we want to live with. Ukraine needs heavy weaponry and long-range weaponry right now.

7/7 A military defeat is the only realistic way to bring Putin down in Russia. The Russian population is largely zombified and supports the war. What Russian tyrants do not survive is military defeat and humiliation.
The US sanctioned Putin's and Lavrov's daughters today.
WASHINGTON, April 6 (Reuters) – The United States' latest round of sanctions on Russia includes two new targets: Russian President Vladimir Putin's two adult daughters, Katerina and Maria, who U.S. officials believe are hiding Putin's wealth.

Putin's daughter Katerina Vladimirovna Tikhonova is a tech executive whose work supports the Russian government and its defense industry, according to details in the U.S. sanctions package announced on Wednesday.

His other daughter Maria Vladimirovna Vorontsova leads government-funded programs that have received billions of dollars from the Kremlin toward genetics research, and are personally overseen by Putin, the United States said.

"We have reason to believe that Putin, and many of his cronies, and the oligarchs, hide their wealth, hide their assets, with family members that place their assets and their wealth in the U.S. financial system, and also many other parts of the world," a senior U.S. administration official told reporters.

"We believe that many of Putin's assets are hidden with family members, and that's why we're targeting them," the official said, speaking on condition of anonymity.

Reuters was not immediately able to reach Putin's daughters, their representatives or the Kremlin for comment.

Sanctions announced Wednesday also include the daughter and wife of Russian foreign affairs minister Sergei Lavrov. The U.S. also banned Americans from investing in Russia, and targeted Russian financial institutions and Kremlin officials, in response to what President Joe Biden condemned as Russian "atrocities" in Ukraine. read more
More at the link!
And here are some very passionate words from Guy Verhofstadt a Belgian Member of the European Parliament:
Your strategy of incremental sanctions doesn't work. Cannot work…

That's why 212 members of Parliament demand a special #EUCO meeting to decide on full sanctions immediately!

My speech?? pic.twitter.com/MFCtmboaf4

— Guy Verhofstadt (@guyverhofstadt) April 6, 2022
The FBI has, apparently, disrupted a network of Russian hackers:
WASHINGTON, April 6 (Reuters) – The U.S. Federal Bureau of Investigation has wrested control of thousands of routers and firewall appliances away from Russian military hackers by hijacking the same infrastructure Moscow's spies were using to communicate with the devices, U.S. officials said on Wednesday.

An unsealed redacted affidavit described the unusual operation as a pre-emptive move to stop Russian hackers from mobilizing the compromised devices into a "botnet" – a network of hacked computers that can bombard other servers with rogue traffic.

"Fortunately, we were able to disrupt this botnet before it could be used," U.S. Attorney General Merrick Garland said.

The Russian Embassy in Washington did not immediately return an email seeking comment.

The targeted botnet was controlled through malware called Cyclops Blink, which U.S. and UK cyberdefense agencies had publicly attributed in late February to "Sandworm," allegedly one of the Russian military intelligence service's hacking teams that has repeatedly been accused of carrying out cyberattacks.

Cyclops Blink was designed to hijack devices made by WatchGuard Technologies Inc (WTCHG.UL) and ASUSTeK Computer Inc (2357.TW), according to research by private cybersecurity firms. It provides Russian services with access to those compromised systems, offering the ability to remotely exfiltrate or delete data or turn the devices against a third party.
More at the link!
The Guardian has a report of Russian students recording and then turning in their teacher for speaking about what is going on in Ukraine:
When Irina Gen, a 55-year-old English and German language teacher in the Russian city of Penza, embarked on an anti-war speech in her classroom, little did she know she was being recorded by her own students.

"I just wanted to broaden my students' worldview. I hoped to break through the propaganda that is being fed to this country. But look where it got me," said Gen, who faces a long-term prison sentence for "discrediting" the Russian army after her message went viral.

On 18 March, Gen's 13- and 14-year-old students asked her why Russian athletes were banned from participating in international competitions – a decision by the west that she said she tried to put in context.

"Until Russia starts to behave in a civilised manner, the non-admission of Russian athletes to competitions will continue forever … I think that is correct," she said in the audio, which was first shared by Kremlin-linked Telegram channels. "Russia wanted to reach Kyiv and overthrow the government! Ukraine is, in fact, a sovereign state, there is a sovereign government … We are living in a totalitarian regime. Any dissent is considered a crime."

Gen also voiced her disapproval of the way Russian state media framed the bombing of a maternity hospital in the besieged city of Mariupol as a Ukrainian-style provocation.

Five days after her anti-war remarks to students, she got a call from the local FSB branch telling her to come to their office, where she was informed security agencies had received the footage of her speaking out in class.

"I was shocked. I had no idea I was being recorded," Gen recalled. "I told the prosecutors that I wasn't lying. That I was merely citing respected western outlets like AP and BBC, outlets that I believe are professional and objective in their reporting," Gen said. "But, of course, that wasn't really an argument they would accept."

At the end of last month, Russian prosecutors announced they had opened a criminal case against Gen under a recently introduced law that criminalises the spread of so-called fake news about the Russian army.

Prosecutors specifically took issue with the statements Gen made about the Mariupol maternity ward. She has since been banned from leaving the country, and her lawyer said she faced up to 10 years in jail if found guilty.

Russia has launched an unprecedented crackdown on anti-war sentiments and Gen's case is one of at least four that are known about in which teachers who criticised the war were either fired or prosecuted after students complained about them to their parents and the authorities.

"I am simply being prosecuted for a viewpoint that isn't the official one. My family already went once through a denunciation campaign in the Soviet Union," Gen said referring to Stalin's great purge in which hundreds of thousands of ordinary citizens denounced their neighbours, friends and relatives as "enemies of the state".
Much more at the link! Also, coming soon to a Florida classroom near you!
Last night, in the first comment, Martin asked me a question about fascism. I indicated I'd try to answer tonight. I'm going to beg forgiveness and push that answer to tomorrow as tonight's update post is long enough as it is. Also, I'm not done ruminating on his excellent question.
We'll end with a kitty:
Even this bare-face cat was better than me as an interviewer.
And as a photographer.
And all. https://t.co/PCYK1fbYZ1

— Illia Ponomarenko ?? (@IAPonomarenko) April 6, 2022
Open thread!