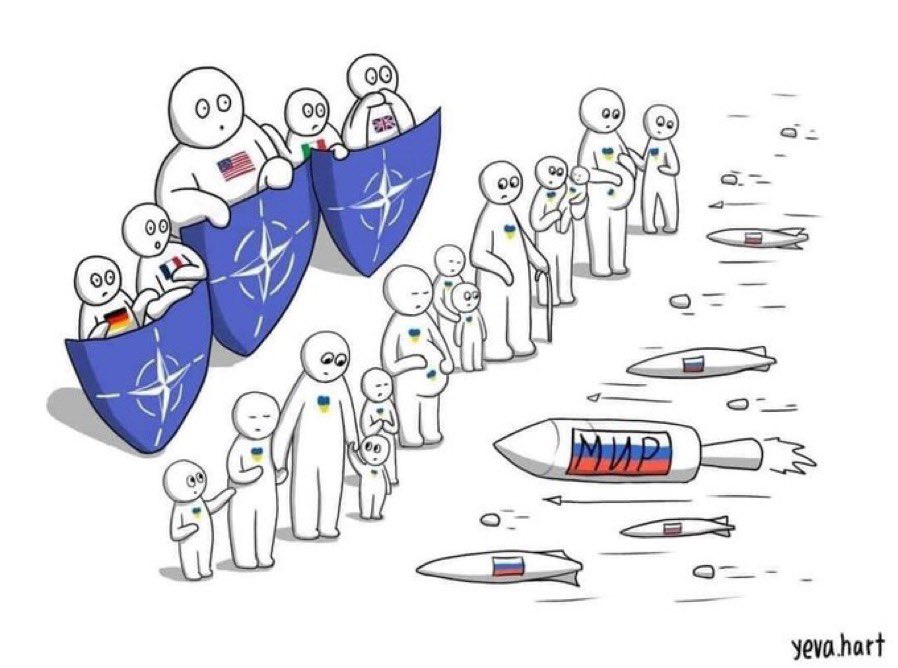 I want to start with President Zelenskyy's remarks from earlier today, but not from his nightly address. Rather I want to focus on some of his remarks to The Financial Times. (emphasis mine)
Ukrainian president Volodymyr Zelenskyy said a stalemate in the war with Russia was "not an option for us" as he once more appealed for western military support to restore his country's territorial integrity.

"We are inferior in terms of equipment and therefore we are not capable of advancing," he said. "We are going to suffer more losses and people are my priority."

Speaking to Financial Times editor Roula Khalaf at the FT's Global Boardroom conference on Tuesday, Zelenskyy said pushing Russian forces back to positions occupied before the February 24 invasion would amount to a "serious temporary victory" for Ukraine but full sovereignty over its territory remained his ultimate goal.

Zelenskyy said that "victory must be achieved on the battlefield". But he also insisted he was open to peace talks despite atrocities committed by Russian troops during their 100-day onslaught. Any war should be ended at the negotiating table, he said.

Zelenskyy hit out at what he saw as attempts by some western allies to explore the terms of a ceasefire without involving Kyiv.

"We need abiding interest from the west, western support for Ukraine's sovereignty. There cannot be talks behind Ukraine's back anytime.

"How can we achieve a ceasefire on the territory of Ukraine without listening to the position of this country? This is very surprising."

He said his allies could do more to bring Russia to the negotiating table by supplying Ukraine with arms and by toughening economic sanctions on Moscow, including a complete oil and gas embargo. They should not be mere mediators, he said, but should be ensuring that Moscow ended its hostilities and would honour any ceasefire. They should, he said, be setting the "preconditions" for peace.

"You have influence on the result . . . Apart from words, you should manifest what you can actually do."
Much, much more at the link!
The reason I wanted to start with President Zelenskyy's remarks to FT's conference is to highlight his strategic communication. He's clearly very aware that positive talk and good intentions by Ukraine's allies are not enough. That despite Ukraine's success in the battle for Kyiv and its ongoing ability to hold and attrit the Russian forces along the line of engagement in the east and south of Ukraine, victory will not be easy. And, in fact, it is not certain. While Ukraine is utilizing its advantages, Russian mistakes, and making good use of the weapons it has been and is still being provided, the Russians have more guns and aircraft, bigger guns, and more bodies to throw at the Ukrainians. By speaking plainly and clearly about the reality on the ground he makes both a powerful argument to Ukraine's allies and supporters as to why they must continue to provide support and reinforces to Ukrainians that he is going to tell them the truth, even if it is unpleasant.
Here's President Zelenskyy's address from earlier this evening. The English transcript is after the jump. (emphasis mine)
Good health to you!

A brief report on the past day.

There were many activities – both diplomatic and domestic.

First, the government is setting up a headquarters to prepare for the next heating season. This decision was made as a result of a meeting I held today with both government officials and representatives of our largest state-owned energy companies and regulators.

Prime Minister, Ministers of Energy, Economy, Minister for Communities and Territories Development, heads of Naftogaz, Ukrenergo, Energoatom and the National Commission for State Regulation of Energy and Utilities. The relevant Deputy Head of the Office of the President was also present.

Whatever the occupiers plan for themselves, we must prepare for the next winter – in our state, on our land, for all citizens.

The issues of purchasing a sufficient amount of gas for the heating season, coal accumulation, and electricity production were discussed today.

In the current situation due to Russia's aggression, this will indeed be the most difficult winter of all the years of independence. But! Everything is alright. We must go through it so that our people feel the normal work of the state.

At this time, we will not be selling our gas and coal abroad. All domestic production will be directed to the internal needs of our citizens.

At the same time, we are doing everything we can to increase our electricity export capabilities. This will be made possible by the capacities available in Ukraine. And after the historical accession of our country to the unified energy network of Europe, such exports not only allow us to increase our foreign exchange earnings, but also directly influence the stabilization of the energy situation in neighboring countries, which reduce Russian energy consumption.

Another important aspect is the repair program for thermal power plants, combined heat and power plants and boiler houses. In particular, for those who were damaged or completely destroyed by Russian strikes. Implementation of this program in the coming months is one of the top tasks for the Ministry of Energy of Ukraine.

I would like to emphasize that I have set a very specific task for the government to do everything possible to ensure that gas and electricity tariffs do not change in the next heating season. People already face enough difficulties because of the war. This will be provided.

Local authorities are responsible for tariffs for heat and hot water, and the same level of tariffs should be ensured at the local level in the winter of 2022-2023 as well.

I also held a meeting on communication with the European Union and with individual EU member states on our application and candidate status.

Diplomatic activity in this direction does not stop even for a day. I hear daily reports, including on the preparation of procedural decisions in the European Union.

The team of the Ministry of Foreign Affairs, our diplomats, the team of the government in general – all, absolutely all are working to achieve a significant historical decision already in June, which we all expect. For its part, Ukraine has done all, absolutely all the necessary work for this.

As they say in such cases: the ball is in the court of European structures, European countries.

The frontline situation in Ukraine has not changed significantly over the past 24 hours. The absolutely heroic defense of Donbas continues. The hottest spots are the same. First of all, Severodonetsk, Lysychansk, Popasna.

It is felt, absolutely felt, that the occupiers did not believe that the resistance of our military would be so strong, and now they are trying to attract additional resources in the Donbas direction. Just as in the Kherson direction – new units are being transferred there to restrain our actions.

But what's the point for them? The majority of the occupying contingent is already well aware that they have no prospects in Ukraine. We hear this mood in the appropriate interceptions of conversations. This is the prevailing mood in the Russian army. We are free people. We are not your slaves.

More than 31,000 Russian servicemen have already died in Ukraine. Since February 24, Russia has been paying almost 300 lives a day for a completely pointless war against Ukraine. And still the day will come when the number of losses, even for Russia, will exceed the permissible limit.

We are actively working to raise funds to support our army and to rebuild Ukraine after hostilities. In the territories that are already de-occupied, we return electricity, gas, water supply, communications. It's not easy, but we do it. Of course, much remains to be done.

It is necessary to provide hospitals with equipment, carry out demining. And, of course, rebuild everything destroyed by the occupiers.

One of the tools for this is the state fundraising platform UNITED24. In the first month alone, more than one and a half billion hryvnias have been raised with its help. And I am grateful to everyone who contributed to its creation, to its work.

Today, Elina Svitolina, our famous and very successful tennis player, became the ambassador of UNITED24. Together with Andriy Shevchenko, the first UNITED24 ambassador, Elina will work to attract new support for our country. Everything for Ukraine. This way, working together, each of us will be able to return normal life to all territories to which our military has returned security.

And another piece of news that can be reported now. Next week, a special "Book of Torturers" is planned to be launched – an information system that collects confirmed data on war criminals and criminals from the Russian army.

I have repeatedly stressed that they will all be held accountable. And we are approaching this step by step.

The creation of such an information system has been going on for some time already. These are specific facts about specific people who are guilty of specific violent crimes against Ukrainians. And such a "Book of Torturers" is one of the foundations of the responsibility of not only the direct perpetrators of war crimes – soldiers of the occupying army, but also their commanders. Those who gave orders. Those who made possible everything they did in Ukraine. In Bucha, in Mariupol, in all our cities, in all the communities they have reached.

Everyone will be brought to justice.

Eternal memory to all whose lives were taken by these occupiers!

Eternal glory to everyone who is bringing our victory closer!

Glory to Ukraine!
There is no operational update posted at Ukraine's MOD for today.
Here's Britain's MOD's assessment for today: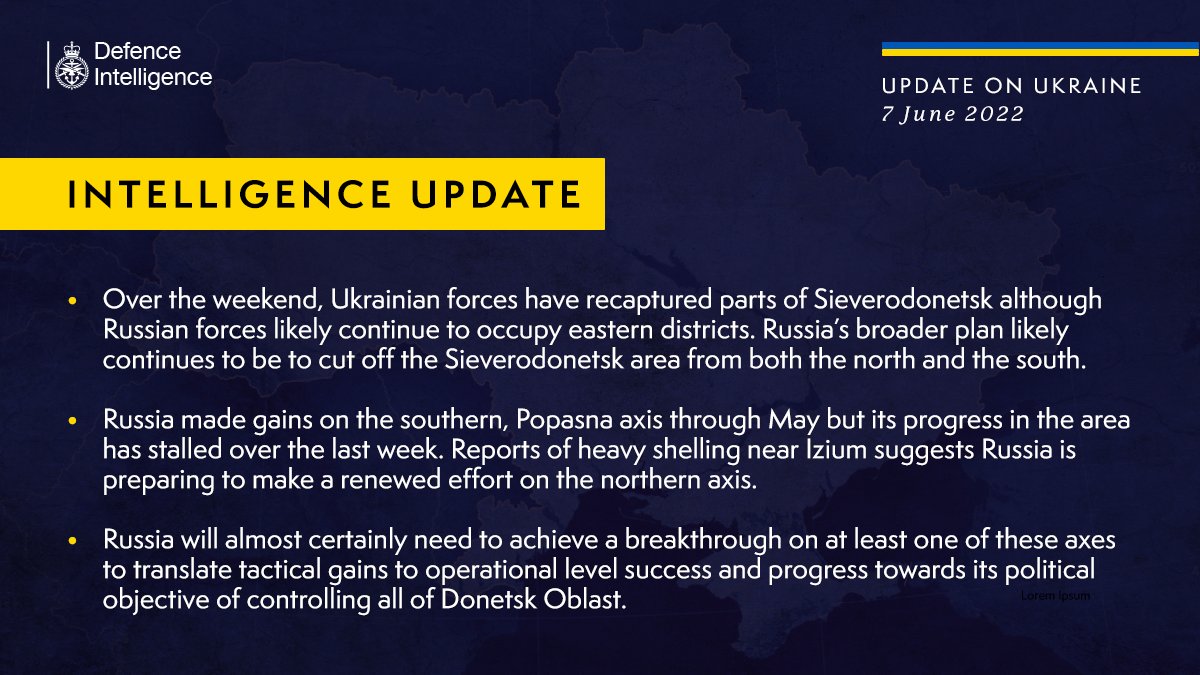 And here's their updated map for today.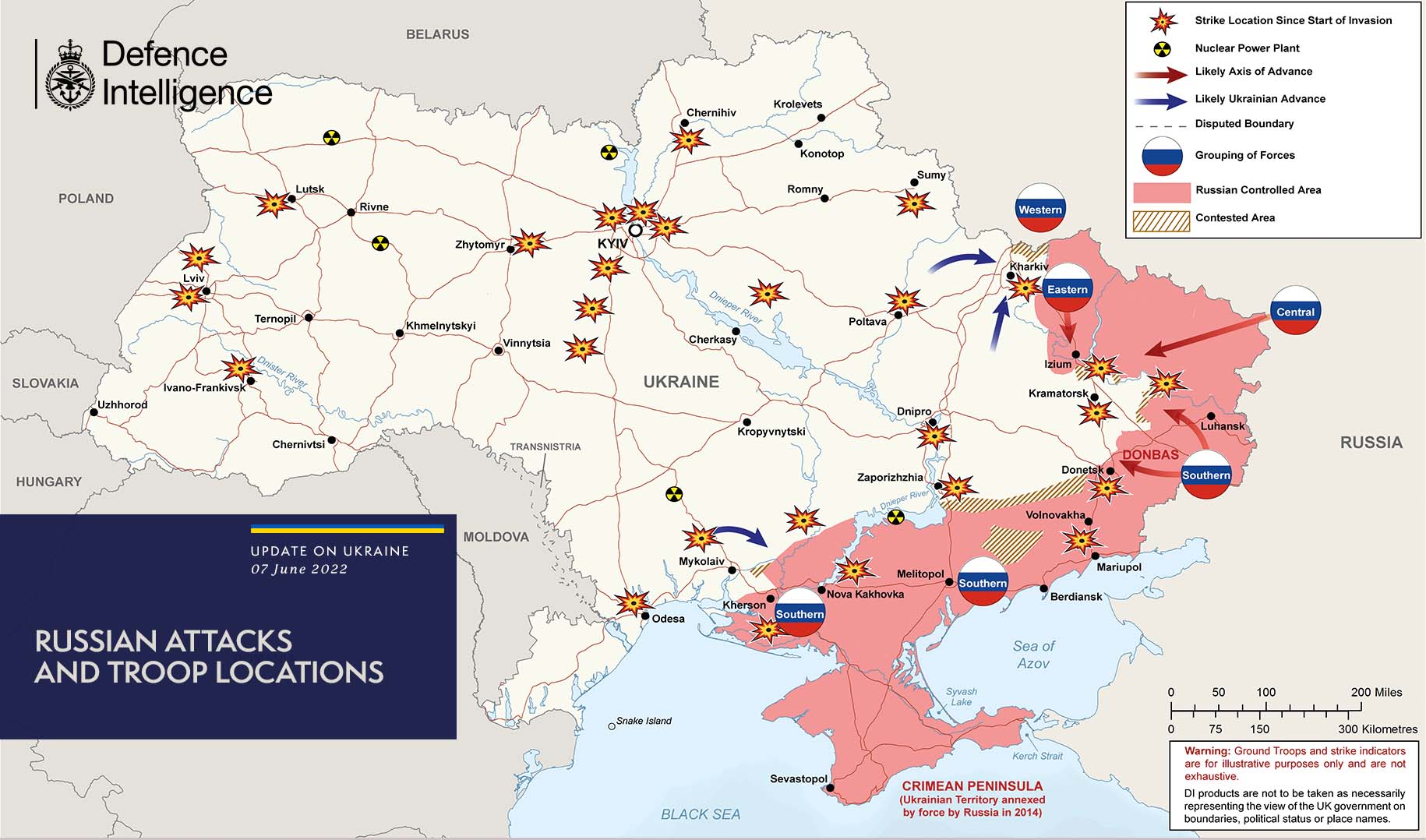 Again, not a lot of movement overall. The lines are relatively stable.
Here's former NAVDEVGRU Chuck Pfarrer's updated map for the counterattack in Sievierodonetsk:
SEVERODONTESK /1745 UTC 07 JUN / UKR positions holding after a day of heavy fighting. Sources indicate that RU is continuing to feed Luhansk People's Republic (LPR) militia forces into the urban fight. The utility of LPR troops in offensive urban ops is highly questionable. pic.twitter.com/xtfgxgVt4D

— Chuck Pfarrer (@ChuckPfarrer) June 7, 2022
The DOD has still not held a backgrounder on Ukraine since last week.
I want to take a few moments and focus in on why the end of tonight's post's title is that the Ukrainians are fighting for us all. I can't link to them, for the obvious reason that our archives and data are still locked up because of the ransomware attack on someone else's site and business, but as many of you know – and if you don't you've not been paying attention for shame!!! – I've been arguing since 2016 that Russia is at war with us. Us being the US, our EU and NATO allies, and a number of our non-EU and non-NATO allies. And that with some exceptions this war has largely been non-kinetic and non-lethal. Those exceptions include Ukraine, Syria, several different African states, wherever Putin's wetwork assassins have been able to strike, and wherever he can use his information warfare and psychological operations assets to stir up local proxies to undertake violence even if those local proxies don't know they're his local proxies.
The result of all of this has been a marked, year on year, steady increase in low intensity political violence/warfare (guerilla warfare) intended to set the conditions by fragmenting, fraying, and degrading civic norms, social cohesion, and liberal democracy in the US, Britain, France, Germany, Italy, Spain, Austria, and a number of our other EU, NATO, non-EU, and non-NATO allies.
Right now everyone is paying attention, largely in horror, as Putin attempts to create a global food crisis and several regional famines by destroying and stealing Ukraine's agricultural stocks. By doing so he intends to completely destabilize the Sahel, the Levant, and other parts of Africa and the Middle East. Such destabilization would force the US and a number of our allies to take action, which from Putin's point of view should translate into a reduction of support for Ukraine.
But Putin's information warfare and psychological operations assets are also amplifying the reactionary, fascist, Christian supremacist extremism that has moved from the extreme to the mainstream of the conservative movement, white evangelical Christianity, and the Republican Party over the past eight years. The extremism was always there, but a number of Putin's assets and catspaws created larger openings for it to move through. Some of these assets are the Russians, as well as other nationals who may not even know who they are ultimately working for, who have worked tirelessly to amplify the extremism across every social media platform. Some of these assets are elites and notables in the US and other countries. This is where the cult of Trump and his surrogates in the GOP, the conservative movement, and conservative news media come in. And their equivalents in other countries. It is also where large organizations like the NRA, CPAC, the Federalist Society come into play. As well as businesses like Facebook/Meta and Twitter who are ostensibly only seeking profit, but, as a result, are easily manipulated.
The overt threats, and those making them aren't even trying to veil them or dog whistle them any more, that are being made against LGBTQ Americans are a direct result of Putin's war. The overt calls for Christian nationalism are too. As well as the overt racism directed at Blacks, AAPI Americans, and some Hispanic/Latino Americans. All of this is because of the need to foment ever more violence – political or otherwise – to demoralize Americans who don't want the US to regress politically and socially and to encourage those who do in order to make it easy for an authoritarian demagogue, or a party and political movement of them, to come to power under the assertion that they can make all the insanity stop.
Right now the only people actively – as in putting their lives on the line every day in a war zone – to defeat Putin's war on everyone who won't capitulate to his vision for the world and Russia's place in it are the Ukrainians. If Ukraine is able to not just resist Putin's re-invasion, but do so in a way that breaks his power by achieving such a clear battlefield victory that it sets the conditions to secure the post war peace, then they will not only have saved themselves and their homes and their countries, they will have saved us too!
Until that happens we need to increase our vigilance at home. LGBTQ Americans, ethnic, racial, and religious minorities in America all need us to step it up otherwise the revolutionary warfare they are waging against the United States and their fellow Americans is going to succeed.
We also will need to decide what more and else we can do to help the Ukrainians. We will have to decide if we are willing to let them us fight for us as well as for themselves because we refuse to recognize that the war we are afraid of has been waged against us for over eight years.
That's enough for tonight.
Check out new work on my @Behance profile: "Patron Ukrainian Dog" https://t.co/snxOlEtINe

— Pavlo Rudakov (@PavloRudakov) June 7, 2022
Many, many more pictures of this Patron sculpture by Ukrainian artist Pasha Rudakov at this link!
And here's some more of Patron romping around!
Open thread!