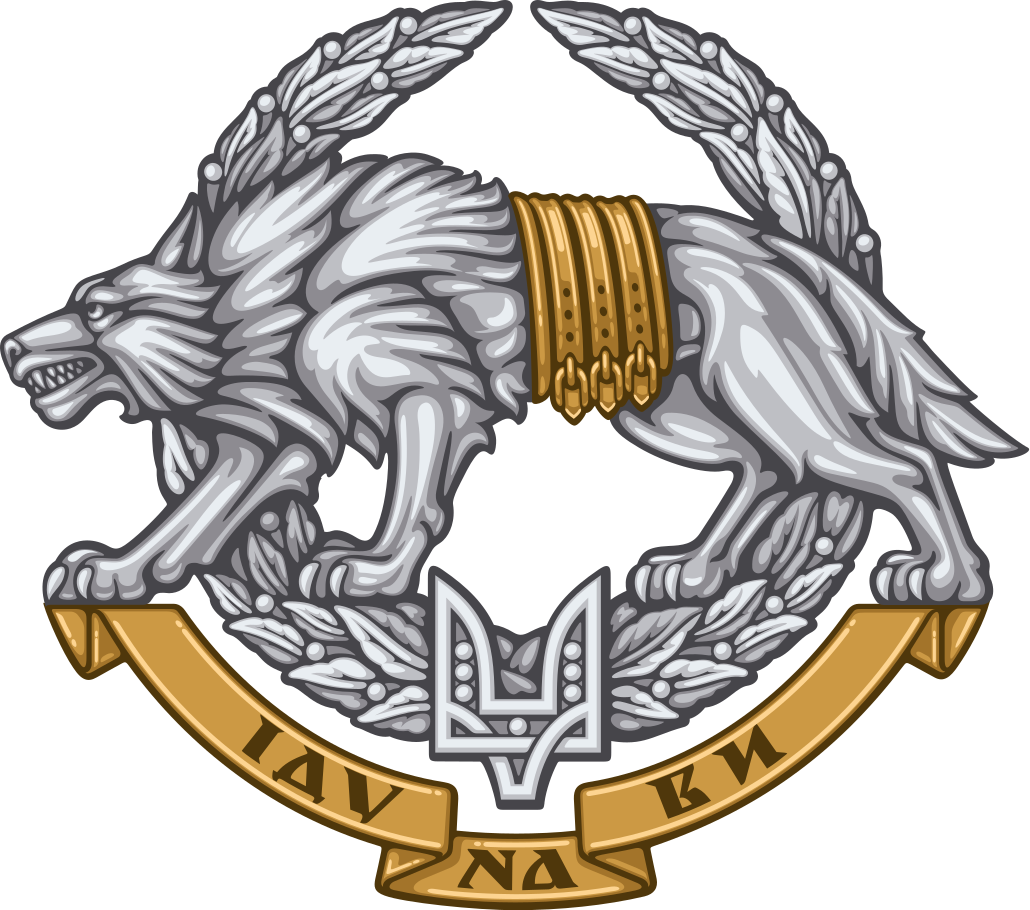 Russian violinist Petr Lundstrem says that Darya Dugina was returning from the Tradition festival. Her father was supposed to get into this car but left in another one. pic.twitter.com/vpZioucJZM

— Tadeusz Giczan (@TadeuszGiczan) August 20, 2022
Is it possible that Darya Dugin's car had some sort of mechanical flaw that just caused it to blow up today when she was supposed to give her father a ride back from a festival outside of Moscow? Sure, it's possible. Is it plausible? Maybe, but I don't believe in coincidence. The BBC has reported the cause as a bomb. I'll keep an eye out for updated reporting.
Dugin's daughter was as genocidal as her father in regard to Ukraine:
Daughter of the prominent #Russia|n Nazi ideologist Alexander Dugin, Darya Platonova (Dugina) was an outspoken supporter of the Russian Nazi ideology. Like father, like daughter:

— Alex Kokcharov (@AlexKokcharov) August 20, 2022
One quick point on Dugin before we move on. Dugin's influence has waned over the years. While he did have an influence on Putin at one point, those days are long past. Dugin's use to Putin's government, if use is even the right word here, is in his continued efforts as a polemicist and propagandist. The objective of targeting him for assassination, successfully or not, was not to remove a power player off the board, but to further reinforce the Psychological Operations objectives that the Ukrainians have been working in Crimea and other Russian occupied parts of Ukraine for the past several weeks. Specifically, that no where is safe, that no matter where you are, what you do, we can get to you. If you want to see what this effect looks like, just watch Dugin's reaction:
#Dugin at site of his daughter Daria's fatal car bombing. It was intended for him – probably 5th column, patriot or even #Ukrainian origin. He is a close confidante of Putin & a leading theorist/philosopher in the same vein as Alfred Rosenberg was to the Nazi Party & Hitler. pic.twitter.com/SGVyrxA4Qj

— Stepan Gronk (@StepanGronk) August 21, 2022
Here is President Zelenskyy's nightly address, both the video and the English transcript (emphasis mine):
Dear Ukrainians I wish you health!

We are actively preparing for the new week, which is very important for all of us, for our country. Our Flag Day, our Independence Day is ahead. The commemoration of veterans of the war for the freedom of Ukraine is ahead. The Crimean platform is ahead. This year it is really special. This year, one can literally feel in the air of Crimea that the occupation there is temporary, and Ukraine is returning.

We will definitely remember our legends – this is and will be a Ukrainian tradition. Let us remember those whose lives have become a part of our national history, which can never be erased by anyone – by no enemy.

Next week, as usual, important negotiations and visits of true friends of Ukraine are planned…

A significant milestone is ahead – six months of this full-scale invasion. The war that changed everything for Ukraine, for Europe, and for the world. Of course, there will be time to tell about it. And tell in detail. But let's still think today, take a look, assess the path we have taken. How much has been changed – what almost everyone in the world thought was impossible to change. How much it was managed to win, wrest from the Russian army, which for decades was thought to be invincible.

I remember the first days of the full-scale invasion, I remember what various "advisors" told me and advised me then… I know that many of them are now ashamed of the words that were said then.

Since February 24, during these 178 days, Ukrainians have proven that our people are invincible, our defenders are invincible. And I thank everyone who showed their strength during this time, I thank everyone who fought and is fighting for Ukraine, I thank everyone who fights and helps our soldiers, our state.

Our unity, our faith in ourselves made it possible to pass these six months and approach this week, which is always important for every Ukrainian.

We have always said and we say honestly: for the sake of Ukraine's victory, we still need to fight, we still need to do a lot, we still need to persevere and endure, unfortunately, a lot of pain.

But Ukrainians can feel proud of themselves, their country, and their heroes. And let's all feel it together today – let's feel the power of our people, our beautiful people.

This power has always been and will be – as long as we believe in ourselves, as long as we preserve our unity, as long as we fight for Ukraine, and as long as we work for our common Ukrainian victory.

We should be aware that this week Russia may try to do something particularly nasty, something particularly cruel. Such is our enemy. But in any other week during these six months, Russia did the same thing all the time – disgusting and cruel.

One of the key tasks of the enemy is to humiliate us, Ukrainians, to devalue our capabilities, our heroes, to spread despair, fear, to spread conflicts… Therefore, it is important never, for a single moment, to give in to this enemy pressure, not to wind oneself up, not to show weakness.

We must all be strong enough to resist any enemy provocations – as much as it takes to make the occupiers answer for all their blows and terror – for Kharkiv and Donbas, for Azovstal and Mykolaiv, for the filtration camps, for Bucha , Irpin for all cities… We must all be strong enough to endure and go all the way to Ukrainian victory.

That's why we stay together! We help each other! We restore the destroyed! We fight for all our people. And we cheer for those who represent Ukraine, today – definitely for Usyk, our boy!

We believe in ourselves! We believe in Ukraine!

Glory to each and every one of you!

Glory to Ukraine!
The Usyk in President Zelenskyy's remarks is Oleksandr Usyk. Usyk retained his unified heavyweight boxing championship earlier today:
An amazing heavyweight battle with the belts remaining with @usykaa 👑@autozone#UsykJoshua2 #RageOnTheRedSea pic.twitter.com/wiupli12kW

— DAZN Boxing (@DAZNBoxing) August 20, 2022
Here is the Ukrainian MOD's operational update for today:
The operational update regarding the russian invasion on 06.00, on August 20, 2022

Glory to Ukraine! The one hundred seventy eights (178) day of the heroic resistance of the Ukrainian people to a russian military invasion continues.

The situation remained unchanged in the Volyn, Polissya, and Siversky directions. The enemy shelled civil and military infrastructure in the areas of Bilopilla and Krasnopilla, Sumy oblast, from barrel artillery. The enemy also carried out aerial reconnaissance by UAVs.

In the Slobozhansky direction, the enemy is conducting combat operations with the aim of holding the occupied areas and preventing a counteroffensive by units of the Defense Forces, and in some places is trying to improve the tactical position.

In the Kharkiv direction, the enemy carried out fire damage from barrel and rocket artillery in the areas of the settlements of Chuhuiv, Zolochiv, Pytomnyk, Husarivka, Sosnivka, Ruski Tyshky, Korobochkyne, Shestakove, Duvanka and Prudyanka. Actively conducted aerial reconnaissance of the UAVs.

Carried out airstrikes near Lebyazhe and Zalyman. It led offensive battles in the Borshchova region, was unsuccessful, left.

In the Slovyansk direction, shelling from tanks, barrel artillery, and multiple rocket launchers was recorded near Dovgenke, Sulyhivka, and Mazanivka.

In the vicinity of Novodmytrivka, Virnopilla and Kurulka, enemy units tried to conduct assaults, were repulsed and retreated.

In the Kramatorsk direction, the enemy fired from barrel and rocket artillery near Rozdolivka, Sydorove, Spirne, and Pryshyb. Conducted aerial reconnaissance in the area of ​​hostilities. Near Ivano-Daryivka, it is trying to launch an offensive, hostilities continue.

In the Bakhmut direction, civil infrastructure was damaged by fire in the areas of Zaitseve, Bakhmutske, Vesele, Bakhmut, Andriivka, Kodema and Mayorsk settlements.

The occupiers carried out offensive and assault actions in the areas of the settlements of Bakhmut, Zaitseve and Kodema, without success, the hostilities continue.

In the Avdiivka region, the occupiers used tanks, barrel and rocket artillery in the areas of Novobakhmutivka, Nevelske, Neskuchne, Alexandropil, Keramik, Kermenchyk and Pisky.

Enemy aircraft operated near Maryinka. The enemy conducted aerial reconnaissance by UAVs in the areas of hostilities in the specified direction. Attacks in the area of ​​Opytne and Mayorsk, without success, fighting continues.

On the Novopavlivske direction, shelling was recorded near Volodymyrivka, Vuhledar and Prechystivka. The enemy carried out assaults in the area of ​​the village of Zolota Nyva, had no success, retreated.

In the Zaporihzhia direction, the enemy used artillery and tanks to shell the areas of Bilohirya, Novodanilivka, Novopil, Chervone, Vremivka, Charivne and Olhivske settlements.

In the South Buh direction, the enemy's main efforts are focused on preventing the advance of our troops. The occupiers are taking measures to replace the losses of personnel and equipment. The enemy shelled civilian and military infrastructure in the areas of Prybuzke, Luch, Tavriyske, Novohrihorivka, Olenivka, Novoselivka, Blahodatne, Vesely Kut, Shiroke, Yakovlivka, Bila Krynytsia, Andriivka and Otradne settlements. UAV continues to be actively involved in aerial reconnaissance.

The enemy's personnel is demoralized, which is due to the constant postponement of their rotation dates and deception with promised payments. This leads to the refusal of the occupiers to participate in hostilities.

We believe in the Armed Forces of Ukraine! Together we will win!

Glory to Ukraine!
Here is today's assessment from the British MOD: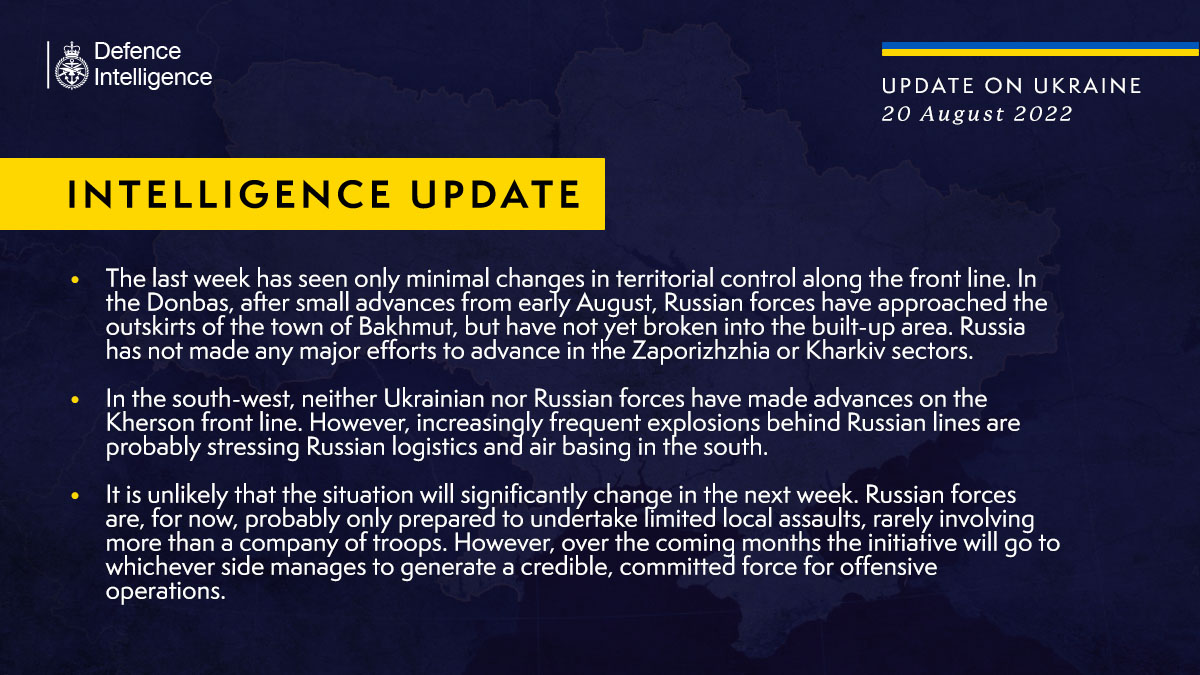 They did not post an updated map today.
Here is former NAVDEVGRU Squadron Leader Chuck Pfarrer's updated map and analysis for the battle of Kherson:
KHERSON / 1715 UTC 20 AUG / UKR Partisans and special Operations Forces continue to identify lucrative targets for HIMARS and precision artillery. Reports indicate a fire has occurred at Chornobaevka in the vicinity of the Kherson airfield. The source of the fires are unknown. pic.twitter.com/TtCb2qyMEX

— Chuck Pfarrer (@ChuckPfarrer) August 20, 2022
As has been the case for a couple of weeks, the Ukrainians continue to increase their op tempo. This increase in activity runs the gamut from artillery strikes to drone strikes to Ukrainian SOF and Ukrainian partisans attacking Russian targets in Russian occupied Crimea. This morning they hit the Black Sea Fleet headquarters in Sevastopol.
With or without (as Russia says) casualties, a direct drone attack in the heart of the Russian Black Sea Navy is bound to be an embarrassment. pic.twitter.com/OguQ54V8oL

— Christo Grozev (@christogrozev) August 20, 2022
The Russians immediately put to sea to get the fleet out of range. If that is even possible without abandoning the Black Sea.
MASS SORTIE: Ships of the Black Sea fleet are seen exiting the Russian Naval Operations Base at Sevastopol this morning after this morning's UKR drone attack on the fleet HQ. The ship in the foreground is the 107-year old Kommuna, used to salvage the sunk cruiser Moskva. https://t.co/HvTcpCiana

— Chuck Pfarrer (@ChuckPfarrer) August 20, 2022
And someone is still targeting Russian facilities in Russia:
⚡️Another military draft office is on fire in Russia🇷🇺. Russians from the Tver region are in no hurry to die for the Kremlin.

Since the beginning of the full-invasion of Ukraine🇺🇦, Russians have tried to burn down more than two dozen military registration and enlistment offices. pic.twitter.com/UFFvYanwTr

— Jason Jay Smart (@officejjsmart) August 20, 2022
Large fire near the airport in #Sochi. According to preliminary information, storages caught fire. pic.twitter.com/9nD30ASLs1

— NEXTA (@nexta_tv) August 20, 2022
Today the Ukrainians decided to further rub Russia's nose in their poor performance:
In February, russians were planning a parade in downtown Kyiv.
6 months into the large-scale war the shameful display of rusty russian metal is a reminder to all dictators how their plans may be ruined by a free and courageous nation.#FreedomIsOurReligion
🎥 @zaklyashtor pic.twitter.com/H1fbw2UaSS

— Defense of Ukraine (@DefenceU) August 20, 2022
The delusional 🇷🇺 arrogantly invaded 🇺🇦. I saw for myself the ceremonial uniforms in their tanks.
The aggressors dreamt of capturing Kyiv in 3 days.
The occupiers intended to hold a parade in our capital.
Ok, they're here.
Tons of scrap metal.
Buy nicotine patches, occupants! pic.twitter.com/KulMXWwt2t

— Oleksii Reznikov (@oleksiireznikov) August 20, 2022
That's enough for tonight.
Your daily Patron!
We, Ukrainians, don't want to be with those who are not similar to us. You know who I'm talking about. Our worldviews and dreams of a happy future are entirely different. We want to see how all our 603 square km of the country live in prosperity. Not more, just better. pic.twitter.com/PmhmlScosy

— Patron (@PatronDsns) August 20, 2022
I was editing the text because of the number of symbols here and deleted the most essential symbols 😂

— Patron (@PatronDsns) August 20, 2022
I was told there would be no math!
Here's a new video from Patron's official TikTok:
The caption translates as:
About my love for sleep😂 #pespatron #patrondsns #slavaukrainii
Open thread!