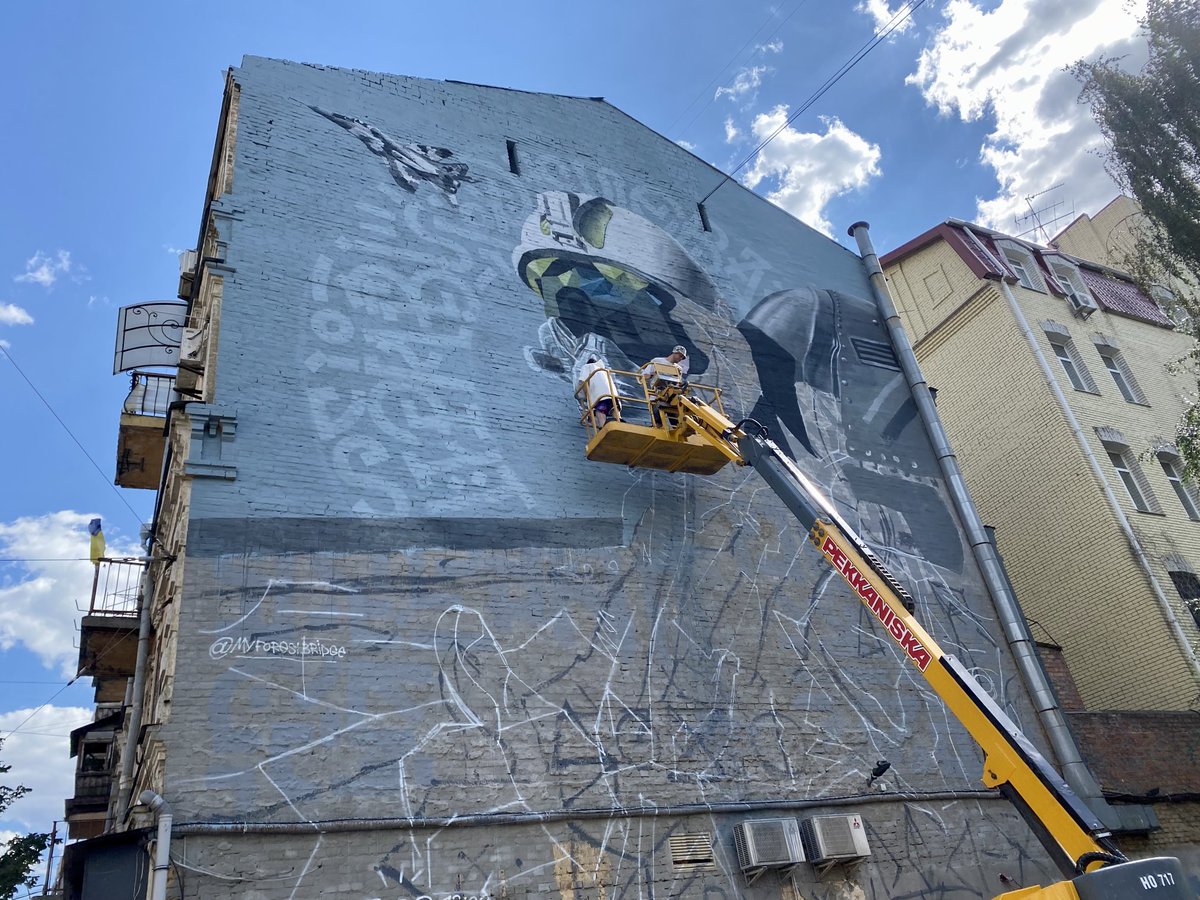 (Ghost of Kyiv mural. Image posted by Illia Ponomarenko)
Tonight I want to focus on the economics around Russia's re-invasion and Ukraine's defense against it.
First, here is President Zelenskyy's address from earlier today. Video below, English transcript after the jump (I'm not going to highlight anything, it's all stuff you should pay attention to):
Dear Ukrainians! I wish you health!

Today is Aviation Day. It is traditionally celebrated in our country on the last Saturday of August. It is a professional holiday of people without whom the present cannot be imagined. And without which we cannot imagine the independence of our state.

Russia hoped to destroy our aircraft in the first hours of the full-scale invasion. And, of course, this enemy had a completely insane goal, like many other such goals. The Air Force of Ukraine was preserved, and since the first day of the invasion, it has been honorably performing combat missions.

In six months, 18 pilots were honored with the title of Hero of Ukraine. Dozens more have been given state awards. Their skills and combat results have become a true legend, and I have repeatedly heard the highest praise of our aviation from representatives of the armies and states of our partners.

Ukrainian aviation is strong. It will be among the most modern, that's for sure. This cannot be changed. But even in the extremely difficult conditions that exist now, Ukrainian pilots show the greatest skills.

Today I thank all our pilots, everyone who services flights, prepares equipment for flights, and everyone who helps Ukrainian military aviation to be able to perform combat missions. And separately, I want to thank the parents of our soldiers, mothers and fathers of Ukrainian pilots, for such brave and intelligent sons who did and are doing a lot to bring our victory – the victory of Ukraine – closer.

Once again – Happy Aviation Day of Ukraine!

This week, for the Independence Day of our country, I signed a number of decrees on awarding representatives of various professions, various groups of our society. In general, those who really helped the defense of Ukraine, the defense of independence, our people, and who are really known at the front.

I asked the military and law enforcement officers, all authorities – central and regional, ministries and regional administrations, as well as representatives of the media – to provide me with nominations of those who deserve awards. Those in the trenches, those who support our boys and girls. Name the people they know in the army, whom they are truly grateful to on the front lines. Who support the fighting spirit of Ukrainians, our faith in ourselves, who spread the truth about the war. Who are mobilizing assistance for Ukraine abroad. Who support the displaced people… Volunteers and officials, journalists and workers of utility service enterprises, communications operators, transport workers and athletes, artists, musicians, public figures, workers of the energy industry, post office… Many different people whose candidacies were proposed. There are also those who are awarded, unfortunately, posthumously.

Of course, I also signed decrees on awarding our soldiers – in the Armed Forces, in intelligence, in the Security Service of Ukraine. In total, since February 24, 27,760 of our defenders have been given state awards of Ukraine.

Tomorrow, on Sunday, these decrees will be made public. And there will be another decree – a very important, special decree – on awarding state awards to friends of Ukraine abroad, our partners, our helpers in the struggle for freedom and life. Those whose contribution is really significant. Those to whom Ukraine will always be grateful.

Because the struggle for independence is the struggle of the entire nation, and only in this way it can be successful. It is nationwide here in Ukraine. And that is why Ukraine will win. The people always win. And the successful struggle for freedom in the world also cannot be the struggle of only individual people or individual states. It is a joint work, a common result, which is achieved thanks to the strength and solidarity of all who value freedom and who do not tolerate tyranny. Freedom always wins. We will definitely win!

Eternal glory to all our heroes!

Eternal gratitude to everyone who helps fight for freedom, for our state!

Glory to Ukraine!
Here is today's operational update from Ukraine's MOD:
The operational update regarding the russian invasion on 06.00, on August 27, 2022

Glory to Ukraine! The Armed Forces congratulate all Ukrainian aviators on the Aviation Day!

The one hundred eighty-fifth (185) day of the heroic resistance of the Ukrainian people to a russian military invasion continues.

In the Volyn and Polissya directions, the build-up of radio-electronic intelligence forces and means continues.

In the Siversky region, the enemy continues to hold separate units of the Western Military District in the border areas of the Bryansk and Kursk regions in order to demonstrate the presence and constrain the actions of units of the Defense Forces of Ukraine. The area of the village of Tovstodubove, Sumy oblast, was fired from barrel artillery.

In the Kharkiv direction, the enemy fired barrel and jet artillery at civil infrastructure facilities in the areas of Svitlichne, Peremoha, Protopopivka, Dementiivka, Petrivka, Cherkaski Tyshky, Odnorobivka, Zamulivka, and Tsyrkuny settlements. Used aviation for a strike near Husarivka.

It tried to advance in the direction of Dementiivka with assault actions, it was unsuccessful, and retreated.

In the Slovyansk direction, the enemy used barrel artillery and MLRS to shell Dolyna, Dibrivne, and Krasnopilla districts. Conducted aerial reconnaissance near Nova Dmytrivka. In order to disrupt the system of navigation support, the Defense Forces deployed a complex of radio-electronic warfare.

In the Kramatorsk direction, areas near Sydorove, Verkhnyokamyanske, Rozdolivka, and Kalenyky were subjected to enemy artillery fire. To clarify the position of our troops, the enemy conducted aerial reconnaissance by UAV.

The defense forces repelled an attempted enemy offensive in the direction of Hryhorivka.

In the direction of Bakhmut, the enemy fired at our troops from available weapons in the areas of the settlements of Bakhmutske, Vesela Dolyna, Zaitseve and Kodema. The areas of Zaitseve and Soledar were hit by enemy aircraft.

Separate units of the enemy made an attempt to improve the tactical position in the direction of the settlements of Soledar, Zaitseve and Mayorsk. They did not have success, they left.

In the Avdiivka direction, the enemy tried to destroy important objects of civil and military infrastructure with the fire of tanks, barrel and rocket artillery, to inflict losses on our units near Vodyane, Pervomaiske, Krasnohorivka, Zalizne and Novobakhmutivka. Maryinka and Valentynivka districts were hit by air strikes.

With offensive actions, the occupiers tried to advance in the direction of Nevelske, were repulsed and rolled back. To adjust the artillery fire, the enemy conducted aerial reconnaissance by UAV.

In the Novopavlivske direction, enemy units continued shelling the areas of Vuhledar, Novomykhailivka and Velyka Novosilka settlements with the available means of fire damage. The enemy used aviation for strikes near Volodymyrivka. He led an offensive battle in the direction of the settlement of Prechistivka, had no success, withdrew.

In the Zaporizhzhya region, fire damage was recorded in the territories near Novopole, Hulyaipilske, Charivne and Shevchenko. The districts of Novopole, Hulyaipilske, Novodanylivka and Olhivske were hit by airstrikes.

In the water areas of the Black and Azov seas, the enemy's ship group continues to carry out reconnaissance and blockade of civilian shipping in the northwestern part of the Black Sea.

In the South Buh direction, the main efforts of the enemy are concentrated on preventing the advance of our troops.

The areas of Nikopol, Oleksandrivka, Stepova Dolyna, Kobzartsi, Ternivka, Topolyne, Andriivka, and Lozove were shelled from tanks, barrel artillery, and multiple rocket systems. It carried out airstrikes near Velike Artakovo, Pervomaiske and Olhany.

With the forces of the reconnaissance group, the occupiers tried to conduct reconnaissance in the Potyomkino area, the enemy was detected and neutralized.

We believe in the Armed Forces of Ukraine! Together we will win!

Glory to Ukraine!
Here is today's assessment from Britain's MOD: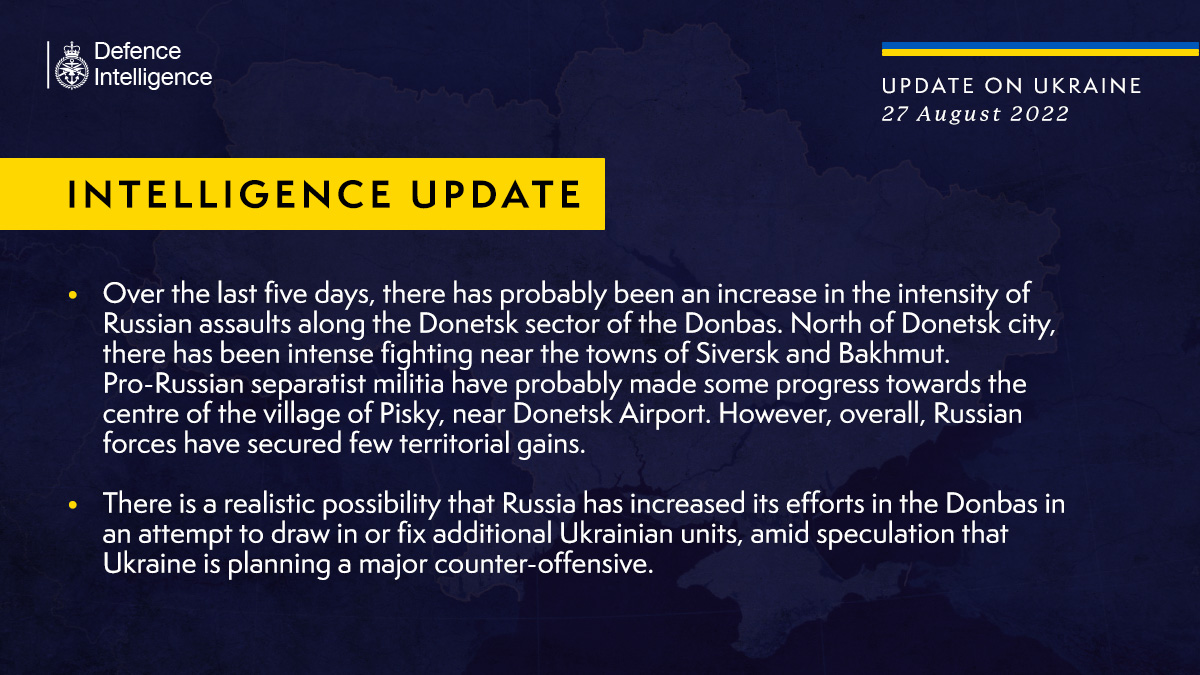 Here is former NAVDEVGRU Squadron Leader Chuck Pfarrer's most recent assessment and updated map regarding the situation in Kherson:
KHERSON /27 AUG 2022/ Ukraine is playing a long game in Kherson, preparing the battlefield carefully. By throttling Russian logistics, Ukraine has negated much of the combat effectiveness of an otherwise overwhelming force. pic.twitter.com/ldOffrmF1q

— Chuck Pfarrer (@ChuckPfarrer) August 27, 2022
And his most recent assessment of what is going on at the Zapporizhzhia Nuclear Power Plant:
ZAPORIZHZHIA NUCLEAR PLANT : RU attacks continued over the last 48 hours in the vicinity of the plant. On 27 AUG, shelling was reported on the outskirts of the adjacent town of Enerhodar. Yesterday, on 26 AUG, shelling continued the SE of the plant's cooling basin. pic.twitter.com/pJc4CrB1JE

— Chuck Pfarrer (@ChuckPfarrer) August 27, 2022
Ooopsie!
Ukrainians hijacked a Russian drone to the surprise of its operators, live on camera 😂 Slight panic at the end as Russians realise their location is not safe anymore pic.twitter.com/eusMAXLYSv

— Dmitri (@wartranslated) August 27, 2022
Two very different articles were published this week regarding the economics of the war for Ukraine. The first, in The Economist, focuses on whether the sanctions are working:
Six months ago Russia invaded Ukraine. On the battlefield a war of attrition is taking place along a thousand-kilometre front line of death and destruction. Beyond it another struggle is raging—an economic conflict of a ferocity and scope not seen since the 1940s, as Western countries try to cripple Russia's $1.8trn economy with a novel arsenal of sanctions. The effectiveness of this embargo is key to the outcome of the Ukraine war. But it also reveals a great deal about liberal democracies' capacity to project power globally into the late 2020s and beyond, including against China. Worryingly, so far the sanctions war is not going as well as expected.

Since February America, Europe and their allies have unleashed an unprecedented barrage of prohibitions covering thousands of Russian firms and individuals. Half of Russia's $580bn of currency reserves lies frozen and most of its big banks are cut off from the global payments system. America no longer buys Russian oil, and a European embargo will come fully into effect in February. Russian firms are barred from buying inputs from engines to chips. Oligarchs and officials face travel bans and asset freezes. America's "KleptoCapture" task-force has seized a superyacht that may have had a Fabergé egg on board.

As well as satisfying Western public opinion, these measures have strategic objectives. The short-term goal, at least initially, was to trigger a liquidity and balance-of-payments crisis in Russia that would make it hard to finance the Ukraine war and thus alter the Kremlin's incentives. In the long run the intent is to impair Russia's productive capacity and technological sophistication so that, if Vladimir Putin aspires to invade another country, he would have fewer resources to hand. A final aim is to deter others from warmongering.

Behind such ambitious goals lies a new doctrine of Western power. The unipolar moment of the 1990s, when America's supremacy was uncontested, is long gone, and the West's appetite to use military force has waned since the wars in Iraq and Afghanistan. Sanctions seemed to offer an answer by allowing the West to exert power through its control of the financial and technological networks at the heart of the 21st-century economy. Over the past 20 years they have been deployed to punish human-rights abuses, isolate Iran and Venezuela and hobble firms such as Huawei. But the Russia embargo takes sanctions to a new level by aiming to cripple the world's 11th-biggest economy, one of the biggest exporters of energy, grain and other commodities.

What are the results? On a three- to five-year horizon isolation from Western markets will cause havoc in Russia. By 2025 a fifth of civil aircraft may be grounded for want of spares. Upgrades to telecoms networks are being delayed and consumers will miss Western brands. As the state and tycoons seize Western assets, from car plants to McDonald's outlets, more crony capitalism beckons. Russia is losing some of its most talented citizens, who recoil at the reality of dictatorship and the prospect of their country becoming a petrol station for China.

The trouble is that the knockout blow has not materialised. Russia's gdp will shrink by 6% in 2022, reckons the imf, much less than the 15% drop many expected in March, or the slump in Venezuela. Energy sales will generate a current-account surplus of $265bn this year, the world's second-largest after China. After a crunch, Russia's financial system has stabilised and the country is finding new suppliers for some imports, including China. Meanwhile in Europe, an energy crisis may trigger a recession. This week natural-gas prices rose by a further 20% as Russia squeezed supplies.

It turns out the sanctions weapon has flaws. One is the time lag. Blocking access to tech the West monopolises takes years to bite, and autocracies are good at absorbing the initial blow of an embargo because they can marshal resources. Then there is the blowback. Although the West's gdp dwarfs Russia's, there is no wishing away Mr Putin's chokehold on gas. The biggest flaw is that full or partial embargoes are not being enforced by over 100 countries with 40% of world gdp. Urals oil is flowing to Asia. Dubai is brimming with Russian cash and you can fly with Emirates and others to Moscow seven times a day. A globalised economy is good at adapting to shocks and opportunities, particularly as most countries have no desire to enforce Western policy.

You should therefore discard any illusions that sanctions offer the West a cheap and asymmetric way to confront China, an even bigger autocracy. In order to deter or punish an invasion of Taiwan, the West could seize China's $3trn of reserves and cut off its banks. But, as with Russia, China's economy would be unlikely to collapse. And the government in Beijing could retaliate by, say, starving the West of electronics, batteries and pharmaceuticals, leaving Walmart's shelves empty and triggering chaos. Given that more countries depend on China than America as their largest trading partner, enforcing a global embargo would be even harder than with Russia.

Instead the lesson from Ukraine and Russia is that confronting aggressive autocracies requires action on several fronts. Hard power is essential. Democracies must cut their exposure to adversaries' choke points. Sanctions play a vital role, but the West should not let them proliferate. The more that countries fear Western sanctions tomorrow, the less willing they will be to enforce embargoes on others today.
A bit more at the link.
The second, from The Financial Times, focuses on the effects of the war on Ukraine's economy:
"This is a carefully devised plan," says Alexander Rodnyansky, an economic adviser to Ukraine's President Volodymyr Zelenskyy. "Ever since its blitzkrieg failed, Russia has moved to the strategy of the slow, painful death by economic means."

It appears to be working. Ukraine's gross domestic product will fall by as much as half this year. Its budget deficit is $5bn a month and, by the end of 2022, foreign donors will have spent at least $27bn paying the salaries of Ukrainian public sector workers and soldiers, keeping them warm this winter. The central bank has devalued the currency, the hryvnia, by 25 per cent and is printing more to buy government debt, tipping inflation to over 20 per cent.

"People don't understand how acute this is, and that we are on the brink of a currency crisis," says Rodnyansky. If this leads to hyperinflation, "that would be a calamity of unimaginable proportions and we won't be able to continue the war effort".

Putin is betting that western generosity is not infinite — especially as high gas prices damage domestic economies in the west — and that squeezing Ukraine's economy will further stretch the limits of how long the west will buoy up Kyiv.
Much, much more at the link including maps, graphs/charts, and pictures.
As you all know, my worry has always been that the sanctions regime would not be comprehensive enough, would not be accepted by enough countries, and would not make a dent in Russia's energy export economy to be effective fast enough to make a difference. And you all also know my concern about part of Putin's strategy once he couldn't quickly take Kyiv: dragging things out until donor fatigue sets in among the EU states and winter bites them as he manipulates gas flows into the EU, as well as the expectation that the Republicans will, at least, take the House in the midterms. While the politics in the US continues to change so the latter, while still a possible looks less certain than it die even a month ago, donor fatigue and his ability to jerk the Europeans around once winter arrives are still much more plausible ways to achieve his objective of cutting Ukraine off from support.
The good news is that politics in the US are not static and this midterm is likely to at least somewhat unique for a number of reasons. The good news is also that the Biden administration has managed to keep NATO united and focused and the EU largely on track in support of Ukraine, as well as our non-NATO and non-EU allies. The bad news is that this war is not going to be quick or inexpensive. So we will continue to watch and analyze the economic effects of the sanctions on Russia and the war on Ukraine.
Your daily Patron!
So the last weekend of summer, some say. What are you doing in other countries? In my country, you all know what.
________________
Oh! And yesterday I forgot to tell you about my fundraising for animals
Use the link https://t.co/l6oDcY8NvX to join.
PayPal: [email protected] pic.twitter.com/sXQlU1L2wN

— Patron (@PatronDsns) August 27, 2022
And a new video from Patron's official TikTok:
The caption tonight is just a weary face and the hashtags patron always posts – Glory to Ukraine, DogPatron, PatronDSNS:
Open thread!