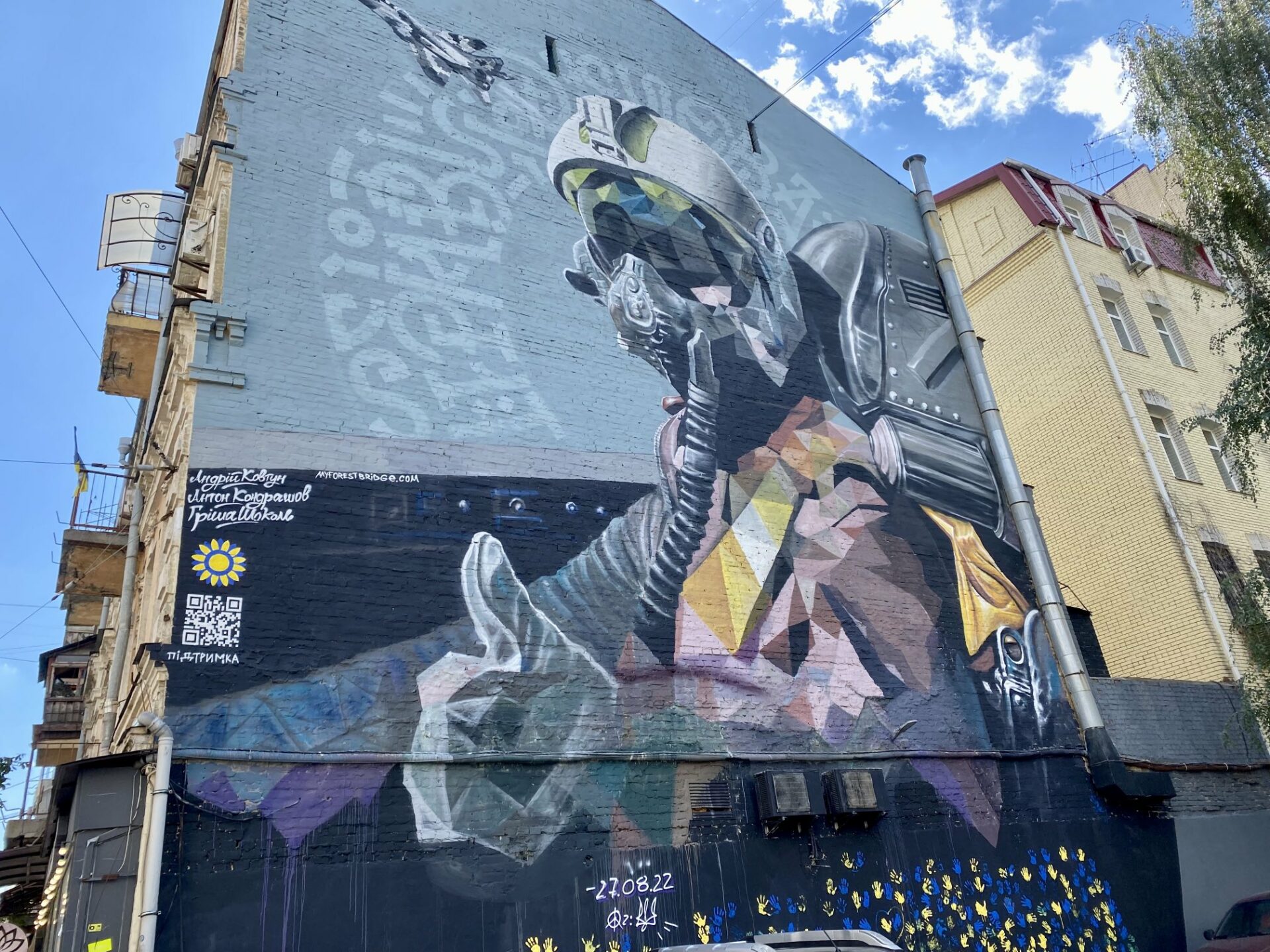 (Ghost of Kyiv Mural, Image posted by Illia Ponomarenko)
Here is President Zelenskyy's address from earlier today. Video below, English transcript after the jump:
Dear Ukrainians! I wish you health!

Today, I held another meeting of the Staff of the Supreme Commander-in-Chief this week. The heads of the defense and security sectors were present, as usual: Zaluzhny, Monastyrsky, Budanov, Maliuk, Danilov and others. The commanders of operational areas – Syrsky, Litvinov, Kovalchuk – reported on the state of affairs.

I think that you all understand what the main questions are. Certain decisions have also been made. I think we will all see them. We also considered today the issue of supporting our military, comprehensive support of the Armed Forces of Ukraine.

I held a meeting devoted to the state's further steps in European integration. This is another operational direction of our work – daily important work.

For us, the movement of Ukraine to the European Union and the transformation within our country is one of the key elements of the long-term protection of the state, a guarantee of freedom for all Ukrainians. Therefore, the European integration process deserves not just separate attention to political, economic, social, and legal aspects, but a holistic approach. Moving towards Europe, we are strengthening Ukrainian national life as a whole. I am sure that Ukraine will become a full member of the EU. At least let's do everything for it.

I took part today in the work of an important forum in Italy. One of the most influential economic forums in Europe is the Ambrosetti Forum. I thanked Prime Minister Draghi, all Italians who help us and also protect the Ukrainian desire for freedom, for Europe. He proposed new directions of cooperation between our states – now and after our victory.

It is important for Ukraine to maintain and strengthen Italian support despite any changes in political attitudes. By the way, this week it was the second address to Italian society – after the address to the participants and guests of the Venice Film Festival.

We are fighting for support and understanding of Ukraine in all European countries, in all audiences of European societies. I remind you every time that the protection of Ukraine is the protection of all of Europe. Not only ours, but the entire democratic world.

It is from this point of view that it is worth considering the decision agreed today by the G7 countries to cap the price of Russian oil. When this mechanism is implemented, it will become an important element of protecting civilized countries and energy markets from Russian hybrid aggression.

Indeed, the price of Russian gas must also be capped. I am grateful to Mrs. Ursula von der Leyen, who said this today. It is long overdue for such energy sanctions against Russia. The sanctions that will not only limit the flow of petrodollars and gas euros to Moscow, but also, importantly, restore justice for all Europeans, whom Russia is trying to blackmail with artificially inflated prices on the energy market.

I signed another decree on awarding our soldiers. 166 combatants were given state awards, 44 of them posthumously. Eternal memory to all those who gave their lives for Ukraine!

Eternal glory to all our soldiers who beat the invaders everywhere in Ukraine, on our land! The Kharkiv area, Donetsk region, the entire Donbas, the south, Crimea – Ukraine is and will be everywhere. That's it! There will be freedom. That's it! And there will be Europe. We will never give ours to the occupiers.

Glory to Ukraine!
The Ukrainian MOD did not post an operational update today.
Here is the British MOD's assessment for today: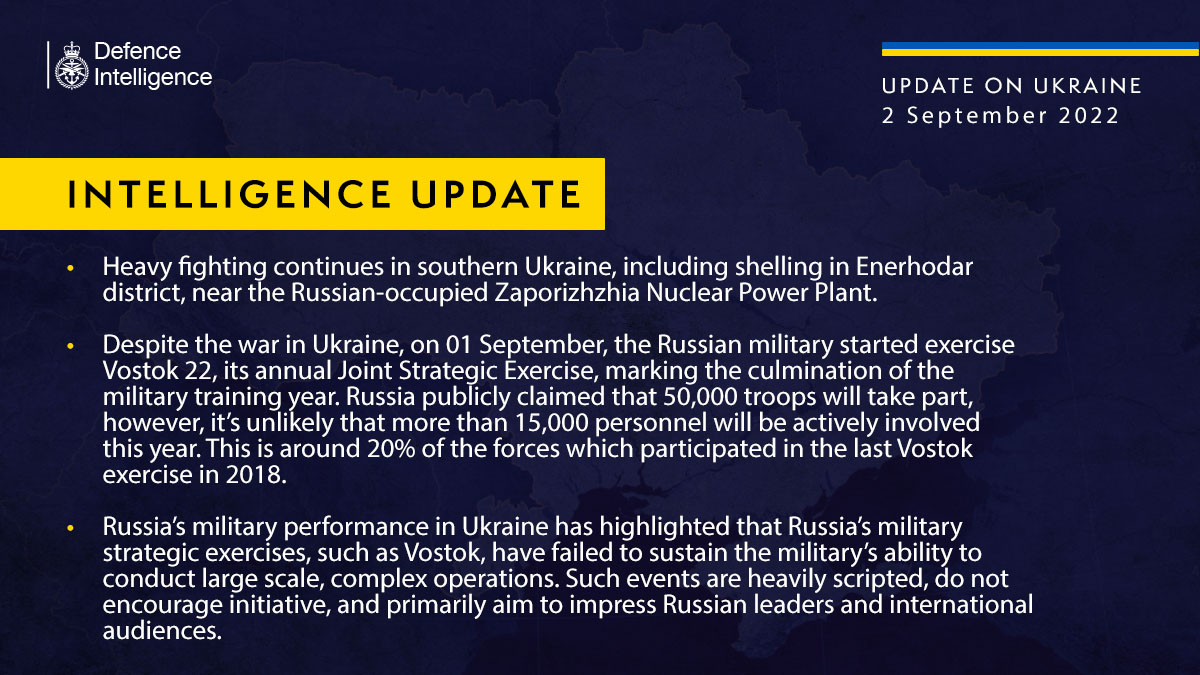 And here is their updated map for today: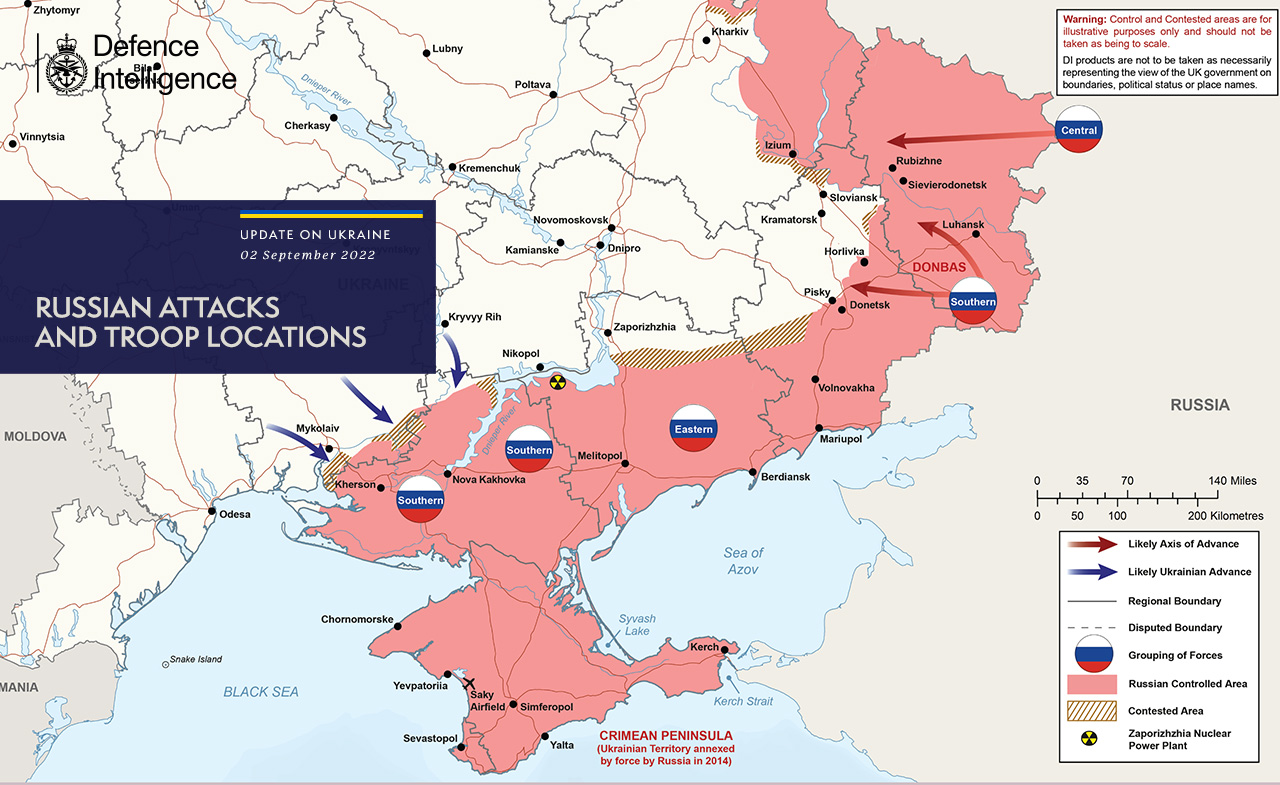 Here is former NAVDEVGRU Squadron Leader Chuck Pfarrer's latest assessment regarding the situation at the Zapoprizhzhia Nuclear Power Plant:
ZAPORIZHZHIA NUCLEAR PLANT: A UN team of IAEA technicians has entered the site. 5 technicians remained over night and will continue their examinations today. UKR President Zelensky of accused Russia of turning an essential trip into "a fruitless tour of the plant." pic.twitter.com/8XpCLG9L2d

— Chuck Pfarrer (@ChuckPfarrer) September 2, 2022
This is how the Russians explain the situation to @IAEAorg

"As the shell falls, it makes a 180° turn": the answer a representative of the IAEA received when asked why the shell stuck out as if it was launched from the occupied territory.

What do you think the report will say? pic.twitter.com/7DPtlsVd7o

— Anton Gerashchenko (@Gerashchenko_en) September 2, 2022
And here is Pfarrer's assessment of the situation in Crimea:
UKRAINE'S ACE IN THE HOLE: CRIMEA'S WATER: A recent Ukraine precision strike took out a pumping unit at the dam complex at Nova Kakhovka. This was a not so subtle reminder that Ukraine controls the water supply to Russian occupied Crimea. pic.twitter.com/q7vNnls3FF

— Chuck Pfarrer (@ChuckPfarrer) September 2, 2022
The CAP is up over Stockholm!
B52:s overflying Stockholm at low altitude.

USAF is around to help bolster deterrence and morale. https://t.co/89IaskjW9H

— Petri Mäkelä (@pmakela1) September 2, 2022
CNN has an update on Ukraine's efforts in Kherson:
16 hr 21 min ago

Ukraine claims Russia has suffered "significant losses" in south

From CNN's Olga Voitovych and Tim Lister

Russian forces have suffered "significant losses" in the southern region of Kherson following the Ukrainian counteroffensive launched earlier this week, Ukraine's military said Friday.

"The enemy suffers quite significant losses — losses in manpower have gone from tens to hundreds. Equipment also burns. […] Therefore, our successes are quite convincing, and I think very soon we will be able to disclose more positive news," said Natalia Humeniuk, spokeswoman for the Ukrainian military in the south.
"We continue to destroy the enemy in terms of its logistics, capabilities, capacities. Ammunition warehouses explode, pontoon crossings explode. It means that the enemy's logistics and transport connections are undermined to such an extent that they cannot raise reserves."

Operational Command South claimed that a range of targets had been struck, including a ferry crossing.

"Our air forces carried out 18 strikes on command and support posts, warehouses with ammunition and fuel and lubricants, as well as logistics and transport facilities," it said.

According to Operational Command South, three important bridges across the Dnipro river— Antonivskyi, Kakhovskyi and Dariivskyi — are ongoing targets.

Ukrainian forces have been trying to prevent Russian troops from resupplying their units north of the river, essentially cutting off Russian defensive positions.

However, Russian forces continue to shell more than a dozen Ukrainian settlements behind a front line that runs roughly along Kherson's northern border.

There has been little indication of territory changing hands in the area.
Here is The Kyiv Independent's Illia Ponomarenko's assessment of the situation in Kherson, including a map:
My hypothesis on what's Ukraine doing in Kherson region.
The Ukrainian military likely put a stake on gradually exhausting and embattling Russia's grouping on the Dnipro right bank — while also keeping it isolated from supplies and from across the river… pic.twitter.com/cO7vVckrvd

— Illia Ponomarenko 🇺🇦 (@IAPonomarenko) September 2, 2022
… that would guarantee nothing but a high Ukrainian death toll. So the command has to use their brains and do it in a more subtle way.
I think this operation is not about territorial gains per se, but about grinding the Russian group of 20-25 BTGs down in hard combat…

— Illia Ponomarenko 🇺🇦 (@IAPonomarenko) September 2, 2022
… and constant Ukrainian strikes upon Russian GLOCs and river crossings. Ukrainian need to always deny Russia of its ability to go on feeding its forces on the Dnipro right bank. That's a lot of work to do.
So yeah – it's way too early to tell if this operation was a success.

— Illia Ponomarenko 🇺🇦 (@IAPonomarenko) September 2, 2022
I think this is a smart assessment based on what we know is going on from the reporting.
That's enough for tonight.
Your daily Patron!
And don't forget to order your Patron postage stamps!
And also you can buy it directly from @ukrposhta https://t.co/HmOKqB6PMT

— Patron (@PatronDsns) September 1, 2022
Mine will be here on the 13!
Open thread!