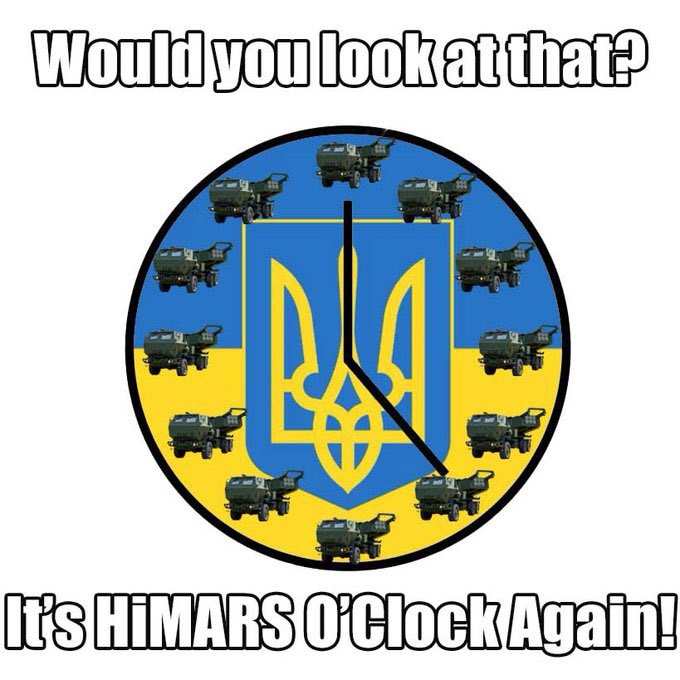 It's Rosh HaShana, and while I'm not super observant, I'm going to just do a very brief update for you all tonight.
Here is President Zelenskyy's address from earlier today. Video below, English transcript after the jump:
Ukrainians!

Today we have great news. Maryana Mamonova, a combat medic, defender of Azovstal whom we freed from Russian captivity gave birth to a daughter. I sincerely congratulate Maryana from the bottom of my heart and wish the girls only the best – peace and victory.

This is another proof that life always triumphs over any evil. And evil under the Russian flag is no exception to this rule.

Now all our state structures, which are needed, are fully working to help our released warriors. Medical aid, social, legal… Treatment, rehabilitation, restoration of documents, bank cards, housing, etc.

Rustem Umerov, pursuant to my instruction, visited our commanders from "Azovstal" in Turkey today. He checked their living conditions – the conditions are comfortable. The boys are provided with everything they need. Rustem controls that. Soon we will ensure that the boys meet their relatives and friends.

This week, on Tuesday, I am to receive a clear plan for each of those released – how their normal lives will be restored. Just as the process of releasing our heroes from captivity, this process of normalization is managed by Andriy Yermak, Head of the Office. He is also assisted by Kyrylo Budanov, Head of the Main Intelligence Directorate of the Ministry of Internal Affairs, as well as our ombudsman, the Ministry of Internal Affairs, the Security Service, etc.

I would like to emphasize: work is ongoing regarding the next exchanges. No matter how difficult it may be, we must free all our people, all Ukrainians. We do not forget about anyone.

But we should still remember: it is not easy, it requires the efforts of many people, and it is directly related to the situation on the frontline. Our active actions include, in particular, the increase of those whom we can exchange. The more Russian soldiers are detained by Ukrainian forces, the faster we will be able to free our warriors, our heroes from Russian captivity.

Fierce fighting takes place in many sections of the front with a total length of more than 2,000 kilometers. This is the Donetsk region, this is our Kharkiv region, Kherson region, as well as Mykolaiv and Zaporizhia regions. We have positive results in several directions.

And no matter what happens this week in Russia, no matter what steps the terrorist state plans – political or military – the tasks of our state, the tasks of Ukraine, cannot change: we are fighting for life and freedom for all Ukrainians.

This week there will be a new wave of our diplomatic activity. My new appeals to the political, business and student communities abroad. Our needs, our positions, our view on how to stop Russian evil will be heard everywhere in the world, absolutely everywhere.

We will also make a special emphasis. Emphasis on the fact that criminal mobilization is used by Russia not only to prolong the suffering of people in Ukraine and to further destabilize the world, but also to physically exterminate men – representatives of indigenous peoples who live in the territories controlled so far, temporarily, by the Russian Federation.

The situation in the occupied Crimea is catastrophic. The information about the Crimean Tatar people is fully confirmed: most of the mobilization letters are given there specifically to qırımlılar. This is another element of Russia's policy of genocide, another reason for the immediate and tough reaction of the whole world.

The same is happening on the territory of Russia itself. This is a deliberate imperial policy. This is a blow to the peoples of, for example, Dagestan and the entire Caucasus, to the indigenous peoples of Siberia and other territories.

And I want to repeat it once again.

Again in Russian, specially for Russian "comrades".

And this is not a kind of collection of peoples in Russia, not badges or flags somewhere on the map, no. These are not candy wrappers – these are real people.

And only now you are beginning to hear it, yet still not everywhere.

We see that people, in particular, in Dagestan, began to fight for their lives. We see that they are beginning to understand that this is a question of their lives. Why should their husbands, brothers, sons die in this war? In a war that one man wants. In a war against our people, on our land. He does not send his children to war.

Fight to ensure that your children are not sent to die – everyone who can be taken by this criminal Russian mobilization. Because if you come to take the lives of our children – I will tell you as a father – we will not let you go alive.

I want to emphasize once again: there is a way out. Do not submit to criminal mobilization. Flee. Or surrender to Ukrainian captivity at the first opportunity. I urge all our friends in the information field to spread this appeal. The more citizens of the Russian Federation at least try to protect their own lives, the sooner this criminal war of Russia against the people of Ukraine will end.

I am thankful to everyone who fights and works for our victory! A difficult week is ahead. A difficult path. Difficult challenges. But ahead is our victory. And it is inevitable.

This evening, I want to congratulate the Ukrainian Jewish community and all the Jews of the world on Rosh Hashanah. May all prayers for victory, all prayers for peace for Ukraine be heard.

Keep defending Ukraine!

Keep defending life!

Glory to Ukraine!
This is the medic that President Zelenskyy is referring to in his nightly address:
Marianna Mamonova, an Azovstal combat medic, has given birth to a child, just days after being freed from Russian captivity.
It's a girl!
The child has been born free. pic.twitter.com/umWccBAxaY

— Illia Ponomarenko🇺🇦 (@IAPonomarenko) September 25, 2022
Just in time for Rosh HaShana:
Our boy has got so far 😊 pic.twitter.com/Fq8GGQ9Nrc

— Illia Ponomarenko🇺🇦 (@IAPonomarenko) September 25, 2022
Here is the British MOD's assessment for today. It appears the mappers were given the day off to prepare for the Jewish New Year…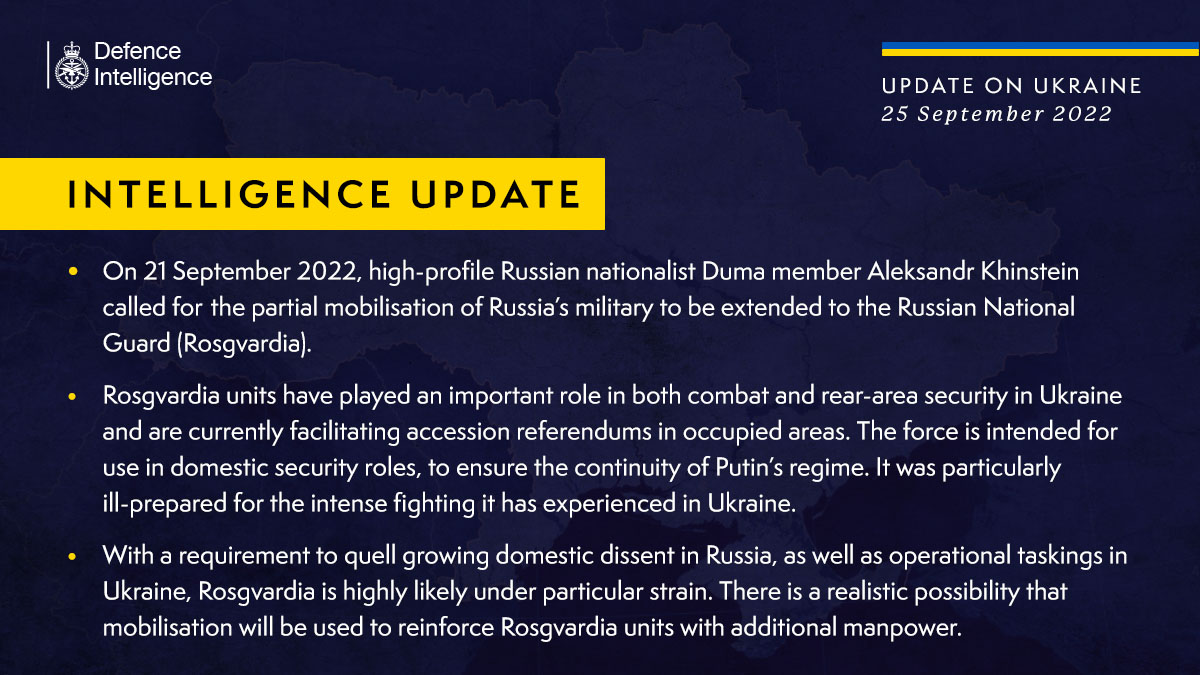 Here's former NAVDEVGRU Squadron Leader Chuck Pfarrer's most recent updates regarding the situations in Lyman and Kherson:
LYMAN/1430 UTC 25 SEP/ UKR forces have prosecuted a multi-pronged attack to isolate and dislodge RU troops occupying the important rail junction at Lyman. UKR has crossed and cut the O-0527 HWY near Drobysheve. UKR air defense is reported to have downed an Su-34 strike fighter. pic.twitter.com/JmXkHq48RE

— Chuck Pfarrer | Indications & Warnings | (@ChuckPfarrer) September 25, 2022
KHERSON/ 2045 UTC 25 SEP/ UKR air defense downed a pair of Iranian made Shaheed-136 UCAVs, intercepting them before they could reach targets in Mykolaiv. On 24 SEP, UKR air defense downed a Russian Su-25, and shortly after, an Mi-8 CSAR helicopter, reportedly near Beryslav. pic.twitter.com/mucYHreZQi

— Chuck Pfarrer | Indications & Warnings | (@ChuckPfarrer) September 25, 2022
Apparently it's NASAMS O'Clock too!
We now have NASAMS

— Illia Ponomarenko🇺🇦 (@IAPonomarenko) September 25, 2022
AIR DEFENSE DOMINANCE: Jason Jay Smart @officejjsmart reports that UKR Pres. Vladimir Zelensky has confirmed that Ukraine has deployed NASAMS air defense systems. These Norwegian/ US air surface to air missile complexes will further blunt RU frontal aviation. https://t.co/8uaZPWoNPO pic.twitter.com/iEqCGJnIW1

— Chuck Pfarrer | Indications & Warnings | (@ChuckPfarrer) September 25, 2022
There was speculation that the Russians used a chloropicrin grenade. Here's CBRN subject matter expert Dan Kaszeta debunking that and explaining that it was a CS grenade. Which is banned under the Geneva Convention:
Here's alleged photos of the device. pic.twitter.com/mvpcCq4mfu

— Dan Kaszeta 🇺🇦🇱🇹 (@DanKaszeta) September 24, 2022
However, the K-51 is not a "chloropicrin grenade". It is a CS tear gas grenade. https://t.co/bdTNB5lNac pic.twitter.com/Q0a8X93Y69

— Dan Kaszeta 🇺🇦🇱🇹 (@DanKaszeta) September 24, 2022
Several people were asking about the rumors and speculation that Xi has been deposed in a coup. As I wrote last night, that's all garbage. Here's a great thread explaining how this all got pushed on social media:
Since last night I analyzed close to 2000+ accounts amplifying the hashtag #chinacoup. Despite this graph not being pretty enough given the large dataset, I figured out a bunch of accounts with significantly low followers that acted as the key disseminators of the rumor. pic.twitter.com/8PtfobJ6hk

— Atandra Ray (@atandra_ray) September 25, 2022
Yes, you read that right, that big node on the upper left is an account named "loliwifegroomer". I'm sure he's quite nice…
Similarly, this account claimed that the People's Liberation Army (PLA) has taken control of China, and President Xi Jinping is under house arrest. The account also featured a picture of Li Qiaoming, a general of the Chinese People's Liberation Army and Jack Ma, of Alibaba Group. pic.twitter.com/gP3EHDtCRq

— Atandra Ray (@atandra_ray) September 25, 2022
Given the Sino-Indian border dispute, there seem to be a lot of accounts originating from India further amplifying the claim that Chinese President Xi Jinping is under house arrest.

— Atandra Ray (@atandra_ray) September 25, 2022
FYI, @HuJirui found that the rumour originated in Chinese-language Twitter. It had also been brewing for two days before Jennifer Zeng amplified it. The aforementioned rumour can be found on this link https://t.co/2W57NSnCiC which was posted on the 21st of September.

— Atandra Ray (@atandra_ray) September 25, 2022
Last substantial item tonight:
North Korea has launched a suspected ballistic missile. More updates to follow.

— PM's Office of Japan (@JPN_PMO) September 24, 2022
For the last time: one conflict at a time is all I can handle with my current schedule!
There is actual footage of the launch:
— Andreas (@AndreasSKS) September 24, 2022
That's enough for tonight.
Your daily Patron!
Or you can use my monobowl:https://t.co/l6oDcY8fGp

— Patron (@PatronDsns) September 25, 2022
We did it! Thank you 🐶❤️ pic.twitter.com/3TLOhUEtpS

— Patron (@PatronDsns) September 26, 2022
And a new video from Patron's official TikTok:
The caption translates as:
The dream of every Ukrainian👹🇺🇦 #SlavaUkraini #Patrondog #PatronDSNS
Open thread!