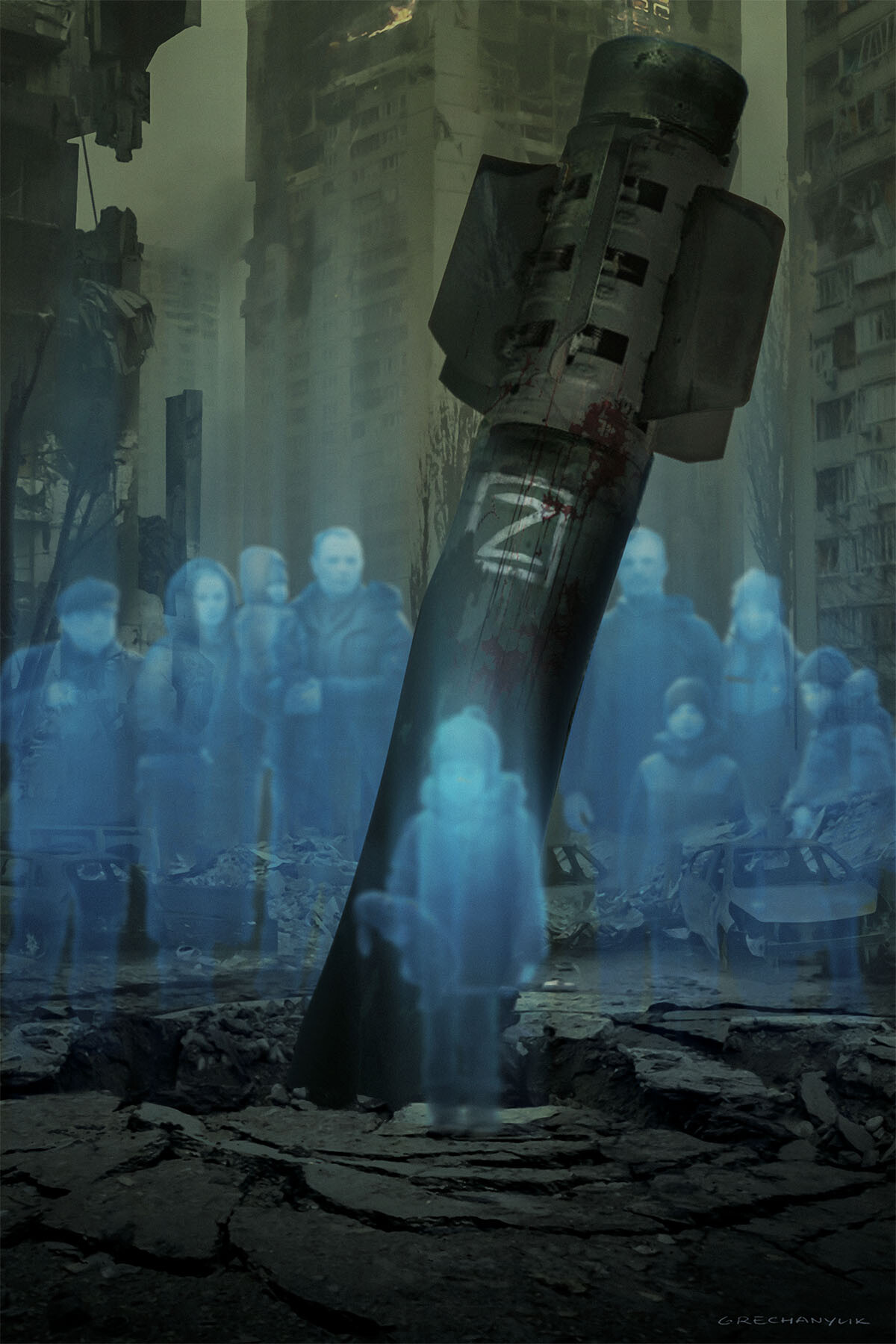 The Russians opened up and bombarded Ukrainian civilians and civilian infrastructure again today.
70 missiles fired by Russia on Ukraine today. Energy infrastructure objects hit in Kyiv, Lviv and other regions. The capital is without water supply as a result. At least three civilians killed in Kyiv after a Russian missile hit a residential building #RussiaIsATerroristState

— Olga Tokariuk (@olgatokariuk) November 23, 2022
So.
Again.
Russians have spent a shitload of very expensive and disposable missiles (over 30 against Kyiv alone) to cut most of Ukraine off from electricity.
By the end of the day, power grid restored in most regions, again.
Any ideas what Russians are trying to achieve here?

— Illia Ponomarenko 🇺🇦 (@IAPonomarenko) November 23, 2022
On November 23, 6 civilians were killed and 36 civilians were wounded as a result of another massive missile attack on civilian objects in Ukraine. russia is trying its hardest to add "murderer" to its status as a terrorist state. pic.twitter.com/XLEMGJzY6B

— Defense of Ukraine (@DefenceU) November 23, 2022
More on this after the jump.
Here is President Zelenskyy's address to the UN Security Council from earlier today. Video below, English transcript after the jump:
Mr. President, Ladies and Gentlemen!

We expect a strong reaction from the world to today's Russian terror. We expect the reaction of partners. We expect the reaction of friends – not just observers. We expect the reaction of all those who really recognize the UN Charter.

We are doing everything possible. Ukraine presented the Peace Formula. The world heard it.

10 points – how to restore the full power of the UN Charter violated by Russia, and guarantee the safety of Ukraine, the safety of Europe and all the peoples of the planet who suffer from the consequences of Russian aggression.

In response to our Peace Formula, Russia is following the steps of its formula of terror.

The very next day after I proposed the Ukrainian Peace Formula at the G19 summit in Indonesia, we received ten Russian missiles per each point of the Peace Formula.

The strikes continued.

We liberated Kherson – and as soon as the Russian army fled from there, it began to methodically destroy this city. Strikes every day.

This night – another missile attack on the Zaporizhzhia region, on the hospital – on the buildings where the maternity ward was located. Russian terrorists took the life of a baby – the child was 2 days old when it was killed by a Russian missile!

And then again – dead, dead, dozens of wounded. In the city of Vyshhorod this afternoon, a residential building was hit, 35 people were injured, 4 were killed.

This is one of the main points of the Russian formula of terror – missiles.

Only today – almost 70 missiles. Against our energy infrastructure.

Unfortunately, a residential building was also hit.

Hospitals, schools, transport, residential areas – everything was affected.

Russian terror led to a blackout – and not only in Ukraine. The light also went out in neighboring Moldova.

But the understanding of what Russia wants to achieve with such strikes should not disappear anywhere in the world.

Energy terror is an analogue of the use of weapons of mass destruction.

When the temperature is below zero outside, and tens of millions of people are left without electricity, heat and water as a result of Russian missiles hitting energy facilities, this is an obvious crime against humanity.

Ladies and Gentlemen!

Among you are representatives of a state that offers nothing to the world except terror, destabilization and disinformation. Any Russian formulas do not provide for anything else.

And that's why I emphasize once again – it's time to support the Ukrainian Peace Formula!

There must be no opportunity left for terror in the world!

That is why we are turning to our partners for support to protect our skies. We need modern and effective air defense and missile defense systems, and I thank everyone who is already helping.

What can a representative of a terrorist state tell you now? That civilians do not suffer from their missiles? Everything is obvious. It's all too obvious.

And I urge you to take concrete steps to protect humanity and life!

Russia has long been trying to turn the UN Security Council into a platform for rhetoric. But the Security Council was created as the world's most powerful platform for decisions and actions. This is what we can demonstrate.

The Security Council should provide a clear assessment of the actions of the terrorist state in accordance with Chapter Seven of the UN Charter. Ukraine proposes that the Security Council adopt such a resolution condemning any forms of energy terror.

Let's see if anyone in the world will be able to say, along with Russia, that terror against civilians is supposedly a good thing.

I confirm the invitation from Ukraine regarding the mission of UN experts to critical infrastructure facilities of our country that have been or may be hit by Russian missiles.

It is necessary to give a proper assessment of damage and destruction. It should be stated that these are strikes against the very infrastructure that ensures the lives of tens of millions of people.

And finally, justice must be restored within the UN structures themselves.

The terrorist state should not participate in any voting on the issues of its aggression, its terror.

It is a stalemate when the one who caused the war, the one responsible for the terror, blocks any attempt by the UN Security Council to fulfill its mandate.

This is nonsense that the veto right is reserved for the one who is waging a criminal war.

It is necessary to lead the world out of this impasse.

It is absolutely possible.

The world should not be held hostage by one international terrorist.

Russia is doing everything to make the electric generator a more powerful and necessary tool than the UN Charter. We must and can return real meaning to all things – and above all to the UN Charter.

Your decisions are needed!

Thank you for the opportunity!

Thank you for your attention!

Glory to Ukraine!
Here's more on today's bombardment:
Heart surgery in Kyiv.
A child is being operated on, and power goes off due to a Russian missile attack.
Surgeons carry on with their batteries and power generators. pic.twitter.com/G1fxWd6Lii

— Illia Ponomarenko 🇺🇦 (@IAPonomarenko) November 23, 2022
The boy, who was born in the front-line town of Vilniansk, Zaporizhia region, lived for only two days.
He was killed by a russian missile. His mother's life is saved.#russiaisaterroriststate pic.twitter.com/gdgnbL0KA4

— Defense of Ukraine (@DefenceU) November 23, 2022
Power units of the Pivdennoukrayinskyi nuclear power plant also had an emergency disconnection from the grid

— Olena Halushka (@OlenaHalushka) November 23, 2022
Same regards Rivne nuclear power plant. This becomes really bad
Ok russian war crimes inside Ukraine is none of the NATO business, but this energy terrorism poses very serious direct threats to the safety of entire Europe. For how long russia would be allowed to do that? An answer to this question lies in the hands of every Western leader
Zaporizhzhia nuclear power plant is switched to a full blackout mode, it works on diesel generators, acc to Energoatom
Frank Sinatra's My Way is being played on the dark streets of Kyiv.
Despite russian shelling, despite the darkness and cold, Ukrainians will win. We will forge our own path. pic.twitter.com/uarK9u00dP

— Defense of Ukraine (@DefenceU) November 23, 2022
Here is former NAVDEVGRU Squadron Leader Chuck Pfarrer's most recent assessments of the situations in Bakhmut and Kherson:
BAKHMUT /2130 UTC 23 NOV/ In the last 48 hours RU frontal attacks have registered incremental advances in the NE suburb of Pidhordne. A company sized RU assault has attained a lodgment across the Bakhmutka River south of Andrivka. UKR artillery now targets these areas. pic.twitter.com/XgdWi9ceDC

— Chuck Pfarrer | Indications & Warnings | (@ChuckPfarrer) November 23, 2022
KHERSON AXIS/ 1630 UTC 23 NOV/ UKR Suppression of Enemy Air Defense (SEAD) missions destroyed a Russian S-300 complex near Polohy. UKR recon UAVs indicate that RU units are constructing defensive positions along the M-14 HWY between Kakhovka and Melitopol. pic.twitter.com/jbDJbCHfNV

— Chuck Pfarrer | Indications & Warnings | (@ChuckPfarrer) November 23, 2022
Good on Poland!
WARSAW, Nov 23 (Reuters) – Polish Defence Minister Mariusz Blaszczak said on Wednesday he had asked Germany to send Patriot missile launchers offered to Poland to Ukraine.

— Idrees Ali (@idreesali114) November 23, 2022
Here's the latest aid package from the US:
The Department of Defense says it has authorized a Presidential Drawdown of security assistance valued at up to $400 million for Ukraine. This authorization is the Biden administration's 26th drawdown of equipment from DoD inventories for Ukraine since August 2021. It includes 👇🏽 pic.twitter.com/QHAxukdjDj

— Vivian Salama (@vmsalama) November 23, 2022
Well this is interesting:
CONFIRMED: Turkey supplied laser-guided TRLG-230 missiles to Ukraine earlier this year

• Dozens of missiles shipped but it isn't a big shipment, the impact might be minimal

• Could be combined with TB2s to pinpoint locations https://t.co/1nyJodwIR2

— Ragıp Soylu (@ragipsoylu) November 23, 2022
From Middle East Eye:
Turkey delivered dozens of TRLG-230 precision-guided missiles to Ukraine in the early summer, two sources familiar with the issue told Middle East Eye.

Developed by Turkish producer Roketsan, the 230mm TRLG-230 missile has high accuracy against targets within a range of 20-70 km, thanks to its global positioning system (GPS) and laser guidance.

The TRLG-230 can be combined with multiple rocket launchers, known as MLRS, whose American equivalent, the High Mobility Artillery Rocket System (HIMARS), has been very effective against the Russian forces in Ukraine.

MEE understands that around 50 TRLG-230 missiles have been shipped to Ukraine, confirming what defence blog Oryx reported on Monday. One source said as many as 200 missiles could have been shipped so far.

Orxy said in an article that the guided missile could be combined with Turkey's famed Bayraktar TB2 armed drones, which could pinpoint targets for the guided missile and help successfully destroy them within a range of 70 kilometers.

Stijn Mitzer, an arms expert who runs Oryx, told MEE that Turkey was the first country to deliver such equipment to Ukraine, even before the United States had supplied its HIMARS, which first arrived in Ukraine in June.

"TRLG-230 missiles are destined for pinpoint strikes on target, rather than firing a lot of them at once as with a regular multiple rocket launcher," he said.

Undated footage surfaced on Ukrainian social media on Tuesday night allegedly showing a TRLG-230 missile being fired in Ukraine, indicating that they are being used one at a time rather than in multiple firings.

⚡️⚡️⚡️🇹🇷The first recorded use of the Turkish MLRS TRLG-230 in Ukraine. The Oryx project wrote about deliveries to our country a few days ago. Thanks to the reader for the video ❤️#Turkey #Ukraine️ #Kherson #UkraineRussiaWar️ pic.twitter.com/j1Tf6lnAR6

— Ukraine-Russia war (@UkraineRussia2) November 22, 2022
Much more at the link!
That's enough for tonight.
Your daily Patron!
Dog Patron became the first dog in history to receive the title of Goodwill Dog from UNICEF Ukraine

The memorandum of cooperation was signed on World Children's Day. pic.twitter.com/R8Qegq8Qfx

— ТРУХА⚡️English (@TpyxaNews) November 20, 2022
Patron, the mine-sniffing dog, was dispatched to work international relations, again, whilst 🇬🇧 British Prime Minister Rishi Sunak visited Kyiv, Ukraine 🇺🇦. pic.twitter.com/eDYoamXfN4

— Jason Jay Smart (@officejjsmart) November 20, 2022
And a new video from Patron's official TikTok:
The caption machine translates as:
As promised, the second part 🤗 #PatrontheDog #PatronDSNS
Open thread!