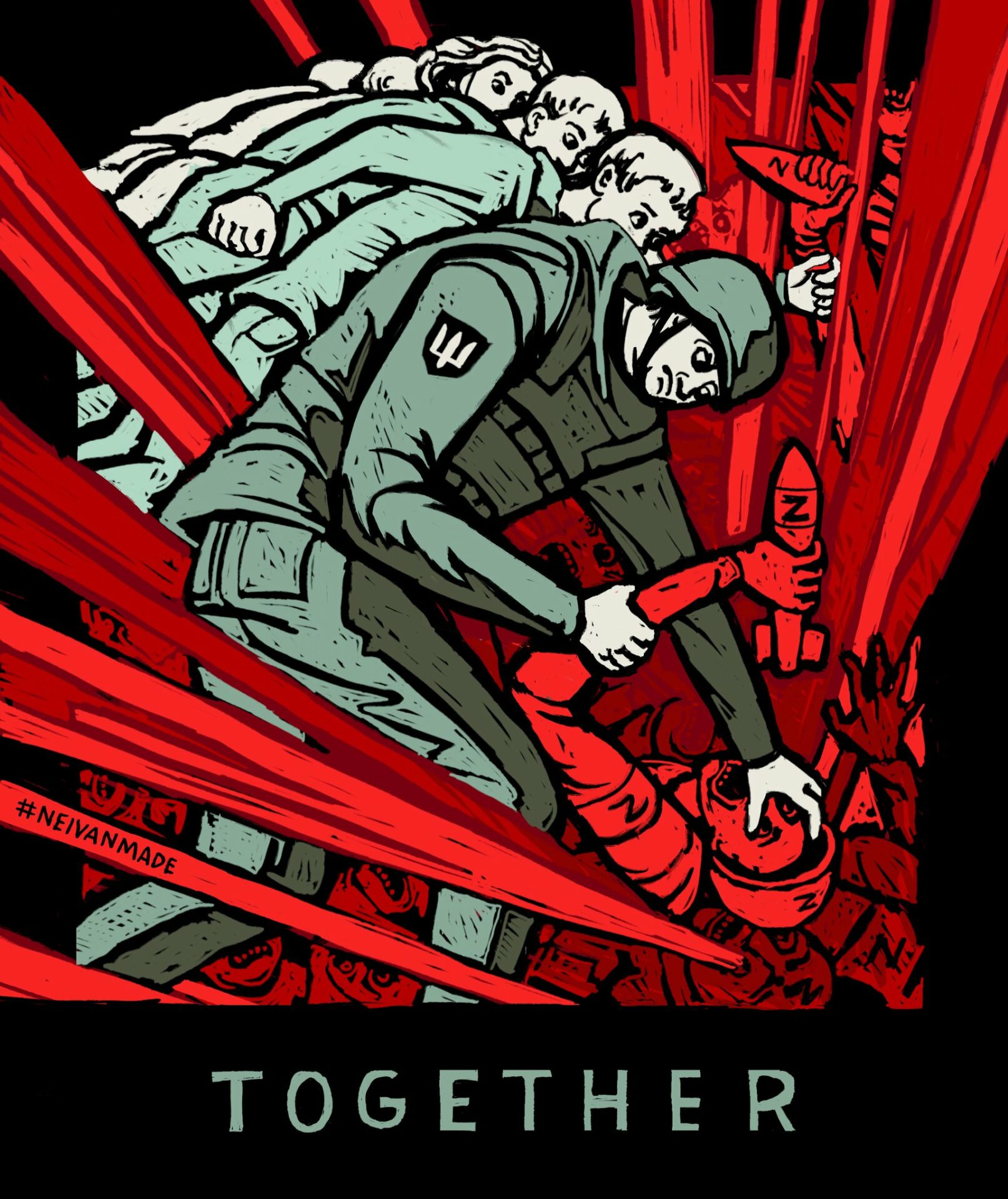 (Image by NEIVANMADE)
It was an exceedingly long, though productive, day today. So just the essentials tonight.
Here is President Zelenskyy's address from earlier today. Video below, English transcript after the jump:
At the state level, everything is being done to increase the ability to defend against Russian strikes – address by the President of Ukraine

19 April 2023 – 23:47

Good health to you, fellow Ukrainians!

I am on my way back from a working trip.

Today I was in Volyn, visited our border guards, on the border, in particular, with Belarus. Arrangement of the border, defense, development of the border area – many issues. Volyn shows true strength, and this is felt in the way the region strengthens the security of the entire state.

I awarded our border guards… Together with all our defense and security forces, border guards are fighting on the frontline, particularly in the most difficult areas. Bakhmut, Donetsk region in general… True heroes who successfully completed hundreds and hundreds of combat missions.

We are also preparing new units – units of border guards in particular – that will join our active actions, the movement that we are gradually building up.

We constantly work on the development of our regions – absolutely all of them. Today in Volyn, I held a broad meeting with the region's leaders, local law enforcers, military personnel, and all those responsible for the security and social condition of the region. We agreed on several infrastructure projects that will strengthen Volyn – this is important – and will make it possible to guarantee long-term jobs and economic growth. I am sure that we will definitely implement all this. Very soon.

We continue to prepare our international steps not only for this week, but in general for the near future. The defense of Ukraine, the rules-based international order remain the number one issue on the global agenda.

By the way, I am grateful to the United States for another package of military support announced today.

And today I would like to note separately our defenders of the sky – the Air Forces and the corresponding units of other branches of the troops.

At the state level, everything is being done to increase the ability to defend against Russian strikes. Air defense systems and other weapons to protect the sky are already here in Ukraine, they are really powerful. But they should be – and, I am sure, will be – even more powerful.

I am thankful to everyone who, with their accuracy and speed, ensures the effectiveness of all the weapons that our state has received!

Soldiers of the 160th Odesa anti-aircraft missile brigade of the "South" air command and mobile fire groups of the 164th Slobidska radio engineering brigade of the "East" air command were particularly effective this night. Thank you! During the day, our soldiers protected the skies of the Dnipropetrovsk region, Kyiv, the region, other cities, other regions of ours…

Glory to each and every one who is now fighting for our country, for the sake of Ukraine!

Glory to our strong people!

Glory to Ukraine!
There was no operational update from the Ukrainian MOD today. However, Ukrainian Deputy Defense Minister Malar provided this statement: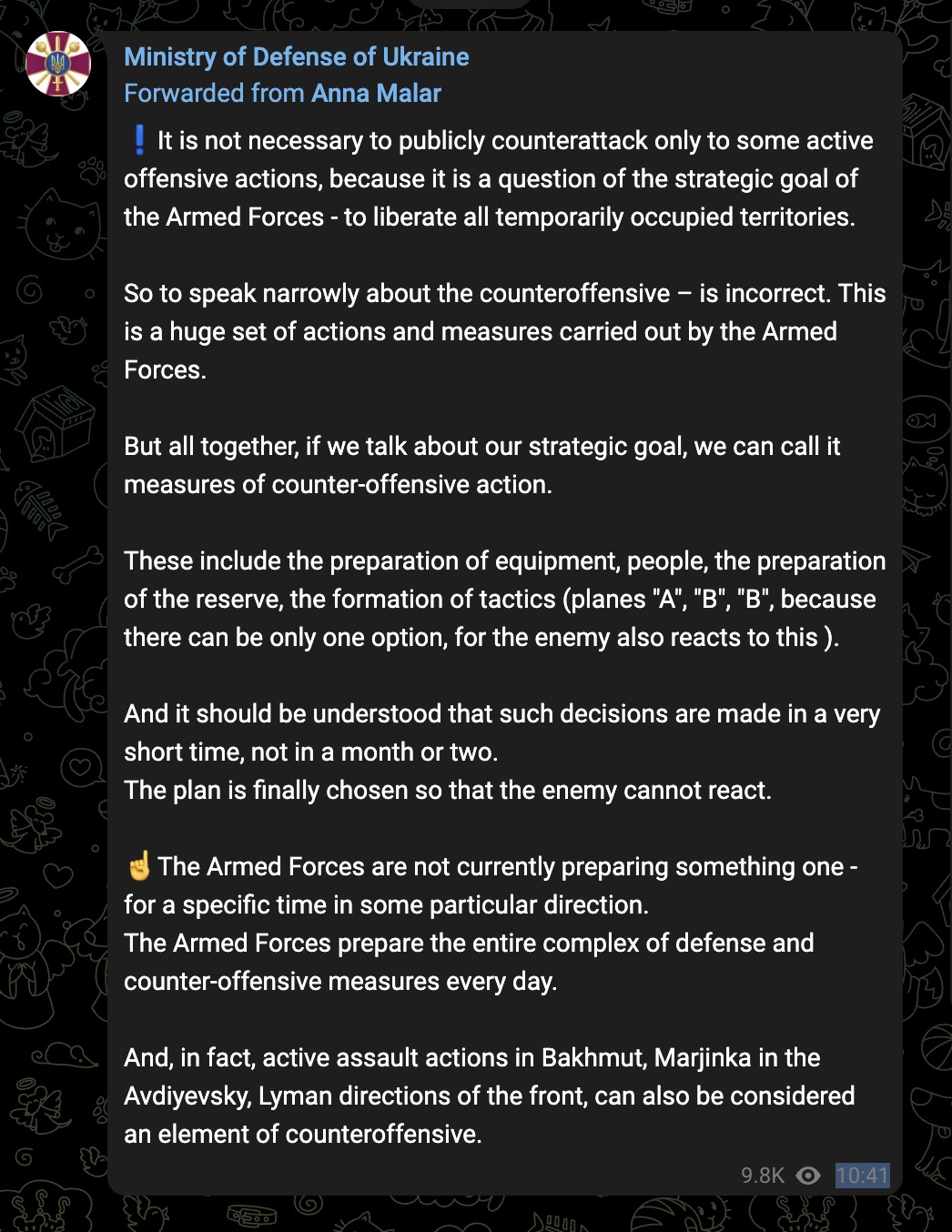 Bakhmut:
Remarkable report on how Ukrainian border guards, along with other defense forces, hold the line in Bakhmut day after day.https://t.co/pGZd1QnyqF

— Maria Avdeeva (@maria_avdv) April 19, 2023
Here's the full video from that second tweet:
Vuhledar and Avdiivka:
Reports in the media that russia has canceled the "tank biathlon" competition in 2023 are false. The russian national team continues to triumph, most notably at tournaments in Vuhledar and Avdiivka, near Kreminna. However, currently playing the role of targets.

— Defense of Ukraine (@DefenceU) April 19, 2023
Kharkiv:
The terrorist state launched an airstrike on Vovchansk, Kharkiv region,late in the evening of Apr 18. As is so often the case, the targets of russian bombs were purely civilian objects – the densely built-up town center and the market place. Two residents of the town were killed. pic.twitter.com/UWGdOFwXPb

— Defense of Ukraine (@DefenceU) April 19, 2023
As said, the destruction of 4 Russian MT-12 100-mm anti-tank guns and 2 trucks for transporting ammunition. By the 10th brigade of Ukraine. pic.twitter.com/j1x70CnRq3

— Special Kherson Cat 🐈🇺🇦 (@bayraktar_1love) April 19, 2023
Ukraine's 10th Mountain Assault Brigade's motto is "With a shield or on a shield!" Our's is "Climb to Glory!" Either way, well done! And, from the brigade combat team I was assigned to – the Iron Brigade – always Strike Hard!
Here's some stuff for you logistics afficionados:
/2. Also, according to Spiegel information, Sweden also transferred 12 Iris-T SLS systems to Germany. Currently, a search is underway for vehicles on which these systems can be placed in order to be able to deliver them to Ukraine. pic.twitter.com/fxwF9205c0

— Special Kherson Cat 🐈🇺🇦 (@bayraktar_1love) April 19, 2023
And here's today's DOD announcement of the latest round of material and equipment going to Ukraine:
IMMEDIATE RELEASE

Biden Administration Announces Additional Security Assistance for Ukraine

Today, the Department of Defense (DoD) announced critical new security assistance for Ukraine. This includes the authorization of a Presidential Drawdown of security assistance with more ammunition for U.S.-provided HIMARS, artillery rounds, and anti-armor capabilities essential to strengthening Ukraine's defenders on the battlefield valued at up to $325 million.

The Presidential Drawdown is the thirty-sixth such drawdown of equipment from DoD inventories for Ukraine that the Biden Administration has authorized since August 2021. The capabilities in this package include:

Additional ammunition for High Mobility Artillery Rocket Systems (HIMARS);
155mm and 105mm artillery rounds;
Tube-Launched, Optically-Tracked, Wire-Guided (TOW) missiles;
AT-4 anti-armor weapon systems;
Anti-tank mines;
Demolition munitions for obstacle clearing;
Over 9 million rounds of small arms ammunition;
Four logistics support vehicles;
Precision aerial munitions;
Testing and diagnostic equipment to support vehicle maintenance and repair;
Port and harbor security equipment;
Spare parts and other field equipment.

The United States will continue to work with its Allies and partners to provide Ukraine with capabilities to meet its immediate battlefield needs and longer-term security assistance requirements.
This is a smart assessment:
Former Yermak's advisor Oleksiy Arestovych says it is essential for Ukraine to prepare for the second war with Russia in 4-6 years' time. He believes Russia will attempt to learn from mistakes and have another go, similarly to the Second Chechen War. pic.twitter.com/hLz3bciCXu

— Dmitri (@wartranslated) April 19, 2023
Especially if the strategy that I highlighted the other night from Haas and Kupchan is adopted.
Well this happened!
Oh dear lord, I can't describe it how I want this country to be a very dull and boring place

— Illia Ponomarenko 🇺🇦 (@IAPonomarenko) April 19, 2023
Because it's Ukraine, I wouldn't have been too surprised if this was a real alien invasion at Kyiv.
And the Martians would be like: "Fuck this shit, we're abandoning our tripods. We can't defeat those dudes with yellow scotch tape armbands."

— Illia Ponomarenko 🇺🇦 (@IAPonomarenko) April 19, 2023
— Ukrainian Memes Forces (@uamemesforces) April 19, 2023
Obligatory:
That's enough for tonight!
Your daily Patron!
I visited the Ambassador of Japan in Ukraine @JPEmbUA We discussed the demining, and I conveyed gratitude from all the Ukrainians for the Japanese help. That's how I like to say: "Arigato to you," well, only in dog language🤭 pic.twitter.com/sZYWPj05qN

— Patron (@PatronDsns) April 19, 2023
And a new video from Patron's official TikTok:
The machine translation of the caption is:
I'm not joking. :)) #песпатрон#патрондснс
Open thread!