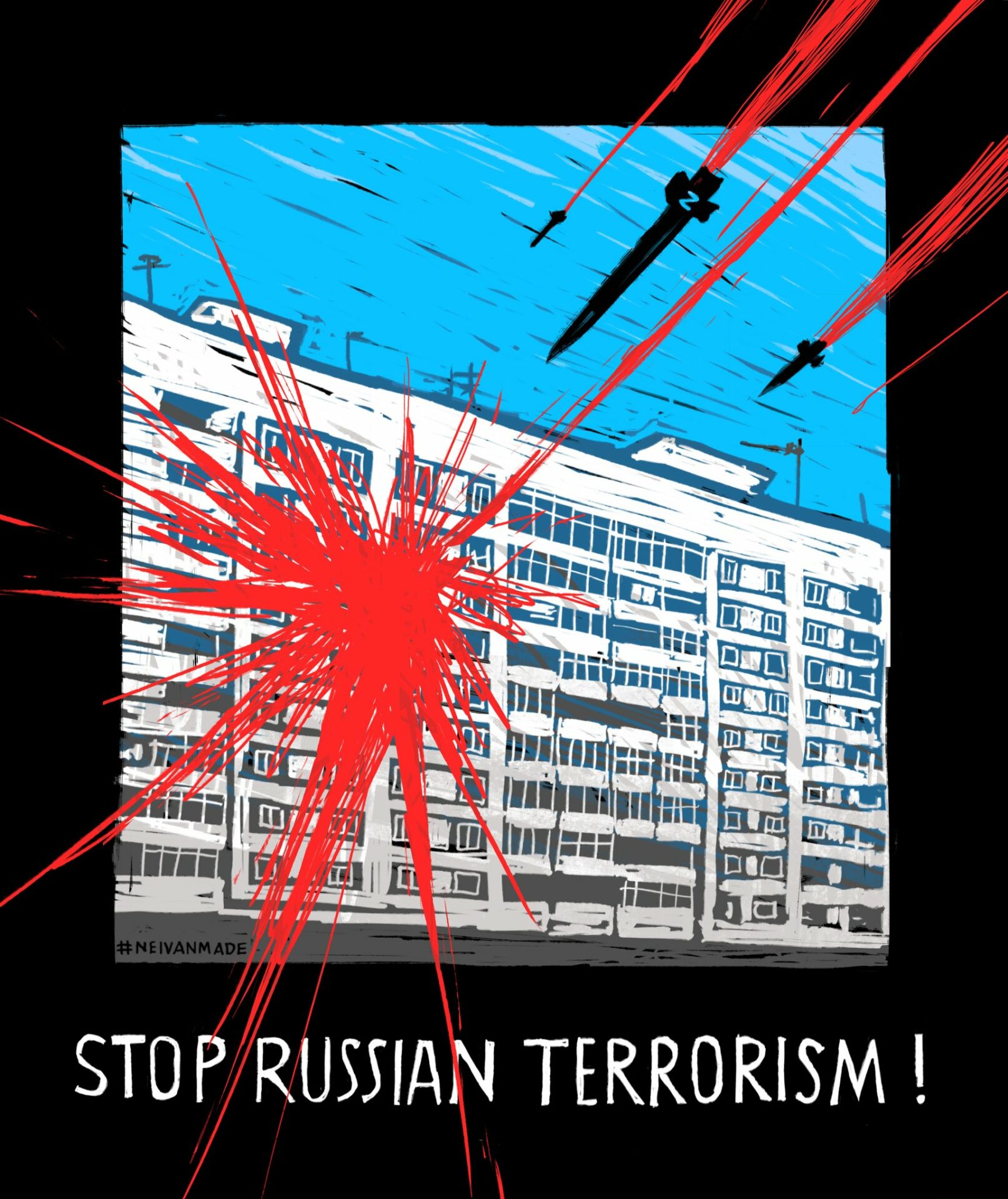 (Image by NEIVANMADE)
An oil depot is on fire in Sevastopol after being hit by a drone in the early morning. pic.twitter.com/ll8zY2v8a2

— Anton Gerashchenko (@Gerashchenko_en) April 29, 2023
Russian navy fuel depot says in Sevastopol goodbye pic.twitter.com/kk5OuSffL9

— Illia Ponomarenko 🇺🇦 (@IAPonomarenko) April 29, 2023
Call on @amnesty to condemn Ukraine's attack on civilian fuel my Navy will use to fire peace missiles at military playgrounds in Ukraine.

— Darth Putin (@DarthPutinKGB) April 29, 2023
Here is President Zelenskyy's address from earlier today. Video below, English transcript after the jump:
Not enough that Russia is weak, it must be held accountable for everything it has done – address of President of Ukraine

29 April 2023 – 20:42

Dear Ukrainians!

Search and rescue operations were completed in Uman only this afternoon. I want to thank the entire team of the State Emergency Service, the National Police, our doctors, Uman utility services, the military, our volunteers – everyone who took part in the rescue operation and helped the rescued people. I wish a speedy recovery to everyone who was injured by this blow and was traumatized.

We will do everything possible to make the terrorist state answer as soon as possible for what it has done. Anyone who prepares such missile attacks cannot but know that he will be an accomplice in the murder. Anyone, who guides and launches missiles, who handles planes and ships for terror. Not only those who give orders but all of you, you are all terrorists and murderers and you must all be punished. And definitely – those who committed the primordial crime, from which all others began – the crime of aggression against our people, against our state.

Six children lost their lives in this attack on Uman, a total of 23 people died… May their memory be bright! My condolences to all relatives and friends!

Next week will be quite important from the point of view of our struggle for justice for Ukrainians, that is, for punishment for the terrorist state and all its war criminals. We are preparing several important, potent steps to further consolidate partners and provide more energy to creating a tribunal for the crime of Russian aggression. And to speed up the defeat of the terrorist state.

It is not enough for Ukraine and the world that Russia is weak, as it is already happening. It must fully answer for everything it has done.

We are also preparing new sanctions decisions against individuals and companies involved in the terrorists' defense industry and against foreign entities, which supplies help Russia extend this aggression. Our decisions will be made public soon.

Recently, I signed new decrees awarding our defenders, our heroes. Almost 450 more soldiers of the Armed Forces of Ukraine, Ground Forces, paratroopers, Air Force, territorial defense, and over 300 more – from the National Guard, our police, State Emergency Service, and our border guards.

In total, during the full-scale war, 45,038 Ukrainian men and women were awarded state awards. And it is evidence of the extraordinary daily heroism of our people. All those who fight for the sake of Ukraine, all those who work for our victory.

Glory to all who are in battle for our country, at combat posts! Glory to all who train our soldiers! Glory to everyone who treats and rehabilitates after injuries, who rebuilds life after Russian shelling and occupation. Who returns our people from Russian captivity. I thank everyone in the world who helps us! It is important now. We highly appreciate it.

Together, we are bringing the verdict for the evil state closer. We are nearing our victory. So be it!

Glory to Ukraine!
Work of art pic.twitter.com/0Rfyj9i4Uz

— Defense of Ukraine (@DefenceU) April 29, 2023
Uman:
Uman. Rescue dog Ninja is exhausted after hours of hard work assisting in efforts to clear the rubble after a missile attack by russian terrorists on residential areas of the city.

📷 Yan Dobronosov pic.twitter.com/eSOmQhgGLy

— Defense of Ukraine (@DefenceU) April 29, 2023
Search and rescue in Uman is over. 23 innocent people killed in their beds. Six children – boys aged 1.5, 16 and 17 years and girls 8, 11 and 14 will never hold these toys in their hands.

All those who suffer from Russian war crimes deserve justice. pic.twitter.com/mEXwNxmz4L

— Maria Avdeeva (@maria_avdv) April 29, 2023
War means violence, destruction, and death. Yesterday russia attacked Ukrainian civil cities – Kyiv, Dnipro, and Uman. At least 26 people died, including 6 kids. russian officials said that it was right to target as they planned. So their target – all Ukrainians.

— Ukrainian Art History (@ukr_arthistory) April 29, 2023
Bakhmut:
So, Prigozhin says Wagner forces have advanced by between 100 and 150 meters in Bakhmut today — and lost 94 men for that.
Which in fact means each and every of the killed militants on average died so that they could redraw maps by a distance shorter than his own height.

— Illia Ponomarenko 🇺🇦 (@IAPonomarenko) April 29, 2023
Mariupol:
This is how russians see the future of all of Ukraine. This could become not only Ukraine's, but also all of Europe's future.
Anything other than Ukraine's victory will encourage them to keep going. Only russia's undeniable defeat can guarantee long-term peace and stability on… pic.twitter.com/GoiAzVBXaa

— Defense of Ukraine (@DefenceU) April 29, 2023
Not sure where these guys are in Ukraine, but they've been busy:
… and counting. pic.twitter.com/QlpteK6nKz

— Defense of Ukraine (@DefenceU) April 29, 2023
Release the wild weasels!
Ukrainian military uses their wits to regain the lost positions captured by the wild Marbled polecat. pic.twitter.com/6uysdXDMgQ

— Special Kherson Cat 🐈🇺🇦 (@bayraktar_1love) April 29, 2023
Perm, Russia:
In Perm, Russia, a transformer substation at the Dzerzhinsky Perm Plant caught fire. This plant produces radio detonators and other components for missiles, as well as artillery. pic.twitter.com/y29QldVKvt

— Special Kherson Cat 🐈🇺🇦 (@bayraktar_1love) April 29, 2023
Apparently Russia attacked Poland in December and didn't bother to tell anyone.
Apparently a Russian cruise missile went astray and flew halfway through Poland before landing in a field near Bydgoszcz in December, and we are just finding out… https://t.co/8BmL6ZNONx

— Yaroslav Trofimov (@yarotrof) April 29, 2023
From the Thread Reader App because I can machine translate the entire thread from Polish to English:
1 / n


Prime Minister 

@MorawieckiM

 he suggested yesterday that what fell under Bydgoszcz was not a UFO. But I would honestly prefer "strangers" because we are dealing with a terrible compromise on many levels at once. What happened? Well, 5 months RUS Ch-555 lay in the Polish forest.

2 / n


How? Well, the Russians in December shot Ukraine with the Ch-555 series with the dismantled atomic warhead and gabarite-mass mockups instead. Poresursal rockets were used as "wabi" on UA OPLka because of the fault they were useless as a cruise

3 / n


Therefore, instead of atomic warheads, RUS installed mass bulky mockups and fired these rockets together with the "normal" Ch-101, R-500, etc. to "densure" the number of targets for anti-aircrafters. But as you can see there was another effect of this attack…

4 / n

Rocket remains were found near Bydgoszcz this week. Unfortunately, they indicate the cruise of the Ch-55/555 family. It still needs confirmation but it looks like one of the old Ch-555 processed into an attack on Kiev ( from Smolensk ) "chose freedom" then

5 / n

And after the failure of the navigation and control system it flew to Bydgoszcz where it fell. We already know from the Prime Minister's words that the event picked up Polish and NATO fighters in December but the case was silenced despite not finding the remains of the rocket.

6 / n

…if it is true, it "only" is a very bad testimony to the government's information policy. However, if this is not true and the Ch-555 unnoticed, it filtered through half of Poland before it fell, it is a backup tailored to landing with an avionette on Red Square in Moscow

7 / n

The incident was undoubtedly pointless on the part of the Russians and probably if it wasn't for finding the remains of the Ch-55/555 it would remain undetected or public. I do not want to write about the failure of PL OPL radars and how the year of work in combat regimes affects them, after Przewodów 

8 / n

what could be thrown southeast. There is a gap in the north, the ( permanent surveillance network poorly detects targets for h ~ 100m ) plus AWACS allies. As long as they are. As for the effectors, we OPL don't really have it yet. Before the war, our OPL was 1/15 / – 1/20 of the Ukrainian one.

9 / n


we are just building an OPL capable of adequate response to such threats: Pilica +, Narew, Wisła etc. These systems are just being implemented or created with us. How they will be implemented – it will be great.

And for now it's very bad. And this must be written directly.

10 / n

However, I do not envy military what is happening and the questions they receive. Because they either knew but they were told to remain silent and now the question is whether they will not fly their heads against innocent officers ( like the political dismissal of the boss after the Checke ) case as a result of looking for guilty 
Somebody's asking for a dupa kicking!
That's enough for tonight.
Your daily Patron!
Here is the machine translation of the caption:
I couldn't pass by this cute trend…
Open thread!