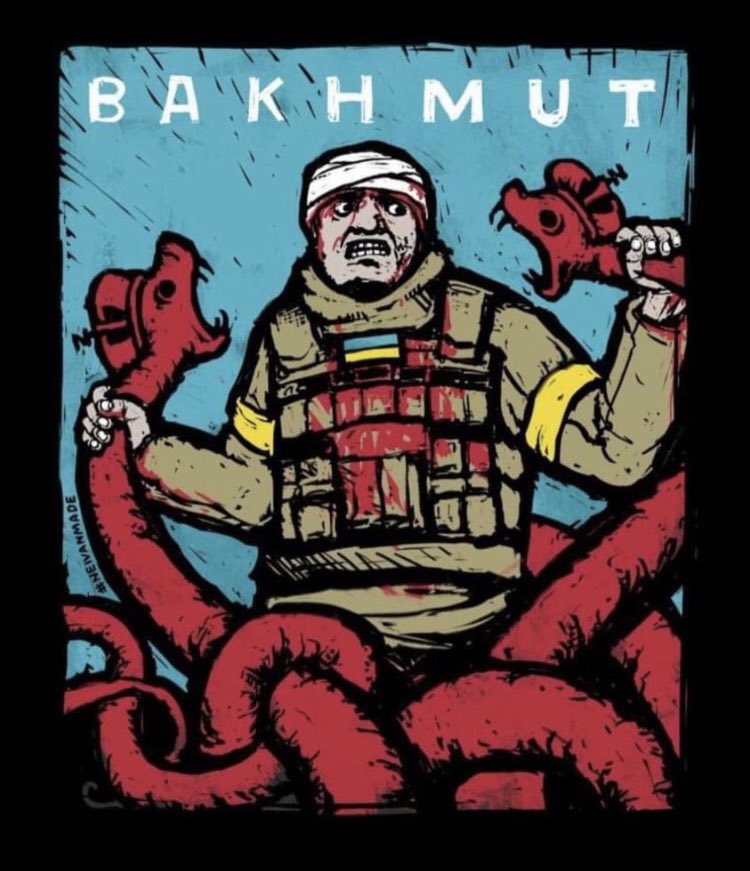 (Image by NEIVANMADE)
Been a very, very, very long day!
President Zelenskyy went to Great Britain today as part of his meetings with allies in Europe.
Here is his address from earlier today. Video below, English transcript after the jump:
The main results of these days – our victory has been brought closer – address by the President of Ukraine

15 May 2023 – 19:19

Good health to you, fellow Ukrainians!

Three long days – and our warriors and our state are getting stronger. Much stronger, I am sure of it.

We are returning home with new defense packages: more new and powerful weapons for the frontline, more protection for our people. More political support.

Italy – good talks with Giorgia, Madam Prime Minister. Meeting with the Pope, quite encouraging. Meeting with the President of Italy.

Germany – Mr. President Steinmeier, meeting with Mr. Chancellor Olaf Scholz, which was particularly meaningful for our defense.

In addition to Berlin, we also visited Aachen. I visited a military base, inspected Leopards, Marders, and thanked our soldiers who are training on German equipment.

On behalf of the Ukrainian people and in honor of the Ukrainian people, we received a significant European award named after Charlemagne in Aachen. It was the first time that the Ukrainian language was spoken in the hall where the laureates are honored. Ukrainian will be one of the official languages of the European Union, I am sure of it.

France – a meeting with President Macron, long, useful talks. There is a new military package. It is powerful. There are new political agreements.

Great Britain – meeting with Rishi, Mr. Prime Minister Sunak. Defense and very important British leadership in military coalitions.

We coordinated our positions before the international events scheduled for the near future: before the G7, the summit in Vilnius.

Our Peace Formula was discussed at all the meetings, and now there is more willingness of our partners to follow the Ukrainian formula. There is more support for our accession to the EU, more understanding that Ukraine's accession to NATO will happen, it is inevitable.

I thank Italy for its help in protecting the lives of our people – from protecting the sky to preparing for the full reconstruction of Ukraine after hostilities.

I am grateful to Germany for the largest defense package – 2 billion 700 million euros. IRIS-T air defense systems of various modifications, a lot of missiles for them, guns, shells, armored vehicles…

In addition, Germany will support our country in the long term, with 11 billion euros for defense. Germany also participates in the European Peace Facility, which strengthens our defense.

I thank France for the new opportunities for our soldiers in countering Russian terror, and now is not the time to talk about the details. Thank you for additional equipment, for additional armored vehicles. I thank you for your help in consolidating our partners.

I am grateful to the UK for agreeing to train our pilots. We are creating a coalition to train pilots on modern Western aircraft. The UK agreed, Poland agreed, and I'm sure France and other partners will join. We continue our work on the fighter jet coalition as well, and we are moving forward actively. Of course, I am grateful to the UK for the long-range capabilities for our warriors.

So, the main results of these days are new weapons for Ukraine, respect for Ukrainians, and our victory has been brought closer.

And we will add more support! I know it. I believe in it.

Glory to all those who are in combat for our country! Glory to everyone who helps! Glory to all who train our warriors!

Glory to Ukraine!
Great Britain – meeting with @RishiSunak. Spoke about defense and very important British leadership in military coalitions.

I am grateful to the 🇬🇧 for the decision to train our pilots. We are creating a coalition to train pilots on modern Western aircraft.

We continue our work… pic.twitter.com/BFznW8dNhf

— Володимир Зеленський (@ZelenskyyUa) May 15, 2023
This portion of the press release from PM Sunak's office ahead of President Zelenskyy's arrival are noteable:
This summer we will commence an elementary flying phase for cohorts of Ukrainian pilots to learn basic training. This will adapt the programme used by UK pilots to provide Ukrainians with piloting skills they can apply a different kind of aircraft. This training goes hand in hand with UK efforts to work with other countries on providing F16 jets – Ukraine's fighter jets of choice.
I have trouble believing that statement without prior coordination with someone in DC. But if it was there are a few people inside the beltway in full pucker mode right now!
President Macron made similar, though somewhat more ambiguous, remarks:
Source: TF1 interview with Emmanuel Macron Monday evening May 15👇 https://t.co/eLRGokXH1E

— Sophie Pedder (@PedderSophie) May 15, 2023
The press release also stated that:
Today the Prime Minister will confirm the further UK provision of hundreds of air defence missiles and further unmanned aerial systems including hundreds of new long-range attack drones with a range of over 200km. These will all be delivered over the coming months as Ukraine prepares to intensify its resistance to the ongoing Russian invasion.
The Ukrainian MOD has posted a message from Colonel General Syrskyi on its Telegram channel: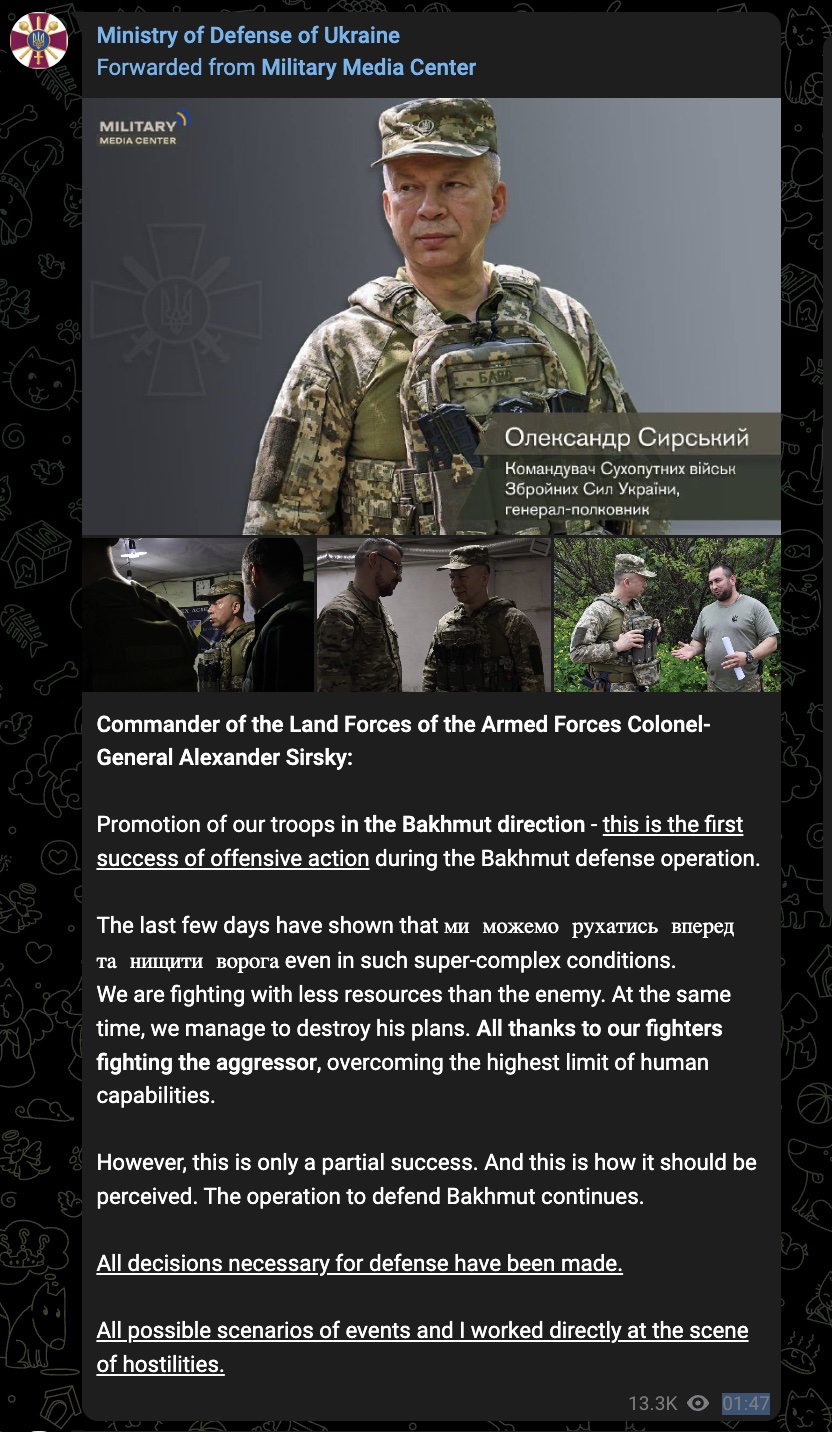 Bakhmut:
Bakhmut today pic.twitter.com/SGScnX8lqf

— Andriy P. Zagorodnyuk (@Andriypzag) May 15, 2023
@GeoConfirmed: 46.7781, 33.1597

— Brady Africk (@bradyafr) May 15, 2023
Avdiyivka:
At least 4 people were killed as a result of a missile attack on a hospital in Avdiyivka, Donetsk region. Although the hospital was no longer operational due to frequent shelling, local residents sought protection in its bomb shelter. But the concrete couldn't save them this time pic.twitter.com/z1gJ7dJh3B

— Defense of Ukraine (@DefenceU) May 15, 2023
Luhansk:
Maj Gen Kornet, the Luhansk "people's republic" minister of interior, targeted by an explosion as he was getting his haircut in a Luhansk barber shop, Russia says. Reportedly in a critical condition.

— Yaroslav Trofimov (@yarotrof) May 15, 2023
In the massive explosion in Luhansk, Minister of Interior of the occupation administration Igor Kornet was injured. Russia is less and less able to control the occupied territories. pic.twitter.com/Ymxjsz7O6F

— Maria Avdeeva (@maria_avdv) May 15, 2023
/2. Since August 27, 2014, he was the Minister of the Interior of the LPR.
Due to the support of Russian aggression and the violation of the territorial integrity of Ukraine he is under personal international sanctions from: all EU countries, Britain, USA, Canada and others.

— Special Kherson Cat 🐈🇺🇦 (@bayraktar_1love) May 15, 2023
/2. As reported, the wreckage found today in Luhansk after the strikes. Some parts are looking similar to Storm Shadow pic.twitter.com/yEq5igMfBG

— Special Kherson Cat 🐈🇺🇦 (@bayraktar_1love) May 15, 2023
A Russian Pantsir-S1 air defense system located by a Ukrainian Leleka-100 UAV targeted by Ukrainian GMLRS in Luhansk Oblast.https://t.co/IoO0PLbAAd pic.twitter.com/ljxZQbFWS9

— Rob Lee (@RALee85) May 15, 2023
Nechayeve, Kherson Oblast:
The Ukrainian 406th Separate Artillery Brigade posted this below the video on their YouTube page:
In the southern sector, an enemy self-propelled mortar was destroyed, which was firing at peaceful villages.

We are working on, until we achieve complete victory! Glory to Ukraine!

Facebook: https://www.facebook.com/406oabr

Subscribe and share the video!

#406oabr #I_believe_in_the_Ukrainian_Armed_Forces #Together_to_Victory #war_in_Ukraine #Ukraine
Here's the unit patch: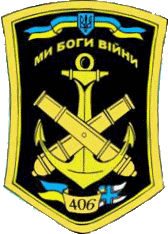 Their motto translates as "We Are the Gods of War", which should make Omnes very happy!
In a major anti-corruption move, Ukraine has moved against Dmytro Firtash. Firtash is Putin's trusted Ukrainian agent in regard to Ukraine's natural gas sector.
Big move. Ukraine's Security Service and Bureau of Economic Security has accused Ukrainian oligarch Dmytro Firtash of major gas-theft scheme. Firtash has been in exile in Austria, where he is fighting an extradition request from the US, where he's wanted on corruption charges. https://t.co/CNGzX8lqRK

— Christopher Miller (@ChristopherJM) May 15, 2023
You might remember Firtash from the very first Black PSYOP post, which was written while I was on the plane flying out to Denver so that Bixby could use my head as a chin rest.
2) The Firtash initiative. Firtash wants off house arrest in Vienna and out from under the extradition order to send him to the US to face the Federal crimes he's been indicted for. The reason Firtash wants this done is because he's Putin's man in Ukraine's natural gas industry. If Firtash can get back to Kyiv he can then once again try to take over Ukraine's natural gas sector, suck it dry of profits, and fuck up its operations, which will force the Ukrainians to buy natural gas from Russia while removing Ukrainian natural gas as an alternative to Russian natural gas for the rest of the EU market. This all benefits Putin, who is Firtash's krysha (roof/ceiling) in the Russian mob. Just as he is for every other one of these oligarchs aligned with him.
A) Firtash's efforts weren't going very far, so he fired his US attorneys and hired Toensing and DiGenova. They then hired Parnas to do their translation work despite it being reported that Firtash and most of his staff speaking fluent and/or functional English.
B) Firtash was laundering manufactured dirt and conspiracy theories about the Bidens, about the Democrats working with Ukraine to steal the 2016 election, etc through Parnas and Fruman and Toensing and DiGenova to Giuliani. Giuliani who was being paid/worked for Parnas, but also somehow also Parnas's boss.
C) Toensing and DiGenova are also working for free to assist Giuliani with manufacturing dirt on the Bidens.

3) The lift Russian sanctions initiative. Here's where it all ties together, by laundering these conspiracy theories, especially that the Democrats and the Ukrainians, in conjunction with DNI, CIA, FBI, NSA, and DOJ, conspired to steal the 2016 election by running a false flag (maskirovka) operation to make it look like Russia was actually conspiring with Trump, his campaign, Republicans, and major conservative movement organizations to steal the 2016 election, it provides a fig leaf for Trump to order the lifting of US sanctions against Russia that went on after the seizure of Crimea and the invasion of Donbass and were expanded as a result of Russian interference in the 2016 election.
A) Manafort, through his attorney, was feeding Giuliani this conspiracy theory from jail and then prison.
B) This provides cover to pardon Manafort and Flynn and several others.
C) It was reported today that DiGenova and Toensing are the attorneys representing the conspiracist masquerading as an investigative journalist John Solomon who was (finally) just fired from The Hill. And here is where #3 wraps back into #1. Solomon was laundering all of these conspiracy theories, from Uranium 1 to the Democrats conspired with the Ukrainians, the DNI, the CIA, the FBI, the NSA, and the DOJ to frame the Russians for trying to steal the 2016 election in order to steal the 2016 election for the Democrats to the Biden bullshit.

A couple of final points. Both Giuliani and Toensing and DiGenova are now claiming that Parnas, Fruman, and now, I suppose, Solomon cannot be deposed, questioned, etc by investigators since they were either working for Giuliani and/or Toensing and DiGenova or are represented by them and therefore everything they know is either attorney-client privilege or attorney work product. So you can't ask Giuliani about what Toensing or DiGenova are doing. Or what Parnas or Fruman are doing. You can't ask Toensing and DiGenova about what Giuliani, Parnas, and/or Fruman are doing. You can't ask Parnas and Fruman what Giuliani or Toensing or DiGenova are doing. You can't ask Toensing and DiGenova what Solomon is doing. You can't ask Soloman what DiGenova and Toensing are doing. You can't ask Firtash what Giuliani, Toensing, DiGenova, and/or Parnas and Fruman are doing. You can't ask Giuliani, Toensing, DiGenova, and/or Firtash is doing. And because Giuliani claims all of this is on behalf of his client, the President, you also can't, because of executive privilege, ask Giuliani, Parnas and Fruman who are working for him and who he is working for, and/or Toensing and DiGenova who are assisting him pro bono and employing Parnas anything because they are all covered from having to divulge anything or answering any questions under executive privilege.
Ukrainiska Pravda did an interview with Colonel Oleh Sevchuk and Colonel Serhiy Ogorenko, the Commander and Chief of Staff, respectively, of Ukraine's 43rd Artillery Brigade. Dmitri and his team at War Translated did a proper translation. Some excerpts from Volodymyr's translation are below:
(Interviewer): Mr. Oleh, one of the main battles of your brigade during the full-scale invasion was the battle for Kyiv. Could you tell us how it started? How did your Pions [Soviet-made self-propelled 203mm cannon] get to Troyeschyna?

(Oleh): We received the task [ on February 24], started the vehicles, and left. We marched 120 or 140 kilometers to designated areas, including Peremohy Avenue in Kyiv. There was no panic, but it was unusual, without a trawl, on their own, on a 47-ton gun – this was, of course, serious. You had to see it!

Two 2S7 Pion batteries moved toward Troyeschyna and one in the direction of Sviatoshyn. So we blocked Kyiv from both sides. Then came the targets: Gostomel, the airport, the airborne troops, and everything else. So we worked day and night.

(I): The soldiers of your brigade told us that before the invasion, they had been training in the Kyiv region.

(O): Yes, we did have a period of training, one of the divisions was trained in the Kyiv region to replace those performing tasks here in the east.

They were young guys, half of them conscripts, 21-22 years old. And so these Cossacks received orders, moved out on their vehicles, marched, and took up firing positions. And then the usual routine work: they got the target, aimed, loaded, fired, unloaded ammunition, loaded again, aimed, fired. I slept while standing and ate while standing.

(I): When did you open fire for the first time?

(O): Since there was rocket fire throughout the country on the 24th, our division moved out the next night to avoid being noticed, and on February 25, we started working.

(I): Were you the first artillery to defend Kyiv?

(O): I think so. Later, other brigades, including infantry, joined in. We established cooperation and started exchanging intelligence.

Civilians helped with drones. They called through messengers: "I can work today." "Who are you?" "Marina, Dasha gave me your number." Yes, Maryna and Dasha (these girls were UAV coordinators). "Okay, fly there; we'll see what's going on. "

And it all started with these Mavics, now called "wedding" drones.

(I): So the civilians who used Mavicams to film weddings and travels were adjusting the artillery?

(O): They provided the picture. 4G, WhatsApp, a video call – the cameraman picked up, saw something, took off his phone, and said: "Look what I have." I looked at it and said: "Hold it. We're going to shoot now". It was convenient.

And it was very good that there was a connection in the Kyiv region. It helped us out a lot.

Another example: we know the enemy is coming to a certain village, but we don't know where exactly. We open a Google map, see a store, see its phone number, and dial it: "Good evening, we are from Ukraine! "Do you have any Katsaps in the village?" "Yes." "Where?" "Behind Grandma Hanna's house." "What house does Grandma Hanna have?" "Well, everyone knows her!" So you talk to people a little bit and realize where everything is.

One guy from a gas station even gave us access to his camera. He said: "What am I going to explain to you? Here's the password. See for yourself." That's how we saw our first "live" target – a column of Chechens near Novyi Bykiv [Chernihiv region, 60 kilometers from Kyiv], heading towards Kyiv. So we "met" them three kilometers further.

(I): How realistic is it to hit a moving target?

(O): For a firing battery, there is no difference, but artillery luck also works here. If you calculated everything correctly – the enemy's speed of movement, the flight time of the shell – then the result will be fire, sparks, and smoke. That is, it is what it should be.

(I): So you managed to hit a moving column the first time?

(Serhiy): Not always. That's why we needed "eyes". We also called civilians and asked: "Do you see this section of the road?" "I do." "If a shell hits in a minute and a half, can you tell us at least roughly where it exploded?" "I can. Then the person would describe the place of the explosion, and we would open a Google map and see: yes, there is such a place behind the vegetable gardens.

(O): We had an 18-year-old boy in Motyzhyn whom we reached through the store's phone number on Google map and said: "I don't believe you." So we turned on the video link, showed him our ID, uniform, and chevron, and he said: "I don't believe you".

Then we convinced him and worked closely together for about half a month while fighting in Motyzhyn. And every local in the village knows someone else, and that person knows someone else, so there are already people passing on information. So at first, I called from my number, and then we got a separate phone, and then it was not enough, so we got a second one.

Sometime in the fall, I called this guy from Motyzhyn and said: "Come, let's get acquainted."

(I): The Russians didn't track him down during the occupation?

(O): No, and that's very good.

(S): We lost contact with many people, and some said: "That's it, I'm turning off my phone, deleting all my contacts. There are Russians in the next house." Some people immediately said: "I'm scared, don't ask me any questions." But people called us from everywhere.

(I): Did you encounter the same kind of support from the local population in other regions where you worked, such as Kharkiv and Donetsk?

(O): In Donetsk and Kharkiv regions, we did not, but there are objective reasons for this: lack of communication and intimidation of the locals.

Not everyone is leaving these regions. Only those who believe that our state is here, on the controlled territory. Those who stay, unfortunately, either have nowhere to go or they meet [Russians] later. They say that their saviors have come, whom they have been waiting for. This is not a secret.

So you don't know who to work with here. Although recently, there was information from the occupied territories about unloading equipment at the stations.

People are afraid, and you can understand them – you live once and want to live. That's why there are other ways to collect information now: the eVorog system and analytical centers. And it all works – the data comes in a processed form, which is hard work.

(S): Look, during the Kharkiv operation, communication, intelligence, and interaction systems were already established. This did not exist in the first days of the war. Initially, military communications were not established at all, and all communication was via messengers.

(I): Before February 24, 2022, did your brigade have aerial reconnaissance men?

(O): No.

(I): When did you get them?

(O): Since February 24, we have been working with other people's aerial reconnaissance men, and our own appeared in July. People went for training, and now we have enough copters and "airplanes" [airplane-type UAVs].

(I): Before the full-scale invasion, did your brigade not need aerial reconnaissance?

(O): There was always a need, but the application was different. The plan was as follows: the scouts would find the target, dictate its coordinates to us, and we would work on it, and that was it. But the practice has shown the following: if the shooter does not see his target, the effectiveness of this shooting is reduced by several times.

In addition, we do not rely on the number of ammunition but on accuracy. So why throw away 10-20 shells when you can use 3?

(I): How long does one Mavic last?

(O): For us – about a month, in the infantry – half a day. But it depends on how you use it because Mavic drones now perform different functions. Our quadcopters are generally more resilient than our "birds" [airplane-type UAVs].
Much more at the link!
We finally have some credible Lukashenko reporting:
In an attempt to show he is totally not dead, Belarus' Alexander Lukashenko makes his first public appearance in nearly a week.

He is talking about Russian planes and helicopters shot down last weekend, seemingly confirming this is not stock video to be released in his absence pic.twitter.com/N4acLrBrKy

— max seddon (@maxseddon) May 15, 2023
All the latest on the mysteriously disappearing and reappearing Belarusian strongman, with fellow Lukashenkologist @RaphaelMinder https://t.co/GutEZnlQ3g

— max seddon (@maxseddon) May 15, 2023
And now the strategic strike geese! Wait, what…
Soon-to be-heard at the UN Security Council: Nebenzya: The Ukrainian army has now engaged combat geese!

📹 @dim65609 pic.twitter.com/DSa9DyYJTq

— Defense of Ukraine (@DefenceU) May 15, 2023
That's enough for tonight!
Your daily Patron!
The caption machine translates as:
Synchronized 😅 #песпатрон
Open thread!