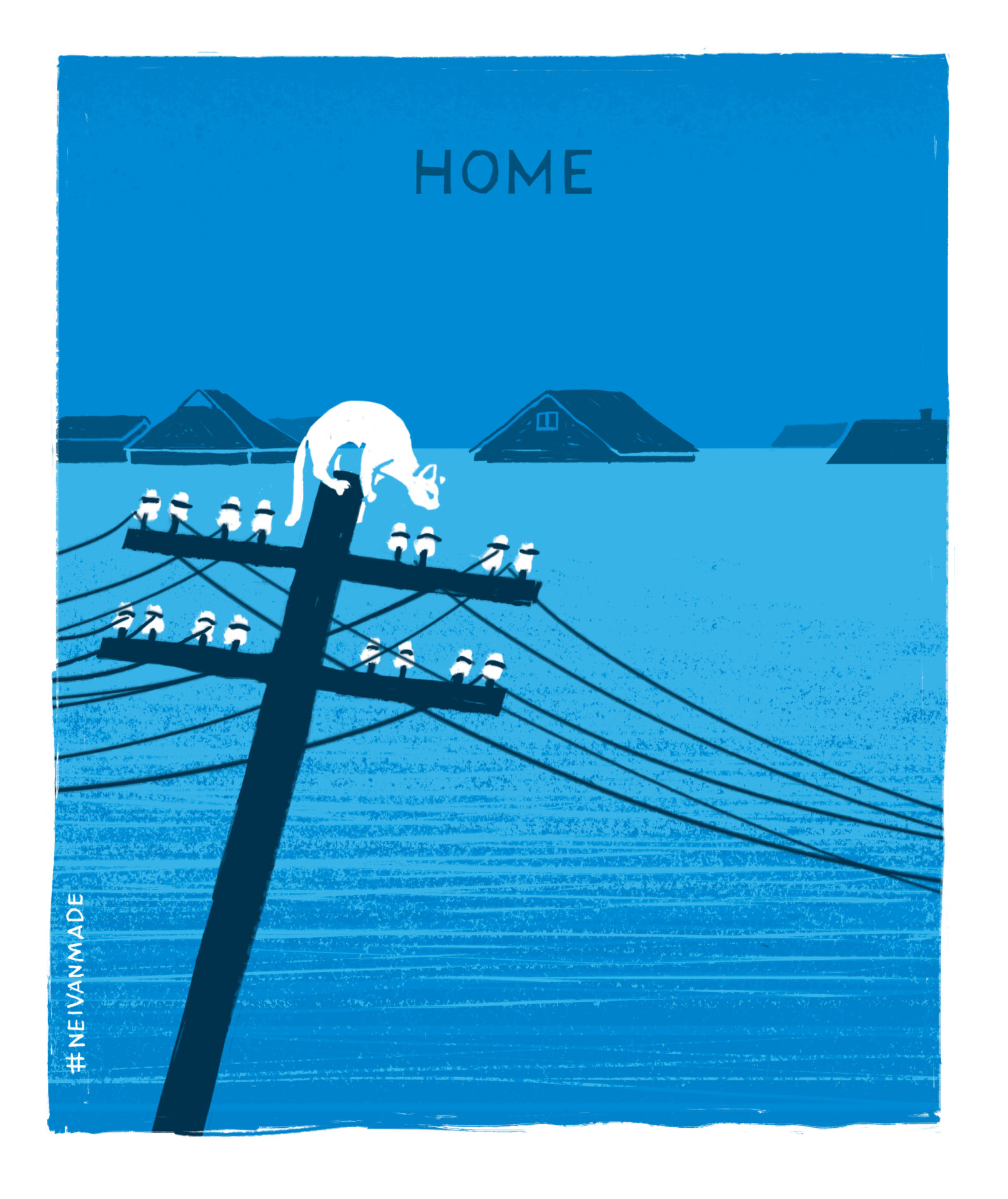 (Image by NEIVANMADE)
First, I have removed the video of Ukrainian SOF clearing Russian trenches from last night's post. I understand why it bothered some of you and I will endeavor to not include such material in the future without a specific warning.
I will get to the Q&A after the jump.
Here is President Zelenskyy's address from earlier today. Video below, English transcript after the jump:
A rebuilt and strengthened Ukraine means protection against all forms of Russian terror – address by President Volodymyr Zelenskyy

20 June 2023 – 22:01

I wish you health, dear Ukrainians!

A brief report on this day.

First of all, I thank our Air Force and all the defenders of the sky from our other defense forces for every downed Russian missile and Shahed. Last night alone, more than 30 Shaheds were shot down. These are hundreds of saved lives, saved infrastructure. Thank you, warriors!

Second. Today in Kherson, rescuers were injured as a result of the occupiers' shelling… They were relieving the consequences of the Russian act of terrorism at the Kakhovka hydroelectric power plant and were shelled by Russian artillery. Eight SES workers were injured, one, unfortunately, was killed… My condolences to their families and friends! Ukrainian warriors will definitely give the terrorists a response to all this meanness.

Every such Russian strike, every Russian terrorist attack is an argument that the occupiers have no chance of staying anywhere on Ukrainian soil. There is no place here for murderers and terrorists and there will never be.

Now our warriors in the south and in the east are very actively destroying the enemy, physically clearing Ukraine. This will continue in the future.

Protection against terror means the destruction of terrorists. And it is a guarantee that the evil state will never again have the opportunity to bring evil to Ukraine. This is what the third point is about today. The first meetings have already begun in London in the framework of the conference on Ukraine's recovery, which we have been preparing together with our British friends. Discussions have already taken place in Switzerland and Germany, in France and Italy. There is work at various levels for our recovery. And we are directing this work in such a way that our reconstruction, our recovery will become not only construction projects, but also a global project of protection.

A rebuilt Ukraine, a transformed Ukraine, a strengthened Ukraine is a carrier of security and a guarantor of security, it is protection against any form of Russian terror and protection against any repetition of Russian aggression.

Tomorrow at the London conference, I will present some aspects of our philosophy of Ukraine's transformation. The full vision will be presented later this month. And already in Ukraine.

Together with our partners and all of us here at home in Ukraine, we must ensure that only security, freedom and peace will come after us.

I thank everyone who is fighting and working for Ukraine! I thank each of our warriors who are now in combat, at combat posts and on combat missions! Zaporizhzhia, Donetsk region – well done, guys!

I am grateful to everyone who trains our soldiers and helps us with weapons! Ukraine uses every weapon and every shell as efficiently as possible and always to protect lives.

Glory to Ukraine!
If you were wondering what Ukrainian air defense is doing, they'e doing this:
The Commander of the Ukrainian Air Force presented military awards to air defenders in the Kyiv region.
These soldiers guard the skies above Ukraine's capital city.
In recent weeks, they have shot down 13 Kinzhals, 20+ ballistic missiles, and countless Shaheds. pic.twitter.com/sU6eisj2Ef

— Defense of Ukraine (@DefenceU) June 20, 2023
Last night, Ukraine's air defenders shot down 32 Shaheds!@KpsZSU

— Defense of Ukraine (@DefenceU) June 20, 2023
There were 35 inbound and they killed 32 of them!
32 out of 35 Shahed drones shot down. Three made it to Lviv. No matter how skilled mobile groups of drone hunters are, Ukraine critically needs more air defense systems. pic.twitter.com/m0C2XnqWzK

— Maria Avdeeva (@maria_avdv) June 20, 2023
Ukrainian air defense is also doing this:
Feel the force! pic.twitter.com/bOlLUiwauB

— Defense of Ukraine (@DefenceU) June 20, 2023
Some artistic license may have been taken.
Now it's a party!
As the russian occupier goes to sleep, he is unaware that the CAESARs have gone on a night hunt, which will be glorious. But he is terrified. And cowards die many times before their actual deaths.
Thank you, Denmark and France!
🎥 by @greencatua pic.twitter.com/oGrYLHkjJ4

— Oleksii Reznikov (@oleksiireznikov) June 20, 2023
It's always HIMARS O'Clock somewhere!
Today it took a little longer than usual; we apologize to everyone on the road.
It's HIMARS o'clock.

🎥 @United24media pic.twitter.com/3y66WtyWjT

— Defense of Ukraine (@DefenceU) June 20, 2023
Mykhailo Podolyak, senior advisor to President Zelenskyy, provides everyone a reality check:
Russia's strategic goal today is to freeze the conflict at any cost. The next steps are to ensure internal stabilization by cementing Putin's regime (elections-24), restoring military capabilities, destabilizing Europe, and preparing for the second round of war.
The tools are…

— Михайло Подоляк (@Podolyak_M) June 20, 2023
Here's the full text of his tweet:
Russia's strategic goal today is to freeze the conflict at any cost. The next steps are to ensure internal stabilization by cementing Putin's regime (elections-24), restoring military capabilities, destabilizing Europe, and preparing for the second round of war. The tools are clear: daily statements about "readiness for negotiations"; " negotiation" (freezing) initiatives from third countries; media hysteria about the "failure of Ukraine's counteroffensive"; outright nuclear blackmail; massive resuscitation of the pro-Russian lobby in European countries with the theses that "we must somehow stop all this." Calls for a ceasefire are playing someone else's game with Russian cards.
Bakhmut:
Ukrainian Bakhmut Demon says Russia is pushing hard to Kupyansk and Lyman to lure Ukrainians from Bakhmut:

"Russians threw a lot in the Kuypansk direction.

They want to force us not to advance on the flanks of Bakhmut, but additionally to transfer our forces to the defense of… pic.twitter.com/RF6aeCNOVN

— Dmitri (@wartranslated) June 20, 2023
Here's the full text and translation in Dmitri's tweet:
Ukrainian Bakhmut Demon says Russia is pushing hard to Kupyansk and Lyman to lure Ukrainians from Bakhmut: "Russians threw a lot in the Kuypansk direction. They want to force us not to advance on the flanks of Bakhmut, but additionally to transfer our forces to the defense of this city. Their tactic is to stretch our forces by imposing battles for Kupyansk and Lyman." Kupyansk and Lyman are on the opposite side of the frontline of the same name that was formed after the 2022 counter-offensive. https://t.me/bahshiddemon/4
The Kakhovka dam and reservoir:
New satellite imagery confirms that, in effect, the Kakhovka Reservoir no longer exists.

Only the Dnipro River itself, a few tributaries, and some small lakes in the area remain. pic.twitter.com/vUbkQl2pdZ

— War Mapper (@War_Mapper) June 20, 2023
Kakhovka reservoir turned into a desert. pic.twitter.com/9HaJNoTAYV

— Special Kherson Cat 🐈🇺🇦 (@bayraktar_1love) June 20, 2023
This is an interesting thread by Ukrainian Soldier Max Kolesnikov regarding Ukrainian military resiliency. I'm going to post the thread, which is in Ukrainian, followed by a copy and pasted machine translation in a quote box.
Дуже багато бачу твітів військових про втомленість від війни. Це відчувають й деякі мої друзі. Моє власне бачення, як з цим впоратися, тред.

1/ Арестович брехав, і війна надовго. Це треба прийняти, війна буде йти ще 2-3 роки, і ми в армії до кінця, нашого або війни.

— Max Kolesnikov (@mx_kolesnikov) June 20, 2023
3/ Нам знадобиться здоров'я. Підтримувати його важко, але не можна на себе забивати та запускати хвороби, у разі необхідності треба тиснути на начмедів, проходити необхідні лікування та реабілітації, забезпечувати себе всім необхідним.

— Max Kolesnikov (@mx_kolesnikov) June 20, 2023
5/ Війна відтепер – сфера нашої професійної діяльності. Тут все як у цивільному житті – чим більше ми знаємо та вміємо, тим кращі ми спеціалісти, тобто тим більші наші шанси вижити. Давайте вчитися кожен день, в тому числі у побратимів. Для того є інтернет.

— Max Kolesnikov (@mx_kolesnikov) June 20, 2023
7/ Забезпечення наших сімей звичною якістю життя. Це дуже складний пункт для декого, якось доведеться пристосуватися. А дехто навпаки зараз у війську заробляє набагато більше, ніж до війни. Не зливайте гроші в гемблу, відкладайте їх на майбутнє.

— Max Kolesnikov (@mx_kolesnikov) June 20, 2023
9/ Якщо відгукується – напишіть, або доповніть вашими роздумами. Сперечайтеся, критикуйте теж.

— Max Kolesnikov (@mx_kolesnikov) June 20, 2023
I see a lot of military tweets about war fatigue. Some of my friends feel this too. My own vision of how to deal with it, thread. 1/ Arestovych lied, and the war lasted for a long time. This must be accepted, the war will go on for another 2-3 years, and we will be in the army until the end, ours or the end of the war.

2/ We will have to adapt to it. It is possible. Our grandfathers and great-grandfathers fought in the Second World War even longer, returned and still had children. We can do it too. In some ways, it is easier for us, we have medical staff, psychologists, the Internet, a well-fed rear, a completely different level of support.

3/ We will need health. It is difficult to maintain it, but you cannot kill yourself and start diseases, if necessary, you must put pressure on the nachmeds, undergo the necessary treatment and rehabilitation, provide yourself with everything you need.

4/ We all really need to relax psychologically. Do not neglect professional psychological help. Do you go to dentists when you have a toothache? The psyche is much more complex than a tooth. Look for proven psychologists and work with them.

5/ From now on, war is the sphere of our professional activity. Everything here is like in civilian life – the more we know and know how, the better specialists we are, that is, the greater our chances of survival. Let's learn every day, including from our brothers. That's what the internet is for.

6/ Awareness of the value of what we do. I see the enormous support of the army by society. I am asking you, ladies and gentlemen of the military, to share with each other not only cases of negativity, but also good attitudes towards you, pleasant surprises, positivity in general.

7/ Providing our families with the usual quality of life. This is a very difficult point for some, you will have to adapt somehow. And some, on the contrary, now earn much more in the army than before the war. Don't waste money on gambling, save it for the future.

8/ Preservation of the family. An extremely important and extremely difficult point. It is also important for families to realize the same thing as us, and to accept us in a new capacity. Not as temporarily absent, but as many absent as needed for victory. And for us – to keep in touch from our side.

9/ If it responds – write, or add your thoughts. Argue, criticize too.
For the 2022/2023 fiscal years, 🇺🇸 overestimated the cost of provided military assistance to 🇺🇦 by $6.2 billion. This technically means that 🇺🇸 will be able to provide additional military assistance for this amount before the end of the current fiscal yearhttps://t.co/toQSLfZvcd pic.twitter.com/F6dqcpcCA7

— Special Kherson Cat 🐈🇺🇦 (@bayraktar_1love) June 20, 2023
Here's the video of the full briefing, which begins at the 12:05 mark.
Last night in comments, Chetan Murthy asked:
Adam, I was unaware that this was also a RU info-op.  Do you have any pointers where I can read about this ?  I mean, about the attributes that caused you to conclude it was an RU operation?

My professional assessment is that the hack, data scrape, and dump of emails from the University of East Anglia in 2009, leading to Professor Michale Mann's and other climate scientists' email correspondence with colleagues, as well as officials of the US government, other governments, and a variety of international non-governmental organizations regarding climate change being released to both climate science skeptics and then the public was the first Russian attempt to run this type of operation at scale against a Western target.
The first place to look for an answer is the excerpt from The Guardian I quoted as part of this section of last night's update, which I'm copying and pasting below: (emphasis mine)
Last month, Tattersall's blog, as well as at least four other blogs popular with climate sceptics, received a comment from a user called "FOIA" providing a link to a Russian server hosting a compressed folder containing more than 5,000 emails exchanged between climate scientists, along with a short message setting out the perpetrator's motives. The folder also contained an encrypted subfolder containing a further 220,000 emails. It was the second time such a release had occurred.
The fact that the hacked data was being housed on a Russian server is a documentable indicator. As for the attributes, what they did – phishing via social engineering, gaining access once that was successful, then stealing everything that wasn't locked down, working through a cutout to provide the stolen material to key climate science skeptics, and hosting the material on a Russian server – all of this is what leads me to conclude it was a Russian operation. This is the same thing they did to John Podesta to get access to his email. Almost all of this is what they did to get into the DNC, the RNC, Senator Graham's email, the Macron leaks, etc. They have a pattern and while sometimes they don't use social engineering they just brute force their way in, the hacking of climate scientists in the aughts definitely fits that pattern. Here's Mother Jones reporting on it from 2017, more Guardian reporting from 2016, The Independent reporting from 2009. Here's NPR reporting on how the Russians did the SolarWinds hack, looks familiar doesn't it. As do the details in this Reuters reporting from JAN 2023 about how scientists at three US nuclear labs were targeted.
Under what theory of geopolitics is it in the US interest to rescue Putin and Russia from their mistakes?   And I don't buy the nuclear argument.  That is the all-purpose tankie excuse never to confront Russia for any reason anywhere.
As far as I know there is no theory of geopolitics, save perhaps the old idealist normative theories, where this would even remotely be feasible, acceptable, and/or suitable. It most certainly is not under the strategic competition concepts delineated in the 2022 National Security Strategy.
Perhaps I missed it, but have we discussed the Cholera outbreak among Russian troops in the Kherson region?
I have not yet done so. I will try to get to it tomorrow if I can stomach it.
Why does David Sacks & Elon Musk given any credibility at all outside of their domaine expertise, certainly when it comes to geopolitics?

& the Quincy Institute has thoroughly discredited itself by adding Davie Sacks. It is a shame, since the DC think tank scene could certainly use more diversity of opinion, that is less beholden to winning contacts from USG & attracting donations from the MIC.
To the first question, neither have any credibility outside of their domaine expertise. In the case of Sacks, other than being the founding COO of PayPal, I'm not sure that he has a domaine of expertise other than being an easily influenced and propagandized Musk sycophant and suck up. As for the Starlink Snowflake, he doesn't even have any domaine expertise in the domaine's he claims to have expertise in. He's a complete fraud. This very long thread has all the details, but here's the bottom line up front: 1) He falsified his academic credentials both at the undergraduate and the graduate levels, 2) he was an illegal overstay because he had actually dropped out of Penn without graduating and moved to California seeking venture capital investments, 3) he got such investments illegally, 4) he has no actual experience in engineering of any type, nor in physics of any type. All the receipts are below.
This thread will be long. Finding the key contradictions took just a few hours, back in May, but it's important to be complete. So I'll go through it all, and why it's dangerous for the US.

Please retweet. Sunshine disinfects. All sources are at https://t.co/Kzd72l4eng
2/ pic.twitter.com/wNFfsvWbk9

— capitolhunters (@capitolhunters) November 17, 2022
Finally, Lord Fartdaddy emailed me this question:
Hello. I want to understand something, and I think maybe you can help me.

I know one or two people I grew up with I now only see on Facebook, and they've become huge vatniks, and I don't understand it.

For a long time, I've thought vatniks were weird, and they are, but since I didn't know any, I never gave it much thought. I'd see a post from Michael Tracey or Greenwald or some other fuckhead, and while they were irritating, they had no real connection to me.

Now that I find that I know at least a few of these people, even if it's only tenuously after all these years, it feels somehow more immediate, and I want to understand it: how do people become vatniks, what drives them, what are they getting from it?

Part of it is the kind of person I am. When I meet somebody who disagrees with me so vehemently, it makes me wonder, makes me ask myself, "I'm pretty sure I'm right about this, but could I be wrong? They're so sure of themselves. Surely they must have some reason for believing what they do."

And I am pretty sure Russia is the bad guy here, and that we're justified in helping the Ukrainians, and that it's important to democracy and liberalism and freedom to help them.

But as I said, they're so vehement. Putin is doing this because Ukraine is overrun with nazis. The U.S. is trying to punish Putin because he has the nerve to stand up to us. All the problems in the world flow from the west in general and the U.S. specifically. Russia is fighting for all the beleaguered, put-upon smaller countries in the world, ground down under the heel of an imperialist U.S. And on and on…

And, yeah. I know all that's horseshit. But that people I know believe this has a weird way of undermining my confidence in my own judgement. Maybe I'm just too easily cowed. I don't know.

But if I understood better why these people do what they do, maybe it would make more sense. People seldom do crazy, dumb shit for no reason, they get something from it. If they didn't, they wouldn't do it. So I want to know what they're getting from it.

If nothing else, that would give me a little more confidence in my own judgement when I read something they post. And besides that, I'm just a curious guy, and I like to understand people.

Anyway, I thought you were somebody who would know more about this than anybody else I read, so I wanted to ask you about this. As I said, I hope you can write a post about this, because I feel sure I'm not the only one who wonders about these people. Thank you.
Well your first mistake was right here:
I want to understand something, and I think maybe you can help me.
More seriously, let me give this an honest attempt.
First, the fact that people you know and/or are acquainted with have adopted Putin's framing and arguments for genocidally reinvading Ukraine should not, I repeat, should not undermine your confidence in your own judgement! Rather, it should undermine your confidence in their's. Second, I don't know the people you're referring to, nor their background, but I can tell you that there are people who are so skeptical of anything the US government says or does, regardless of who is president, as well as of anything in what is broadly defined as the mainstream media, that they almost reflexively take the contrary position regardless of the issue. This is often compounded by where folks get their information from. This leads to the third point: the beauty of the Internet is anyone and everyone can look anything up. The curse of the Internet is that many, if not most, people are not qualified to do real, deep, and extensive research on the Internet because they think looking stuff up is doing research. I can read a data table – I used to teach epistemology/philosophy of knowledge, research design and methods, and statistics at the undergrad and graduate levels – but that doesn't mean I'm qualified to interpret bio-statistics in an article published in a peer reviewed medical journal. And that doesn't even get into whether the folks who think they're doing research have any idea how to do it. How to set up their keywords, refine them, then vet both the sources of the information returned and the actual material, as well as to critically review that material.
As we've been discussing here since early 2016 when Paul Manafort was announced as joining the Trump 2016 campaign and I immediately made a comment to the effect of "we've got trouble!", the Russians have worked very hard for a very long time to infiltrate a variety of US institutions and organizations and groups, both in meat space and in the information domain, to achieve influence. From the NRA to the white Evangelical movement to the anti-vax movement to climate science deniers and skeptics to the anti-war "peace" movement and many others in order to influence these groups and their members to think about things in line with Russian propaganda. This provides Russia with reflexive control. They don't have to do anything once they've effectively targeted and influenced their audiences because the members of those audiences are prepped to and do act in line with Russia's influence objectives.
I hope that helps.
That's enough for tonight.
Your daily Patron!
A new video from Patron's official TikTok!
Open thread!