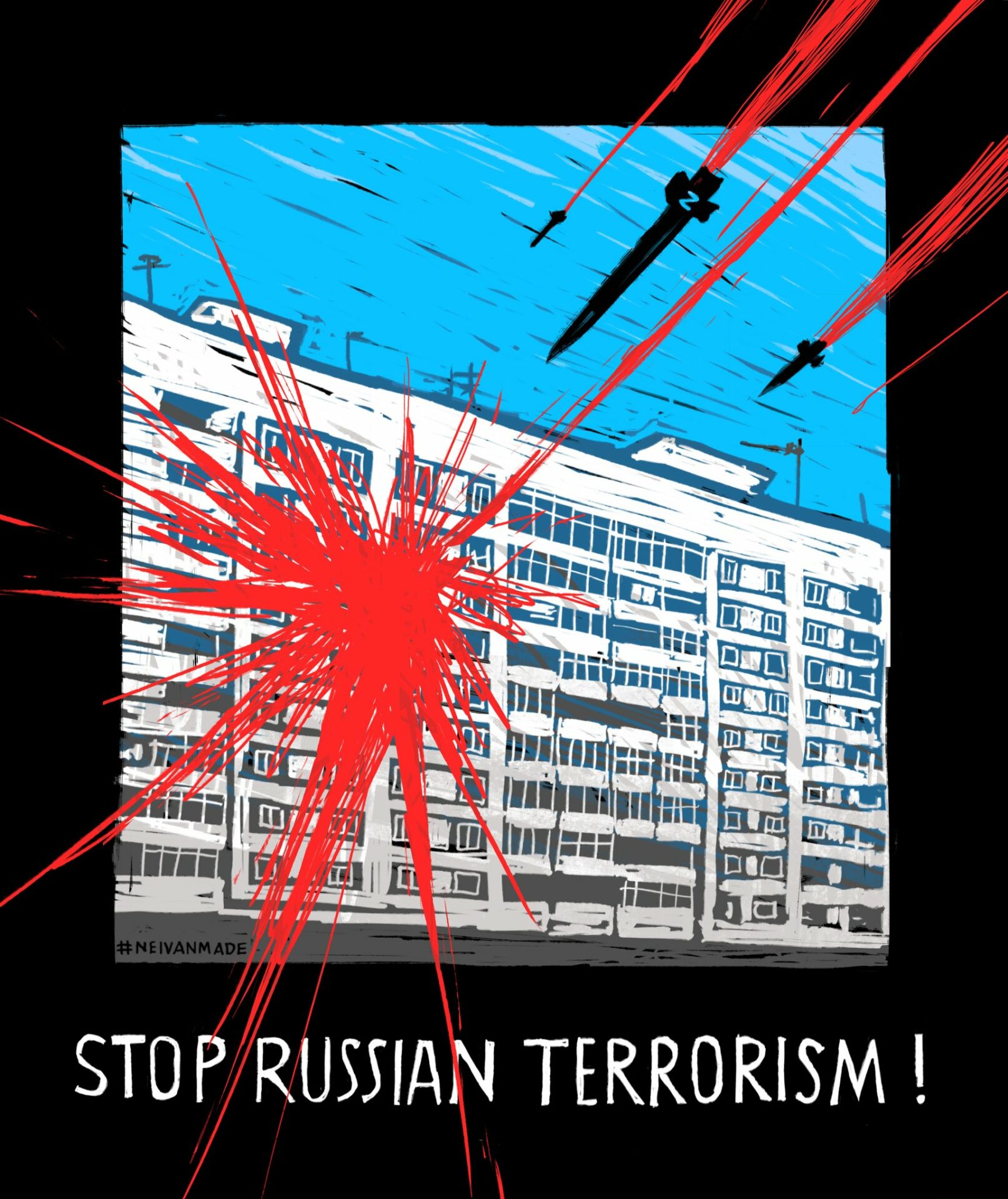 (Image by NEIVANMADE)
Last night, russians attacked Ukraine with 4 Kalibr cruise missiles and 4 Shached drones.
Ukraine's air defenders shot down all of them.
By @KpsZSU

— Defense of Ukraine (@DefenceU) June 19, 2023
Here is President Zelenskyy's address from earlier today. Video below, English transcript after the jump:
The evil state has no such fortifications or reserves that will stop Ukraine – address by President Volodymyr Zelenskyy

19 June 2023 – 22:16

Good health to you, fellow Ukrainians!

A report on this day.

The Staff. First of all, the frontline, specific issues of the offensive. There were reports from senior commanders and commanders directly from the battlefields. There was also a report by the Commander-in-Chief, the Chief of the Main Intelligence Directorate.

Separately and in detail, we considered the preparation and provision of equipment for the new brigades of the National Guard and our border guards – those who are waiting for their time to engage in combat operations.

In some areas our warriors are moving forward, in some areas they are defending their positions and resisting the occupiers' assaults and intensified attacks. We have no lost positions. Only liberated ones. They have only losses. In general, it is a situation of pressure, our pressure, which allows us to pave the way for our flag. Blue and yellow colors will be all over our south and all over our east. And the evil state has no such fortifications or reserves that will stop Ukraine. Because we are on our own land, and this gives us the greatest strength.

I thank all of our warriors – every soldier, every sergeant, every officer and every general who are involved in our active offensive and defensive actions now. I thank you for each liberated and each defended position!

Today, in a conversation with British Prime Minister Rishi Sunak, I outlined our current defense needs and thanked him for the defense support provided. For example, the British Storm Shadow long-range missiles are doing a very useful and accurate job at the front. As well as many other weapons supplied by the British. And this cooperation will have a significant continuation.

Of course, we discussed with Rishi, with Mr. Prime Minister, the preparations for the NATO Summit in Vilnius and the content of this meeting of the Alliance.

Today, there is also a significant political decision by the UK regarding sanctions – to maintain sanctions against Russia until the aggressor compensates for all the damage done to our people and our country. And it is very important that the assets of the aggressor state and all those associated with it, associated with the system of domination that the Kremlin has built on the territory of Russia, are used to compensate for the damage caused by the Russian war and terror. This will be fair, and I am grateful to all British people who support us on the path to justice.

We also discussed with Rishi the preparations for the conference on Ukraine's reconstruction in London. It will take place in the coming days, and we expect it to consolidate various international efforts, including those of big business, to support our recovery. A recovery that should demonstrate to the world that freedom is invincible.

I discussed the conference, financial cooperation, and our movement towards the EU with President of the European Commission Ursula von der Leyen. This week we are expecting an interim verbal assessment of our work on the European Commission's recommendations. We discussed sanctions issues in detail, in particular the 11th sanctions package against Russia for the war.

Today I also spoke with Prime Minister of the Netherlands Mark Rutte and Prime Minister of Denmark Mette Frederiksen. As always, we paid attention to the frontline and our joint defense efforts, and I thanked them for their support and willingness to develop our cooperation for security.

I informed them about the talks with African leaders and representatives who visited Ukraine last week and then visited the terrorist state. Each such international step only convinces again and again that the world should work more actively with the Peace Formula. Because this is the only Formula that responds comprehensively enough to every aspect of Russian madness.

And one more thing.

The World Bank. I spoke with the President of the Bank today. And not only about cooperation now, but also about the post-war transformation of Ukraine. About the decisions and steps, about the new doctrine of a new Ukraine, a victorious Ukraine, steps that we will prepare and implement. All together. Just as we are now overcoming this aggression together.

I am grateful to everyone who is now in combat, at combat posts, in combat positions!

Today I would like to highlight the Artan assault unit of the Main Intelligence Directorate and its commander, Major Torkotiuk. Thank you!

And also our Special Operations Forces. Viktor, all the guys – thank you very much!

Thank you to everyone who is fighting and working for Ukraine!

Glory to Ukraine!
Piatykhatky, Zaporizhzhia Oblast:
Piatykhatky, Zaporizhia region, being liberated by the 128th Mountain Assault Brigade.

🎥 @CinC_AFU pic.twitter.com/XDgiNCL1kJ

— Defense of Ukraine (@DefenceU) June 19, 2023
Confirmation of the settlement of Piatykhatky liberated on 18 June by the 128th Jaeger Brigade and the 2nd Separate Rifle Battalion in Vasylivka direction. Liberation was reported by Russian channels earlier on 18 June. pic.twitter.com/1VahXxuZjs

— Dmitri (@wartranslated) June 19, 2023
Left bank of the Dnipro, Kherson Oblast:
When some russian occupiers blew up the Kakhovka HPP dam, they forgot about the other russian occupiers holding positions on the Dnipro's left bank. Ukrainian Navy SEALs saved enemy soldiers from drowning… and added them to the POW exchange fund.
🎥 73rd Naval Special Operations… pic.twitter.com/38oQkdEIwg

— Defense of Ukraine (@DefenceU) June 19, 2023
The cut off word in the tweet above is "center". As in 73rd Naval Special Operations Center.
Since the video below is of Ukrainian SOF, I'm guessing they're operating somewhere in occupied Ukraine:
Rykove, Kherson Oblast:
Heavy damage from a strike in Russian-occupied Rykove (Kherson Oblast) is visible in new satellite imagery.

This site is more than 105 kilometers from the front line in Ukraine. pic.twitter.com/3Yb97iWKzd

— Brady Africk (@bradyafr) June 19, 2023
The Vulhedar axis:
A Ukrainian drone dies in combat while destroying a Russian stockpile of anti-tank mines. By the 72nd brigade of Ukraine. Vuhledar front. https://t.co/vjm3S2KVKm pic.twitter.com/fiXu9UW1w1

— Special Kherson Cat 🐈🇺🇦 (@bayraktar_1love) June 19, 2023
Mariupol:
In the temporarily occupied Mariupol, Ukrainian teenagers entered an argument with a Russian occupier on a bus. He apparently threatened them with a pepper spray to which they said he's not welcome there.

Teenagers marked as (M) – male, and (F) – female. pic.twitter.com/aVXiUmz2AI

— Dmitri (@wartranslated) June 19, 2023
The Kakhovka dam:
The photos obtained by AP, May 28, showed a car on Kakhovka dam -"its roof neatly cut open to reveal enormous barrels, one with what appears to be a land mine attached to the lid and a cable running toward the Russian-held side of the river."
More details- https://t.co/Bh3cGGdbBk pic.twitter.com/Y6S8Nl0wN9

— Special Kherson Cat 🐈🇺🇦 (@bayraktar_1love) June 19, 2023
From the AP:
BERISLAV, Ukraine (AP) — Russia had the means, motive and opportunity to bring down a Ukrainian dam that collapsed earlier this month while under Russian control, according to exclusive drone photos and information obtained by The Associated Press.

Two officials said Russian troops were stationed in a crucial area inside the Kakhovka Dam where the Ukrainians say the explosion that destroyed it was centered. Images taken from above and shared with the AP also appear to show an explosives-laden car atop the structure. It's not clear the car ever exploded and any such bomb would not have been powerful enough to bring down the dam, but Ukrainian officials say the photos show the Russians' intent to rig it, and that they had the access and control to do so.

In the days leading up to the dam's destruction on June 6, Ukrainian military drone videos showed dozens of Russian soldiers encamped on a bank of the Dnieper, relaxed as they walked back and forth to the dam with no cover — suggesting their confidence in their control of the area and especially the dam, which was strategically crucial.

Photos from drone footage obtained by the AP and dated May 28 showed a car parked on the dam, its roof neatly cut open to reveal enormous barrels, one with what appears to be a land mine attached to the lid and a cable running toward the Russian-held side of the river.

It's not clear any car bomb ever went off. A satellite image from June 16 shows a fuzzy object on top of the dam that could be the vehicle — but it was taken at such a distance and resolution as to make it impossible to know for sure.

A Ukrainian special forces communications official said the drone photos are evidence the dam was rigged. He said he believed the purpose of the car was twofold: to stop any Ukrainian advance on the dam and to potentially amplify the planned explosion originating in the machine room. Even if the car exploded, it would not have been sufficient to bring down the dam. The official spoke on condition of anonymity to preserve operational secrecy.

Kakhovka is one of a series of Soviet-era dams along the Dnieper River that were built to withstand enormous force, amounting to thousands of pounds of explosives. They were constructed in the wake of the infamous World War II "Dambusters" raids that destroyed German dams. Taking out the Möhne dam in 1943, for instance, required five 4.5-ton, specially made "bouncing bombs," according to the Imperial War Museum archives.

Ukraine is not believed to possess any single missile with that kind of power.

Sidharth Kaushal, a researcher with the London-based Royal United Services Institute, said the Ukrainians are not believed to have any missiles with a payload greater than about 1,100 pounds (500 kilograms).

Nor does it seem credible that Ukrainian commandos could have sneaked in thousands of pounds of explosives to blow the dam, which was completely controlled inside and out by Russian soldiers for months.

As recently as the day before the structure's collapse, Russians had set up a firing position inside the dam's crucial machine room, where Ukrhydroenergo, the agency that runs the dam system, said the explosion originated. Ukrainian President Volodymyr Zelenskyy said as early as October 2022 that the dam was mined.

Zelinskyi, who is not related to the Ukrainian president, confirmed that the explosion seemed to come from the area where the machine room is located. He and an American official familiar with the intelligence both confirmed that Russian forces had been ensconced there for some time. The American spoke on condition of anonymity to discuss sensitive material.
Much more at the link!
New air defense has arrived!
"I am delighted to be able to announce to you with my Italian colleague Giorgia Meloni that the Franco-Italian SAMP/T is now deployed and operational in Ukraine, where it protects key installations and lives," – French President Macron https://t.co/tBCcZjQihb pic.twitter.com/VB9g5wpplf

— Special Kherson Cat 🐈🇺🇦 (@bayraktar_1love) June 19, 2023
From RAI News:
Macron announces that Samp-T missiles are in Kiev. It is a medium-range land-to-air defense system of Franco-Italian manufacture

A medium-range SAMP / T ground-to-air defense system, of Franco-Italian manufacture, was delivered to Ukraine where it is now operational. French President Emmanuel Macron announces it, four months after promising it in Kiev. Paris announced the delivery of this Patriot equivalent in early February. "I am happy to announce with my Italian colleague Giorgia Meloni that the Franco-Italian SAMP / T is now deployed and operational in Ukraine, where it protects key installations and lives", said the French head of state in a speech in Paris on Europe's air and anti-missile defense.

The SAMP / T MAMBA is the first European long-range anti-missile system. It should help Ukraine cope with attacks by Russian drones, missiles and planes. With this system, its radar and its launchers armed with eight Aster missiles with a range of about 100 km, "we can counteract a wide range of air threats: short-range ballistic missiles, fighter planes, helicopters, drones and even cruise ship blanks", a French soldier pointed out to AFP in Romania in December.

Kiev has asked for months to strengthen its land-to-air defenses, especially after a wave of Russian attacks on its infrastructure using Iranian drones last fall. A MAMBA had already been deployed to Romania to protect the highly strategic region of the port of Constanta on the Black Sea.
Once again, everyone at home say it with me: The Russians have been running the same Information Warfare strategy over and over and over again to infiltrate and influence since at least 2014 if not 2012!
Research has shown that Russian anti-vaxx amplification began in the US as early as 2014, and was arguably the first wide scale Russian social media op in the US. These early tests helped inform Russia's consequential pro-Trump work in 2016. https://t.co/2SJpHuj0Pp

— Simon Rosenberg (@SimonWDC) June 18, 2023
It's also time for our leaders to begin serious conversation in the US around info integrity and how malevolent actors manipulate our discourse.

Europeans are way ahead of us in this space: https://t.co/HCo1xBleZM

— Simon Rosenberg (@SimonWDC) June 18, 2023
Targeting anti-vaxers, beginning in 2014, to influence them and targeting legitimate virologists, immunologists, and related physicians and research scientists WAS NOT the first time the Russians used these tactics! My professional assessment is that the hack, data scrape, and dump of emails from the University of East Anglia in 2009, leading to Professor Michale Mann's and other climate scientists' email correspondence with colleagues, as well as officials of the US government, other governments, and a variety of international non-governmental organizations regarding climate change being released to both climate science skeptics and then the public was the first Russian attempt to run this type of operation at scale against a Western target. Think of it as a proof of concept. It was followed up by a similar operation in 2011 that again targeted the University of East Anglia's Climate Research Unit. From The Guardian: (emphasis mine)
Last month, Tattersall's blog, as well as at least four other blogs popular with climate sceptics, received a comment from a user called "FOIA" providing a link to a Russian server hosting a compressed folder containing more than 5,000 emails exchanged between climate scientists, along with a short message setting out the perpetrator's motives. The folder also contained an encrypted subfolder containing a further 220,000 emails. It was the second time such a release had occurred.
And both of these, as well as manipulation of anti-vaccine conspiracy theories and the hack and dump of John Podesta's emails and the DNC hacks and dump all follow the same playbook. As does the 2015 RNC hack and the hack and small dump of Senator Graham's emails. The bulk of Senator Graham's hacked emails, as well as those from the RNC hack have never been released. This is also the same playbook used in the Macron leaks and in riling up both the Freedom Convoy folks in Canada and the Yellow Vest folks in France.
We have been in a primarily non-kinetic world war since at least 2012. It is not evenly distributed. The kinetic theaters of operations are in places that Americans largely couldn't care less about, if they could even find them on a map: Syria, the Central African Republic, Libya, Chad, Sudan, Mali, Georgia, and Ukraine. The war is primarily being fought through the weaponization of the elements of national power other than military power and because of that it is easy to pretend it is not and has not been happening. Which is why we have been and continue to lose the war!
From page 14 of Peter Pomerantsev's If Nothing Is True, Everything Is Possible: The Surreal Heart of the New Russia: (emphasis mine)
When I first landed in Moscow I thought these infinite transformations the expression of a country liberated, pulling on different costumes in a frenzy of freedom, pushing the limits of personality as far as it could possibly go to what the President's vizier would call "the heights of creation." It was only years later that I came to see these endless mutations not as freedom but as forms of delirium, in which scare-puppets and nightmare mystics become convinced they're almost real and march toward what the President's vizier would go on to call the "the fifth world war, the first non-linear war of all against all.
That's enough for tonight.
Your daily Patron!
There is a new video at Patron's official TikTok, but it won't embed. So click across to see it. I think the issue is that the TikTok's that are just a series of pictures that scroll from left to right won't embed, while the true videos will. This seems to be the pattern I've observed over the past several weeks. Not sure why it is this way, but that's the pattern.
Open thread!