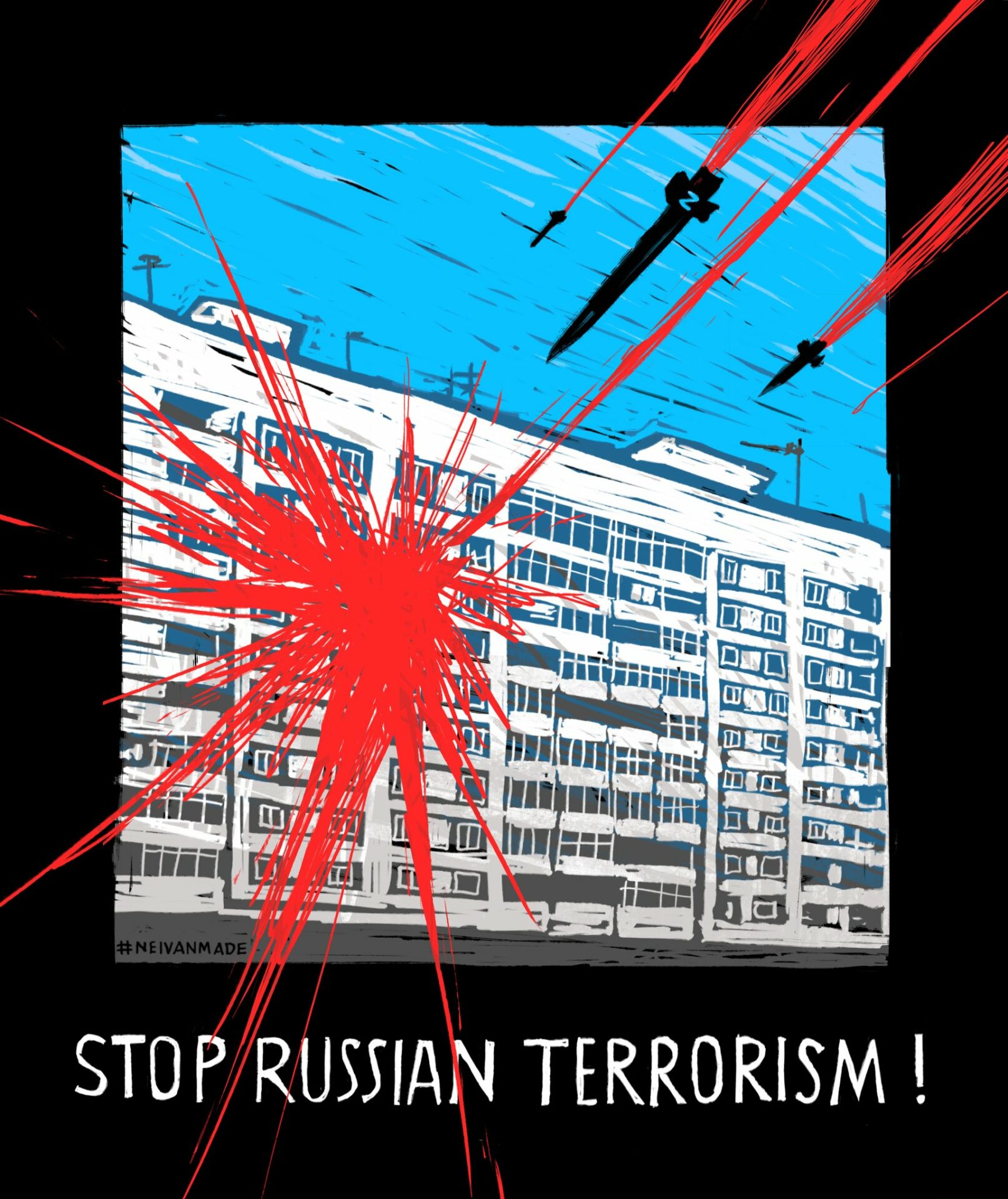 (Image by NEIVANMADE)
Last night, russians attacked Ukraine with three Kalibr cruise missiles and eight Shahed drones.
All missiles and drones were shot down.
Glory to Ukraine's air defenders!@KpsZSU

— Defense of Ukraine (@DefenceU) July 2, 2023
Saturday night in Kyiv. Eight Shahed drones and three Kalibr missiles downed. pic.twitter.com/LebcuigugZ

— Maria Avdeeva (@maria_avdv) July 2, 2023
Here is President Zelenskyy's address from earlier today. Video below, English transcript after the jump.
Ukrainian shores will never tolerate the occupier – address by the President of Ukraine

2 July 2023 – 16:01

Good health to you, fellow Ukrainians!

Today I am in Odesa, first and foremost, to congratulate our warriors of the Ukrainian Navy on their professional day. To congratulate them and thank them for their courage, heroism, and the extraordinary results they have achieved and are achieving for Ukraine.

It is enough to recall what ambitions Russia had at the beginning of the full-scale aggression and what ambitions are now at the bottom of the Black Sea.

I thank every warrior of the Ukrainian Navy – all sailors, all marines, all commanders of our Navy, artillerymen, naval aviators, drone operators, I thank the warriors of the river flotilla, river divisions… I thank you all!

Today, I had the honor to award the best, and congratulated the cadets of the Institute of Naval Forces of our Odesa Maritime Academy. I visited the wounded warriors in the hospital. I wish everyone a speedy recovery. It was a special honor for me to leave my wishes on the copy of Kobzar that has been accompanying our warriors in battles since 2014.

Today I also heard the report by our Navy Commander, Vice Admiral Oleksiy Neizhpapa, and Commander of the Odesa operational and strategic group of troops, General Moskalov. They spoke about the current security situation and the strategic tasks for our fleet, for the new direction – the fleet of naval drones – and for our coastal defense. We will implement everything! I am sure of it!

The enemy will definitely not dictate the conditions in the Black Sea, and the occupiers will have to be as afraid of approaching our Ukrainian Crimea and our Azov Sea coast as Russian ships are already afraid of approaching our Black Sea coast.

Today I also congratulate all civilian workers of the Ukrainian sea and river fleet, all those who ensure the security and operation of our ports, our ability to give life to the Ukrainian economy and connect our Ukraine with global markets despite the Russian blockade of the Black Sea. I thank all the sailors, port workers, ship repairers, businesses, employees and, of course, every soldier who protects the security of Ukrainian ports, Ukrainian cities, and Ukrainian shores.

We will win together! Ukrainian shores will never tolerate the occupier.

Glory to all our defenders!

I thank you, Odesa, for this day!

Glory to Ukraine!
And now a public service announcement from the Ukrainian Ministry of Defense:
Attention unwanted guests. A travel advisory is in effect this summer. pic.twitter.com/SJTNXPwWSJ

— Defense of Ukraine (@DefenceU) July 2, 2023
Orikhiv:
ORIKHIV AXIS /2110 UTC 2 JUL/ In the last 24 hours, UKR forces are pressing contacts on the T-08-15 HWY axis east of Bilohiria. Driving south on the T-04-08 HWY axis, UKR task elements are now reported in contact at Robotyne. There, Russian units have broken and withdrawn south… pic.twitter.com/LVwm4QOr1U

— Chuck Pfarrer | Indications & Warnings | (@ChuckPfarrer) July 2, 2023
Krasnodar Krai, Russia:
An explosion is reported near a military airfield in Primorsko-Akhtarsk, Krasnodar Krai, Russia. pic.twitter.com/QmsMuKOeP5

— Special Kherson Cat 🐈🇺🇦 (@bayraktar_1love) July 2, 2023
Tatarigami has identified a major informational security and operational security issue:
У мене досить серйозне запитання до панства з @ServiceSsu
Ці камери, що транслюють наші міста, дороги та об'єкти інфраструктури ворогу, роблять це вже понад рік. І це ще не найгірше з того, що було знайдено. В мене питання – скільки ще має пройти років, щоб ви зарухались? pic.twitter.com/wCicdhziIO

— Tatarigami_UA (@Tatarigami_UA) July 2, 2023
Here's the machine translation of his tweet:
I have a rather serious question for the gentlemen from @ServiceSsu These cameras that broadcast our cities, roads and infrastructure to the enemy have been doing so for over a year. And this is not the worst of what has been found. My question is: how many more years will it take for you to move?
What did our resident dirt slinger The Mighty Trowel know and when did she know it?
/2. Hurricanes were deliberately broken up and buried after the war so the Soviets did not have to pay back the United States. Under the Lend-Lease legislation, the USSR was required to pay for any donated military equipment that remained intact after hostilities ended. – BBC pic.twitter.com/FTtUERY4ZJ

— Special Kherson Cat 🐈🇺🇦 (@bayraktar_1love) July 2, 2023
One of my favorite documentaries about World War I is Digging Up the Trenches. 
Natalia Antonova has published a new analysis of Putin's position after Prigozhin's revolt at Foreign Policy. Here are some excerpts:
During the pro-democracy protests that swept through Moscow in 2011-12, the Kremlin did its best to argue that Russians "shouldn't rock the boat." After all, it was argued, President Vladimir Putin had saved Russia from the "wild, chaotic 1990s." To come out against him was foolish, even ungrateful.

The Kremlin then spent the next decade violently rocking its own ship as it exported war and terror abroad and stamped out democracy at home. The instability of Russia today has come from the top—made by men such as Putin who promised that every bloody deed was in the name of a strong and stable nation.

Then, a bloodthirsty criminal with his own private army of fellow criminals finally marched toward Moscow. And many people were, for some reason, surprised. To be sure, the specifics were hard to predict (though U.S. intelligence seems to have had a good guess.)

To understand what on earth just happened between Putin and corrupt-caterer-turned-warlord Yevgeny Prigozhin, we need to realize that Putin's stability was a myth from the very start.

Putin rode an oil boom and made a lot of key people very rich, while the majority got scraps from the table. Even as average Russians became better off, inequality deepened. Russian officials engaged in corruption on a breathtaking scale and exported it abroad. Overall domestic crime rates did stabilize, which greatly placated an exhausted population, but at the same time financial crime became a way of life for both the ruling elite and middle managers.

Putin doesn't preside over a government in a way most outsiders would recognize; rather, he presides over a mafia clan that took over the top of an already hollowed-out state. Writers such as Masha Gessen and Mark Galeotti nailed it years ago. A good way to describe this system is the popular Russian phrase po ponyatiyam—wherein a criminal operation is run according to gentlemen's agreements.

As various Russian journalists have pointed out over the years, Putin believes in ponyatiya, the criminal's code of laws. It's how he persuaded the Russian elites to retain loyalty to him as they enriched themselves, and he expected Western leaders to come to a similar understanding with him after he annexed Crimea and destabilized the Ukrainian Donbas region in 2014. The fact that Western governments aren't run like the mafia proved a major stumbling block for him, and his resentment of the West continued to grow. Yet on the other hand, Western governments also did not show enough strength and force in opposing Putin in 2014, which made the eventual mass-scale invasion of Ukraine possible. A cerebral, enlightened approach to a thuggish Putin simply could not and did not work.

When you think of Putin as a mob boss with other thugs in his employ, Prigozhin's attempted insurrection makes much more sense. The Russian Ministry of Defense, a.k.a. another group of criminals under Putin's control, was trying to take over Prigozhin's private military company and cash cow the Wagner Group, using the invasion as an excuse. Prigozhin felt threatened by his rivals. Inevitably, he lashed out.

But even with the insurrection stopped, Putin's credibility is shot. He went from branding Prigozhin a dangerous traitor to letting him immediately escape. He acts very brave when it comes to jailing unarmed people waving peace signs, not so brave when an armed insurrectionist and his merry band of war criminals start rolling toward Moscow.

Ordinary Russians didn't exactly rally around Putin during a day of crisis. Prigozhin's forces essentially took over Rostov-on-Don—not some backwater town, mind you, but a city of more than a million people. And when Wagner forces were leaving, Prigozhin was treated like a rockstar, not a despised traitor, by onlookers. Government military forces, meanwhile—such as the much talked-up Chechen troops—mostly seem to have avoided major involvement in the conflict, or sat on the fence.

That's because an aging autocrat such as Putin inspires, at best, passive support. Also because people who have spent decades living under a calcifying regime crave excitement. It's not that Prigozhin is a good person; it's that he's someone different.

All this suggests Prigozhin's insurrection is a preamble to greater instability in Russia. Putin's war on Ukraine has claimed tens of thousands of lives but achieved no tangible aims. Sanctions continue to grind at the Russian economy. The sons of wealthy officials don't have to worry about being drafted, while others lose their children and fathers.

Even Putin's most loyal propagandists, such as the odious Margarita Simonyan, editor-in-chief of state broadcaster RT, are having a hard time explaining to people why everything is just fine, essentially declaring "laws don't matter" in the wake of Prigozhin's exit.

The boat is now rocking of its own accord. Exporting violence for years can have a boomerang effect. And violence inspires more violence. It becomes a cycle.

Criminals who go unpunished tend to escalate. Putin got away with violence and corruption for years, so he finally felt untouchable enough to launch a genocidal war of aggression. Yet the same can be said of the men whom Putin controls. They too have escalated, and they are up to their elbows in blood. Why shouldn't they go from murdering Ukrainians to murdering fellow Russians, especially if the latter inconvenience them?

None of this is good news for the stability of the Russian regime down the road. To quote Ukraine's chief of military intelligence, "It will get worse."
Much more at the link!
That's enough for tonight.
Your daily Patron!
Here's some Patron adjacent material.
A Ukrainian Soldier is reunited with his cat:
Знайшли!!! Шайбусіка знайшли 🥹❤️🙏🏻 Поки вся країна шукала Шайбіка, цей герой любовник став розвідником 🫡, пройшовши не малу дистанцію, знайшов кошечок 🐱, та чилив з ними на другій позиції у військових 😅🐈 . Військові побачили AA оголошення яке я розклеїв поблизу,… pic.twitter.com/urBLT8C6I3

— Алекс Ляшук (@aliashukua) July 2, 2023
Here's the machine translation of his tweet:
Found!!! Shaibusik was found 🥹❤️🙏🏻 While the whole country was looking for Shaibik, this hero-lover became a scout 🫡 , having traveled quite a distance, found a cat 🐱 and lived with them in the second position in the military 😅🐈 . The military saw the AA advertisement that I posted nearby, called and brought our hero to me 🐈❤️ . They did not ask for money, I myself asked them for a bank card number and transferred the promised reward, may these funds benefit them, for our social victory. Therefore, I want to thank them once again for returning my child to the family 🙏🏻 .

And also to thank all of you friends for being so worried about Shaybik and supporting me in my search for him 🥹🙏🏻❤️ I appreciate each of you, your love and support 🫶🇺🇦 You are incredible. Several of my followers, including our jeweler jeweler_jukovsky, who made the same incredible silver pendant with Shaybusik, offered to partially split the payment of the reward for people who find Shaybic.

If they don't mind, I will definitely mark them ❤️ . Tomorrow I will take Shaybik to the vet to check his health 🐈 I put a collar and another AirTug on him, and I will look for another more effective jeep trainer in our conditions 🫡
There is a new video at Patron's official TikTok, but its one of the slide show ones and they don't embed here. So click across and give it a look.
Open thread!