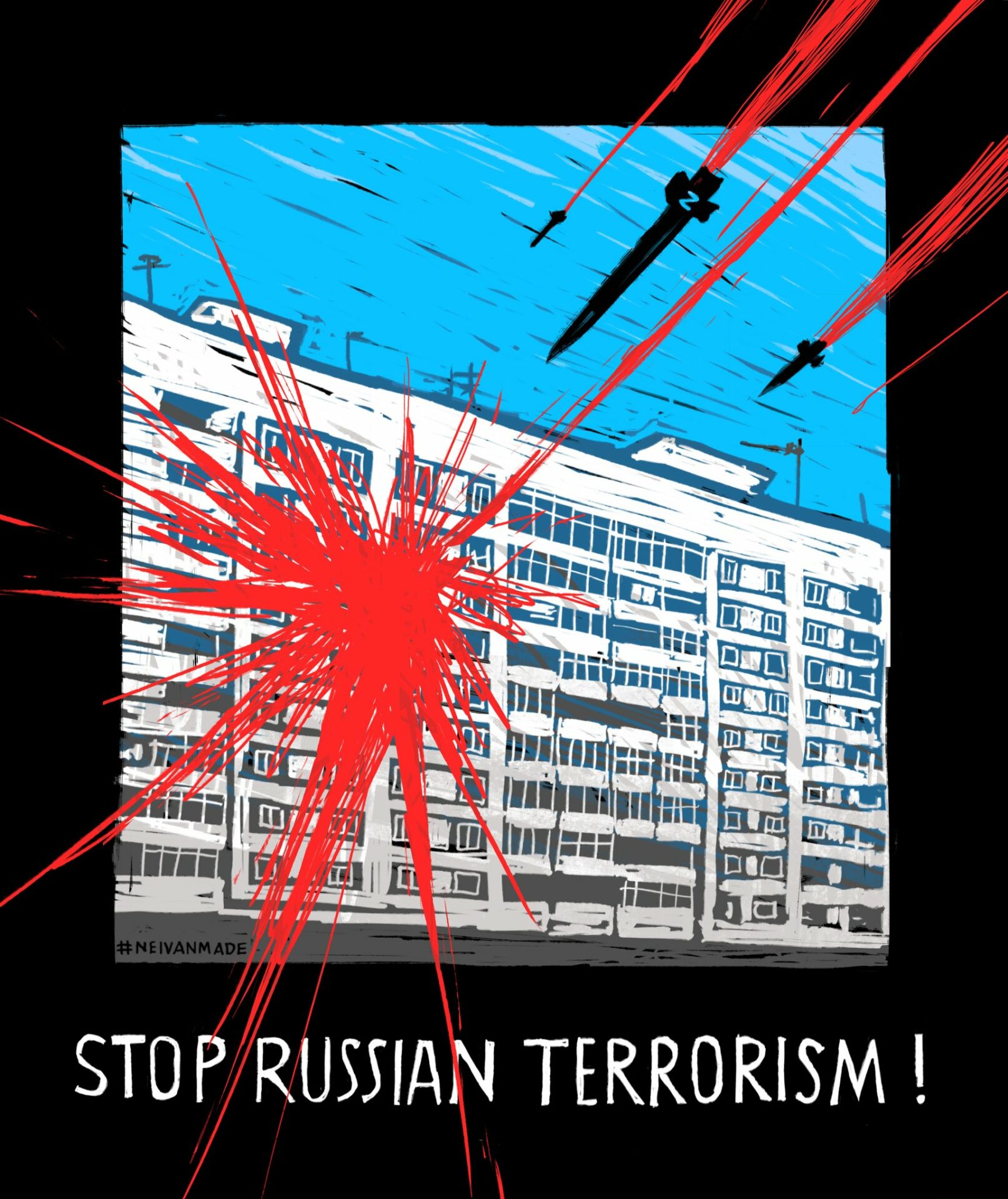 (Image by NEIVANMADE)
The Russians opened up on Lviv overnight.
The overnight attack on Lviv was the most devastating one on the city since the beginning of the full-scale war.
The youngest victim killed by the missile strikes was 32, the oldest 62.
📷 @HromadskeUA @radiosvoboda pic.twitter.com/BClE0aH4p2

— Defense of Ukraine (@DefenceU) July 6, 2023
Last night, russians attacked Lviv with Kalibr cruise missiles.
Ukraine's air defenders shot down 7 of 10 missiles.
At least four civilians were killed, and 32 were injured.

Ukraine needs F-16s to strengthen its air defense and save lives! pic.twitter.com/FRlhauYiCk

— Defense of Ukraine (@DefenceU) July 6, 2023
There will definitely be a response to the enemy. pic.twitter.com/DSDa8MVnad

— Ukrainian Air Force (@KpsZSU) July 6, 2023
Here is President Zelenskyy's address from earlier today. Video below, English transcript after the jump. This is a speech, unlike his usual address to Ukrainians, to the Bulgarian officials he met with with today. His remarks begin around the 8:30 mark.
Defense support means saving freedom – speech by the President of Ukraine at the meeting with representatives of Bulgarian political circles, civil society and media

6 July 2023 – 19:59

Mr. Prime Minister! 

Dear Deputy Prime Minister! 

Dear participants! Dear friends!

I'm sure we have a lot of friends here and it is tangible, so let me address you in this way.

First of all, I really want to apologize for our delay – it's a fact, all of our conversations here today, all of our conversations in Bulgaria are so important, so meaningful that there is simply not enough time to keep up with this schedule… But I hope that our conversation will also be as meaningful as possible. I know that you have questions and I will be happy, all of us will be happy to answer them.

But first, I want to thank everyone in Bulgaria, I want to thank each and every one of you for your respect and support for our people – it is very important – who, after the outbreak of a full-scale war, found refuge in your cities, among you, in your communities. In total, more than one hundred and forty thousand of our people have found protection in Bulgaria since then, and I am very grateful for that. You applauded me and I want you to applaud yourselves for everything you have done for our people.

We are trying to do our best to ensure that our people can return home to Ukraine as soon as possible. We want Ukraine to finally become safe, and we feel that this is possible not in the long term, but quite soon… Ukraine's victory is real. And we need it very much.

It all depends on one factor, namely, the amount and power of the important support we use for defense – first of all, armed support. But it also depends on support through sanctions against Russia for terror, financial support for our social stability in a time like this, a time of war, and, last but not least, motivation for our people. People need to see and feel that the world sees and feels the pain that Ukrainians are going through in order to protect for themselves and their children exactly the same values that every free nation enjoys. It is absolutely fair.

You know, among all the disinformation about this war, whether it's Russian disinformation or simply narratives that favor Russia, there are some particularly absurd, dangerous claims. And among them is the claim that helping Ukraine, in particular with weapons or sanctions, allegedly makes this war longer and allegedly does not help restore security.

You may have heard such absurd statements. It is always important to refute them, because war is a time when any disregard for reality is disheartening and prevents the war from ending.

The reality speaks for itself, namely that we were able to significantly reduce the scale of this war. First of all, thanks to the weapons we receive.

Our warriors have already liberated about one thousand nine hundred towns and villages on Ukrainian soil since February 24 last year. Indeed, we still have a very, very difficult path to go to liberate our entire territory from occupation, but let's not forget how it all began, how it all started, and what Ukrainians have been able to accomplish.

We have repelled Russian attacks on our northern regions and the capital of Ukraine. We have liberated large areas of the east and south of our country. We have begun to create a powerful sky shield that can become the basis of a pan-European sky shield, and we have already proven that Russia has no missiles that cannot be shot down. We have destroyed the entire, and I emphasize this, the entire most combat-ready part of the Russian army in battles. Putin is now forced to humiliate himself in front of regimes like Iran to get weapons to continue his terror. Terror against Ukraine. Russia, which claimed to be the second most powerful country in the world, is looking for help from exiles…

And this Russian ruler is already so weak that he is unable to protect even Russian regions from his own militants. And if one day someone like Prigozhin or Kadyrov, for example, marches directly to the Kremlin, we should not be surprised. All the remnants of the Russian armed forces are in the occupied areas of our country, and those who are supposed to guarantee the security of this regime in Russia have no motivation to actually fight for a weak and inadequate tsar.

So now we have to increase our joint pressure. The more aid, ammunition, and weapons we receive, the more modern they are, the clearer the contours of our victory are, that is, the more the scale of the war on our land is reduced, because we are pushing the occupiers out. Defense support really means saving freedom, it increases the space of freedom and normal life for our people. And I am grateful to you, I am grateful to Bulgaria for being on the bright side of history, particularly in defense cooperation.

The greater our political unity is, particularly in the area of European and Euro-Atlantic integration, the more the Russian dictator's entourage will fall apart and the weaker he will become. None of his ambitions have been realized. And we have to confirm at every stage of our path that the ambitions of the Russian regime will not be realized. Vilnius is now one of the key stages. It is there that we can and must prove that Russian regimes – whatever they may be – will no longer have a "veto" over the free choice of the European nations to determine their future. Ukraine is choosing the Alliance, NATO's door is open, so it is time for an invitation to enter. When Ukraine chooses its future independently, and our choice really works, it means that the whole of Europe chooses and will always choose its future without external coercion. The current Russian regime is the last enslaver of nations in Europe. And this is also a fact. And this regime must lose, both on the battlefield and in politics, so that all people in Europe can win.

And the third aspect is unity. This is very important.

Modern Europe cannot afford the luxury of internal confrontations and internal divisions. Today is exactly one month since a new government has been in office in Bulgaria, and I sincerely wish this government a solid foundation of social unity, and therefore the opportunity to increase your strength, your influence, and the benefits for Bulgaria – in Europe and around the world. You always have to fight for the future of your people, and to gain it, you need unity, on which you rely.

May you succeed! Ukraine will always support you. And it will always be grateful to you for helping our defense.

I thank you for your attention! Thank you, beautiful Sofia, and thank you for hosting our delegation, for treating our people as if they were your own, your own family and friends. It's so important, it keeps you going. And I am grateful to you for that.

Glory to Ukraine!
He also met with Czech President Petr Pavel today. Here's the video of their joint press conference.
Ukraine was able to get a large number of POWs back today.
45 soldiers of Armed Forces, National Guard, DPSU and two civilians returned to Ukraine from Russian captivity.
Among them – a civilian employee of "Azovstal" and a member of territorial defense from Kherson.https://t.co/ZsVSUt8hyg pic.twitter.com/0znvLCsnES

— Special Kherson Cat 🐈🇺🇦 (@bayraktar_1love) July 6, 2023
/3. The moment of meeting a mother, a combat medic, with her children, who were in Russian captivity. Children and mother did not see each other for 1.5 years. pic.twitter.com/r1ldVA9ufV

— Special Kherson Cat 🐈🇺🇦 (@bayraktar_1love) July 6, 2023
Lviv:
Lviv….our most European-looking city.
And now this, Russian Kalibr missiles. This is what European cities would look like if we went on "not provoking Putin" and "calling on both sides to de-escalate" instead of confronting the aggressor. pic.twitter.com/g1byvt0cQ9

— Illia Ponomarenko 🇺🇦 (@IAPonomarenko) July 6, 2023
Lviv, a city in western Ukraine, was considered one of the safest places in Ukraine, but Russia hit it with missiles tonight, killing 4 people and injuring at least 32.

Some people are still trapped under the rubble of a destroyed residential building. pic.twitter.com/aIDrSz1lFE

— Daryna Antoniuk (@daryna_antoniuk) July 6, 2023
In the wake of last night's bombardment of Lviv, The Kyiv Independent's Illia Ponomarenko is channeling a lot of frustration and despair with this question.
For more than a year, Russian Z-patriots can't decide between two mutually contradicting narratives they all push for simultaneously:

– NATO & the West have been preparing a grand war on Russia for decades, so they will eagerly provide Ukraine with the whole of its military and…

— Illia Ponomarenko 🇺🇦 (@IAPonomarenko) July 6, 2023
Here's the full text:
For more than a year, Russian Z-patriots can't decide between two mutually contradicting narratives they all push for simultaneously:

– NATO & the West have been preparing a grand war on Russia for decades, so they will eagerly provide Ukraine with the whole of its military and industrial might to destroy, partition, and enslave Russia.
– NATO & the West are so weak, undetermined, and unprepared for a grand war with Russia that their defense assistance supplies to Ukraine are way too slow, insufficient, and prolonged that Ukraine is essentially doomed, which is good for Russia.

So why is it that Ukraine has to beg for weapons and supplies for months and years and get a drop at a time, why doesn't the West just give Ukraine absolutely everything, from artillery to F-16s, right away, just like that, since this war was prepared for decades and they want to see Russia destroyed?

Because they're all Satanists and evil, and they want as many Slavic men dead as possible, for whatever reason.
I know that a new US military aid package will be announced tomorrow, and we'll cover it then, but you need to listen to the message that Illia Ponomarenko is sending to us in the US and to our allies. This isn't a message of ingratitude, it is a message of despair and anguish.
Bucha:
Gods of thunder are having a gig right now in Bucha ⛈️⚡️ pic.twitter.com/d01cmwUlMu

— Illia Ponomarenko 🇺🇦 (@IAPonomarenko) July 6, 2023
Ugh!
U.S. will continue to provide weaponry to Kyiv so that Ukrainian officials can negotiate from a position of strength when they think the time is right, per DoS Spox #StandWithUkraine

— Alex Raufoglu (@ralakbar) July 6, 2023
Of course its Richard Haas who runs the Council on Foreign Relations! NBC News has the details:
LONDON —  A group of former senior U.S. national security officials have held secret talks with prominent Russians believed to be close to the Kremlin — and, in at least one case, with the country's top diplomat — with the aim of laying the groundwork for potential negotiations to end the war in Ukraine, half a dozen people briefed on the discussions told NBC News.

In a high-level example of the back-channel diplomacy taking place behind the scenes, Russian Foreign Minister Sergey Lavrov met with members of the group for several hours in April in New York, four former officials and two current officials told NBC News.

On the agenda of the April meeting were some of the thorniest issues in the war in Ukraine, like the fate of Russian-held territory that Ukraine may never be able to liberate, and the search for an elusive diplomatic off-ramp that could be tolerable to both sides.

Sitting down with Lavrov were Richard Haass, a former diplomat and the outgoing president of the Council on Foreign Relations, current and former officials said. The group was joined by Europe expert Charles Kupchan and Russia expert Thomas Graham, both former White House and State Department officials who are Council on Foreign Relations fellows.

The former U.S. officials involved either did not respond to requests for comment from NBC News or declined to comment on the record. All of the sources declined to be named in order to confirm talks that were intended to be kept confidential.

Among the goals, they said, is to keep channels of communication with Russia open where possible and to feel out where there might be room for future negotiation, compromise and diplomacy over ending the war.

The discussions have taken place with the knowledge of the Biden administration, but not at its direction, with the former officials involved in the Lavrov meeting briefing the White House National Security Council afterward about what transpired, two of the sources said.

The discussions are known in diplomatic parlance as "Track Two diplomacy," a form of unofficial engagement involving private citizens not currently in government — or in the case of the Lavrov meeting, "Track 1.5," meaning current officials are involved on one end of the conversation. They come as formal, high-level diplomatic engagements between the U.S. and Russian governments over Ukraine have been few and far between.

It is not clear how frequently the backchannel discussions have taken place, nor whether they're part of a single, organized effort.

But on the American side, the discussions have involved some former Pentagon officials, including Mary Beth Long, a former U.S. assistant defense secretary with deep experience in NATO issues, according to two people briefed on the talks.
So NBC, based on what they've been told by these former political appointees, is reporting the Biden administration knows about what is going on and this is an official Track 2/backchannel. The Biden State Department contradicts that. Graham was last a political appointee, let alone a career Foreign Service officer, in the first George W Bush administration. Kupchan's last political appointment was in the second Obama administration. Haas, like Graham, was a political appointee during the first George W. Bush administration. Long served as a political appointee in the second George W. Bush administration.
Someone here is lying. Unfortunately, even if it is these useless idiots, Russia wins as a result. Especially because the Ukrainian news is reporting this sourced to NBC and with NBC's framing that these are official Track 2/backchannel negotiations with Lavrov. Interestingly, the spokeswoman for the Russian Ministry of Foreign Affairs has denounced the reporting as fake:
Maria Zakharova, a spokesperson for the Russian Ministry of Foreign Affairs, has dismissed thereport as fake.
This is going to be demoralizing. The official State Department correction is not going to be read, seen, and/or heard by the average Ukrainian. This is going to be pushed and pulled hither and yon throughout social media. I cannot tell you how stupid this is if it is just these four schmucks freelancing. If it eventually comes out someone in the Biden administration blessed off on this, it is going to be monumentally bad.
I see that accusations of Russia using chemical weapons are circling around social media again. They last time people were claiming that K-51 tear gas (chemical irritant) grenades were chloropicrin grenades. They're not. Here's a long thread from Dan Kaszeta with all the details from SEP 2022.
OK. Here's what I have to say about the alleged "chloropicrin grenade" attack in Ukraine. There's a lot of holes in this story and I think some misunderstanding is going on.

(Thread)

— Dan "Blacklisted" Kaszeta 🇱🇹 🇺🇦 (@DanKaszeta) September 24, 2022
Many accounts go on to name the device as a "K-51 chloropicrin grenade"

— Dan "Blacklisted" Kaszeta 🇱🇹 🇺🇦 (@DanKaszeta) September 24, 2022
Chloropicrin isn't going to work in this sort of grenade. The K-51 works by igniting a burning filler, in which granulated/powdered CS is mixed in with the burning filling material.

— Dan "Blacklisted" Kaszeta 🇱🇹 🇺🇦 (@DanKaszeta) September 24, 2022
Now, that CS grenade will get pretty hot. I don't know how hot the K-51 gets, but many CS grenades get to temperatures in 400-700 deg C range.

— Dan "Blacklisted" Kaszeta 🇱🇹 🇺🇦 (@DanKaszeta) September 24, 2022
Chloropicrin is not combustible. But it has a decomposition temperature around 112 deg C, way cooler than any burning-type CS grenade.

— Dan "Blacklisted" Kaszeta 🇱🇹 🇺🇦 (@DanKaszeta) September 24, 2022
Chloropicrin could be mistaken for CS and vice versa. Which is one of the many reasons why all tear gases are banned in warfare by the Chemical Weapons Convention. pic.twitter.com/SxtjU8zd1A

— Dan "Blacklisted" Kaszeta 🇱🇹 🇺🇦 (@DanKaszeta) September 24, 2022
Chloropicrin is way more toxic than CS tear gas, but it is genuinely difficult to kill anyone with it in open air.

— Dan "Blacklisted" Kaszeta 🇱🇹 🇺🇦 (@DanKaszeta) September 24, 2022
Now, one of you is bound to jump the gun and claim I'm being Pro-Russian. I couldn't be further from that. Here's the thing: claiming that Russian weapons are more lethal than they really are is the pro-Russian approach on this subject and I'm fighting that.

— Dan "Blacklisted" Kaszeta 🇱🇹 🇺🇦 (@DanKaszeta) September 24, 2022
But also, it's perfectly possible that something was misidentified in good faith and passed up the chain of command. But that also points out the very good reasons for the ban

— Dan "Blacklisted" Kaszeta 🇱🇹 🇺🇦 (@DanKaszeta) September 24, 2022
I should note that merely doing a Google image search for a chloropicrin grenade gets you images that are not actually chloropicrin grenades. You need to dig deeper

— Dan "Blacklisted" Kaszeta 🇱🇹 🇺🇦 (@DanKaszeta) September 24, 2022
Also, a bit of an update. There's a bit of an urban legend going around that chloropicrin is a "mask breaker" that will defeat military protective masks/respirators. This might have been the case decades ago, but not with the filters on modern military respiratory protection

— Dan "Blacklisted" Kaszeta 🇱🇹 🇺🇦 (@DanKaszeta) September 25, 2022
Last night in the comments, Anonymous at Work asked:
Adam,

About the proving grounds bit, any sense or word that UA having access to the latest and best with good training will prepare US for when a SE Asian power decides to invade a small breakaway island neighbor?  That the US needs to learn MORE from what weapons can/do work than this "SE Asian power" does from what Russia does (or rather learns what not to do)?
The answer is yes and no. Having actual real world data about how these weapons and weapons systems work in a conventional interstate war is important. So that will help. However, I am not sure given the differences in the actual physical geography, as well as the human (people, places, things, and how they interact in time and space), political (how governments are structured, staffed, run, and decisions are made), and military (how the military is structured, staffed, run, and decisions are made) geography means that a lot of what people would like to be the lessons learned from Ukraine's defense against Russia's genocidal re-invasion aren't going to be. Leaving aside the cottage industry of think tank and scholarly reports over the past year and a half – some coming out just weeks into the war – claiming to provide lessons learned from the Ukrainian-Russian War of 2022, quite frankly we really do not know what the real key take aways are. I'm not sure we'll know for years after the war ends. And the attempts to glean tactical lessons learned and then assert them as anything more than a snapshot in time is arrogant foolishness. There's so much we do not know yet. So much information, despite the amount of information that has come out, that has not come out or that we think means X now, but may mean Y when it is all over, that I'm not sure we can make any sort of even general extrapolations for what we might or might not need to learn in the scenario you've described. However, the one lesson the Taiwanese damn well better be learning right now is to get as much as they can in terms of material now and stockpile it. Because regardless of how loudly majorities in Congress are banging the drum in your favor or how supportive the statements are coming out of the administration, the reality is you're going to get what you're going to get when the US decides to send it to you based on both the understanding of the national interest of whomever is President at that time and his senior advisor and their fears of what providing support might lead to. Which ties back into Illia Ponomarenko's expression of frustration and despair.
That's enough for tonight.
Your daily Patron!
There are no new Patron tweets or videos tonight. So here is Murchik the cat from Sumy!
When you break down after another violent Russian attack, suddenly there is something that makes you smile. Sumy. 4th day of rescue work. Murchik the cat found alive. pic.twitter.com/FDFFUcOcEC

— Maria Avdeeva (@maria_avdv) July 6, 2023
Open thread!