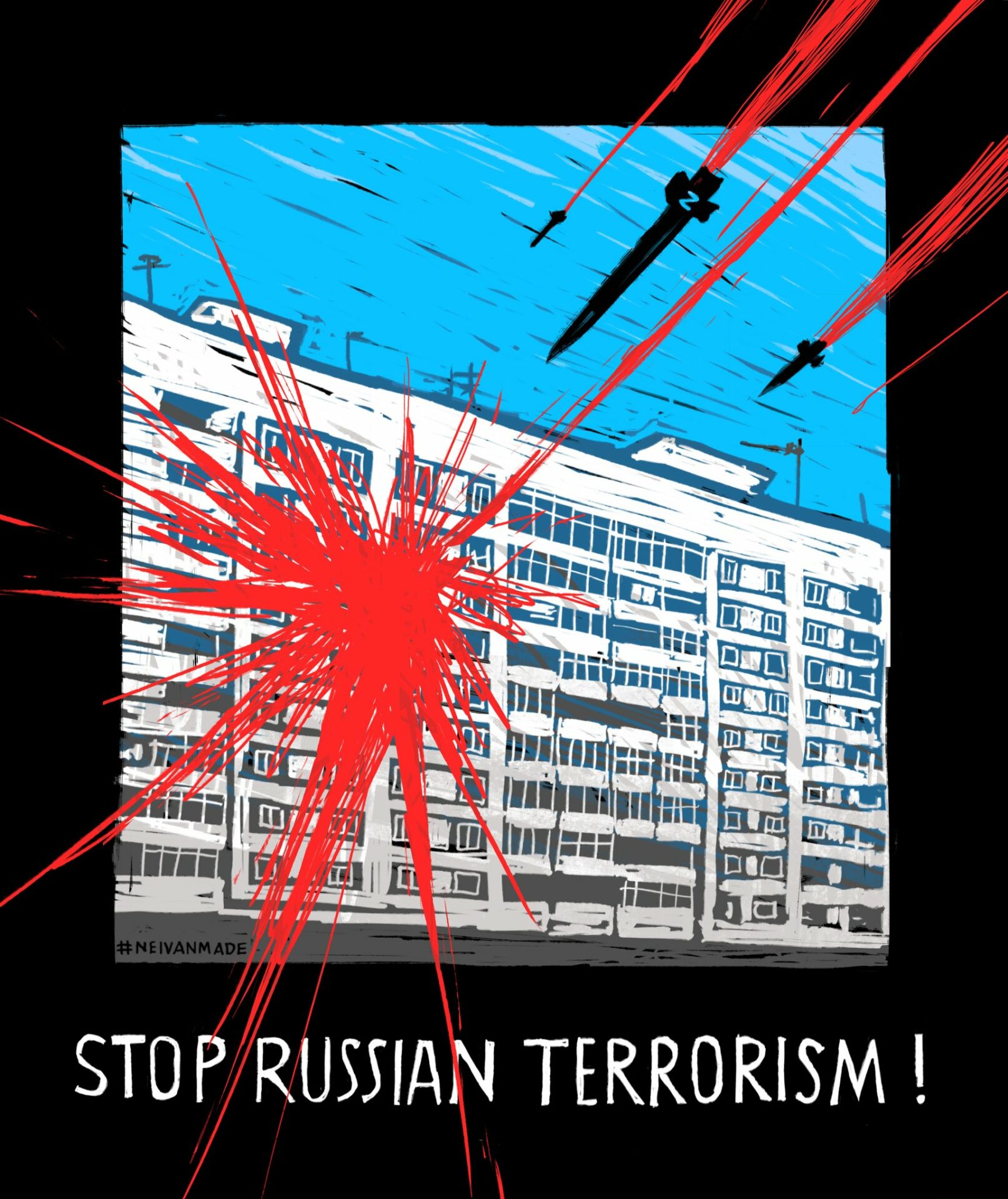 (Image by NEIVANMADE)
Just a quick update tonight. Been a very busy day and I'm about out of steam.
Another heinous crime committed by russian terrorists!
On July 9, they destroyed the largest civilian shelter in Orikhiv with 2 guided aerial bombs, where the few civilians who remained in the city were hiding from shelling.
4 civilians were killed, and 11 were injured. pic.twitter.com/qteyixOWB8

— Defense of Ukraine (@DefenceU) July 10, 2023
Here is President Zelenskyy's address from earlier today. Video below, English transcript after the jump.
Ukraine will be in NATO, we are working on the algorithm of gaining membership – President Volodymyr Zelenskyy

10 July 2023 – 20:57

Good health to you, fellow Ukrainians!

So, Ukraine is on the eve of Vilnius. The NATO Summit, which could be exactly what our country, the entire Alliance, and global security need.

We are working extremely hard these days! Even more actively than ever. And although this work is almost one hundred percent behind the scenes, it is no less important than any public work.

Everyone understands everything. Every leader, every state. Even if different positions are voiced, it is still clear that Ukraine deserves to be in the Alliance. Not now – there is a war, but we need a clear signal. And we need this signal right now.

I am grateful to all the leaders, to every country, who say so and who have adopted the relevant joint declarations and statements with Ukraine on our integration. The majority of the Alliance clearly stands for us.

The courage of Ukrainian heroes has wiped away the dust of history from all the values for the protection of which NATO was created.

The eastern border of Ukraine, the border of our state and the positions of our warriors are the line that the Russian dictatorship, which in various forms, but always, always tried to conquer the peoples of Europe, will never cross again.

The security reality here on NATO's eastern flank depends on Ukraine. When we applied to join NATO, we were frank: Ukraine is de facto already in the Alliance. Our weapons are the weapons of the Alliance. Our values are what the Alliance believes in. Our defense is the very element of the formula of Europe that makes it united, free and peaceful.

Vilnius must confirm all this.

We are still working on the wording, that is, on the specific words of such confirmation, but we already understand the fact that Ukraine will be in the Alliance, and we are working to make the algorithm for gaining membership as clear and fast as possible. Our work for this – the work of the entire Ukrainian team – will continue each and every minute of these days.

It is also very important that bilateral meetings of various levels are planned in Vilnius – European countries, America, Canada, Japan… The priorities are absolutely clear: air defense for our cities, for all communities throughout the country, we are working to create a full-fledged sky shield. Also weapons for the frontline – we will hold talks in Vilnius on this as well. Of course, we will also talk about other aspects of protecting life and our common security.

I am sure that there may be good weaponry-related news for our warriors from Vilnius.

Separately, the frontline.

Tomorrow, on the day of the opening of the summit, which is now unimaginable without Ukraine, will be the 503rd day of a full-scale war. This says a lot about our strength – the strength of the Ukrainian people, who, in the face of such a war, after so many battles and days, has the strength without which the security of Europe is simply impossible to imagine already.

I thank you, Ukrainian warriors, for this strength! I thank every soldier, sailor, sergeant, foreman, officer, and general! I thank everyone who trains our warriors! I thank every volunteer! I thank the doctors who help after the wounds! I thank all our people who work for the sake of Ukrainian strength and Ukrainian victory!

It is an honor for me to represent such people and such Ukraine!

Glory to Ukraine!
The Financial Times is reporting that Putin met with Prigozhin days after the latter called off his revolt against the MOD and its leadership.
Russian president Vladimir Putin met Yevgeny Prigozhin and other Wagner commanders a few days after their aborted mutiny, the Kremlin revealed on Monday.

Dmitry Peskov, the president's spokesperson, said Putin invited at least 35 people, including Prigozhin and the battalion commanders from the private military group, to the Kremlin on June 29. The meeting lasted nearly three hours.

The revelation is another stunning turn in the Kremlin's handling of Prigozhin and his Wagner group after their failed revolt on June 23-24. While Putin had initially branded the warlord "a traitor", he later dropped all charges and allowed him to leave Russia for Belarus in a deal brokered by the country's president Alexander Lukashenko.

The admission of Putin's meeting with Wagner leaders — 10 days after the Kremlin said it took place — marked yet another signal that Russia was in no hurry to dole out harsh punishments to Prigozhin and instead has been eager to keep the warlord and other commanders from the mercenary group on side.

Last week, it emerged that Prigozhin had apparently been travelling freely across Russia, according to flight tracking of his private jet between Moscow and St Petersburg, with local news outlets reporting sightings of Prigozhin in different Russian locations.

In his description of the meeting between the president and Prigozhin, Peskov suggested a civil discussion took place, with both sides giving their version of recent events, rather than Putin giving the Wagner leader a severe reprimand over the failed revolt.

"The details of the meeting are unknown. But the . . . president gave his assessment of the battalion in terms of the special military operation [in Ukraine] and also gave his assessment for the events of June 24," Peskov said.

He added: "Putin listened to the explanations of the commanders and suggested further options for employment and their use in combat. The commanders themselves put forward their version of what happened."

He also restated the Kremlin's previous narrative that Prigozhin and the other commanders' criticism had been directed not at Putin himself, but at the overall conduct of the war by the army leadership.

"They emphasised that they are strong supporters and soldiers of the head of government and supreme commander [Putin] and said they're ready to fight for the motherland," Peskov said.
More at the link!
My take at this point is that some stuff may get moved around on the org chart between the GRU, which Wagner has been fronting for since its founding in early 2014 – that's right early 2014 and, yes, I know the official date is in the fall of 2014, just trust me here – and the FSB and MOD, but Putin isn't going to remove Prigozhin or shut him down. Prigozhin's subsidiaries and non-governmental organizations are too essential for Putin as they are the active agent for most of Russia's initiatives in Africa and other parts of the world.
So, Putin has had enough time to have a meeting with 35 top Wagner Group militants, including Prigozhin — but not with families of Russian airmen killed by the Wagner as they were trying to save Putin's ass during the rebellion.
Russia.

— Illia Ponomarenko 🇺🇦 (@IAPonomarenko) July 10, 2023
The reason for this is that Putin gets a cut of the gold and diamond revenue that Prigozhin's subsidiaries are mining in Africa and legally and illegally moving out of the Sahel. The Russian airmen are not giving put a cut from their gold and diamond mining activities because they don't have gold and diamond mining activities.
We have some NATO news.
First up is Sweden:
Breaking news: The lifting of Erdoğan's veto opens the way for Turkey's parliament to approve Sweden's entry into the US-led military alliance, a step seen as critical to increasing the defence of eastern Europe in response to Russia's invasion of Ukraine. https://t.co/4cKCql82Ie pic.twitter.com/6phgmuwq7p

— Financial Times (@FinancialTimes) July 10, 2023
Congratulations to 🇸🇪Sweden.
It's a done deal.
We're coming soon, too.
How is that Putin's war on NATO? Doing fine?

— Illia Ponomarenko 🇺🇦 (@IAPonomarenko) July 10, 2023
Ukraine:
Following intensive talks, NATO allies have reached consensus on removing MAP from Ukraine's path to membership. I welcome this long-awaited decision that shortens our path to NATO. It is also the best moment to offer clarity on the invitation to Ukraine to become member.

— Dmytro Kuleba (@DmytroKuleba) July 10, 2023
The MAP is the membership action plan.
The Financial Times has more details on Ukraine's plans, interests, and intentions going into the NATO summit in Vilnius this week: (emphasis mine)
When Ukrainian President Volodymyr Zelenskyy strides into Nato's annual summit in Vilnius on Wednesday, his country will have been fighting a full-scale war of survival against Russia for 503 days.

As his battered troops continue to fight off a relentless invasion and attempt to claw back occupied territory in the country's south and east, Zelenskyy comes to the Lithuanian capital with another strategic objective: to gain a seat at Nato's table.

To Zelenskyy and his government, the US-led alliance represents long-term peace and security. Article 5 of Nato's treaty is an ironclad mutual-defence clause backed up by American, British and French nuclear weapons.

But Kyiv's objective goes beyond defence. Through Nato membership, Ukraine would receive an unambiguous ticket into "the west" — a break from centuries of subjugation by Moscow — and the security required for its reconstruction and economic revival. Yet Ukraine poses a series of questions for Nato's 31 members. Those questions reach to the heart of the alliance's purpose, from how prepared its members are to fight a war against Russia to whether Nato's mutual-defence clause is a security blanket to be thrown around states or a badge of distinction to be earned.

Now, after more than 17 months of war, during which Nato allies have provided Ukraine with over $160bn in military and financial support, western capitals are grappling with a far larger question. Having given Ukraine the means to stop Russia's conquest, are they now ready to promise that if it were to happen again, their troops would be fighting and dying too? And if not, what might they be willing to offer instead?

"The sole task here [in Vilnius], and one that all allies agree on, is that we left grey areas on the map 15 years ago which Putin took advantage of, and now we need to make sure there is no more grey," says one senior Nato diplomat. "It is about making crystal clear where the lines are."

"The most dangerous place for Russia's neighbouring countries is to sit in the waiting room of Nato," says Margus Tsahkna, Estonia's foreign minister. "And we did exactly that 15 years ago with Georgia and Ukraine."

It's like arriving at triage in a hospital emergency room, he adds: " . . . you go in, but you're waiting and you're not labelled yet. Are you a green, yellow or red patient? We must label [Ukraine]. We must start the process."
Orikhiv Axis:
ORIKHIV AXIS /2345 UTC 10 JUL/ UKR forces have penetrated RU positions N of Robotyne as far as 1 Km. During this advance, several UKR Bradley fighting vehicles were damaged in a minefield to the NE of the town. UKR forces are reported to have created a seam between RU units… pic.twitter.com/LfiuGKWACe

— Chuck Pfarrer | Indications & Warnings | (@ChuckPfarrer) July 10, 2023
ORIKHIV AXIS /2345 UTC 10 JUL/ UKR forces have penetrated RU positions N of Robotyne as far as 1 Km. During this advance, several UKR Bradley fighting vehicles were damaged in a minefield to the NE of the town. UKR forces are reported to have created a seam between RU units defending the NE axis. UKR ground force units are now in contact within Robotyne.
Kreminna Axis:
KREMINNA AXIS /1945 UTC 10 JUL/ UKR Gen'l Staff summaries for 9-10 JUL indicate that RU reduced offensive operations on the Kreminna axis. RU conducted an airstrike at Bilohorvika and carried out fire missions at Nevske, Terny and Bilohorvika. pic.twitter.com/0ilNxBmvlk

— Chuck Pfarrer | Indications & Warnings | (@ChuckPfarrer) July 10, 2023
Velyka Novoslika:
VELYKA NOVOSLIKA /1450 UTC 10 JUL/ UKR forces consolidated positions in Rivnopil. Frontline sources indicate a Ukrainian Army GMLR missile strike targeted a Zoopark 1- 1L219 counter-battery radar system. pic.twitter.com/4kKMdBO0JD

— Chuck Pfarrer | Indications & Warnings | (@ChuckPfarrer) July 10, 2023
Bakhmut:
Via Deputy Minister of Defense Anna Maliar's Telegram channel: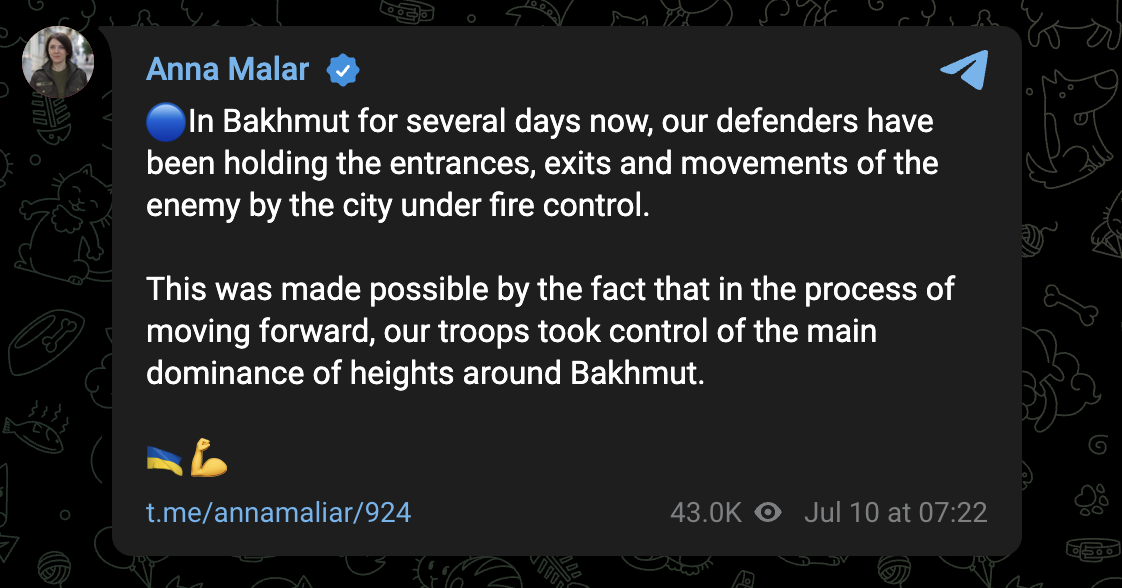 Avdiika:
Disorganized Russian retreat after a recent unsuccessful Russian attack in the Avdiivka area. Attack was repelled by the 110th and 35th brigades of Ukraine. https://t.co/Hc1hIIzKew pic.twitter.com/4mvrEUtK4N

— Special Kherson Cat 🐈🇺🇦 (@bayraktar_1love) July 10, 2023
Not sure where in Ukraine this is, but if I had to guess it's either Kyiv or Lviv:
Mother of deceased 4-year-old boy gave her consent for heart transplant to 6-year-old girl. First operation of this kind in Ukraine. Later, she was able to listen to the beating heart in the girl's chest. Incredible that this is happening in country in the midst of war. pic.twitter.com/GaWPZqGi1T

— Maria Avdeeva (@maria_avdv) July 10, 2023
O Canada!
Canadian armored vehicle maker Roshel has delivered over 550 Senator high-tech armored personnel carriers to Ukrainian Armed Forces.
"By the end of this year, it will be over 1000," senior company representatives said.https://t.co/d1kbMGedYe pic.twitter.com/jho9TSksm9

— Special Kherson Cat 🐈🇺🇦 (@bayraktar_1love) July 10, 2023
Germany's Reinmetall:
Rheinmetall will open an armored vehicle plant in Ukraine within the next 12 weeks. Rheinmetall will also train Ukrainians to maintain the tanks and other armored vehicles made in the factory, which will be located in the western part of the country. – CNNhttps://t.co/7QCP6JFKXY pic.twitter.com/eRVFPna54N

— Special Kherson Cat 🐈🇺🇦 (@bayraktar_1love) July 10, 2023
Here's the details from CNN:
Rheinmetall will open an armored vehicle plant in Ukraine within the next 12 weeks, shrugging off concerns other Western defense companies reportedly have about building a presence in the country while it is at war with Russia.

Germany's biggest arms maker will also train Ukrainians to maintain the tanks and other armored vehicles made in the factory, which will be located in the western part of the country, CEO Armin Papperger told CNN in an exclusive interview on Thursday.

"[Ukrainians] have to help themselves — if they always have to wait [for] Europeans or Americans [to] help them over the next 10 or 20 years… that is not possible," he said.

The company told the Rheinische Post newspaper earlier this year that it hoped to open a €200 million ($218 million) battle tank factory on Ukrainian soil, capable of producing about 400 tanks a year.

Papperger said on Thursday that factory workers would build and repair Rheinmetall's Fuchs armored personnel carrier — named after the German word for fox — under license in the facility.

Rheinmetall (RNMBF) will operate the plant in partnership with Ukroboronprom, a Ukrainian state-owned defense group, which will also own the facility. In May, the companies announced an agreement to boost Ukraine's "defense technology capacities."

Former Russian President Dmitry Medvedev, a close ally of current President Vladimir Putin, has said Russia would retaliate by hitting any facility Rheinmetall set up in Ukraine, Reuters has reported.

Papperger said that the factory could be protected from a Russian attack.

"There are a lot of factories at the moment which are producing military goods [in Ukraine]. It is just another one — and we can protect that also," he said.
Much more at the link!
NAFO expansion is non-negotiable!
How do you know a grassroots community of memeing shitposters with no budget who fight multimillions-state funded russian propaganda has succeeded?
When the RU govt wastes their precious time & braincell going after them.
Bravo #NAFO 🐶✊ (& good luck with that @mfa_russia 😉) pic.twitter.com/h8kX0Gg1dF

— Jessica Berlin (@berlin_bridge) July 10, 2023
NAFO triggered the chairwoman of Navalny's Anti-Corruption Foundation earlier today:
Haha, just bumped into this brave NAFO fighter fearlessly carrying a rubber shark in the streets of Vilnius. Your vigorous crusade against the dead Russian tourist who was eaten alive in front of his family is truly heroic. Never give up, Lionheart. pic.twitter.com/8kfPXPnD3r

— Maria Pevchikh (@pevchikh) July 9, 2023
by a shark

— Georgian Legion (@georgian_legion) July 10, 2023
we has no illusions about them since EVER

— Georgian Legion (@georgian_legion) July 10, 2023
When Russia shells Lviv, killing 10 people and injuring 4x times more, they turn a blind eye to another war crime.

When they see a plush shark on the stage of the NAFO summit, they get mad.

The shark case shows what we already told you: they don't give F* about 🇺🇦.

— 🇺🇦 Ваш бандеромобіль (@BohdanChub) July 10, 2023
They didn't condemn Russia for not helping the people in occupied territories. They were too busy whitewashing their country and feeding the public with yet another theory of dam destruction.

Some evidence of Russia's involvement was already made public (seismic data).

— 🇺🇦 Ваш бандеромобіль (@BohdanChub) July 10, 2023
What many do not understand is that for us, a random Russian is a threat. If he's not on the battlefield it doesn't mean he's against the war. Maybe he is, or maybe he isn't.
Sorry, but we're leaning toward the latter until we have evidence to the contrary. Please understand.

— 🇺🇦 Ваш бандеромобіль (@BohdanChub) July 10, 2023
Unlike our fellas #NAFO

— 🇺🇦 Ваш бандеромобіль (@BohdanChub) July 10, 2023
"russians invested millions into their propaganda, yet they are still to come up with a funny joke"@GLandsbergis https://t.co/X9RBll2iZ9

— Georgian Legion (@georgian_legion) July 8, 2023
So if you were trying to figure out what the NAFO-shark-Navalny thing was now you know.
Also, obligatory!
That's enough for tonight.
Your daily Patron!
A new video from Patron's official TikTok!
Here is the machine translation of the caption:
2 is my favorite for today))
Open thread!