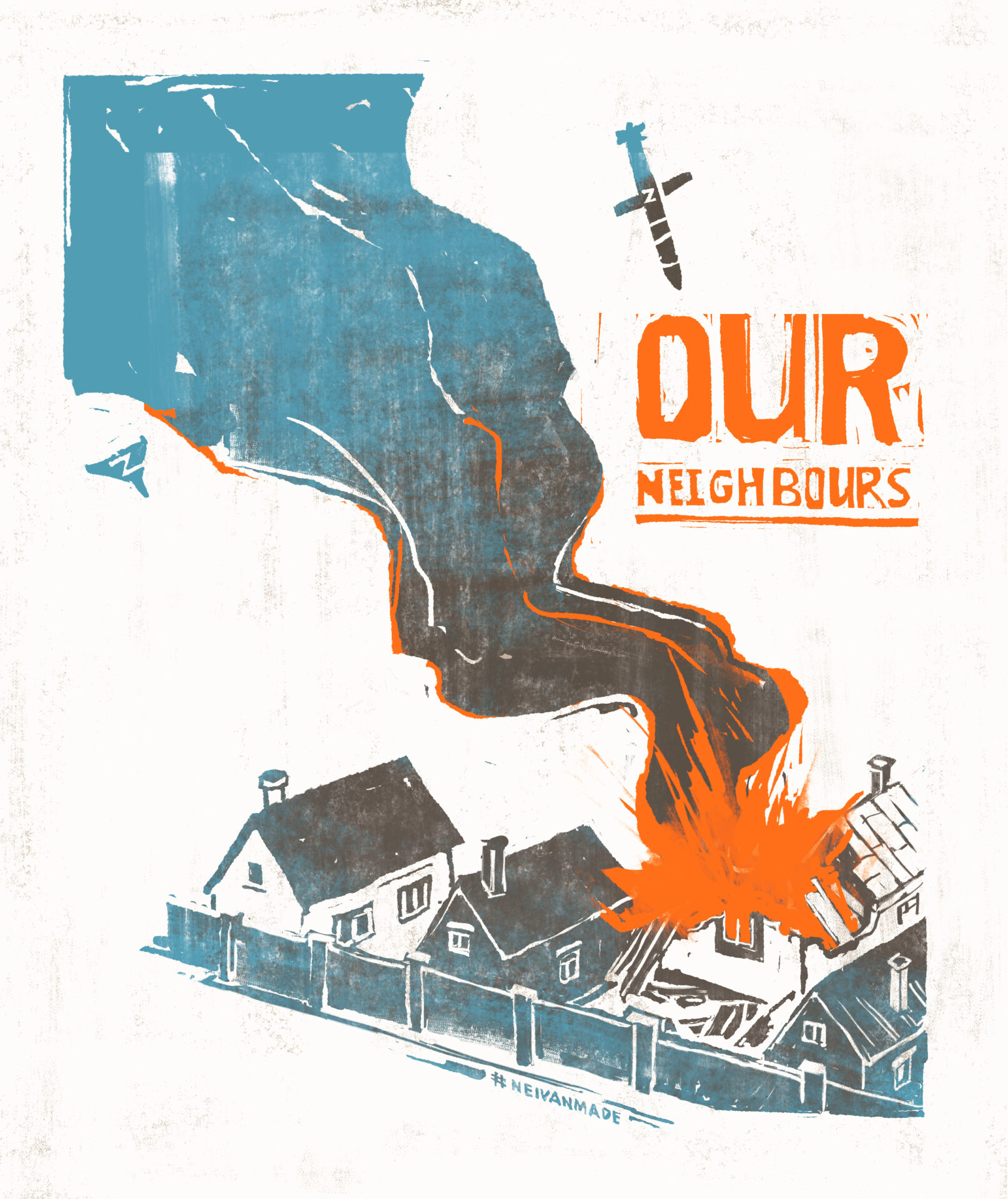 (Image by NEIVANMADE entitled Odesa)
In the attempt to change the geo-strategic calculus, Putin and Russia continue to strike Ukrainian civilian targets, especially the Odesan granaries and Ukrainian food storage and infrastructure. As I have written several times, this is an attempt to create a global food crisis, but one that hits especially hard in the global south or the periphery between north and south further providing the truth to the lies of Russia's information warfare against the US and the EU and the "West" in Africa, the Middle East, parts of Asia, and even parts of Central and South America. As part of that crisis it is intended to ignite a new wave of refugee outflows of starving people seeking help in the European states or the US. This objective here is to activate the nativist right in both Europe and the US, and especially in the US as we move into the 2024 election cycle, over fears of a refugee crisis depicted as an invasion combined with the rising cost of food. Then Russia swoops in to save the day with its own grain. That's the play.
russia continues to methodically destroy the agricultural infrastructure of southern Ukraine. Last night, they launched two Kalibr missiles to destroy 100 tons of peas and 20 tons of barley belonging to an agricultural enterprise in Odesa region. Two people were injured. pic.twitter.com/gRpFt8OLWp

— Defense of Ukraine (@DefenceU) July 21, 2023
At 4 a.m., russian missiles were launched at Kostyantynivka, Donetsk region.
A couple that slept peacefully in their home will never wake up.
Every time terrorists attack residential areas, we hear about another "important" "strategic" "military" target.#russiaisaterroriststate

— Defense of Ukraine (@DefenceU) July 21, 2023
Here is President Zelenskyy's address from earlier today. Video below, English transcript after the jump.
Since start of week, over 20 people have suffered from Russian terror in Odesa region alone; only absolute evil can inflict such blows – address of President of Ukraine

21 July 2023 – 18:45

Dear Ukrainians!

Russia killed two more children today. Russian artillery attack on the village of Druzhba, Toretsk community, Donetsk region. A girl born in 2007 and a boy born in 2013 died. Chernihiv Region, the village of Honcharivske – a missile hit. Two women were killed, the demolition of the rubble is underway… A cultural center, a school, residential buildings were damaged. My condolences to the relatives and friends of the deceased!

Today, Russian missiles and drones hit Odesa and our southern regions again.

In total, since the start of the week, over 20 people have suffered from Russian terror in Odesa region alone. Among them are two children. Only absolute evil can inflict such blows. There will be an answer. In addition, there will be even more consolidation of the world for defense and for joint action, even more energy for victory, even more desire for justice, the just punishment of Russia for all the crimes of this war. And this punishment will be.

I held a meeting of the Supreme Commander-in-Chief's Staff. It was long.

The issue of protecting our cities and communities, our ports from Russian attacks was analyzed in detail. If someone in Russia hopes they can turn the Black Sea into a space of arbitrariness and terrorism, they will not succeed. We know how to defend ourselves, and we see the readiness of the world to work together in the future – and more actively – to give peace to this region.

Tonight, I plan to hold talks with President of Türkiye Erdoğan. The Black Sea region, food security, other important topics.

As always, there were detailed reports of the military, intelligence, and border guards on the current situation on the front line at the Staff meeting. And not only in the key directions of active actions, but also in general regarding the border, regarding the likely development of the situation.

The provision of ammunition is a topic of constant attention. Of course, our production of rounds and drones, and not only supplies from partners. Every week we record greater results, the growth of our capabilities.

Today, I held a substantial meeting regarding one of the most important components of Ukraine's state policy – the policy for heroes. The policy regarding our soldiers, regarding veterans. Ukraine will not only win this war, but also win a life that will be worthy of the heroes who fight for it. It is very important that our system – state, social, economic, and cultural – is exactly such that it can be said that it is truly based on respect. With respect to Ukraine and everyone who directed their lives, their bravery, their strength for the sake of Ukraine resisting evil and defeating Russian terror. I am grateful to everyone who has already started to work out with us the details of the Ukrainian transformation after this war.

And one more.

I thank our warriors. Everyone who defends the Ukrainian sky throughout the country. The Air Force, our pilots, and anti-aircraft fighters, mobile fire brigades. Each air defense unit of all branches and types of troops. Thank you!

Bakhmut direction… The 5th Separate Assault Brigade, the 24th Separate Mechanized Brigade, the 28th Separate Mechanized Brigade. Thank you, warriors, for your courage and ability to hit the enemy so that even the enemy – if he survives – understands that Ukraine will always be free!

The 128th Separate Mountain Assault Brigade Zakarpattia, marines of the 35th and 36th separate brigades, artillerymen of the 55th Brigade, the 79th Separate Air Assault Brigade, and the 110th Separate Mechanized Brigade. Thank you, warriors, for your accuracy, for your ability allowing Ukraine to return its own!

Glory to you all, warriors! Glory to everyone who fights for our state and people!

Thanks to everyone in the world who helps us!

Glory to Ukraine!
Odesa:
A UNESCO World Heritage Site, the historic center of Odesa, was damaged as a result of the russian missile attack. Windows were broken and the roof was severely damaged in the Archaeological Museum, the Museum of Literature, and the Naval Fleet Museum. pic.twitter.com/ln5jYlgk3L

— Defense of Ukraine (@DefenceU) July 20, 2023
Mykolaiv:
An elderly couple's bodies were retrieved from the rubble in Mykolaiv. For the second day in a row, the russians have deliberately used Kh-22 missiles, indiscriminate weapons of immense power, in both Odesa and Mykolaiv. As a result, missiles hit civilian objects. The russian MoD… pic.twitter.com/pTtyXNB61q

— Defense of Ukraine (@DefenceU) July 20, 2023
An elderly couple's bodies were retrieved from the rubble in Mykolaiv. For the second day in a row, the russians have deliberately used Kh-22 missiles, indiscriminate weapons of immense power, in both Odesa and Mykolaiv. As a result, missiles hit civilian objects. The russian MoD is reporting on allegedly destroyed military facilities while the defenseless are getting killed.
Kharkiv:
Memorial in Kharkiv to children killed by Russia. 2 more names added today. Brother and sister from village of Druzhba, Donetsk region. pic.twitter.com/xQhHpE5w19

— Maria Avdeeva (@maria_avdv) July 21, 2023
The Economist's Defence Editor, Shashank Joshi, provides a summary with commentary of Michael Kofman and Rob Lee's new podcast where they discuss what they observed during their recent battlefield circulation in Ukraine and what they assess that means for Ukraine's efforts. First tweet from the thread, the rest from the Thread Reader App:
New WOTR podcast w/ Michael Kofman & Rob Lee reflecting on their trip to Ukraine. Early June attacks were not probing, says Lee. "It was the real counter offensive…an attempt to conduct a rapid breakthrough [&] exploit that as quickly as possible"
https://t.co/DAlMnJltEz

— Shashank Joshi (@shashj) July 20, 2023
Lee: "during this phase, Ukraine used a lot of its new modern equipment…new NATO trained brigades played a key role in the beginning. And ultimately…the first phase of this operation was not a success…That's the conclusion we've reached after talking to a number of people" 

Kofman: in Bakhmut, with fluid battle, Russia dug in at battalion level. In south dug in at division and combined arms army level. "There's an effort at manoeuvre defence & the ability to counter attack any gains in those initial tree lines." Notes use of fake trenches. 

Kofman points to innovation in Russian mine tactics. "They also have less traditional approaches e.g. stacking multiple anti tank mines on top of each other to destroy and rip off mine clearing tanks or vehicles that have essentially rollers that you typically see for breaching" 

Kofman: "this is fundamentally a battle of tree lines. If Ukr forces advance to take a tree line, Russian armour moves out & begins to engage that entire tree line within the at the range of a couple of kilometres." Ukr can't reach Ru armour without ATGMS. Area behind them mined. 

Lee: "what we're seeing now is Russia's reaction to what happened in Kharkiv and an attempt to not be embarrassed the same way they were that time. And ultimately, they've learned lessons…and they're fighting in a competent way…they're fighting in a doctrinal way." 

Lee: It's not about mines as much as having minefields under observation—"and within Russian fires…And so anytime Ukr has to breach a minefield [Ru] can observe these areas [&] use artillery, anti tank guided missiles, attack helicopters…and that's what creates the problem." 

Lee: "The issue is that the new [Ukrainian] brigades, their performance thus far has not lived up to the expectations. And it was always going to be difficult because these brigades were formed on short notice." 

Lee points to examples where Ukr unit got disoriented at nighttime, didn't follow in mine-cleared lanes. In one case: bgde advance delayed by hours, advance started at dawn, in more light, & artillery bombardment didn't shift, so preceded attack by hours. Ru ATGMs not suppressed. 

Seems like a very good worked example of what people mean when they talk about the difficulty of conducting combined-arms manoeuvre, or "fire and manoeuvre" as opposed to fire *and then* manoeuvre.

Kofman: "This offensive, while prosecuted by brigades, in practice [was] a series of reinforced companies…So a battalion might deploy company or two forward and third behind them." One reason "why many may have mistaken the initial assault for just probing." 

What stands out for me:

(1) 

Hugely important role played by mines, now & last yr in Kherson

(2) 

NOT just about mines, but way they expose Ukr to anti-tank missiles, artillery & attack helicopters

(3) 

Importance of tactics *and training/experience to implement them* to counter 

(2)

 

And, yes, none of this bit is really very new. Fair to say that the basic problem of how to manoeuvre across well-defended terrain under observation and covered by firepower would be familiar a century ago, even if technology amplifies the challenge in several ways?

Anyway, I recommend listening to the whole thing, which has considerably more detail than my summary here.
Just a quick, but important reminder in regard to what Kofman and Lee observed, what they're assessment of that is, and Joshi's own take: the US, our EU allies that make up NATO with us and our Canadian and British allies, our Australian and New Zealand allies, the Israelis, the Russians themselves would EVER attempt to do what the Ukrainians are doing without air superiority! Flat stop. Do not pass go, do not march on St. Petersburg in winter, spring, summer, or fall! The Ukrainians are attempting to do three things simultaneously: 1) Transition from a Soviet legacy style military to a NATO style military including undertaking combined arms maneuver. 2) Do this without air superiority while fighting a war of self defense against a genocidal aggressor who ignores the Laws of Land and all other types of Warfare. 3) Do this without a single allied or partner nation fighting alongside them all while supplies and material trickle in from their exceedingly risk averse partners and allies.
Here's Tatarigami's take:
This message addresses a crucial matter, and I invite all those who support Ukraine's cause to read it. On March 13th, I wrote a detailed message, advocating for a more restrained outlook on the then-upcoming counter-offensive and proposing an alternative strategy. Other analysts… pic.twitter.com/6URmEp5uzZ

— Tatarigami_UA (@Tatarigami_UA) July 21, 2023
This message addresses a crucial matter, and I invite all those who support Ukraine's cause to read it. On March 13th, I wrote a detailed message, advocating for a more restrained outlook on the then-upcoming counter-offensive and proposing an alternative strategy. Other analysts also recommended emphasizing a long-term approach as well.

As the war rages on, both sides gradually deplete their assault capabilities. Operating a large army, equipped for operational maneuvers, becomes increasingly challenging over time. Many observers tend to focus on equipment forgetting that there are humans operating it. In light of this situation, several potential paths lie ahead:

A) The Frozen Conflict Scenario:

Some find the idea of a frozen conflict attractive, as it appears to offer an illusion of a problem resolved through a simple signature on paper. However, such a view is overly simplistic and fraught with difficulties for several reasons:

– Per the Constitution, neither the President nor the Parliament can cede territories of Ukraine. Territorial changes require an all-Ukrainian referendum, which is practically impossible to conduct, especially in occupied regions like Donbas and Crimea, under Ukrainian supervision. The population of Ukraine is extremely unlikely to vote in favor.

– Past experiences with negotiated ceasefires and security guarantees have shown that they are unreliable. Ukraine has been deceived by Russia in the past, losing territory despite agreements like the Budapest Memorandum and Minsk Accords. The presence of United Nations blue helmets has proved ineffective in preventing conflicts, as evident in Mali, Congo and other countries.

– The lack of tangible security guarantees or a clear path to NATO membership raises doubts about Russia's commitment to honoring any truce or peace deal. Without broader acceptance and assurance, such agreements are unlikely to be embraced by society.

– Embracing this scenario would create a sprawling, thousands-kilometer frontline perpetuating a sluggish war. As we've seen in Syria since 2011, such conflicts can endure for years, fueling instability, poverty, and escalating immigration crises. Russia could continue to exploit this leverage to further destabilize Ukraine and pursue its political objectives. Now, let's take a look at the second scenario:

B) Ukrainian Victory and Regime Collapse in Russia The objective of this scenario is to induce a regime collapse in Russia through a series of continuous military defeats. Recent events, such as the Wagner Group mutiny, suggest that the Putin regime might be more susceptible to collapse than previously assessed. To achieve long-term goals, I think that the following strategies and approaches should be applied:

– Rather than fixating on the notion of a single game-changing weapon, we all should focus on adapting production, economics, weaponry delivery, logistics, experience exchange and long-term security policies to ensure victory and a new post-war reality.

– Multiple countries must increase ammunition production to meet the demands of the front. Instances like Bakhmut, where artillery shortages resulted in avoidable casualties, underscore the need to prioritize human lives over ammunition. – Extensive worldwide training programs are essential, extending beyond soldiers and sergeants. Emphasis should be placed on developing larger and improved combat medic, pilot, and senior officer training programs.

– We should foster experience exchange programs to share valuable combat insights with our partners. Additionally, allies can contribute their expertise, particularly in the maintenance, operation, and logistics of Western equipment. – Our allies should assist with more Anti-Air assets, not only to challenge Russian air supremacy but also to safeguard civilian infrastructure. Investing in protection is more cost-effective than dealing with the aftermath of destruction. – Increase pressure on russian oligarchs and elites through tougher sanctions. Address the issue of certain individuals potentially circumventing sanctions by spending money in Europe and continuing business operations through shell companies.

-We must procure additional engineering and mine-clearing equipment to bolster our capabilities. Additionally, we need more cooperation to efficiently demine liberated territories, ridding them of landmines and unexploded ordnance for the safety of people – Demanding changes from our allies must be accompanied by our own progress. Long-term commitment deals with partners should include conditions like adopting anti-corruption laws and aligning the legal system with EU standards for a smoother transition into the European system.

– An essential step towards progress involves hiring retired Western generals and experts to enhance and later rebuild the current command structure. Their valuable insights can aid in eliminating remnants of the Soviet system within our military approach.

– To attain air parity, a mere few dozen jets won't suffice; a larger fleet and additional maintenance crew programs are imperative. Teaching pilots to operate machinery and cooperate effectively as a team is essential, but we must go beyond that. A comprehensive training program in NATO-standard combat arms is vital to ensure optimal utilization of these assets. This strategic approach will be instrumental in achieving the desired air parity objectives.

Neither option proves appealing nor straightforward and easy. Although various alternatives and potential events may arise, discussing them becomes pointless as our efforts should center around operating within the realm of likelihood rather than entertaining black swan events.

Starting this conversation within the community is vital to work towards the right outcome. I urge everyone to actively participate by liking and sharing, engaging a larger audience in the conversation. Your constructive suggestions and opinions are highly encouraged as we collectively strive for positive change.
After more than a month of carnage, the long-awaited Ukrainian counter-offensive south of Zaporozhe looks to be going nowhere. Mired in dense thickets of physical obstacles and minefields, and unable to manoeuvre while lacking adequate protection from the air, Western-supplied Ukrainian armour is being picked off en masse by unsuppressed Russian anti-tank weapons and their infantry shredded by massive and well-directed artillery fire. The most optimistic assessment of Ukrainian advances, which have so far struggled to penetrate the screening layer of the Russian fortified strategic complex, is that they have been slow, very costly, and still far short of the supposed goal of cutting Russia's land-link to Crimea.

It is true of modern warfare that battles have tended to be reckoned in weeks rather than days. Therefore, to some, as epitomised by the public pronouncements of the just-concluded NATO summit in Vilnius, the lack of Ukrainian progress thus far ought not to excite panic or pessimism but, rather, make it more important to show phlegmatic resolve, to carry on in the face of dire losses, or even to redouble efforts to achieve ultimate victory. While theoretically possible, the practical plausibility of such views is questionable.

For historical comparison to battles of similar scale, the first Battle of El Alamein took 19 days, the second required twenty-six, the Battle of the Bulge was a savage forty-two days long, the colossal Battle of Kursk transpired over fifty-two days of monumental effort, while Allied success in Operation Overlord was achieved after eighty-four days. By that reckoning, the current Ukrainian offensive sits somewhere between the Bulge and Kursk campaigns, with relatively little to show for it so far. Meanwhile, there are tentative signs of a shift by Russian forces back to the offensive in other quarters. In short, the situation for Ukraine is objectively dire, though not completely hopeless.

Why? The following essay is an attempt to explain an aspect of the larger answer to that question, which has been underdeveloped by punditry on the conflict.

The positional and attritional quality of the Russo-Ukraine War has surprised many observers. Many analysts have put this down to deficiencies in Russian and, sometimes, Ukrainian military effectiveness, with neither supposedly being capable of combined arms manoeuvre warfare as understood and practiced by the leading Western armies. I would suggest that this is incorrect.

It turns out that high-intensity conventional warfare in the twenty-first century is simply far more dependent upon the old necessities of mass and the physical and moral ability to endure and replace losses of men and equipment than many people expected. It is doubtful that any Western army would have performed better – most probably worse – and none would be capable of sustaining the losses suffered by either of the current belligerents. Germany, for instance, the richest and largest west European country and a traditional land power, recently announced its aspiration to be able to field a well-equipped army division (approximately 15,000 troops) by 2025. Ukraine probably lost more than that in the month of July while Russian mobilisation has added multiples of that in a year.

The fact is that Western military science, which has not been tested against a peer enemy in more than a generation, has got a major development in warfare seriously wrong, radically overestimating the power of offensive manoeuvre by highly mobile, digitally-networked forces that are relatively light, highly expensive, and in short supply—a 'basket' in which it has invested all its metaphorical 'eggs'. Russia, by contrast, has maintained significant 'old' military capability, while at the same time using some new technologies at low cost, adapting its tactics at least adequately in most cases and, I shall argue, exceptionally in the case of field fortification.

If these assertions are surprising to readers, it is because the outpourings of Western military punditry have been so dismal: overly credulous of Ukrainian narratives, locked in a river of thinking that is outmoded, and exceedingly inclined to disparage or ignore obvious aspects of Russian military capability. In war it is perfectly sensible to lie to one's enemy —indeed it is highly recommended; it is disastrous, though, to lie to oneself which, in fact, has been a main industry of the Western defence establishment for an unfortunately long time. Eventually, though, reality trumps wishful thinking and it is doing so now increasingly obviously on the Russian steppe.

False assumption of the 'Modern System'

Until very recently, Western military theory has tended to regard fortification as having been made obsolescent by advances in the power and accuracy of weapons and the development of combined arms manoeuvre tactics. In Robert Leonard's The Art of Manoeuvre, an important reference on the art of modern warfare, the subject is confined to an appendix on military engineers, in which it is stated:

… friendly obstacles serve mostly to fix the friendly force in place and do little to delay the enemy. The creation of complex obstacles often exhausts the defenders, and instead of focussing on defeating the enemy the friendly force gets distracted by its perceived need to defend the obstacle. This is an outgrowth of methodical battle.

Likewise, the 'modern system' of warfare, to use the term coined by the US defence analyst Stephen Biddle, presupposes that static fortifications have been fatally vulnerable for over a century. As Biddle put it:

While survival on the attack was especially problematic (how could one cross the fire-swept ground to advance on the enemy?), survival on the defence was no trivial matter either. Defenders could dig into the ground for protection, but even thoroughly dug static positions could be blasted out by the new artillery given time.

The crux of the matter is that 'complex obstacles' have proven in contemporary operations to be quite effective. Moreover, while it is undoubtedly true that modern weapons can be highly accurate, static positions seem still to be quite durable — indeed, they are highly effective when part of a sensibly designed fire system, which has the potential to strike back accurately at attackers from relatively protected positions. In short, a central assumption of Western military theory would seem to have dubious validity: reports of the death of fortification have been greatly exaggerated.

Conformation of the defence

Superficially, it is not that Russian military is employing defensive fieldworks in a way that is particularly new. For example, consider these lines from an article by Colonel A. Lebedev in the Russian military journal Voennaia Mysl' entitled 'Permanent Defence Systems in Light of War Experiences':

Impenetrability is secured by echeloning fire structure in depth and establishing fortified zones comprising several sections. The attacking enemy troops should be left with only one type of manoeuvre, namely a frontal blow aiming at a breakthrough. After breaking through the front and neutralising the defence structures along the axis of his blow, the enemy is gradually drawn into a 'pocket', bordered by fortified structures echeloned in depth, compartments of terrain and a second zone; as he has very limited possibilities to expand towards the flanks, he is doomed to destruction in that 'pocket' by the fire and counterblow of the defenders.

What he describes is a fair description of the challenge faced by Ukrainian troops and armour today, struggling frontally through layers of mines and barriers, all the while being savaged by the missile and artillery fire of dug-in Russian forces.

Except the article was written in 1945 and the war experiences to which he refers are those such as the gigantic Battle of Kursk fought almost exactly eighty years ago in the summer of 1943. The sheer size of the current fortifications, which exceed well over a thousand kilometres in length and up to fifty kilometres in depth, and the speed with which they were constructed is a sign that Russia has retained significant military engineering capabilities. In current conditions this turns out to be an approach to defence in depth which is still important.

In basic form and means of construction, Russian field fortifications would seem to differ little from those prescribed in doctrine during the 1960s. The stability of the defence, particularly against armoured attackers, depends upon a combination of elements. Company and platoon strongpoints with their own anti-tank weapons and capable of all-round defence, are dispersed throughout the defended area. These are disposed so that their fire intercepts the most probable directions of attack, which in turn are prepared with anti-tank mines and physical barriers. Powerful tube and rocket artillery, anti-tank missiles, and air defence systems controlled by higher-level commanders are also dug in, as are control centres, supply points, and so on.

Performance

The measure of a modern field fortification's utility is not whether it halts an enemy attack on its most forward elements. On the contrary, the defence against a major combined arms attack presupposes that penetrations will be worn down in depth by the fire system which the fortified area comprises. Russian doctrine has long emphasised the function of fortifications as being part of an integrated fire system, understood as the organised deployment and use of protected weapons to destroy attackers on the deep approaches to the defence, in the immediate forward edge of the battle line, on the flanks, and when the enemy wedges into salient of the defence.

Such ideas are hardly unique to Russian military thinking. Much the same ideas were part of the 1980s era 'AirLand Battle' concept developed by NATO to defend Western Europe against an attack by the materially preponderant Warsaw Pact. In that case, the plan envisaged a combination of 'mobile' and 'area' defence. The former 'orient on the destruction of the attacking force by permitting the enemy to advance into a position that exposes him to counterattack'. The latter 'orient on retention of terrain by absorbing the enemy in an interlocking series of positions and destroying him largely by fires'. In addition, deep strikes against supply concentrations, transport hubs, and reinforcements were intended to further degrade and enervate an attack.

On one level, it is notable that Russia seems to be successfully operating something like the form of defence envisaged by the West nearly 40 years ago to confront the Warsaw Pact's armoured mass by superior application of its advantages in computing and micro-electronics – capabilities which the Soviet Union did not possess. The thing is, however, that Russia does now possess such capabilities, while also having a military-industrial mass and wherewithal to match. Quite astonishingly, Ukraine does not, even when backed by the collective West.

The central question comes down to a calculation of certain factors. What is the ultimate object of the offensive against which the fortified system is intended to defend, and what is the strength of the attack? The answers, in turn, govern the necessary depth and density of the defence. In the case at hand, while it is impossible to know for sure the minds of the Ukrainian generals in charge, it would seem sensible that the object is, at least to sever Russian supply lines to Crimea by recapturing Melitopol. By that measure, after over a month of Ukrainian assaults, they are not so much being worn down in the depths of the Russian defence, but are instead being stymied in the 'crumple zone'.

This bleak assessment will dismay some readers. It is possible still that the Ukrainian armed forces might achieve the longed-for breakthrough of Russian defensive lines. It is possible that the much-predicted collapse of the will of Russian soldiers to continue to resist so sturdily will transpire. The likelihood of either, however, has been considerably exaggerated in Western accounts and is diminishing daily. It must be said, moreover, that Russian defensive doctrine is clear that the point of defence is ultimately, simply, to serve as the launchpad of a successful offence. That matter would seem increasingly imminent.

Generally, field fortifications possess a salience in contemporary warfare that is contrary to the expectations of military theory. Russia is capable in this form of warfare because it possesses a depth of equipment and skills which are old but effective. It also innovates sensibly and at low cost with deep strike weapons that have enhanced the power of its defence in a way that is reminiscent of Cold War-era NATO plans for the defence of Western Europe.

It follows that the prospects for the Ukrainian counteroffensive are dim. Should that conclusion strike readers as especially disappointing it might provide some consolation that, perhaps in relatively short order, it will be up to Russia to find a solution to the conundrum of renewing the decisiveness of the offensive in warfare against contemporary field fortifications which has so far eluded everyone else. The likelihood, barring significant alteration of the geopolitical positions taken by the main belligerents, is that it will be a long while before it ends.
The Financial Times has more on Putin's food terrorism:
Russia is pushing a plan to supply grain to Africa and cut Ukraine out of the global market after Moscow's withdrawal this week from a UN-backed deal, according to three people familiar with the matter.

President Vladimir Putin has proposed a replacement initiative whereby Qatar would pay Moscow to ship Russian grain to Turkey, which would then distribute the crop to "countries in need", the people said.

Neither Qatar nor Turkey have agreed to the idea, which Moscow has not yet raised to a formal level, they added. Another person familiar with the matter said Qatar was unlikely to back the idea even if it did.

Kyiv and its western backers are also likely to be deeply suspicious of Russia's offer, which would effectively secure Moscow's naval blockade of Ukraine's Black Sea ports, which are a vital economic lifeline for the country.

Russia has kept up a fierce bombardment of Ukraine's port cities since it pulled out of the Black Sea accord brokered by the UN and Turkey that has allowed 33mn tonnes of grain to be exported. Ukraine has described these actions as "an attempt to destroy the ability to supply food to the countries of the global south".

Russia first floated the idea of supplying grain to Africa last year, the people familiar with the matter said, after it briefly pulled out of the Black Sea deal before rejoining a few days later.

Under that offer, according to a draft memorandum seen by the Financial Times, Russia was to send up to 1mn tonnes of grain to Turkey "on a preferential basis". Qatar would foot the bill entirely and the grain would be supplied to Turkey to be shipped onwards to Africa.

A Ukrainian diplomat involved in the grain talks said they had seen a "trilateral [memorandum of understanding] between Turkey, Russia and Qatar", adding that they had "made some effort to stop it".

Others involved in the grain deal talks said they expected Russia to push its proposal at a summit with African leaders in St Petersburg next week and when Putin visits Turkey in August. "It's quite a stunt," one said. "It's macho, just to show they can."

Dmitry Peskov, Putin's spokesman, declined to comment. Qatar declined to comment.

Ankara said on Friday evening that Turkish and Ukrainian presidents Recep Tayyip Erdoğan and Volodymyr Zelenskyy discussed the grain deal "in detail" in a call made at the request of the Ukrainian leader.

"President Erdoğan also underscored that Turkey has exerted intense efforts to sustain peace," Turkey said.

Zelenskyy said in a Telegram message after the call that the two leaders would co-ordinate efforts to restore the operation of the Black Sea grain initiative

"Due to Russia's actions, the world is once again on the brink of a food crisis. A total of 400mn people in many countries of Africa and Asia are at risk of starvation. Together, we must avert a global food crisis," he wrote.

Putin said Russia withdrew from the grain deal over the EU's reluctance to roll back sanctions on payments, shipping and insurance for Moscow's own agricultural exports. He claimed he would be prepared to rejoin as soon as those conditions were met.

Erdoğan said this week that Russia was still "in favour" of the deal, and called on the west to offer concessions to Putin over the issue.

Ukraine's backers, however, believe Moscow's proposal is in effect a way of putting additional pressure on Kyiv while exporting grain from parts of the country occupied by the Russian army, two western diplomats said.

"Last time they were mooting this [idea], we had very strong suspicions that the grain would effectively be grain stolen from Ukraine," a senior EU official said.

Moscow has publicly framed the idea as an offer of free grain for the poorest countries ahead of the Russia-Africa summit. It has used the grain issue as a wedge to rally sympathy for its position on Ukraine in the global south and create a groundswell of sentiment against western sanctions.
More at the link!
Scales appear to have fallen from someone's eyes:
Blinken: "Zero evidence" that Russia is open to meaningful peace talks.

— Alex Ward (@alexbward) July 21, 2023
They pickled the Girkin!
Girkin is done: his wife announced on his Telegram channel that Girkin was arrested this morning with the accusation of extremism.https://t.co/5ilK8blmKT pic.twitter.com/5HMACzVwQd

— Dmitri (@wartranslated) July 21, 2023
The so-called "extremism" article 282 is infamous for being used against anyone opposing the Kremlin regime.

— Dmitri (@wartranslated) July 21, 2023
So yeah Girkin detained for 3 months minimum.

Gubarev was also arrested.

— Dmitri (@wartranslated) July 21, 2023
/3. Girkin was sent to a pre-trial detention center for 2 months by a decision of a Russian court.
The reason called by the Russian court – "the statements about the possible surrender of the Crimea (he called it treason) and the words about the lack of payments among the… pic.twitter.com/tNuIuuyPz1

— Special Kherson Cat 🐈🇺🇦 (@bayraktar_1love) July 21, 2023
While I lack insights into the Strelkov situation, setting aside assumptions that his arrest is a political maneuver to portray him as an "opposition leader," this presents an opportunity to assess Strelkov's group and his Kremlin backers power, unless they decided to ditch him. pic.twitter.com/lnSR0mZmux

— Tatarigami_UA (@Tatarigami_UA) July 21, 2023
Now we wait to see how the rest of the Black Sea Cossacks respond.
Before we get to what you're really reading these for (Patron), I'd appreciate it if you'd indulge me for a moment. Because there are other places where disputes are frozen and genocides are being conducted. In this case the Armenians residing in the disputed territory known as Artsakh for the Armenians and Nagorno-Karabakh for the Azerbaijanis and pretty much everyone else. Over the past year or so, while everyone's attention has been diverted by Ukraine's defense against the genocidal re-invasion, Azerbaijan has become increasingly aggressive, violently so (Russian soldiers in Ukraine are not the only ones castrating helpless POWs or civilians while being recorded). Over the past several days Azerbaijan has adjusted its blockade of the disputed territory largely cutting off all food and fuel supplies to the inhabitants.
The biggest supermarket in Stepanakert, Artsakh before and after the blockade. pic.twitter.com/SCD5TbbOHs

— Ani (@aniboghoss) July 17, 2023
The supermarkets in Stepanakert

📷 @CivilNetTV pic.twitter.com/ZfHIyQwi4h

— Ani Avetisyan (@AvetissianAn) July 18, 2023
The acute shortage of fresh products, such as fruits and vegetables, is observed in the central market of Stepanakert, which is almost completely empty these days. As a result of the blockade, only some locally produced seasonal agricultural products are available now, which are… pic.twitter.com/J4z5B1XI2g

— Artsakh / Nagorno-Karabakh Human Rights Ombudsman (@ArtsakhOmbuds) July 20, 2023
The acute shortage of fresh products, such as fruits and vegetables, is observed in the central market of Stepanakert, which is almost completely empty these days. As a result of the blockade, only some locally produced seasonal agricultural products are available now, which are not enough to provide for the 120,000 people of Artsakh. Due to the absence of fuel in the country, there are also huge problems with the transportation of products between communities.
"I these conditionswhen we don't have enough diesel fuel to be able to use diesel generators during rolling blackouts,we are facing very serious problems in irrigation. Irrigation, mostly 75 percent, is done mechanically using artesians or pumps", Artsakh Minister of Agriculture pic.twitter.com/eoyDvFXANU

— Siranush Sargsyan (@SiranushSargsy1) July 21, 2023
This territorial dispute is complex. It is what we call a wicked problem. It has deep historical roots. But this cannot and should not be the solution to it. Full disclosure: as a favor to a longtime friend and colleague, I have been providing pro bono strategic analysis and advice on this problem set to one of his colleagues who is Armenian-American. That said, to allow a land dispute, no matter how long standing and how interwoven with historical ethno-national, ethno-linguistic, and ethno-religious grievances, to be resolved through starving several hundred thousand people to death, including thousands of children, is not the answer. I realize the Biden administration has a lot on its plate, but this is actually low hanging strategic fruit. The reignition of this dispute, and how it is currently being prosecuted, is the result of Putin no longer being able to guarantee even a cold status quo peace in these two states in Russia's near abroad. We and our EU allies and partners have the ability to strategically walk and chew gum here. And in doing so set the conditions to further the deterioration of Putin's and Russia's ability to influence the region.
That's enough for tonight.
Your daily Patron!
Here's a new video from Patron's official TikTok!
@patron__dsns

Хто не згоден – з вас штраф! (1 лайк) Хто згоден – з вас просто лайк🤭🫶🏻
Here's the machine translation of the caption:
If you disagree, you'll be fined! (1 like) If you agree, you'll just like it 🤭🫶🏻
There's also a new slide show video, which won't embed here, with pics from the birthday party. So click across if you want to see it.
Open thread!