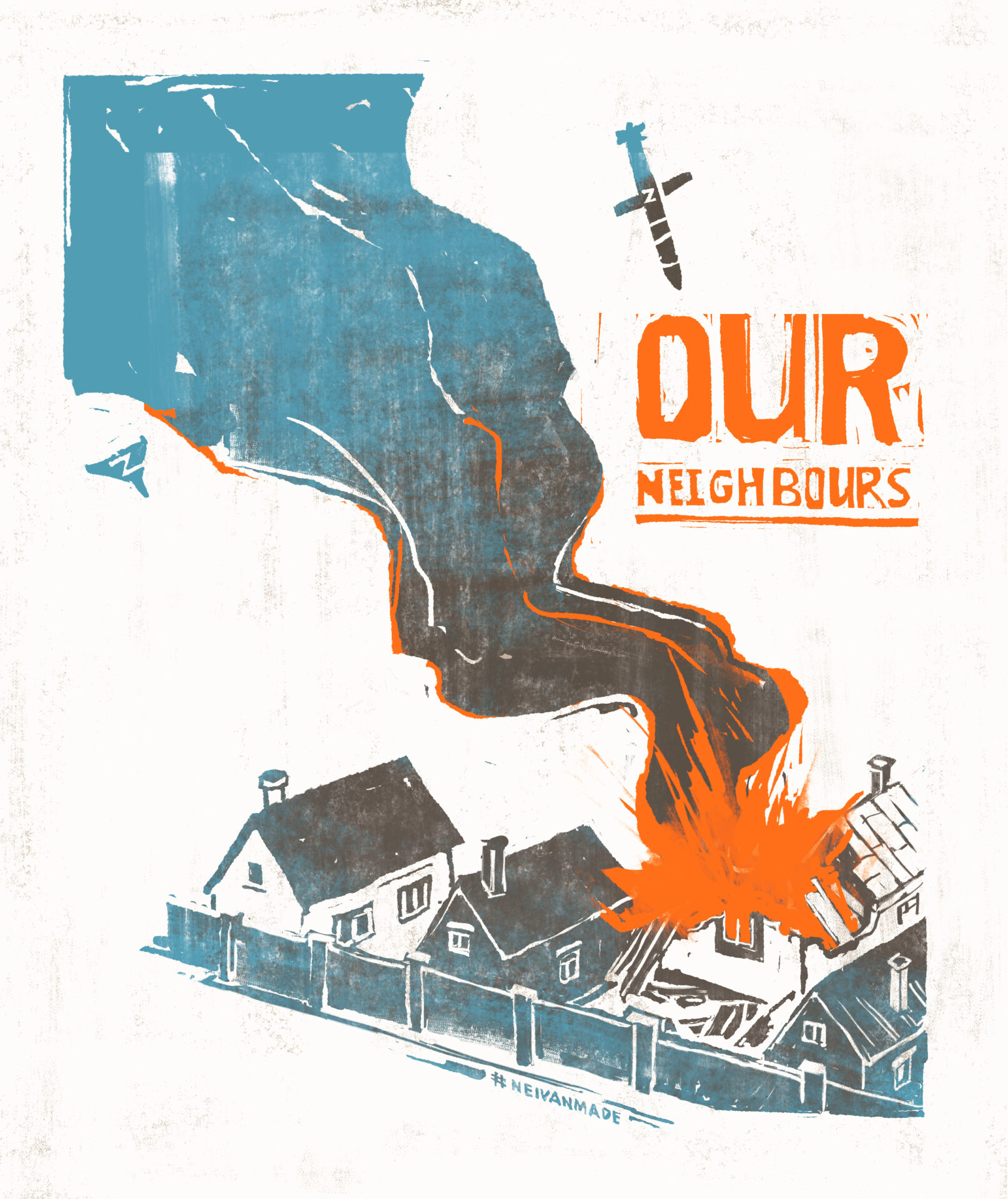 (Image by NEIVANMADE)
Russia's target today was Dnipro:
At least 9 civilians were injured as a result of yet another missile attack on the city of Dnipro. Among them are two children and a 77-year-old woman. The "high-precision" weapon used by russian terrorists hit an apartment building this time. Since this building was recently… pic.twitter.com/ig3wndgM2L

— Defense of Ukraine (@DefenceU) July 28, 2023
At least 9 civilians were injured as a result of yet another missile attack on the city of Dnipro. Among them are two children and a 77-year-old woman. The "high-precision" weapon used by russian terrorists hit an apartment building this time. Since this building was recently constructed, most of the apartments were not yet occupied, and thankfully human lives were saved as a result.
.@ZelenskyyUA
This evening, russians attacked a high-rise building and the Security Service of Ukraine's office in Dnipro. Terrorist russia's missiles strike again.
Search and rescue teams are on site. As always, response efforts are as immediate as possible.
We will do… pic.twitter.com/6U3qWV14C1

— Defense of Ukraine (@DefenceU) July 28, 2023
The reason Russia wanted to strike the State Security Services is that the latter have been doing a number on Russian military infrastructure in occupied Crimea over the last several weeks.
Here is President Zelenskyy's address from earlier today. Video below, English transcript after the jump.
We are preparing quite important international decisions for Ukraine, for our warriors – address of President of Ukraine

28 July 2023 – 18:48

Dear Ukrainians, I wish you good health!

Today was an important and good day. In the morning on the occasion of Statehood Day, I had the honor to congratulate and award our defenders. Gold Stars to Heroes of Ukraine, Crosses of Combat Merit, orders of Bohdan Khmelnytsky, orders For Courage… I also had the honor of presenting honored marks of distinction to combat brigades and border units. Happy that we have such warriors.

I also handed over passports of citizens of Ukraine to our young boys and girls. Among them are the children of our soldiers, the children of our fallen heroes… Children. The state can and should open absolutely all opportunities for them to live in a dignified, civilized, and safe way. Live freely! For each new generation of Ukrainian men and women. And I really believe in these new generations, in our children. And I am grateful to them for their faith in Ukraine.

An important international meeting took place today. The Prime Minister of Qatar was in Kyiv – very fruitful negotiations. Most importantly, Qatar will be with us in implementing the Peace Formula, joins joint global efforts. We agreed on cooperation for the return of Ukrainian children deported to Russia. We discussed the situation surrounding the Black Sea Grain Initiative – it is very important that there are no shortages and crises provoked by Russia on the world food market. It is a matter of global stability. Thanks to Qatar for the responsible position.

And one more. Our international experts are preparing quite weighty decisions for Ukraine, for our warriors. We are doing our best now, we are doing it not publicly – so that the results of our warriors, which everyone will see, can also become the best.

I thank everyone who helps strengthen Ukraine! Thanks to everyone who is in battle now!

Congratulations again on the Day of Ukrainian Statehood and the Day of Christianization of Kyivan Rus!

Glory to Ukraine!
De Oppresso Libor!
Nicholas Maimer, a US citizen and former Green Beret, volunteer of the 135th Battalion of @TDF_UA, was killed in battle near Bakhmut.
Glory to the fallen Hero! pic.twitter.com/bPy1OL5X95

— Defense of Ukraine (@DefenceU) July 27, 2023
Here's an update on Ukrainian fencer Olha Kharlan:
Congratulations to Ukraine's fencing star Olha Kharlan on having her unfair disqualification reversed and her right to compete restored, including in the Olympics. Truth and dignity prevail when we all stand up for them and fight as one. Now on to new victories, our hero!

— Dmytro Kuleba (@DmytroKuleba) July 28, 2023
Olga Kharlan received automatic qualification for the 2024 Olympics 💪🏻

This happened after the outraging scandal with the disqualification of the Ukrainian fencer at the World Championship. pic.twitter.com/B6WKQNMuSM

— Saint Javelin (@saintjavelin) July 28, 2023
The wonder woman! pic.twitter.com/WDbqroEkJo

— Saint Javelin (@saintjavelin) July 28, 2023
Staromaiorske, Donetsk Oblast:
Ukrainian warriors from the 7th Battalion "Arey" inspecting the battlefield in the recently liberated village of Staromaiorske, Donetsk Oblast. pic.twitter.com/XkBi6CHito

— Dmitri (@wartranslated) July 28, 2023
Staromayorske being mopped up by Ukraine's 35th Marines pic.twitter.com/g9wSrb045P

— Illia Ponomarenko 🇺🇦 (@IAPonomarenko) July 28, 2023
Taganrog, Russia:
/2. Closer look at the place of explosion in Taganrog. As well as photos of some debris published by Russian media. pic.twitter.com/2ucBr0lnCE

— Special Kherson Cat 🐈🇺🇦 (@bayraktar_1love) July 28, 2023
Our investigative film "Run away from the Russians" was shown in the United States #Congress!

The https://t.co/Sycnidztp5 team provided this story about two girls who were taken by the Russians to the occupied territory and eventually returned home due to our journalists. Author… pic.twitter.com/xU66SYqzHZ

— Slidstvo (@Slidstvo_info) July 28, 2023
Here's the video with English subtitles turned on.
And the description from below the video:
"You came here to prison, you are nobody here, you will do what we say," – this is how the Russians greeted two Ukrainian teenagers: 17-year-old Masha and 18-year-old Nastya from the Kherson region. The occupiers invited them to "take a vacation" in occupied Crimea, where the girls were forced to sing the Russian national anthem and pressured to become Russian citizens. At another facility, they were kept in cold rooms and threatened to be sent "to the pit," where the other teenagers were allegedly tortured. See what the girls endured, how they kept their spirits up, and how they escaped in Slidstvo.Info's first documentary film since the beginning of the Ukrainian war. Become a sponsor of this channel:  / @slidstvoinfo  
For you logistics aficionados, The Financial Times has reporting about the North Korean rockets the Ukrainians are using.
Ukrainian artillery crews have been firing rockets made in North Korea against Russian positions, turning Pyongyang's munitions against the invasion forces of its ally President Vladimir Putin.

The North Korean arms, whose use by Ukraine has not been previously reported, were shown to the Financial Times by troops operating Soviet-era Grad multiple-launch rocket systems (MLRS) near the devastated city of Bakhmut.

The origins of Ukraine's armoury highlight how Europe's biggest land conflict since the second world war has become a mixed-up cauldron for generations of the world's military equipment, ranging from ageing Soviet kit to modern precision weapons.

Ruslan, a Ukrainian artillery commander, said the North Korean munitions were not favoured by his troops because of their relatively high dud rate, with many known to misfire or fail to explode. Most were manufactured in the 1980s and 1990s, according to their markings.

One Ukrainian Grad unit member warned the FT not to get too close to the rocket launcher when the crew fired the North Korean munitions because "they are very unreliable and do crazy things sometimes".

The gunners were among artillery units supporting Ukraine's assault on Russian forces on the northern and southern flanks of Bakhmut, which is in the eastern region of Donetsk.

Journalists for Getty Images and Radio Free Europe/Radio Liberty photographed Ukrainian forces in possession of North Korean munitions in the southern Zaporizhzhia region in late June and earlier this month but did not identify them as being from North Korea.

The Ukrainian soldiers said the rockets had been "seized" from a ship by a "friendly" country before being delivered to Ukraine. They declined to provide further details.

Ukraine's defence ministry suggested the rockets were taken from Russian forces. "We capture their tanks, we capture their equipment and it is very possible that this is also the result of the Ukrainian army successfully conducting a military operation," said Yuriy Sak, an adviser to Ukraine's defence minister.

"Russia has been shopping around for different types of munitions in all kinds of tyrannies, including North Korea and Iran," he added.
More at the link!
In the wake of this visit, speculatively, there's a chance we might see more 152mm ammunition making its way into the russian army from North Korea. pic.twitter.com/Ym8OnHyB5w

— Tatarigami_UA (@Tatarigami_UA) July 26, 2023
I suppose it all depends by what "making its way into the Russian army" means.
That's enough for tonight.
Your daily Patron!
A new video from Patron's official TikTok!
Here's the machine translation of the caption:
I am flying to wish you a good day!
Open thread!