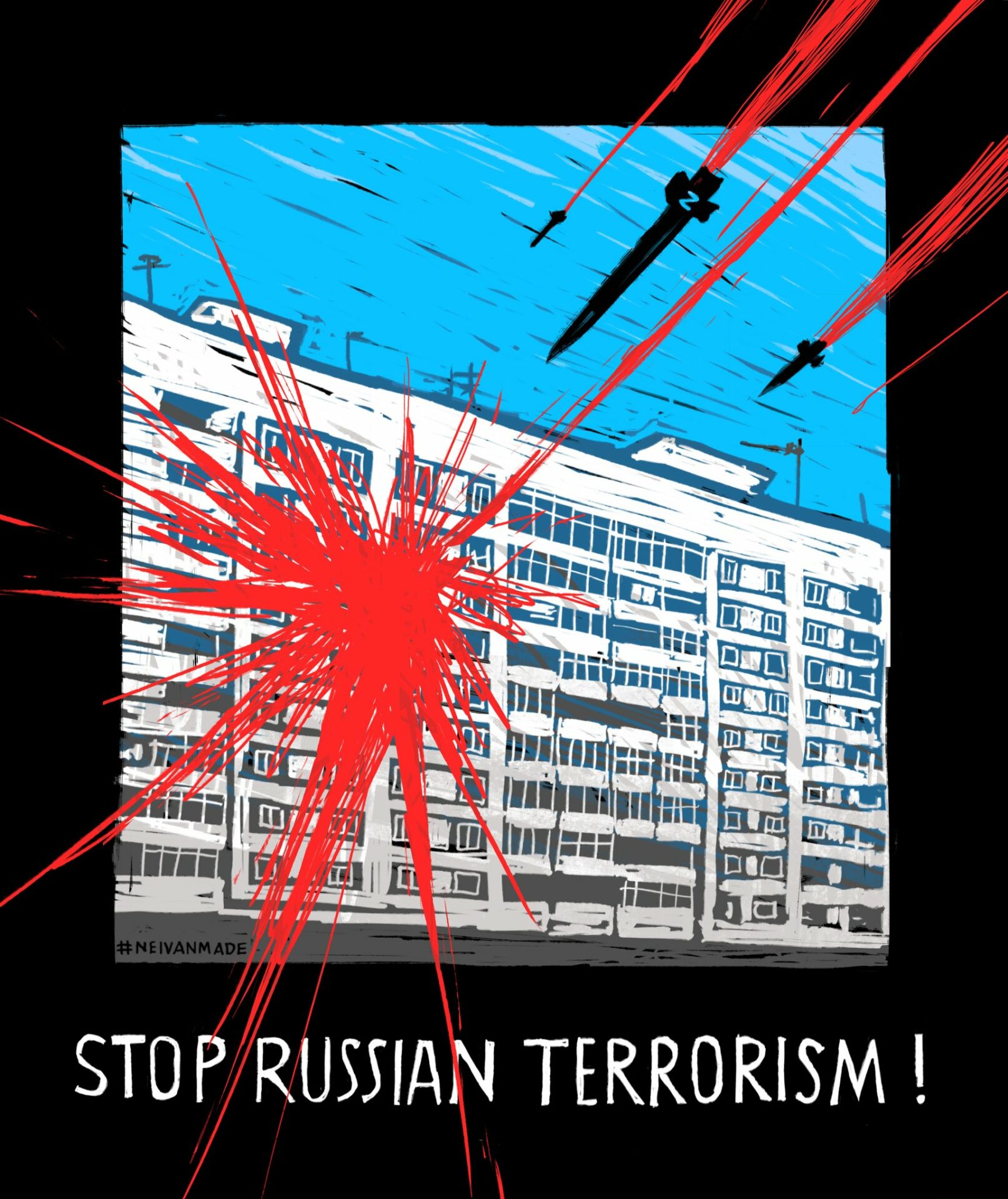 (Image by NEIVANMADE)
Fourth nationwide air raid alarm as MiG-31K jets take off in Russia. Think of mothers kissing their children goodnight, not knowing what this night will bring them. pic.twitter.com/mh7LsZkzCm

— Maria Avdeeva (@maria_avdv) August 17, 2023
Fortunately, things have quieted down over the past two hours or so: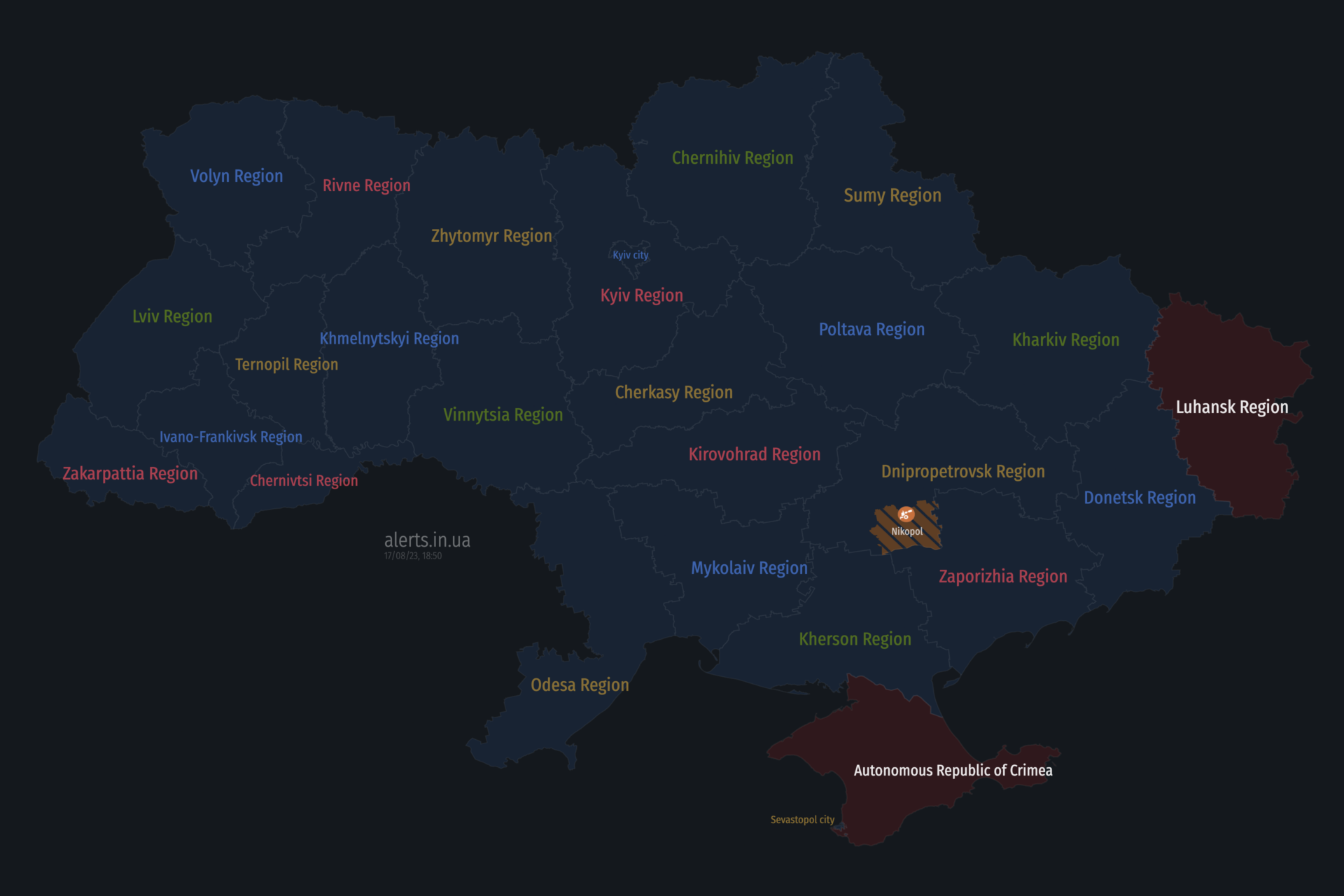 Here is President Zelensyy's address from earlier today. Video below, English transcript after the jump.
We are building the arsenal of the free world together – address by the President of Ukraine

17 August 2023 – 22:58

Good health to you, fellow Ukrainians!

A brief report on this day.

First. The frontline. I started the day with a conference call with the military, intelligence, and government officials. The situation on the frontline. Defense of positions, advancement – our offensive actions. Supplies for the warriors. We are actively shaping the content of new defense packages from our partners. More news to come.

Second. Today I would like to highlight our cooperation with Germany. Step by step, our agreements with Mr. Chancellor Scholz are being implemented. Two new IRIS-T launching stations have been delivered to Ukraine. This is a powerful and much-needed air defense system. Thank you, Germany, for your help in protecting us from Russian terror!

Third. Traditionally, in St. Sophia of Kyiv, I accepted credentials from new ambassadors who arrived in Ukraine. Germany, Indonesia, Sweden, Chile, Colombia, Peru. Of course, I spoke with all the new ambassadors today.

Fourth. Several substantive meetings with the government. A separate meeting with Prime Minister Shmyhal. Logistics for Ukraine, for our manufacturers. Export issues. Additional support for our defense. Strengthening Ukraine together with our neighbors in the European Union.

Then, an expanded meeting with the Prime Minister, the Ministry of Strategic Industries, the Ministry of Defense, the Ministry of Foreign Affairs, and the relevant deputy heads of the Office. We discussed the Defense Industries Forum. We are planning this event for the autumn. It will be the first time such a large-scale event will be held at the state level. Ukrainian and foreign arms manufacturers. Our power. The power of our partners. The entire world, which is interested in ensuring that international law and humanity have an appropriate arsenal of defense against any terror… The world can be united by this format of cooperation as well.

We plan the forum to be the first track record of our defense industry. To demonstrate what we already know how to produce. To consider what we can add to our capabilities, in particular through the creation of new production facilities in Ukraine, through localization with partners. And, of course, we have to give a new security impetus to everyone in the world who values their statehood and freedom as much as we do. Nations have the right to defense. We are building the arsenal of the free world together.

The fifth one for today. As always. I am grateful to all those who are fighting for Ukraine and working for its defense. Thank you to each and every one! I would like to particularly mention the warriors of the 117th separate mechanized brigade. Orikhiv direction. Thank you for your strength, warriors!

There is much to be grateful for to the special forces who defend the northern regions of our country. Junior Sergeant Kyrylo Melnyk and Captain Artem Chastikov – thank you guys!

The 3rd operational brigade of the National Guard, the 66th separate howitzer artillery division of the 406th brigade and the 3rd artillery division of the 44th brigade. Thank you all, warriors, for your accuracy and ability to destroy the occupiers. And it is once again an honor for me to recognize the warriors of the 36th separate marine brigade. Thank you!

Glory to all our heroes!

And a few other things.

Today, by my decree, the NSDC's decision on the results of the inspection of military commissars and the work of recruitment centers in general has been put into effect. The leadership will be completely replaced. Warriors who have actually been in combat, who really understand how and who should be selected for our defense and security forces – these are the warriors who will manage the work of territorial recruitment centers. This system needs dignity. This system needs rationality. This system needs the ability to provide the frontline with people who can reinforce our defense.

In every combat brigade I visited this week – 16 in total – warriors talked about problems with recruitment. These problems begin with the way military enlistment offices work. Their work must change. And it will. Thanks to combat officers.

I have just signed one of the key laws that Ukraine needs to start negotiations with the European Union on our country's accession. Negotiations are to start this year. The law guarantees a transparent, professional and fair selection of judges of the Constitutional Court. Our country is one step closer to joining the European Union.

Glory to Ukraine!
Interestingly, The Kyiv Independent has just published a very, very deep dive investigation into the EU's inability to ramp up its defense manufacturing sector. Here are some excerpts:
Key findings:

Over a year into Russia's full-scale war, neither Ukraine nor the EU has implemented any solid plans for ammunition production ramp-up
EU member states' governments hardly sign any long-term contracts with producers, while the "wait-and-see" arms industry is reluctant to take financial risks
Ukraine's arms makers also complain about a lack of state support yet scale up production under existing capacities anyway
Ukraine uses from 3-10 times (depending on the intensity of fighting) less ammunition than Russia does, but its ammunition expenditure is still several times higher than Europe's production rates
National protectionism of member states and the bureaucracy of the EU prevented rapid decision-making to tackle ammunition shortages
The lack of unified ammunition types in the EU forces soldiers on the front line to alter their ammunition and adapt weapons, which can delay or jeopardize operations

As Ukraine was throwing all its forces into counteroffensive operations in northeastern Kharkiv and southern Kherson oblasts last fall, soldiers defending the eastern front struggled with ammunition shortages.

When long-anticipated military aid arrived at one brigade stationed in Ukraine's eastern Donbas front, the soldiers were over the moon. But disappointment soon followed when they realized that the supplied ammunition was useless: The Finnish 120mm mortar bombs wouldn't fit into the Italian Mod. 63 mortar, despite them being of the same caliber.

Taras, the commander of the brigade's mortar battery, was tasked to find a way out of the situation. Ten people used grinders to manually trim all eight tail fins on each mortar bomb to fit the Italian mortar. There were 400 bombs to trim.

"My infantry was relying on me. At the time when we received these bombs, we had nothing else from the brigade artillery left," said Taras, who doesn't reveal his full name due to fear of retaliation for publicly complaining about the supplies.

Taras's story points to two major issues the Ukrainian military has been facing.

One is the lack of consistency of arms across the European Union. Ammunition from various producers of the same caliber differs to the extent that soldiers call it a "zoo" for how messy it is.

Since Ukraine gets arms from various countries and suppliers, it creates ammunition chaos and affects the performance of the military: Soldiers have to make time to weigh incoming munitions and manually grind them to fit their launchers, which can get in the way of military missions.

The second problem is a shortage of ammunition on the front lines. Austerity forces Ukraine to save up munitions while defending or building up for an attack by giving soldiers less than usual, multiple high-level sources close to Ukraine's military leadership told the Kyiv Independent.

Ukraine's ongoing counteroffensive started later than planned due to weapons supply delays, President Volodymyr Zelensky told CNN on July 5.

Russia is steps ahead of Ukraine in ammunition capacities. According to Ukrainian military and government sources, Russia can fire up to 10 times as much ammunition as Ukraine does during high-intensity fighting. On average, Russia fires 60,000 rounds of ammunition at Ukraine a day, whereas Ukraine fires 20,000, according to Ukrainian officials' public comments and off-the-record conversations with them.

While Russia makes use of its large stock of ammunition, both Ukraine and the EU have so far failed to scale up ammunition production to meet battlefield demands.

The Kyiv Independent and its partners spoke with dozens of insiders, arms producers, diplomats, the Ukrainian government and military sources, and soldiers on the front line.

This cross-border investigation found that national protectionism, misjudgment, and indecisiveness among EU countries have obstructed the bloc from finding a swift and collective approach to tackling ammunition shortages which had a direct impact on Ukraine's performance on the battlefield. Both governments and their defense industries have proved reluctant to take risks investing in arms production, including jointly with Ukraine.

Ukraine's own defense industry started producing ammunition only about two months into Russia's full-scale war.

And it faces similar problems to those of the EU: it's too slow, the government and the industry blame each other for failing to take the lead in scaling up production, and a strategy for future ammunition programs is still a work in progress.

While Ukraine and the West fail to produce more, Russia is trying to disrupt Ukraine's production and destroy what it already has in stock by targeting ammunition depots.

The inability of officials, both domestically and internationally, to ensure Ukraine has enough arms and ammunition leaves the soldiers on the ground with an impossible task: meeting the world's high expectations of Ukraine's counteroffensive without the means to do so.

Caught by surprise

The fact that ammunition would eventually run out in the EU warehouses has been self-evident to anyone paying attention from day one of the full-scale invasion, according to officials and experts the Kyiv Independent spoke to.

Ukraine, a country that inherited most of its arms from the Soviet Union, had ammunition of calibers most NATO countries didn't have. Some Eastern European countries had Soviet-style munition but in limited volumes.

Ukraine's own stocks were only enough for up to about a month of active fighting, according to multiple top-level sources in Ukraine's Defense Ministry and Armed Forces. They claim to have informed Western allies about the state of things as early as day one of the full-scale invasion.

Once comprehensive, Ukraine's stocks had dried up due to a series of explosions in ammunition depots between 2014 to 2018 in Ukraine, as well as the Czech Republic and Bulgaria, countries Ukraine bought Soviet-style ammunition from. The Czech government has openly blamed the explosions on Russia. Ukraine's State Security Service and Prosecutor General's Office have investigated the blasts in Ukraine in connection with sabotage, murder, terrorism, and military service negligence. None of the investigations have resulted in convictions yet.

In Ukraine alone, around 210,000 tons of ammunition were destroyed in the attacks – that's three times as much as the country had used defending itself against Russia's war in the Donbas and on military training combined in 2014-2018, according to the Royal United Services Institute (RUSI) think tank. It's unclear whether any of the lost ammunition was replenished, or how much was rescued.

While waiting for the American equipment, in 2018, Ukraine ordered 152mm shells from a Ukrainian private company Rubin. It delivered low-quality products, which weren't approved by the Defense Ministry. These were Ukraine's only attempts to launch mass production of ammunition before the 2022 invasion.

So when Russia started its all-out war, Ukraine didn't have reliable ammunition production pipelines and had little left in stock.

Meanwhile, the closest possible sources of ammunition – the EU and the UK – were also short on it.

After years of defense budget cuts and a strategy of keeping ammunition stocks low ever since the Cold War, the EU had little to offer.

According to Admiral Rob Bauer, chairman of the NATO military committee, he told member states' foreign ministers in mid-March 2022: "We deliver from half-empty warehouses. You have to refill it very quickly."

"NATO won't be able to provide Ukraine with lasting support if the war goes on for long," he recalled saying back then.

Officials and experts in the United Kingdom and Germany later admitted that their own countries only had enough ammunition to last for mere days of high-intensity fighting.

Reluctant to start helping

The West did not rush to start sending arms to Ukraine to help repel Russian aggression. It took days for politicians to decide and weeks to deliver the first batches of Soviet-style military aid to Ukraine, according to diplomats and military sources.

There were a few reasons for the delays.

One was the fear that Ukraine would quickly fall and the arms and ammunition provided by the West would end up in Russian hands, said two high-level Ukrainian diplomatic sources.

Additionally, they said, the EU was scared that Russia would see Europe as a party to the conflict.

"That's why they didn't want to help us for a very long time, despite the fact that Russia immediately accused the West of being a party to the war," according to another source close to Ukraine's Defense Ministry.

The EU defense industry proved to be more farsighted than politicians.

Nexter, a French munitions company, claims to have bought a few hundred tons of gunpowder a few days after the full-scale Russian invasion.

"We were in constant talks with the French government, especially with its Defense Ministry, which was well aware that the need for ammunition would increase," said Gabriel Massoni, a spokesperson for Nexter.

According to NAMMO, a Norwegian-Finnish munitions company, it bought extra raw materials days after the invasion. They also claim to have alerted authorities how difficult scaling up production quickly would be, given supply chain issues caused by the Covid-19 pandemic. The company got its first ammunition production contract only about a year later.

Camille Grand, who served as NATO's assistant secretary general for defense investment until November 2022, said: "We were under the impression that the war would not last long."

Taking a lifetime to act

Even upon realizing the scale of ammunition shortages, the leadership of the EU and its member states proved to be slow in tackling them.

At the first Ramstein summit, a Ukraine-focused meeting of allied countries at an air base in Germany, on April 26, 2022, the allies decided to give the first big batch of weapons to Ukraine.

"It was very tough before the Ramstein talks, and only after did it start moving at least in some direction, and we started receiving the first pieces of (U.S.-made and provided) M777 and M119 howitzers, which came in together with ammunition," a Ukrainian military source said.

However, it is not known whether the looming ammunition shortage was addressed at the summit.

The first notable attempt to find a solution came two days later, at NATO's semi-annual meeting of national armaments directors. There, some member states, for the first time, aired concerns that ammunition stocks could run out, according to Grand, a former top NATO official.

Around that time, it finally became clear to Western leaders that modern warfare still requires high volumes of ammunition despite advances in military technology, according to a source close to Ukraine's Defense Ministry. "That was a shock to them," he said.
Much, much, much more at the link!
But wait, there's video:
The US's defense manufacturing sector mirrors many of the problems that The Kyiv Independent has identified in its reporting into the EU's defense manufacturing sector.
There is some good defense manufacturing and logistics news:
Germany updated the list of Delivered military support to Ukraine:
– 2 IRIS-T SLS launchers
– 4,539 rounds 155mm smoke ammunition
– 18 ground surveillance radars GO12
– 4 truck tractor trains 8×8 HX81 and 4 semi-trailers
– 8 load-handling trucks 15thttps://t.co/HudvW2crKM pic.twitter.com/otsslB5Um3

— Special Kherson Cat 🐈🇺🇦 (@bayraktar_1love) August 17, 2023
The US has approved Denmark and Holland sending F-16s to Ukraine once training is completed. Reuters has the details:
WASHINGTON, Aug 17 (Reuters) – The United States has approved sending F-16 fighter jets to Ukraine from Denmark and the Netherlands to defend against Russian invaders as soon as pilot training is completed, a U.S. official said on Thursday.

Ukraine has actively sought the U.S.-made F-16 fighter jets to help it counter Russian air superiority.

Washington gave Denmark and the Netherlands official assurances that the United States will expedite approval of transfer requests for F-16s to go to Ukraine when the pilots are trained, the official said.

Denmark and the Netherlands had recently asked for those assurances. The U.S. must approve the transfer of the military jets from its allies to Ukraine.

A coalition of 11 countries was due to start training Ukrainian pilots to fly the F-16 fighter jets this month in Denmark. Denmark's acting Defense Minister Troels Poulsen said in July that the country hoped to see "results" from the training in early 2024.

NATO members Denmark and the Netherlands have been leading international efforts to train pilots as well as support staff, maintain aircraft and ultimately enable Ukraine to obtain F-16s for use in its war with Russia.

Secretary of State Antony Blinken sent letters to his Danish and Dutch counterparts assuring them that the requests would be approved, the U.S. official said.

"I am writing to express the United States' full support for both the transfer of F-16 fighter aircraft to Ukraine and for the training of Ukrainian pilots by qualified F-16 instructors," Blinken said in a letter to the two officials, a copy of which was seen by Reuters.
Blinken said, "It remains critical that Ukraine is able to defend itself against ongoing Russian aggression and violation of its sovereignty."
There is one outstanding problem here: NO TRAINING PROGRAM HAS BEEN ESTABLISHED!!!
The Kyiv Independent explains why:
Ukraine will not be able to defend its airspace with U.S. F-16 fighter jets by the coming fall or winter, spokesperson for the Air Force Yurii Ihnat said on Aug. 16.

"It is already obvious that we will not be able to defend Ukraine with F-16s this fall and winter," Ihnat said.

During the Vilnius NATO summit in July, Ukrainian Defense Minister Oleksii Reznikov announced the formation of a coalition to provide training for Ukrainian pilots on F-16s. The coalition is made up of 11 NATO member states. The program was set to start in Denmark in August, with plans for establishing a training center in Romania as well.

However, the forthcoming F-16 training has been marked by uncertainties. While the Biden administration has approved the training, it cannot give final authorization until it receives a completed training plan from European leaders.

It's also still unclear which specific countries will be supplying the F-16 jets to the Ukrainian Air Force. Gaining fluency in the English language presents another challenge  for Ukrainian pilots.

"Significant hopes were pinned on this aircraft, anticipating its integration into the air defense system and its ability to shield us from Russia's missile and drone terrorism," Ihnat said.

Nonetheless, Ihnat said that question of training Ukrainian pilots and engineers had "moved forward."

"In the near future, our pilots will receive training within the member countries of the aviation coalition," Ihnat said.
No training program, no F-16s. Again, one more time, this is the reason that even if the US was not prepared to provide or allow F-16s to be provided to Ukraine until late summer or early fall of 2023, if a training program had been started a year ago, then the Ukrainians would be ready to fly them on receipt.
The other reason to have adopted a more aggressive timeline is this:
"Rep. DON BACON…a staunch Ukraine supporter…wants to give Kyiv more military aid but only if the final deal includes a guarantee [of ATACMS]. Without that assurance, he sees no point in further depleting US stocks and spending more money to keep Ukraine at a fighting stalemate" https://t.co/wPT9OPaoX2

— Christopher Miller (@ChristopherJM) August 17, 2023
We're now moving into Congressional Republicans saying "what's the point?" I guarantee that by the 2024 presidential and congressional elections, the GOP position will be to abandon Ukraine to its fate. There will be a few holdouts, mostly GOP senators not up for reelection. But the base of the party, Fox News as well as its imitators, the majority of Republicans running for the House and the GOP nominee, which will be Trump, will all adopt this position. And regardless of what anyone here might hope for or wish to happen, all of this is not only possible, but plausible.
One of the keys at developing effective strategies is to be able to identify that time is a key risk and have appropriate ways and means to mitigate and manage that risk. Assuming that you have more time than you do – as in President Biden will be reelected and the Democrats will have majorities in both chambers of Congress in 2025 – so that there will be time to deal with this in the future is strategic malpractice.
Fighting for each and every life.
Defying death.

🎥47th Mechanized Brigade pic.twitter.com/QTKDKmGJto

— Defense of Ukraine (@DefenceU) August 17, 2023
Ukrainian Army Colonel Peter Chernyk provides this interesting analysis about the challenges that the Ukrainian military is trying to overcome in their operations in southern Ukraine.
In the information space, one of the totems of the last week is discussions about certain successes of the units of the Defense Forces of Ukraine on the southern bridgehead. At the same time, some participants in the discussions will see that this success is not developing as fast as we would like.

Expert opinion on this issue, the correspondents of the ArmyInform inquired about the military analyst of Colonel Peter Chernyk.

According to him, the main problem of moderate pace of advance of Ukrainian units in this operational direction is that troops have to overcome the classic tri-echelon line of defense.

— What is it? The classic three-chelon line of defense sees the existence of a so-called supply line. These are minefields that can reach up to several kilometers wide, — says Peter Chernyk. — It should be understood that the Russians are very good in this part: they just have a giant number of anti-tank mines. For example, TM-62 — their stocks in rf are calculated in millions.  And a universal mine barrier can scatter mines such as PFM, abundantly sowing the terrain. One «petal» — is already a very dangerous anti-personnel mine. And the mine barrier scatters them 11 thousand for one volley. They have something to change. Up to 5 mines per square meter can now be in the supply area.

Continuing the topic, he says that the second echelon of enemy defense — main line. Where artillery, equipment, personnel are concentrated. The third line — is the rear points of preservation of material means and spare positions. According to Peter Chernik, in order for the Defense Forces units to truly develop success, it is mandatory to create a phenomenon called «prolom», or engineering passes through enemy minefields.

— Is this possible? Probably because we have a pretty good technique. These are American M-58 cars. They can fire a combat « rope» up to 90 meters. In this rope for each meter running is 7.5 kilograms of C-4 explosives. And when it all explodes, such a passage is made 6 meters wide, where the tank passes fully. And so step by step at one point you can make such a move. But it's a big car. There are also other cars. Based on the tank «Leopard-2». The Germans also provided them to us. They have special «tralas », which cause mines to explode, or dumps that these mines drop in different directions and they remain in this position. These are all convenient targets, especially for enemy artillery. Therefore, it is necessary to destroy their artillery, — he notes.

At the same time, according to Peter Chernyk, the Defense Forces of Ukraine in terms of the destruction of enemy artillery have some obvious successes.

In a year and a half of the war, the average loss of Russians from artillery in a month was within 200 guns. Starting in May — outside 550 units, June — record: 688 barrels and installations. July did not reach the record — a total of 577 artillery barrels.

— I have no doubt that in August we will again show a very solid result, — says Peter Chernik. — With an average of 200 guns, we are almost three times ahead of the extermination rate. The Russian military-industrial complex can remove old Soviet junk from warehouses and repair and put it in the old Soviet junk, in fact, a lot of it. In warehouses in the rf it is outside 10,000.  But the ratio is still within 150 guns in our favor. I must note that the full-time artillery brigade — is within 72 barrels.

The military expert emphasizes that we are ahead of their ability to deliver artillery to Ukraine in terms of destruction almost twice. And this is a very serious indicator, because sooner or later the breaking point will happen. And a number of faults or one large will be made, which will allow to collapse the entire bridgehead and perform classic maneuvers to reach the enemy and enter him in the rear.
And there's video too!
Robotyne:
Russian "Alligator" meets its match near Robotyne, along Zaporizhzhia axis. pic.twitter.com/AvI78xf3C7

— Maria Avdeeva (@maria_avdv) August 17, 2023
🇺🇦47th Mechanized has another Russian Kamov Ka-52 downed pic.twitter.com/WVern2p6TE

— Illia Ponomarenko 🇺🇦 (@IAPonomarenko) August 17, 2023
And Bakhmut:
Two Russian Ka-52 helis were taken down this morning, one in Zaporizhzhia front shot down by the 47th Brigade, and another one a bit earlier in the Bakhmut front.

Source: https://t.co/s5ETGvfm8J pic.twitter.com/ig9pjzGjc9

— Dmitri (@wartranslated) August 17, 2023
From Ukrainika Pravda:
Soldiers of a separate mechanized brigade shot down an enemy Ka-52 helicopter in the Zaporizhia region on the morning of August 17 − so this morning the defenders of Ukraine destroyed two Russian "alligators".

Literally 47 OMBr: "The morning of the soldiers of the 47th separate mechanized brigade began with the destruction of the Russian Ka-52 helicopter in the Robine area, which is on Zaporizhia".

Details: The enemy "alligator" noticed a fire group of the anti-aircraft missile-artillery division around 07:40 am. The helicopter was knocked down in one start from the MANPADS.

It is reported that on the account of fighters of the 47th brigade – is already the 8th "forever landed Ka-52", the cost of which reaches $16 million.

Background:
Soledar:
JDAM strike on Russian headquarters in Soledad. Video by the 30th brigade. https://t.co/aATRTmcrPz pic.twitter.com/EjzIUDbOTP

— Special Kherson Cat 🐈🇺🇦 (@bayraktar_1love) August 17, 2023
I'm pretty sure Soledad is a typo for Soledar.
Dmitri has a translation of a Russian colonel's analysis of the difference between the cluster munitions Russia has been using and the ones Ukraine is now using:
Interesting, a bit long, post here from Russian Colonel Shuvalov discussing the effect of the Ukrainian cluster munitions
and how the Russian equivalents are not nearly as good if exist at all, showing how Shoygu's threats are empty.
(source: https://t.co/Bburalklwy):

"And again… pic.twitter.com/VicMjWwC1r

— Dmitri (@wartranslated) August 17, 2023
Interesting, a bit long, post here from Russian Colonel Shuvalov discussing the effect of the Ukrainian cluster munitions
and how the Russian equivalents are not nearly as good if exist at all, showing how Shoygu's threats are empty.
(source: https://t.me/shouvalov/45):

"And again about cluster munitions. It's hard for me to understand why we need to manipulate statistics if the response we're getting for showing off results in collossal, real difficulites.

I already wrote about cluster munitions before – https://t.me/shouvalov/20.

Basically, nothing has changed, but a lot needs to be added. Information, now in full measure, reached the authorities that everything was not as it seemed in the initial reports. It is impossible not to take into account the factor of modern Western cluster munitions – they shamelessly mow down both fighters at the front (not only at the front) and civilian infrastructure in the rear.

Civil infrastructure is a separate topic. Recently, there was an arrival in Tokmak, which terribly slashed trucks and drivers. The Defense Ministry decided not to focus on this, because there was a risk of reciprocal publication of data from the enemy with arguments that the civilian targets were not quite simple and not very civilian.

But there were comrades in the camp of military correspondents who unleashed their anger towards the vile NATO members on the heads of readers, and attached videos as proof. This is something the enemy might not have had. And now the enemy can quite boldly show that the goals were legal from a military point of view. And all by our hands…

We had to throw all our efforts into blocking the supply of cluster munitions to Ukraine: to declare that we would not use such munitions, to tear apart the Europeans, who have cluster munitions banned. There was a chance. But they played us, we happily fell for it and declared that we had these clusters munitions, whole landfills of them, not just stockpiles.

Yes, we have many. You can search for photos. For the most part, it's an illiquid asset killed by time, the rest – is morally and technically obsolete. And things are not very good with carriers either.

Now you can't roll back the situation, and when you are caught being weak, it's silly to try and scare them. The General Staff already understands this, but they cannot bring the situation even higher, there is no solution. The guys on the front line are taking the beating, and it's not easy at all. In the context of problems with medicine, wounds from cluster munitions often result in death, and this is a very painful and terrible death. The enemy has learned (yes, imagine, they are also learning!) to cut off the path of reinforcements or withdrawal of forces with artillery, and trenches do not save from cluster munitions. You can't save yourself with a bandage or a tourniquet, after being hit with cluster munitions you need solid medical care, if you managed to survive.

In the trenches, a terrible mess is formed from the living and the dying, who are sometimes completely impossible to help.

In such cases, the enemy methodically waits for those of our forces that rush to help their comrades. I saw all this in Chechnya, when a sniper left a wounded man to pull other guys to him. This happened in single occasions, but with cluster munitions, everything is the same, but scaled tens and hundreds of times. We need counter-battery fire, but it is not there. We need a lot of things, but first of all, need to finally admit the problem exists and start solving it, and not throw around the words like "we're going to smash you!".

It is not some colonel in a hospital bed that is yelling about the cluster munitioins – the voices of hundreds of guys dying in terrible agony in the trenches and the widows of hundreds killed by them in just these couple of weeks are shouting to you about these problems. And I specifically do not specify whether there are really hundreds, or already thousands – we will not please the enemy with statistics.
The army needs a solution. The cluster situation is terrible, and worst of all, we try to silence the problem when we need a solution. And this is already beyond the capabilities of individual generals and commanders. We made threats with words, now let's get down to business."
The Russians have gone with something akin to an old fashioned leaflet drop:
Some translation:

"Do not exchange your life for American values."

"The West has turned Ukraine into a testing ground for its weapons."

""Merchant of Ukrainian lives"

And then it lists instructions on how to surrender

— Tatarigami_UA (@Tatarigami_UA) August 17, 2023
The cost:
The childhoods of millions of Ukrainian children ended on February 24, 2022. We are fighting – and will win – this war to return smiles to our children's faces. We will make sure they have a home, a childhood, and a future.

Art by @ShapovalYura pic.twitter.com/KaF5nIMXGa

— Defense of Ukraine (@DefenceU) August 17, 2023
The Kyiv Independent brings us details of even more of the costs of Russia's genocidal re-invasion on Ukraine's children:
Russia has deported another 450 children from areas of Ukraine under Russian occupation, the National Resistance Center reported on Aug. 17.

According to the center, 50 Ukrainian high school students were sent to Yaroslavl, a city about 250 kilometers northeast of Moscow. The center believes that once there, Russian teachers will try to convince the students to continue their higher education at Yaroslavl State University.

Another 200 children from occupied parts of Luhansk Oblast, 150 children from Kherson Oblast, and 50 children from Zaporizhzhia Oblast were sent to summer camps in Krasnodar region.

Ukrainian children are taught to believe Russian propaganda in these camps and attend activities like Russian patriotic concerts. At the end of the camp, Ukrainian children are often not returned home.

The conditions in Russian hotels, summer camps, and recreation centers for Ukrainian children are frequently poor, according to a report by a coalition of Ukrainian NGOs that documents Russia's war crimes.

A February 2023 study by the Yale School of Public Health shows that Moscow has established a whole "network of re-education and adoption facilities" in Russia and occupied Crimea.

More than 19,500 children have been identified by the Ukrainian government as having been deported. Only 385 of them have been returned to Ukraine.
Much more at the link!
Here is there video reporting:
That's enough for tonight.
Your daily Patron!
New episode 🥰🦋✌🏻https://t.co/3he5ZdED7L
(Enable ENG subtitles) pic.twitter.com/O4mJKM6CPB

— Patron (@PatronDsns) August 17, 2023
That's right, there's a new episode of Patron's cartoon!
And a new video from Patron's official TikTok!
@patron__dsns

Таке в архівах знайшов! Біжу побажати вам гарного і мирного дня🤗❤️
Here is the machine translation of the caption:
I found this in the archives! I want to wish you a good and peaceful day 🤗❤️
Open thread!