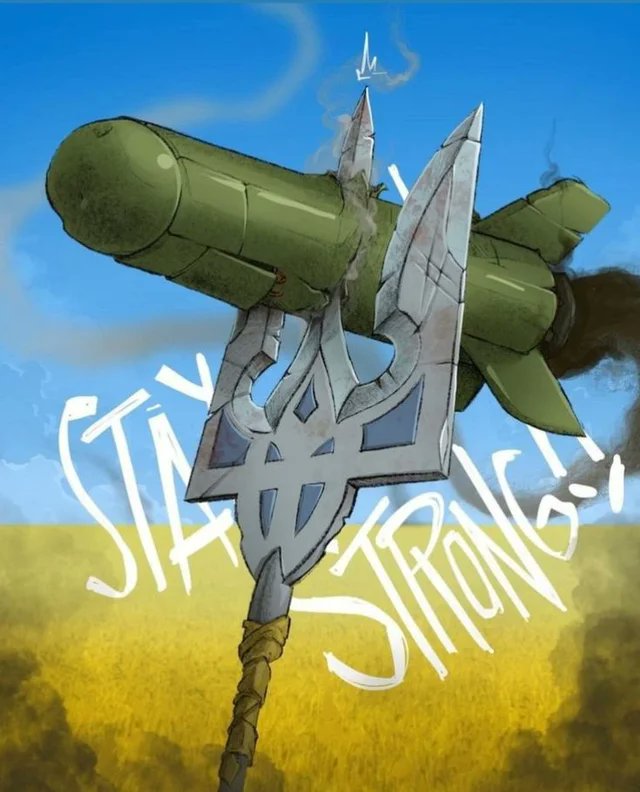 Last night thanks to an email heads up from commenter Dopey-o, I put up a supplemental update that Russia had put about a dozen TU 95 strategic bombers in the air, that they were headed to or over the Black Sea, and that meant that an aerial attack was most likely imminent on Ukrainian civilian and civilian infrastructure targets. This was indeed the case.
A precise strike of the Ukrainian air defense last night.

📷 Air Command South pic.twitter.com/fIqfgZGqWs

— Defense of Ukraine (@DefenceU) September 17, 2023
EuroMaidan News has the details:
In the early hours of 17 September, Russia attacked Ukraine with six Iranian-made Shahed one-way attack drones and ten cruise missiles, targeting Odesa Oblast, as Ukraine destroyed all the drones and six missiles, according to the Air Force of the Armed Forces of Ukraine.

The Air Force says Russians launched six Shahed-136/131 UAVs attacked from the southeast and south (Russia's Primorsko-Akhtarsk, Crimea's Chauda), while 10 X-101/X-555/X-55 air-launched missiles were fired from 9 Tu-95MS strategic aircraft from the Engels air base area in Russia's Saratov Oblast.

"The main direction of the strike was the south of Odesa oblast. Air defenses were active along the route of the missiles and UAVs. Fighter aircraft, anti-aircraft missile units, mobile fire groups, and other means of destruction were involved in repelling the air attack," the Air Force reported.

According to the Air Force, Ukrainian forces shot down 12 air targets, including all six Shaheds and six of 10 cruise missiles. The Ukraine South Defense Forces specified that four Shahed drones were downed in Mykolaiv Oblast, and two more in the Odesa skies.

"Enemy missiles hit the territory of a civilian agricultural enterprise in Odesa Oblast, the State Emergency Service is working [on the scene], and the local military administration will inform you of the consequences," the Air Force said.

The Ukraine South Defense Forces added that the attack damaged agricultural land and a grain storage facility in Berezivskyi district of Odesa Oblast, and no one was injured.

As of the publication of this article, the Odesa Regional Military did not share any further details.
I have not seen anything published about the numbers of wounded or killed in last night's attack.
There are also two cargo ships in port at Chornomorsk about 20 km from the city of Odesa. They are flagged in Palau, got to Ukraine by running the Russian blockade by hugging the western coast of the Black Sea adjacent to several EU and NATO member states, and they there to take on a full load of Ukrainian grain to be delivered to Egypt and Israel. They'll use this western route to get back to and then through the Straits of Bosphorus. I think it is likelty that Russia was either aiming for them, as well as the granaries and storehouses in Odesa, and the Ukrainians brought those missiles and drones down or that last night's attack was partially intended to deter them from leaving port for the return leg.
As of right now, Olga Honcharenko has no new posts, which means Russia has nothing in the air. Hopefully it stays that way so I only have to do one war update tonight.
Here is President Zelenskyy's address from earlier today. Video below, English transcript after the jump.
We we must reach a point when all children in our country have their own family, their own home – address by the President of Ukraine

17 September 2023 – 20:22

I wish you health, fellow Ukrainians!

I would like to express gratitude today.

To everyone who defends the sky of our country. Our pilots and engineers of the Air Force, warriors of mobile fire groups, all our anti-aircraft gunners. Thank you for constantly increasing the number of downed Russian missiles and drones, and thus the number of our people and infrastructure saved. Thank you, warriors!

And to everyone who is now on the front line. To every brigade. From Kupyansk to the left bank of Kherson region, from the Bakhmut sector to every Ukrainian position on the front line in the south of our country. I thank you guys for your might!

And today I would like to especially recognize the warriors who are gradually regaining Ukraine's territory in the area of Bakhmut. The 80th air assault brigade, the 5th separate assault brigade, the glorious 95th and "Fury" Joint Assault Brigade of the National Police. Klishchiivka! Well done!

Today Ukraine marks Rescuer's Day. And on Friday, I had the honor to personally thank the employees of the State Emergency Service of Ukraine and all those whose hearts simply feel that it is impossible otherwise, that we must take care of others, that we must help others when lives depend on it. Today, I want to thank not only all our rescuers, but also all the relatives – mothers and fathers of boys and girls, men and women working in the State Emergency Service of Ukraine. I thank you for raising your children this way: to save others, to make our entire society stronger and more humane. Thank you!

Today – and this is a very symbolic coincidence – our country also marks Adoption Day. This is probably one of the most honorable missions in life – to help a child avoid an orphan's fate. I thank everyone who helps children in this way, everyone who spreads the warmth of their families so that there are fewer lonely destinies in this world!

As a state, we must reach a point when all children in our country, all those who have been left without parental care, have their own family – their own home, their own family.

Ukraine certainly must not be associated with orphanages. I thank everyone who works for this!

Glory to everyone who helps our people and the entire country become stronger!

And we are preparing new defense decisions for Ukraine. Air defense and artillery are a priority.

Glory to Ukraine!
President Zelenskyy will meet with all US senators during his visit to DC next week.
NEWS — Schumer & McConnell will host an all-senators meeting with Ukrainian President Zelensky on Thursday morning, per aide.

— Andrew Desiderio (@AndrewDesiderio) September 17, 2023
Best wishes to our colleagues from @SESU_UA on Rescuer's Day!
Every day, you rush to help our citizens who are suffering from terrorist attacks. Your bravery, strength, and unwavering dedication are truly inspiring.
We salute you, brave rescuers! pic.twitter.com/HgVAUr8iAZ

— Defense of Ukraine (@DefenceU) September 17, 2023
The cost:
There can be no forgiveness.
For the first time, a girl sees her kindergarten after it was destroyed by russian terrorists. pic.twitter.com/qHEM5zzBiD

— Defense of Ukraine (@DefenceU) September 17, 2023
Uman:
Azov fighter, known as Rebbe, visited Uman for Rosh Hashanah from the eastern front lines. These are the people Russia labels as 'nazis.'

📷 Wladyslaw Musiienko pic.twitter.com/BPjEMgHu39

— Maria Avdeeva (@maria_avdv) September 17, 2023
Klischiivka:
The Armed Forces of #Ukraine have liberated the village of #Klishchiivka in the Donetsk region.

Glory to Ukraine! 🇺🇦 pic.twitter.com/uV5YA32JyU

— MFA of Ukraine 🇺🇦 (@MFA_Ukraine) September 17, 2023
Armed Forces confirm liberation of Klishchiivka, near Bakhmut, less than 48 hours after liberation of Andriivka 🇺🇦💪🏻 pic.twitter.com/6BzFIksgK6

— Maria Avdeeva (@maria_avdv) September 17, 2023
Bucha:
In Bucha today: life seems normal, yet the darkness of Russia's war crimes lingers pic.twitter.com/V8tTrsL40O

— Maria Avdeeva (@maria_avdv) September 17, 2023
Cape Fiolent, Russian occupied Crimea:
Locals report an explosion in Sevastopol, Crimea. Somewhere in the area of ​​the so-called Cape Fiolent pic.twitter.com/1aNKX1OFMe

— Special Kherson Cat 🐈🇺🇦 (@bayraktar_1love) September 17, 2023
I deleted the previous post because the pic was not related to the ongoing strikes on Cape Fiolent, near Russian-occupied Sevastopol, but the news itself seems to be genuine. At least more footages are appearing.

Source: https://t.co/4IYavEC9CH#Ukraine #Sevastopol #Crimea pic.twitter.com/CGn2AUMY5I

— (((Tendar))) (@Tendar) September 17, 2023
Khakovka reservoir:
🧵An unusual update on the Kakhovka Reservoir. Against expectations of it remaining deserted, recent on-site observations and satellite imagery have revealed an interesting development – nature is recovering rapidly as vegetation transforms the area into a flourishing reedbed: pic.twitter.com/LVJiOV73la

— Tatarigami_UA (@Tatarigami_UA) September 17, 2023
3/ According to a report by Suspilne Dnipro, which includes an interview with Vadym Maniuk (video link in the image description), the area is becoming covered by native vegetation like nutsedges, reeds, sedges, and shoreline trees such as cottonwood and willow. pic.twitter.com/Wk47ReAA7e

— Tatarigami_UA (@Tatarigami_UA) September 17, 2023
Here is an even deeper dive on the flood plain by a former NOAA meteorologist. First tweet from the thread, the remaining forty-three or so from the Thread Reader App. Since the videos no longer load from the Thread Reader app, if you want to see them you'll have to click through on the first tweet below and scroll down.
1/ It has been 3 months since the Russians blew-up the Kakhovka HPP dam on 6 June 2023. What is happening to the Dnipro River hydrology and ecology? What are are the options for rebuilding the HPP and possibility for a Dnipro left-bank beachhead? A #NAFOWeather 🧵
Outline: pic.twitter.com/8tZdWM8Ho3

— David Helms (@davidhelms570) September 10, 2023
*invaders
Somewhere in Chechnya:
Kadyrov posted a video of himself after rumors stated that he was in a bad condition.

"I strongly advise everyone who cannot distinguish truth from lies on the internet to take a walk in the fresh air and put their thoughts in order. The rain is perfectly invigorating," he said. pic.twitter.com/Gq2HfyTBLQ

— NOELREPORTS 🇪🇺 🇺🇦 (@NOELreports) September 17, 2023
— NOELREPORTS 🇪🇺 🇺🇦 (@NOELreports) September 17, 2023
Baruk Khazâd! Khazâd ai-mênu!
What?
Anyhow, this was why I resisted posting the RUMINT that Kadyrov was in a coma and near death.
It's HIMARS O'Clock!
HIMARS time! pic.twitter.com/Os77cHKb1W

— Defense of Ukraine (@DefenceU) September 17, 2023
Obligatory:
That's enough for tonight.
Your daily Patron:
There are no new Patron tweets or videos today. So here is some Patron adjacent material from Ukraine's Ministry of Defense.
True happiness. pic.twitter.com/tBguEvTIhA

— Defense of Ukraine (@DefenceU) September 17, 2023
Open thread!