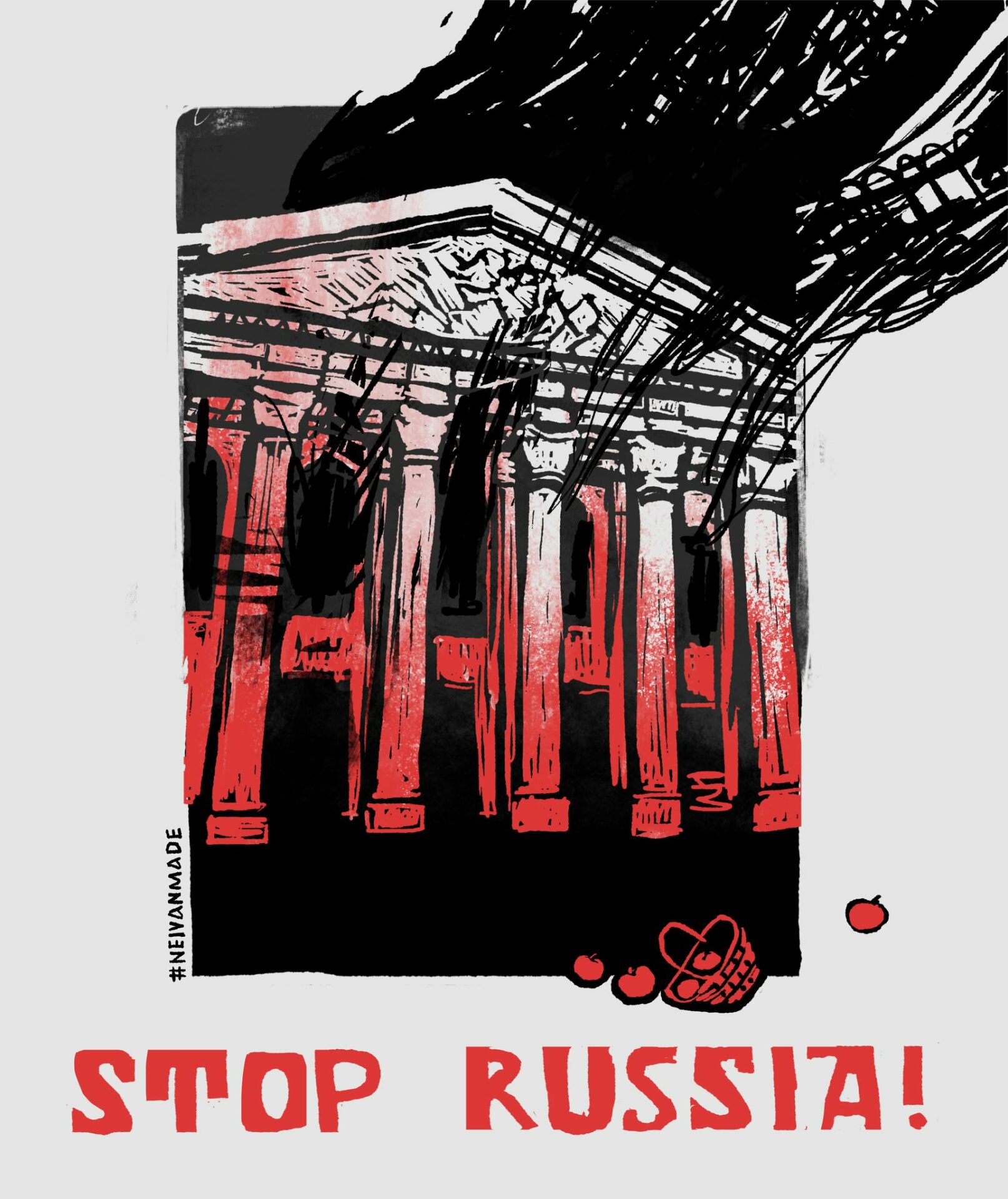 (Image by NEIVANMADE)
A quick housekeeping note: I want to apologize for the harshness of my comment in WaterGirl's post last night. I don't have issues with posts going up in temporal proximity to each other, including to these war updates. What was really irritating is that the open thread WaterGirl posted last night went up within three minutes of my publishing the war for Ukraine update. The issue is more about giving each post a bit more time before the next one goes up, so that each post has a bit of time to breath. Especially for the war updates. And I apologize to WaterGirl and our readers for being overly harsh and emphatic in expressing that.
Russia bombarded Lviv overnight committing another set of war crimes.
Last night, russian drones destroyed the Lviv warehouse of the non-governmental organization Caritas-Spes, and destroyed 300 tons of Vatican-issued humanitarian aid.
The UN Resident & Humanitarian Coordinator in Ukraine Denise Brown stated the following: «Humanitarian workers,… pic.twitter.com/tA0K433CQr

— Defense of Ukraine (@DefenceU) September 19, 2023
Last night, russian drones destroyed the Lviv warehouse of the non-governmental organization Caritas-Spes, and destroyed 300 tons of Vatican-issued humanitarian aid.
The UN Resident & Humanitarian Coordinator in Ukraine Denise Brown stated the following: «Humanitarian workers, facilities and assets are protected under international humanitarian law. Direct attacks or indiscriminate attacks are strictly prohibited. International humanitarian law is not an option, it is an obligation and must be upheld.»
This cynical terrorist attack took place just before the meeting of the UN General Assembly, at which the Minister of Foreign Affairs of the criminal state of russia is scheduled to speak.
During the day today the Russians committed an additional set of war crimes by attacking civilians evacuating Kupyansk:
russian terrorists used a Grom-E1 guided air missile to strike the cars of civilian volunteers who were evacuating the civilian population of Kupyansk, Kharkiv region. At least six people were killed. pic.twitter.com/7vpDcVxKpa

— Defense of Ukraine (@DefenceU) September 19, 2023
Here's what's left of the volunteer's car, evacuating civilians from Kupiansk. Russia bombed it in broad daylight, killing at least six people. pic.twitter.com/f54yoBdSup

— Maria Avdeeva (@maria_avdv) September 19, 2023
Keeping these new war crimes in mind, here are Presidents Zelenskyy's and Biden's addresses to the UN General Assembly from earlier today. Video of President Zelenskyy's address below followed by the English transcript after the jump and then the vide of President Biden's address. I'm using the video from UATV English because the ones on the President of Ukraine's website either miss the first few minutes or have someone speaking in Ukrainian over President Zelenskyy's remarks, which were given in English.
Nowadays humanity must act in full solidarity to save lives – President Volodymyr Zelenskyy's speech during the General Debate of the UN General Assembly

19 September 2023 – 22:17

Thank you very much!

I welcome all who stand for common efforts! 

And I promise – being really united we can guarantee fair peace for all nations. What's more, unity can prevent wars.

Ladies and gentlemen!

Mr. Secretary General!

Fellow leaders!

This hall saw many wars but not as an active defender against the aggressions.

In many cases, the fear of war, the final war, was the loudest here – the war after which no one would gather in the General Assembly Hall again.

The Third World War was seen as a nuclear war. A conflict between states on the highway to nukes. Other wars seemed less scary compared to a threat of the so-called "great powers" firing their nuclear stockpiles.

So, the 20th century taught the world to restrain from the use of the weapons of mass destruction – not to deploy, not to proliferate, not to threaten with, and not to test, but to promote a complete nuclear disarmament.

Frankly, this is a good strategy. But it should not be the only strategy to protect the world from this final war.

Ukraine gave up its third largest nuclear arsenal. The world then decided Russia should become a keeper of such power. Yet, history shows it was Russia who deserved nuclear disarmament the most, back in the 1990s. And Russia deserves it now – terrorists have no right to hold nuclear weapons. No right!

But truly not the nukes are the scariest now.

While nukes remain in place, the mass destruction is gaining its momentum. The aggressor is weaponizing many other things and those things are used not only against our country but against all of yours as well.

Fellow leaders!

There are many conventions that restrict weapons but there are no real restrictions on weaponization.

First, let me give you an example – the food.

Since the start of the full-scale war, the Ukrainian ports in the Black and Azov Seas have been blocked by Russia. Until now, our ports on the Danube River remain the target for missiles and drones. And it is a clear Russia's attempt to weaponize the food shortage on the global market in exchange for recognition for some, if not all, of the captured territories.

Russia is launching the food prices as weapons. The impact spans from the Atlantic coast of Africa to Southeast Asia. This is the threat scale.

I would like to thank those leaders who supported our Black Sea Grain Initiative, and program "Grain from Ukraine". Thank you so much! United, we made weapons turn back into food again. More than 45 nations saw how important it is to make Ukrainian food products available on the market… from Algeria and Spain to Indonesia and China.

Even now when Russia has undermined the Black Sea Grain Initiative, we are working to ensure food stability. And I hope that many of you will join us in these efforts. We launched a temporary sea export corridor from our ports. And we are working hard to preserve the land routes for grain exports. And it is alarming to see how some in Europe, some of our friends in Europe, play out solidarity in a political theater – making a thriller from the grain. They may seem to play their own role but in fact they are helping set the stage to a Moscow actor.

Second, weaponization of energy.

Many times, the world has witnessed Russia using energy as a weapon. The Kremlin weaponized oil and gas to weaken the leaders of other countries when they came to the Red Square.

Now the threat is even greater. Russia is weaponizing nuclear energy. Not only is it spreading its unreliable nuclear-power-plant-construction-technologies, but it is also turning other countries' power plants into real dirty bombs.

Look please what Russia did to our Zaporizhzhia power plant – shelled it, occupied it and now blackmails others with radiation leaks.

Is there any sense to reduce nuclear weapons when Russia is weaponizing nuclear power plants? Scary question.

The global security architecture offers no response or protection against such a treacherous radiation threat. And there is no accountability for radiation blackmailers so far.

The third example is children.

Unfortunately, various terrorist groups abduct children to put pressure on their families and societies. But never before would mass kidnapping and deportation become a part of the government policy. Not until now.

We know the names of tens of thousands of children and have evidence on hundreds of thousands of others kidnapped by Russia in the occupied territories of Ukraine and later deported. The International Criminal Court issued an arrest warrant for Putin for this crime.

We are trying to get children back home but time goes by. What will happen to them?

Those children in Russia are taught to hate Ukraine, and all ties with their families are broken… This is clearly a genocide.

When hatred is weaponized against one nation, it never stops there. Each decade Russia starts a new war. Parts of Moldova and Georgia remain occupied. Russia turned Syria into ruins. And if it hadn't been for Russia, the chemical weapons would have never been used there in Syria. Russia has almost swallowed Belarus. It is obviously threatening Kazakhstan and the Baltic states… And the goal of the present war against Ukraine is to turn our land, our people, our lives, our resources into a weapon against you – against the international rules-based order. Many seats in the General Assembly Hall may become empty if Russia succeeds with its treachery and aggression.

Ladies and gentlemen!

The aggressor scatters death and brings ruins even without nukes but the outcomes are alike.

We see towns and villages in Ukraine wiped out by Russian artillery. Leveled to the ground completely! We see the war of drones. We know the possible effects of spreading the war into cyberspace.

The artificial intelligence could be trained to combat well – before it would learn to help the humanity. Thank God, people have not yet learned to use climate as a weapon. Even though humanity is failing on its climate policy objectives – this means that extreme weather will still impact normal global life and some evil state will also weaponize its outcomes. And when people in the streets of New York and other cities of the world went out on climate protest – we all have seen them… And when people in Morocco and Libya and other countries die as a result of natural disasters… And when islands and countries disappear under water… And when tornadoes and deserts are spreading into new territories… And when all of this is happening one unnatural disaster in Moscow decided to launch a big war and kill tens of thousands of people. We have to stop it!

We must act united – to defeat the aggressor and focus all our capabilities and energy on addressing these challenges.

As nukes are restrained, likewise the aggressor must be restrained and all its tools and methods of war. Each war now can become final, but it takes our unity to make sure that aggression will not break in again.

And it is not a dialog between the so-called "great powers" somewhere behind the closed doors that can guarantee us all the new no-wars-era, but open work of all nations for peace.

Last year, I presented the outlines of the Ukrainian Peace Formula at the UN General Assembly. Later in Indonesia, I presented the full Formula. And over the past year the Peace Formula became the basis to update the existing security architecture – now we can bring back to life the UN Charter and guarantee the full power of the rules-based world order.

Tomorrow I will present the details at a special meeting of the UN Security Council.

The main thing is that it is not only about Ukraine. More than 140 states and international organizations have supported the Ukrainian Peace Formula fully or in part. The Ukrainian Peace Formula is becoming global. Its points offer solutions and steps that will stop all forms of weaponization that Russia used against Ukraine and other countries and may be used by other aggressors.

Look – for the first time in modern history, we have a real chance to end the aggression on the terms of the nation which was attacked. This is a real chance for every nation – to ensure that aggression against your state, if it happens, God forbid, will end not because your land will be divided and you will be forced to submit to military or political pressure, but because your territory and sovereignty will be fully restored.

We launched the format of meetings between national security advisors and diplomatic representatives. Important talks and consultations were held in Hiroshima, in Copenhagen, and in Jeddah on the implementation of the Peace Formula. And we are preparing a Global Peace Summit. I invite all of you – all of you who do not tolerate any aggression – to jointly prepare the Summit.

I am aware of the attempts to make some shady dealings behind the scenes. Evil cannot be trusted – ask Prigozhin if one bets on Putin's promises. Please, hear me. Let unity decide everything openly.

While Russia is pushing the world to the final war, Ukraine is doing everything to ensure that after Russian aggression no one in the world will dare to attack any nation. Weaponization must be restrained. War crimes must be punished. Deported people must come back home. And the occupier must return to their own land.

We must be united to make it. And we will do it.

Слава Україні!
. @ZelenskyyUa
Evil can not be trusted. Ask Prigozhin if one bets on Putin's promises.

— Defense of Ukraine (@DefenceU) September 19, 2023
Zelensky visits wounded Ukrainian soldiers at Staten Island University Hospital in New York. Nine Ukrainian servicemen who lost their limbs are receiving treatment and rehabilitation there pic.twitter.com/tvRCH6NP8O

— Maria Avdeeva (@maria_avdv) September 19, 2023
Here is President Biden's address. It should be queued up to start at the 2:30 mark, which is when he approaches the podium. There does not appear to be a transcript posted at WhiteHouse.gov.
.@POTUS: "I ask you this: If we abandon the core principles of the UN Charter to appease an aggressor, can any member state feel confident that they are protected? If we allow Ukraine to be carved up, is the independence of any nation secure? The answer is no"

— Defense of Ukraine (@DefenceU) September 19, 2023
In addition to Presidents Zelenskyy's and Biden's remarks to the UN General Assembly today, Speaker McCarthy had some thoughts. ABC News has the details: (emphasis mine)
House Speaker Kevin McCarthy, R-Calif., said he has questions for the Ukrainian president when asked if he plans to commit to another round of aid.

"Is Zelenskyy elected to Congress? Is he our president? I don't think I have to commit anything and I think I have questions for him," McCarthy told ABC News Senior Congressional Correspondent Rachel Scott.

"Where's the accountability on the money we've already spent? What is the plan for victory? I think that's what the American public wants to know," McCarthy added.

Ukraine funding is a key point of intraparty strife as Congress barrels toward a Sept. 30 deadline to pass a spending measure or enter a government shutdown.

The White House has asked for an additional $24 billion to support Ukraine in its fight against Russia's invaders — a request backed by congressional Democrats.

Senate Republican Leader Mitch McConnell, R-Ky., has publicly advocated for continued defense and financial assistance. But McCarthy is more skeptical, and a growing number of House Republican hard-liners are adamantly opposed to sending more money to the war-torn nation.

McCarthy has repeatedly said the United States should not be giving Ukraine a "blank check" though has vehemently criticized Russia's actions.

"Look what Russia has done — invade — is wrong," McCarthy said Tuesday. "It's an atrocity, we want to make sure that ends. I also have always said from the beginning, no matter what the issue is, I want accountability for whatever the hardworking taxpayers spend their money on. I want to plan for victory. So no, I will listen to the American public. I will follow what happens in Congress, but I will have questions for President Zelenskyy."
Since McCarthy is speaker in name only and only so long as he manages to continue appeasing every possible faction in the GOP House caucus, this has nothing to do with whether President Zelenskyy answers his questions. It has everything to do with what the House Freedom Caucus, specifically Gaetz and Green, as well as what Trump wants. And what those three all want is whatever Putin wants. Expect a government shutdown at the end of the month. Expect no $24 million supplemental for Ukraine.
The Ramstein 15 also held a meeting today regarding ongoing military aid and assistance to Ukraine.
Productive meetings on the sidelines of #Ramstein 15 with 🇺🇲 @SecDef 🇬🇧 @grantshapps 🇷🇴 @AngelTilvar 🇱🇹 @a_anusauskas 🇸🇪 @PlJonson 🇸🇰 @SklenarMartin 🇸🇯@Bjornarildgram 🇩🇰 @troelslundp https://t.co/GAWfERpUQf

— Defense of Ukraine (@DefenceU) September 19, 2023
We also presented during today's #Ramstein meeting the initiative to establish Capabilities Coalition.

Main purpose — prepare Ukraine's Future Defense Forces.@DefenceU identified 5 priority attention clusters: air defense, artillery, aviation, the Navy and armored vehicles. pic.twitter.com/LkGRCUsMoo

— Rustem Umerov (@rustem_umerov) September 19, 2023
Bakhmut:
I have not had a chance to watch this all the way through yet, so I don't know how graphic it is. Here is the description of the video posted by the 3rd Brigade at their YouTube page. The full YouTube video is below Illia Ponomarenko's tweet. So just in case:
WARNING!! WARNING!! MAY CONTAIN GRAPHIC & INTENSE IMAGES!! WARNING!! WARNING!!
Video footage shot on a GoPro by a medic of the 1st Mechanized Battalion of the Third Assault Brigade, a friend of the Rebbe, whose photo with a Hasidic pilgrim in Uman recently stirred up the Internet.

According to the Rebbe, in civilian life he was a programmer, project manager in an IT company, and engaged in various types of business. Now he is saving lives of the Third Assault Brigade soldiers. "I am engaged in medical reconnaissance, evacuation, and work at the staging area," he explains.

The video, filmed in the winter and spring of 2023 in Bakhmut, Rebbe jokingly calls a travel blog. It consists of a series of fragments sketches from his life in the city amid constant enemy shelling and fighting.

In addition to providing medical aid and rescuing his wounded comrades, the video footage shows the Rebbe's daily life. In particular, a visit to an empty store, rescuing a cat abandoned in an apartment, meeting with locals hiding in the basement with a parrot, cats and chickens.

"So many things have lost their value for them and for us. There is a computer, there are speakers, who needs it now?" he states.

Despite the very sad reality, the combat medic takes everything with humor and calmness. And even manages to notice the beauty of the first signs of spring in the yards of the city bombed by the occupiers. Behind the scenes, we hear the Rebbe's ironic and philosophical comments about everything that is happening to him. In the background, there are constant explosions from overflights that sound farther away and then very close.
The Battle of Bakhmut as seen by a combat medic with Ukraine's 3rd Assault Brigadehttps://t.co/RrPEb8Y6TE

— Illia Ponomarenko 🇺🇦 (@IAPonomarenko) September 19, 2023
Klischiivka and Andriivka:
2/ As evident in the image created by @DefMon3, the current frontline aligns closely with the railroad, flanked by tree lines on both sides, followed by open fields. pic.twitter.com/BOiBHToRHL

— Tatarigami_UA (@Tatarigami_UA) September 19, 2023
4/ In this satellite image, you can see that lakes and forests can provide cover for russian forces, while open fields present challenges. Hence, crossing the railroad and establishing a "bridgehead" can become an important but challenging task pic.twitter.com/ulTBUHVu1V

— Tatarigami_UA (@Tatarigami_UA) September 19, 2023
6/ If you found this thread valuable, please support it by liking and retweeting the first message of the thread. Your engagement enables me to provide better materials.

This imagery and analysis are made possible thanks to my supporters and Buy Me A Coffee donations

— Tatarigami_UA (@Tatarigami_UA) September 19, 2023
As soon as you will stop advancing, it means that you pass initiative to your enemy, losing advantage gained from recently degraded defending forces. You will need to build defenses in quite mediocre places or retreat back to more favorable ones.

— Tatarigami_UA (@Tatarigami_UA) September 19, 2023
The Dnipro River, Kherson Oblast:
Strikes on Russian boats somewhere in Kherson region with the help of FPV drones.
https://t.co/s7EP1jcbCp pic.twitter.com/SSftTDepmv

— Special Kherson Cat 🐈🇺🇦 (@bayraktar_1love) September 19, 2023
Melitopol, Zaporizhzhia Oblast:
/2. Another footage of strikes in Melitopolhttps://t.co/WsWY645tcL pic.twitter.com/kldbAH24n1

— Special Kherson Cat 🐈🇺🇦 (@bayraktar_1love) September 19, 2023
And we've got another Russian war crime in Stepnohirsk, Zaporizhzhia Oblast:
Swedish TV4 team targeted by a Russian drone in Stepnohirsk, Zaporizhzhia. Reporter Johan Fredriksson & photographer Daniel Zdolsek got out of the car to film when it was hit by drone. Another deliberate attack on journalists, despite them wearing vests and helmets clearly marked… pic.twitter.com/GlKN6RtVVf

— Maria Avdeeva (@maria_avdv) September 19, 2023
And one more in Kherson:
My constant fear: Russian missiles striking public transport. Today, Russian troops shelled Kherson, hitting a trolley bus and injuring two people. Senior police sergeant who was nearby killed. pic.twitter.com/9pkMFM1jK8

— Maria Avdeeva (@maria_avdv) September 19, 2023
Yerevan, Armenia:
"Путин убивает армян руками азербайджанцев… Будьте вы прокляты, подонки": біля посольства РФ в Єревані кричать "Лавров — с*ка" та "Путін — ху*ло"

"Бредовые идеи восстановления Советского Союза в воспаленном мозгу фашиста, карлика, преступника Путина заставили его пойти на… pic.twitter.com/18WfOayzeV

— Цензор.НЕТ ✍️ (@censor_net) September 19, 2023
"Putin is killing Armenians by the hands of Azerbaijanis…. Damn you, scum": outside the Russian embassy in Yerevan shouting "Lavrov is a c*ck" and "Putin is a cocksucker".

"Delusions of restoring the Soviet Union in the inflamed brain of the fascist, dwarf, criminal Putin forced him to commit war crimes in Ukraine. Today Putin is committing war crimes in Karabakh.

Vladimir Putin is a despicable coward. Putin is killing Armenians by the hands of Azerbaijanis. Putin has been putting his puppets in power in Armenia for 30 years to carry out his brazen imperial policy. Damn you, scumbags," said one of those present.

"Armenia should throw Russia out of its territory. The Russian military base should get the hell out. Armenia should withdraw from the CSTO, CIS and EurAsEC. These are all organizations that Putin created to enslave and colonize the peoples of the post-Soviet space," having added a rally to the Guchnomovites.
The disputed territory known as Artsakh to the Armenians and Nagorno-Karabakh to the Azerbaijainis:
/2. Gunshots, drones, explosions reported in Karabakh area. pic.twitter.com/huh1kYC5sQ

— Special Kherson Cat 🐈🇺🇦 (@bayraktar_1love) September 19, 2023
Full text of the first tweet above:
Azerbaijan started "anti-terrorist measures" in Karabakh with the aim of restoring the constitutional order in the country — Ministry of Defense of the country. "The command of the peacekeeping contingent of the Russian Federation and the leadership of the Turkish-Russian Monitoring Center are informed about the ongoing activities," the ministry said.
Last night in comments Chetan Murthy asked:
Adam, I've asked this question before: For many centuries, Ukraine was ….. under the same yoke as the rest of Russia.  And even as recently as 30+ years ago, the levels of corruption in Ukraine were eye-watering.  I'm reminded of the recent news of not-isolated reports of brutality by (some) AFU officers towards their subordinates in Ukraine, too.

And YET, AND YET, Ukraine is reacting to this news in a completely different way that Russia did and is doing.[1]  Ukraine is reacting by trying to punish the perpetrators and thereby expunge the crimes, prevent them from recurring.  This is a big deal.

[1] I've read that all attempts to stamp out dedovshchina in Russia have failed.

I wonder why and how this change happened in Ukraine, and whether people have studied it and how to replicate it.

B/c I'm pretty convinced that without some sort of thoroughing change in Russia, it'll never be different than it's been: a hellhole for its subject peoples and a danger to everybody else.  If somehow we could figure out how to replicate what Ukraine is doing, but everywhere in Russia, that'd be positive good.  What I fear, is that the real motivating factor is the sacrifices that so many Ukrainians are making in the cause of their freedom.  That's going to be difficult (and more importantly, morally unacceptable) to replicate.
Let's leave aside the unfortunate choice of yoke, which Chetan went on to apologize for and deal with the question. First, for the non-Russian speakers, dedovschina is hazing and in this context hazing within the military by superiors of their subordinates. I wanted to use the video in the tweet that Dmitri is quote tweeting to partially answer this, but it will not embed. When you click on the three dots and click on embed the page that comes up says the tweet has been deleted. It is of Russian soldiers beating other Russian soldiers in a trench. If you want to see the video, click through on this link.
I bet a lot of them think this is the right thing to do. Feels like this country hasn't evolved since 1917 or so. They all like these roleplay games with officers and subordinates, weird imperial inclinations, and cosplaying early 20th-century personalities. This behaviour is… https://t.co/FUMgZdfm2N

— Dmitri (@wartranslated) September 19, 2023
Full text of Dmitri's tweet:
I bet a lot of them think this is the right thing to do. Feels like this country hasn't evolved since 1917 or so. They all like these roleplay games with officers and subordinates, weird imperial inclinations, and cosplaying early 20th-century personalities. This behaviour is also quite similar to prison relationships.

And Girkin is one of the finest examples of it.
To get to Chetan's question, there are real, substantive differences in the histories of Ukraine and Russia. Or of the states, statelets, duchies, provinces, and the societies within all of them that become modern Ukraine and modern Russia. The popular or commonly understood history of Ukraine and Russia is largely based on the Russian version of that history, which is a Russian invention that revises the actual histories of both states and societies. Much of Russia's official history actually just takes the history of the founding of Kyiv, which paves the way for what will eventually become Ukraine and displaces it to what is now Russia, specifically to the founding of Moscow. Without going into excruciating detail, what is now Ukraine did not, just as most states and societies did not, evolve in a straight line from the founding of Kyiv to 2023 Ukraine. Parts of western Ukraine were at one point part of the Grand Duchy of Lithuania, while others parts were under Polish rule. Eastern Ukraine was, at times, also under different states' or societies' control; from the Mongol Golden Horde to its eventual Turkic successor to Russia itself. And at other times these areas of what is now Ukraine were under the control of what we would think of as Ukrainians. So Ukraine has its own unique history. A history that includes more European elements in some parts and more Asian elements in other parts.
I think another major issue is through social learning. Russia's history of WW II is factually incorrect. It casts the Soviet Union, specifically Soviet Russia as the NAZI's real targets and victims, the Allies as largely useless, the Soviet Union as the real victor, and the Jews, at best, not much help, and at worst collaborators with the NAZIs against the Soviets. For Russians, World War II is the Great Patriotic War. And the way it has been written and taught in official, scholarly, and popular histories, as well as popular Russian cultural depictions have not changed much despite the Soviet Union's demise in the early 90s. Moreover, under Putin it has been purposefully developed into an almost cult like concept. It culminates in the Victory Day and Immortal Regiment parades that commemorate the end of WW II and is referred to as pobedobesie, which means victory mania or victory frenzy. Pobedobesie has been worked into patriotic-martial education in Russia beginning in kindergarten. I've seen dozens and dozens of photos of even toddlers dressed up like Russian WW II soldiers and pushed along in strollers made to look like tanks in these parades. Similarly, I've seen dozens of photos of school children marching during the school day holding pictures of Russian WW II veterans as if they were marching in the Immortal Regiment parade. Here's an interesting research write up on the phenomenon of Russian patriotic-martial education. Here's one that deals with how this curriculum is used to create a new generation of Russian's loyal to Putin. Here's a chapter published by the University of Helsinki on the phenomenon. And here's a sociological study of it. Needless to say this has all been turbocharged over the past 18 months and that's on top of the fact that Putin and his government had been expanding it every year since he first came to power in the mid-aughts.
I think the military hazing you're asking about is one part socially learned military behavior via military indoctrination to undertake it, one part socially learned behavior from Russian patriotic education to accept it as a good patriot, and one part socially learned behavior from Russian societal dynamics because Russia is a textbook example of a differentially socially adapted society. Much of what we think of as weird or bizarre or deviant or destructive Russian social, cultural, political, behavioral dynamics are really adaptations that have developed to allow Russians to survive the state, society, culture, economy, and polity that they live in. From outside they look bizarre, weird, bad, wrong. From the inside they make perfect sense because without them Russians couldn't survive being Russians in Russia given how the state, the society, the economy, and the religion are organized.
That's my professional assessment and I'm sticking to it.
That's enough for tonight.
Your daily Patron!
Here's a new slideshow from Patron's official TikTok. They don't embed here, so click through if you want to see it.
And a new video too!
The machine translation of the caption:
I won't deny it :))
Open thread!