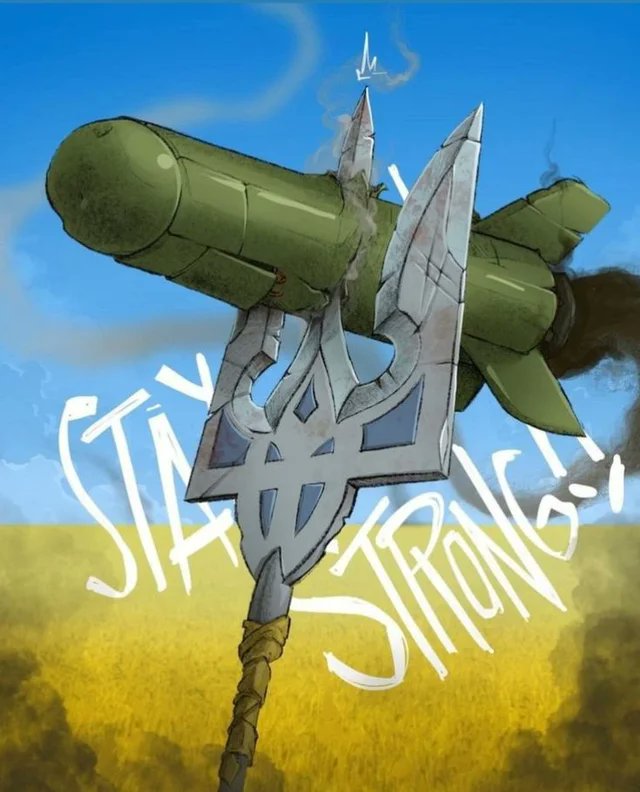 Russia opened up on Ukraine again overnight. Ukrainian air defense was on the game.
17 out of 17 Kh-101/Kh-555/Kh-55 missiles and 18 out of 24 Shaheds launched by russian terrorists were shot down by Ukrainian air defense last night. pic.twitter.com/SLugkhIuJA

— Defense of Ukraine (@DefenceU) September 18, 2023
Kharikiv is right now under the gun, or missile, so to speak:
This is what the night sounds like in Kharkiv. Three loud explosions heard in the city following reports of S-300 launches from Belgorod. Third attack in three days. pic.twitter.com/aWSXim7eop

— Maria Avdeeva (@maria_avdv) September 18, 2023
Here is President Zelenskyy's address from earlier today. Video below, English transcript after the jump.
We we must reach a point when all children in our country have their own family, their own home – address by the President of Ukraine

17 September 2023 – 20:22

I wish you health, fellow Ukrainians!

I would like to express gratitude today.

To everyone who defends the sky of our country. Our pilots and engineers of the Air Force, warriors of mobile fire groups, all our anti-aircraft gunners. Thank you for constantly increasing the number of downed Russian missiles and drones, and thus the number of our people and infrastructure saved. Thank you, warriors!

And to everyone who is now on the front line. To every brigade. From Kupyansk to the left bank of Kherson region, from the Bakhmut sector to every Ukrainian position on the front line in the south of our country. I thank you guys for your might!

And today I would like to especially recognize the warriors who are gradually regaining Ukraine's territory in the area of Bakhmut. The 80th air assault brigade, the 5th separate assault brigade, the glorious 95th and "Fury" Joint Assault Brigade of the National Police. Klishchiivka! Well done!

Today Ukraine marks Rescuer's Day. And on Friday, I had the honor to personally thank the employees of the State Emergency Service of Ukraine and all those whose hearts simply feel that it is impossible otherwise, that we must take care of others, that we must help others when lives depend on it. Today, I want to thank not only all our rescuers, but also all the relatives – mothers and fathers of boys and girls, men and women working in the State Emergency Service of Ukraine. I thank you for raising your children this way: to save others, to make our entire society stronger and more humane. Thank you!

Today – and this is a very symbolic coincidence – our country also marks Adoption Day. This is probably one of the most honorable missions in life – to help a child avoid an orphan's fate. I thank everyone who helps children in this way, everyone who spreads the warmth of their families so that there are fewer lonely destinies in this world!

As a state, we must reach a point when all children in our country, all those who have been left without parental care, have their own family – their own home, their own family.

Ukraine certainly must not be associated with orphanages. I thank everyone who works for this!

Glory to everyone who helps our people and the entire country become stronger!

And we are preparing new defense decisions for Ukraine. Air defense and artillery are a priority.

Glory to Ukraine!
Ukraine's President Volodymyr Zelensky and First Lady Olena Zelenska are starting their US visit. UN followed by DC. Zelensky provides some planning details below. https://t.co/WHS6wVyQrI

— Christopher Miller (@ChristopherJM) September 18, 2023
Full text of Zelenskyy's tweet:
Olena @ZelenskaUA and I arrived in the United States for the high-level week of the UN General Assembly and a visit to Washington, D.C.

I will attend the General Assembly, SDG Summit, and Security Council meetings at the UN, as well as a number of important bilateral talks.

Ukraine will put out a concrete proposal to UN member states on how to fortify the principle of territorial integrity and improve the UN's capacity to thwart and halt aggression.

In Washington, D.C., I am going to meet with @POTUS Joe Biden, leaders of the U.S. Congress' chambers and parties, military leadership, American businesses, journalists, and members of the Ukrainian community.

I will thank the United States on behalf of Ukraine for its assistance in our struggle for independence and freedom.

🇺🇦🇺🇸
President Zelesnkyy sat for an interview with CBS's 60 Minutes:
"No," Zelensky says. But worth listening to what he says afterward to understand why. https://t.co/4QJTeRWNSs

— Christopher Miller (@ChristopherJM) September 18, 2023
Here's the full interview:
⚡️ The Cabinet dismissed all deputy ministers of defense, including Hanna Malyar. This is the standard procedure when the new minister is appointed. Some of them may later return to their positions.

— Maria Avdeeva (@maria_avdv) September 18, 2023
The documentary film 20 Days in Mariupol will represent Ukraine at the 2024 Oscars.
Mstyslav Chernov's work will compete in the Best International Feature Film category.

📹 @frontlinepbs pic.twitter.com/qEbqdCRtkE

— Defense of Ukraine (@DefenceU) September 18, 2023
Klischiivka:
The destroyed village of Klischiivka in the Donetsk region.

🎥 5th Assault Brigade pic.twitter.com/5nVsDrkARw

— Defense of Ukraine (@DefenceU) September 18, 2023
Andriivka:
Andriivka, a village in the Donetsk region, bore the brunt of hostilities for over a year. russian forces left behind a trail of destruction, with not a single intact building on which the Ukrainian flag could be raised.
But thanks to the remarkable courage and skill of Ukrainian… pic.twitter.com/Pb04KsClq0

— Defense of Ukraine (@DefenceU) September 18, 2023
Novoprokopivka-Robotyne-Verbove:
A brief 🧵thread on the Novoprokopivka-Robotyne-Verbove area updates: Through a comparative analysis of images captured on September 18th and those taken nearly two weeks ago, the landscape changes confirm the combat area and direction of current advances by the Ukrainian army pic.twitter.com/eGkG9TLhjR

— Tatarigami_UA (@Tatarigami_UA) September 18, 2023
3/ This is a reference map that can be used independently to verify the data. Not all changes are marked, especially those discussed in the previous thread about Novoprokopivka. Today's map primarily focuses on the eastern and northeastern parts of Novoprokopivka pic.twitter.com/4LAzoeUC5t

— Tatarigami_UA (@Tatarigami_UA) September 18, 2023
5/ If you found this thread valuable, please support it by liking and retweeting the first message of the thread. Your engagement enables me to provide better materials.

This imagery and analysis are made possible thanks to my supporters and Buy Me A Coffee donations

— Tatarigami_UA (@Tatarigami_UA) September 18, 2023
Russian occupied Sevastopol:
Here is a proper battle damage assessment of Ukraine's attack on the Russian naval facilities in Sevastopol from H.I. Sutton, who is a naval analyst. First tweet from his thread followed by the rest from the Thread Reader App:
***UPDATE***
Thread 1/n

Refined likely damage assessment: this is an ex-submarine

New photos of #Russian navy submarine hit by #Ukrainian cruise missiles in Sevastopol show damage is even worse than previous noted. Photos appear credible. Pressure hull has massive breaches pic.twitter.com/a9doVcmHmk

— H I Sutton (@CovertShores) September 18, 2023
2.


Damage to rear section near propulsion space, as well as bow area, means basically no hull sections are likely salvageable. Implications are that internals are wrecked along most or whole length of submarineNote cutaway is port (left)

3.


This damage appears to be blown outward. One possible explanation *might* be a sympathetic battery explosion (?). Opinions welcome.

4.

Would be interesting to see reexaminations of available satellite imagery, how well does this match?However, this looks absolutely credible to me. Beware people who over-analyse with an agenda 

5.


This matches previous assessment and confirms massive damage. Combined with damage further aft, conforms in my mind that pressure hull was breached. This cannot realistically be repaired

6.

I am confident that any repair (which is anyway unrealistic) cannot be done in Sevastopol. Submarine would need to be patched and towed or on a barge, probably ti St. Petersburg. 

I'm leaning away from the battery theory. Moot point. Whatever the reason, it is only of interest not consequence 

Re outward explosion, I'm leaning away from the battery theory. Moot point anyway. Whatever the reason, it is only of interest, not consequence 

"Rostov on Gone" 
And another battle damage assessment using the same base material:
2/
If we go by this explanation, (I'm not familiar with the details on the Storm Shadow warhead) the forward half of the sub is likely even more damaged internally.https://t.co/r0JB4GWsrm

— Thord Are Iversen (@The_Lookout_N) September 18, 2023
4/
Assessment-thread by @CovertShores https://t.co/wxb5G7Iqo3

— Thord Are Iversen (@The_Lookout_N) September 18, 2023
Russia occupied Donetsk:
/2. Geolocation of strike on two Russian NONA self-propelled 120mm mortars. Donetsk area. https://t.co/9Tvkudn52p pic.twitter.com/bhcWWolv3M

— Special Kherson Cat 🐈🇺🇦 (@bayraktar_1love) September 18, 2023
Cyka Blyat moment. https://t.co/SExKSgjFSY pic.twitter.com/zeTFREH9F8

— Special Kherson Cat 🐈🇺🇦 (@bayraktar_1love) September 18, 2023
WarGonzo says the office of the so-called head of administration of the so-called DPR was hit from MLRS in Donetsk. Wonder if the attackers believed that Pushilin was there. pic.twitter.com/7RDhG0gXwe

— Dmitri (@wartranslated) September 18, 2023
It is reported that there was a direct hit on the administration of the head of the so-called Donetsk People's Republic, Denis Pushilin. Donetsk. pic.twitter.com/tsbEuT7qIL

— Special Kherson Cat 🐈🇺🇦 (@bayraktar_1love) September 18, 2023
/3. Consequences, as claimed by Russian sources, there no casualties. pic.twitter.com/RxxyyOmeOa

— Special Kherson Cat 🐈🇺🇦 (@bayraktar_1love) September 18, 2023
Not sure where this is in Ukraine, but if you are wondering what the impact from a HIMARS strike looks like and like watching Russian military equipment go kablooey, then this video is for you!
HIMARS strike on Russian Tor-M2 surface-to-air missile system. The severity of the damage is unclear. https://t.co/GCRsrgeUc6 pic.twitter.com/Ji83FbYaFE

— Special Kherson Cat 🐈🇺🇦 (@bayraktar_1love) September 18, 2023
The Kinburn Peninsula:
Destroyed Russian Grad MLRS. Kinburn Peninsula, Kherson/Mykolaiv region. https://t.co/6PFL5wrhJV pic.twitter.com/W1KP8buEbg

— Special Kherson Cat 🐈🇺🇦 (@bayraktar_1love) September 18, 2023
Here's a blast from the past regarding how the US and our EU and NATO allies responding to Russia scarfing up Crimea back in 2014. From Christopher Miller's new book.
From an interview with Oleksandr Turchynov, acting President of Ukraine in 2014 during the annexation of Crimea.

Remember this the next time some idiot starts trying to impress you with their knowledge of the "maidan coup."

(From @ChristopherJM's very good book) pic.twitter.com/tToJCWK1Gc

— Vincent Artman (@geogvma) September 17, 2023
I mean yes. We all know the "coup" narrative is a lie based on Russian propaganda and anyone repeating it should be treated with contempt.

But seriously: even on its face it's a narrative that makes exactly zero sense.

— Vincent Artman (@geogvma) September 17, 2023
I think what Tatarigami has stated in a tweet, which is independent of what Christopher Miller has recounted and reported in his new book, provides a stark contrast to the Obama administration's response:
The history of Ukraine and its people is not being written with ink but with the blood of patriots. Legends are born from sacrifices and a belief in independence and a better future

— Tatarigami_UA (@Tatarigami_UA) September 18, 2023
The Obama administration's response was bloodless. It was cold, calculating, and I suppose realpolitik. It was also, as I've written about before, the textbook answer. And I know it was the textbook answer because it was the one I gave when I was the senior civilian advisor to the commanding general of US Army Europe. When we began to focus on Russia's intentions for Ukraine in January 2014 I began preparing a strategic assessment regarding the EuroMaidan Movement/Revolution of Dignity, Ukrainian and Russian politics, society, economy, human geography, political geography, military geography*, and what Putin's intentions were in regard to Ukraine. I began working on this for him in the middle of January 2014 specifically because the initial discussions were framed within Russia's narrative, which we had all simply picked up from US and western news sources. Because the US and western news sources had absorbed Putin's framing of Russian and Ukrainian relations, as well as what the EuroMaidan Movement/Revolution of Dignity was lock, stock, and barrel. Over the next two months I wrote the strategic assessment that included all of the above, as well as threat, risk, and Red Team sections for the Old Man and the senior staff covering all of those subjects. My strategic assessment was also pushed up to the commanding general of EUCOM/Supreme Allied Commander Europe (SACEUR) and his senior staff and was the read of the week at EUCOM. And at the end of my assessment I made the same technically correct textbook answer to my boss, which was the same preliminary assessment that I gave him three month's prior in January of 2014 at our initial operational planning team meeting: no one in the US would risk escalating a conflict with Russia over Crimea because Russia is a nuclear weapons state. As I've written here before, that was the wrong answer. It was strategically and morally incorrect.
Time and experience have taught me what I could not learn in the classroom at Carlisle Barracks: that at the strategic level the textbook answer may be technically correct, but it should serve as the starting point for strategic inquiry, analysis, and assessment, not just be the default answer. We throw around idioms like states have interests, not friends. Or pull them from Thucydides; recounting to ourselves and anyone else in ear shot the bit from the Melian dialogues that the strong do what they will while the weak suffer what they must. Time and experience have taught me that my initial impression of realpolitik was the correct one. It is a trite excuse to justify either doing nothing, when action would be morally imperative even if strategically riskier than baseline or to justify doing whatever you want regardless of whether it is strategically sound or even a good idea. For a time, including in 2014 when I needed to remember it, I forgot this assessment of realpolitik. As a result, I failed to provide my boss the conceptual arguments and ammunition he needed to bring to his discussions with his boss and that his boss could then take up with the national command authority that would have provided the valid strategic justifications for us to do far more than we did. And I am well aware that neither my boss, nor his were going to set US policy and strategy for responding to Putin's initial invasion of Ukraine. Regardless, it was my job to give them what they needed informationally and I did not do that. I failed the Old Man and in doing so, in regard to the small part I played in this in 2014, I also failed the Ukrainians.
* Human geography is people, places, things, and how they all interact in time and space. Political geography is how political structures and institutions are organized and how the people running them make decisions. Military geography is how militaries, defense, national security, and intelligence organizations are structured and how the people running them make decisions. There is often significant overlap between political and military geography.
For those of you who are curious, here is the Melian dialogue:
F-16 training update:
‼️ The language training for the Ukrainian pilots in Texas is expected to start soon, say Pentagon officials, and it is expected to last approximately five weeks, followed by specialized F-16 training.

— Ostap Yarysh (@OstapYarysh) September 18, 2023
Once they finish the five weeks in Texas, they will then be run through a specialty Defense Language Institute course to teach them how to not speak like Texans.//**
** // are sarcasm tags/indicators
Germany:
Germany is preparing a new package of military aid to Ukraine worth 400 million euros. Ammunition, vehicles, demining systems, clothing and generators. – German Minister of Defense Boris Pistorius in an interview with Bild.https://t.co/yqF6SQ8vk7

— Special Kherson Cat 🐈🇺🇦 (@bayraktar_1love) September 18, 2023
South Korea:
South Korea will send two K600 "Rhino" minefield breaching vehicles to Ukrainehttps://t.co/IHaHmZVFdv pic.twitter.com/PH8FxJksYn

— Special Kherson Cat 🐈🇺🇦 (@bayraktar_1love) September 18, 2023
Well that's going to piss off Congressman Gaetz, Senator Tuberville, and their fellow travelers. They hate rhinos.
Here's a machine translation from Bild:
PICTURE: Minister, how do we specifically help?

Boris Pistorius: " Our help is complex. In addition to our extensive support with weapons and material, we train Ukrainian soldiers in Germany. By the end of the year there will be 10,000. In Ramstein, for example, we check whether we can support even more with the training. "

There is no new weapon package from Germany?

Pistorius: " But. We supply additional ammunition: explosive ammunition, mortar ammunition, mine rockets. Because ammunition is what Ukraine needs most in its defense against the brutal war of aggression. We will also help with protected vehicles and demining systems. But we also have an eye on the approaching winter: we will send clothes, but also electricity and heat generators. The package will weigh a total of 400 million euros. "

Ukraine wants one thing above all: the Taurus cruise missile. Why is it not in there?

Pistorius: " With our help for Ukraine we ask ourselves: What are our strengths? These are our modern Leopard 2A6 main battle tanks. There is ground-based air defense. Our IRIS T SLM air defense system saves lives in Ukraine every day. We are in second place worldwide in military support for Ukraine. The Ukrainians appreciate that very much, as they keep telling me in conversations. "
Spotted somewhere in Ukraine. Putin's tombstone, drenched in… Well, see below for the inscription. 🪦

"Putin's a d*ckhead"

"Die yesterday, bastard!
If you want to spit, spit. If you want to piss, piss here!!" pic.twitter.com/47Mh9rJktr

— Christopher Miller (@ChristopherJM) September 18, 2023
That's enough for tonight.
Your daily Patron!
The new episode is dedicated to the very brutal finds after de-occupation. The enemy puts explosives in toys that children pick up… We try to teach kids not to pick up unfamiliar objects, especially beautiful toys🥺

Link: https://t.co/nTFKQk1lfz pic.twitter.com/6CwMLW73ky

— Patron (@PatronDsns) September 18, 2023
And here's the new episode from Patron's YouTube channel:
Open thread!