As promised yesterday, we have a guest post from Valdivia!
Dark Habits or Men on the Verge of a Nervous Breakdown
by Valdivia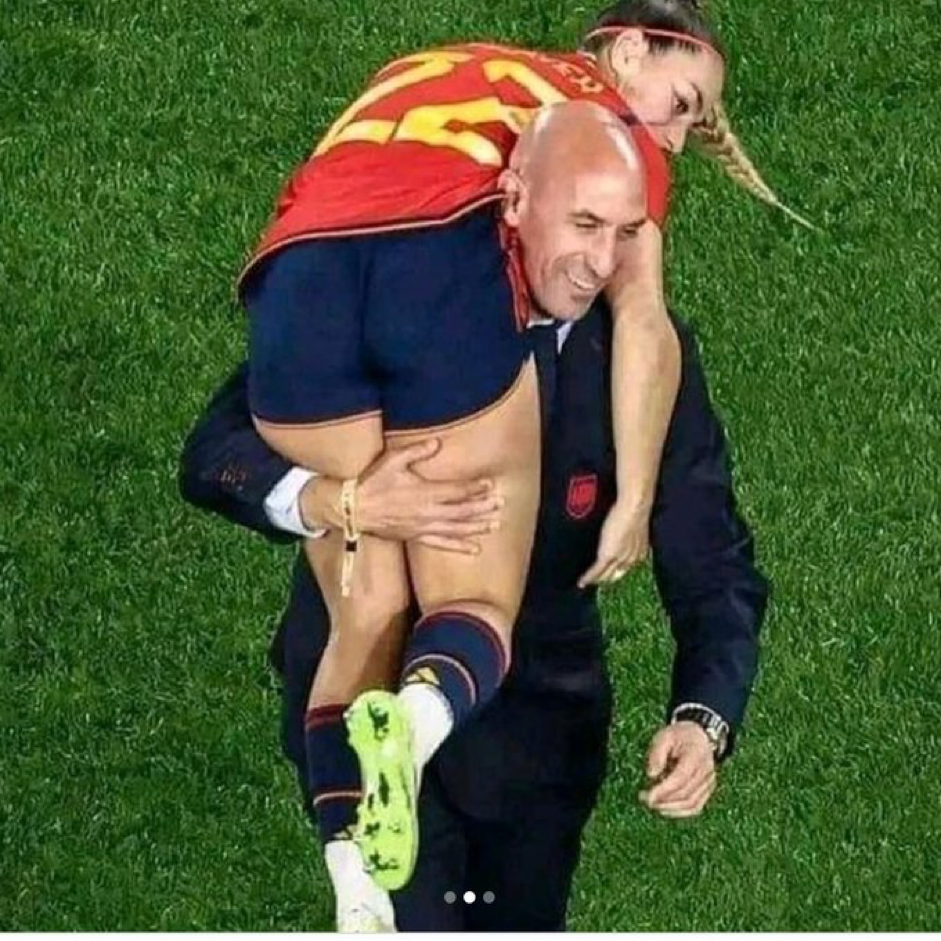 It was not long after Olga Carmona's banger of a goal that won the Spanish women's team its first World Cup, that we got a glimpse of what the men who rule Spanish football had put these brilliant players through on the way to their victory.
Some of the tension was already visible as the players and Jorge Vilda's coaching staff celebrated on opposite sides of the pitch, something even the Fox commentators noted as they narrated the moment.
The more eye-opening revelations were yet to come during the medal ceremony courtesy of Luis Rubiales—head of The Spanish Royal Football Federation (RFEF). As the players made their way through the congratulatory line, shaking hands with FIFA head Gianni Infantino and hugging Queen Letizia and her daughter, the Princess Sofia, each one of them was groped and man-handled by Rubiales. The most flagrant was the now infamous forced kiss that he gave Jenni Hermoso, one of the veterans of the team.
What followed has been the most sordid week we have ever witnessed in Spanish football, and I say this after having written about some of the other terrible aspects of the sport in Spain—the blatant racism of the players, journalists and fans, and the entrenched corruption that characterizes everything football.
Anne Laurie's excellent post on Saturday night summarized most of the surreal goings since the award ceremony—the crotch grabbing that happened before he groped the players, the pressure on Hermoso and her family to cut a video with Rubiales to lessen the backlash he was experiencing, the fabrication of statements in which she was said to back him after she refused to help, the leak on Thursday night he would resign, and finally the eff you cherry on top of this misogynistic story, the Never Surrender speech on Friday.
It was not just that Rubiales refused to resign but that like every sexual harasser before him he used his speech to transform himself from abuser into abused.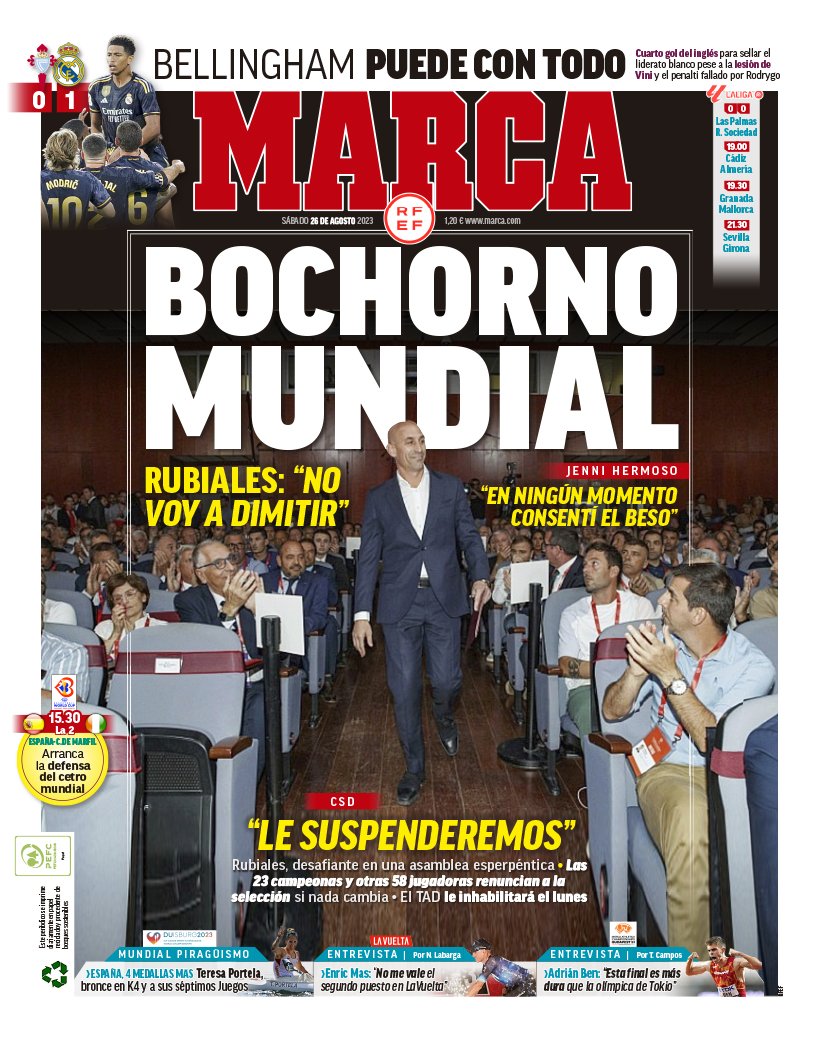 In language that could have been lifted from the worst Harlequin romance from the 1970s he described Hermoso as the seducer who pulled him into her body, lifted him up in the air, then asked for a peck while calling him a 'rockstar'.
I am sure I don't need to tell you this is utter bullshit not just because we saw him groping her and forcing the kiss but because in no universe would any of these brilliant players call him—a mediocre, corrupt, and self aggrandizing ass—a rockstar.
We should also add shameless manipulator to that list of attributes because in order to bolster his victimhood theater he brought along his daughters so he could use them as props. Pointing to them after narrating his fantasy conversation with Hermoso, he called them the true bastions of honor and dignity against the 'false feminists' who were targeting him for social assassination.
Rubiales and his behavior are not the only problem though, because this toxic environment is characteristic of the whole of the RFEF, whose members gave him their wholehearted backing and clapped along as he lied and smeared the players and declared the men in that room to be the winners of the World Cup. This included coach Vilda who clapped enthusiastically as Rubiales attacked his players, while also announcing that he was renewing his contract 'until forever' and was tripling his salary.
Many analysts argued the behavior of those in the room and the many male footballers and coaches who refused to fulsomely condemn Rubiales could be simply a reflection of knowing which way their bread is buttered.
But sincerely I do not buy it.
Women's football in Spain has been suffering for decades under the RFEF, it is not just Rubiales and Vilda. Before them there were decades of Angel Maria Villar (head of RFEF from 1988-2016, arrested for corruption and embezzlement in 2017) and of Ignacio Quereda (women's team coach from 1988-2015 forced out by the players after their failure at the World Cup in Canada in 2015)
As Colin Millar—who writes about European football for Mirror Football and has been heroic in covering this debacle as well as the rampant racism of La Liga—noted yesterday, you really cannot understand what these players have had to put up with and why they have been pushing for change for years, unless you know the story of Quereda and his protector Villar.  You can get a sense of the kind of infantilizing treatment dished out on these players just from a few of the images in this tweet (excerpted from a documentary called Breaking the Silence which can be seen in its full version with subs here)
This is important context to this week. Ignacio Quereda managed the Spanish women's team for 27 years. There has long been a toxic culture of abuse of power, intimidation and extreme controlling and manipulative behaviour in Spanish women's football.https://t.co/nWBBUsEihr pic.twitter.com/IlWYHNNHQ3

— Colin Millar (@Millar_Colin) August 27, 2023
The players might have succeeded in getting rid of Quereda after complaining publicly in 2015, but many of them paid for their audacity in calling the patriarchs out with their ability to play for the national team. Many were simply never called up again.
It is no surprise then that when the player union put out a statement condemning Rubiales and refusing to play as long as he, Vilda and the rest of the misogynistic crew were still in charge it was on behalf of not just the players from the current team, as well as those who complained in 2022 and refused to play as long as Vilda was the coach, but also those who played and suffered under Quereda for decades.
The backlash to Rubiales refusal to resign and sordid behavior was fast in coming. The government declared that they found his continuation as head of the RFEF as unacceptable and would be referring the case to the country's Court of Arbitration of Sport (TAD).
FIFA, for once, moved swiftly and suspended Rubiales on Saturday from ALL international football for the next 90 days until the investigation they began was resolved. A crucial part of  his suspension was an injunction by FIFA that  Rubiales and the RFEF were not to contact or pressure Hermoso, her family or any of the players.
As Spaniards like to say, it is hard to murder the strongman when he is still alive but very easy to do so when he is already dead and buried.
The cowards swarm only when it is easy. And so it has been in this case.
After FIFA suspended him a lot of Rubiales' federation supporters—last seen fervently clapping for him at the Friday assembly—began releasing statements of condemnation against his repugnant actions. This throwing of Rubiales under the bus included even coach Vilda whose whole staff had abandoned him around the same time that the FIFA ban was announced.
The legal case against Rubiales moved along yesterday and today. Last night the regional federations that make up the RFEF announced they had voted to ask Rubiales to resign. And today the Minister of Sport & Culture announced that if the TAD rules\d on the case he could be suspended by the government as well.
However positive it is to have the government pushing on this issue  (and arguing for root and branch reform) the wishy-washy posture of the regional federations does not give me much hope. Asking him to resign is really just a PR move, because they could have easily censured him, voted him out and replaced him with any of the two (yes only two!) federation members who refused to be present at the Speech or told him ahead of it he had to resign.
As long as his hacks are in place in the RFEF there will be no chance of actual change. This includes the acting President Pedro Rocha, the spokesperson Javier Gomez Matallanas, who probably crafted the false Hermoso statements and the Secretary General (Andreu Camps) who sent a letter to UEFA asking them to disqualify Spain from all competitions if Rubiales was pushed out. These guys will burn the ship before giving up on Rubiales, or continue to corrupt the organization if they stay.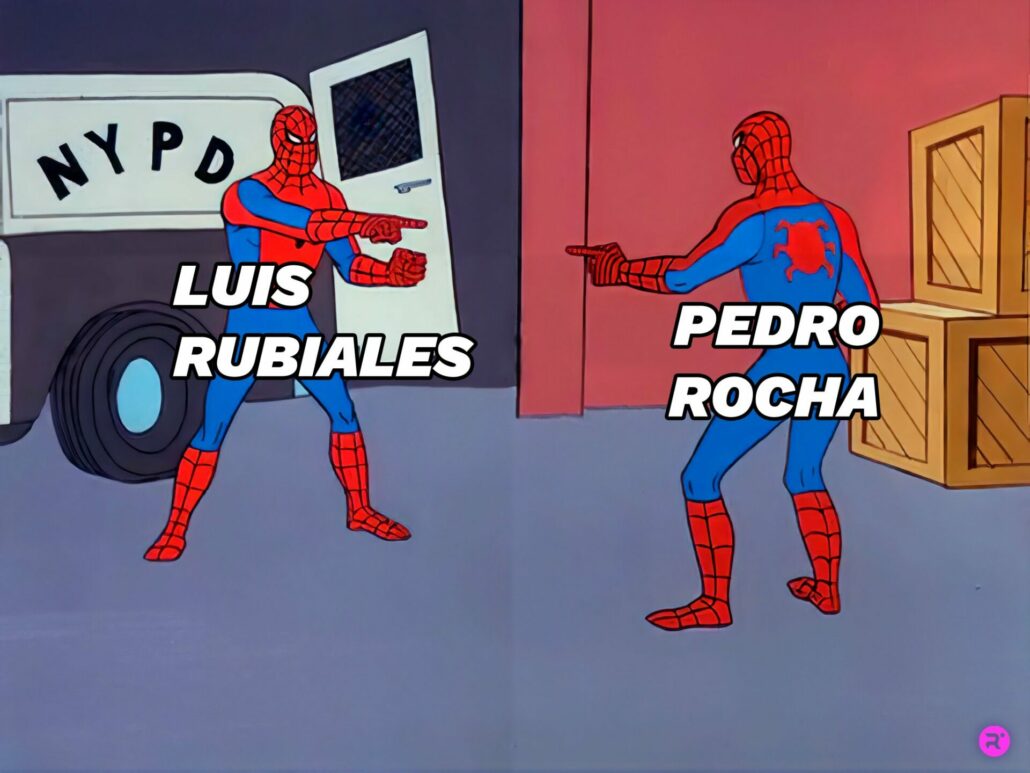 Last but not least. While the support Hermoso and the players have received from Spanish society at large has been wonderful to see, I need to note that in general the rampant misogyny in the culture is sadly unabated. Many male football fans think Rubiales had to go because he embarrassed Spain, but candidly declare they are "not in agreement with the feminazis who are taking advantage and going too far"
I wouldn't even call the Rubiales saga truly over either because in a surrealist episode out of an Almodovar movie, his mother, Angeles Bejar, declared herself on a hunger strike yesterday and locked herself in a church in the town of Motril. Today she declared she would be willing to die and would continue to fast until Hermoso changed her story and her son was vindicated.
Sincerely I hope this is where the Almodovar movie about the World Cup of Our Affliction begins.
Rubiales' mum now tells Spanish TV station Telecinco she won't eat "indefinitely, day and night." She has called on Jenni Hermoso to "stop lying and revert to her original statement." (the fabricated statement that was circulated by Spanish FA). "Yes, I'm willing to die." pic.twitter.com/jk6wUZNk0x

— Colin Millar (@Millar_Colin) August 29, 2023