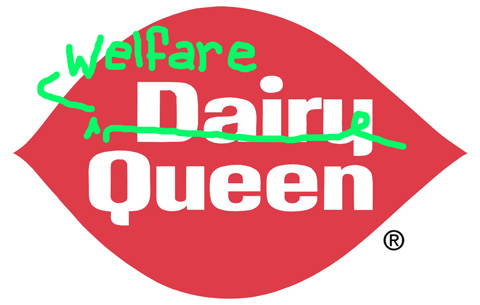 Via valued commenter Litlebritdifrnt, word of a study that shows who the REAL welfare queens are; summarized as follows at Gawker:
The ongoing movement to raise the wages of fast food workers got a boost today from two new reports that attempt to quantify just how much those low wages cost society as a whole. It's a lot.

The first report, out of UC-Berkeley's Labor Center, attempts to calculate the total amount of public benefits that taxpayers provide to low-wage fast food workers, who are not paid enough to cover their basic needs. The findings:

More than half (52 percent) of the families of front-line fast-food workers are enrolled in one or more public programs, compared to 25 percent of the workforce as a whole.

The cost of public assistance to families of workers in the fast-food industry is nearly $7 billion per year.

Even those lucky enough to get full time hours are not immune: "The families of more than half of the fast-food workers employed 40 or more hours per week are enrolled in public assistance programs."
Shorter, more profane study: The greedy fucks who are reaping enormous profits by selling us diabetes-causing crap are too fucking stingy to pay their employees a living wage, so the rest of us have to pay the freight on the back end instead of shelling out a nickel more on a Happy Meal.
I say it's time for those shiftless, Cadillac-driving, t-bone-steak-eating bucks in the board rooms to get their goddamn feedstraws outta our wallets.