I know we've discussed the NYT's nice young Nazis article already, but I keep coming back to it in my mind. The NYT felt the blow-back from what was widely panned as a puff piece on Ohio Nazi Tony Hovater, his idiotic wife and their scumbag friends. The Times changed the title of the article from "In America's Heartland, the Nazi Sympathizer Next Door" to "A Voice of Hate in America's Heartland."
The author of the piece, Richard Fausset, admitted that "there is a hole at the heart" of his story about Hovater. In Fausset's telling, the article's flaw is that it fails to answer the question: "What makes a man start fires?"
That's not the question the piece raised for me. The normalization of the Ohio Nazis reminded me of the dog in the famous meme below (representing, in this case, the NYT), and my question is, why do you think the fucking fire is fine?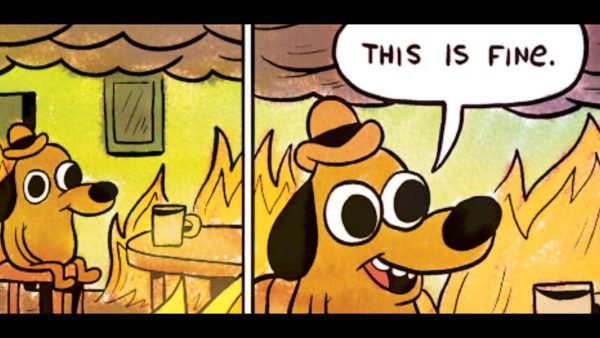 It's not that Fausset and the Times are sympathetic to Nazis; I really don't think they are. But they're ignoring the implications of the fact that people like Hovater feel emboldened and empowered by the Trump administration.
Jasmin Mujanović, an expert on Balkan politics, identifies the "hole at the heart" of Fausset's piece in a series of tweets, reproduced below:
The NYT Nazi fluff text is only further proof that, at a fundamental level, large segments of the US intelligentsia do not appreciate the existential crisis now facing their republic. In short, they're not actually concerned — and they really should be.

You can only really write pieces like that if you're convinced that the violence which these extremists represent, and engineer, will never touch you. Likely because you're white, wealthy, and mobile and they'll probably target vulnerable, static "minorities".

The form is very familiar to me from the Balkans. It was rampant during the 1990s: Karadzic gave interviews to Western media every other day, there's hours of footage. In the meantime, he was murdering thousands. But hey, dead Bosnians are so "other" and his English was great.

Now the fascists are in the US, they're in the UK, they're in the EU and sober ur-journalists roll their eyes at the alarmists who tell you that the normalization of extremism, illiberalism, and violence never ends well — not even in established democratic regimes.

But trust your gut: trust that sick, queasy feeling you've had for months, trust your anxiety, and trust the fear you see in your neighbors eyes. All is not well, and everything won't be OK. Not unless both ordinary citizens and responsible politicians act today.
"That sick, queasy feeling" — yes, that's it exactly.
Meanwhile, Trump again endorsed the child molester in the Alabama senate race via Twitter today, though he was too cowardly to do so by name. The NYT explains it as "cold political calculus" or maybe sympathy for a fellow sexual predation accusee.
It's not so much the fire; it's the "This is fine."