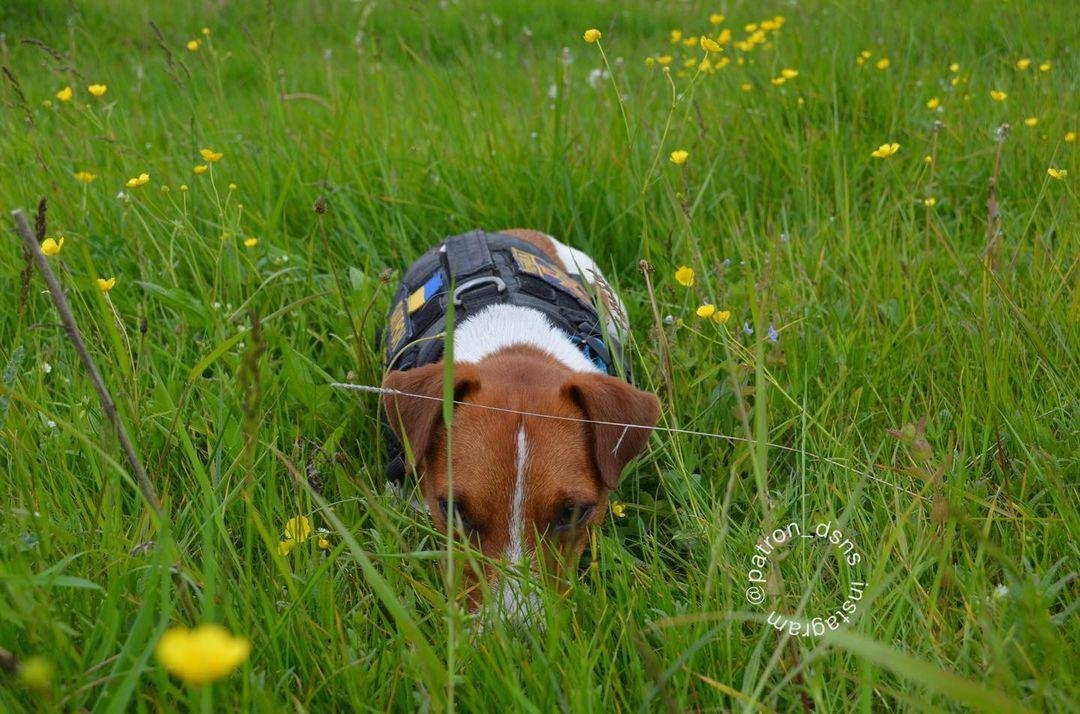 As we prepare for the long week ahead, just a brief update tonight.
Here is President Zelenskyy's address from earlier today. Video below, English transcript after the jump:
Dear Ukrainians!

Every year, on the last weekend of summer, two holidays were celebrated in our country – they are closely related – Donetsk City Day and Miner's Day.

In 2014, everything changed for Donetsk because of the occupiers. And this year, all of Ukraine will not have holidays. But we have not forgotten and will not forget any of our cities and any of our people.

Donetsk has always been one of the richest and strongest cities in Ukraine. Mining has always been one of the most respected professions. Now Donbas is almost destroyed by Russian strikes, devastated. The proud and glorious Ukrainian Donetsk was humiliated by the Russian occupation and robbed. Russia brought the most terrible thing there – absolute disregard for the value of any life, absolute disrespect for anyone. The invaders brought degradation and death. And they believe that they are there forever. But it's a temporary thing for them.

And Ukraine will return. For sure. Life will return. The dignity of the people of Donbas will return. The ability to live will return. The opportunity to live safely and happily. This is exactly what our Ukrainian flag will symbolize when we set it up in Donetsk, Horlivka, Mariupol, in all cities of Donbas, Azov area, in all areas under Russian occupation – in Kharkiv, Zaporizhzhia, Kherson regions. And definitely – in Crimea.

Ukraine remembers everything.

I held a meeting today with representatives of the defense and security sector. It was attended by the heads of the Armed Forces of Ukraine, intelligence, the Security Service of Ukraine, the Ministry of Internal Affairs and other structures and areas of defense of our state.

All the issues we considered are important, but secret, I cannot go into detail. But the occupiers will feel its consequences – in the further actions of our defenders.

No terrorist will go unanswered for attacks on our cities. Zaporizhzhia, Orikhiv, Kharkiv, Donbas – they will receive an answer for all of them.

We are preparing for a new week – it will be very active. Important visits of partners to Ukraine are planned. I will resume the practice of appeals to the states and nations that support us.

And most importantly, we are working to ensure that there are new restrictions for Russia because of the war and that there are new support packages for our defenders, for our state. Defense support – weapons and ammunition, financial support, political support, media support, support for our reconstruction – every day every public official must demonstrate results in his area of responsibility. Only work for results gives the right to hold public positions. This should be remembered by everyone who was given power.

Thank you to everyone who honestly works for the state! Thanks to all our defenders!

Glory to our soldiers!

Glory to our people!

Glory to Ukraine!
Here is the Ukrainian MOD's operational update for today:
The operational update regarding the russian invasion on 18.00, on August 28, 2022

Glory to Ukraine! The one hundred eighty-sixth (186) day of the heroic resistance of the Ukrainian people to a russian military invasion continues.

The enemy continues to focus on establishing full control over the territory of Donetsk oblast, the maintenance of captured areas of Kherson, part of Kharkiv, Zaporizhzhia and Mykolaiv oblasts.

Aviation and rocket strikes are ongoing in civilian sites in Ukraine.

In Volyn and Polissya directions, the situation without significant changes.

In the Siversky direction, the enemy continues to keep individual units of the Western Military District in the Border districts of Bryansk and Kursk regions. In order to shake the actions of the units of defense forces, the enemy fired at districts of settlements of Hremyach of Chernihiv oblast and Nova Sloboda, Novovasylivka, Iskrykivshchyna and Turya of Sumy oblast. Led air intelligence of the border areas of the UAV.

In the Kharkiv direction, the enemy fired at tanks, barrel and jet artillery of areas of settlements of Kharkiv, Praudyanka, Protopopivka, Pryshyb, Chepil, Zamulivka, Ruski Tyshky, Bayrak, Petrivka, Mospanove and Velyki Prohody. It struck the Air Force near the Rubizhne. Maintains high intensity of UAV intelligence.

It attempted to improve the tactical near Svitlychny, had no success, and withdraw.

In the Slovyansk direction, enemy near Dovhenke, Dolyna, Dibrivne, Velyka Komyshuvacha and Karnukhivka were recorded.

The opponent tried to move off the offensive and assault actions in the Bohorodychne area, suffered losses and rejected.

In the Kramatorsk direction, the enemy continued the fire influence near Slovyansk, Verkhnyokamyanske and Spirne. It struck aviation strikes near Hryhorivka.

In the Bakhmut direction, the enemy fired at civilian infrastructure in the areas of Bakhmut settlements, Vesela Dolyna, Soledar, Mayorsk and Rozdolivka. The enemy's aviation strokes were affected by the Kodema and Yakovlivka districts. The forces of Ukraine's defense repelled the attacks of the invaders near the Vesela Dolyna.

In the Avdiyivka direction, the enemy fired from the tanks, barrel and jet artillery districts of settlements Nevelske, Opytne, Orlovka, Novooleksandrivka, New York, Krasnohorivka and Pervomaiske. It made an unsuccessful attempt in the area of ​​Pervomaiske, suffered losses and departed.

In the Novopavlivske direction, the enemy continued the shelling near the Vyhledar, Bohoyavlenka, Velyka Novosilka and Novomykhailivka. It tried to improve the tactical position near Pavlivka, there was no success.

In the Zaporizhzhia direction, the enemy fired from the tanks, barrel and jet artillery districts of Hulyaypoel, Hulyaypilske, Kamianske, Burlatske, Vremivka and Chervone. He struck air strikes near Poltavka.

In the South Buh direction, the enemy carried out shelling of existing weapons in areas of settlements of Mykolaiv, Lupartevo, Stepova Dolyna, Posad-Pokrovske, Shyroke, Partyzanske, Kyselivka, Velyke Artakove, Andriyivka, Olhyne, Knyazivka, Topolyne, Myrne, Kvitneve, Veselyi Kut, Lozove. Aviation strikes were suffered by the territory near Andriyivka and Oleksandrivka. The high activity of enemy reconnaissance UAVs is fixed.

In the waters of the Black and Azov seas, the situation has not undergone significant changes.

Our missile and artillery units continue the fire damage to the clusters of personnel and military equipment of russian invaders. In some directions, the enemy has significant losses.

We believe in the Armed Forces of Ukraine! Together we will win!

Glory to Ukraine!
Here's the British MOD's assessment for today: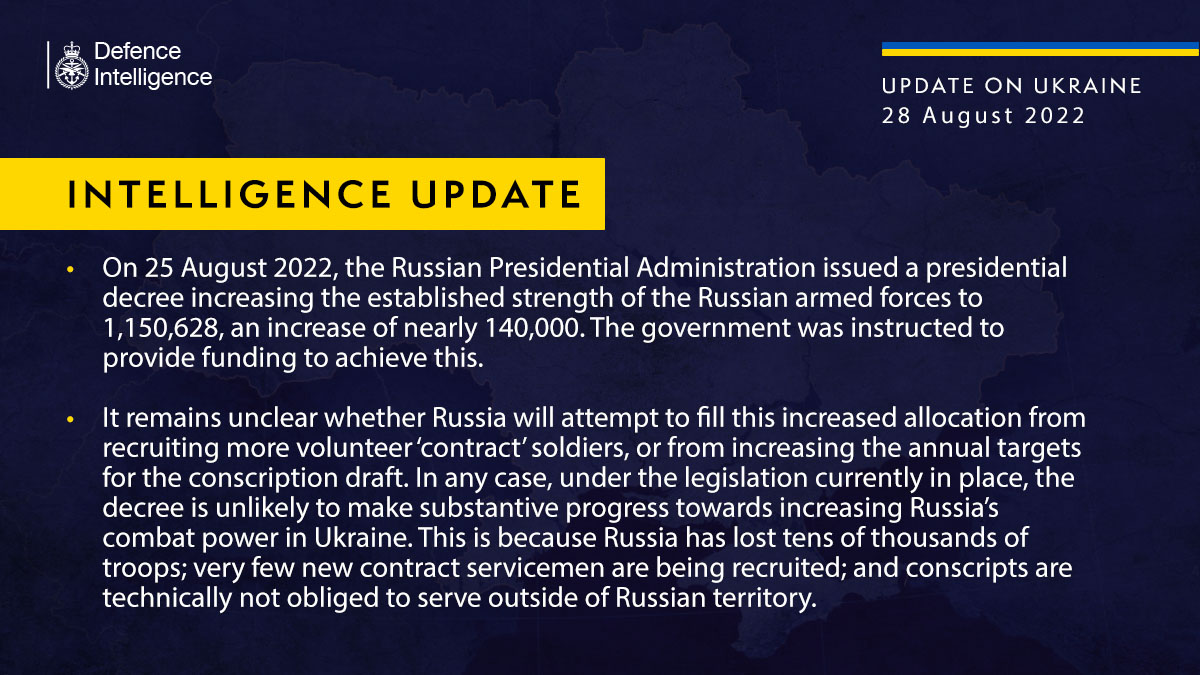 There was no updated UK MOD map for today. I think they give the mappers the weekends off.
Here is former NAVDEVGRU Squadron Leader Chuck Pfarrer's updated map and assessment regarding the situation in Kherson:
KHERSON /1500 UTC 28 AUG/ UKR Partisans & SOF continue to provide up to the minute targeting data on the locations of new, or hidden, RU ammunition depots. This afternoon, artillery strikes were carried out against ammo dumps in Nova Kakhovka and to the east at Kakhovka. pic.twitter.com/sYwADnXEAh

— Chuck Pfarrer (@ChuckPfarrer) August 28, 2022
And his updated assessment, also with updated imagery, regarding the situation at the Zaporizhzhia Nuclear Power Plant:
NUCLEAR ROULETTE: RU artillery is reported to have hit residential buildings in the town of Enerhodar, home to the plant's technicians & administrators. Video from the scene shows vehicles on fire near apartment buildings. These fires were burning out of control at last report. pic.twitter.com/9cC22ufrIG

— Chuck Pfarrer (@ChuckPfarrer) August 28, 2022
Baryshivka:
just visited Baryshivka, a village 70 kilometers from Kyiv. This is a cinema house destroyed by a 🇷🇺 missile.

But Baryshivka is an important place for 🇺🇦 culture. What happened here 100 years ago has parallels to the 🇷🇺 war against 🇺🇦 today. Learn more from our video pic.twitter.com/npt3fjHaux

— UkraineWorld (@ukraine_world) August 28, 2022
On Thursday, the Yale Conflict Observatory released a report on the Russian filtration camps in Ukraine.
Mapping the Filtration System in Donetsk Oblast

Introduction

For many people in newly-occupied areas of Donetsk oblast, their most intimate interaction with Russia's occupying forces and their proxies comes as they pass through what the Yale School of Public Health's Humanitarian Research Lab (Yale HRL) report has identified as a filtration system. This filtration system is the physical infrastructure and process used to register, interrogate, and detain Ukrainian civilians, prisoners of war, and others in areas Russia and its proxies occupy.

There is evidence that the system was created weeks before the invasion began and likely grew following Russia's capture of Mariupol in April 2022 to accommodate filtration of all citizens. Occupying powers in international conflicts have the right to register persons within their area of control; the force in control may even detain civilians in certain limited circumstances. However, Russia's apparent filtration system for persons within Donetsk oblast, which includes use of extrajudicial and incommunicado detention, violates multiple elements of international humanitarian law and raises multiple potentially grave human rights issues.

Combining open-source information with very high-resolution satellite imagery, Yale HRL is able to present the most comprehensive public assessment to date of this large-scale apparatus of screening and extrajudicial detention.

Overall Findings

Yale HRL's report offers four key findings:

Russia and Russia-aligned forces operate at least 21 facilities in and around Donetsk oblast that are part of the filtration system;

There appear to be four types of facilities involved in filtration: (1) registration, (2) holding, (3) secondary interrogation, and (4) detention;

Disturbed earth consistent with potential graves is present at Volnovakha Correctional Colony № 120 near Olenivka, Volnovakha raion during two time periods. The same correctional colony was the location of the 29 July 2022 explosion that allegedly killed 53 Ukrainian prisoners of war (POWs);

The appearance of disturbed earth sites in satellite imagery pre-dates the explosion. One area of disturbed earth was observed in imagery from 11 April 2022. This apparent disturbed earth is contemporaneous with an open source account of alleged gravedigging. Disturbed earth then appeared in a second location by 27 July 2022.
Much, much, much more at the link including detailed maps.
Your daily Patron!
The world should fight climate change now: all countries together. But instead, 80% of countries should appease the 20% of imperialist, terrorist, arrogant, sick, dictatorial countries who have decided that they will destroy the planet first. It's so stupid 😒 #ClimateCrisis pic.twitter.com/b0ceusLcks

— Patron (@PatronDsns) August 27, 2022
And a new video from Patron's official TikTok:
The caption translates as:
Open thread!