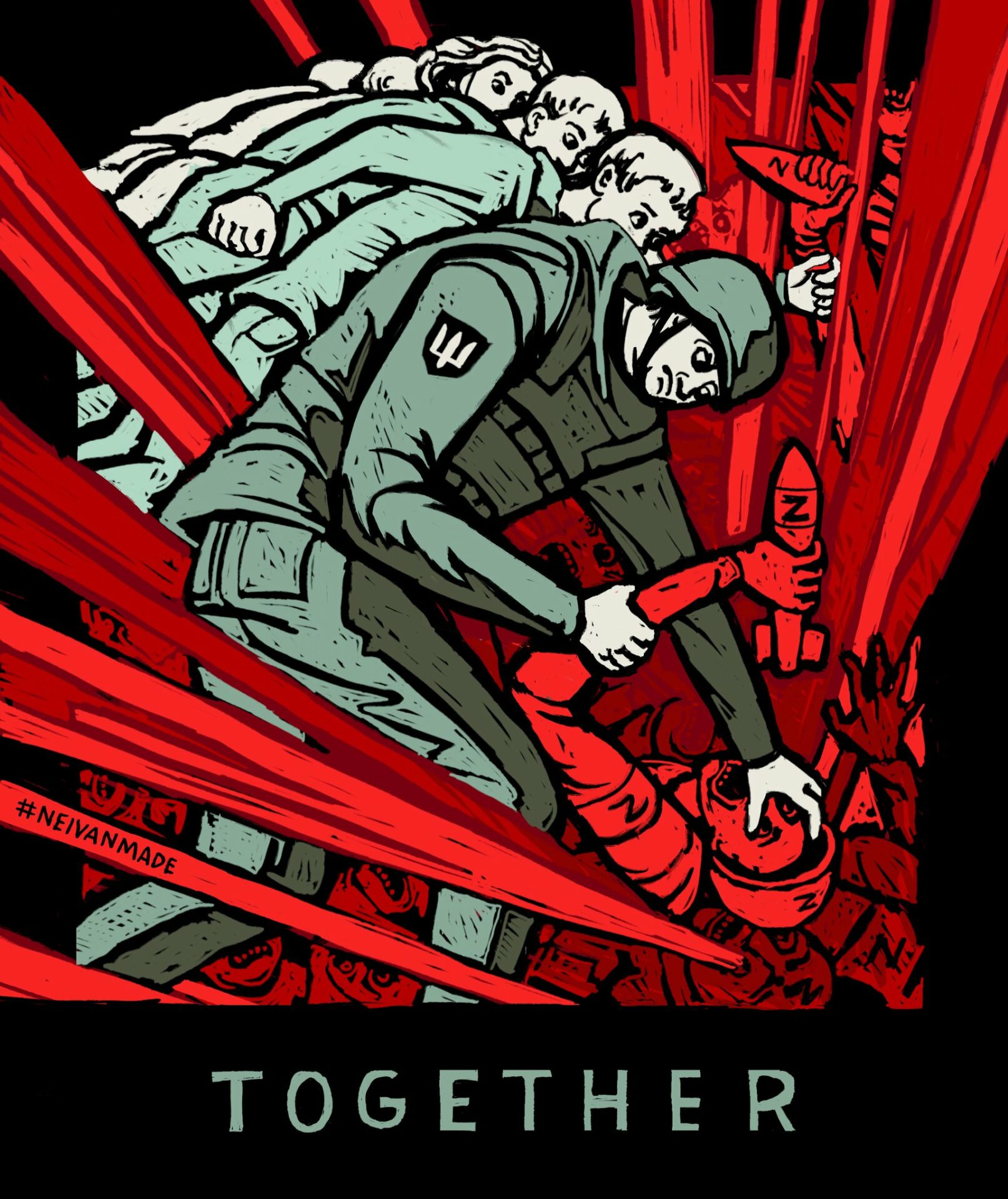 (Image by NEIVANMADE)
Meanwhile, someone in a clean, air-conditioned office is indulging in speculations and musings on whether Ukraine deserves support, whether that's affordable and wise, given all the nuisances, you know.
Please, take your time.

— Illia Ponomarenko 🇺🇦 (@IAPonomarenko) April 11, 2023
The Kyiv Indenpendent's Illia Ponomarenko is correct, time is also Ukraine's adversary.
Here's one of the returned Ukrainian POWs calling his mother:
Following his release from captivity, a Ukrainian soldier calls his mother.

🎥Ombudsman of Ukraine pic.twitter.com/QtZ0ZTtIRl

— Defense of Ukraine (@DefenceU) April 11, 2023
Here is President Zelesnkyy's address from earlier this evening. Video below, English transcript after the jump:
We are now at such a stage of the war, when it is important not to lose a sense of the path we have to overcome – address by the President of Ukraine

11 April 2023 – 22:28

Good health to you, fellow Ukrainians!

I held a regular meeting of the Staff today. First of all, we considered the combat situation, what we manage to succeed in in the main directions, in difficult directions, such as Bakhmut and Avdiivka, the Donetsk region in general, such as Kreminna and the Luhansk region in general.

We also considered at the Staff meeting what we are yet to succeed in. What we are working on.

There were reports by General Syrskyi, General Tarnavskyi, the Commander-in-Chief, the Main Intelligence Directorate.

The General Staff and the Minister of Internal Affairs reported on the staffing of new units of our defense forces – new brigades.

Head of the Security Service, General Malyuk made a report on his part – on what concerns our internal resilience, protection from the internal enemy and counteraction to collaborators.

We are now at such a stage of the war, when it is important for our society and partners not to lose a sense of the path we have to overcome. Precisely the path. The path that's ahead.

Compared to last year, it's quieter in many places now. But this does not mean that somewhere you can ignore the war or be less focused on helping the state.

We managed to do a lot together with our partners to protect people, Ukraine, and the whole of Europe. But this doesn't mean it's time to rest on our laurels. The path is ahead. The movement is ahead. Something that requires no less unity from us than before. No less focus than before.

Just as before, our positions at the front, all our warriors in their positions must be supported by Ukrainian positions politically and informationally, by the power of weapons and the power of our social unity, by our internal resilience and the strength of Ukraine's ties with the world. And this is the task of both the state and everyone in the state, of both Ukraine and everyone in the world who values a free life and an international order based on rules.

It is unwise to just passively hope that someone else will bring victory, the one who is now in the trenches, who is now in the assaults. This is a common task. Victory is gained by everyone. By those who fight for it and those who give weapons. By those who reduce the capabilities of the terrorist state and those who increase the capabilities of Ukraine.

Just as everyone in the Staff is responsible for their part of the defense of the state, on the path to victory everyone should understand what their steps to victory are. And whether these steps are enough to complete the entire path.

Today I had a very interesting, meaningful meeting with American businessman and philanthropist Howard Buffett. He has been generously helping Ukraine and our people for a long time. Many projects are implemented with his support. For example, construction of a kitchen factory has begun in Bucha, which will become part of the school meals reform in Ukraine and will provide for children in three communities of the Kyiv region. This project will also be scaled to other regions, in particular to the Kharkiv region.

And when a person helps so much, when he personally cares about support – and these are projects worth hundreds of millions of dollars – such a person sees very well how important it is for everyone to be on the path to victory, how important it is for everyone to be active, how important it is for everyone to become a hero at least in a certain way so that we all win.

I thank Mr. Buffett for his support. I am thankful to all our partners in the world who remain active in helping.

Thank you to all Ukrainian men and women who understand that we have to walk this path together – to victory, and in true unity, supporting each other and the state.

Glory to all our warriors!

Glory to our strong people!

Glory to Ukraine!
Here is a machine translation of the Ukrainian MOD's most recent operational update:
Ministry of Defense of Ukraine
Operational information as of 18.00 11.04.2023 regarding the Russian invasion

Glory to Ukraine! The four hundred and twelfth days of large-scale armed aggression of the Russian federation against our state continue.

During the day, the enemy struck 1 missile and 10 air strikes, fired more than 18 from volley jet systems.

The probability of the task of missile and aviation strikes remains high throughout Ukraine.

Despite numerous losses in technology and live power, the enemy continues to focus on the offensive in the Lyman, Bakhmut, Avdiyevsky, and Marjin directions – more than 50 enemy attacks were repulsed during the day.

In Volynsky, Polissya, Sieversky and Slobozhansky directions, the operational situation is without significant changes. Certain units of the territorial troops of the Russian Federation continue to be in the territory of the Belarusian Republic. Also, the enemy continues to hold certain units in the border areas with Ukraine in the Kursk and Belgorod regions, continuing the engineering equipment of the area. During the day, the occupiers fired on the settlements of Bleszna, Kamyanska Sloboda and the Gremiach of the Chernihiv region; Wolfine and Katerynivka of the Sumy region, as well as Veterinarian, Deep, Gatishche, Vovchansk, Zibine, Volohivka, Ohrimivka, Chernyakivka, Commissarove, Beets and Dovzhanka in Kharkiv region.

In the Kupyan direction, enemy shelling was carried out by the settlements Kolodyany, Kamyanka, Topoli, Krasne First, Ridkodub, Novomlinsk, Dvorichna, Kindrashivka, Pishchane and Berestov, Kharkiv Oblast, and Novoselivsky in Luhanshchyn.

In the Lyman direction during the day, the enemy led unsuccessful offensive actions in the area south of the White and Spirny. Makiyivka, Nevske, Belorivka of the Luhansk region and Yampolivka, Torske and Spirne – Donetsk were attacked by artillery.

In the Bakhmut direction, the enemy continues to lead offensive actions, tries to take full control of the city of Bakhmut, fierce fighting continues. During the day, the enemy led unsuccessful offensive actions in the area of the village of Bogdanivka. Defense forces repulsed about 20 enemy attacks on the front. Nikiforivka, Vasyukivka, Minkivka, Orykhovo-Vasylivka, Novomarkov, Markov, Bakhmut, Khromove, Chasiv Yar, Ivanivsky, Stupochki, Predtechine, Alexandro-Shultine, Kurdyumivka, Ozaryanovka, Druzhba, suffered from enemy shelling, Toretsk and New York of the Donetsk region.

In the Avdiyevsky and Mariinsky directions, the enemy led offensive actions
in the districts of Avdiyivka, Pervomaisky, Nevelsky and Marinka, he was unsuccessful. The fiercest fighting on this part of the front continues behind Marinka, where more than 15 enemy attacks have been repulsed. At the same time, the enemy was shelled by the settlements of Novokalinove, Orlivka, Avdiyivka, Tonenke, Severny, Pervomaiske, Netailove, Karlyivka, Krasnyvka, Georgyivka, Marjinka, and Pobed Donetsk region.

In the Shakhtar direction during the day, the enemy did not carry out offensive actions. He fired on the settlements of Novomikhailovka, Shakhtar, Novoukrainka, Velyka Novosilka, Vugledar and Prechistivka in the Donetsk region.

In the Zaporizhia and Kherson directions, the enemy continues to conduct defensive actions. He fired on settlements near the battle line. Among them – Vremivka, Novopil of the Donetsk region; Novosilka, Olgivsky, Malinovka, Red, Gulyaipole, Charming, Little Tokmachka, Orihiv of the Zaporizhia region; Golden Balkans, Kachkarivka, Berislav, Kozatske, Burgunka, Ivanivka, Mykilske, Dniprovsk Region of Kherson and the city of Kherson.

The enemy continues to use medical facilities of temporarily occupied territories for its own purposes. Thus, the building of the primary health care center in Novopskov and the paramedic-midwife point of Kryakivka, in Luhanshchyn, is used by the occupiers as a military hospital. At the same time, in Kryakivka, in order to increase the number of beds, the invaders additionally deployed a tent camp.

Only representatives of the Russian occupation forces can receive medical care in these civilian medical institutions.

During the day, the Defense Forces aircraft struck 13 times in the areas of concentration of personnel and military equipment of the occupiers. Also shot down 2 enemy UAVs type "Orlan – 10".
During the day, missile and artillery units affected 4 areas of concentration of live force, weapons and military equipment, as well as 2 stations of enemy radio control.

Support the Armed Forces! Let's win!
Glory to Ukraine!

General Staff of the Armed Forces of Ukraine
Bakhmut:
Ukrainian soldier "Bakhmut Demon" reporting from Bakhmut. Despite enemy superiority in resources, there are means to hold part of the city, and no order to withdraw was given.

More updates from Demon: https://t.co/1tJIVaxvca pic.twitter.com/D3zVmY1gbo

— Dmitri (@wartranslated) April 11, 2023
Here's the full translation from Dmitri of Bakhmut Demon's Telegram post: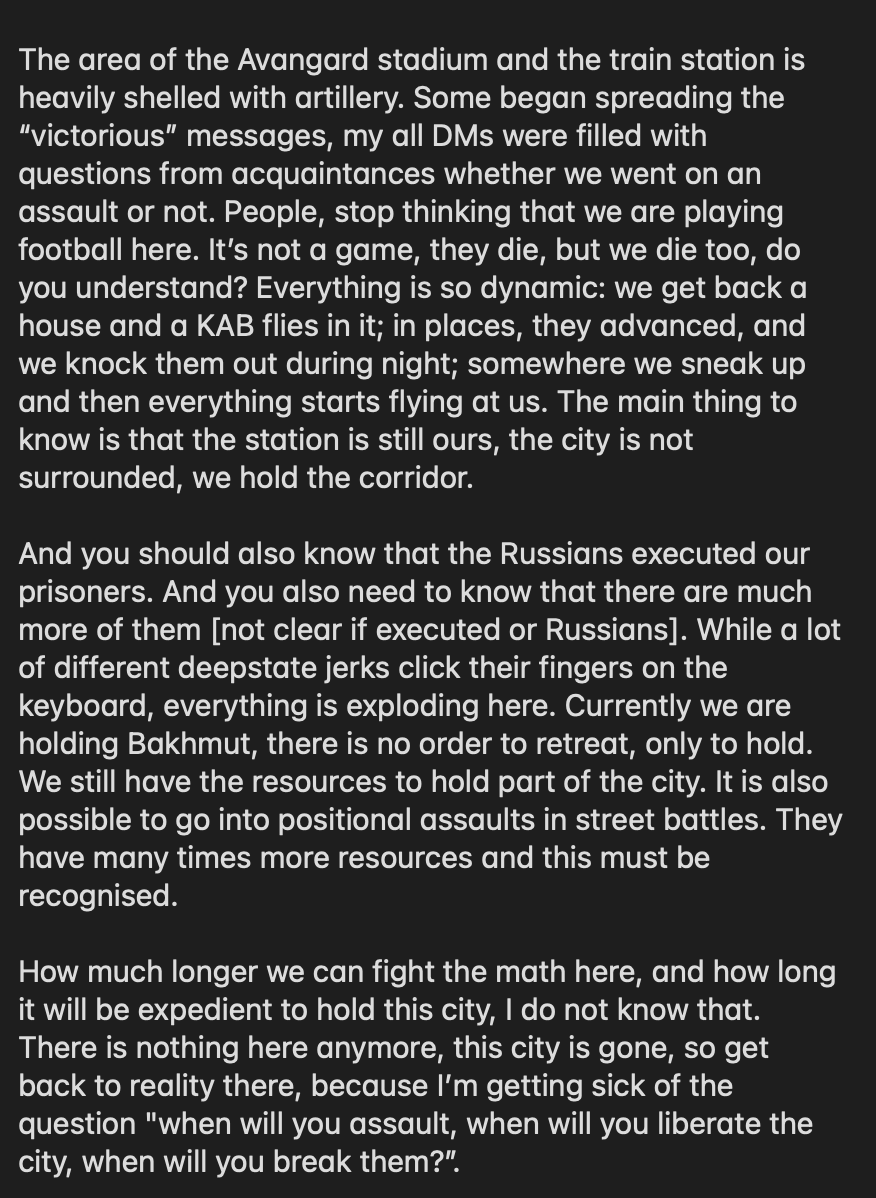 The footage itself. https://t.co/lsjvYvjcZS

— NOËL 🇪🇺 🇺🇦 (@NOELreports) April 11, 2023
I can't be sure this is Bakhmut, but given it involves Wagner, I think it is likely. Apparently, the Wagner mercs beheaded a Ukrainian Soldier with a knife. Maria Avdeeva has posted a blurred still image grabbed from the video that is circulating on pro-Russian social media at that link in the previous sentence. You can't really see anything as she's done a good job, but don't click across unless you feel you must.
The Ukrainian officer who tweets as Tatarigami has posted a great analytical explainer on the defenses the Russians have been building in expectation of a Ukrainian offensive. First tweet is below the rest is copied and pasted from something called @rattibha because it appears that the Starlink Snowflake has had Twitter's code changed to make requests to the Thread Reader App no longer work.
Thread🧵

Given the ongoing discussions regarding the Ukrainian counter-offensive, it's crucial to understand russia's echeloned defense system along the frontline, particularly in the south. These defense lines are composed of multiple obstacles that Ukrainian forces will face pic.twitter.com/1di3lgPkiA

— Tatarigami_UA (@Tatarigami_UA) April 11, 2023
2/ To help paint a clearer picture, we'll be using satellite imagery from Feb 2023 to analyze a section of the enemy's fortifications located south of Vasylivka, Zaporizhia oblast. Although some changes have occurred since then, the general idea of the defenses remains the same

3/ One key feature of russia's defense lines are famous dragon's teeth, pyramidal anti-tank obstacles that can effectively impede or slow down mechanized or motorized units during an attack. These obstacles can be particularly effective in combination with other defense measures

4/ It is common for the areas immediately preceding and following dragon's teeth to be heavily mined, and this specific section of the defense line is no exception.

5/ The subsequent defensive line, positioned approximately 300-500 meters away from the dragon's teeth, is composed of conventional trenches, dugouts, and vehicle revetments, providing protective cover for armored vehicles positioned in "hull down" mode.

6/ It is common to utilize tree lines as camouflage for ammunition, observation posts, or anti-tank guided missile (ATGM) teams. It is possible that we may observe the presence of older anti-tank weapons such as the MT-12 "Rapira" in that area.

7/ About 500 meters further, another line of defense begins which includes anti-tank ditch. This excavated ditch is designed to prevent the advance of attacking vehicles by forcing them to fall into the ditch, thus becoming immobilized.

8/ Although overcoming these obstacles is certainly feasible and well within Ukraine's capabilities, it is important to acknowledge that the fortified defenses are substantial and have the potential to significantly impede maneuverable attacking forces.

9/ If we view these defense lines on the imagery as a single echelon, it's important to note that russia has multiple echelons in some areas, with as many as three in certain directions, each separated by dozens of kilometers.

10/ Air power can neutralize these defenses, but limited availability of modern jets in sufficient numbers makes it challenging. A successful breach of such defenses could serve as a valuable case study for researchers and historians, showcasing effective military art.

11/ Kindly ensure to like and follow, as Twitter algorithms tend to demote content related to war and Ukraine, so you do not miss the second part. For location confirmation:

@GeoConfirmed
Here's some additional Q&A he did after the final tweet (#11) in the thread:
Once few places are breached it's absolutely possible to cut the troops from the rear, making the rest retreat to avoid encirclement. This is a very likely scenario to happen, but we will also see some very unique solutions.

— Tatarigami_UA (@Tatarigami_UA) April 11, 2023
Maybe if you would know available means on both sides you would understand that the situation is not compatible and the analogy is wrong. I am very confident in the success of the operation but it's not even remotely close to what was in 1991, it will be different.

— Tatarigami_UA (@Tatarigami_UA) April 11, 2023
There are other means to do that. Air superiority is just one of the easiest ways. It's still absolutely possible to overcome this with available means, just not as smooth as could be done with air superiority

— Tatarigami_UA (@Tatarigami_UA) April 11, 2023
I don't know the right answer. We have enough resources for a successful offensive. Enemy continues to make dumb mistakes – that helps us as well. However, the enemy concentrated serious forces for defense. To decrease the risk of failure, we need much more weapons.

— Tatarigami_UA (@Tatarigami_UA) April 11, 2023
It's absolutely possible and I understand very well some solutions, but many people imagine that it's going to be an easy ride and it will take "no longer than few hours". It won't be easy and there will be a lot of creativity. 1991 Desert storm analogies are entirely wrong

— Tatarigami_UA (@Tatarigami_UA) April 11, 2023
That's all of them, for now…
British soldiers salute Ukrainian soldiers who are heading to the front line after training in the UK. pic.twitter.com/KafK9xeC72

— Defense of Ukraine (@DefenceU) April 11, 2023
Tallyho!
The flight of our MiG-29 pilot at low altitude pic.twitter.com/tRmQrqf29h

— Ukrainian Air Force (@KpsZSU) April 11, 2023
That's enough for tonight.
Your daily Patron!
I didn't watch the video of how a Ukrainian soldier was beheaded, and I don't advise you to. This is unacceptable and terrible, but definitely in the russian style: no rules, no regrets. Because #RussiaisATerroistState

— Patron (@PatronDsns) April 11, 2023
And a new video from Patron's official TikTok!
Here's the machine translation of the caption:
About my usual day :) #песпатрон
Open thread!