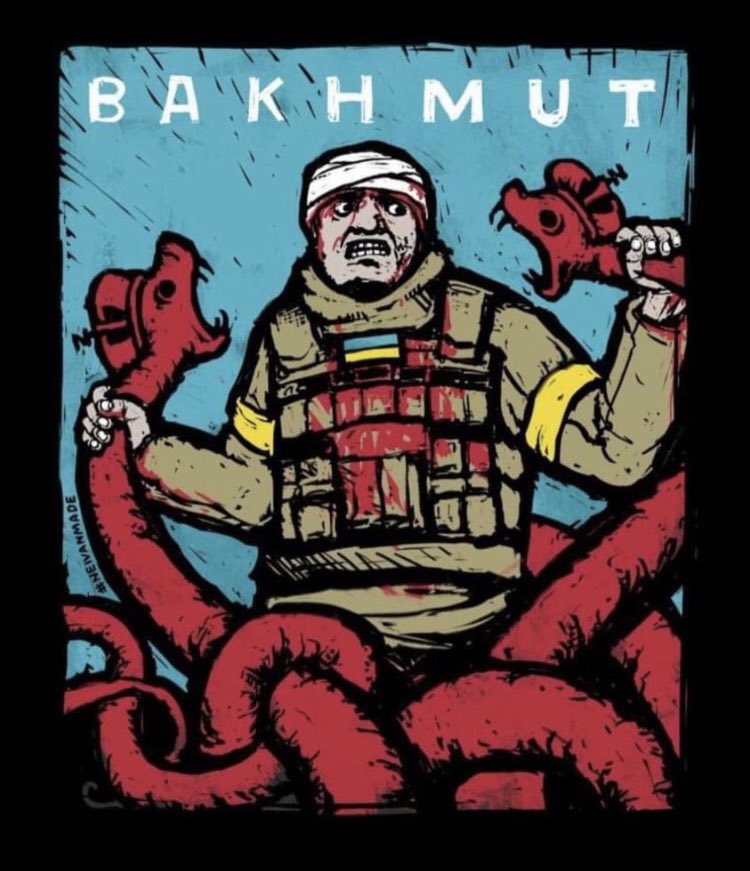 (Image by NEIVANMADE)
NEIVANMADE has a new project, so check it out:
Check out these exclusive images from #NEIVANMADE for the @SAVEnergyinChornobyl and @ukrposhta project. It showcases the endangered Black Stork nesting on a ruined atom, representing the belief that even after the worst tragedy, life will inevitably prevail. pic.twitter.com/3MKCRw6Qe5

— NEIVANMADE (@neivanmade) April 26, 2023
Another 44 Ukrainians were released from captivity today. 36 privates and sergeants, 6 officers, and two civilian hostages. pic.twitter.com/JoNUiPcj3m

— Defense of Ukraine (@DefenceU) April 26, 2023
This is why they fight!
A Ukrainian POW freed from russian captivity.

📷 @yurasov_vitaliy pic.twitter.com/1twHHjpaF3

— Defense of Ukraine (@DefenceU) April 26, 2023
This is also why they fight!
This what we're fighting for.

🎥_.mycupoftea pic.twitter.com/QkG00AuQAy

— Defense of Ukraine (@DefenceU) April 26, 2023
Here is President Zelenskyy's address from earlier this evening. Video below, English transcript after the jump:
Now there is an opportunity to give new impetus to relations between Ukraine and China – address by President Volodymyr Zelenskyy

26 April 2023 – 22:25

Good health to you, fellow Ukrainians!

First of all, I would like to thank our entire team involved in the exchanges.

We managed to return 44 more people from Russian captivity to Ukraine. Most of them are servicemen. From various directions. Among them are defenders of Azovstal and Mariupol, other cities in Donetsk, Kherson, Kharkiv regions… Most of them are privates and sergeants. Some are officers. Two of them are civilians.

And it's important that the team works on all those who are in captivity… Even if it is particularly difficult, as with some categories of captives. And these are not only prisoners of war who are difficult to return, but also, for example, civilian captives – one of those difficult categories.

We remember everyone. And even if there is no exact information about a particular person, about what happened to them or where they might be, they are still being searched for and everything is being checked as much as possible. Ukraine must return all its people.

I am thankful to all of you guys who coordinate this work: Budanov, Yermak, Lubinets, Usov, Malyuk, Klymenko… I thank each and every one who helps in the Main Intelligence Directorate, the Office, the Security Service of Ukraine and our other structures.

Of course, I am grateful to all our warriors on the frontline who are replenishing the exchange fund. Every Russian prisoner of war is an opportunity to exchange our people.

In total, 2279 Ukrainians have already been returned from Russian captivity during the full-scale war.

I spoke with the leader of China today. It was a long and quite rational conversation. It is usually said that such conversations open up opportunities. Now there is an opportunity to give new impetus to our relations – Ukraine and China.

There is an opportunity to use China's political influence to restore the strength of the principles and rules on which peace should be based. Ukraine and China, as well as the vast majority of the world, are equally interested in the strength of the sovereignty of nations and territorial integrity… In compliance with the main security rules, in particular, the inadmissibility of threats with nuclear weapons and the proliferation of nuclear weapons in the world. We are equally interested in ensuring that the situation around the Zaporizhzhia nuclear power plant is finally fully secured and that nuclear power plants are never used for military purposes again, which is exactly the kind of cynical use Russia is trying to make the norm.

It is very important that China shares our view of freedom of navigation and trade. I briefed Mr. Xi Jinping on our efforts to restore seaborne food exports. And I heard words of support for our Black Sea Grain Initiative and its extension, as well as support for our humanitarian efforts, in particular the Grain from Ukraine program.

Of course, an essential part of the conversation is our views on ways to restore a just peace. I presented the Ukrainian Peace Formula, its specific points. We agreed to continue our communications.

Today, I took part in a conference in Rome dedicated to the reconstruction of our country. This is a special format of communication between government officials and representatives of industry and business from our countries, Ukraine and Italy. This is a special format of communication between the governments and representatives of industry and business of our countries, Ukraine and Italy, for us to be able to directly attract to Ukraine those who personify the economic power of Italy.

I thank Mrs. Prime Minister Giorgia Meloni for this conference and for her words of unflagging support for Ukraine. It is important that we are already planning our cooperation in 2024. In particular, this concerns the upcoming Italian presidency of the G7, as well as the preparation of a major donor conference on recovery.

I had a separate phone call with Giorgia. The key topic was defense cooperation and support for our warriors. Thank you, Italy!

These days, we are also working with our partners to coordinate defense and supply activities. It is very important for Ukraine that everyone who works with us to defend freedom clearly understands what prospects our strength has and what we can do. The better we understand each other, the easier it is to work for a common victory. For obvious reasons, we are not disclosing the details of such communication in public yet.

One more thing.

Today I spoke with IAEA Director Grossi. The anniversary of the Chornobyl disaster is the right day to remind everyone in the world how fragile our security is. And even more so when the threat of a radiation catastrophe at the Zaporizhzhia nuclear power plant, artificially created by Russia, has been looming every day and every minute for more than a year already.

Only Ukraine's full control over the ZNPP can restore full security not only for our country, but also for the entire Europe and the whole world.

Radiation does not recognize state borders, just like the Russian Federation. And only full compliance with the rules can guarantee safety.

I would also like to thank Mr. Grossi for his initiative – a very important social initiative – of such a special medical support program for the personnel of all our nuclear power plants. Thank you for supporting our people!

Thank you to everyone who helps us fight against aggression!

Glory to all Ukrainian warriors who are now in combat, at combat posts and on combat missions!

Glory to Ukraine!
Here's the initial response from President Zelenskyy regarding his call today with President Xi:
I had a long and meaningful phone call with 🇨🇳 President Xi Jinping. I believe that this call, as well as the appointment of Ukraine's ambassador to China, will give a powerful impetus to the development of our bilateral relations.

— Володимир Зеленський (@ZelenskyyUa) April 26, 2023
Here's the official Ukrainian readout from President Zelenskyy's call today with President Xi:
President of Ukraine had a phone call with the President of the People's Republic of China

26 April 2023 – 18:33

President of Ukraine Volodymyr Zelenskyy had a phone call with the President of the People's Republic of China Xi Jinping.

During a productive hour-long conversation, the heads of state discussed a full range of topical issues of bilateral relations. Special attention was paid to the ways of possible cooperation to establish a just and sustainable peace for Ukraine.

Volodymyr Zelenskyy reaffirmed Ukraine's unwavering position on adherence to the "One China" policy and thanked the President of the People's Republic of China for China's support for Ukraine's independence, sovereignty and territorial integrity.

The President expressed gratitude to the Chinese side for the humanitarian assistance and noted that Ukraine properly cares about the safety of Chinese citizens in our country.

The parties discussed ways to strengthen the Ukrainian-Chinese partnership.

"Before the full-scale Russian invasion, China was Ukraine's number one trading partner. I believe that our conversation today will give a powerful impetus to the return, preservation and development of this dynamic at all levels," the President of Ukraine emphasized. This should be facilitated by the resumption of the work of the bilateral intergovernmental commission and the appointment of the Ambassador of Ukraine to China.

The President of Ukraine emphasized that today Ukraine honors the memory of the victims of the Chornobyl accident – the largest man-made disaster in the history of mankind. He emphasized that the ongoing Russian occupation of the Zaporizhzhia nuclear power plant and the use of the plant as a cover for military strikes at our cities and villages demonstrate that Moscow does not respect the fair interest of all people of the world to live in guaranteed safety from any nuclear or radiation threats.

In this regard, the Head of State called on China to play an effective role in the settlement of the security issue around the ZNPP.

"This will be in line with the essence of the Budapest Memorandum," he emphasized.

Volodymyr Zelenskyy briefed the Chinese leader on the situation at the front: "The situation at the front is difficult, but we are standing. And we will continue to liberate our land. We did not start this war, but we have to restore the sovereignty and territorial integrity of our country. Within the internationally recognized borders of 1991. Including Crimea. This is fully consistent with the purposes and principles of the UN Charter."

The Head of State specifically focused on the devastating consequences of the Russian invasion, emphasizing the abduction of twenty thousand Ukrainian children by Russia.

The President of Ukraine outlined the content of the Ukrainian Peace Formula and informed about the ongoing diplomatic work on the organization of the Global Peace Summit.

Volodymyr Zelenskyy expressed hope for China's active participation in efforts to restore peace.

"Nobody wants peace more than the Ukrainian people. We are on our land and fighting for our future, exercising our inalienable right to self-defense. Peace must be just and sustainable, based on the principles of international law and respect for the UN Charter. There can be no peace at the expense of territorial compromises. The territorial integrity of Ukraine must be restored within the 1991 borders," the President of Ukraine said.

The parties emphasized the importance of efforts to establish peace.

The Head of State separately emphasized the importance of all states refraining from supporting Russia in the war. This should apply to military-technical cooperation, including the supply of weapons.

"Russia converts any support – even partial – into the continuation of its aggression, into its further rejection of peace. The less support Russia receives, the sooner the war will end and serenity will return to international relations," Volodymyr Zelenskyy emphasized.

The President of Ukraine emphasized the readiness of our country to remain a guarantor of global food security. Volodymyr Zelenskyy noted that Ukrainian ports are currently hostage to Russian aggression and are blocked by the aggressor state, and our export routes are blocked with them.

In this context, the parties expressed joint support for the need for proper implementation and continuation of the Black Sea Grain Initiative. Volodymyr Zelenskyy informed about the implementation of the Grain from Ukraine global humanitarian program.

The leaders of Ukraine and China agreed to maintain a regular dialogue.
Here's some thoughts from senior members of Zelenskyy's team:
And this from Zelensky's foreign policy advisor and deputy head of his administration: https://t.co/a1z502Lr73

— Christopher Miller (@ChristopherJM) April 26, 2023
Here's the PRC's official readout:
President Xi Jinping Speaks with Ukrainian President Volodymyr Zelenskyy on the Phone
2023-04-26 20:50

On the afternoon of 26 April, President Xi Jinping spoke with Ukrainian President Volodymyr Zelenskyy on the phone at the invitation of the latter. The two sides exchanged views on China-Ukraine relations and the Ukraine crisis.

President Xi noted that China-Ukraine relations, after 31 years of development, have reached a level of strategic partnership, boosting development and revitalization of the two countries. Xi commended President Zelenskyy for stating, on multiple occasions, the importance he attaches to developing the bilateral relationship and advancing cooperation with China, and thanked the Ukrainian side for its strong assistance to the evacuation of Chinese nationals last year. Mutual respect for sovereignty and territorial integrity is the political foundation of China-Ukraine relations. The two sides need to look to the future, view and handle the bilateral relations from a long-term perspective, carry forward the tradition of mutual respect and sincerity, and take the China-Ukraine strategic partnership forward. China's readiness to develop relations with Ukraine is consistent and clear-cut. No matter how the international situation evolves, China will work with Ukraine to advance mutually beneficial cooperation.

President Xi pointed out that the Ukraine crisis is evolving in complex ways with major impacts on the international landscape. On the Ukraine crisis, China always stands on the side of peace. Its core stance is to facilitate talks for peace. He noted his proposals of four points about what must be done, four things the international community must do together and three observations. On this basis, China released its Position on the Political Settlement of the Ukraine Crisis. China did not create the Ukraine crisis, nor is it a party to the crisis. As a permanent member of the UN Security Council and a responsible major country, China would not sit idly by, nor would it add oil to the fire, still less exploit the situation for self gains. Everything China does is aboveboard. Dialogue and negotiation are the only viable way forward. There is no winner in nuclear wars. On the nuclear issue, all relevant parties must stay calm and exercise restraint, truly act in the interests of their own future and that of humanity, and jointly manage the crisis. With rational thinking and voices now on the rise, it is important to seize the opportunity and build up favorable conditions for the political settlement of the crisis. It is hoped that all parties would seriously reflect on the Ukraine crisis and jointly explore ways to bring lasting peace and security to Europe through dialogue. China will continue to facilitate talks for peace and make its efforts for early ceasefire and restoration of peace. China will send the Special Representative of the Chinese Government on Eurasian Affairs to Ukraine and other countries to have in-depth communication with all parties on the political settlement of the Ukraine crisis. China has sent multiple batches of humanitarian assistance to Ukraine and will keep providing help to the best of its ability.

President Zelenskyy congratulated President Xi on his re-election and commended China for its remarkable achievements. He expressed confidence that under the leadership of President Xi, China will successfully address various challenges and continue to move forward. China upholds the purposes and principles of the UN Charter in international affairs and has significant influence on the international stage. The Ukrainian side is committed to the one-China policy, and hopes to advance all-round bilateral cooperation with China, open up a new chapter in Ukraine-China relations, and jointly safeguard world peace and stability. Zelenskyy shared his views on the current state of the Ukraine crisis. He thanked China for providing humanitarian assistance to Ukraine and welcomed China's important role in restoring peace and seeking diplomatic solution to the crisis.
There are still no operational updates from the Ukrainian MOD.
Today is also the anniversary of the Chornobyl disaster:
The anniversary of the Chornobyl disaster is the right day to remind everyone in the world how fragile our security is. And even more so when the threat of a radiation catastrophe at the Zaporizhzhia nuclear power plant, artificially created by 🇷🇺, has been looming every day and… pic.twitter.com/D9GHZiomx2

— Володимир Зеленський (@ZelenskyyUa) April 26, 2023
Bakhmut:
Commander of the 127th Territorial Defence Brigade, Roman Grischenko, reporting from Bakhmut on 26 April 2023. pic.twitter.com/0Aewk1vc5N

— Dmitri (@wartranslated) April 26, 2023
Spokesman of the 10th mountain assault brigade Nikita Shandyba said that the Ukrainian forces are preparing a "surprise" for the Russian forces in Bakhmut. What, can only be guessed. pic.twitter.com/IA7KutxbVH

— NOËL 🇪🇺 🇺🇦 (@NOELreports) April 26, 2023
Colonel-General Syrskyi has given an interview to Interfax Ukraine. Here are some machine translated excerpts:
Commander of the Eastern Group of the Armed Forces Colonel-General Alexander Sirsky answered written questions from the agency «Interfax-Ukraine»

The hottest is now in Bakhmut, but the enemy's offensive in the East continues in several directions at the same time. What is the situation there?

Indeed, the enemy is advancing in the east in several directions at the same time. Now the fiercest battles continue in the area of the cities of Bakhmut and Avdiivka in Donetschina.  The enemy does not leave attempts to surround and capture these settlements, despite the colossal losses in living force and technology.

The enemy is also active in the Kremin direction, trying to displace our troops from the Serebryan Forestry south of Kreminny, thus creating favorable conditions for the development of an offensive in the direction of Lyman. OTU military units "Liman" repel enemy attacks, inflicting significant losses on him. And, in fact, in the Lyman direction, our fighters do not allow the enemy to advance. To strengthen our defense capabilities, troops regrouped here and reached positions in the fortification sense.

In other areas, the situation is controlled, without features.

Why do you think the enemy is making the most of his efforts in all areas of the offensive?

Indeed, Bakhmut remains the object of the enemy's main efforts from all other directions. For Russia, eastern Ukraine is the only part of the front where it has made at least some progress with the beginning of the « Great Offensive». The plan to conquer Ukraine in three days « was transformed into nine-month attempts around a small town. After a series of defeats in northern and southern Ukraine, the Russian leadership needs to demonstrate at least the slightest success in the occupation of Donbass. Without mastering it, the occupiers will not be able to develop an offensive in the direction of Kramatorsk and Sieverska. Therefore, Russian propaganda presents the battles for Bakhmut as the second «battle for Stalingrad». They like to make such parallels. And to achieve its goals, the Russian will not spare either human or material resources.

What is the military expediency of such a long defense of Bakhmut or in simple words – what does it give us?

The battles for Bakhmut are important not only for the enemy but also for us. After all, for several months in this direction, we restrain the enemy's offensive and do not allow him to increase the front. In addition, we inflict significant losses on the enemy – destroying their most professional units, weapons and military equipment.

Further maintenance of Bakhmut is important to our defense for several reasons:

the city is an important defense hub, the maintenance of which ensures the stability of the defense of the group of troops as a whole;

Bakhmut is a well-placed natural fortress, surrounded by rivers and located on hills, which promotes defense;

also the protection of the city is facilitated by the presence of multi-storey buildings and developed infrastructure on the left bank of the river Bakhmutovka, where our troops are defending;

the battle to master the city is a specific type of combat that requires special skills and creates difficulties for troops that led the offensive in the conditions of the forest-step;

Bakhmut is part of the Konstantin-Kramator agglomeration, the maintenance of which excludes the enemy's exit to the flanks and rear of groups of our troops in the Lysychan and Donetsk directions.

Has the tactics of Russian troops in the east changed in recent times?

Of course, the enemy analyzes the results of his actions, draws certain conclusions and improves the tactics of using troops.

Primir, in each brigade ( regiment ) on the basis of motorcycle-shooted mouths reinforced with tanks, flamethrower, mortar and anti-tank units formed separate assault units "Storm" are designed to recover lost positions. To create favorable conditions for assault operations, the enemy actively uses tank and artillery units (, including from closed firing positions), inflicts a powerful fire defeat on our troops, destroys positions after which they go to attack assault units. In the course of assault actions, the UAV is necessarily used, so that the enemy corrects the fire of artillery, and the commander of the group is able to effectively manage subordinate personnel.

In urban conditions, the enemy uses long-term artillery fire to fire on the object of attack. The object of attack is directly stormed by a group of up to 10 people with small arms. Combat equipment is extremely rare. Usually performs an offensive in 3-4 " waves". The losses of the assault group are promptly replenished by the evacuation group from distribution points. Assault group commanders use smartphones with special software "Alpine Quest GPS", which shows the coordinates of the positions of our fire extinguishers, attack objects, routes to them, as well as the tasks of neighboring units.

How does the use of Western weapons and military equipment on the battlefield affect the course of hostilities?

Ukraine's defense forces receive a wide range of foreign weapons from partner countries, as military international technical assistance, to adequately effectively combat and defeat enemy groups. This has become an extremely important issue, as troops experience a chronic shortage of defenses to Soviet-made missile systems and artillery systems, as well as loss of weapons and military equipment.

With the receipt of foreign missile systems and artillery systems, the Armed Forces of Ukraine managed to seize the operational initiative, to turn the war in our favor.

Western-made missile complexes allow high-precision missile strikes on important enemy objects, which certainly demoralizes it.

Artillery guns of foreign production by certain types of ammunition provide fire at a range of up to 30 km, and high-precision – up to 40 km. In addition, the ammunition war kit for artillery guns provides for their various equipment, including one that allows remote demining of the terrain and damage to armored targets with the help of self-targeting combat elements.

The equipment of technical means of artillery reconnaissance and unmanned aerial complexes, including foreign production, with artillery systems allows to adjust the fire and hit targets in real time, which saves ammunition and increases the effectiveness of goal damage.

The presence in foreign weapons of equipment to determine its location and automated gun fire control system, increases the efficiency of fire tasks and gives an advantage over the enemy.

A line of ammunition, including high-precision, foreign weapons allows the enemy to be effectively destroyed in both rough and urban areas under fire restrictions and prohibitions in order to minimize associated losses.

That is, the use of missile weapons and artillery, which came from partner countries as military international technical assistance, has a positive effect on the course of hostilities, namely:

gives confidence to the personnel of the Defense Forces of Ukraine in the success of operations, battles and significant motivation to conduct hostilities to destroy enemy groups;

the use of high-tech, high-precision weapons by missile troops and artillery of the Defense Forces of Ukraine significantly impairs the moral and psychological state of the enemy;

increases the effectiveness of damage to enemy objects both at the front edge and in its operational depth;

allows to conduct enemy reconnaissance in real time.
Much, much, much more at the link!
Kherson:
Today, in the Kherson region, 5 LANCET and 1 Merlin-VR UAVs were destroyed, reports the Air Force of Ukraine. pic.twitter.com/SLrCHX52Ec

— NOËL 🇪🇺 🇺🇦 (@NOELreports) April 26, 2023
Slovyansk via The Financial Times:
It was Good Friday and Yulia, a local shopkeeper in Slovyansk — the eastern Ukrainian city Russian forces first invaded nine years ago — was hoping to sell enough Easter bread to keep her store running.

"Business has not been good," she lamented, arranging the bread. Had it not been for the soldiers buying her merchandise, she would have had to follow other shop owners in her street who boarded up their stores and left.

Just 25 miles away, Ukrainian and Russian forces are entrenched in one of the longest battles of the war, over the now largely flattened city of Bakhmut.

"We are all worried because the frontline is getting closer," said Olha, another employee at the shop. "We see what they have done to Bakhmut . . . It was erased from the face of the earth."

Yulia said she stayed in what she described as a "ghost town" because her husband was fighting on the nearby frontline. He returns home between rotations to see her, their daughter, and their infant grandson.

Two days before the Financial Times visited the city, Russian S-300 missiles struck a school playground and several blocks of flats in Slovyansk, terrifying residents, who fled to basements and bomb shelters, Yulia said. Some decided it was finally time to leave, following more than half of the city's prewar population of around 100,000 residents who had already evacuated.

Yulia and Olha said they would stay as long as Ukraine remained in control of Slovyansk. They both asked for their surnames not to be published out of fear of what Russian troops might do to them if they reach the city before they are able to leave.

"War has always been in our heads because of the occupation in 2014," Yulia said. "I don't know anyone who is not obsessed with the war and consumed by fear."

Nine years ago, after the Kremlin's annexation of Crimea, Slovyansk was the first mainland Ukrainian city to fall under the control of a group of "little green men" — Moscow forces in unmarked green uniforms. They captured its government offices and declared it part of a new Russian protectorate state they called the "Donetsk People's Republic".

Russia's undercover army and local collaborators who joined their ranks terrorised the city's residents during their three-month occupation. Politicians, international conflict monitors, journalists and residents who spoke against the occupation were rounded up and jailed. Many were beaten or tortured and several were executed by firing squads, according to witnesses and documents discovered by journalists after Slovyansk was liberated in July 2014.

"The difference between then and now is like the difference between the earth and the sky," Olha chimed in, referring to the intensity and frequency of Russia's latest attacks. "They drop bombs on us."

Slovyansk came under air strikes and artillery attacks last summer, as Russian troops closed in, following the seizure of nearby town Lyman. But Ukrainian troops managed to dislodge them and push them back during a flash counteroffensive in autumn, providing a brief reprieve.

President Volodymyr Zelenskyy has said that if the Kremlin's troops capture Bakhmut, it could be a stepping stone to push towards Slovyansk and its sister city, Kramatorsk, just 10 miles south.

Sensing tougher times ahead, the mayor of Slovyansk, Vadym Lyakh, has urged residents to evacuate the city. His counterpart in Kramatorsk has done the same. But fewer people than they would like have heeded the advice.

"People are leaving little by little, but I would like to see it happen more actively," he told local Ukrainian media earlier this month. He estimates that somewhere between 40,000 and 50,000 people remain in Slovyansk.

When Russian forces were closing in last summer, the population fell to just 20,000. But upwards of 30,000 returned in recent months, believing that the situation had improved.
Much more at the link!
From The Kyiv Independent's Illia Ponomarenko:
And here we go with the first video showing MIM-104 Patriot in Ukrainehttps://t.co/c6iFqFYwSO

— Illia Ponomarenko 🇺🇦 (@IAPonomarenko) April 26, 2023
Here's the full video:
And here's the machine translation of the summary the Ukrainian Air Force posted below the video:
Since April 2023, the Patriot air defense system has been on combat duty in Ukraine!
Modern western technology has its own peculiarities, but our defenders of the sky are quickly mastering it and are ready to destroy the Russian occupier!
The Air Force has finally received what it has been longing for – a weapon against "ballistics"!

Glory to Ukraine!
Together – to victory!
In other defense acquisition news:
The Ukrainian Defense Industrial Complex is developing unmanned torpedoes:
-TLK 150: electric motor, range 100 km, 20-50 kg of explosives.
-TLK 400: range 1200 km, 500 kg of explosives.
-TLK 1000: range 2000 km, 5000 kg of explosives.https://t.co/zuqpzGNNGZ pic.twitter.com/gPAPAZUbYv

— Special Kherson Cat 🐈🇺🇦 (@bayraktar_1love) April 26, 2023
/3. P.S: There is currently no information on what stage of development the project is at.

— Special Kherson Cat 🐈🇺🇦 (@bayraktar_1love) April 26, 2023
As a national security professional who has sat through every single lesson of Defense Enterprise Management now known as Defense Management in the resident course at the US Army War College I can confidently say that it is at the on display stage of development!
Last night in comments Anonymous at Work asked:
Adam,

Thoughts on Rep. Joe Wilson (You Lie!-SC)'s resolution to support Ukraine until the 1991 borders are restored?  Is it a serious effort to force Republicans to show support or go home?
It is important to remember that Congressman Wilson retired as a colonel in the US National Guard from South Carolina. He originally served in the US Army Reserve. I think his service history is sufficient explanation for supporting Ukraine. I have no idea if it is a serious effort to force Republicans to show support, let alone just support, Ukraine. And given the current national security, foreign policy, and defense policy divides within the GOP as well as whatever the conservative movement is today, I doubt it would have much effect. I expect that as soon as former President Trump secures the GOP nomination for president, the official GOP position will become the position that Trump holds now. And that elected Republicans, and those seeking higher offices or their first office, will either vocally support Trump's position or just stop talking about it or engage in a variety of attempts to avoid having to do so. It is for this reason that Governor DeSantis is once again trying to get to Trump's right on the Ukraine issue:
.@GovRonDeSantis calls for 'cease-fire' in Ukraine.

Reporting by @AGGancarskihttps://t.co/p5NFRPmiHP#FlaPol

— Peter Schorsch (@PeterSchorschFL) April 25, 2023
From Florida Politics:
Florida's Governor is calling for a cease-fire in Russia's war with Ukraine.

In comments made to Nikkei Asia, Ron DeSantis called for a cessation of hostilities, lest a situation happen such as the entrenched bloodshed in World War I.

"You don't want to end up in, like, a Verdun situation, where you just have mass casualties, mass expense, and end up with a stalemate." he said. "It's in everybody's interest to try to get to a place where we can have a cease-fire."

More than 300,000 people died in Verdun.

DeSantis also suggested the fight was Europe's fight, not so much America's concern.

"The Europeans really need to do more. I mean, this is their continent. The U.S. has provided security for them. And yes, Poland — there's some that are doing stuff, and that should be appreciated. But Germany, they're not doing anything," DeSantis said.
Which is why this is the question to ask and the context in which to ask it:
Help me understand this. We were raised on the ideals of western freedom and values. Now that we have russia invading Ukraine we have that classic story of a free, smaller nation standing up to an oppressive, backwards regime. A classic underdog coming out on top kind of tale. A… pic.twitter.com/7byUbzoEYA

— NAFO Orwell🇺🇸🇺🇦 (@OrwellsShaddow) April 25, 2023
Here is the full text of the tweet:
Help me understand this. We were raised on the ideals of western freedom and values. Now that we have russia invading Ukraine we have that classic story of a free, smaller nation standing up to an oppressive, backwards regime. A classic underdog coming out on top kind of tale. A free, democratic nation, fighting against a kleptocratic backwards dictatorship. Why the hell would anyone in the west support russia? Right wingers: russia has a 14% church attendance, highest HIV rate in Europe, one of the highest divorce rates, some of the highest abortion rates out there, selling its resources and future to communist China, if you're looking for a "based and trad" nation, this ain't it. Left wingers: russia legalized domestic violence, despite the comparable to the west amount of gay people is actively persecuting gay and trans people, top 1% is immune to any persecution, minorities are actively discriminated against. If you're looking for your "communist equality heaven" this ain't it either. There is literally no reason to support russia no matter what beliefs you hold.
In Murmansk, Russia has once again attacked itself!
Russian military supersonic fighter MiG-31 crashed in Murmansk region, Russia pic.twitter.com/3E4dtsgJMI

— Special Kherson Cat 🐈🇺🇦 (@bayraktar_1love) April 26, 2023
/3. The MiG-31 sank in Lake Bolshaya Imandra, leaving only small fragments on the surface. pic.twitter.com/zHdg2tkMTk

— Special Kherson Cat 🐈🇺🇦 (@bayraktar_1love) April 26, 2023
That's enough for tonight.
Your daily Patron!
And the machine translation of the caption:
A good trend 😊 #песпатрон#патрондснс
Open thread!