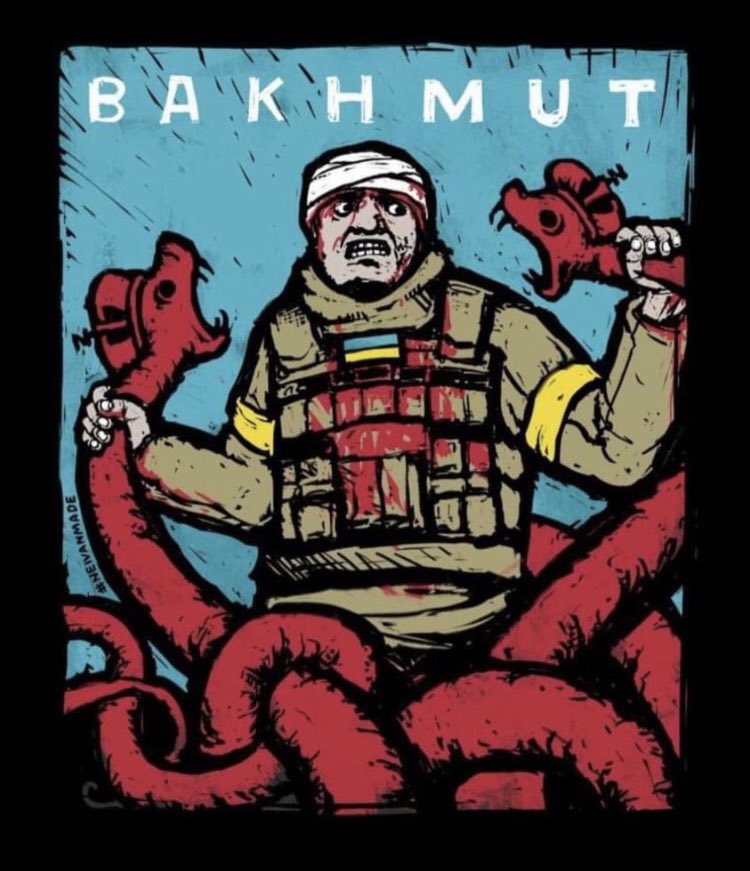 (Image by NEIVANMADE)
ETA 9:59 PM EDT: I have an engagement all day tomorrow that will last until at least 8 PM EDT. So the update will be late – most likely after 9 PM EDT and will be brief.
We now return you the regularly scheduled post that was posted earlier.
AFP video journalist Arman Soldin was killed by the Russians in eastern Ukraine.
We are devastated to learn of the death of AFP video journalist Arman Soldin in eastern Ukraine today.

All of our thoughts go out to his family and loved ones. pic.twitter.com/T2y449o1Ry

— AFP News Agency (@AFP) May 9, 2023
France has opened a war crimes investigation:
PARIS @AFP — France opens war crime investigation into AFP reporter's death: prosecutors

— Jonathan Brown (@jonathaneebrown) May 10, 2023
Here is President Zelenskyy's address from earlier today. Video below, English transcript after the jump:
It is in Ukraine that the world will see what Europe is capable of – address by President Volodymyr Zelenskyy

10 May 2023 – 22:25

Good health to you, fellow Ukrainians!

Briefly about this day, about our actions.

Our international block is working vigorously and thoroughly with partners on new defense packages for Ukraine. New decisions are already at the working level. More protection for our skies, more opportunities for our defense and movement on the ground. I held several meetings today where we discussed all this. And we expect appropriate steps from our partners in the near future.

Let us not forget for a single minute that every day of the occupier's presence on our land is a temptation for him to think that he will succeed. He will not! We must return freedom, security and Europe to all Ukrainian land – to all European land. We will do it! We will not leave a single piece of our land to the enemy – tyranny will not reign anywhere. And I thank our partners-leaders, all partner countries, each and every one who helps us increase our strength and make Ukrainian defense even more active.

Today, I held a very informative meeting with government officials on programs to restore our territory and Ukrainian life after hostilities and the war in general. We are working on all aspects of recovery, and each of them is in a new security format. Economy and industry, defense industry, energy, infrastructure, education, social sphere, healthcare sector, including the rehabilitation component… All that needs to be built, what the world is ready to invest in, what will give Ukraine and Ukrainians reliable protection and steady development of our social capital.

Now, in May, we will finalize the specific points of these state programs, and in June we will start practical work with our partners on our plans, including both the reconstruction of critical systems here and now and the strategic transformation of our country. I am confident that our reconstruction project will give impetus to the development of at least our entire region – following Ukraine and all our partners who will cooperate with Ukraine.

It is here, in Ukraine, that the world will see what Europe is capable of. Here, in Ukraine, we will have the maximum of Europe in Europe – the maximum possible of what European values are capable of, what European and global cooperation is capable of.

Step by step, based on the resources we have now, we are implementing programs for the ongoing recovery of our country. In particular, today "eVidnovlennia" public service has been launched. It is aimed to support people who need to repair their homes or apartments after war damage. Already today we have received a significant number of applications in Diia. In total, we are talking about hundreds of thousands of damaged objects. Moreover, we have to fulfill this task also for those of our people who were able to restore their damaged housing on their own. Equality in assistance is very important, and we need an appropriate algorithm. The next step is compensation for lost housing. It will also be implemented.

Of course, today I communicated with our commanders and intelligence chiefs. The situation on the frontline is an obvious first priority.

Today, I also signed new decrees on presenting our warriors with state awards. The 10th separate mountain assault brigade. The 14th, 28th, 53rd, 59th and 72nd separate mechanized brigades. The 3rd separate assault brigade. The 27th rocket artillery brigade. The 112th separate territorial defense brigade. The 67th separate infantry battalion. The 65th military mobile hospital. These are the Lyman direction, Bakhmut, Chasiv Yar, Avdiivka direction, Shakhtarsk direction.

In total, today's decrees honor 266 of our defenders. The bravest, the most worthy – those whose lives are the life of Ukraine, our beautiful and unbreakable Ukraine.

Glory to all our warriors who are now in combat, at combat posts and on combat missions!

Glory to every Ukrainian family that has raised such sons and daughters!

Glory to Ukraine!
This is heartbreaking. Yet this is so powerful and so important for everyone to watch.
Thank you @Imaginedragons! pic.twitter.com/6AY67hoHGo

— Defense of Ukraine (@DefenceU) May 10, 2023
Bakhmut:
Several of you, as well as Cole via text, asked about the reports trickling out that the Russians had been pushed back in Bakhmut:
The news, prior to the confirmation, was originally announced by Wagner mercenary group founder Yevgeny Prigozhin.

— The Kyiv Independent (@KyivIndependent) May 9, 2023
The Bakhmut counter strike pic.twitter.com/SclTTAbUah

— Illia Ponomarenko 🇺🇦 (@IAPonomarenko) May 10, 2023
A video of a russian soldier in #Bakhmut signaling he wants to surrender. 🇺🇦 drops a note to him – follow the drone. He hesitates, then follows, despite 🇷🇺 shooting him in the back. In the end – he is in 🇺🇦 custody. #HumanityFirst #StandWithUkraine pic.twitter.com/7dOmP8P0Yf

— olexander scherba🇺🇦 (@olex_scherba) May 10, 2023
Bakhmut: russian "warriors of light" are shelling Orthodox churches with the blessing of the Moscow patriarch. pic.twitter.com/PVUkS4powS

— Defense of Ukraine (@DefenceU) May 10, 2023
Russian T-90M tank destroyed in Bakhmut. https://t.co/dVsQHPzK8r pic.twitter.com/r2f3mPTxtd

— Rob Lee (@RALee85) May 10, 2023
"All against all…complete disunity of the front" – Russian volunteer Anastasiya Kashevarova explains what happened between Wagner and the 72nd Brigade in Bakhmut in a long Telegram post.

She says Russian Forces are not allowed to communicate with Wagner. Wagner was forced to… pic.twitter.com/rtZyJlj8x1

— Dmitri (@wartranslated) May 10, 2023
Here are the screen grabs from Dmitri's tweet above so you don't have to click through: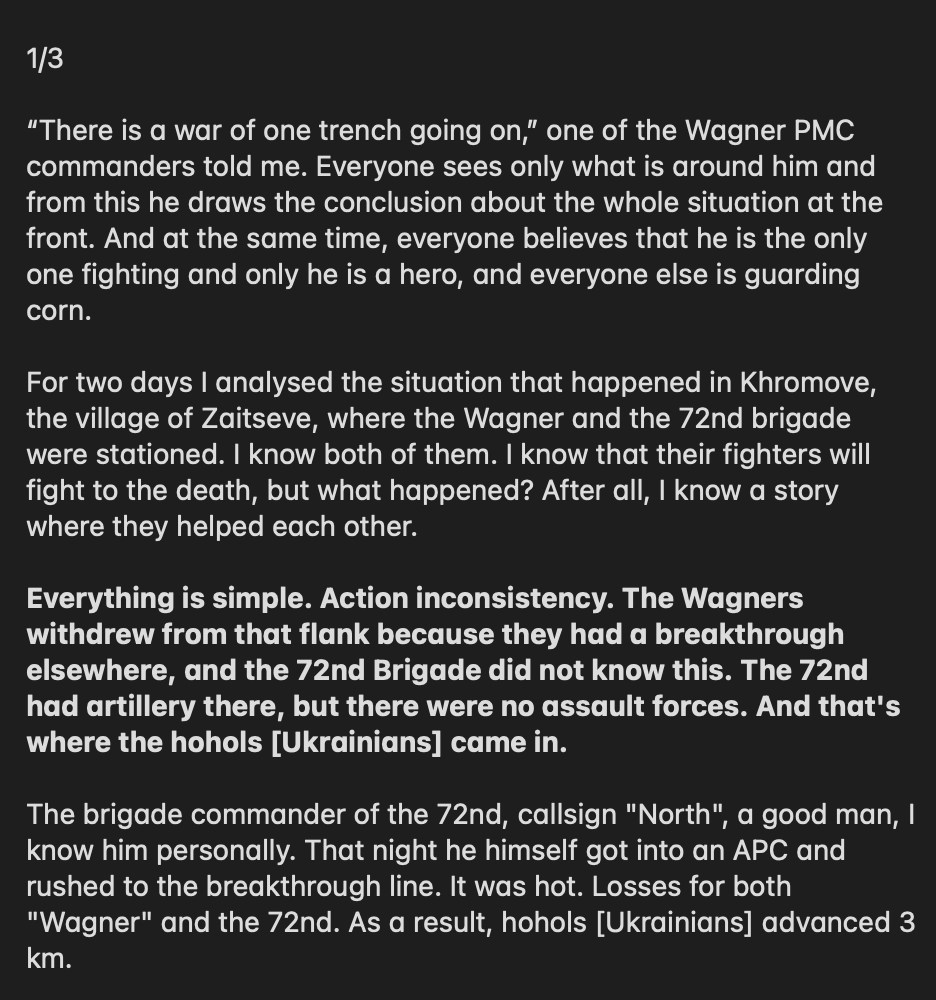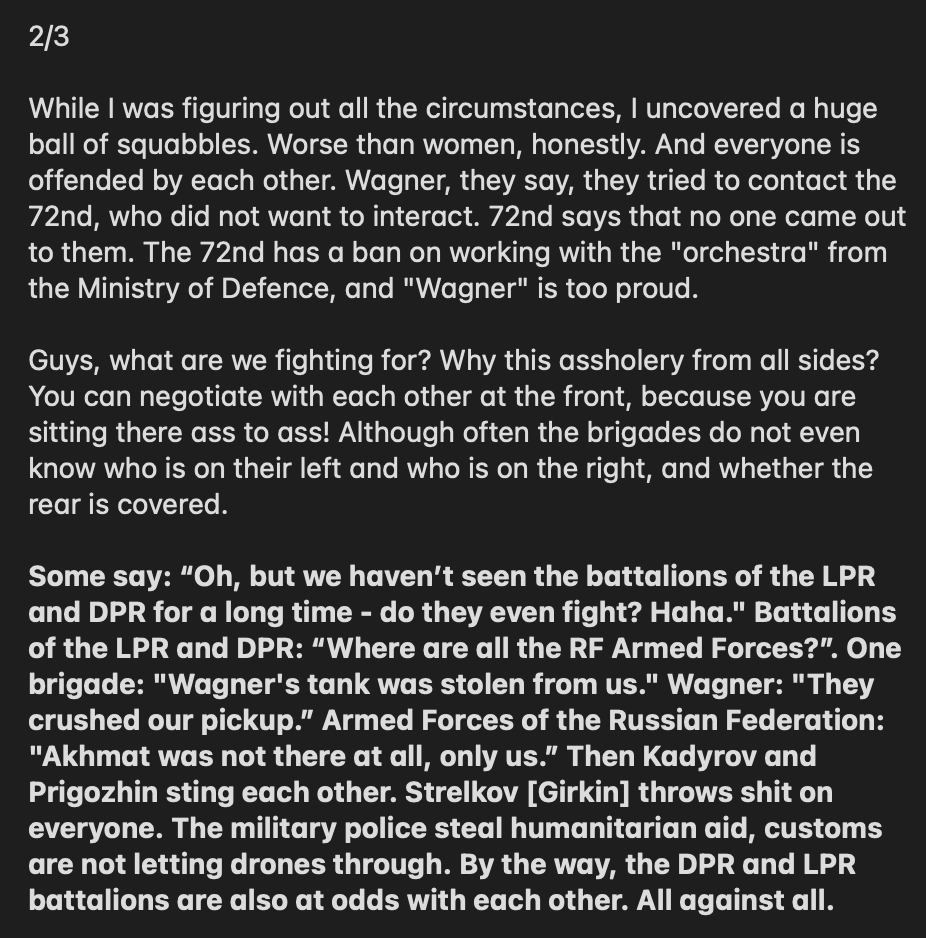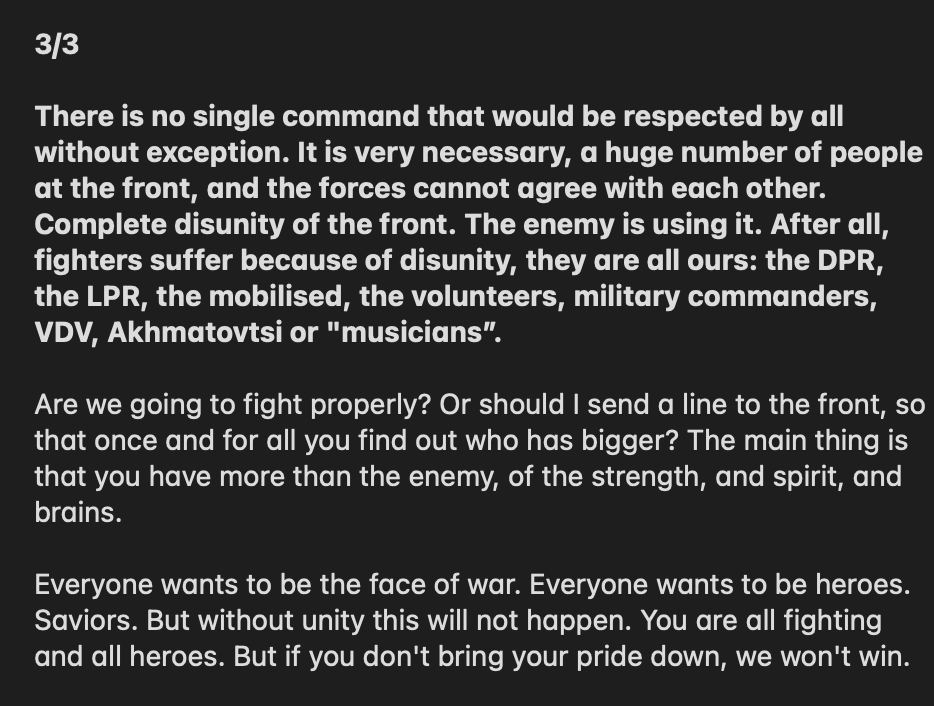 And more from Prigozhin about Bakhmut:
Another summary from Prigotzhin on Bakhmut as of 10 May: no ammunition given despite the instructions of the past few days; says Bakhmut was necessary for the Russian army to regroup. Does not add much context as to why the shell hunger might be happening apart from… pic.twitter.com/PLHjwPXlDj

— Dmitri (@wartranslated) May 10, 2023
Here's the full text of Dmitri's tweet:
Another summary from Prigotzhin on Bakhmut as of 10 May: no ammunition given despite the instructions of the past few days; says Bakhmut was necessary for the Russian army to regroup. Does not add much context as to why the shell hunger might be happening apart from "competition".

Finally, adds that Russian flanks in Bakhmut begin to crumble (hello to the 72nd Brigade).
Here's the screen grabs of the translation: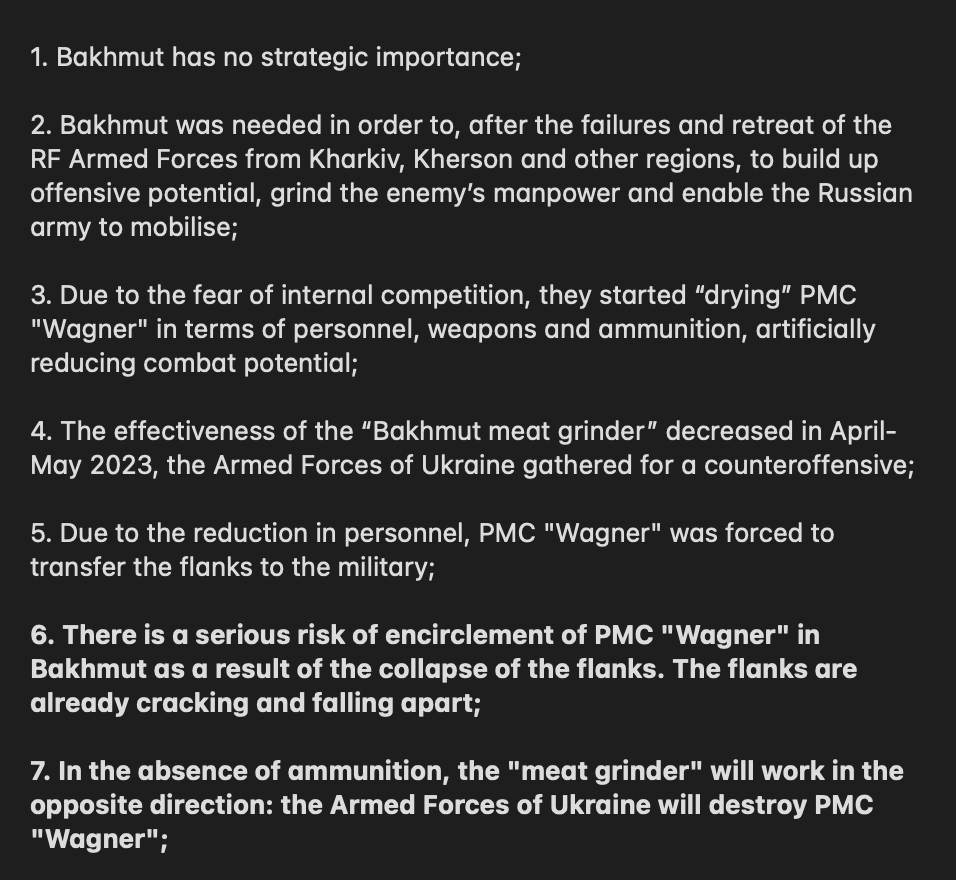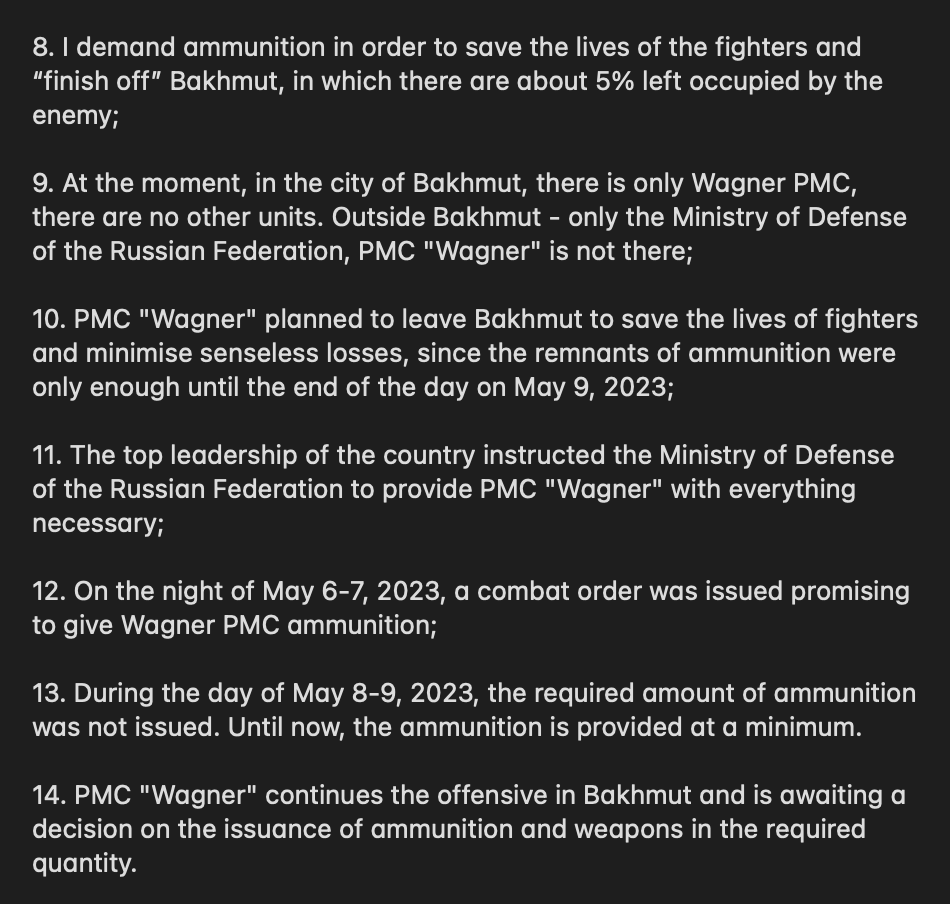 And a note from Dmitri on his translations:
Several readers expressed concern about Ukrainian soldiers using "gay slurs" in recent videos I published, asking them to be changed. However, translation is translation, the point of it is to interpret the meaning of a word as close to the original as possible, and trust in a…

— Dmitri (@wartranslated) May 10, 2023
Full text: WARNING!!!! OFFENSIVE LANGUAGE!!!! WARNING!!!!
Several readers expressed concern about Ukrainian soldiers using "gay slurs" in recent videos I published, asking them to be changed. However, translation is translation, the point of it is to interpret the meaning of a word as close to the original as possible, and trust in a translator is earned through being precise.

But it is also important to understand the context of translation, and in this case, this gay slur is not used to describe someone's sexual orientation. This word stems from decades ago, it is widely used in Eastern Europe, but nowadays it is most often used to grievously insult someone (although it is still used in the original meaning).

In fact, this slur "pidor/pidory" is a generalisation that Ukrainians picked up for Russians in this conflict, and is convenient to use in a rush. It's fairly similar in its intent to the Russians calling Ukrainians "ukrs/hohols".

However, it is most certainly not used to describe someone's sexual orientation on the battlefield: after all, no one's walking around asking captives about their sexual orientation just to use this slur exclusively for them.

Ukrainians are a modern, respectable society, which they have proved on numerous occasions in the past 15 months and much earlier.

The closest equivalent to this slur in the English language would probably be "motherfucker" or "cunt", with the latter being particularly suitable due to having few syllables.

While I am not a big proponent of replacing words in translations, I may stick to one of the equivalents in the future, just in case readers don't know the context.
I have not posted a couple of his translations exactly because of this. While I get the context, I knew not everyone would and didn't want to unnecessarily upset any readers or commenters.
I do on occasion want to necessarily upset some commenters…
Zaporizhzhia:
Previously, the priority was forming storm and assault units with the best personnel.

— Rob Lee (@RALee85) May 10, 2023
Tallyho!
Major Vadym "Karaya" Voroshylov known as Ghost of Vinnytsia: «One plane can destroy entire units of the enemy. This is incredible power and strength.»

Ukraine's ace pilots need F-16s!

📷 Mariana Shafro pic.twitter.com/e18GHIn49X

— Defense of Ukraine (@DefenceU) May 10, 2023
The combat flight of our Su-25 pilot in the east of Ukraine pic.twitter.com/uib9XvftjR

— Ukrainian Air Force (@KpsZSU) May 9, 2023
Lord, guard and guide the men who fly
Through the great spaces in the sky,
Be with them always in the air,
In dark'ning storms or sunlight fair.
O, Hear us when we lift our prayer,
For those in peril in the air.
A bit more about Arman Soldin:
Heart-warming ❤️
🇫🇷journalist @ArmanSoldin and his team rescued a hedgehog from a trench in 🇺🇦
The team found it barely alive, gave it some water and took it to a safe place. They fed the animal and let it recover for a couple of days before releasing it into the wild🦔 pic.twitter.com/qzulIZvULR

— UAnimals.ENG 🇺🇦 (@UAnimalsENG) May 5, 2023
That's very heartwarming to hear !

— Arman Soldin (@ArmanSoldin) May 8, 2023
We're going to finish with two pieces of analysis regarding Russia. The first is from the Ukrainian officer who tweets as Tatarigami. First tweet in the thread followed by the rest from the Thread Reader App:
🧵Today, I want to discuss and share interesting details about the inadequate training of russian troops. This insight is based on my conversations with multiple officers across the frontlines in Donetsk and Luhansk Oblasts who shared with me details regarding prisoners of war. pic.twitter.com/WVjvnMUic6

— Tatarigami_UA (@Tatarigami_UA) May 10, 2023
2/ 

While russian training was subpar in comparison with NATO armies even before the invasion, the quality of their readiness is much lower even if we compare it with February 2022. Several anecdotes indicate that some soldiers haven't even fired a single shot prior to deployment 

3/ 

The tactic remains unchanged – hours, or even days, of artillery barrages, occasional airstrikes, and mortar fires followed by what can be called "meat waves" – assault groups comprised of soldiers who lack training beyond basic, if any at all.

4/ 

The process of deterioration of the russian army is accelerated by appearance of dozens of so-called "PMC", which are not really PMC but more of a privately-sponsored units by various businessmen, politicians and corporations. 

5/ 

Based on confessions, it is evident that some units receive much better training than the rest of the russian army. Some Wagner units (not convict units) look down on mobilized units and do not trust them, creating animosity between the units.

6/ 

However, despite these issues, the russian army is still capable of advancing. So, the question is, how? The answer is quite simple – russia still maintains a significant advantage in artillery means and ammunition. 

7/ 

Despite russia's ammo shortages, their artillery remains the main threat, as it allows even the lowest graded soldiers to take over positions that were turned into rubble by intense artillery fire. 

8/ 

It is crystal clear that Ukraine can defeat such an army if we have enough means. While some people continue to claim that Ukraine has everything it needs, this is far from the truth. 

9/ 

The reluctance of some countries to provide aid is staggering as this is the only thing that prolongs this war – the insufficient number of resources that hinders our ability to liberate our territories.
The second is from Greg Yudin, who is the Head of the Political Philosophy at the Moscow School of Social and Economic Sciences. First tweet below followed by the rest of the thread from the Thread Reader App:
Defeat. A thread 1/23

— Greg Yudin (@YudinGreg) May 9, 2023
One important indicator for me is how often people in Russia talk about possible defeat. I must confess that it happens now really often, which is a dramatic turn from the early months of the war 2/23 

For quite a while, nobody took the word "defeat" in their mouth, even if they considered the invasion to be an insane choice. That has changed 3/23 

While majority in Russia remains detached and prefers to avoid bad thoughts, those who dare to think are increasingly accepting that the war is likely to end with a defeat 4/23 

That applies perhaps mostly to those who tend to support Putin in this war for one reason or another (mainly because they fail to make difference between Putin's and national interests). This is a mood I notice in people from various industries, all of them rather elevated 5/23 

Similar mood flows over into the public sphere. Both Prigozhin and Kadyrov play their games, but between the lines they let out the shared assessment of the situation. Kadyrov says "it is very difficult", while Prigozhin warns of a looming catastrophe  6/23

The whole public fight between feudal warlords makes it extremely difficult to imagine this army achieving any success. Their language projects defeat, and this is what I often hear – "I don't know how this can possibly end with a victory" 7/23 

A recent confession from Andrey Kovalev, one of the major Russian developers, is indicative, too. Putin was feeding the rich people with the stories of how he is going to win it in the end, and now they seem to lose confidence 8/19

I am no military expert, but I have a better view of morale in the Russian army. It is very low, and the two motives to go to war remain (1) rare chance to earn some money and (2) submissiveness 9/23 

I wouldn't be surprised if the Russian army collapses after a couple of setbacks. I have no idea how likely that is (the Ukrainian offensive capabilities are often debated), but I consider it to be a distinct possibility 10/23 

Putin's ability to recruit more soldiers remains significant but limited. Importantly, it is affected by the situation on the battlefield. Nobody wants to be part of a losing army, but that matters more for the sort of motivation dominant among the Russian soldiers 12/23 

These are all early signs, of course, and Putin will be constantly killing the flames. In order to translate into action, these attitudes should rely on some vision of how the future might look like 13/23 

That poses a difficult question. How a defeat might look like? 14/23 

Putin has been pushing the idea that a defeat will mean the invasion of Russia, the country dismembered, the Russian women raped, children slaughtered and crucified, the foreigners ruling the land. Even Kovalev's ends with stressing that defeat would be a catastrophe 15/23 

Many Russians are convinced that the country is mortally threatened by the NATO forces. Several times I was told by the people I respect as cold-headed that this is all extremely bad, but what can we do – "if we don't take Kyiv, they will take Moscow anyway" 16/23 

The conversation about defeat is taking off in Russia, and it is important to untie the idea of defeat from the fears of catastrophe. Whose defeat it will be? This is another question 17/23 

While there is no doubt that Russian people will take significant responsibility for this brutal assault on Ukraine – it is still important to discuss the differential responsibility. The defeat of Putin's atrocious plans should be separated from the defeat of Russia 18/23 

Russia has already lost when this war was launched – an unspeakable damage has been done to the country. Ending this war by recognizing internationally recognized borders of all countries is not a defeat for Russia, it is a beginning of the revival 19/23 

It is no coincidence that Zombie TV tries to convince the audience that "everyone will go to the Hague is we lose".

20/23

This is a lie, however, that shouldn't be supported. THEY will lose, and they will go to hell, and they know it. While WE have already lost when this war started, and we will have to rebuild the country and start restoring relationships with neighbors 21/23 

This new emerging attitude offers new opportunities. Instead of trying to figure out what part of Ukraine will be enough for Putin (my answer is always Dresden), it is high time to think what are the costs and opportunities for Russia after Putin's defeat and removal 22/23 

This is a task for both the conversation between Russians and an international dialogue. There is no doubt Putin will do everything possible to preclude this conversation. But the sooner the solution emerges, the faster this war ends with justice 23/23
That's enough for tonight.
Your daily Patron!
— Patron (@PatronDsns) May 10, 2023
Just spring and me. Here I say hello to everyone and thank you for your support❤️ Grateful lick to you👅 pic.twitter.com/H7rQpWck78

— Patron (@PatronDsns) May 10, 2023
And a new video from Patron's official TikTok:
The machine translation of the caption is:
Sound familiar? 😅 #песпатрон
Open thread!