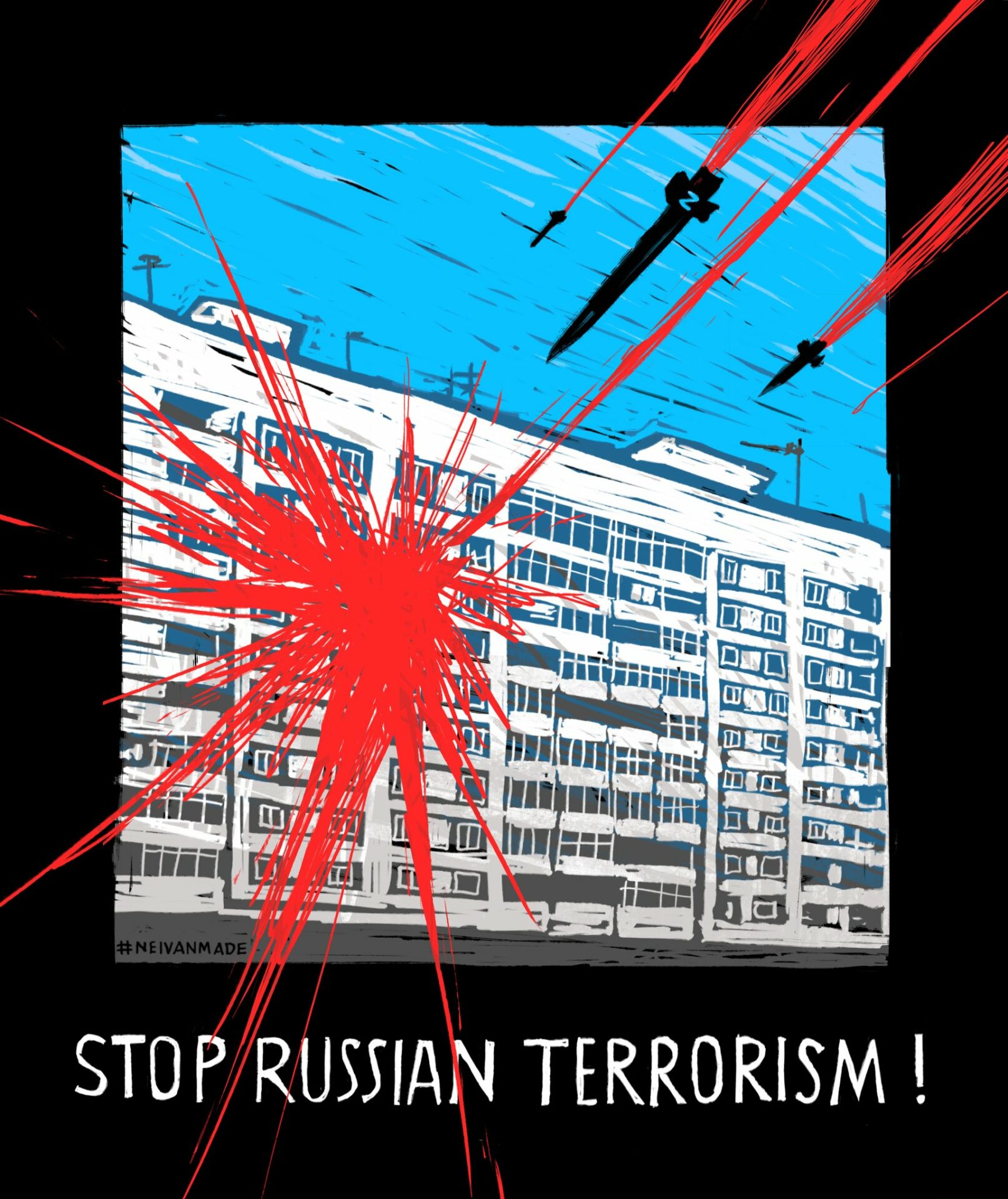 (Image by NEIVANMADE)
Before we get started I just want to thank everyone, again, for the kind words and to once again say that you're all welcome. Additionally, a few of you suggested in comments last night that I should set up something so those of you who wish to could send me money as a sign of appreciation for these posts. If you really feel the need to kick some money in, please just contribute to the site's fundraising page Balloon Juice for Ukraine. That, and your kind words, will be thanks enough!
General Zaluzhnyi released a message today:
The time has come to take back what belongs to us. pic.twitter.com/sH1Yrggg8U

— Commander-in-Chief of the Armed Forces of Ukraine (@CinC_AFU) May 27, 2023
Here is President Zelenskyy's address from earlier today. Video below, English transcript after the jump:
We will continue our sanctions steps, and new, even more extensive sanctions packages are on the way – address of President of Ukraine

27 May 2023 – 21:15

Dear Ukrainians, I wish you health!

Today is another sanction day. Sanctions against legal entities and individuals – most of them are Russian – who work for terror.

In total, 220 companies and 51 individuals. These are defense industry enterprises and related Russian companies. Enterprises serving the war. And the persons through whom these companies are managed.

Not all of them operate on the territory of the terrorist state, some – in other countries. But everyone will get global pressure. Step by step, we collect complete data on everyone who works for aggression – directly or indirectly. Each such person will be blocked, and our Ukrainian sanctions are either already synchronized or will be synchronized with the sanctions of the free world.

When Russia started this aggression, they looked at the world as if they were looking at themselves in a mirror. They thought that supposedly everyone in the world was as cynical and despised people in the same way as the masters of Russia do. But the world is different – the world helps us protect life. And anyone who goes against the world will become marginal. Russia will gain nothing and lose everything. Together with those who somehow try to help it in terror.

We will continue our sanctions steps, and new sanctions packages are on the way – even more extensive.

At the end of the week, I want to thank Japan for the new sanctions package against Russia. I'm also thankful for the new security assistance from Japan. It is what really saves lives.

I'm grateful to Finland for the new defense package for Ukraine. This decision was also made this week.

I'm thankful to Germany for transferring another batch of various types of defense equipment to our country to strengthen our defense against Russian terror, including defense of the sky.

I want to thank Canada for its willingness to strengthen its leadership in supporting Ukraine.

Thank you, Iceland, for helping our defense and our people.

We will also make next week strong from the point of view of our cooperation with partners. We don't lose a single week.

And, as always, I'm thankful to our soldiers, each and every one who played a distinguished role during the week.

Bakhmut direction… 80th Separate Air Assault Brigade – thank you, warriors, for your active actions! It is exactly what is needed. Glorious 93rd Separate Mechanized Brigade Kholodny Yar – thank you for your resistance and courage! Well done!

Lyman direction… 81st Separate Airmobile Brigade – thank you, guys, for your efficiency in destroying the enemy!

Tavria task force… 35th and 36th separate marine infantry brigades, 55th Separate Artillery Brigade, 59th Separate Motorized Brigade, and paratroopers of our 79th Air Assault Brigade – I thank you all! As always – strong, as always – effective!

Glory to all who defend our state! Glory to all who help!

Glory to Ukraine!
Kyiv:
Kyiv is preparing to celebrate it's Day. I love this dancing girl. It's like all of Ukraine now. pic.twitter.com/kLNsyOaocd

— Maria Avdeeva (@maria_avdv) May 27, 2023
Kharkiv:
A graduation ceremony outside a Kharkiv school damaged by russian terrorists. pic.twitter.com/ivqdc1ptZ7

— Defense of Ukraine (@DefenceU) May 27, 2023
Marinka:
Scouring old pictures, I found this sunset photo we took during a trip to Marinka in 2016

Marinka was "war torn" at that time with half the civilians having fled the town

But now, zero civilians remain in Marinka and the Russians have wiped it off the face of the earth pic.twitter.com/X0kQPm6zIq

— Christian Borys (@ItsBorys) May 27, 2023
Let them fight:
Girkin accuses Prigozhin of preparing for a coup in Russia. He says the insults towards the Russian army by Putin's cook are unacceptable, and signal a rift in the elites which Prigozhin will take advantage of with his private army that is being withdrawn from Bakhmut. Girkin… pic.twitter.com/kKh6C2K6Fc

— Dmitri (@wartranslated) May 27, 2023
Somewhere in Russia near the border with Ukraine:
Russian Telegram channels are sharing reports of unconfirmed clashes in border towns of the Bryansk People's Republic. Meanwhile, let's watch a video of more vehicles at an undisclosed location, in close proximity to the border. Who said I was joking or trolling? pic.twitter.com/Hx9tfzRYBk

— Tatarigami_UA (@Tatarigami_UA) May 27, 2023
Gen (ret) Breedlove, who was the Commanding General of US European Command and the Supreme Allied Commander Europe (SACEUR) in 2014 (my boss's boss), has some thoughts on Ukrainian pilots and F-16s:
"It's not about delivery just now," said retired Gen. Philip M. Breedlove, the former NATO Supreme Allied Commander. "Ukraine is going to need an air force to defend itself because Russia will be back."

"The integration of avionics, weapons systems, and weapons are decades ahead of what they're flying now," Breedlove said. "There will be an increased capability, increased radar range, increased weapons range, etc. But this is not the be-all to end-all."

Ukrainian officials have expressed hope they will be flying the planes by the fall, but some U.S. officials said they cannot guarantee the aircraft will be in Ukraine's hands before the end of the year.

A U.S. Air National Guard analysis assessing Ukrainian pilots' skills, reported by Yahoo News, said they could be trained to operate the plane in as little as four months. It could take months more, however, to turn those pilots into airmen who can hold their own in combat and make full use of the F-16's attributes, experts said.

If Ukrainians are not thoroughly trained in Western tactics, "you're not going to realize any of the benefits of having a real four-plus generation aircraft," said Breedlove, a former F-16 pilot. "If you take an F-16 and fly it and use it like a MiG-29, you're just going have a hotrod MiG-29, and that's it."

Still, the time needed is likely far short of the 18 months the Pentagon previously cited as the fastest possible timeline.

"We always overestimate how long it's going to take to bring a new weapons system into the Ukrainian military," Breedlove said. "They can clearly outperform our expectations."
And Maj Gen (ret) Stutzreim has some thoughts on Ukrainian air defense from the same article:
Instead of aircraft, U.S. officials have focused on providing Ukraine with air defenses, which has resulted in largely mutually-denied airspace over the country. But some F-16 proponents argue that since Ukraine's counteroffensive is so critical, the U.S. should have been quicker to supply Kyiv with Western aircraft.

Retired Air Force Maj. Gen. Larry Stutzriem, a former F-16 pilot and director of research at the Mitchell Institute for Aerospace Studies, said military planners should not throw up their hands but should use drones, electronic warfare, countermeasures, and real-time targeting to enable Ukraine's air force to find pockets in which it can operate and strike. Stutzriem said it's not about only the aircraft, but the integration of many capabilities to gain air superiority. Then, the fighter can strike Russian forces and their logistics.

"It can go fast with great flexibility to strike the adversary in depth, not merely where the land forces engage along a front," Stutzriem said. "That's why airpower was invented, to rise above the trenches and slog of land warfare."
More at the link.
That's enough for tonight.
Your daily Patron!
Last night in comments, A Good Woman asked:
OK, I confess I am actually a technology idiot.

I would love to order up some packages for the orphans, but my payment options appear to be 3rd party vendors to use for payment, and I would like to stick to my trusty VISA.  Suggestions, recommendations, what do I do?
I asked Gin & Tonic if he might be able to help navigating this issue for us. Here is his reply:
Selecting "Monobank" as a payment option clicks through to several ways of paying Monobank, among which Visa/Mastercard is included. This would seem to satisfy the commenter's request.
Here's the link to the Patron box gift set for those interested in purchasing one or more for Ukrainian war orphans and/or Ukrainian children in hospital in Ukraine.
And here's the 2 tweet thread in question:
🙁made a typo: PatronBox will be given to orphans or children in hospitals (depending on how many boxes can be collected)

— Patron (@PatronDsns) May 25, 2023
And a new video from Patron's official TikTok!
@patron__dsns

Вас викликає Пес Патрон, щоб особисто побажати гарного дня!
Here is the machine translation of the caption:
The Patron Dog is calling you to personally wish you a good day!
Open thread!