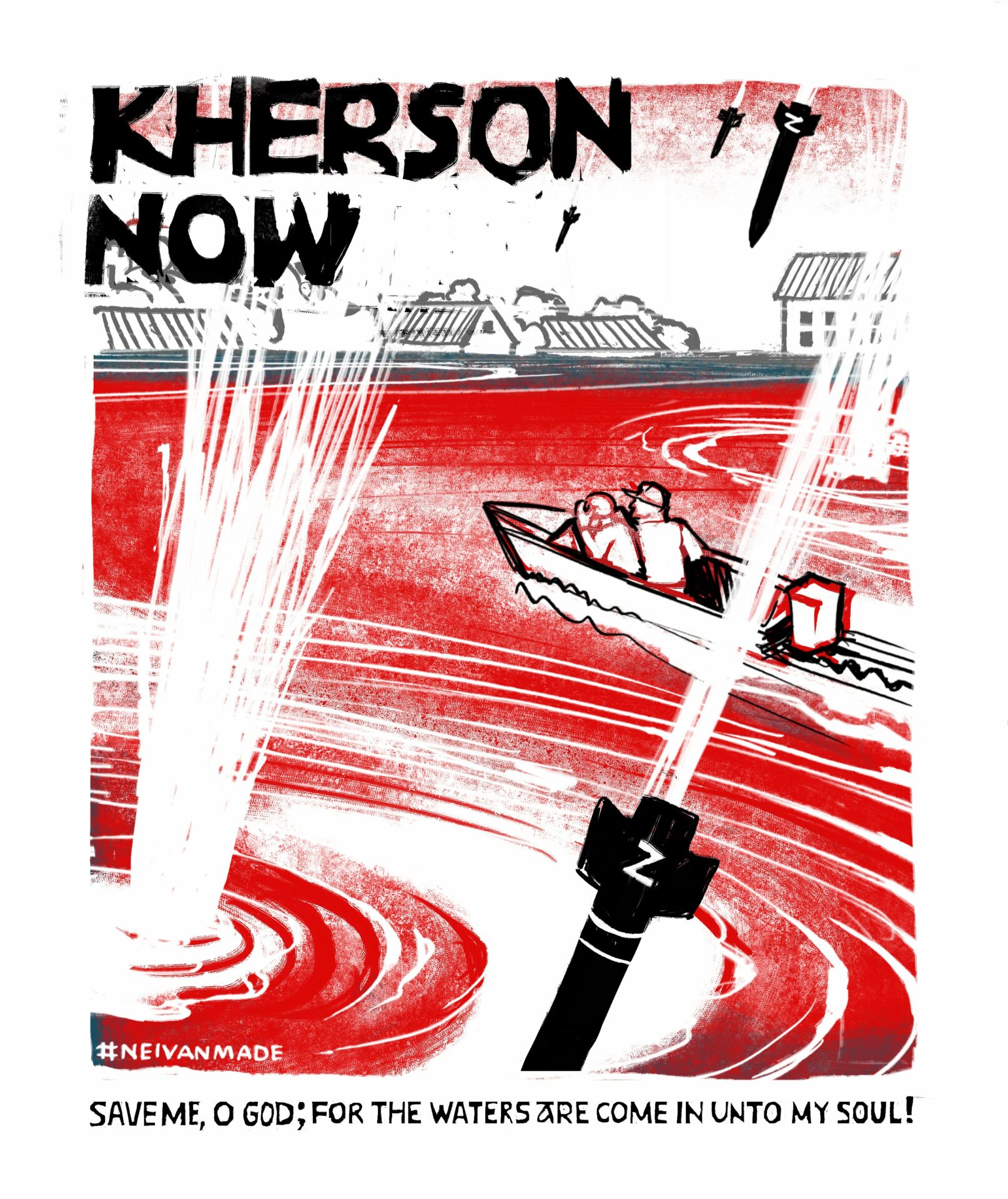 (Image by NEIVANMADE)
Two housekeeping notes. First, I'm going to get to the subject of the title below the jump as it is exceedingly disturbing. While it is all narrative text, I will put trigger warnings above it and an all-clear below it. Second, I will be traveling home tomorrow late afternoon to evening. So do not expect the update until around 11 PM EDT, but do expect it to be short.
South African President Ramaphosa's visit to Moscow went well:
A reminder that in the last few months South Africa has: held joint military exercises with Russia, sent its army chief to Russia, and (in December) most likely sent arms to Russia. Yet Putin seems comfortable with shooting down even their proposals. https://t.co/5JL6qxHEyT pic.twitter.com/2nmJcCEd6P

— Shashank Joshi (@shashj) June 17, 2023
Here is President Zelenskyy's address from earlier today. Video below, English transcript after the jump.
I would like to thank all partners who this week took new steps in supporting our state and people – address of President of Ukraine

17 June 2023 – 21:58

Dear Ukrainians, I wish you health!

I want to thank today. To thank all our partners who really help and who this week took new steps in supporting our state and our people.

The United States – I want to thank for another substantial security aid package. Anti-aircraft defense, artillery, and rounds for HIMARS, anti-tank weapons, armored vehicles, other tools for the defense of freedom. Thank you!

The Netherlands – thanks for the new defense package that will strengthen our air shield.

The joint work of the Netherlands, the United States, Denmark, and the United Kingdom to buy anti-aircraft missiles. This is what will save thousands of our people.

Germany – thank you for the equipment delivered this week, for the unchanged strength in protecting life from Russian missile terror. Thank you for your willingness to provide us with missiles for the Patriot systems!

Italy – thank you for implementing our defense agreements!

Thank you, Denmark, for your willingness to work quickly so that our coalition of modern fighters can really bring the end of this war closer to our victory. Joint victory! Thank you again!

Denmark and Norway – I want to thank you separately for your joint work to strengthen our artillery. Russia has brought such a war to Europe when it depends on the artillery whether freedom moves forward. Thank you for the rounds for our soldiers!

Sweden – the twelfth defense aid package and a real readiness to start training our pilots on modern fighters. Thank you!

The United Kingdom – thank you for your continued leadership in expanding our defense capabilities and for every long-range missile we have been given – all of which are 100 percent operational. This week a decision on additional support. Thank you again!

Canada – thank you for your continued help and for the new steps we have worked out, now being implemented. Artillery, air defense…

Thanks to all Ramstein participating countries – another meeting was held this week. Thanks for the unwavering constructiveness!

I would like to personally thank each country, each leader, all cities and communities in partner countries, all international organizations that help us overcome the consequences of the Russian terrorist attack on the Kakhovka HPP. We will once again prove the invincibility of our collective power when we restore normal life to all people and communities affected by this Russian evil of ecocide.

Poland – thank you for the resolution adopted by the Seimas in support of Ukraine's membership in NATO. The right signals at the right time – when we are preparing meaningful content for the summit in Vilnius.

Luxembourg – I want to thank you for the parliament's decision, recognizing the historical truth, the truth about the Holodomor – the genocide of the Ukrainian people. Luxembourg became the 26th country to officially recognize the Holodomor as genocide. And we continue our work – for the global recognition of the truth.

And, of course, many thanks to all those who train our soldiers… who share their experience with our heroes, and who themselves learn from Ukrainians. Learn Ukrainian resilience, courage, and an unbreakable desire to fight for the life for own country and Ukrainian children. It will definitely be – we will fight for this! We will prevail.

Tavria operational-strategic group – by the way, I want to thank you for moving forward, soldiers! Well done! All our warriors in the East, strong warriors – I thank you for your resilience and accuracy!

Glory to Ukraine!
This report focuses on the recently liberated village of Blahodatne in Donetsk region. Listen to what our soldiers have to say about fighting the occupiers (or more accurately, a gang of convicts).

🎥 YouTube @UkrainianWitness pic.twitter.com/XlvYZCNQcW

— Defense of Ukraine (@DefenceU) June 17, 2023
Here's the full video from the Ukraine Witness YouTube channel:
The New York Times' visual investigations reporters have done a deep dive into the evidence regarding the destruction of the Kakhovka dam and determined that Russia is, indeed, responsible for blowing it up.
Moments after a major dam in a Ukrainian war zone gave way, wild torrents cascaded over the jagged remains of the top. But the real problem most likely lay elsewhere, cloaked deep beneath the surface of the raging waters.

Deep inside the dam was an Achilles' heel. And because the dam was built during Soviet times, Moscow had every page of the engineering drawings and knew where it was.

The dam was built with an enormous concrete block at its base. A small passageway runs through it, reachable from the dam's machine room. It was in this passageway, the evidence suggests, that an explosive charge detonated and destroyed the dam.

At 2:35 a.m and 2:54 a.m. on June 6, seismic sensors in Ukraine and Romania detected the telltale signs of large explosions. Witnesses in the area heard large blasts between roughly 2:15 a.m. and 3 a.m. And just before the dam gave way, American intelligence satellites captured infrared heat signals that also indicated an explosion.

After the first section of the dam was breached, videos suggest that the power of the rushing water tore a larger and larger gash into the dam.

As the water levels further dropped this week, they fell below the top of the concrete foundation. The section that collapsed was not visible above the water line — strong evidence that the foundation had suffered structural damage, engineers said.

In the chaotic aftermath, with each side blaming the other for the collapse, multiple explanations are theoretically possible. But the evidence clearly suggests the dam was crippled by an explosion set off by the side that controls it: Russia.

But multiple lines of evidence reviewed by The New York Times, from original engineering plans to interviews with engineers who study dam failures, support a different explanation: that the collapse of the dam was no accident. The catastrophic failure of its underlying concrete foundation was very unlikely to occur on its own.

Given the satellite and seismic detections of explosions in the area, by far the most likely cause of the collapse was an explosive charge placed in the maintenance passageway, or gallery, that runs through the concrete heart of the structure, according to two American engineers, an expert in explosives and a Ukrainian engineer with extensive experience with the dam's operations.

"If your objective is to destroy the dam itself, a large explosion would be required," said Michael W. West, a geotechnical engineer and expert in dam safety and failure analysis, who is a retired principal at the engineering firm Wiss, Janney, Elstner. "The gallery is an ideal place to put that explosive charge."

Engineers cautioned that only a full examination of the dam after the water drains from the reservoir can determine the precise sequence of events leading to the destruction. Erosion from water cascading through the gates could have led to a failure if the dam were poorly designed, or the concrete was substandard, but engineers called that unlikely.

Ihor Strelets, an engineer who served as the deputy head of water resources for the Dnipro River from 2005 until 2018, said that as a Cold War construction project, the dam's foundation was designed to withstand almost any kind of external attack. Mr. Strelets said he, too, had concluded that an explosion within the gallery destroyed part of the concrete structure, and that other sections then were torn away by the force of the water.

"I do not want my theory to be correct," Mr. Strelets said. A large explosion in the gallery might mean the total loss of the dam. "But that is the only explanation," he said.
Much, much more at the link including numerous visualizations.
RAND's Dara Massicot has another long strategic assessment of the condition of the Russian military on her Twitter feed. First tweet from the thread below followed by the rest from the Thread Reader App:
I write often on Russian military personnel problems because I think it's a central issue. I will be the first to tell you that their military morale is poor in Ukraine. I still would not recommend any plan that rests on 'bad Russian morale will trigger a collapse in the front'/1

— Dara Massicot (@MassDara) June 16, 2023
I hope that's not a critical assumption at play. I don't think it is, but, I've seen a few statements from some quarters that give me pause, like this one below. /2

In my view the Russian troops that are the most exhausted and maltreated are the ones in Luhansk and Donetsk, who fought a failed offensive since January, were subordinated (legally) to Luhansk/Donetsk proxies, or allegedly to mercenary groups, according to some families. 

/3

 

The VDV's morale is stable. VDV took hard hits from the early part of the war, reducing their overall combat capabilities. They remain devoted to their commander, Col-General Teplinsky, who visits them and inspects positions. They also seem to understand their missions. 

/4

 

The units in the south (Kherson, Zaporizhzhia) are mixed. Some of these units took hits early on, but some of these units did not. While no units are healthy, I would say some of these are in ok shape. /5

I observe a focus in Russian units in the last week in the south, IVO Zaporizhzhia (at least on social media), that I have not seen in a while. Their positions are prepared. I see nerves, but not panic. Probably because the UAF have not closed on them so it may be temporary. 

/6

 

I'm not saying this is a reformed Russian army or a confident one; it's not. But they are adapting. I'm also not saying that Russian morale won't crack when tested in close quarters on the Zap front; it has cracked elsewhere after contact. /7

But as for now, as Russian forces try to target and slow UAF advances with mines and artillery, there is a sense of focus. Reassessment will be needed of course, when the main UAF effort collides with Russian positions 

/8

 

Ukrainian Armed Forces have not yet breached major Russian strongholds and defensive positions. Russian forces will rely on their prepared defenses, artillery, and airborne assets to try to fix them where they are, and prevent a breach./9 

All this is to say, as someone who believes Russian morale is moderate at best, to outright bad as a direct result of the way their commanders have mistreated them, I would not recommend anyone bank on that as a critical planning factor 

/10

 

This counteroffensive's fighting is fierce and it will get harder as the UAF approaches the Russian lines. Once they do, the dynamics are unpredictable for both. /11

Better UAF tactics, better ISR, better local commanders will be to UAF's advantage when they close on Russian positions. Ukrainian commanders remain focused on their operational tasks and I haven't seen many making assumptions about Russian forces cracking on contact. /end
I expect we'll be seeing Senators Cruz, Hawley, and Vance, as well as their colleagues in the House Freedom Caucus retweeting this video as part of their campaign against the woke US military:
Meanwhile at the St Petersburg economic forum (via @FontankaNews) pic.twitter.com/9rRImqMy98

— max seddon (@maxseddon) June 16, 2023
Meduza is reporting that Putin has ordered an investigation into the social behavior of LGBTQ Russians. This will not end well.
Vladimir Putin has instructed Russia's Health Ministry to create an institute to study the "social behavior" of LGBT people within the state-run Serbsky Psychiatric Center, the independent outlet iStories reported on Thursday, citing a response given by Health Minister Mikhail Murashko during the first reading of the State Duma's bill to ban legal gender changes and gender-affirming healthcare.

Murashko's statement came after lawmaker Anatoly Wasserman asked him whether the Health Ministry is conducting any research into "psychiatric methods of bringing these notions [about gender roles and sexuality] in line with reality."

The LGBTQ+ health website Parni Plus ("Guys Plus") called Murashko's words confirmation that the Russian authorities could begin conducting "conversion therapy," which refers to a range of pseudo-scientific practices intended to change a person's gender identity or sexual orientation, and which the UN has said can amount to torture.

According to the LGBTQ+ crisis group SK SOS, the number of institutions practicing conversion therapy is on the rise. People who have undergone "treatment" at these centers have described being beaten, starved, and hung by handcuffed wrists.

Novaya Gazeta has reported that conversion therapy centers are currently operating in the North Caucasus as well as in Russia's largest cities, including Moscow.
I'm a social behaviorist, what is being done here is not social behavioral research. It is working backwards from a conclusion, in this case Putin's long-held belief that people who are LGBTQ are not only deviants, but deviants that learn their behavior from other people who are also deviants, in order to justify mandating further crackdown on LGBTQ Russians including an expansion of conversion therapy. Conversion therapy DOES NOT work. And, as far as I can tell from what I've read of the professional literature on homosexuality and being LGBTQ, it is not a learned and therefore not a social behavior. Rather it is an innate or inherent preference. I've only read a little of the professional literature as this is way outside of my subject matter expertise and I just don't have the time to read it for non-professional reasons.
WARNING!! WARNING!! THE REPORTING BELOW IS DISTURBING!! WARNING!! WARNING!!
The Times (of London) has done yeoman's work in reporting on a much more widespread genocidal war crime the Russians appear to be systemically committing against Ukrainian POWs. Because The Times article is paywalled, I'm copying and pasting it from the Internet Archive. (emphasis mine)
For a month the two men could not tell their psychologist what had happened to them, only that it was horrible beyond words. "If there's hell somewhere, it's worse than that," said one.

The Ukrainian soldiers, aged 25 and 28, had been in Russian captivity — one for one month, the other for three.

After their return in a prisoner swap they had been referred to Anzhelika Yatsenko, 41, a psychologist in Poltava who deals with troubled young men. They were suicidal. The younger one had tried to kill himself. "I knew from previous cases they had probably been tortured," she said. "As someone who gets referred the hardest cases, mostly men under 35, it's very hard to surprise me."

When they finally told her, it was, she said, "the first time I behaved not like a professional psychologist".

"I'd never heard anything so horrible. I told them I needed the bathroom and went and cried and cried. I didn't want them to see as they might think there's no hope."

The two men had been savagely beaten. Then the drunken Russians castrated them with a knife.

"One of them told me, 'I don't know how I am still alive, there was so much blood, I thought I'd die of blood poisoning'," she said.

"And of course it's not just the physical damage. Imagine, they are young men just starting their sexual life and then in one second it's all over. They still feel something, all these hormones, but they can't do anything. They can never be sexually active. For a young man it's the worst thing to happen.

"Their dignity has been damaged so badly and it's impossible to forget. The Russians told them, 'We are doing this so you can't have kids.' To me this is genocide."

Astonishingly, among those fighting is the older of the two castrated men whom Yatsenko has been counselling. "He insisted on rejoining," she said shaking her head. "He says he's needed and it's easier being in a place where there are no women. I guess, given what happened, he wants to kill Russians."

She has another fear, however. "He may feel his life is worth nothing and just wants to die."

Yatsenko believes her patients are not the only ones to have been castrated. "They told me the Russians performed the castration procedure very skilfully, as if they knew how to do it. And I've heard about a lot of cases from colleagues treating others."

Whether or not the perpetrators are tracked down, their victims' lives have been irrevocably changed.

While there has been widespread international outrage and help for women and girls raped by Russians in occupied territories, there has been far less attention to sexual violence against men and boys, whether under occupation or in captivity.
Yatsenko said the men were hard to treat. "They take a lot of antidepressants, that's all. And we try to find some distractions for them. They can't talk to their families or friends.

"The younger one who tried to commit suicide had a girlfriend who told him she accepted him as he was but it was too hard for him to stay with her so they are now apart."

Last week she said he had stopped speaking.

"The other one had a girl he liked and planned to ask out but now cannot tell her. It's all just so sad," she said, "I will never forget.

"On one hand I feel rage, on the other it's pain. When I watch videos of our Ukrainian soldiers I'm so proud of them, but then I hear these stories."

Like many Ukrainians, Yatsenko has close links with Russia. Her father is Russian and she lived there, in Rostov, until she was 18, when she moved to Ukraine to study and never went back. They are no longer in touch.

"This thirst for violence is in Russians' blood," she said. "I saw it growing up. They always hated us Ukrainians, abused our women as prostitutes. When I said I was going to study in Poltava, they laughed at me.

"They can't beat us on the battlefield, the whole world is helping us, so they do this — to demoralise us, to spread fear, to have this small revenge. It's like blowing up the [Kakhovka] dam [on June 6], they can't have Kherson so they destroy it."

Doctors at the maternity hospital in Poltava said they had been consulted about women from occupied areas who had been raped by Russians then had their vaginas injected with window sealant so they can never have children.

Yatsenko shook her head. "I have a client from Georgia and she was tortured by Russians during the war there [in 2008] and fled to Ukraine. When war started here, she immediately took her kids and left, telling me, 'I know what they are doing with young girls.' I didn't understand then, but now I do."
There is much more at the link if you can stomach it.
ALL CLEAR!! ALL CLEAR!! ALL CLEAR!!
That's more than enough for tonight.
Your daily Patron!
There are no new Patron tweets or videos today, so here's some adjacent material from the Ukrainian Army Cats & Dogs Twitter feed:
Just a reminder about their fundraiser:
Hello friends.

The first part of food for animals went south to the #Kherson area. thank you for your donations. in a few days I will send another batch of fodder.https://t.co/zVitdvVelp pic.twitter.com/jMRg2NapMX

— UkrARMY cats & dogs (@UAarmy_animals) June 9, 2023
This is a cat named Simba.

And his mother. he remained alive after Russian rockets bombarded Kryvyi Rih.

Russians shell Ukrainian cities almost every day…

Photo: @YurchenkoSt pic.twitter.com/MUaAVIe6Ur

— UkrARMY cats & dogs (@UAarmy_animals) June 13, 2023
Ukrainian soldiers rescued a fox they saw near the positions. pic.twitter.com/FK3Jy8Jc53

— UkrARMY cats & dogs (@UAarmy_animals) June 15, 2023
Obligatory!
Also, maybe actually plug your instruments in. Make an effort!
Open thread!